Riding and fishing should go hand in hand as many riders are also anglers and many anglers also like to ride.
While I'm not much of an angler myself, I can understand the attraction for riders who love the great outdoors and a bit of a challenge.
And so many great ride routes follow the coastline or a river. That's often where the best roads are. Think about how many times you've ridden past anglers on your weekend trips.
The Ducati Owners Group of NSW holds an annual Thunder Rally at Nundle where many riders like to throw a line in the Sheba Dam for trout and the Cooktown Crusaders hold an annual charity ride up the Queensland coast that includes stopovers for fishing.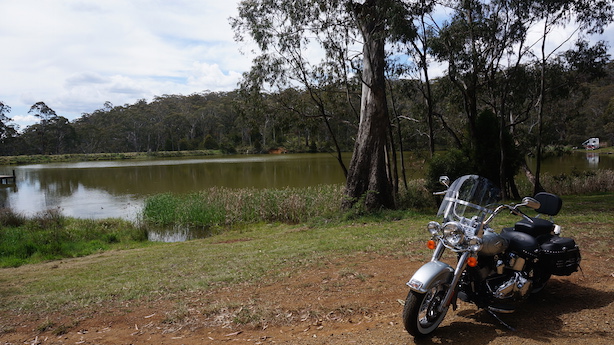 It doesn't matter if you couldn't catch a cold in an Arctic nudist colony, catching fish is not the whole point of the game. It's about quiet reflection, relaxation, communing with nature, holding your pole and contemplating Zen and the art of angling.
Even if you have a few beers while you're at it, there are things to do such as baiting hooks, casting, skinning and gutting your catch etc, that should keep you from downing too many before dinner.
You could also hire a kayak after checking https://www.globosurfer.com/best-fishing-kayaks/.
Besides, bikers love various gadgets and paraphernalia and should relish the bits of gear that come with fishing.
For reviews of the best kayaks go to Adventure Gears Lab.
But if there is a word of caution from this novice rider/angler; it's pack light and small. Just as you would pack light for a weekend away, you need to pack light for some fishing.
Best to consult your mates and make sure only one of you brings the bait, another the fishing fillet knife, another a bucket etc.
Packing light and small also means chasing a small catch. We're not after big game fish here, so a light, foldable rod or even a hand reel should do the trick.
One tip I would recommend is baby wipes to clean the fishy smell off your hands before you get it in your nice leather gloves.
Marc Huisken of Purefishing Australia helped provide the following expert tips for riders who like to fish.
PACKING:
Always pack light. You'll need to bring even fewer items of clothing and other gear than usual as the fishing gear will take up some of your luggage space.
Try to keep it separate from your clothes as fishing gear smells. Use one pannier for the fishing gear and the other for your clothes, etc.
Otherwise, get some waterproof bags for the fishing gear or strap it to the top/side of your panniers or top box.
Plastic shopping bags aren't good enough. They tear and leak. Get some of those tough garbage bags from the supermarket or the super-strong plastic bags from some of the adventure stores like Kathmandu.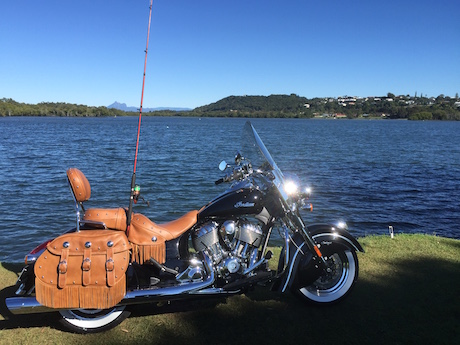 GEAR:
Divide this chore among your friends so you don't double up on gear.
Go to your local fishing or adventure store and buy the lightest and smallest foldable fishing rod you can get. Tell them what it's for and seek their professional advice.
Marc Huisken of Purefishing Australia says there are basically two kinds of travel rod: The telescopic style collapses into itself or the multi-piece pulls apart.
"Generally multi-piece are considered to retain the best rod action, however telescopic have come a long way and the two are on a par in the light side of things," Marc says. "Telescopics probably have more of a chance of breakage."
They start at about $35 and go right up to $200 and come in a case. Most will fit in your luggage, but if not, make sure the case has some sort of tie-down point so you can strap it on to your luggage or rear seat.
Marc suggests a small tackle bag or bum bag with various lures targeting species you are likely to encounter.
"Lures should include hardbodies and soft plastics that have a range of depths and weights to suit the conditions that may be present," says Marc.
"You'll also need a pair of braid scissors, pliers and a roll of leader material when fishing with braided lines as most lure anglers do these days."
Most riders carry a multi tool which has most of these functions anyway.
Aside from this gear we really recommend picking up a pair of wading boots. Wading boots allow you to cross the river (or around the edge of the lake) safely. The team at Fly Fisher Pro put together a
handy guide to selecting wading boots here
.
You may also need to bring your own cooking utensils, Alfoil, plates, utensils and seasoning to cook and eat your catch.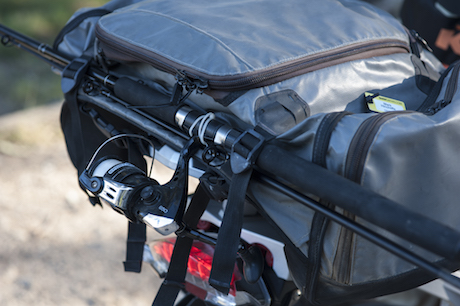 PLANNING:
Not only do you need to plan an interesting route, as usual, but you also need to end up somewhere that offers good fishing.
If you are going to camp, you will also have to carry bait or get it shortly before arriving, so think about luggage requirements.
Best to stay in a pub or motel as camping requires you to carry even more gear.
If everyone is on board with fishing, that's fine, but if not, then you may need to also plan a riding loop to keep your friends occupied.
PERMITS:
Fishing permits can be obtained in known fishing spots at local servos and even general stores. Otherwise, try the nearest tourist information centre.
Don't be caught without one or the fines will turn a fun weekend sour.
BAIT:
Drop your gear at your accommodation so you have room to carry bait to your fishing spot and to bring your spoils back with you.
Most popular fishing spots have bait shops. Don't bring it from home as it will only end up getting hot and smelly. The fish probably won't like it, either.
The other less smelly and simple option is to take some lures, but apparently you have to know what you are doing, so that rules us out for a while.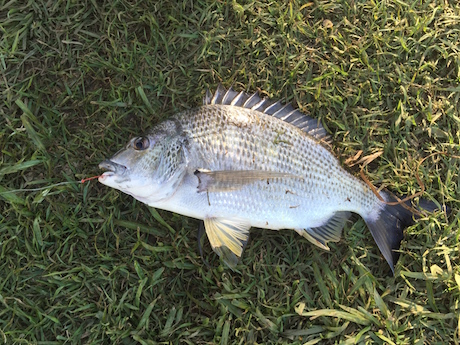 CATCH:
Unless you are a champion angler and the fishing are jumping into your bucket, you will probably only score a small catch in the hour or so before sunset.
Don't try to take your catch home. A whole day in your saddlebag, even with ice, could end up making your panniers smell of fish for the rest of their natural life.
Instead, make sure your accommodation will cook your catch for you (usually for a small fee), or has a barbecue. Otherwise, there may be a public park nearby with a barbecue. If you're camping, you'll have a great night around the fire cooking up your catch.
Eat it there and then.
Take photos home, not fish.
Happy riding/fishing!