On the eve of the annual Aldi one-off motorcycle gear sale, riders have been urged to support their local motorcycle dealer.
Australian Motorcycle Dealers Association boss Stuart Strickland says dealers are doing it tough and deserve rider loyalty. (Read more about why he believes times are tough.)
However, he says there is no dispute with the standard of gear being sold at Aldi, pointing out that the selection of gear Aldi sells was aided by Neuroscience Research Australia's Dr Liz de Rome.
Liz, a rider since 1969, is also working on a star rating system so riders can be guaranteed the quality(abrasion resistance) of the protective gear they are buying which Stuart hopes to be in place later this year.
"It's good to see Aldi making product available to motorcyclists however a lot more product is are available through motorcycle retailers and specialty accessory stores with much more choice and all-year round availability," Stuart says.
"One of the challenges the industry faces is from people who buy low cost bikes to commute to work. They also tend not to get good gear.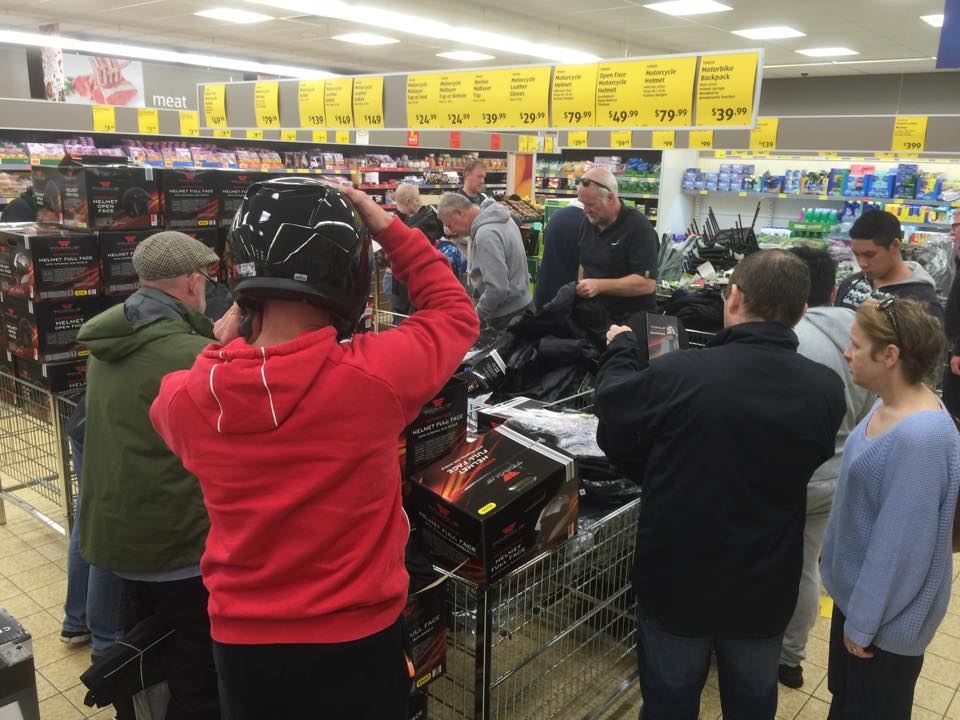 "Those people don't frequent motorcycle shops, so I suppose Aldi is a source for them.
"People who have bought Aldi gear seem happy with the price.
"It's better to have a rider with some gear on than nothing.
"But the problem for recreational riders is that Aldi gear is only available for a limited time and unless you are lined up early when the doors open you will miss out."
He says a motorcycle dealership is a complex business with a heavy investment in a wide-ranging inventory of motorcycle models and gear that dealers must have on hand to service customers.
"Motorcycle enthusiasts should support the shops that provide them with service year-round and a wide range of choice," he says.
Click here to find out why motorcycle dealers are doing it tough.