Lightweight Breathable Jacket Review Summary
Review Summary
It's hard to find a jacket that provides you with everything you need for the hot summer months which makes the Tracer Air Overshirt from REV'IT! an even more refreshingly cool surprise. Despite the fact that REV'IT! usually delivers quality gear, I had relatively low expectations for this jacket. It easily exceeded my expectations and proved to be a quality riding jacket.
Pros
Attractive, casual look
Feels well put together
Comfortable as any lightweight jacket
Reasonable protection for such a simple garment
Cons
Airflow not as good as hoped
No lower pockets
Liner is not removable
Lightweight Breathable Jacket Image Gallery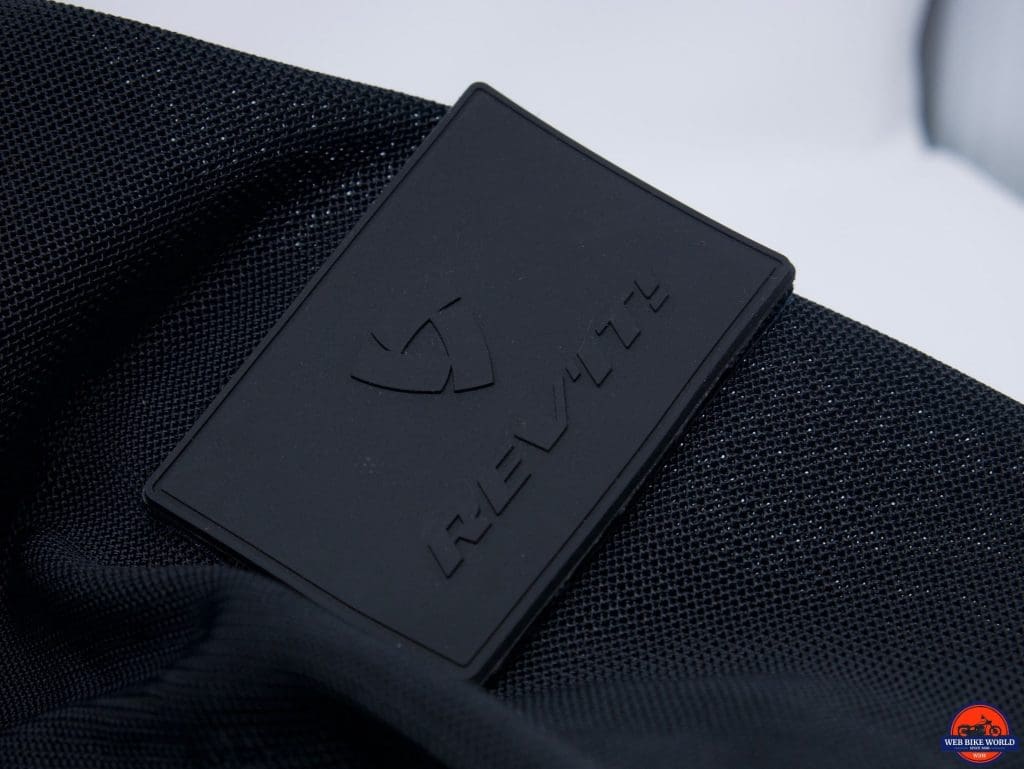 REV'IT! designed the Tracer Air Overshirt to be a part of its casual workwear collection. This is gear that looks like regular casual clothing and not motorcycle gear. The Tracer Air Overshirt just looks like a simple lightweight jacket, but it has construction and features that you might not expect.
While the Tracer Air Overshirt is a lightweight and simple jacket, don't get the idea that it's not well constructed and made of quality materials. REV'IT! is known to use a mesh material called PWR|mesh that's breathable but still strong. I'll discuss it more below.

My tester jacket was a black one, but REV'IT! Actually sells three different versions, so you'll have some options. You can get black, brown/blue stripes, or green stripes. I prefer black, but I can see a lot of other guys going for the striped choices.
Inside you get a non-removable liner, pockets for some slim CE armor in the shoulders and elbows, and a space in the back of the jacket for a CE-level 2 back protector (sold separately).
I recently reviewed the REV'IT! Worker Overshirt, and I was eager to see how the Tracer Air Overshirt stacked up to the company's other and somewhat similar offering.
Features
From Revzilla:
Protection Features:
Outer Shell: PWR|mesh
Protection: Seesmart CE level protection

pocket for optional Seesoft back protector Type RV (sold separately):

Type RV / Size 03 fits SM-MD
Type RV / Size 04 fits LG-2XL
Type RV / Size 04 fits 3XL

Visibility: laminated reflection
Ergonomic Features:
Fit: City fit, regular
Features: Triple-needle stitching, jeans loop, short connection zipper
Pockets: Chest pockets, inner pocket
Construction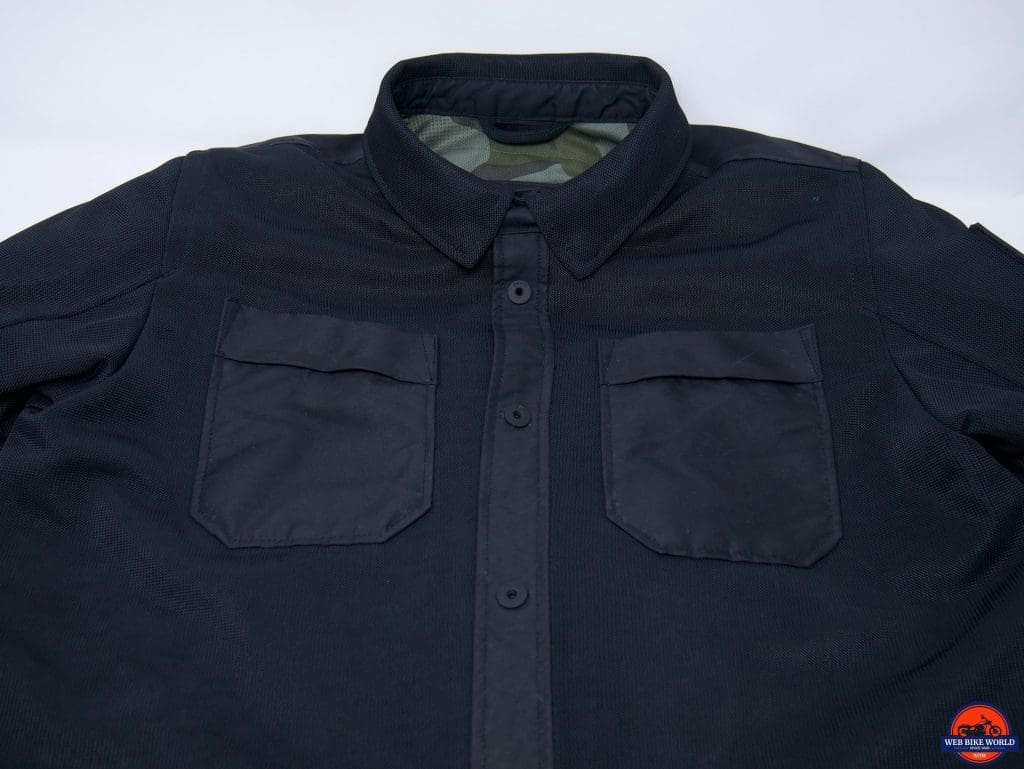 I'm a big fan of gear that doesn't scream motorcycle gear, so the Tracer air Overshirt's design speaks to me. It's simple, and more or less looks like any other casual workwear overshirt you'd find. There are a few small giveaways, though.
These include the REV'IT! logo on the shoulder, which for some reason is a velcro badge that you can actually remove. If you do, there's just a big empty black square there, so it looks kind of silly.
Another giveaway is the big exhaust vent across the rear of the shoulders. Also, the zippers and snaps are on the larger and heftier side. I prefer this in a piece of motorcycle gear, and me pointing this out is not a complaint. That said, it is a small giveaway.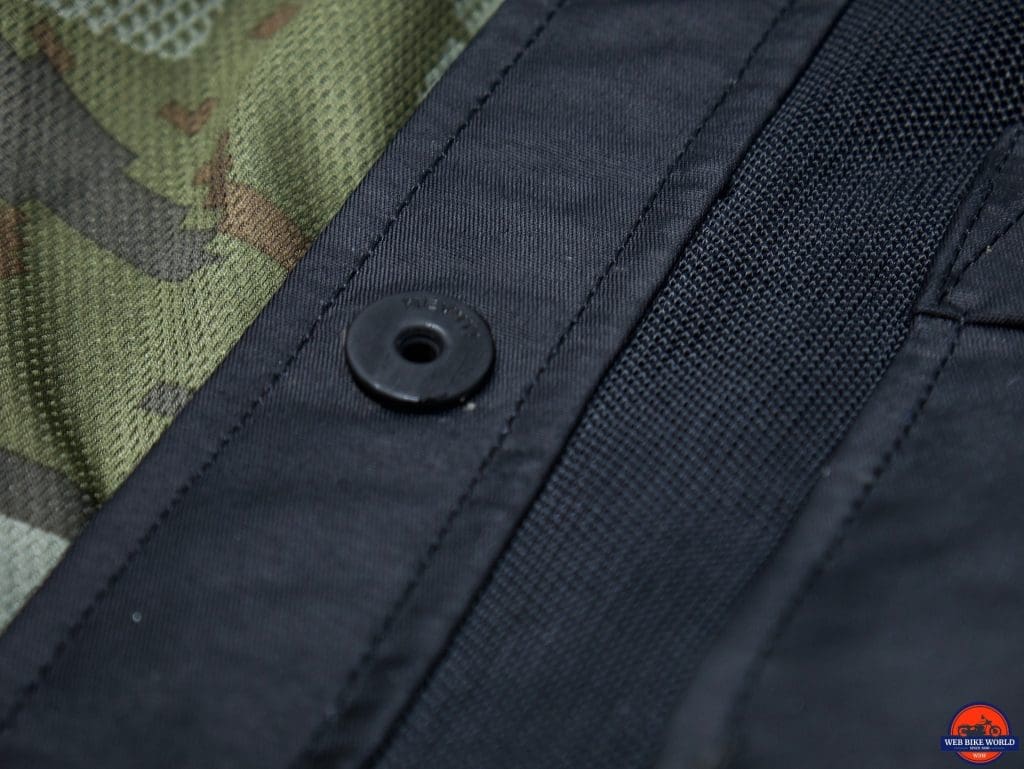 In terms of construction, there's triple stitching in all the right areas. I noticed no issues with the stitching or the materials on this jacket. The snaps, zippers, and pockets all functioned as designed.
I put this jacket through the wringer, taking it off-roading once, and riding it in all kinds of Indiana weather. The jacket has held up well and looks as good as the day it was delivered.
One complaint I had with the exterior was that there were no lower pockets for hands, keys, etc. The Worker Overshirt had more pockets, and I wish this jacket did, too. The two chest pockets are decent, but I kept reaching for lower pockets. The only other pocket on the jacket is the inner one. It's a good zippered pocket, but I wanted two more on the outside of the jacket.
Protective Features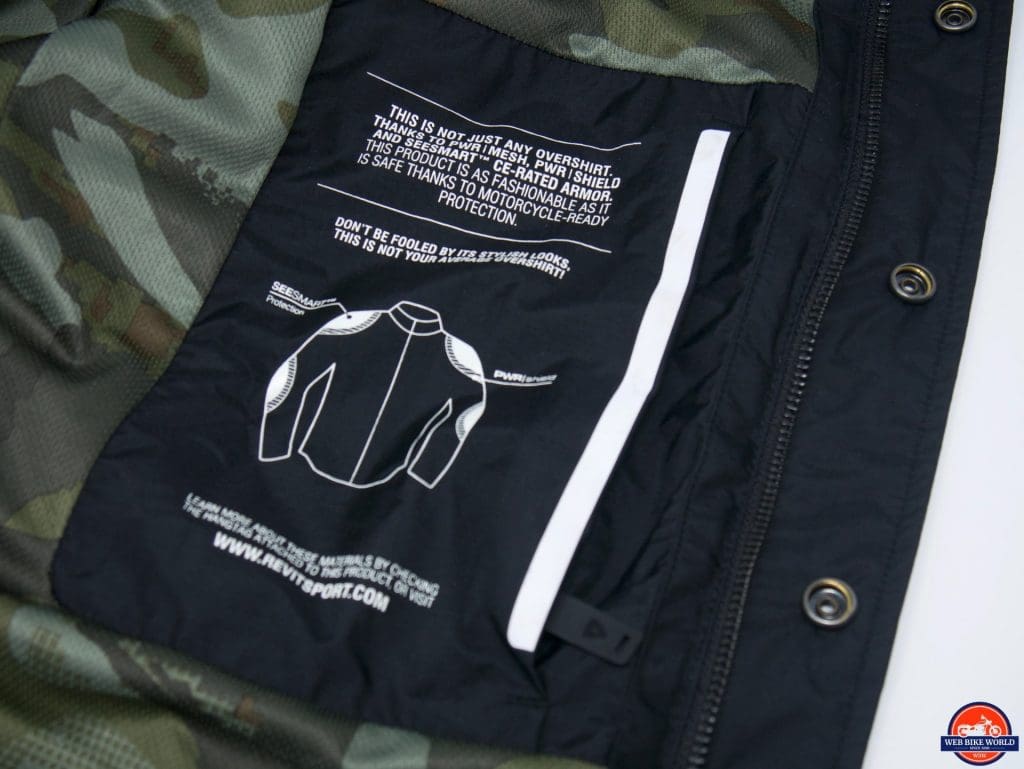 The Tracer Air Overshirt's protective features are up to its mesh material's abrasion resistance and the CE armor in the shoulders and elbows. REV'IT! doesn't have too much info on its website about the PWR|mesh material's abrasion resistance, and its ability to protect you. With that said, it feels sturdy and strong.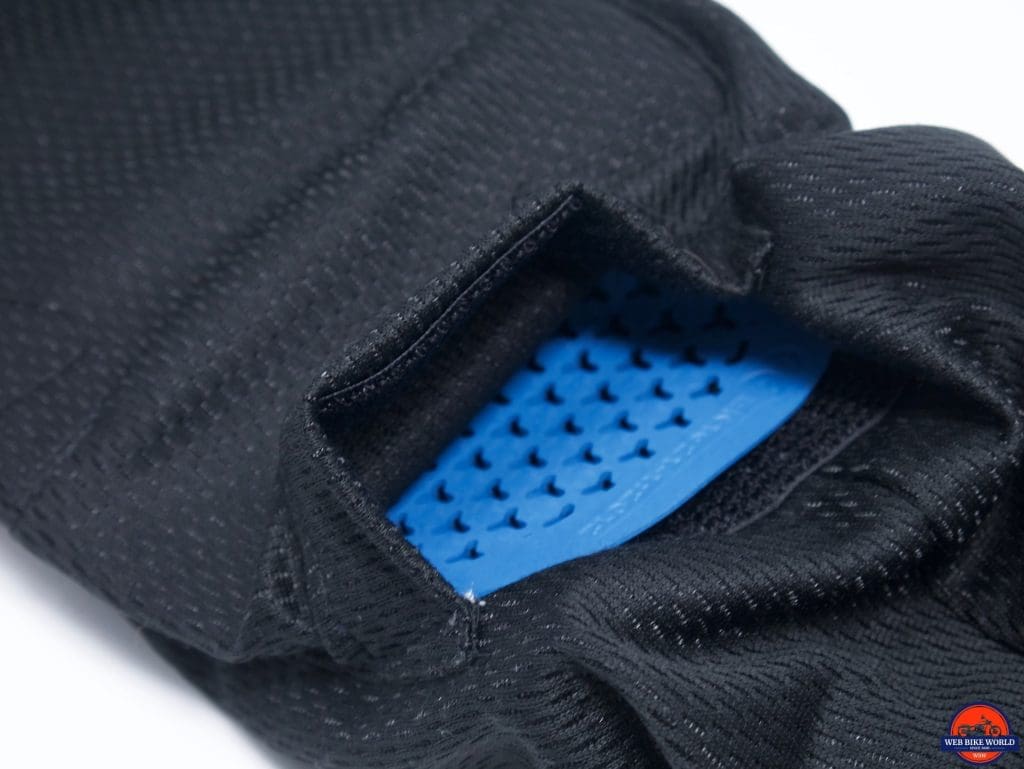 The armor in the jacket is CE-level 1. This armor is removable and you could always upgrade it at a later date if you wanted to. If you were planning on wearing this jacket as one of your main go-to pieces of gear, I would highly recommend doing so.
I would also say that you should add a CE-level 2 back protector to this jacket. The pocket is there, you might as well use it.
Overall, I found the Tracer Air Overshirt to offer a decent level of protection for a jacket that feels so lightweight. With all that said, there are plenty of jackets out there that offer better protection. If a high level of protection is what you're looking for, it might be smart to check out some other options.
Fit & Comfort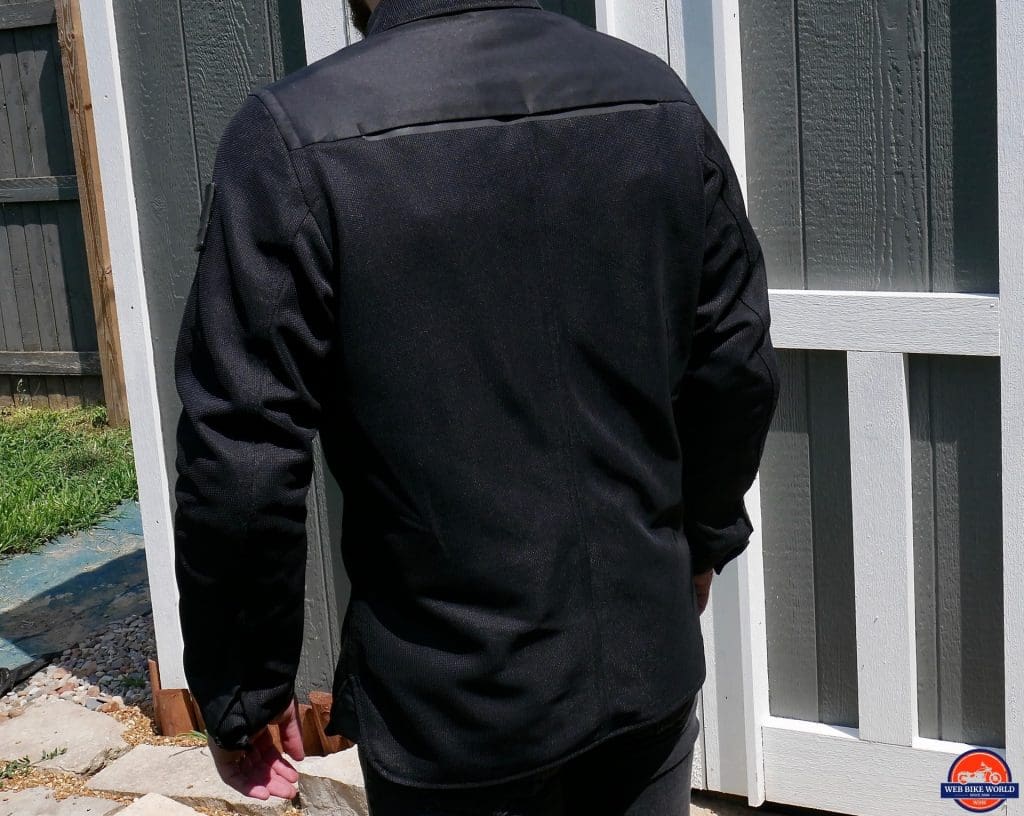 REV'IT! calls the Tracer Air Overshirt's fit City Fit, Regular. This really just means it's a modern, slimmer fitting jacket. It's not a super slim fit, though, but if you have musclebound arms or shoulders you might find it to be a little snug.
The Tracer Air Overshirt honestly fits a lot like the Worker Overshirt I previously reviewed. In that review, I noted that the sizing chart was accurate. Stick to it and you should have few problems.
Still, I feel I need to say that this jacket will work better for people with slimmer builds. You also won't be able to layer under it, which is something you probably won't want to do anyway with this being a lightweight, breathable jacket designed for warmer weather.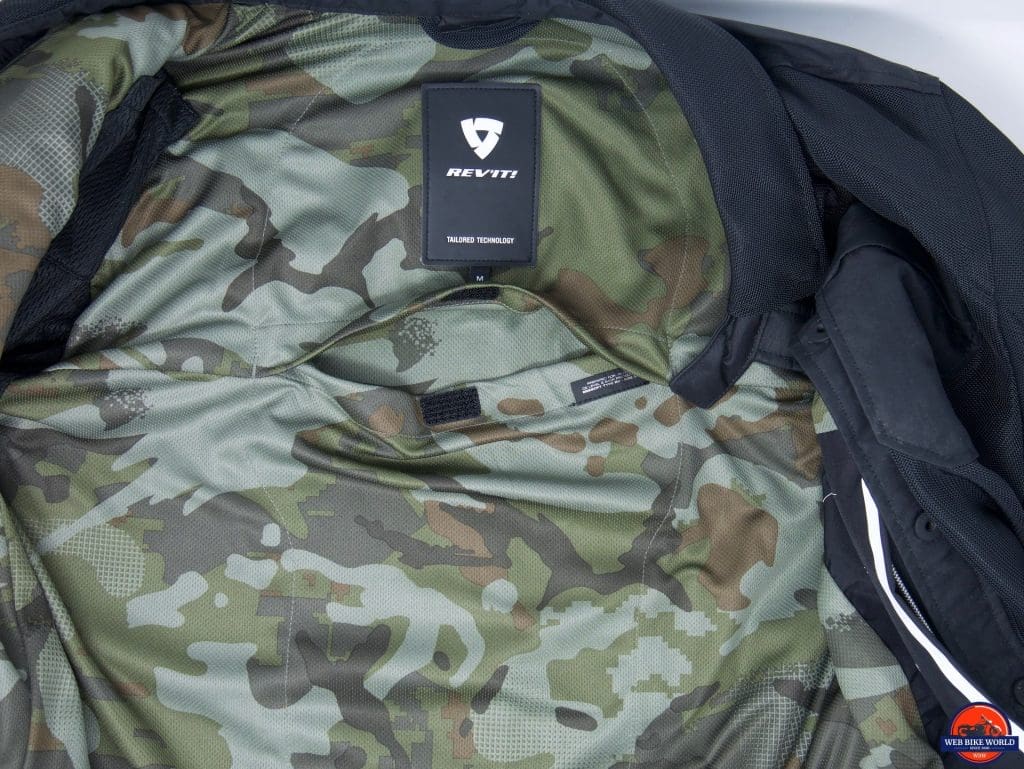 The interior of the jacket features a full mesh liner. The liner features a camouflage pattern. It's soft, comfortable, and allows air to pass through it easily. Having said this, I still kind of wish it was removable. The liner is nice, but you could get even more airflow without it.
Speaking of airflow, the Tracer Air Overshirt is designed to move quite a lot of air around your body while still providing protection. This jacket does a good job of that. I rode primarily in 70 to 80-degree weather in a humid climate and only found myself sweating minimally once I got to my destination.
As you can imagine, the places where my body was the hottest included the locations where the armor sits and where the pocket for the back protector is. There's simply more to those areas of the jacket and that means those areas will get hotter quicker.
Temperature Range & Weatherproofing
Warm vs Cool Temps
As I said above, this jacket is good for warm weather. It moves plenty of air around your body. I wore this jacket in weather ranging from 70 to 80 degrees. It did a good job of keeping me relatively cool. Air passes through the mesh material easily.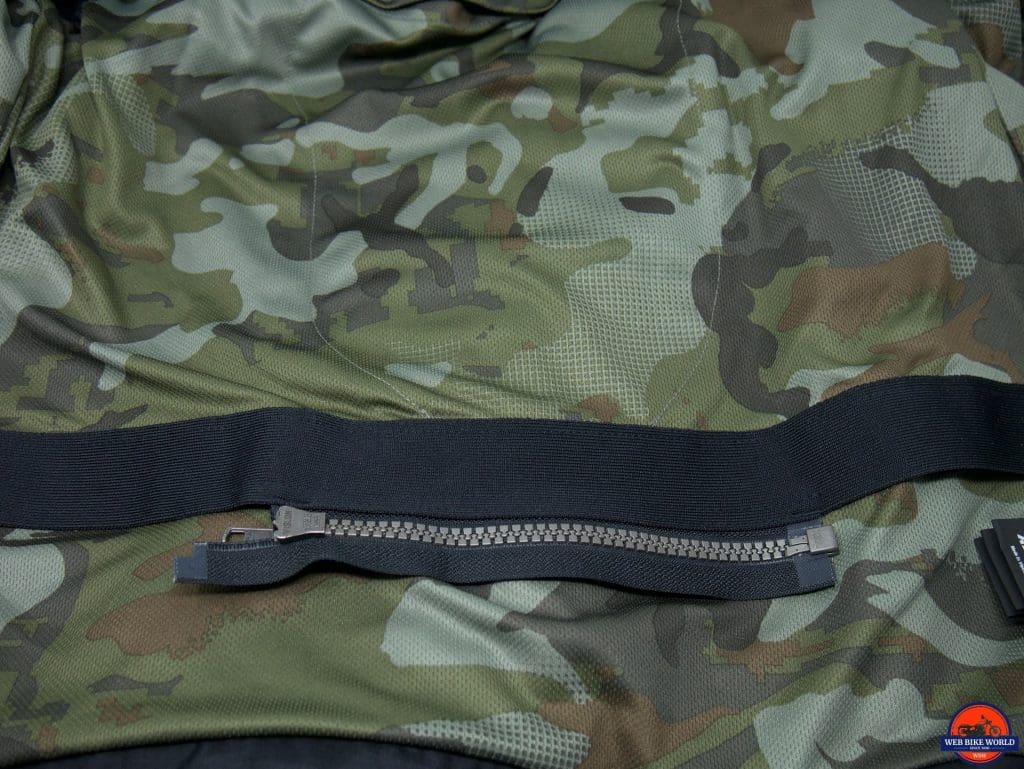 On the flip side, before it got too warm out, I wore this jacket on a couple of early morning rides and found it to be downright chilly.
You can't layer underneath the jacket much due to its fit, and this means you'll only really be comfortable wearing it when it's warmer out. You can attach the jacket to your pants to help keep it from riding up via belt loops or a rear zipper.
Weatherproofing
When it comes to weatherproofing, the Tracer Air Overshirt doesn't offer much of anything. I got caught in the rain once and was immediately wet. All that good airflow also means rainwater flows through this jacket easily. If rain is in the forecast, don't wear this jacket or prepare to get wet. For more active climates, I'd recommend our recently reviewed Offtrack Jacket and Pants that are also from REV'IT!
A Good Lightweight Jacket for the Price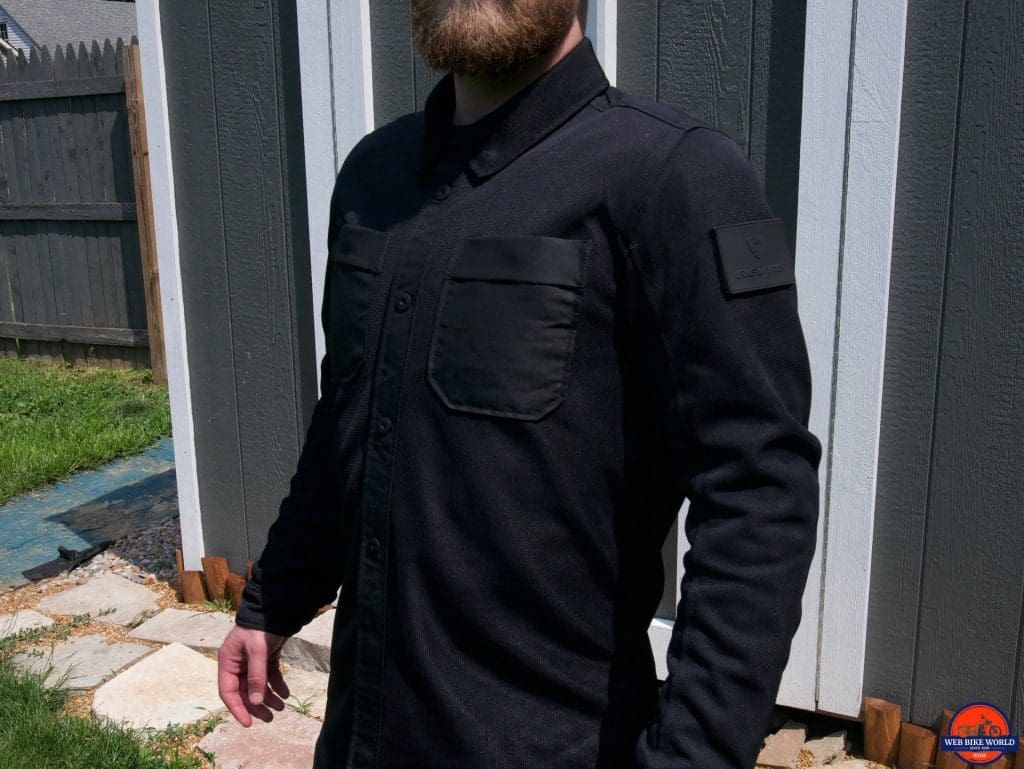 I found the REV'IT! Tracer Air Overshirt to be a decent lightweight jacket for the money. It's not the best out there, but it gets the job done in terms of moving air around your body pretty well and providing some protection.
If you're looking for a warm-weather jacket and also want something that doesn't scream motorcycle jacket, you'll find this to be a pretty good choice for the money. It won't be the only motorcycle jacket in your closet, but it is definitely a nice addition.
Pros
Attractive, casual look
Feels well put together
Comfortable as any lightweight jacket
Reasonable protection for such a simple garment
Cons
Airflow not as good as hoped
No lower pockets
Liner is not removable
Specs
Manufacturer: REV'IT!
Price (When Tested): $279.99
Alternative models & colors: Brown/Blue Stripes, Green Stripes
Sizes: S – 3XL
Review Date: June 2019