Echo Gloves Review Summary
Review Summary
The Echo gloves from REV'IT! offer the urban rider regular fit hand protection with racing-inspired features. Intended for moderate and warm weather riding, the Echo gloves mix hard knuckle protectors and a TPU palm slider for decent slide protection. The leather outer shell provides good abrasion resistance, and some flexible fabric additions help with dexterity. There's also the addition of a Connect fingertip to ensure that there is no need to take off your gloves multiple times to answer your phone.
Pros
Soft, quality feel to the leather
Connect fingertip
Level 1 Kp Certified According to the EN 13594:2015 standard
Temperfoam® finger knuckles
TPU hard-shell palm slider
Ventilated dual comp protector provides airflow for your hands
An all-black esthetic
Cons
Not for thicker fingers
Thumb dexterity was mediocre
Stitching inside the fingers made for scratchy points
An all-black esthetic
Echo Gloves Image Gallery
REV'IT! Echo Gloves: Dark-Themed Urban Looks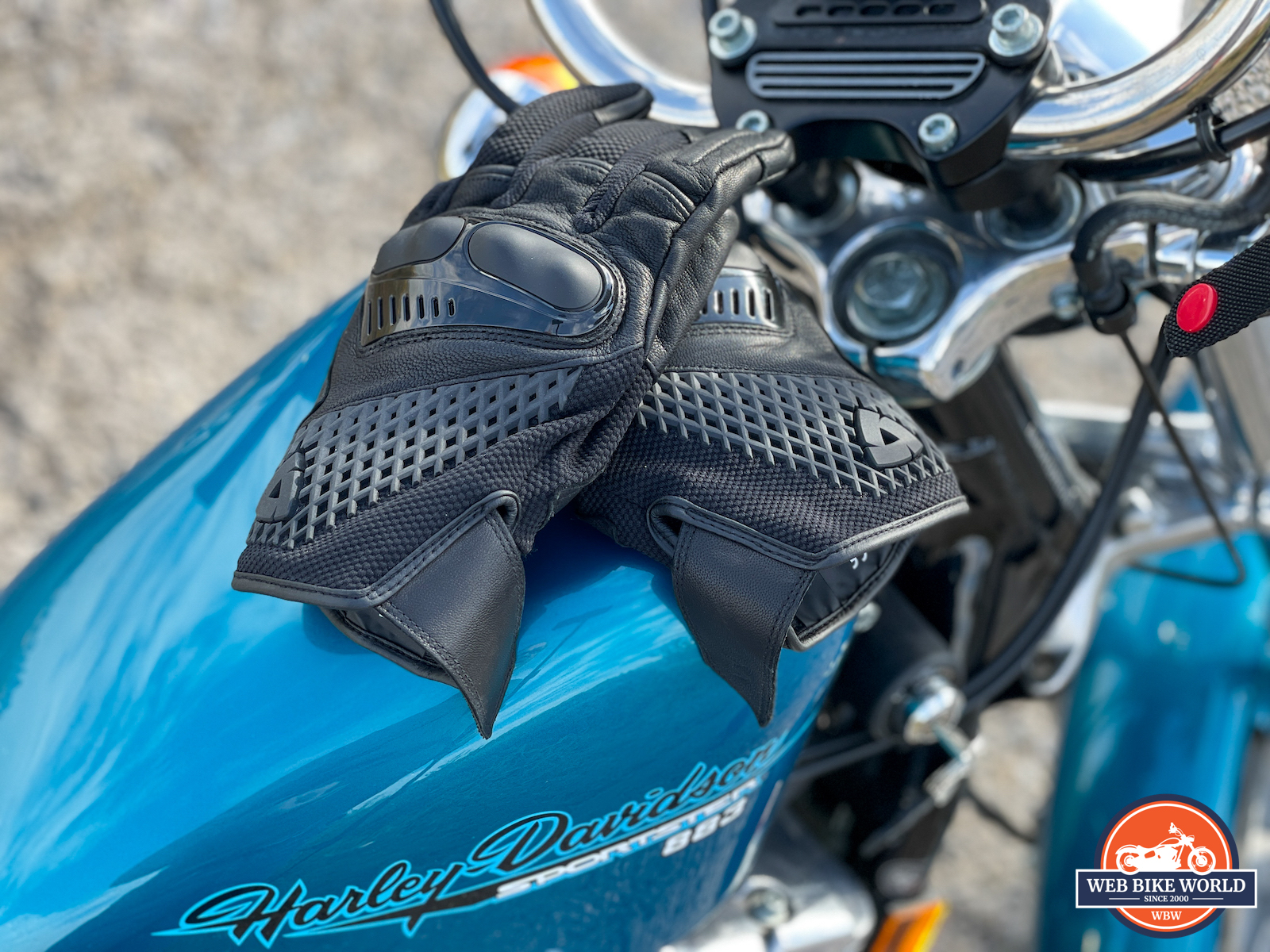 Modern riding gear is making it easier than ever to find a style to match your aesthetic without any sacrifices in protection. The REV'IT! Echo gloves keep it classy and straightforward, being all black and soft goat leather. I like the gloss black aluminum plate surrounding the dual-comp knuckle protector; it makes for a nice contrast to the matte leather.
The Stretch material at the fingers breaks up the all-leather look and holds the Temperfoam® finger knuckles securely in place – all while improving dexterity.
The wrist closure is a single hook and loop flap, which is simple to use, and the top of the hand area is adorned with a contrasting rubbery material in a weave pattern surrounding the REV'IT! logo.
Overall, I find these to be great-looking, short-cuff street gloves.
Overall Rating: 92%
REV'IT! Echo Gloves: Good Quality, or Just A Pretty Face?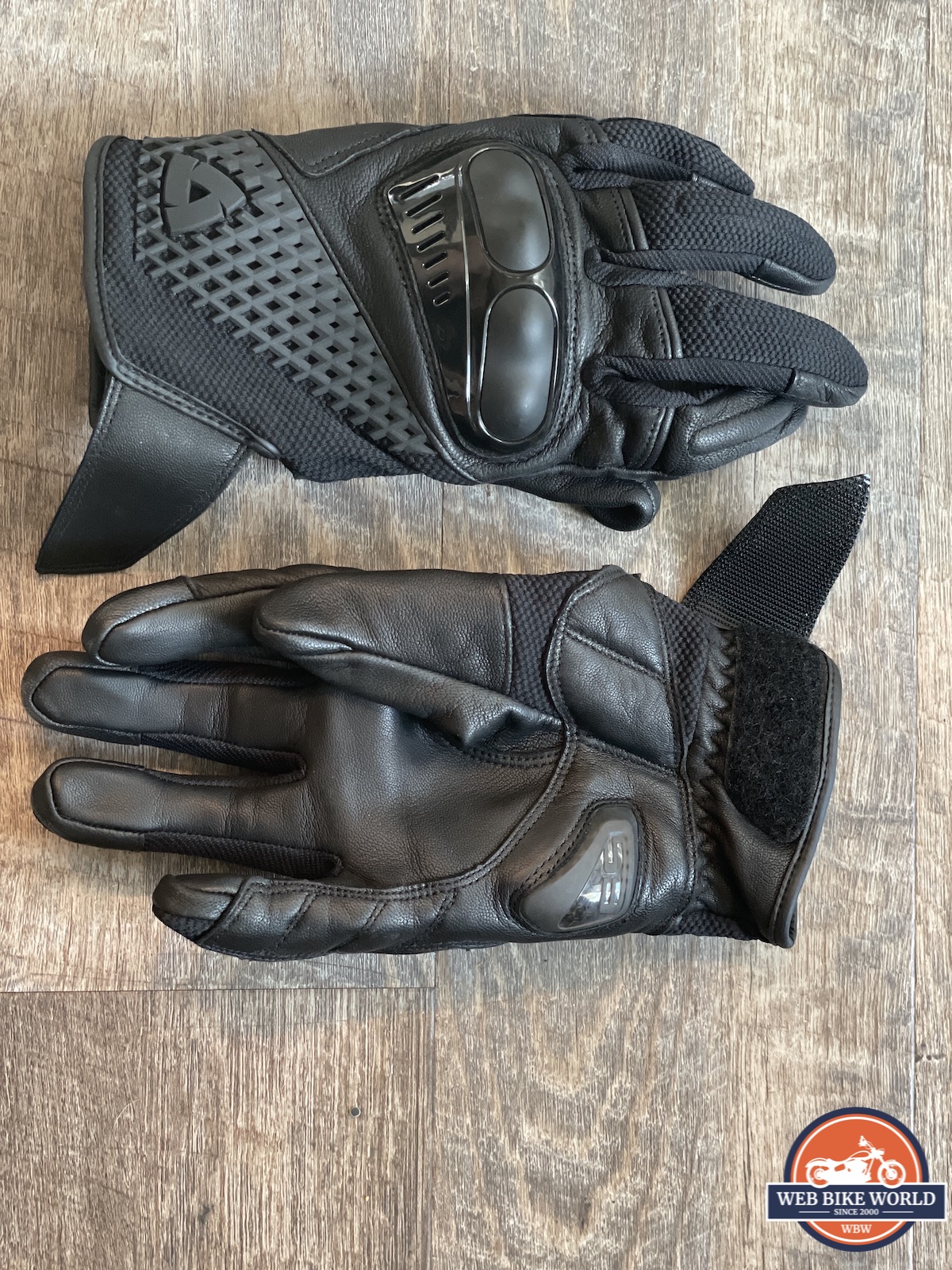 This is where the review gets deep into the details for me. I have a hard time separating the quality of a product from the price. My expectations will change based on the size of the dent my wallet needs to take.
When it comes to visuals, the REV'IT! Echo gloves look great. All the materials used held up very well on what was over 12 different rides. I am never that easy on gear, so these gloves were also accidentally jammed into the side of my garage door while I was moving a bike around. If I wasn't before, I was sure grateful for the knuckle protection then. Not a mark on them from that strike. In fact, these gloves still look brand new – a testament to the abrasion resistance of the goat's leather and other materials.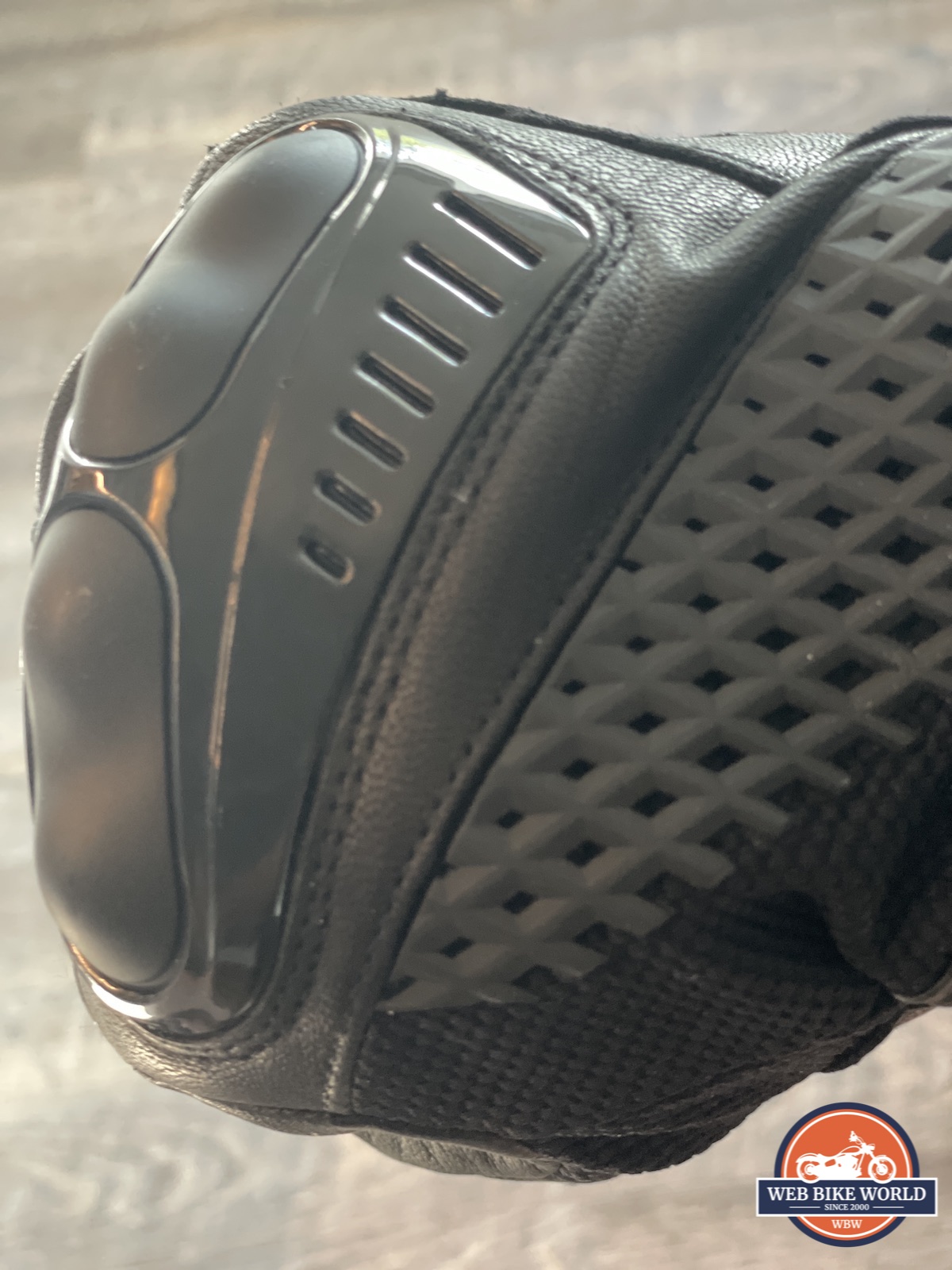 The stitching from the outside is very clean and seems quite strong, but I found everything to be less tidy on the inside of the glove. The stitching was lumpy and rough, especially at the last knuckle toward each fingertip. A close look shows that there are multiple pieces of material all coming together in a small area, and on the inside, it just isn't that smooth.
I really liked how well the Connect touch tip worked on my iPhone. Worked into the tip of each pointer finger and thumb, the Connect feature made it quite simple to answer calls or change songs with my phone mounted in my Ram Mount. I have had many sets of gloves with add-on patches at the fingertips, and they just wear away quickly. On the Echo gloves, you cannot see anything special about each area – it just worked smoothly.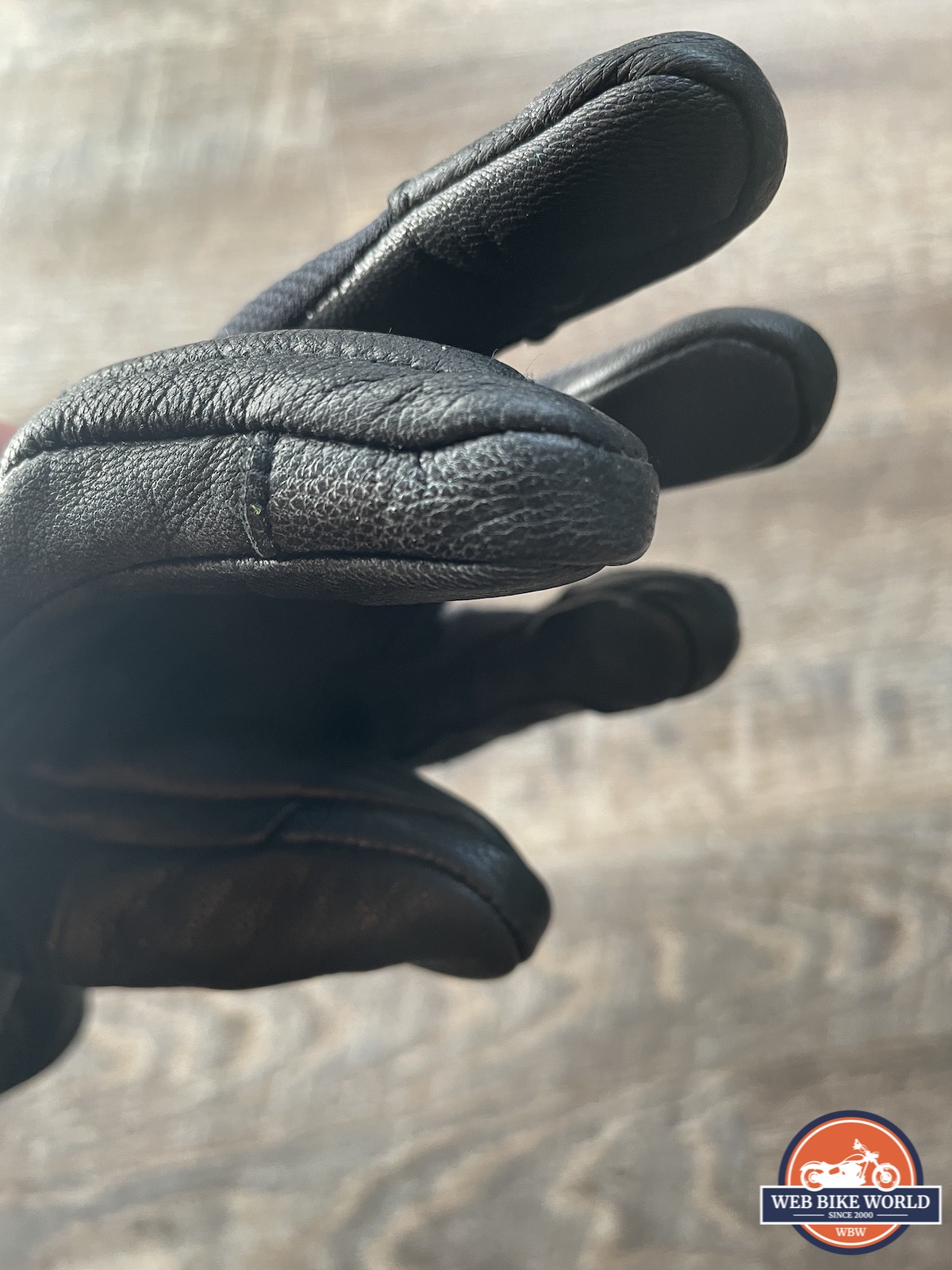 Leaving the price tag out of the evaluation, the Echo gloves are a well-made, nice pair from a materials and construction standpoint. Throw price into the mix, and I would have to say that REV'IT! exceeded my expectations.
Overall Rating: 90%
REV'IT! Echo Gloves: So How Do They Feel?
After much anticipation due to the great looks of the Echo gloves, I was rather let down in the riding phase.
The sizing was spot-on-accurate for finger length, palm size, and hand opening, and REV'IT! offers everything from a S-3XL. I wear a Large and at first these fit… sort of. Unlike OJ, my hands are not that big; my fingers are proportional, bordering on slender. Just putting the gloves on felt snug, which I do like – and for not yet being broken in, the finger dexterity was decent. However, I could also feel some odd scratchy spots and lumpy areas near the tip of my ring and middle fingers.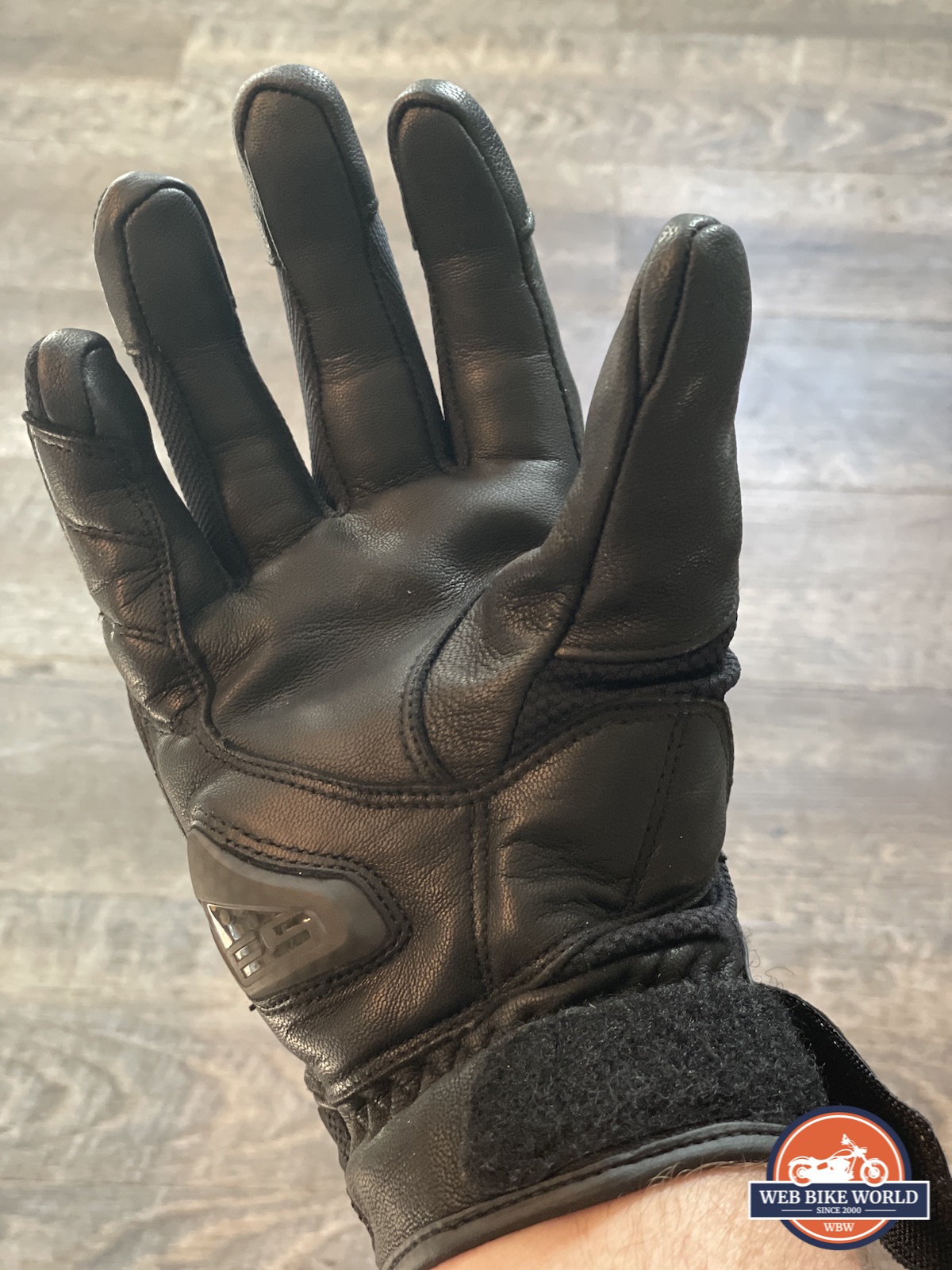 Gripping the handlebars, everything became much more pronounced. The fingers all felt like I was being squeezed, and the stitching problems became bigger sources of irritation against my fingers. Okay, I thought; no worries, these are new and will need some break-in time; this is to be expected.
Unfortunately, after multiple rides, some changes with the break-in period, and despite the extra time taken, some issues did not go away.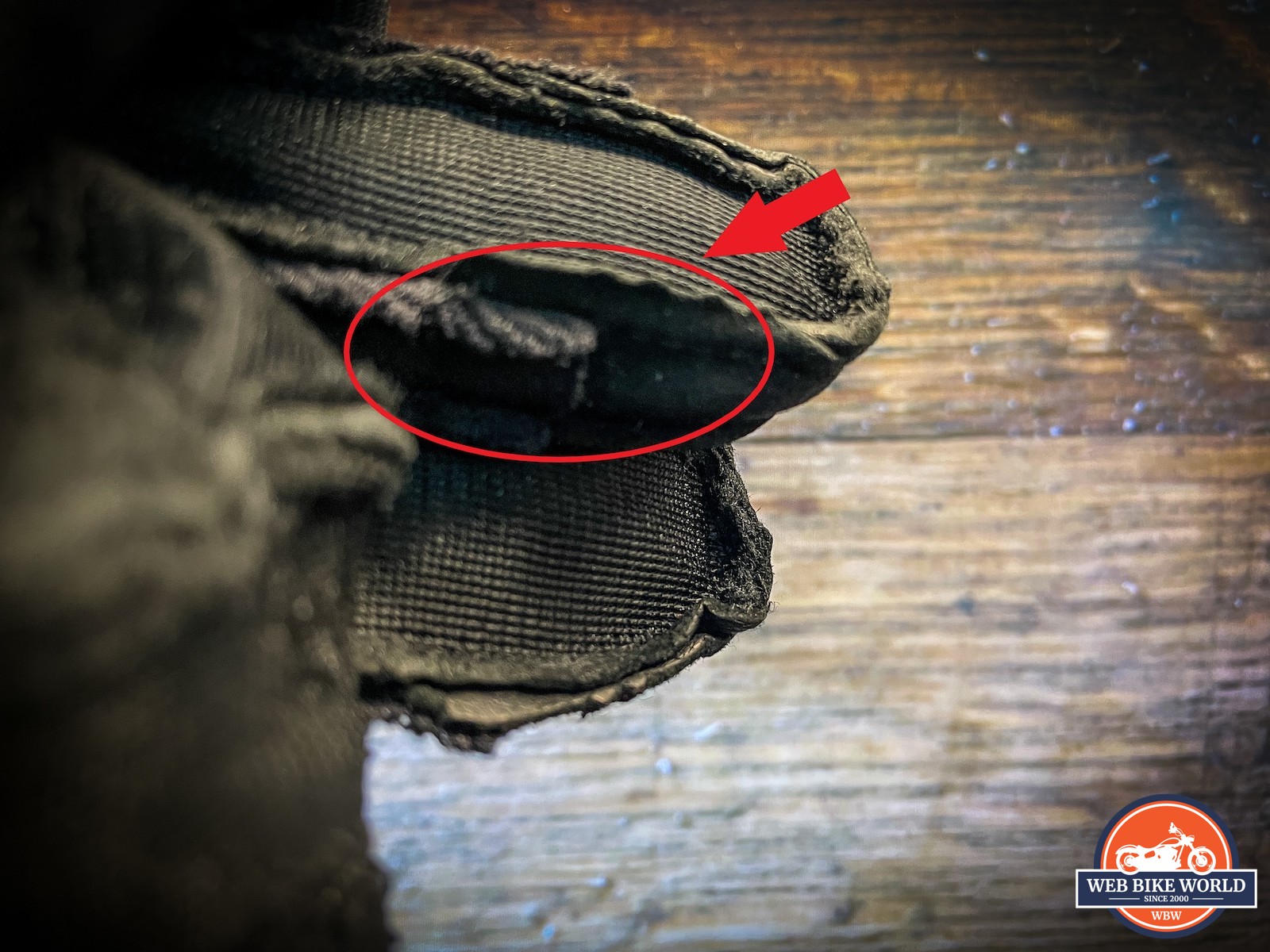 The fitting on the fingers themselves became easier from a dexterity aspect after some riding time, but the actual squeeze sensation never went away. I found this left my hands feeling fatigued, and I am not sure how anyone with sausage digits would fair wearing these gloves.
The stitching issue also never improved with wear. Each time I rode, I would have scratching from the seam that I could feel near the fingertips.
The other surprise turned out to be the lack of stretch across the palm for my thumbs. The leather on the palm would resist the motion of my thumb when I would make moves like reaching for the turn signals or starter button. For my right hand, this was not a big deal, but it really was apparent during city rides for my left thumb with regular use of the turn signals. Some added stretch material would have eliminated this problem.
The Echo gloves do have some venting by the knuckles, and this worked quite well. I rode on some hot days, and between the airflow and the nice lining, my hands did not end up too sweaty.
All told, I am not a fan of how the REV'IT Echo Gloves felt on my hands after riding. My suggestion would be to test them by gripping the bars when trying these on. Every hand is different, and it is possible I just got a pair where the stitching was sub-par.
Overall Rating: 70%
REV'IT! Echo Gloves: Protection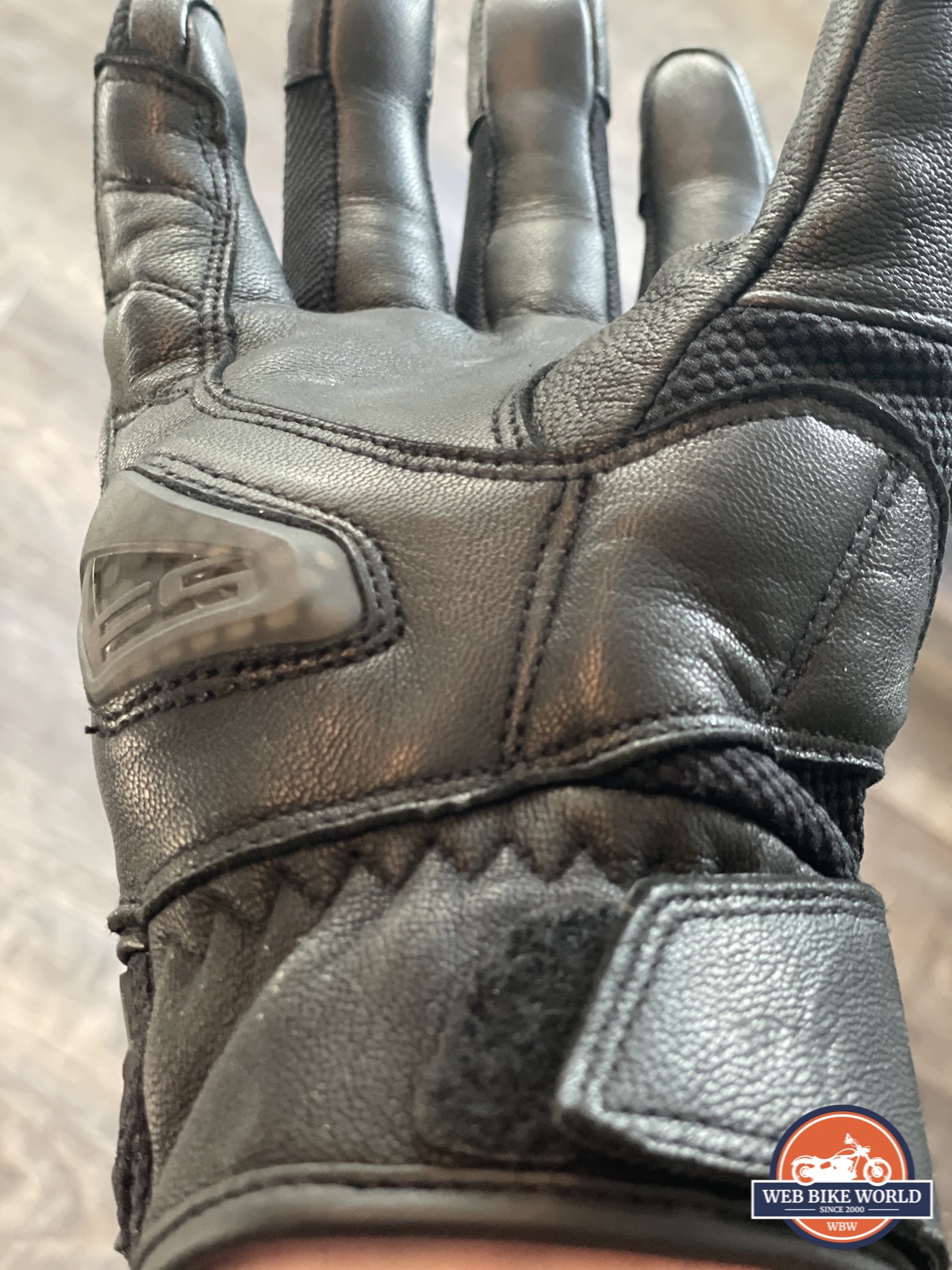 I have already touched on the material makeup of the Echo gloves and REV'IT! does do a great job ensuring that decent protection has been provided.
The accidental smash of my hand against the garage door opening revealed just how nice knuckle protection can be. The Temperfoam® finger knuckles moved nicely as I moved and never felt intrusive, but were sure appreciated when hitting a dragonfly at 75 mph. It is often not direct falls or crashes where I find hard protection to be so useful, but the debris flying up when riding.
The palm slider is made from durable and high abrasion-resistant TPU material. Thankfully I never had to test it out, but it looks to be well-placed and well-attached. I feel confident that it would certainly protect my palm from any sliding along the road.
No, the Echo gloves are not the same level of protection as a pair of Racing gloves, but it is important to note that they are not meant to be. These are a short cuff Street riding piece of kit, and for that intended purpose, they have all the key points of protection I like – knuckles, palm, and general material that won't tear up in a slide.
Overall Rating: 85%
REV'IT! Echo Gloves: The Conclusion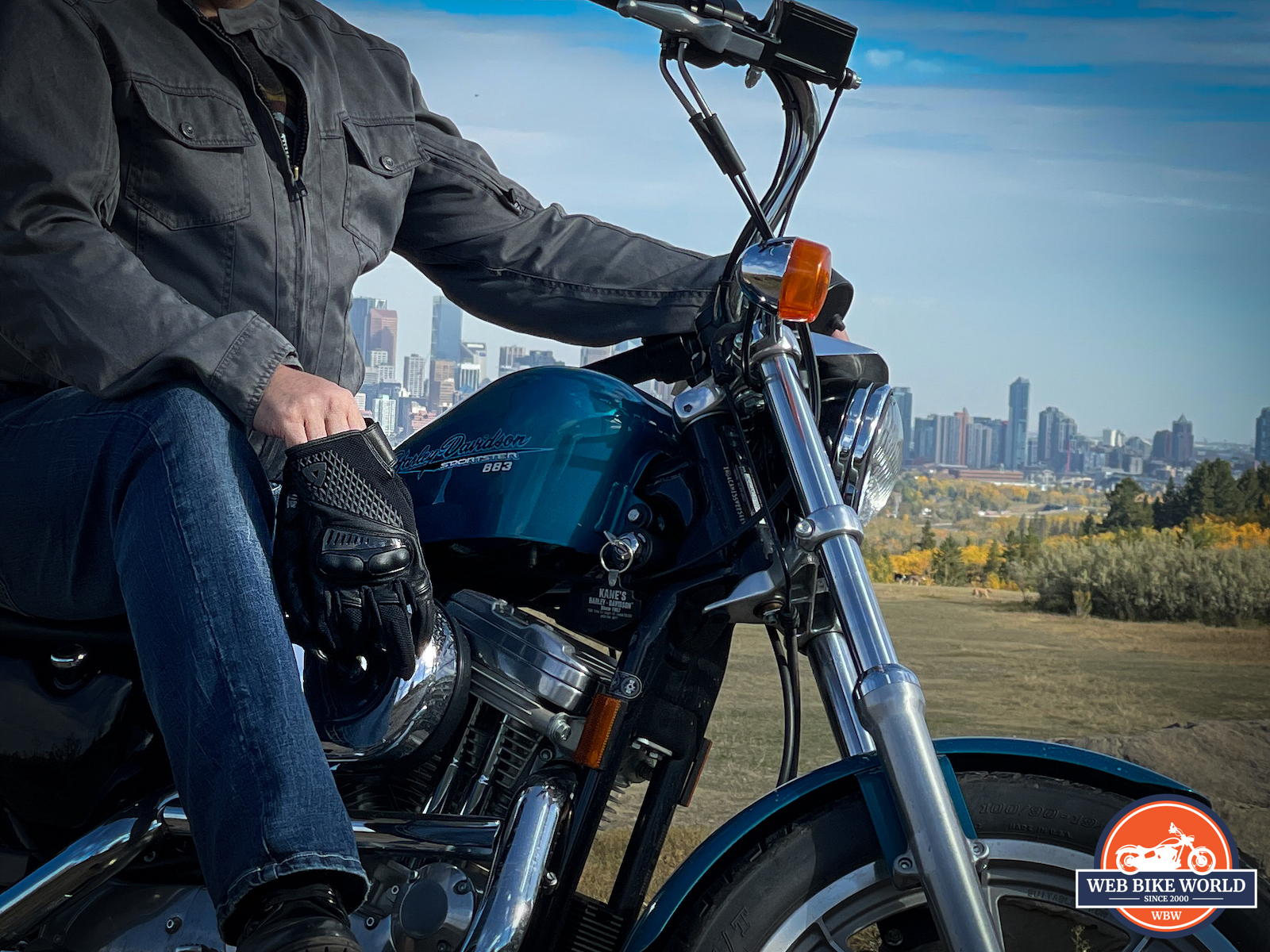 The REV'IT! Echo gloves look great and are made with excellent material. They are intended for Street riders, Cruisers, and Cafe racers; Scramblers, Adventure bikes, and Sportbike riders should be looking at different choices.
I highly recommend trying these on and actually grabbing hold of a set of bars. The shape of our fingers changes when holding the throttle; try reaching for the turn signals, and two-finger pulls on the clutch and front brake levers. We all have different hands, and while these gloves just didn't do it for me after multiple tries, they might be better on a different hand.
Finding a nicely protective leather glove for $100 is not easy, which is why I won't just flat-out tell people to ignore these gloves. If you are in the market for some short cuff gloves, see if you pick up on the same issues that I found.
Pros:
Soft, quality feel to the leather
Connect fingertip
Temperfoam® finger knuckles
TPU hard-shell palm slider
Ventilated dual comp protector provides airflow for your hands
An all-black esthetic
Cons:
Not for thicker fingers
Thumb dexterity was mediocre
Stitching inside the fingers made for scratchy points
An all-black esthetic
Specs
Manufacturer: REV'IT!   
Price when tested: $99.99 USD
Made in: Vietnam
Sizes: S, M, L, XL, 2XL, 3XL
Colors: Black
Review Date: August – September 2021
Important Links / Where to Buy: