There is no shortage of gizmos that riders mount on their motorcycles.
We mount smartphones, GPSs, action cameras, toll transponders and that old standby, the cup holder.
My "go-to" systems for mounting such devices are generally built using RAM products.
So I'd now like to introduce these components to those of you who are unfamiliar with RAM (and RAM-compatible) products.
And then I'll show you a few ways that they can be used.
Also, while we're on the subject, we'll take a brief side trip to look at some alternative mounting systems.
But first, a little background…
RAM?
According to the company (National Products, Inc.), RAM is an acronym for "Round-A-Mount".
The U.S.-based company has been in the business of making mounting components for motorcycles, cars, boats, airplanes, photography and more since 1992.
The RAM system, at its most basic level, is described by the company as a "ball and socket mount" that "feature(s) a design revolving around an elastomeric rubber ball."
Basically, the RAM ball can be mounted on a motorcycle handlebar or elsewhere and a device mount attaches to the ball.
The RAM ball has "a non-slip feature as well as shock and vibration dampening" and RAM makes many different types of device holders that fit on the ball.
The "ball and socket" mounting system then allows the user to orient the device in a wide range of positions for best viewing.
Besides the RAM mounts that are familiar to motorcyclists, they manufacture a huge array of extensions, adapters, cradles and other accessories, including cases and docks for various types of personal electronic devices.
Although RAM (or National Products, Inc., the corporation) claims over 132 patents, as we'll see in a minute, sometimes another vendor can, on occasion, out-do RAM with its own RAM-compatible product.
But that's one of the advantages of basing your system around the RAM system; their use is so widespread that everyone wants to play in the game.
For example, I took a look recently at Four Smartphone Mounts for Your Motorcycle (review).
Two of those mounts did not base their attachment systems on RAM mounting balls, but given the products available — at RAM and elsewhere — it was trivial to adapt those mounts to a RAM-compatible system.
And some other RAM products have also been discussed in other webBikeWorld articles, for instance in H.B.C.'s Using a Tablet as a Motorcycle GPS and in Burn's More Motorcycle Video Camera Mounts (review).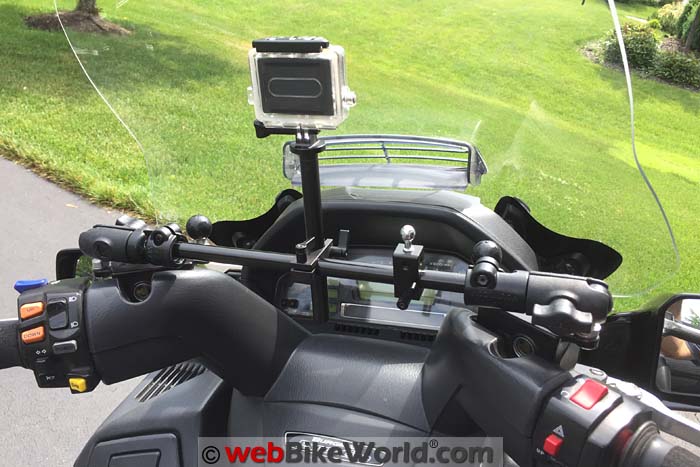 Editor's Note
Product links go to either the manufacturer or they are a webBikeWorld affiliate link to Amazon.com, where we make a few shekels if you use the links and buy gear. That generates the revenue to run the website.
Why Balls?
Ball-and-socket mounting arrangements for your motorcycle allow a huge range of device positioning.
And whatever position is decided upon can be locked in place by simply tightening a single knob or lever (with perhaps a second lever for really fine adjustments).
Probably the most common uses of RAM mount on a motorcycle involve a smartphone, GPS or action camera.
Note that "ball and socket" type mounting systems are used in other professions; for example, photographers sometimes rely on such a mechanism for the head on a tripod.
The ball mount allows the camera to be quickly and easily adjusted to the desired orientation, then a quick-release lever locks a camera mount to hold the camera steady.
While I'm not a professional photographer, I happen to own two tripods with ball heads. Both of these are from Manfrotto, a company well-known and well-respected in such circles. They use different size aluminum balls for their mounts.
At the other end of the scale is the company SmallRig, also a popular supplier of high-end camera mounts or "rigs". They have a series of extension arms that connect to a steel ball for professional video use.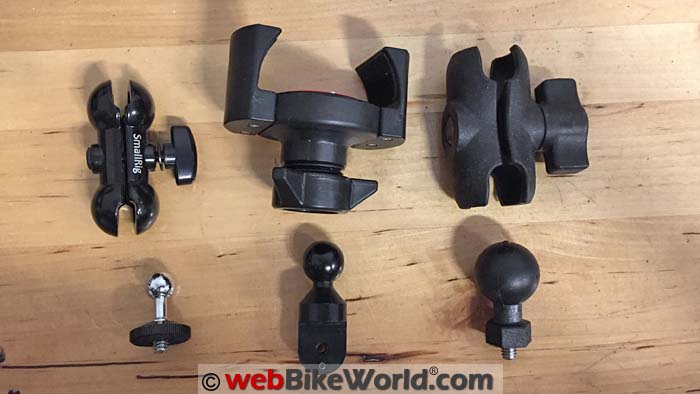 Ball Sizes
That brings up a related issue: what size ball is best?
The ball that SmallRig uses (I have one) is tiny, about 0.47″ (12 mm) in diameter.
Techmount, another manufacturer of mounting systems for motorcycles, uses a 17 mm (aluminum) ball, which is a size that GPS-maker Garmin also uses (in plastic).
And RAM — the giant of the ball-and-socket device-mount industry — has product lines that use extremely hard rubber balls in 1″ (25 mm), 1.5″, 2.25″ and 3.38″ sizes (and possibly other sizes that I'm unaware of).
Which ball size is best will depend on the material of the ball, the material on the holder that grips it, the gripping mechanism and the nature of the task at hand (weight, range of required movement, etc.).
But we can say that the larger the ball, the more surface area is available for gripping.
For instance, a 25 mm ball, despite having a diameter only about 50% greater than a 17 mm ball, has more than twice the surface area.
(You do remember your high school geometry, don't you?).
Accordingly, for example, Manfrotto lists the "Safety Payload Weight" for their larger ball head (model 494, 1.1″ diameter) as a whopping 4 kg (8.8 lb.).
And the smaller ball head (model 492, 0.78″ diameter) payload is a still-respectable 2 kg (4.4 lb.).
It's difficult to measure these diameters, since the balls are in a non-removable enclosure (and Manfrotto doesn't include this information in the product specifications on its website).
But, sure enough, using my rough figures results in a surface of about 15.2 square inches for the larger ball and 7.6 square inches for the smaller, i.e., about 2:1, which is the same ratio as their listed maximum weight specifications.
But we have to stop somewhere, or the ball would be larger than the bike. So for motorcycle use, the 1″ (25 mm) balls are a good compromise.
They're big enough to get the job done while not seeming to be overwhelmingly "in your face" when not in use — and they're also ubiquitous in our motorcycle-mounting environment.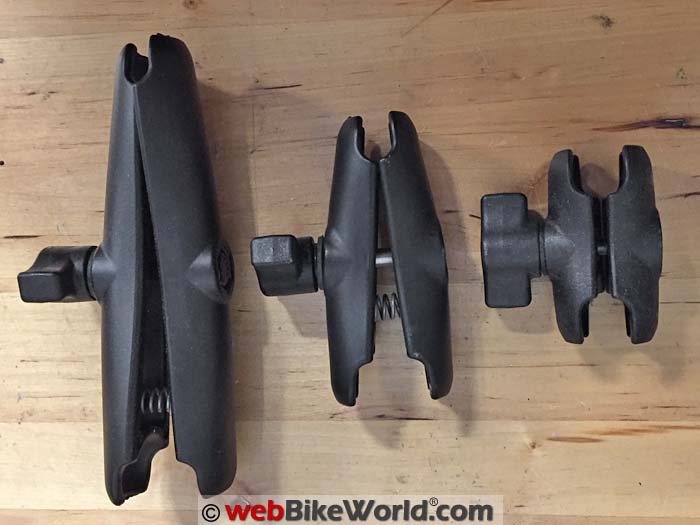 Balls and Arms
First, some nomenclature. RAM states that the balls are made of nitrile rubber:
"RAM Balls are injection molded onto a marine grade aluminum post. RAM uses nitrile rubber and other additives to create a strong and resilient connection to the double socket arm."
They're so tough that they almost feel like a cross with some super tough, super grippy plastic.
The ball that we've settled on for motorcycle use — the 1″ (25 mm) — is what RAM calls its "B" size (not to be confused with those larger sizes — which I've never seen used on bikes — that I mentioned earlier).
What I think of as "extensions", RAM terms "double socket arms."
These are two aluminum halves, with a bolt and knob through the center for holding them together. Each end has a cupped area (more open than the photographic ball heads) and the respective balls fit into them.
And Now We Have a Mounting System
Now that you know the official designation for balls and arms, all that's left, in order to make use of them, is to put the two together.
Well, the three, actually: a ball that you keep affixed to your motorcycle somewhere; a ball attached to the back of some device holder (phone or GPS cradle, cup holder, etc.); and an arm that serves as the linkage between those two balls.
This system allows the device-holding ball to be positioned at assorted angles within the cupped end of the arm and with the additional ability to rotate within those angles.
The arm itself also has analogous adjustability at the other end, i.e., where its other cupped end meets the ball that's attached to your bike.
All in all, it is a very elegant, adjustable and robust system.
And once you're satisfied with the positioning of the mounted components, you can really crank down that single knob — the one in the middle of the arm — and everything will stay put.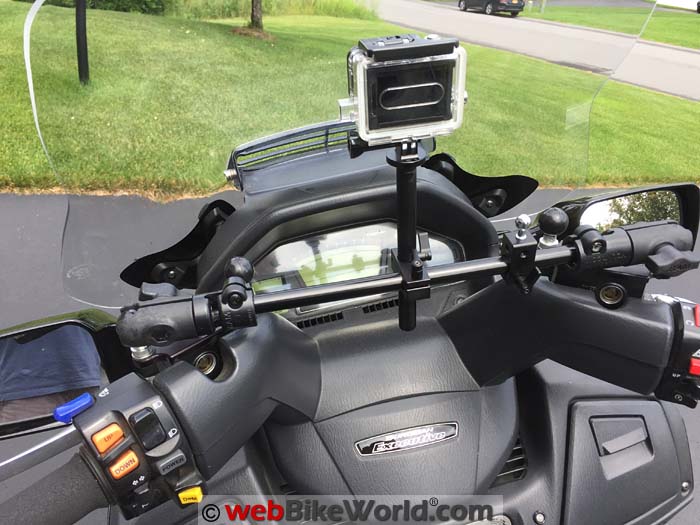 Arm Length and Type
In addition to the inherent adjustability of this three-part system, you have some choices regarding arm length.
The common ball center-to-center lengths of RAM arms are 2″, 3″ and 6″, although there are longer specialized accessories. I have all three of these, but the most useful is the 3″ RAM-B-201U Double Socket Arm.
It's the shortest one that comes with a spring between the two halves and a longer arm is generally not needed (and a longer arm may introduce vibration when used on a motorcycle).
If you position that 3″ arm such that the spring end is toward the bike, you can easily remove the arm and device holder and store both for lunch stops.
That is, once you loosen the knob just enough that the arm can be removed from the bike-mounted ball, the other end of the arm will still loosely cradle the other ball, the one that's attached to your device.
This is a convenient way to remove your mounting arm, cradle and device, i.e., just turn a knob.
One last note on arms. RAM also sells a RAP-B-200-2U Double Socket Swivel Arm.
This has much more adjustability than is needed for most applications — and I don't even own one, which should tell you something — so spare yourself dealing with three knobs, instead of one.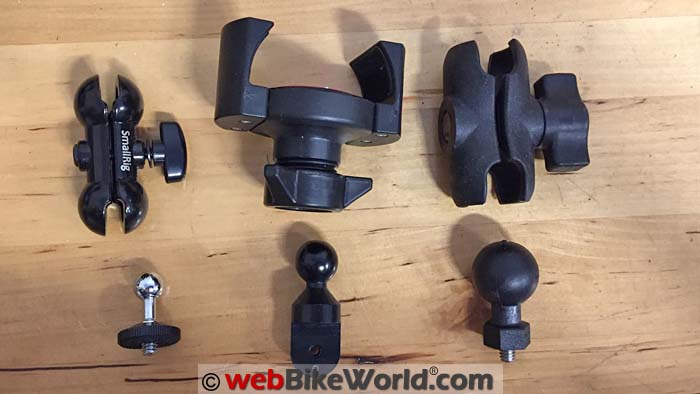 Knobs
Speaking of which, the regular steel bolt and plastic knob (and a washer) included with an arm works fine.
You can really crunch the arm halves together and in about two decades of using RAM products I've never had anything break. That said, note that RAM also makes some tamper-resistant knobs.
Yep, I happen to own one of these; the RAM-KNOB3LU Locking Knob.
I have a couple of model-specific plastic cradles, the RAM-HOL-AP9 RAM iPhone 4 holder and RAM-HOL-GA24U RAM Cradle for the Garmin nuvi 200.
Both are now gathering dust, but they were inexpensive and served their purpose.
When I used those, I used them often and tended to just leave one or the other — with the arm — on the bike during a trip. During a lunch break, I'd just remove the GPS or phone itself.
And if this sort of procedure works for you, you may want to consider that locking knob, or possibly a RAM RAP-S-KNOB3-4U 4 Pin-Lock Security Knob.
No, these aren't theft-proof…but neither is your bike and at least they'll prevent someone's stealing an arm and cradle by walking up to your bike and merely twisting a knob.
We're trying to eliminate what lawyers call an "attractive nuisance," not secure Fort Knox .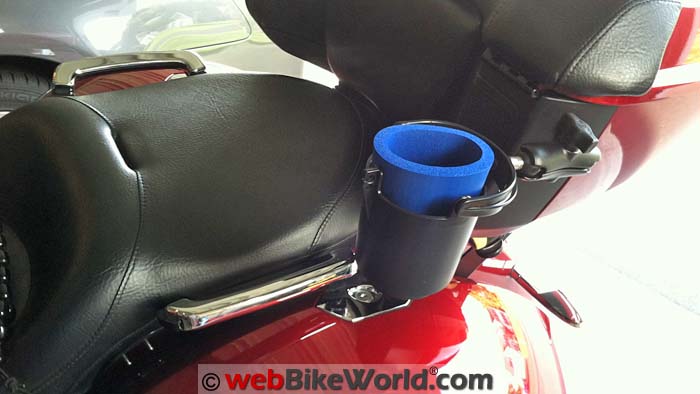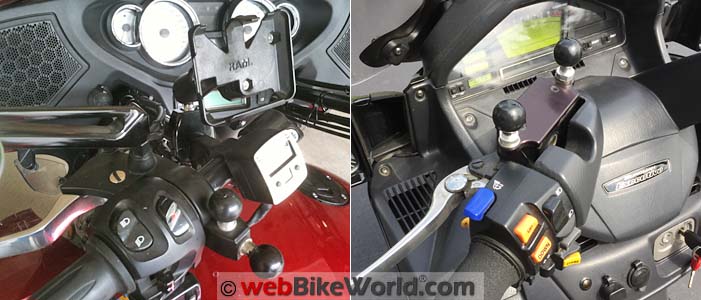 All Sorts of Choices
You understand by now that you'll need a ball that mounts on and sits on your bike all the time, ready to accept an arm, right?
In this area, you have a lot more choices than you do regarding arm lengths.
RAM sells all sorts of bike-mount options, including ball-and-brackets that use mirror-stem and fork-cap bolts, unused mirror threads, gas-cap surround bolts, switchgear-mounting bolts and more.
I've never reached the end of their website. Many other manufacturers, offer plenty of compatible options, so it pays to look around.
On my Victory Cross Country Tour (review), for example, I have an OEM replacement bracket for the left- or right-side switchgear, which can hold up to three RAM balls (and I exercised tremendous restraint, by only putting two 1″ RAM balls in there).
A few years ago, Victory stopped selling these replacement brackets, to the dismay of many Victory owners.
(And this year, Polaris stopped selling Victories, to the dismay of pretty much all Victory owners, but that's a story for another day.)
On my Suzuki Burgman 650 Exec maxi-scooter, I have replacement brake reservoir covers with built-in 1″ RAM balls, from a company called MCL Sport Touring (formerly "Motorcycle Larry").
These replacement covers are great options, particularly for bikes such as the Burgman, which has its handlebars covered by bodywork (argh!).
MCL also makes these replacement reservoir covers for Honda's ST1300, Yamaha's FJR1300, Kawasaki's Concours (both 1000 and 1400) and some other bikes.
Check it out, because those covers are otherwise unused pieces of valuable real estate.
RAM sells a few similar products for mounting a ball on your brake (or clutch) reservoir, including the RAM-B-346U Brake/Clutch Reservoir Cover Base.
I have a friend who bought one of these (but never used it) and I do not recommend that base.
The problem with that RAM product is that it's not a replacement cover, but rather sits above the stock cover, using small spacers and replacement screws.
So instead of distributing the torque load on the ball across the entire reservoir rim, that load is carried only by the screws (typically small M4 size).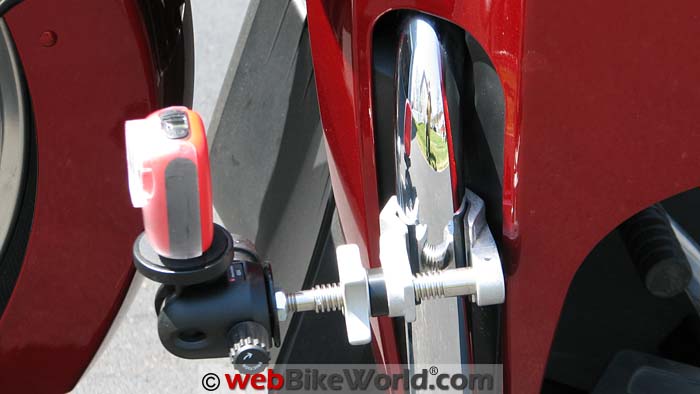 Balls on the Handlebar
A much more common — and stronger — mounting method places the bike-side ball on the handlebar.
RAM's oft-used product here is the RAM-B-231U Rail Base with Stainless Steel U-Bolt & 1″ Ball.
If you've never seen this product on someone's handlebar, you either haven't been looking or you need to get out more often!
Another example: that RAM-B-231U is included in one of the add-on packages that you can order with a Perfect Squeeze mount (discussed in that article I mentioned earlier, Four Smartphone Mounts for Your Motorcycle (review)).
But I have a couple of problems with that RAM product. First, it looks like something that you'd buy at a plumbing supply store.
Second, if you have a 1″ diameter handlebar (or 1.25″, in which case you'll need a RAM U-Bolt Base for a 1.25-1.5″ Ball), you risk having the U-bolt mar your handlebar (unless you get the type with the plastic "V" shaped protector for the metal "U" bolt).
My recommended solution here is the Mounting Innovations B-231U Chrome Handlebar Mount with 1″ Ball. It looks much better than the RAM product, it's even more secure and won't leave a mark.
Originally, that mount was available only in chrome, but about three years ago I convinced the owner of Mounting Innovations to produce a black model.
As soon as he did that, I bought two of them. Alas, the Mounting Innovations B-231U fits only 1″ or 1.25″ handlebars.
If you know of a similarly rugged and nice-looking RAM ball mount for 7/8″ bars, well, you can't tell me, but you can drop a line to the comments section below.
Fortunately, RAM also now has the RAM Torque Base with a full-surround handlebar attachment.
These are fairly new and I have no experience with them. I've never seen one in the wild, but based on the pictures at RAM's site at least they look better than the old U-bolt clamp.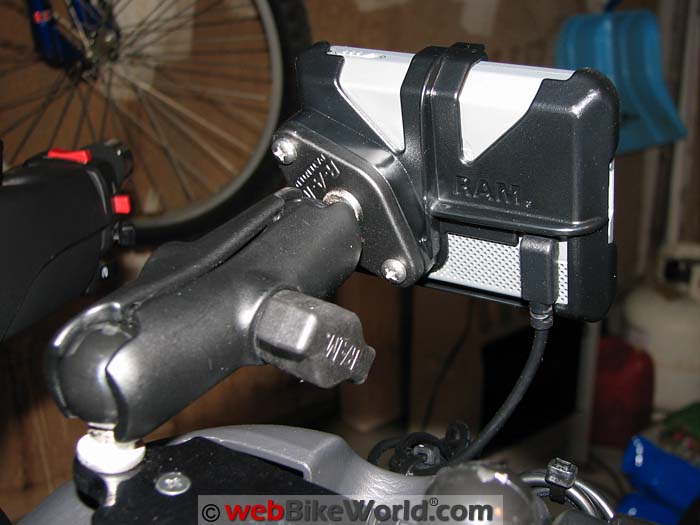 Other Places to Mount Your Balls
If you want to branch off from handlebar or brake-reservoir placement, one product you might be interested in is the RAM-B-238U Diamond Plate 2.43″ x 1.31″ with B Size 1″ Ball.
This is a diamond-shaped molded ball base with one hole at each end and a 1″ RAM ball rising out of the center.
If you have a flat area on the bike — perhaps on a flat area of a fairing — these can be user-installed with a couple of bolts.
I have one of these mounted on one side of the top case on the Victory and I use this with a 3″ arm, to support a RAM-B-132BU Level Cup Drink Holder for my wife, when she's riding pillion.
Other Ways to Add a Ball
So far we've talked about having the bike-side ball permanently affixed — that is, permanent in the sense that ordinarily you'd leave it alone and you'd need to whip out an Allen wrench to remove it.
If you'd prefer an ad hoc mount, instead of or in addition to a permanent mount, you might be interested in a RAM Tough-Claw.
It's a "grip" type clamp with "jaws" on the bottom and a tough plastic knob connected to an internal metal screw that runs above the two rounded, rubber-covered jaws.
Turning the knob adjusts the separation of the jaws and atop all of this sits your everyday RAM ball.
The Tough-Claw is meant to grip round — or at least roundish — bars. It will work on a handlebar, of course, but better uses might include crash bars or saddlebag guard bars.
Tough-Claws come in three sizes, at least with 1″ balls attached; RAM has some other Tough-Claws models with larger balls.
Naturally, I have one of these, the "Small" version (which actually has a pretty large opening — up to 1.5″ — for use on bikes): RAP-B-400U Small Tough-Claw with 1″ Diameter Rubber Ball.
It's a solid, well-made, mount and clamps very tightly. I don't use it often, given the number of permanent balls on my bikes, but, hey, you have to be prepared, right?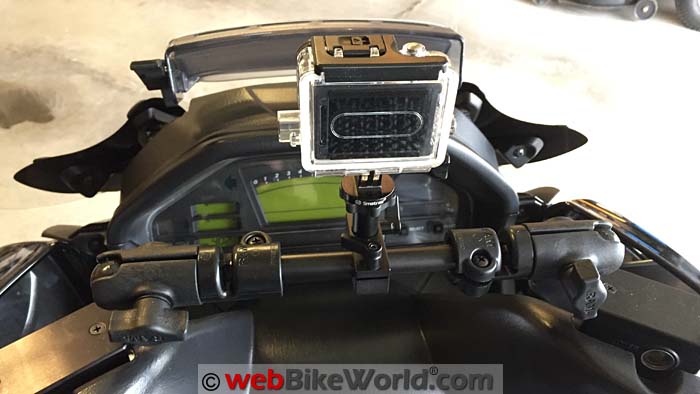 Other Mounting Systems
All of that being said, I do use some other mounting systems.
While this primer is about RAM products, as long as you've read this far, you might as well get a brief exposure to some alternatives I use. And then you'll have exhausted my knowledge and probably your patience. .
17 mm Balls
As I briefly mentioned earlier, Techmounts and Garmin have systems based on 17 mm balls, i.e., about two-thirds the size of our preferred RAM 25 mm balls.
To repeat what I said in Four Smartphone Mounts for Your Motorcycle (review), the aluminum Techmounts are high quality products (and commensurately expensive), but I don't prefer them.
As noted already, you have less surface area for gripping.
And adjusting the arm positioning requires an Allen wrench.
And connecting and disconnecting compatible device mounts requires spinning and then moving away a locking collar.
I've used Techmount products before, for some years on a Honda Valkyrie Interstate and I still have one on my Victory, as a sort of vestigial reminder of not being thrilled with them.
If you want to go that route, that's fine.
On the other hand, if you come across a mount with a cup for a 17 mm ball and don't want to play in that world, you can buy an adapter that has a 17 mm ball on one end and a 25 mm ball on the other.
The one I use is the Arkon 25mm to 17mm (or vice-versa) Ball Adapter and costs six bucks. Then, you'll be back in the 1″ RAM world .
For Heavy-Duty, Professional-Grade Use
Let's say you have a heavy and expensive DSLR camera. And an even heavier and more expensive lens on it.
What you need, therefore, is a rigid and robust mount that can deal with a lot of weight and absolutely, positively, won't let you — or your camera — down.
For those occasions — and certainly lesser requirements — I can recommend a mount for you.
It's a combination of a Cardellini Mini Clamp with 3/8″ thread and a Manfrotto model 494 Ball Head. This is, as one truck company bills itself, "Professional Grade".
The Cardellini clamp is made of steel, has two large "V"-shaped, rubber-covered, jaws (about 2″ wide) and a very large metal locking collar and the jaws open to 1.5″ and can be tightened down like a workbench vise.
The Manfrotto ball head, as noted earlier, has a "Safety Payload Weight" of 4 kg (8.8 lb.), uses an aluminum ball head about 1.1″ in diameter and terminates in a standard male tripod screw.
The two are joined by the 3/8″ threads on the Cardellini, held in place with a real, steel, 9/16″ (14 mm) nut.
It's as if (except for the rubber covering and the rotational capabilities of the ball head) the whole thing were laser-cut from a single block of metal.
There are some drawbacks, of course. You don't have nearly the adjustability of the double-ball-and-arm systems we've been talking about.
All you have, besides how you locate the clamps, is a single ball-head's movement.
And this combination is expensive (although it should last longer than you'll be riding), around $140.00 the pair.
I don't have a DSLR (or even an old SLR anymore), but I have used it to mount an action camera, such as a Liquid Image Ego (review) and its replacement, a newer GoPro Hero4 Silver.
Such use is a bit of overkill for a mount that can handle the weight of 47 of the former and 27 of the latter.
And I don't use the mount often; this is another case of just being prepared for eventualities.
But if you need a beefy, professional-grade, mount combination that can also be used on an engine crash bar, keep this combination in mind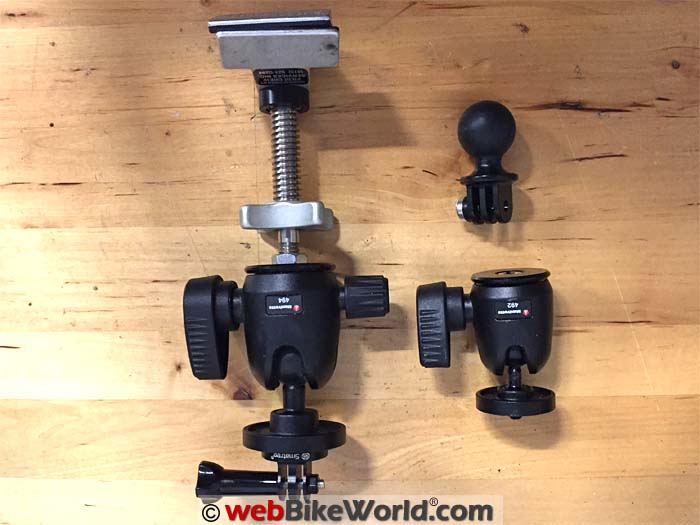 A Hybrid RAM and 15 mm Photographic Bar System
And now, for something completely different…
In the world of professional video camera mounts, there is a thriving industry based on the use of 15 mm diameter rods.
Search for something like "15 mm camera rods and accessories" and stand back. Go ahead, I'll wait.
These rods are used to extend tripod and other mounting bracketry and apparently the industry settled upon a 15 mm standard for interconnectivity.
And rather than just serve as single-purpose extensions, the rods can also become homes for assorted mounting pieces that have 15 mm holes in them.
These pieces present some capabilities that are not available with RAM mounts, so you might want to use them on special occasions.
One of these is the ability to adjust movement in only one dimension.
If you want to reposition your RAM-mounted GPS for a better view, you can slant the arm at some other up-and-down angle.
And then you can point it in some other compass direction around the bike-mounted ball and also play with the rotation of the cradle's ball at the other end of the arm.
Doing so will also change more than one of its three-dimension coordinates, i.e., the GPS's place in space.
This is not a big deal, because all you want to do is see the screen better, but suppose, on occasion, you do care.
Put in mathematical terms, given a mount with specific X, Y and Z coordinates, we just want to change, say, the X coordinate, but want Y and Z to remain the same.
In practical terms, let's say you have a GoPro mounted behind your windshield, nicely centered side-to-side and at a particular distance behind the windshield and you want to alter its height, but you don't want to affect anything else.
This isn't possible with any RAM products, at least the ones that I'm aware of.
But our 15 mm rod-and-hole system can handle this with aplomb.
For example, a setup that I've constructed uses one of those 15 mm rods (they come in assorted lengths) and a block that has two 15 mm holes, at 90 degrees from each other.
Specifically, I use a SmallRig Coolblock 15mm Rail Block Rod Clamp Mount 90 Degree Angle for 15mm Dslr Rig System.
Each end of the rod (I can use either a 30 cm or a 6″ rod in my quad-RAM-ball setup on my Burgman) is inserted into a RAM RAP-321U Male Oct Button W/ 1/2″ Flex Rod Clevis.
And each one of those fits into a RAM RAP-B-200-1U Single Ball Socket for B size 1″ ball with Octagon Button Socket.
And the two end components — the Button Sockets — have a knob through the middle and are cupped, i.e., the same as a standard RAM arm.
This entire assemblage is then connected to a RAM ball on each side of the handlebar, forming a cross-bar, like those found on the handlebar of many dirt bikes.
The difference here is that this cross bar is a photographic industry-standard 15 mm in diameter and is removable, so that something such as the Rail Block Rod Clamp, above, can be slid onto it.
By the way, that collection of four RAM products is sold as one item by RAM, its RAP-B-200-1-18U RAM 18″ Long Rigid Aluminum Rod & (2 QTY) Single Socket Arms for 1″ Balls.
But you don't need that 18″ rod — which, at 0.5″ (12 mm) in diameter, is too narrow for our purposes — and so it's cheaper just to buy those four pieces.
Also note that since those RAM parts are designed with that smaller rod in mind, you have to bore out the business ends of the RAP-321U Clevis from 12 mm to 15 mm, up to the point where the clamping area ends.
And now you're ready for the final part: another rod, but with a tripod screw on the end.
You can buy exactly that, in combination with the Rail Block: SmallRig Quick Release Rod Clamp 90 Degree to Field Monitor/ Evf for 15mm Rod Dslr Shoulder Rig.
This gives you a 1.5″ rod to hold your action camera, for instance, with about an inch of up-and-down adjustability.
The Rail Block is locked in place — side-to-side and rotationally — on the crossbar rod with a lever and the camera-holding rod is locked up-and-down by another lever.
For greater height adjustment, I also have a 6″ rod which typically come internally threaded at the ends with M12 threads.
So all you need is a double-male adapter, with M12 threads on one end and 1/4″ tripod threads on the other (try eBay).
I have a similar 15 mm crossbar-rod setup on my Victory, except that it dispenses entirely with the RAM end parts.
Instead, I use hardware-store angle brackets at the rod ends, secured underneath some screws that hold on the windshield brackets; a useful setup, particularly for track days.
Should the camera-rod lever loosen, it will just slide down, but otherwise stay in place and with about a mere quarter turn of that lever, the rod and camera can be easily removed and put away.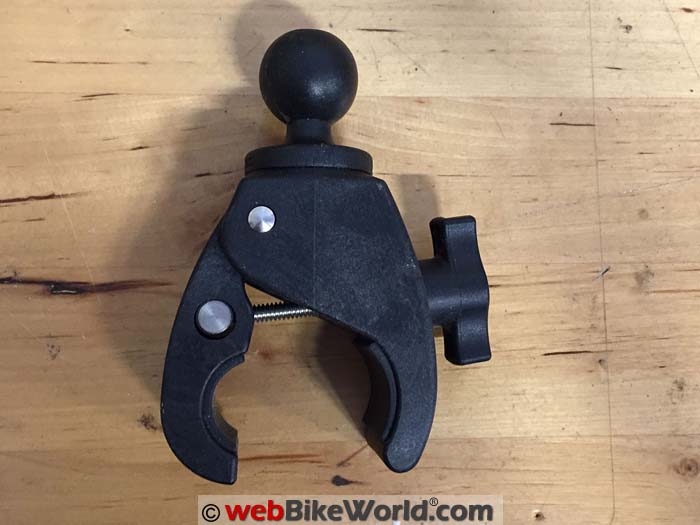 Conclusion
Putting the unusual mounting scenarios noted above aside, let's now return from whence we started, i.e., the world of RAM products.
If you were thinking I work for RAM, you'd be wrong; I have absolutely no affiliation with the company, monetarily or otherwise and I know no one who does.
I just, for the most part, really like their products and they accomplish the usual tasks of mounting assorted devices on bikes very well.
RAM parts are rugged, reasonably priced and extremely adjustable and they're easy to position and then reposition as your needs (for example, the angle of the sun) change.
And they're not overly large, but large enough to comfortably work with, even when wearing gloves.
So that's why I own and use a lot of RAM products.
As for you, if you've been following along, you now have — at least in your mind's eye — a device holder, with a 1″ ball on the back (or top or bottom) of it.
And a 1″ ball mounted somewhere on your bike and a 3″ double-socket arm, to connect the two balls in all manner of positions.
So you're all set, ready to roll, with your RAM-based mounting system. That's It: That concludes today's lesson, class. Safe riding.
Publication Date: June 2017
Also: Motorcycle Camera Mounts Reviewed
More Motorcycle Phone Mounts Reviewed
Note:
 For informational use only. All material and photographs are Copyright © webWorld International, LLC since 2000. All rights reserved. See the webBikeWorld® 
Site Info page
. Product specifications, features and details may change or differ from our descriptions. Always check before purchasing. Read the
Terms and Conditions
!
Owner Comments and Feedback