Fighter Motorcycle Gloves Review Summary
Fighter Motorcycle Gloves Image Gallery
Akuma Street Fighter Gloves Review
Super soft and comfortable leather along with carbon fiber protection means the new Akuma Street Fighter gloves are a perfect cross between a touring and race glove. We usually run a summer glove feature around this time of year, but not much has changed since our 2007 Summer Glove "Extravaganza", with very few releases of new mesh or perforated gloves. Thus, a 2008 comparison doesn't seem likely.
But there are definitely some motorcycle gloves of other types that we think you'll find interesting, like the new Akuma Street Fighter gloves described here and a few more that are currently being evaluated, so stay tuned for more. I can hear you now: "Wait a second — did you say Akuma? They're the LED helmet guys, right?"
That's right — webBikeWorlders are familiar with Akuma Helmets, including the very cool Akuma Ghost Rider (review), Akuma's first helmet, and also with the Akuma Stealth (review), which was voted the "Best Helmet" at the 2008 Powersports Dealer Expo in Indianapolis this year (see our report). Akuma is also working on the Akuma electrochromatic visors (First Look), and we can't wait to get our mitts on that one…
But in the meantime, Akuma is now expanding their product line with motorcycle clothing and gloves to compliment the helmets. The Street Fighter gloves are brand new, and they will be followed by the "Specter" version, which are said to be identical in every way except they'll be without the middle knuckle vents shown here.
Akuma Street Fighter Gloves
Akuma says the Street Fighter gloves were designed for street and racing, although my feeling is that they're probably missing a couple of features that would put them in the true "race" category.
But it's only a matter of semantics, because after wearing them for the past few weeks in a variety of weather conditions and on a gaggle of different bikes, I think Akuma has stumbled on to something here: the Street Fighters are the perfect cross between street, sport and touring gloves.
The first thing I noticed about the gloves is how buttery soft the leather feels — I'll go as far as saying this is the softest leather I've ever felt on any motorcycle glove I've ever worn. The leather feels like the super-high-quality stuff one might find on a high-priced designer jacket.
I asked them about it, but all they said was it's some type of new "leather and Kevlar matrix" material. How leather can be combined with Kevlar is beyond me, but these are the guys who put a rechargeable power pack, LED work lights, rear LED exhaust vent lights, electroluminescent helmet graphics and electrochromatic visors on motorcycle helmets. If they say they found a way to mix leather and Kevlar, who am I to argue?
All I know is that the cow that these came from must have been fed marshmallows. I wonder if they could make me a pillowcase out of the stuff??
The gloves are lined with a type of thin flannel-like material, and most of the seams on the inside are taped to prevent rubbing. The gloves apparently run slightly small, because I usually take a men's size large, but the XL's shown here fit me perfectly.
Finger Construction
The modified box-section fingers give me just the right amount of room — not too tight, not too loose — and there's just enough length and width at the fingertips to allow for that extra stretch necessary for gripping the handlebars.
This combination of fingertip length and width is apparently much harder to get right than you'd think, because more than a few new gloves I've worn recently have either mis-matched finger sizes or one, two or more (or all) of the fingers are either too short, or too narrow, or there's not enough room across the palms.
I don't recall having as much trouble with fit in previous years, and my hands haven't changed, so it's either coincidence or the motorcycle glove manufacturers are using some type of new standard size for human hand shapes.
This happened once before with motorcycle jackets, where all of a sudden a size large was no longer a size large — and then it changed back just as quickly as it came. Who knows? C'est la vie… Anyway, this pair of Street Fighter gloves in size XL is now my personal standard for fit.
The other problem I occasionally run into, especially on race gloves, is the typical lack of flexibility in the carbon fiber (or other type) of hard knuckle protector. The knuckle protector should ideally be curved underneath to match the profile of the base knuckles, and it helps to have some padding and maybe some elastic at the sides where the floating knuckle protector attaches to the body of the glove.
All of this is to give enough room for the hand to move underneath it, otherwise the glove may end up feeling like the torture devices covering the ultra-expensive Hurt Schizo (review) and theTeknic Speedstar Gloves (review).
The Street Fighter gloves have no such problem; the carbon fiber knuckle protector covering the back of the big knucks feels like isn't even there — I don't notice it at all, which is perfect.
Oh, and I almost forgot — there's also an extra section of the super-soft leather that runs around the outer edge of the pinky finger. The leather is so soft and pliable that it's unnoticeable in this crucial area.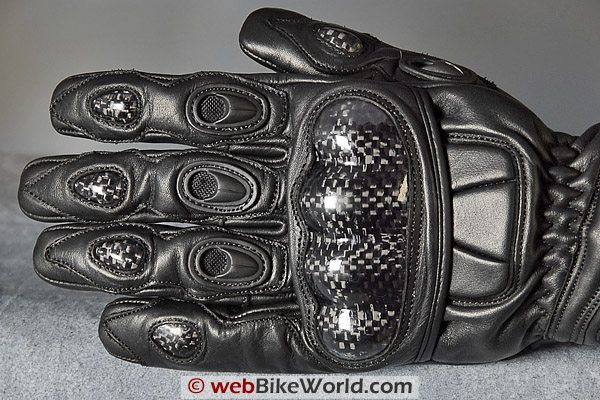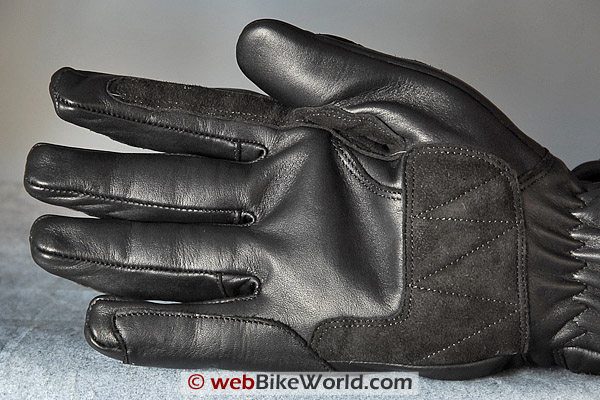 Protectors
The Street Fighter gloves also have little carbon fiber protectors on the back of each of the top knuckles (the third knuckles, down near the tips of the fingers), and this includes the thumb. These are a plus — many gloves provide third knuckle protection only on some fingers, usually the fingers towards the heel of the hand.
The middle knuckle of the first three fingers is covered with a rubbery type of protector that includes a screened vent. I've seen this type of protector and vent used on other gloves, and I'm never quite sure if the rubbery stuff will hold up or will grind into dust after a few feet — and I don't want to find out.
A tiny hole lives at the bottom of each vent, but it feels like they're covered by the liner on the inside of the fingers, so let's say this is more for show than go. I've tried various methods of holding the glove when riding to see if I could feel any air flowing in with no luck.
What is interesting though is that even though Akuma doesn't make any claims to using an Outlast-like phase change material in the gloves, my hands don't get as hot as I thought they would, and they remain at a neutral temperature all the way up to about 80 degrees or so
Ventilation
Since there are no other vents or perforations on the gloves, I'm assuming that the liner material does a good job of wicking moisture, because I'm not sure why the unperforated leather doesn't make my hands feel too warm.
Moving to the palm side, each glove has a single piece of thin suede-like leather that runs from near the tip of the forefinger down under and up along the thumb. This is designed to offer some added protection in this wear area. Another section of this suede-like material covers the base of the palm on each hand.
The wrist features a section of elastic material sewn nearly all the way around the wrist and the gauntlets are about 3/4 of what I'd consider to be full length. A section of hook-and-loop secures the glove under the wrist and the gauntlets are wide enough to fit over most jacket sleeve cuffs.
The elastic and the shorter gauntlet and the absence of a separate wrist closure are what keep the Street Fighter gloves from being classified as a full race glove in my opinion, but it's probably what helps make them comfortable for touring.
I do wish the gauntlets were longer and wider and that the gloves had a more secure closure; the elastic and the hook-and-loop does a pretty good job, but I can still pull a secured glove off my hand by the fingertips. This probably won't bother most riders, but I have a sort of phobia about my gloves coming off in a crash…
All in all though, that's a minor quibble, and an issue that's certainly not unique to the Akuma Street Fighter gloves. The comfort factor and the quality of construction make them look and feel like — I don't know — maybe $120.00 gloves?
But get this — Akuma set the list price of the Street Fighters at only $69.00, which I think is a super deal!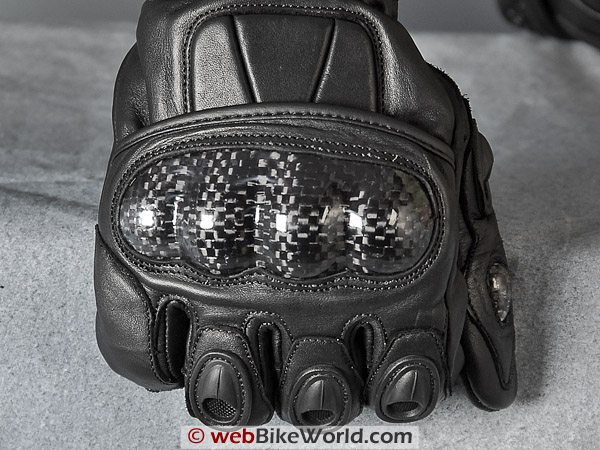 Conclusion
The new Akuma Street Fighter gloves offer a super combination of comfort, protection and high quality construction at a very reasonable price. They hit the mark for everything from basic street riding to Sportbiking to all-day touring.
w
BW
 Review: Akuma Street Fighter Gloves
Manufacturer: Akuma Helmets
List Price (2008): $69.00
Note:
 For informational use only. All material and photographs are Copyright © webWorld International, LLC since 2000. All rights reserved. See the webBikeWorld® 
Site Info page
. Product specifications, features and details may change or differ from our descriptions. Always check before purchasing. Read the
Terms and Conditions
!
Owner Comments and Feedback