BSA Cafe Racers are not as common as Triumphs & Nortons. This 1969 BSA Rocket 3-based custom is nothing short of amazing. Built right, very fast!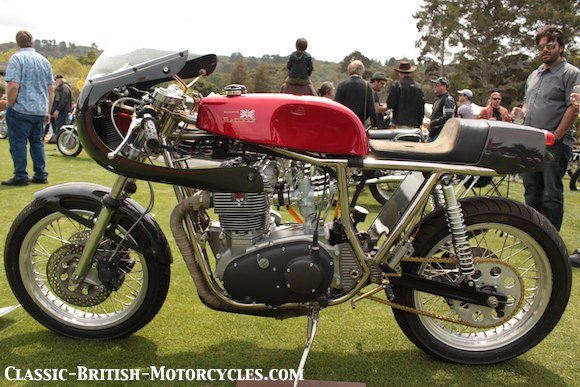 As long as we're eyeing triples, check out this 1971 Rickman-Triumph Trident. Rickman made killer off-road racing frames, but they also built a broad series of road racing chassis, like this elegant nickel-plated beauty. Lightweight, extremely rigid with world-class handling, Rickman Cafe Racers offer it all in a very exotic package.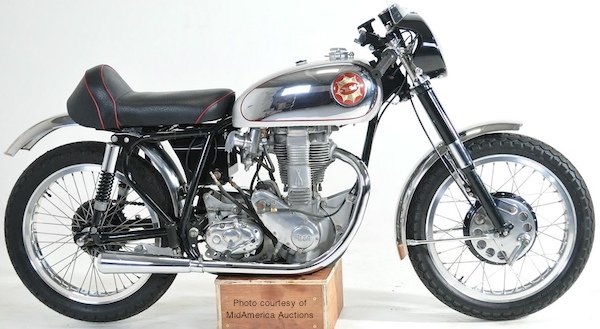 ROOTS
The Cafe Racer originated in 1960s England as part of the Rockers counterculture., although they were big in Europe as well. The name came from the practice of racing from one coffee bar, or Cafe, to another. 'Racing the Record' involved starting a song on the jukebox, then racing to a given point & back again before the record ended. This involved some real high speed riding & required a motorcycle that was built for speed & good handling. These machines were typically very personalized, most usually being built or at least modified, by their owners.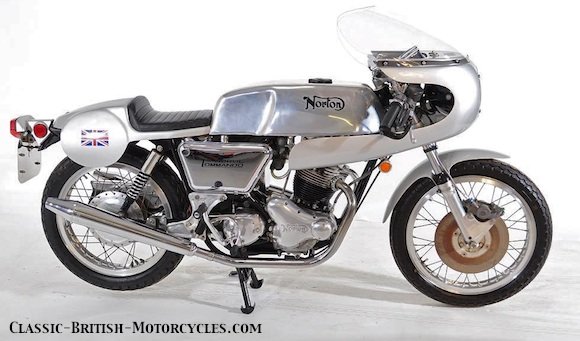 FACTORIES CATCH ON
Many factories caught on to the trend & began building their own factory Cafe Bikes. To further add to the fun, many forms of racing required so-called 'production' machines to be homologated (produced & sold to the public in at least minimal numbers to justify calling it a production bike). Original examples of these factory specials are rare, valuable & much sought-after by collectors today.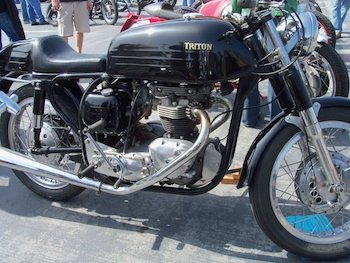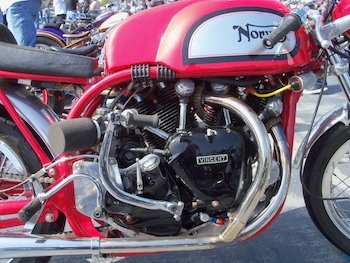 CAFE CHARACTERISTICS
Cafe Machines come in all shapes & sizes, and while the trend started in England, there are Japanese, European & even American Cafe Bikes. But, we will confine the bulk of our coverage to Cafe Racers which are also Classic British Motorcycles. Some are barely street-legal race machines with full fairings, rearset pegs & oversized tanks. Others are as simple as a set of low bars. But the look is instantly identifiable.
CUSTOM FRAMES & SWAPS
Some have custom frames, like the Egli Vincent, and others swap frames & engines from different motorcycles, like the Triton, a Triumph engine in a Norton Featherbed frame. Or the Norvin, a Norton Featherbed with a Vincent V-twin engine in it. Clearly there is a pattern here. The Norton Featherbed was considered THE best handling frame you could get in the 1950s & early 1960s. The arrival of the single downtube frame in 1963 finally put Triumph's handling on par with Norton's. These cross-brand hybrids were, of course, not built or even sanctioned by the factories. These were often home-built.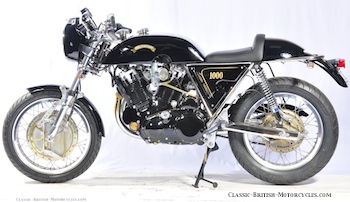 THE EGLI VINCENT
Swiss frame fabricator, Fritz Egli started a sensation with the frames he built for Vincent V-twins. Called the Egli-Vincent, they are not just beautiful to look at, the handling & engineering is top notch. This one is highly customized & is one of the most beautiful things I've ever seen in my life!!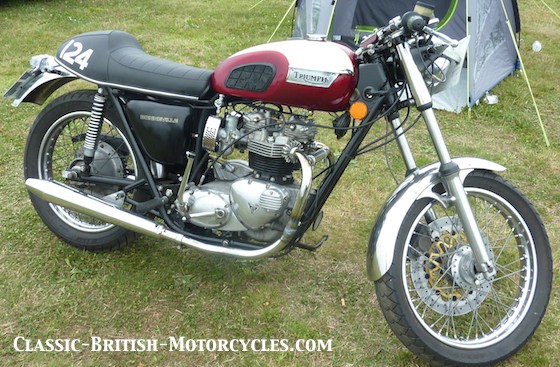 LEAN & MEAN!
Cafe Racers, like Choppers & Bobbers, are totally unique, like individual works of art. Some are extraordinarily detailed, others are quite simple. Generally, the original Cafe Racers were street bikes with all unnecessary equipment stripped off, making them quite simple, lean & mean. This lovely '75 Bonneville is a perfect example.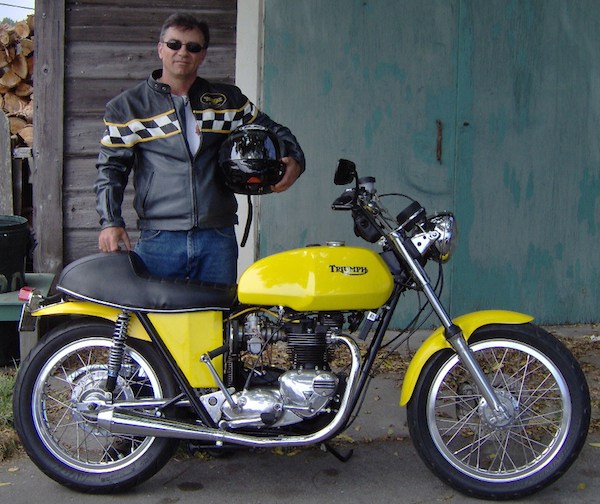 MY LOVE OF CAFE RACERS
I am a big fan myself, & I built this wonderful 1973 Triumph Bonneville into an award-winning Cafe Racer, which I call "The Yellow Bike", for obvious reasons. It's impossible to miss…The Yellow Bike is bright yellow! I'll get into more detail on my bike & others below. This is an area that is very close to my heart so it will be even more enjoyable for me to indulge in these gorgeous bikes. Even more so than all the beautiful Classic British Motorcycles that grace our pages. Enjoy.
---
SO, LET'S SEE SOME PICTURES ALREADY!
---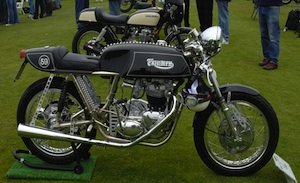 TRIUMPH CAFE RACERS Just as most Classic British Motorcycles are Triumphs, most Classic British Cafe Bikes are also Triumphs. Triumphs have always been known for good handling, lightweight, great power & speed, all vital ingredients for a decent Cafe Bike.
---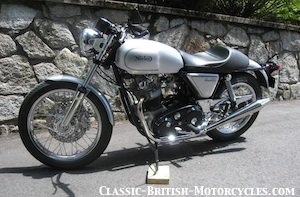 NORTON CAFE RACERS Norton Motorcycles have always been favorites among the Cafe set (the people, not the bikes). Nortons make ideal Cafe Machines. Throughout the 1950s, the Norton Featherbed Frame was the best-handling frame in the world. Norton did some of its own factory Cafe bikes, like the John Player Special.
---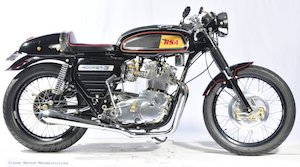 ALL OTHER CAFE RACERS Cafe Machines come in all shapes & sizes, all displacements, all configurations. Many are as unique as their owners. Some are modified with simple bolt-on accessories. Others go so far as to custom fabricate frames, tanks & more. For our purposes, we are only going to cover Cafe Bikes built from Classic British Motorcycles.
---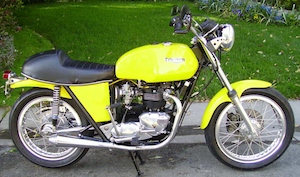 YELLOW BIKE I built this bike from scratch, rode it hundreds of miles to shows, won some trophies, then rode it home. It's been in some magazines. Its a 1973 Triumph TR7 with a Bonneville head, loads of trick stuff & some cool history. Check it out.
---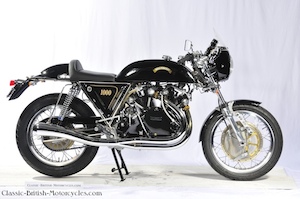 1970 EGLI-VINCENT
Swiss racer, Fritz Egli created a line of incredible racing frames for the Vincent Black Shadow's 998cc V-twin. They handled superbly, and they were gorgeous!!
---