Review Summary
The Component H2O jacket from REV'IT! is a lightweight, waterproof, active fit jacket with solid ventilation that is suitable for both off-and-on-road riding. It comes with CE1 protectors in the shoulders and elbows, but the lack of a back protector (and no pocket) makes an armoured base layer a necessity in my book. It's a unique piece, well-executed and while pricey, I think its versatility justifies the cost.
Pros
Exceptional build quality and materials
Pretty complete feature set
A rare jacket that moves easily from road to off-road without looking out of place
The two colors available (black and ochre yellow) are simultaneously sophisticated and wicked cool
Cons
Need to use an armoured base layer for complete protection
Expensive
REV'IT! Sport
REV'IT! is a Dutch powerhouse in the motorcycle industry, with a wide range of products spanning virtually every rider type, but the company's roots are in the adventure and sport touring spaces. That heritage is very much on display with the Component H2O jacket, a lightweight, waterproof, active fit jacket offering CE-approved protection and a look that moves effortlessly from the badlands to main street.
The DIRT Series range of riding gear was created by REV'IT! with off-road riding front-and center, but the company's approach to design is such that any of the pieces in the range, and particularly the Component H2O jacket, can easily be adapted for urban or sport touring riders.
The DIRT Series is built on the concept of a modular layering system. In this regard, REV'IT! is borrowing from time-tested practices in outdoor clothing, particularly trekking and climbing gear, where layering and multi-purpose functionality are key. What this means in practice for moto riders is that you can pick and choose from a variety of jackets, pants, gloves, and protectors to create a tailored outfit to suit your riding style, environment, and climate.
I was sufficiently impressed by the concept that I sprung for the Component H2O jacket with my own money and like that I have the option of selectively adding other pieces in the DIRT range in the future.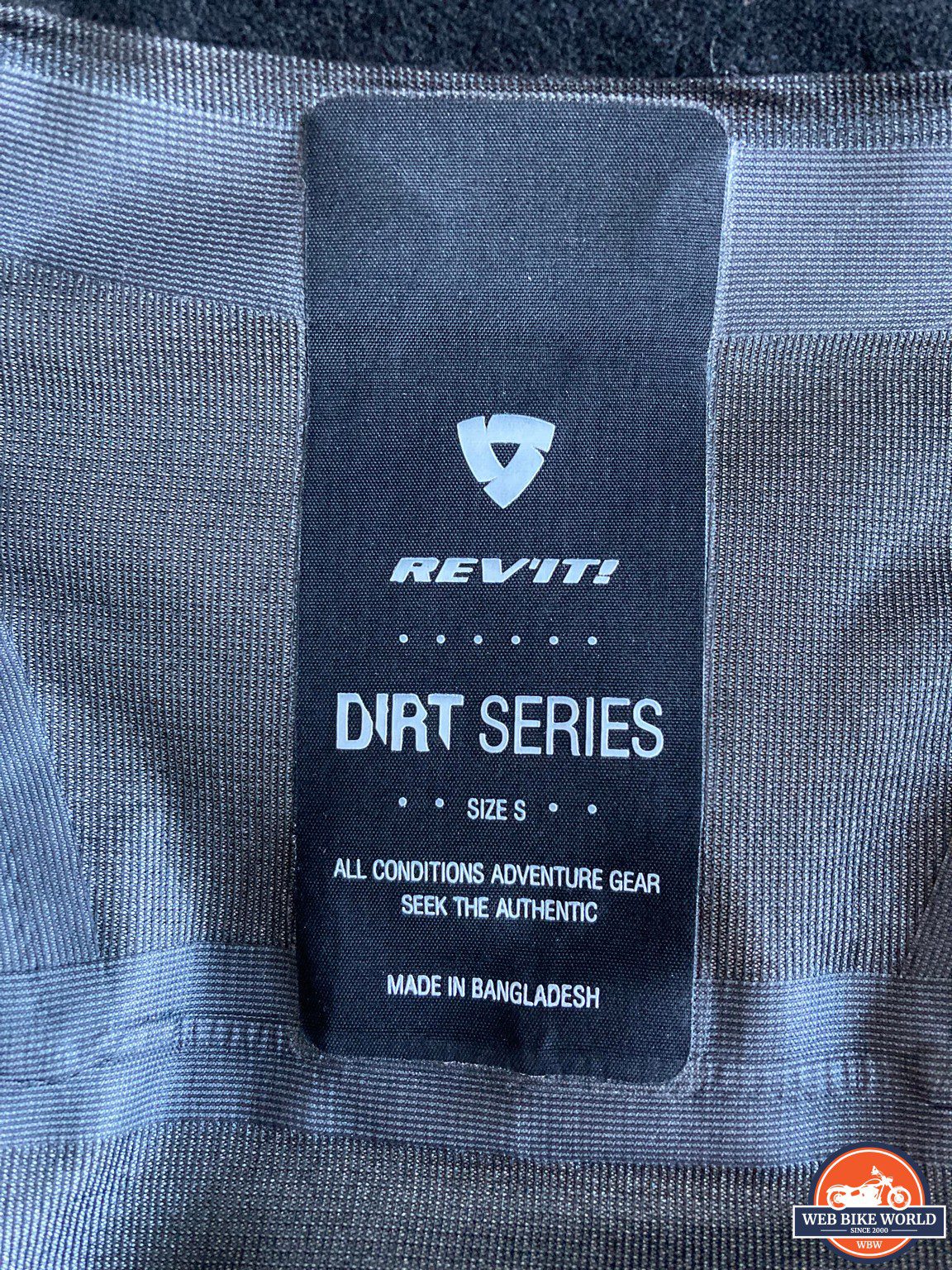 The Component H2O is billed as the pinnacle of the DIRT Series and it shows. The materials and build quality are top-shelf, with reinforcements where you want them without going over the top. For a jacket that genuinely seems built for the long haul, it is remarkably lightweight and supple to the touch. REV'IT! has achieved something special here. Very clean lines and an "everything you need, but nothing you don't" sensibility is on full display.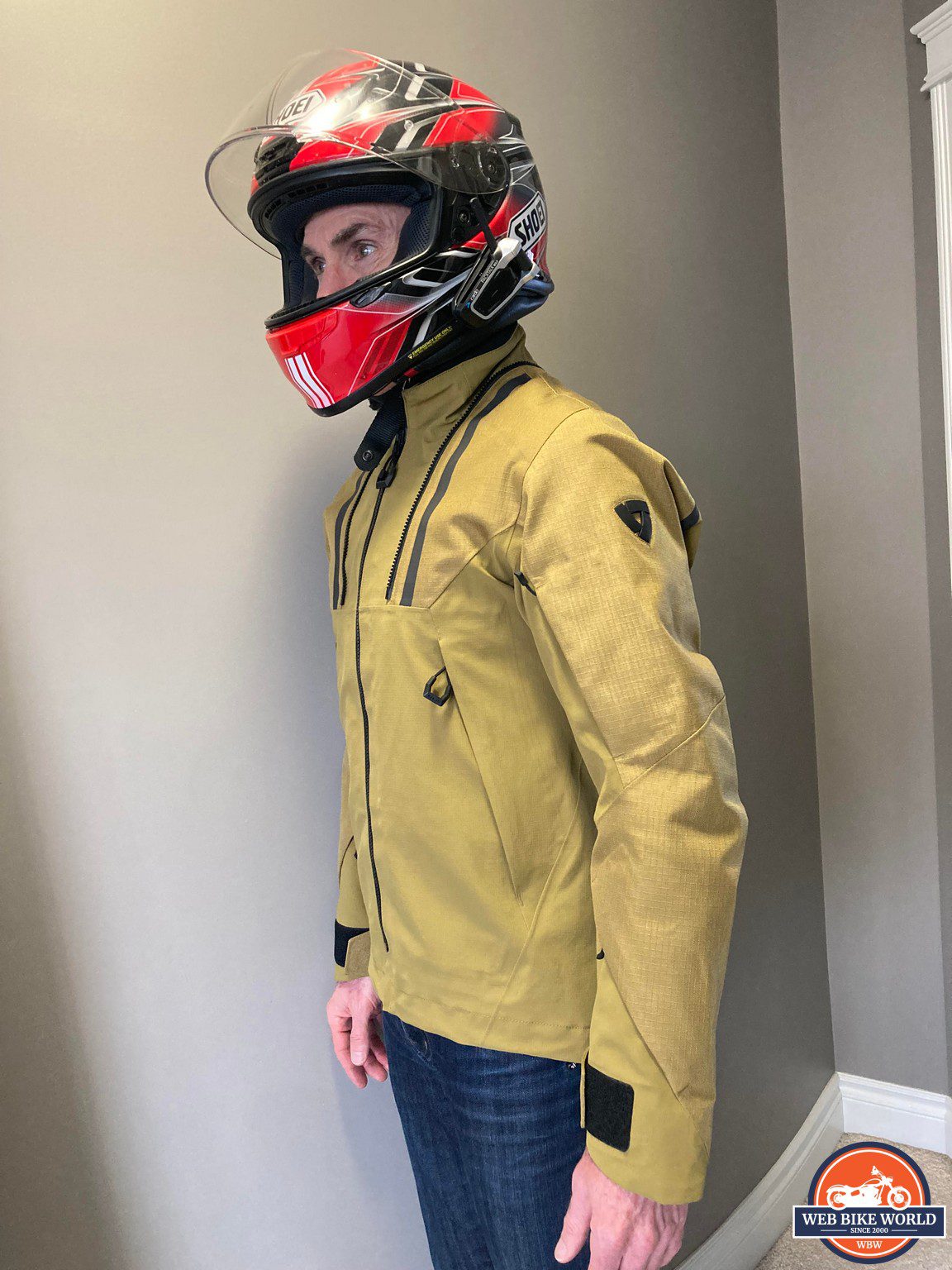 Fit and Comfort
The fit on the Component H2O jacket is a little roomier than other REV'IT! jackets (I own the Trench GTX, for instance, in a size medium, but sized down to a small here). This is a nod to both the modular design concept, which allows for layering, as well as the fact that the jacket is designed to be worn over an armoured base layer.
REV'IT!'s own promotional copy for the jacket says "the roomy cut allows the use of protective underlayers such as REV'IT!'s own Proteus Protector jacket." An adjustment drawcord at the hem, adjustment tabs on the cuffs, and a drawcord on the detachable hood all help ensure a custom fit.
I found it took some trial and error to dial in the fit using the drawcords, but once set they work well and the jacket moves well with me on the bike. Since buying the jacket I've added the Proteus armoured base layer and it makes for a pretty complete package, albeit one that skews a touch toward the bulky end of the spectrum.
You definitely feel well-protected with the base layer plus the jacket. Something like the Icon field armour compression shirt would be much less bulky (and admittedly less protective).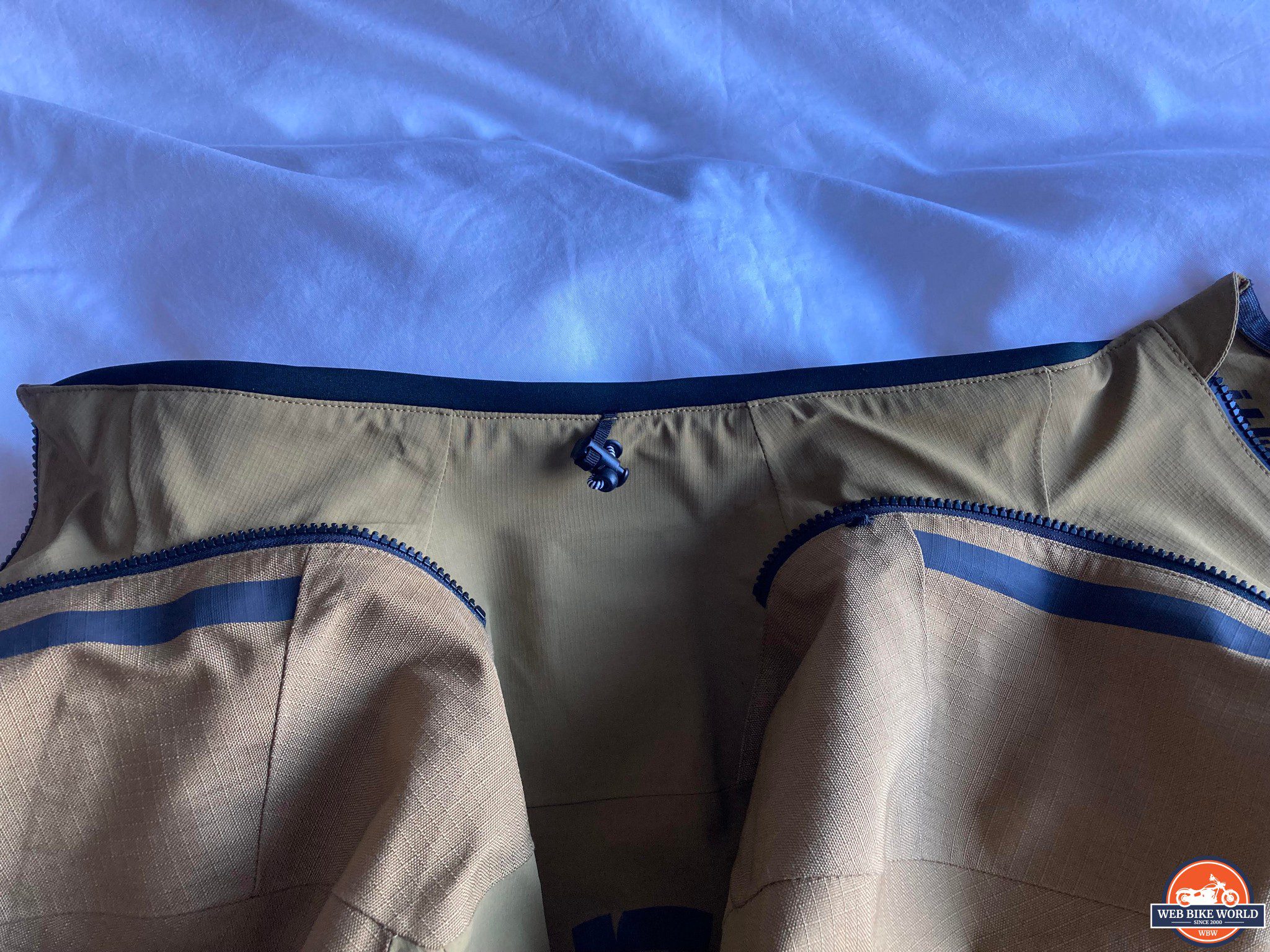 For sizing, the Component H2O jacket is available from S to 3XL. For context, I'm 5'10" and a lean 155 pounds and the small is a good fit for me. Color options are either black or ochre (yellow egg yolk). Black is a little obvious, so I opted for the ochre and think it is very cool and pairs well with black or blue riding jeans. It also works exceptionally well with my REV'IT! Globe GTX pants. Pricing on the Component H2O is $519.99 USD at the time of this review.
Fresh out of the bag, the jacket is a little stiff, largely due to the ripstop fabric and 750D Cordura reinforcements, but it softens up nicely after a day or two of wearing and riding. The zippers are burly and easy to operate with or without gloves. No issues so far with zippers catching, slipping or otherwise not working smoothly.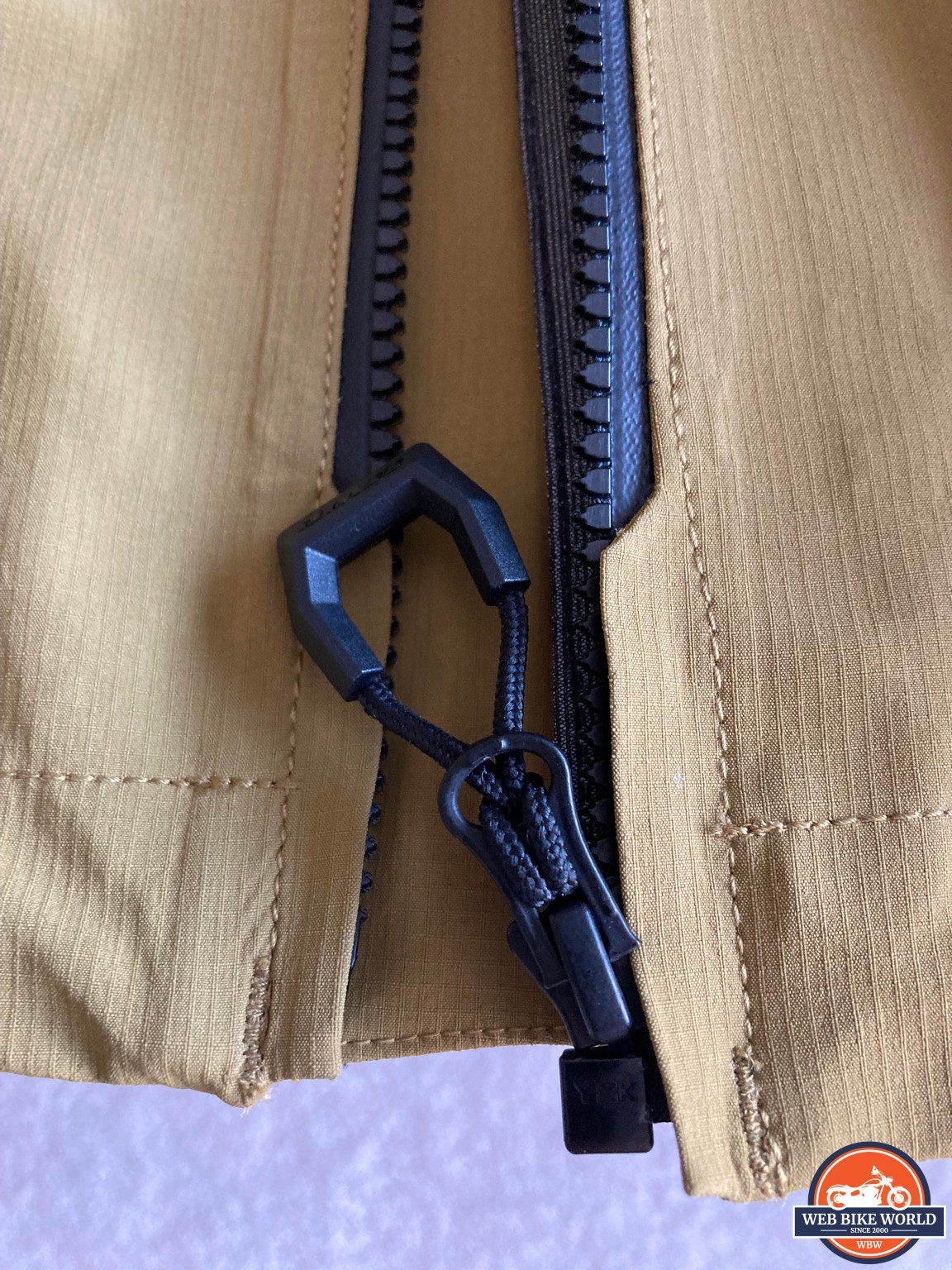 Waterproofing is achieved through a laminated REV'IT! Hydratex membrane. At this price point the argument could be made that Gore-Tex should have been used, but I can attest to the fact that after 4+ hours in driving rain the jacket did not wet out and kept me bone dry. As well, the jacket does a good job of keeping the wind out.
As an admitted Gore-Tex fan-boy, this impressed me; the laminated Hydratex membrane works! The hooded design of the jacket also provides good protection off the bike, and for convenience, the hood is easily removed and stored in a rear "poacher's pouch" pocket. This is an essential feature for me; I hate having a non-removable hood slapping my helmet while riding. The rear pocket is large enough to comfortably hold the hood, a pair of gloves, and other small items.
Protection
The Component H2O jacket as a whole is CE level 1 rated. This is the result of a specially designed (and gnarly) ripstop fabric for the outer shell, backed up by tough 750D Cordura on the shoulders and arms. Stretch panels are reinforced with REV'IT!'s in-house PWR I Shell, a proven performer in abrasion resistance.
The jacket comes with open-structured SEESMART CE-level 1 protectors on the elbows and shoulders. These slim-line protectors are solid, but for riders venturing off-road, it probably makes sense to remove these and wear an armoured base layer featuring level 2 protectors (see my comment above regarding REV'IT!'s Proteus jacket, which features level 1 and 2 armour).
Given the absence of a back protector, wearing an armoured base layer or compression shirt featuring spine protection is, for me at least, a gimme. If you agree, you'll want to remove the included SEESMART shoulder and elbow armor otherwise you won't get the most effective (and comfortable) fit. The lack of an included back protector wasn't a big deal for me, but others may find this a pain point. And given the price tag of $519 USD, it could be argued that the jacket should ship with a back protector as standard.
Ventilation
REV'IT!'s attention to detail shines through with respect to ventilation – the company knows that in warm weather and/or when riders are working hard off-road it is critical to be able to dump heat. Ventilation zippers at the upper and lower arms help to keep you cool when the temperature rises.
I field tested the Component H2O jacket over a 3-month period in admittedly cooler conditions (January-March), but the zips on the arms are pretty effective at drawing air into the jacket, and larger zips that wrap around the back of the shoulders work especially well at exhausting air. I'm confident that the ventilation scheme would work in temperatures up to 25 Celsius (80 F) and/or lower temperatures when I'm working hard on the bike.
My only quibble with the zips on the arms is that it takes a bit of practice to open them smoothly when on the bike. Massive zippered front pockets double as exhaust ports when opened and these work well without creating any annoying flapping, especially at speed. The only issue with using these pockets as exhaust ports is that you potentially lose the ability to carry things in them.
A better solution would be something like REV'IT!'s own VCS Aquadefence ventilation system, which is used on the Trench GTX jacket. Here, the vents are positioned at the chest and integrated with zippered vents that wrap around the shoulders and arms. Still, I think there is solid ventilation baked into the design of the jacket and I see no issues for daily commuting in warm to hot temperatures. For anything above 25 Celsius you probably want a mesh jacket or shirt anyway.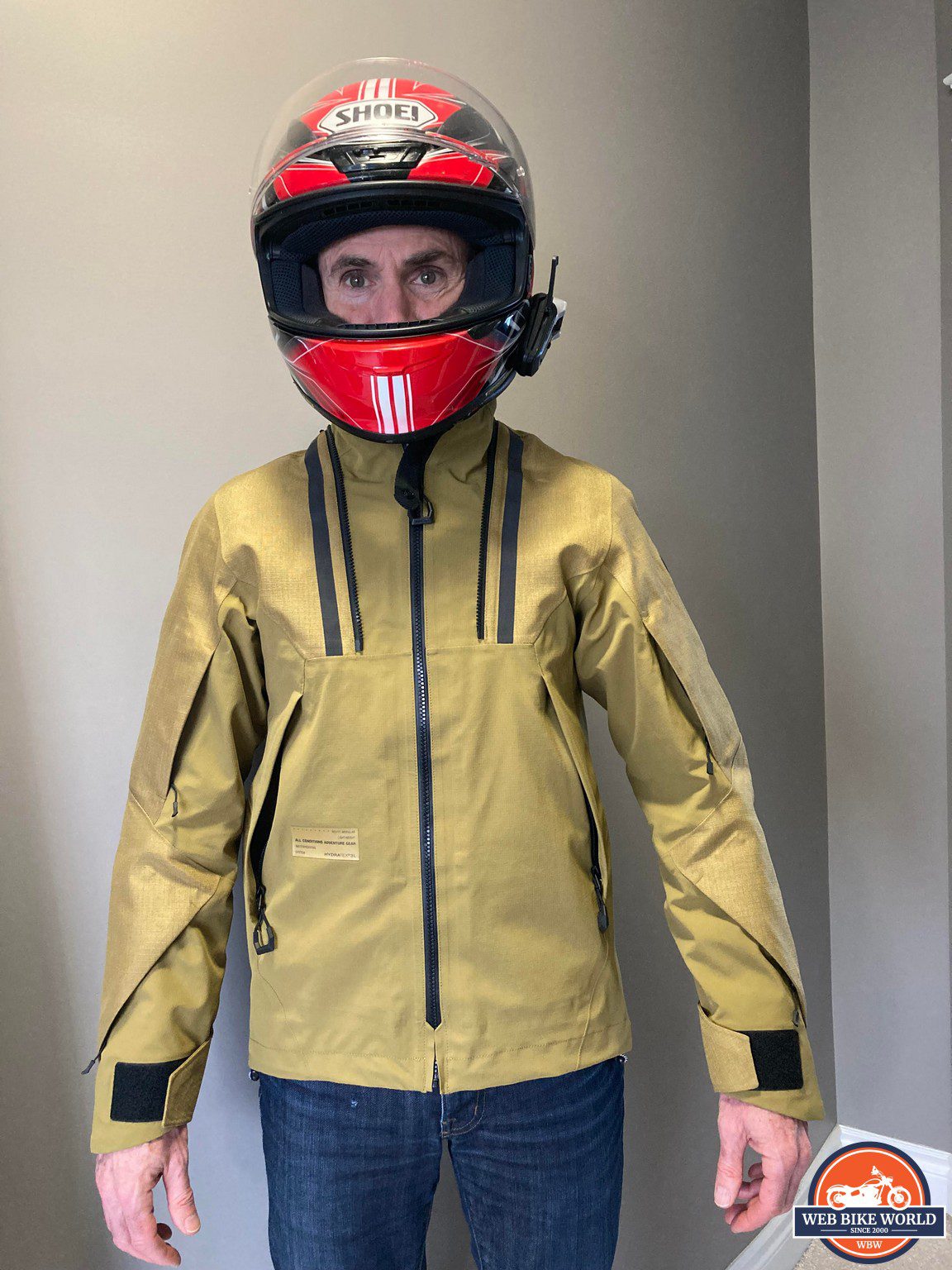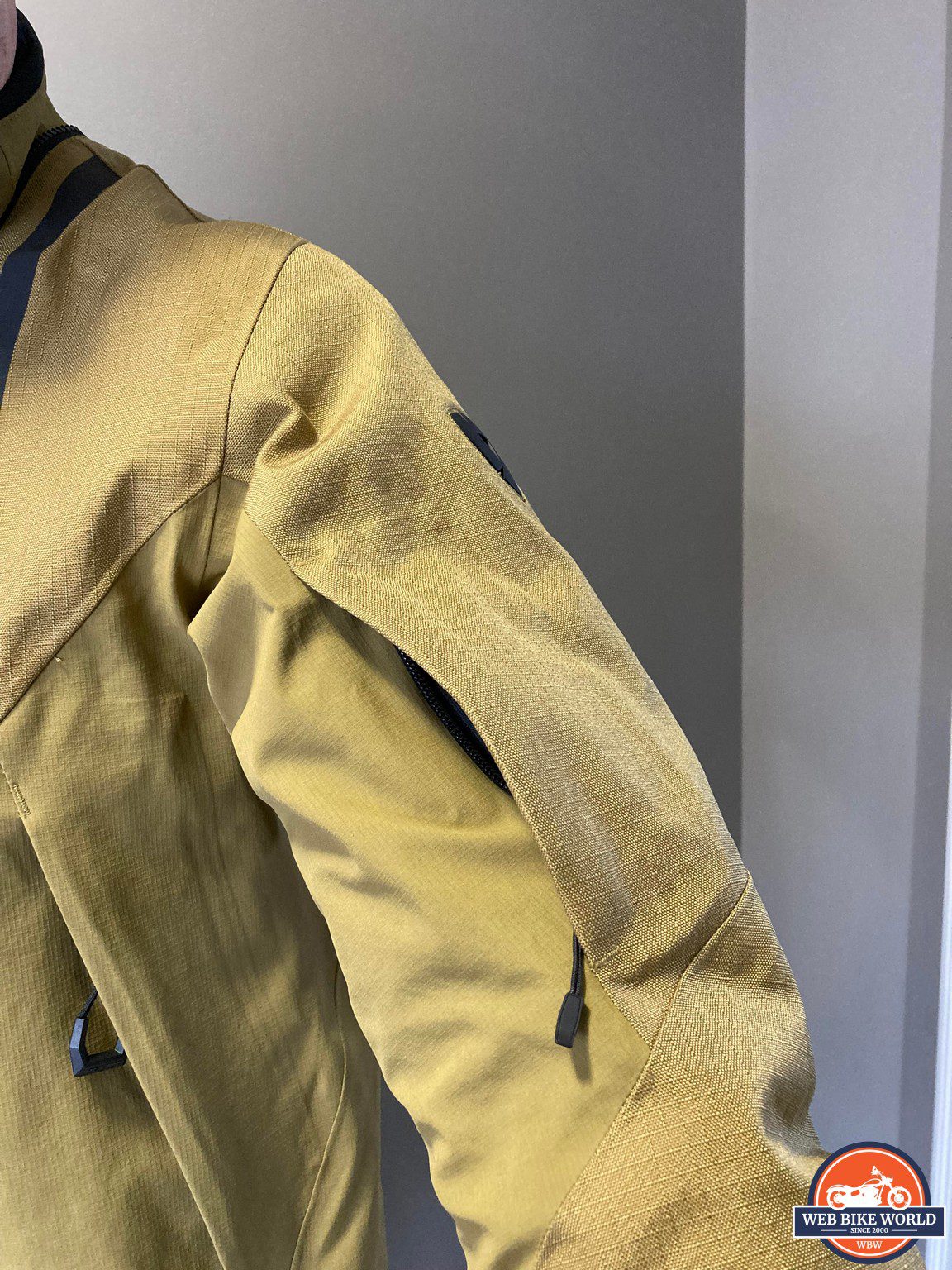 Zippers and Pockets
The jacket is a waist length zippered jacket blessed with watertight closures and enough pockets to safely and securely store anything that you don't want in a daypack, tank bag or pannier. Two massive front pockets give the jacket a distinctive (and functional) look, a large rear slit pocket (or poacher's pouch) a card pocket on the sleeve, two inner pockets and a waterproof slit pocket at the waist round out the storage options.
In practice, I tend not to put a lot of stuff into my jacket pockets; preferring to use a tank bag. Also, if I take a spill I don't want something in my pocket to stab me. That said, the front pockets are large enough to accommodate the largest i-phone or Android equivalent. The card pocket on the sleeve is handy for a credit card or toll pass, but I use it more as a vent.
The rear poacher's pouch is awesome; this is where I stash the hood for the jacket, and my gloves when I'm off the bike. I could also easily put a map, newspaper or phone (or all three) in there.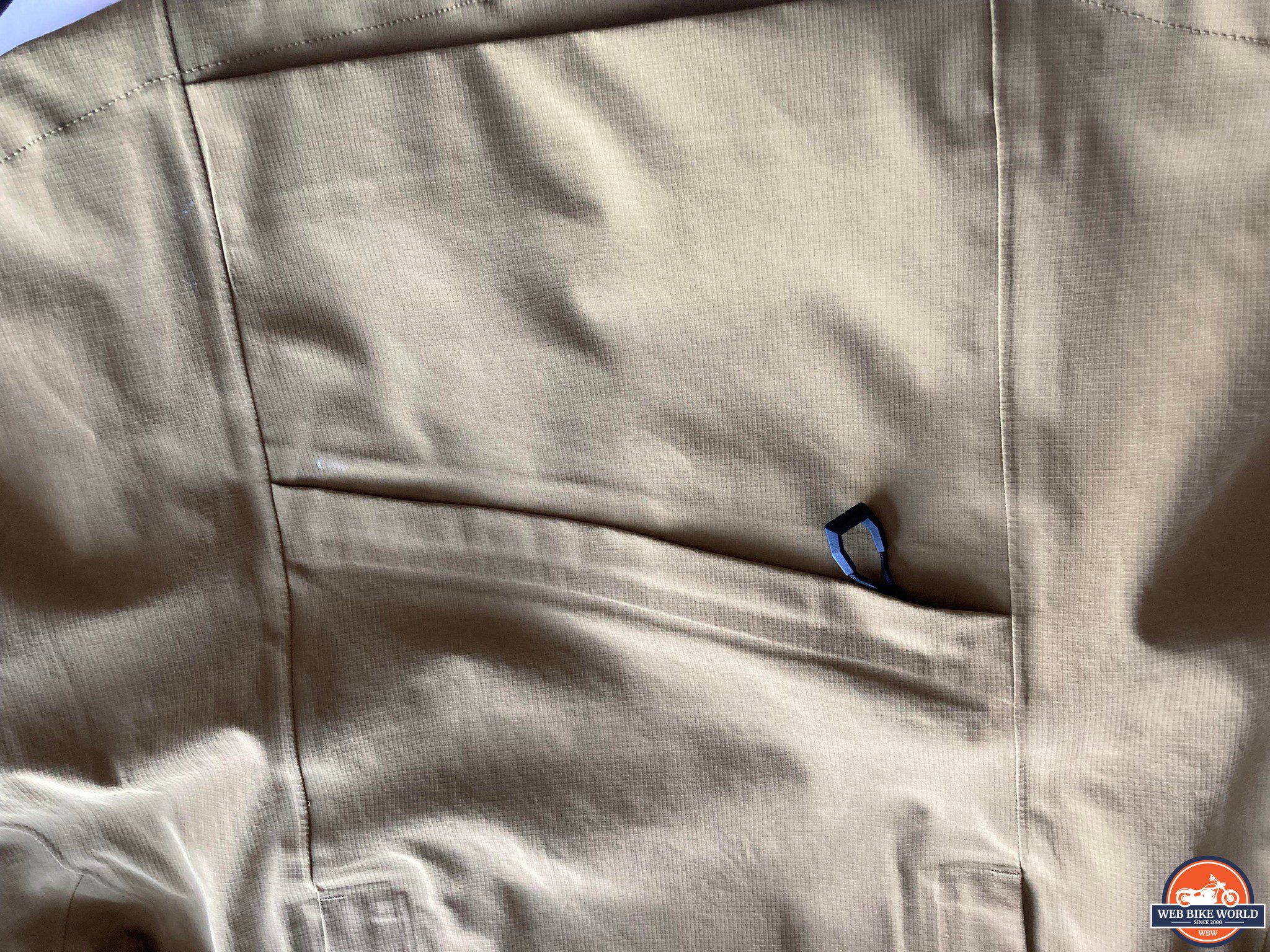 Visibility
For visibility, the Component H2O jacket features reflective panels on the chest, back and hood, as well as the back of the arms. For a jacket that has off-road or adventure riding in its DNA these panels are relatively understated and add a certain character to the overall package.
More importantly, they genuinely work and help other vehicles see you in dim or poor light. This is not a true hi-viz jacket, but I've had absolutely no worries about wearing it at night; headlights definitely pick up the reflective panels and make sure that I'm seen.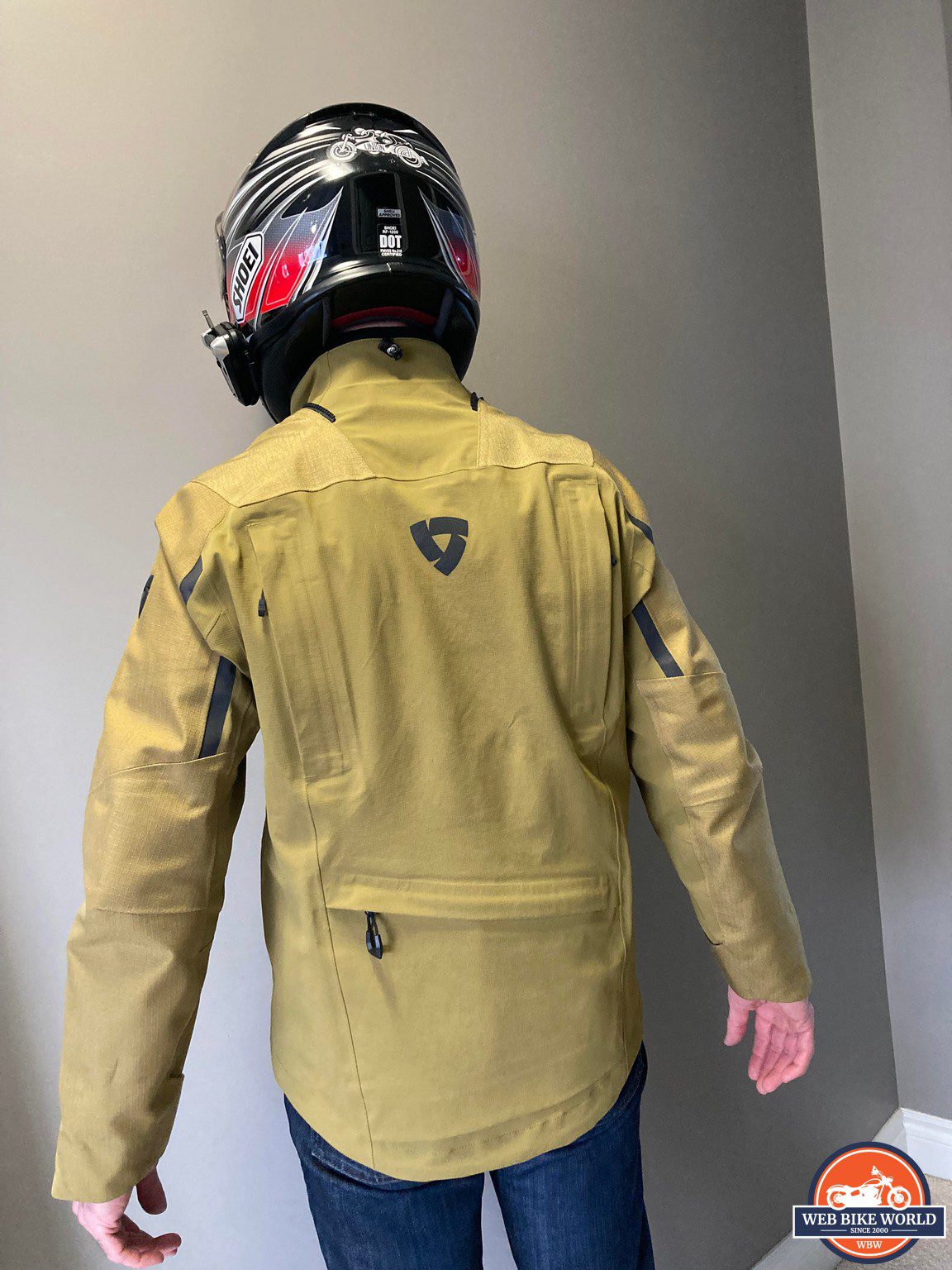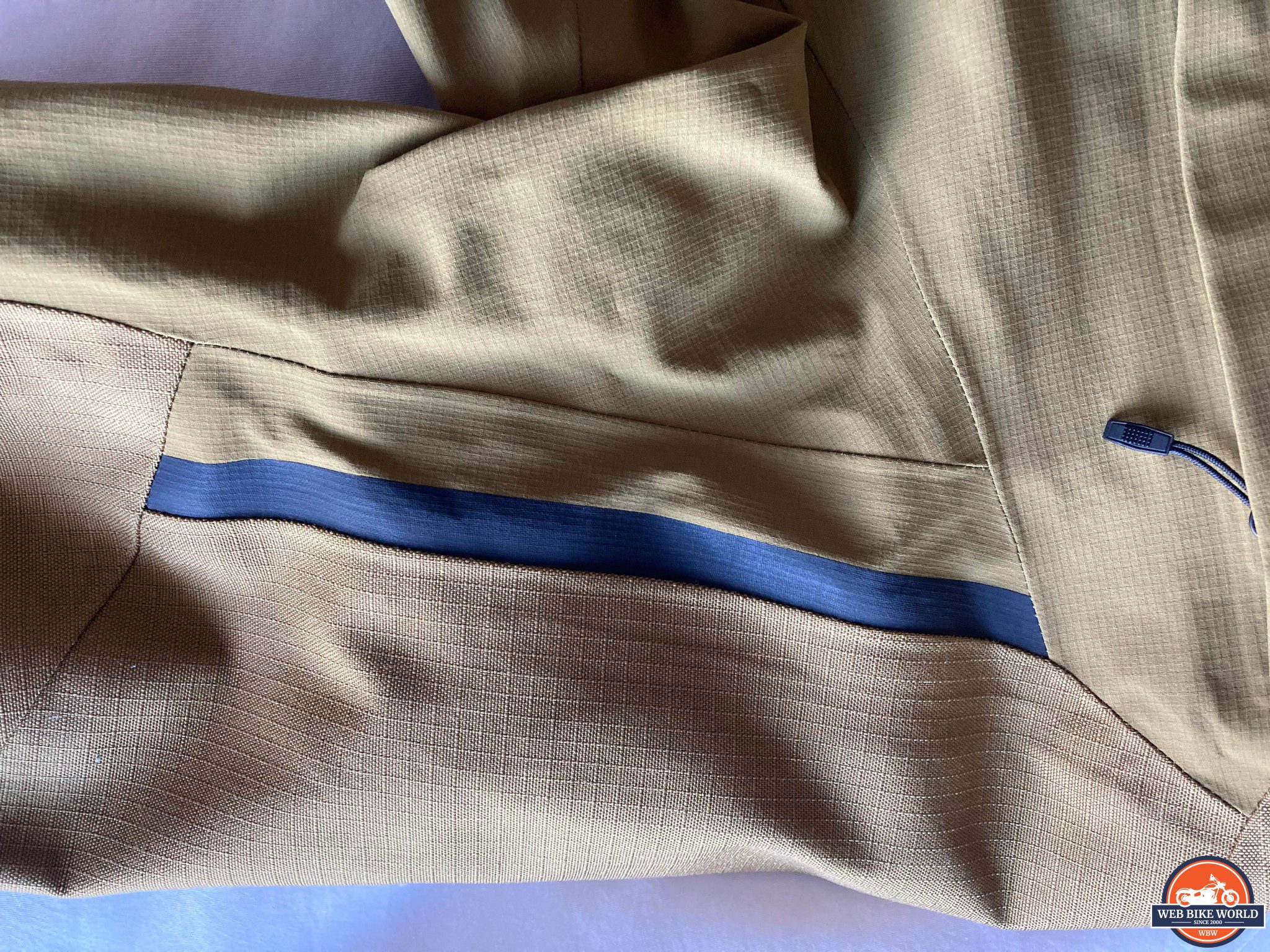 In the Real World
As the apex garment in REV'IT!'s DIRT Series of off-road gear, the Component H2O jacket lives up to its billing as a CE-certified, lightweight, comfortable and waterproof jacket for adventures on the trails.
Make no mistake, this is not going to displace a Klim Badlands or even a Klim Carslbad, both of which are heavier and built with a more off-road bias. Still, I've put the jacket through its paces offroad and really appreciate how light it is while still being reassuringly protective, especially with an armoured base layer underneath.
And I love the way the jacket moves with me; at no time do I feel that I'm fighting the jacket. What ultimately elevates it and makes the Component H2O jacket so easy to live with in the real world is that it translates from offroad to on-road effortlessly. On an early December ride, the last of the season in Alberta as it turned out, I layered a REV'IT! fleece underneath and was cozy cruising at 60-70 mph.
Better still, when I parked for a coffee I had several people ask me about the jacket. From that perspective, it makes for an awesome daily driver.
Value for Money
This is a subjective point, but for me the Component H2O jacket, while pricey, is worth the investment. There is a formidable amount of technicality that has been baked into the jacket without making it excessively heavy or difficult to live with. Despite that technicality, it is understated.
The jacket is lightweight, waterproof, offers bombproof abrasion resistance where you need it, solid ventilation, and enough pockets to safely stash everything you want close to hand. The laminated waterproofing, while not gore-tex, really works, and does an equally effective job at keeping the wind out.
In terms of the competition in this same price bracket, The Baja S4 from Klim is more overtly off-road, and is purpose-built for hot and humid conditions. A very specific tool that doesn't offer the versatility of the Component H2O jacket.
REV'IT!'s own Sand 4 and Sand Urban offerings are similarly adventure-style jackets that scream "motorcycle"; understated they are not. This product hits a sweet spot, I think; it's an eminently capable motorcycle jacket both on-road and off, and also works really well as a waterproof, windproof and breathable jacket you can wear more or less all-year round (in Canada, at least).  It also looks very cool, in my opinion.
Final Thoughts
The Component H2O jacket is not cheap, but the build quality is superb and there is something intangible about it that you have to experience first-hand to truly appreciate it (and justify the price). It offers solid protection and overall functionality for the off road or adventure rider, while also being a damn capable commuter or on-road jacket. The active-fit design, laminated waterproofing, and premium materials have got you covered. And did I mention that the ochre color is sick?
Pros
Exceptional build quality and materials
Pretty complete feature set
A rare jacket that moves easily from road to off-road without looking out of place
The two colors available (black and ochre yellow) are simultaneously sophisticated and wicked cool, especially the ochre – I've not seen anything else quite as striking
Cons
Need to use an armoured base layer for complete protection
Expensive
wBW Specs
Price (When Tested): $519 USD 
Review Date: January-March 2022
Important Links / Where to Buy