Carbon Gloves Review Summary
Carbon Gloves Image Gallery
The Racer Race Carbon gloves sacrifice some insulation and the Gore-Tex liner to both the Racer Advance gloves (review) and Racer Elevate gloves (review). Nevertheless, the Racer Race Carbon gloves have become my favourite. They are lightweight but solid, flexible but supporting, pliable but protective and they sure do provide lots of grip, wet or dry.
With "race" styling and protective features seldom found in a medium-weight winter glove, the Racer Race Carbon gloves are unique in many ways. They are also obviously cut from a different mould than the other two Racer gloves in this series. Are they absolutely waterproof and windproof? No. But they're well-made with quality components; they provide good comfort and protection and they look the part. Are they worth a look? Definitely!
Introduction
To quote Racer, "the Race Carbon Glove is a waterproof insulated winter glove that has the protection of a road race glove".
There is no denying the many features included in the Race Carbon gloves that work together to provide excellent hand protection — something not always found on many other winter motorcycle gloves.
Constructed of cowhide, goat skin and 500 denier nylon for a tough outer shell, the Race Carbon gloves also add an "Aquapoint" brand waterproof and breathable membrane.
This is in addition to the same DexFil insulating liner found in the other Racer winter motorcycle gloves in this series.
In addition to the DexFil insulation, the Race Carbon gloves have a "Tri-Fleece" insulating layer for additional warmth and comfort and all of this makes for a very lightweight, flexible and protective combination.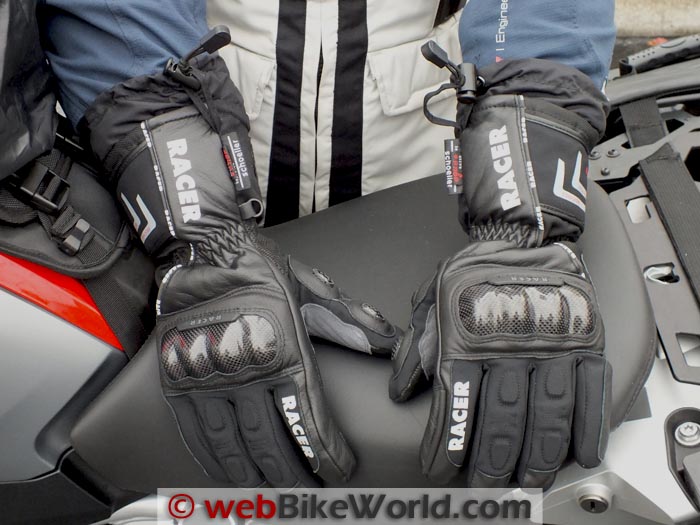 And speaking of protection, the Race Carbon gloves feature Pittards leather palms with Knox SPS (scaphoid) protectors, along with carbon fiber knuckle inserts with smaller pieces stitched into reinforcement strips along the upper thumb.
Schoeller Keprotec fabric is also a featured material used for the gloves.
The Race Carbon gloves are easily the lightest pair of the three Racer winter gloves reviewed in this series. They have outstanding pre-formed shape or cut and they were comfortable from day one.
And while I'm now skeptical of the Racer "fits true to size" claim made for the other two pair reviewed in this series, the sizing of the Race Carbon gloves is indeed bang-on for my XL hand; I can even sneak my silk gloves liners inside if desired.
A real storm cuff or gauntlet is formed from a wide four-inch long cuff (measured from wrist gathering) with its broad hook-and-loop adjuster for the inner side, with a two-inch nylon extension that provides almost six inches of lower arm coverage.
An elastic shock-cord with friction-pull allows the user to fully seal off the end of the gloves around the outer garment as desired and this is good.
Another good thing is the long and very functional shield wiper or squeegee strip on the upper edge of the left index finger.
These gloves really do feel and wear like a great pair of protective road gloves and not like just another pair of the usual cumbersome and softly-padded winter motorcycle gloves, although some compromise in their overall effectiveness as a "winter" glove is understandable.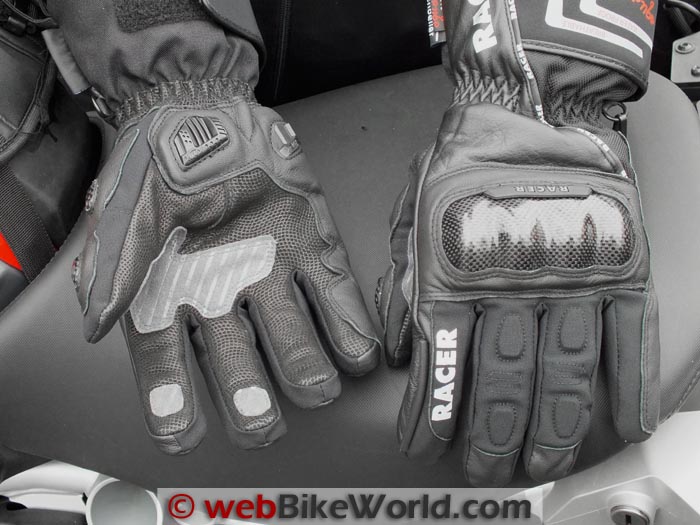 The Bucket Test
The five-minute cold water bucket immersion test revealed that the right Race Carbon glove was letting moisture in around the third finger at the second knuckle after 90 seconds of immersion.
This is not a soaking by any means, but the ingress was there. This was the only leaking point that I could feel.
With a sense of deja vu after the Racer Elevate gloves bucket test, it seemed the left Race Carbon gloves were going to stay dry…but after three minutes some moisture could be felt.
Again, it wasn't a soaking in seconds, but a very slow sensation that the Aquapoint membrane was failing. Even though there's a 5-year warranty, Racer does need to review their manufacturing procedures to ensure that this isn't an endemic problem.
But in their defense, although failing the bucket test, I did wear the Race Carbon gloves on several cool wet day rides and the gloves did keep my hands dry (and quite warm) for two- to three-hour stretches (with some help from the hand guards on the BMW GS bikes).
Insulation and Ventilation
A combination of DexFil and Tri-Fleece insulation provides a hand-encompassing layer that does an admirable job of keeping the hand parts comfortable in 5 C to 10 C (40 to 50 F) temperatures.
Colder environments are accommodated if a liner glove is used or, of course, heated grips.
The Race Carbon gloves probably aren't designed for extreme cold-weather protection, but for commuting or 2-3 hour rides they work well (and do you really ride longer than than in winter?).
With less insulation (and less bulk), wind chill is felt sooner, but as noted above, motorcycle hand guards and/or heated grips work very well to extend the operating range of these gloves.
Like other sealed winter gloves, ventilation isn't a strong point and in one way, when trying to keep a warm environment inside, it doesn't need to be.
But some indirect ventilation does take place and I'm not talking about the weak points in the Aquapoint liner either. Unlike the other Racer winter motorcycle gloves, using the Race Carbon gloves at slower speeds or in rising temperatures didn't cause my hands to overheat.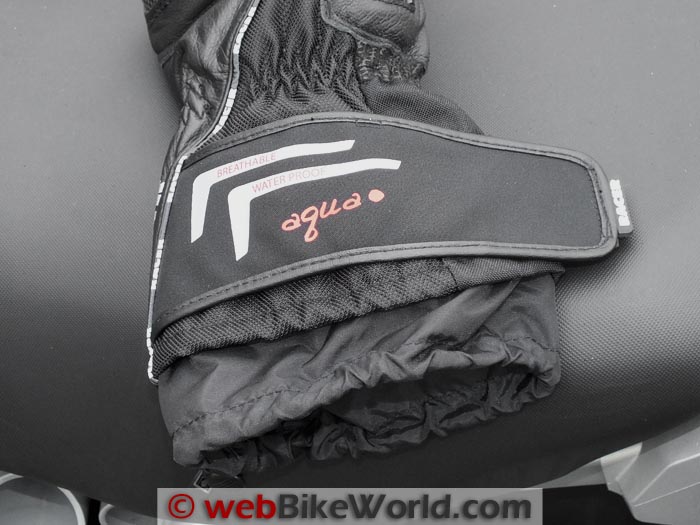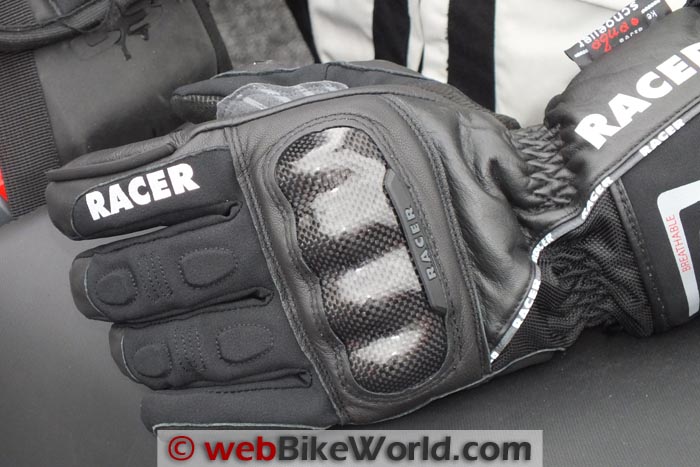 Liner and Comfort
Between the Aquapoint liner and the insulation layers, the comfort is very good — easily the best of all three Racer gloves evaluated with the interior of the Race Carbon glove one of the most comfortable I have experienced in recent years. Subject to weather conditions, these are all-day, day in, day out gloves.
Fit and Sizing
So unlike the other two pair of Racer gloves, the Race Carbon enclosures really do, pardon the pun, "fit like a glove".
They slide on easily even when the hands might be a bit damp; there are not stress points, no shortness of the finger boxes and the thumb section provides one of the best fitting and feeling enclosures I have ever experienced in winter motorcycle gloves.
Once could argue that proper fitment of the glove is more likely, due to its lighter-weight construct and thinner insulation.
But in doing a really close comparison between all three pair of Racer gloves, it is obvious that the Race Carbon gloves are designed and built differently and they seem to reflect the "inside-out" approach that is so critical for proper fitment.
That is, sizing the gloves before the liners are installed, not after. But whether intended or not, it works.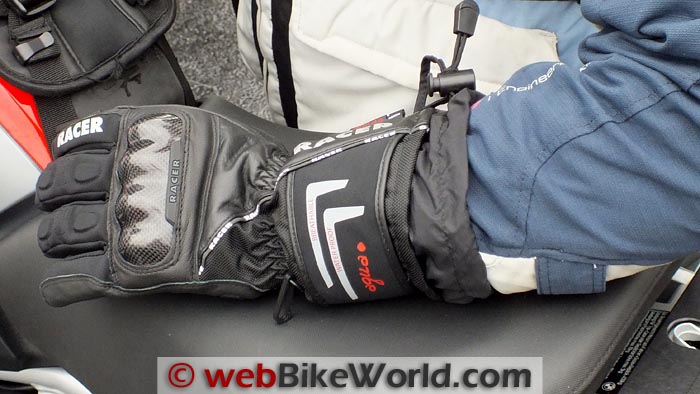 Protective Features
After lamenting over the general lack of protection features of the Racer Advance and Elevate gloves and other brands of winter motorcycle gloves, it is a real joy to look, feel and wear the Race Carbon gloves.
This despite knowing that they probably aren't anywhere near as warm as their siblings, but will provide far more protection and thus rider comfort.
Everything adds up to a pretty protective enclosure for the hands.
This includes the Pittards leather palms to the Knox SPS scaphoid protectors and lateral reinforcement patches; the carbon fiber knuckle and thumb protection inserts and the tactile grip inserts on the upper palm and thumb side.
And don't forget the hardened extra pads on the middle fingers and the extended cuff.
Missing, however, is a wrist strap, something that is found on the other two pair of Racer gloves. There may have a reason for this exclusion, but it is just one of those (important) things that really should be there.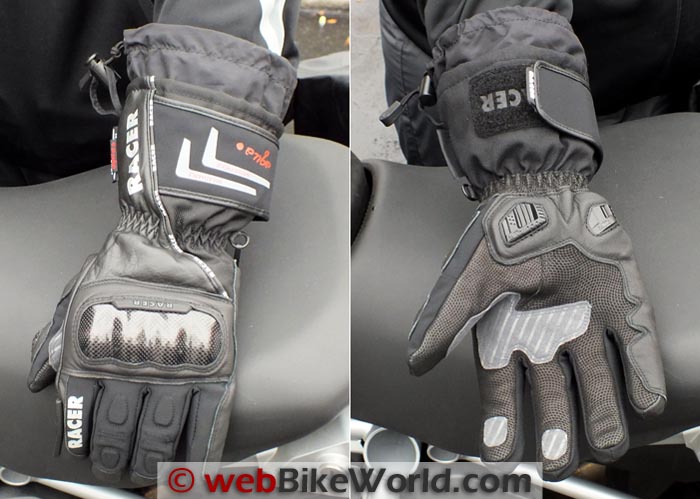 Conclusion
In case you haven't surmised by now, I really like the Racer Race Carbon gloves.
This isn't just because of the highly attractive, retro-reflective but excessive branding, which admittedly along with the carbon inserts, makes them a bit of eye-candy…not expected for winter-wear gloves.
This pair again wasn't completely waterproof, but they seem to be very water- and element-resistant nevertheless.
Where ambient temperatures are hovering in the 40 to 50 F range, these gloves are really comfortable and provide outstanding grip on the motorcycle's hand grips.
With a lightweight glove liner in place or with the BMW GS hand guards and the heated grips set to Low, the Race Carbon gloves are well capable of coping with near-freezing temperatures for extended periods of time.
Another solution: go one size up in the Race Carbon gloves and add a heated glove liner. Now you'll have a very cold-weather combination.
If the Race Carbon gloves were to use the Gore-Tex X-TRAFIT technology and perhaps add another high-efficiency insulation layer of some type (and a wrist strap), they would become a near-perfect solution as a medium-weight winter glove.
They could even take on the big guys, even if priced upwards accordingly…
More wBW Reviews
w

BW

 Review: Racer Race Carbon Gloves
List Price (2014): $169.99
Made In: Indonesia
Colors: Black
Sizes: S to 3XL (8 to 12)
Review Date: January 2014
Note:
 For informational use only. All material and photographs are Copyright © webWorld International, LLC since 2000. All rights reserved. See the webBikeWorld® 
Site Info page
. Product specifications, features and details may change or differ from our descriptions. Always check before purchasing. Read the
Terms and Conditions
!
Owner Comments and Feedback