MV Agusta has announced on Instagram that it will produce the Superveloce 800 unveiled in concept form (above) last year at the EICMA motorcycle show in Milan.
The solo-seat Superveloce is not a new platform, but based on the F3.
It will be a limited-edition Serie Oro (gold series) with delivery of the first 300 units expected in March 2020.
In fact, it's been years since the Italian company has released an all-new model while it has struggled with financial difficulties. Click here to read about the Italian company's future under Russian leadership.
The bike will be available in Australia for $49,990 ride away and $54,990 in New Zealand.
Concept to production
Mv Agusta released this Instagram teaser photo of the Superveloce.
We are not sure how much of the concept will make it through to the production bike, but the concept is stunning.
It features a striking mix of carbonfibre fairing and yellow plexiglass windscreen and LED headlights.
From the teaser photo it appears they will stick with that gorgeous rear end which has to be the nicest in the motorcycling world.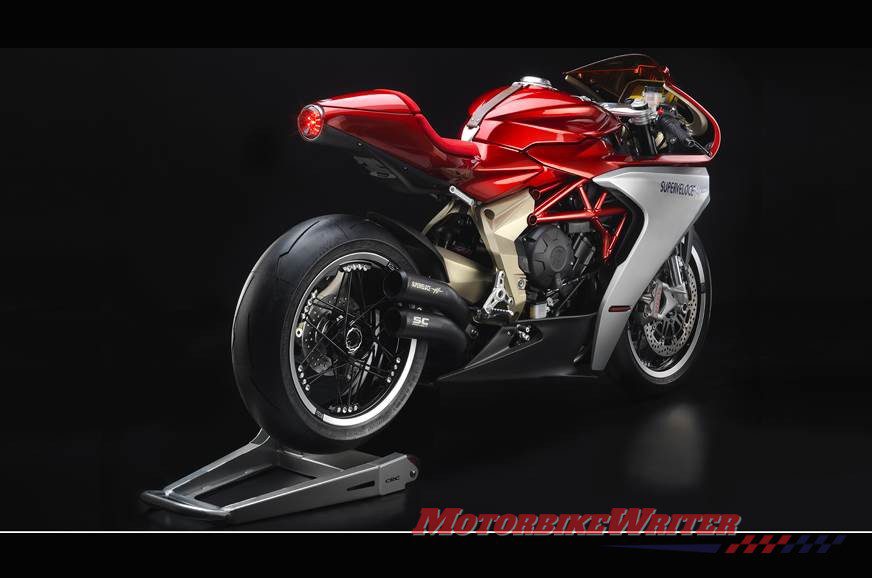 Up front we don't expect the trendy yellow headlight will make it through the stringent Australian Design Rules.
The concept model's fuel tank cap has a classic leather strap to secure the tank to the frame at the front and back. It would be nice if that design touch was retained.
Superveloce power
The F3's 799cc engine has been remapped for more peak power. The F3 engine makes 110kW of power and 88Nm of torque. There is no word on what the production Superveloce will achieve.
MV Agusta has styled the asymmetric mufflers – two on the right and one on the left – to reflect their racing history.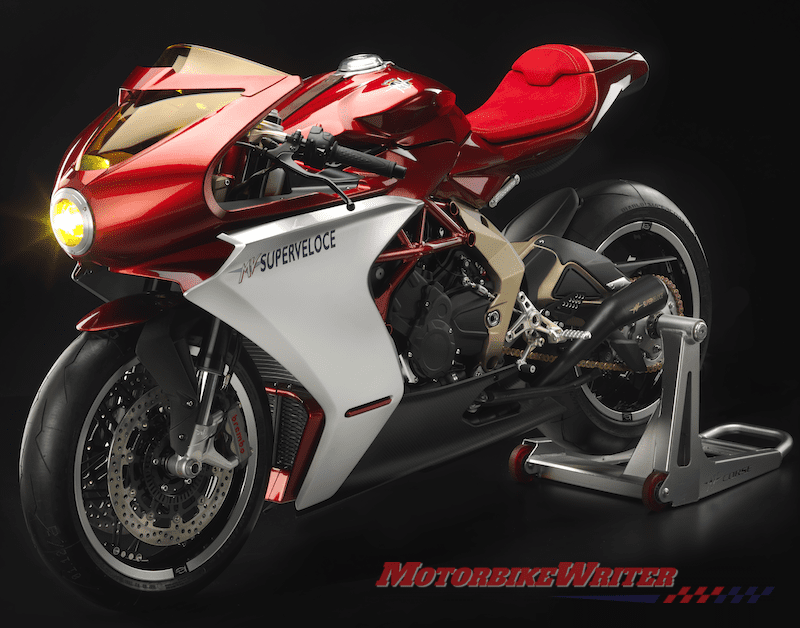 Riding position and ergos are similar to the F3 800, including 805mm seat height, handlebars and adjustable footpegs.
Superveloce 800 also comes with a new TFT dashboard with dedicated graphics and new features. We expect it will include a host of electronic rider aids.