MV Agusta has showcased a Superveloce 800 concept ahead of its launch late next year, plus limited edition models, Brutale 1000 Serie Oro and a Dragster 800 RR America at the EICMA motorcycle show in Milan.
As expected, there is nothing really new, just gorgeous and no doubt expensive adaptations of existing bikes.
It's an interesting business proposal for the company which has struggled with financial difficulties over the past few years. Click here to read about the Italian company's future under Russian leadership.
Meanwhile, back to the gorgeous bikes on show at EICMA.
Superveloce 800
The solo-seat Superveloce concept is based on the F3 and features a striking mix of carbonfibre fairing and yellow plexiglass windscreen and LED headlights.
The engine has been remapped for more peak power and the exhaust was redesigned with asymmetric mufflers: two on the right and one on the left to reflect MV Agusta's racing history.
Riding position and ergo are similar to the F3 800, including 805mm seat height, handlebars and adjustable footpegs.
Superveloce 800 also comes with a new TFT dashboard with dedicated graphics and new features while the fuel tank cap has a classic leather strap to secure the tank to the frame at the front and back.
Brutale 1000 Serie Oro
Serie Oro means "gold series" and they are usually very rare and expensive.
Only 300 of this limited-edition model will be made.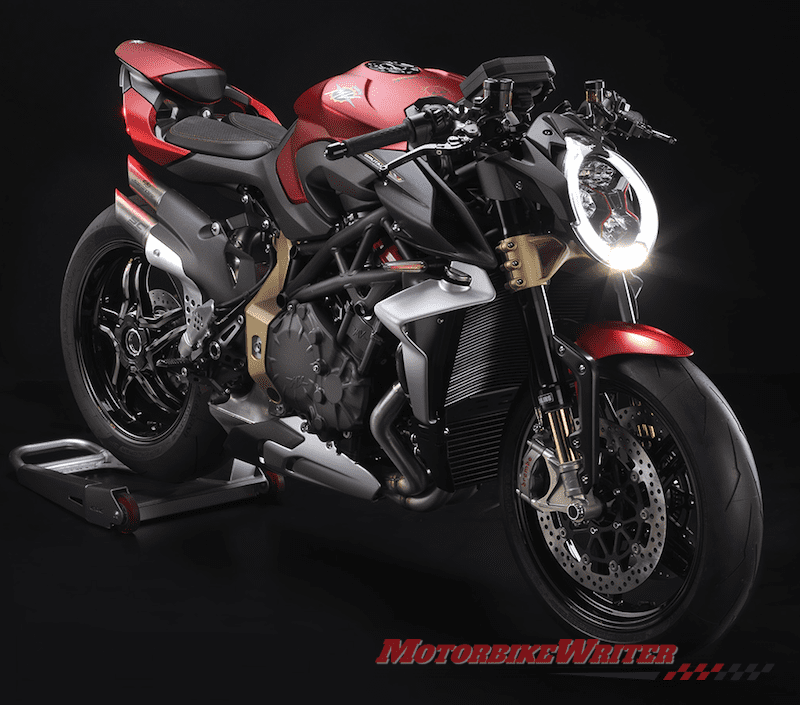 It is a naked version of the F4 RC World Superbike Championship contender and is now the most powerful and fastest naked bike on the market.
Power is 155kW (208hp) at 13,450rpm with 115.5Nm of torque. It has a top speed of more than 300km/h.
To keep it on the ground it has small MotoGP-style aero winglets on the top of the radiator.
While most winglets look ugly, these actual loom quite sexy like a woman's hips.
When hooked up to a SC-Project titanium exhaust system and special ECU it makes 156kW (212hp) at 13,600rpm.
Internals include titanium radial valves sliding through new sintered valve guides and a CNC-machined combustion chamber. So mjuch expensive and exotic engineering it's a shame it's all hidden!
The camshaft timing has been revamped, with the phasing updated on both the intake and the exhaust sides. The pistons use new low-friction Asso compression rings to improve performance and efficiency, while the crankshaft was redesigned from scratch and rebalanced to minimise vibrations and parasitic power losses at high revs.
The lubrication system "splitter" which allows the oil to remain separate from moving parts is based on their WSBK bike. It results in a semi-dry sump so lubrication is not affected by high lean angles and wheelies.
MV Agusta has not only worked on reducing friction but also mechanical engine noise.
Electronics included eight-level traction control, switchable wheelie control and launch control.
The frame has been modified with a single-sided swingarm, short 1432mm wheelbase, electronically adjustable Öhlins forks, Öhlins TTX36 rear shock and electronic steering damper.
Brakes are new Brembo Stylema calipers on 320mm diameter floating discs with compact and lightweight Bosch 9.1 ABS.
Brutale 1000 Serie Oro comes standard with tyre pressure sensors, carbonfibre wheels, LED headlights with cornering function, Gold Racing chain and hi-res 5-inch colour TFT instruments that connects to your smartphone via Bluetooth.
Engine internal make it light as does a plethora of carbon fibre in the wheels and fairing which has a anodised red copper wire weave. There is also a lightweight lithium battery, so the whole bike weighs just 184kg, wringing wet!
Dragster 800 RR America
Inspired by the 1975 S America 750, this is an RR version of the patriotic red-white-and-blue model released last year just for the USA market. Only 48 of the original were made and all sold.
No idea whether this RR version will be coming here, but they will only make 200 and with all that patriotic stars and stripes, it will no doubt be bought up by Yanks.
It is based on the Brutale 800 RR with some updates.