MV Agusta plans a host of new engines from 300cc to a 950cc triple and an adventure bike in the next two years, but no electric motorcycle.
New boss Timur Sardarov says in perfect English with a heavy Russian accent that the factory on the shores of Lake Varese near Milan, an epicentre of the coronavirus contagion, is back to full production.
"The lockdown is over, we opened last week, everyone is back to work and we are back on track," he says.
That track involves a host of new models over the next two years, starting with the Superveloce 800 unveiled 18 months ago.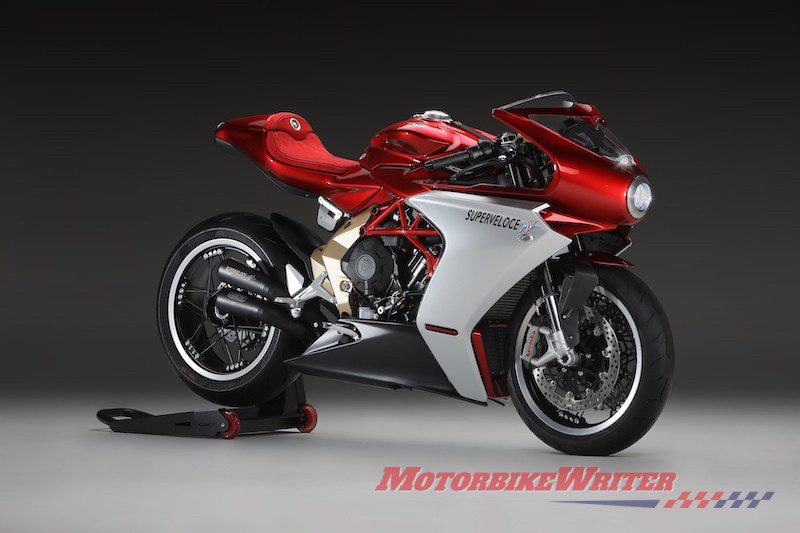 It was to launch last month, but will roll out the factory doors this week after being delayed by the pandemic, Timur says.
MV Agusta is one of only a few motorcycle companies to extend its warranty for riders who have parked their bike during the lockdown.
"We just did it for our customers who couldn't ride. We didn't do it to buy their loyalty," Timur says.
"We don't oversell and overproduce. What we produce, we sell. We do have a plan to grow."
That plan includes new engines from 300cc to 950cc by 2022.
Chinese Italians
Timur says they are going ahead with the agreement they signed in July last year with Chinese company Loncin to produce 300-400cc motorcycles branded as MV Agusta for the world market.
"China is an established manufacturing country. The way they do things they are a quick-reacting economy, not disorganised. They have one goal and they are ready to grow again. Their market is showing incredible growth already after the coronavirus.
"Let's be very clear, we are developing our own platform and Loncin will industrialise it and produce for us for the world market.
"The 300-400cc segment is profitable in Europe."
He rebuts suggestions the low-capacity Chinese-made bikes will dilute the premium Italian brand.
"Porsche is a premium product, but they have different products from $1m down to $50,000 and it's still a premium product by quality not price," Timur says.
"They (the Chinese-made bikes) will be the most expensive bikes in their category because they will have premium components.
"In comparison with KTM and Honda they will be more expensive, but have better performance and better build."
New engines up to 950cc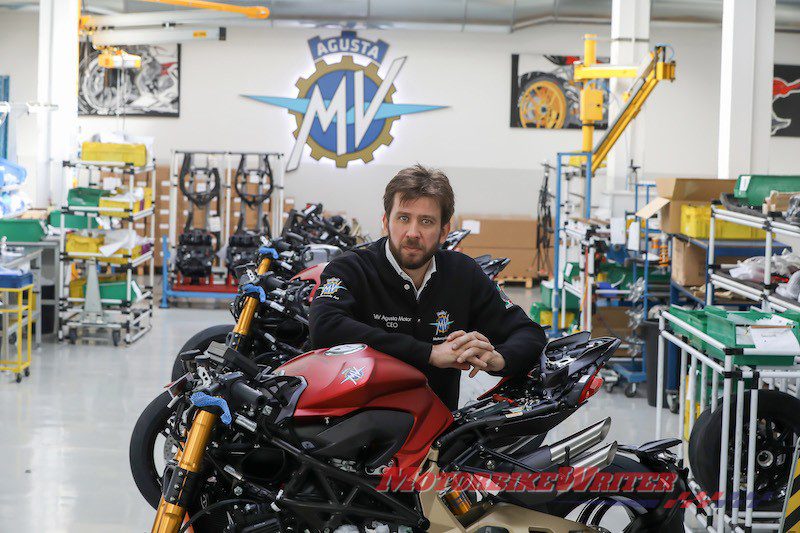 Timur rejects the notion that their triples and four-cylinder engines are getting old.
"A lot of manufacturers are using old engines, but our engines are very modern and much more modern than our competitors," he says.
"Our triple was built about 10 years ago, but four years ago it was 80% new. It has the best power-to-weight ratio and horsepower in the world. There is no more powerful triple than ours.
"So while everyone else is trying to reach where we are, we are still improving. From Euro 5 next it will be 40% new. It will be more different from what it was four years."
He says that likewise their four-cylinder engine, developed when Harley owned the company before the Global Financial Crisis, is now 80% new.
Timur confirms they will add a 950cc triple by 2022 that will be "the best available in the market".
"Then we will also build 400-500cc engines, but I won't tell you what configuration they will be — that's a surprise and I won't tell you."
Adventure bike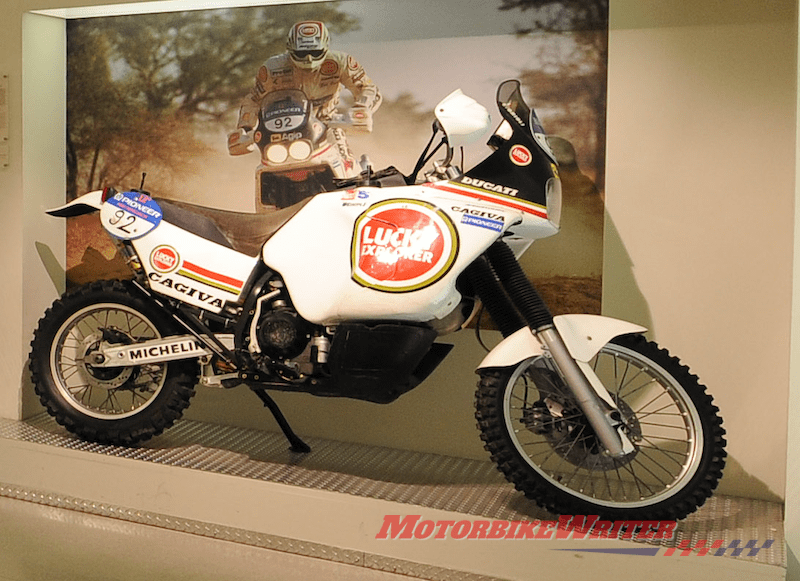 In February, MV Agusta applied for the trademark for "Elefant" which reminds us of the famous Cagiva Elefant (pictured above) which won the 1990 Paris-Dakar Rally and is now in the Ducati museum in Bologna.
Timur confirms rumours that they will build an adventure bike.
"Style wise it will be much the same," he says.
Although he wouldn't give too much away about the adventurer, he did promise it would be a "performance bike".
He says we will have to wait about eight months for the unveiling of their adventure concept, either at the EICMA motorcycle show in Milan if it still goes ahead or shortly afterwards.
"We have no exact time yet, but we will start production in mid-2022," he says.
Electric bike
However, there are no immediate plans for an electric motorcycle.
"We are thinking about it, but will consider it in the future," he says.
"Even if it is proven environmentally friendly, the technology is not there to produce an appealing product.
"We are watching and have a big engineering department keeping their finger on the pulse.
"But we are not going to see an electric bike even from BMW for the next five years, so why would we?"