Motorcycles will be catered for at a proposed race track located at Wyong between Sydney and Newcastle. The CASAR Park Community Motorsport Facility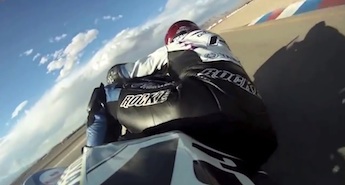 has edged closer to reality with in-kind support from local businesses, North Constructions and Virtual Motorsport Design. Park co-founder Brad Wilson says the Bushells Ridge track will be open equally to cars and bikes.
"We have a potential constraint with the design in that we may need to have bridges over the coal-rail line. But bridges exist in many facilities used by motorcycles and there are design parameters that can address the safety issues. It is only a potential constraint though," he says. "It'll have everything you get at Wakefield Park but with a longer/wider/newer track surface and more modern facilities."
As you can see from the video representation of the track it is open and free flowing with a bit of rise and fall for character. "The Bushells Ridge site is very interesting topographically and provides some good rise and fall, which is really at the heart of any great motor racing circuit," says Brad. "In that regard we believe the track is going to prove very popular when it is built."
He says the project is within $30,000 of their fundraising target. The motoring complex is only stage 1 of the CASAR Park project, with stage 2 to provide further infrastructure for tourism, training, recreation and leisure – a total investment of more than $25 million. Once completed, it's estimated CASAR Park will generate $17 million annually in economic benefit to the local economy with approximately 200 jobs as well as 200 training positions onsite once the facility is fully operational plus a further 150 indirect jobs.
Australia can certainly do with more race tracks after some of our most famous, such as Amaroo and Surfers Paradise, have been closed down by urban encroachment.
Follow their progress on their Facebook site or website.