The Moto Guzzi Griso is the Vin Diesel of the motorcycle world – all brawn and rugged handsome looks – but with Italian flair.
This naked bike slots into the muscle-bound end of the category and is ideal for impressing your cafe friends, carving up a mountain road or even turning the heads of commuter traffic.
At $22,990 for the standard model and an extra $1300 for the SE with wire wheels and special satin-chrome paint, it competes among an elite few musclebound naked bikes. It's cheaper than the Harley-Davidson V-Rod ($25,995-$26,495), more expensive than the Suzuki B-King ($18,990) and about the same as its Italian colleague, the Ducati Diavel ($23,490) which has a lot of electronic wizardry.
By comparison the Guzzi is pretty basic. It doesn't even have ABS. But what it does have is a brutish machismo and an engine which is an aural and visceral masterpiece.
The Griso was the first Guzzi to get the Quattrovalvole (four valve per cylinder) 1151cc 90-degree V-twin engine. It has 80kW of power and 108Nm of torque.
But those figures don't really tell the story. You have to feel it and hear it.
The fibrous V-twin lurches forward and to the right with each throttle blip and gear change, eager to surge ahead from as low as under 3000rpm right past its sweet spot around 6000rpm to its limit at 8000rpm.
Roll-on acceleration in almost any gear and any rev range is brutishly swift.
Yet there is almost no mechanical noise thanks to the Morse chains operating the valves. What you do hear is the best baritone induction noise of any motorcycle, together with a rich and guttural exhaust noise from the massively thick header pipes (I think they're nearly as big as the drainpipes on my house) and the oddly matched big-and-small mufflers. (You can also get Termignoni slip-on mufflers for $1170, but the standard mufflers sound just fine.)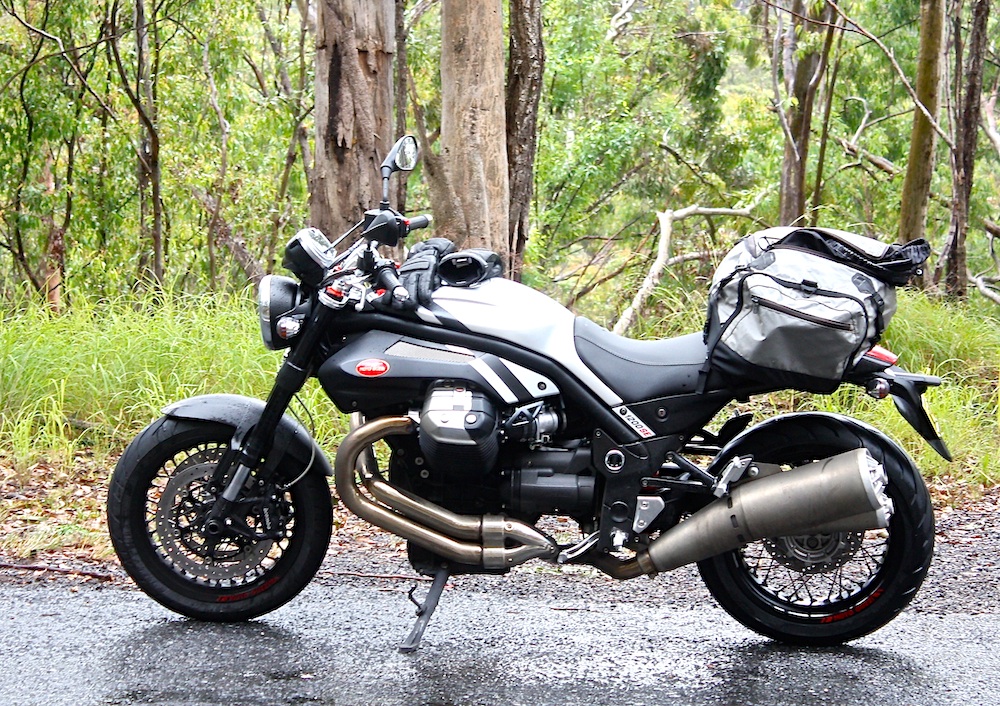 The asymmetrical mufflers are mirrored throughout the bike's design, from the odd-shaped instrument binnacle to the oil cooler hanging off the right-hand side. It reminds me of some ex-boxer with a broken nose that points in an odd direction, which kind of goes with the name.
Apparently Griso is a tough and fearless character in Italian literature. Like all Guzzis, it has shaft drive which is a robust double universal joint with floating bevel gear.
All you need to know is that it provides positive drive and handles the big gobs of torque from the crank. It's also needs no maintenance and won't dirty the gorgeous wire wheels of the SE model.
The six-speed transmission is also a robust unit to handle the torque, so it makes a two-noise "ca-lunk" as it positively engages with no false neutrals, however neutral can be a bit tricky to find on occasions.
The Griso is a naked bike, so it has an upright riding position with just a slight bend to the wide bars across what seems an inordinately long fuel tank but is really just an optical illusion. It's also only 16.7 litres in capacity.
Footpegs are a little bit higher and further back than most naked bikes, but tall people will not have problems banging their knees on the iconic rocker covers thanks to a long wheelbase and generous cockpit dimensions.
Seat height is 800mm which isn't too bad, but the seat is wide, so short people may have some difficulty getting their feet firmly on the ground to handle the 240-odd kg fully-fueled heft.
Short people will also have difficulty deploying and retracting the sidestand which is positioned too far forward.
This is a bike that really needs to be muscled right from the word go. However, out on the road the wide bars and steep steering angle allow you to maneuvre the bike as if it was much lighter.
It tips into corners with a deft touch and will perform feet-up u-turns without too much difficulty. However, the throttle can be a bit jerky off idle, so you may have to feather the clutch at low speeds.
For a bike that is so agile, it is as stable as the Queen Mary at high speeds. There is no wavering from wind blasts, no deviation through the biggest potholes and rocksteady steering through fast sweeping corners.
The fully adjustable suspension had been wound up for a session on the track where it felt right at home delivering heaps of traction even when still cranked over. Without adjusting the suspension I took it for a 1000km tow-day strop through the country yet it sill felt subtle over some big divots.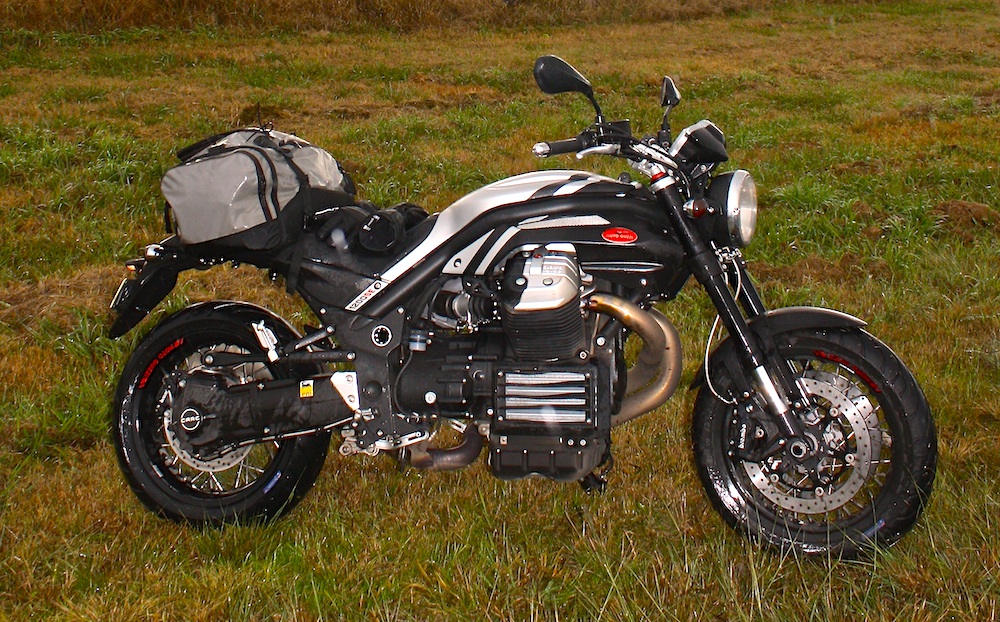 Later, I wound it back and found even more compliance, but without any hint of foundering or wallowing through mid-corner bumps. Even though the bike does not have ABS, I experience no lock-ups or moments of spine-tingling terror from the brakes even through heavy rain and on slick roads.
The Brembo brakes with braided lines have plenty of feel and predictable progression in both the hand and foot levers. The headlights seem weak and even the high beam doesn't brighten things up much, but the three high intensity LED taillights will ensure no one runs into the back of your bike.
Despite some hefty throttle use on test, the on-board computer says it used only 6.1L/100km. At one stage the fuel light came on at just over 200km and I rode another 60km before filling up with 15.5 litres of fuel in the 16.7-litre tank. The instruments include an analogue tacho and digital speedo with an on-board computer that includes a host of information, even a lap timer.
However, the button to toggle between screen menus looks like an add-on and is hidden way over the back of the left switchblock. Another concern with the left switchblock is the reverse placement of the horn and indicator. I kept accidentally hitting the horn instead of the blinker button which is too far away for my thumb when my fingers are on the clutch, yet I have big hands.
On my two-day adventure I strapped a big soft bag on the back seat thanks to four metal posts under the seat. But you can also buy a genuine Guzzi accessory rear seat bag that converts to a shoulder bag for $259.
The seat is hard but provides good support and doesn't become uncomfortable on a long haul.
I like the smooth airflow of a naked bike. As you reach highway speeds, you simply pull forward on the bars and lean into the wind. It doesn't become tiring. But if you want some weather and wind protection you can buy a factory windscreen for $524.
Griso might sound like a strange name, it might appear weird and wacky and it might not loom large on your radar, but it is certainly worth a ride.
However, beware; it will grow hairs on your chest.
Moto Guzzi Griso 1200 8V SE
Price: $24,290
Engine: 1151cc 90-degree V-twin
Bore x stroke: 95 x 81.2 mm
Compression: 11:01
Power: 80kW at 7500rpm
Torque: 108Nm at 6400rpm
Transmission: 6 speed, shaft drive
Frame: High tensile steel tubular twin cradle
Wheelbase: 1554mm
Trail: 108mm
Rake: 26.30°
Steering angle: 34°
Suspension: Upside down 43mm fully adjustable forks; fully adjustable monoshock
Brakes: Twin floating 320mm stainless steel wave discs, Brembo radial callipers with 4 opposed pistons (front); 282mm fixed stainless steel disc, floating calliper with 2 parallel pistons (rear)
Wheels: Tubeless spoke wheels with aluminium Berrim and Alpina spokes; 3.50 x 17; 5.50 x 17
Tyres: 120/70 ZR17; 180/55 ZR17
Length: 2260mm
Width: 830mm
Height: 1070mm
Seat: 800mm
Clearance: 185mm
Dry weight: 222kg
Fuel tank: 16.7 litres (3.3L reserve)