Don't expect much out of Moto Guzzi for 2015. Apparently the only changes are a bit of red stitching and trim on the Griso 1200 8v SE while black is the new chrome on the V7 Stone.
Australian importers the John Sample Group aren't saying when the new models will arrive or the price, but that could be because they seem to have a lot of stock left over and have been heavily discounting in recent months to clear what they have.
I love the pure brutish looks and force of the of the 1200cc 90° V-twin in the Moto Guzzi 1200 8v SE and this year it adds a few touches of red to give it a bolder look.
It now comes in a Rosso Trophy colour scheme which includes saddle red lining, matching red thread double-stitching, and the spoked wheels with "custom channels in Moto Guzzi red".
They have also blacked out the chassis, valve covers and instrument panel covers.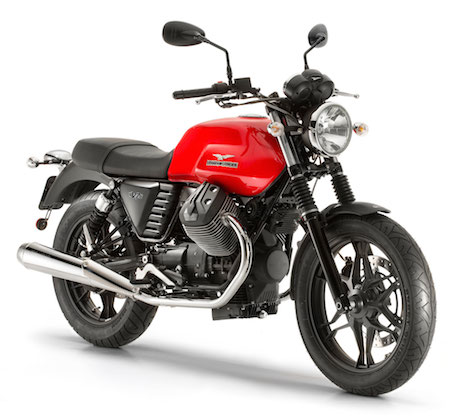 Another favourite is the V7 series with the V7 Racer making number 4 in my top 10 sexiest motorcycles list.
Meanwhile, the more basic V7 Stone has always been a nice blank canvas that too few people have customised. Instead, they opt for the old BMW R series, Bonnevilles and Yamaha SR models. I reckon the V7 would make an excellent scrambler or street tracker project.
Anyway, for 2015 the blank canvas gets a little blanker with some of the chrome pieces replaced by plain black. To further incentivise customisers, it also comes with more factory options.
The V7 Stone will arrive in three colours: gloss "Rosso Corposo" (red), satin "Verde Agata" (green), and "Matte Black".
It also gets a new wet flywheel, replacing the previous dry alternator, slightly modifying the front of the 90° V-twin.