Basilisk Adventure Jacket Review Summary
Review Summary
I'll get right to the point, there isn't another adventure jacket I'd rather wear than this Basilisk from Mosko Moto. It does everything I want it to out in any kind of weather and allows me to wear the best armor on the market comfortably underneath. It's not going to work in really hot climates as well as mesh jackets do, lacks reflective piping/striping, and the collar could be better, but this is the one I wholeheartedly recommend first now.
Pros
Lightweight
Compatible
Durable build
Sized to wear armor and layers underneath
Waterproof
Abundant SuperFabric
Wrist closures: A++
Reasonable price
Minimalist look
Good ventilation
Cons
Sloppy-looking collar
No armor or thermal liner included with jacket
Insufficient reflective material
Availability issues
"Tarp" noises
Basilisk Adventure Jacket Image Gallery
Before I dive into why I'm so satisfied with the Mosko Moto Basilisk jacket, let me first talk about another excellent jacket to put things into perspective.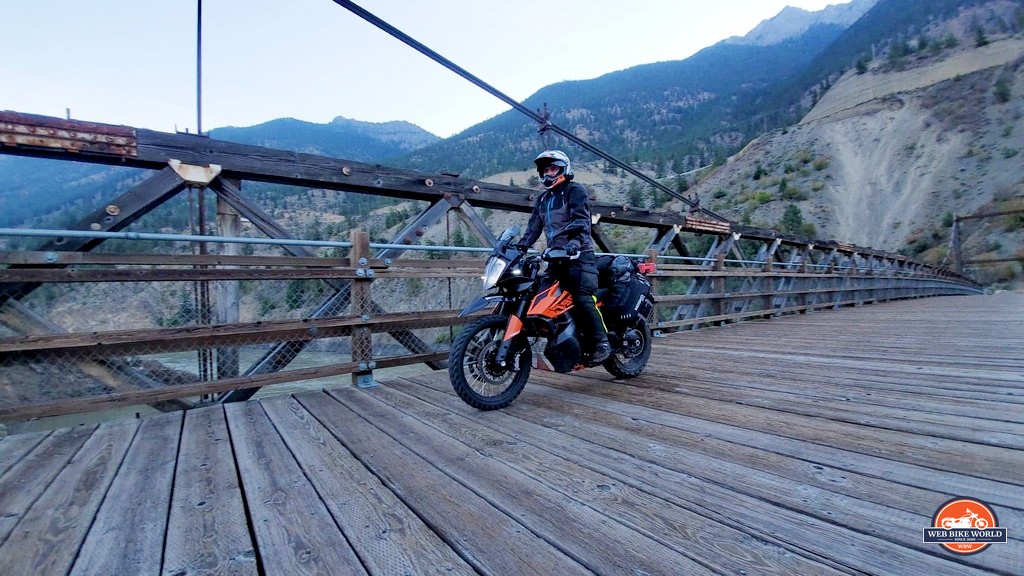 For the past three years whenever I've undertaken a multi-day adventure motorcycle trip I've always turned to the most comfortable, trusted, and reliable adventure riding jacket in my collection: the Rukka ROR.
But that's about to change…
The ROR is such a refined and handsome-looking piece of gear that has performed flawlessly for me other than when the zippers sometimes clog up with fine dust and dirt. I've had to lubricate the main YKK at times with WD40 out on the trail or coat the teeth with candle wax to keep things working right. I've found the vent zippers on the sleeves challenging to open or close while riding, too.
Regardless, the ROR is still the jacket I measure all others by and that will become clear throughout this Mosko Moto review.
Enter The "Jesus Christ Lizard" Jacket
I've been wondering why Washington State-based Mosko Moto uses a Basilisk lizard as their brand mascot and the moniker for their top-tier adventure jacket, so I did a little "Googling".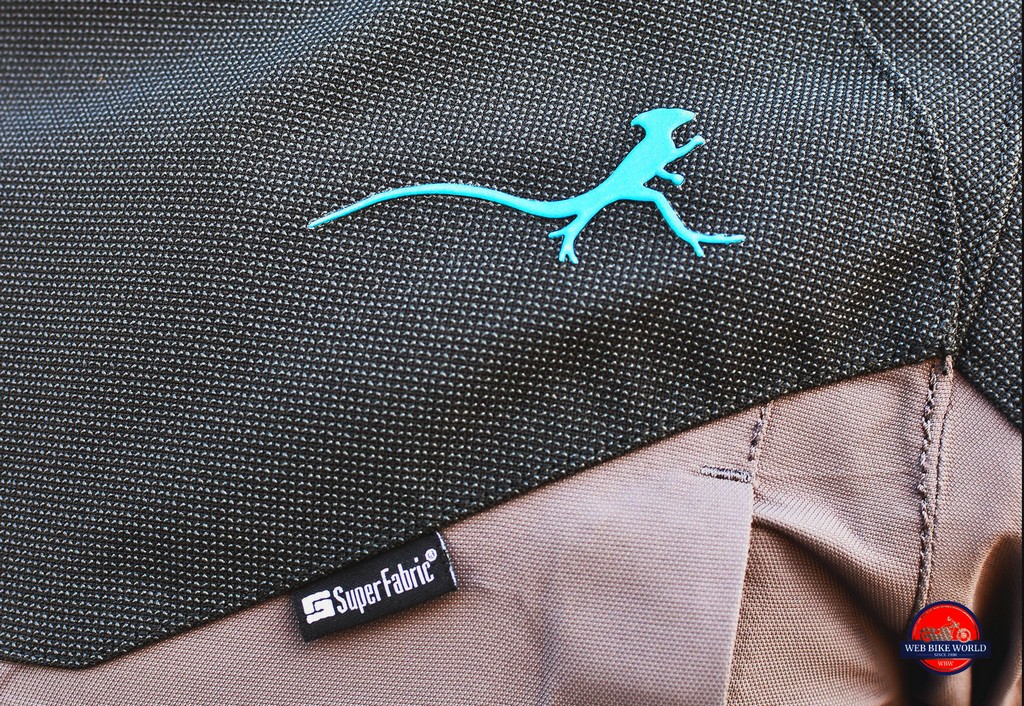 The Mosko Moto brand logo is a Basilisk lizard silhouette.
Videos of these often brightly-colored creatures running on their hind legs at high speed in the jungles of Central America abound on the internet and are fun to watch.
They are so quick and equipped with specially designed rear feet allowing them to literally run on the water many yards at a time while evading danger. Failing that, they swim well and can hold their breath for up to 30 minutes. They're plucky survivors who thrive in a habitat full of predators.
The Mosquito Coast Inspiration
Mosko Moto Co-Founders Pete Day and Andrew Bryden appear to have been charmed enough by these quirky lizards to adopt it as the brand's logo. The lizards and humans must have bonded while Pete and Andrew were off torture testing prototypes in the Mosquito Coast region of Nicaragua/Honduras about 7 years ago. The Mosko Moto name itself is also a derivative of the Miskito (Mosquito) Coast name.
Now I know.
Thank You Mosko Moto!
Spencer Hill from Mosko supplied me with the Basilisk jacket for this review at no charge, and I'm grateful for that.
Basilisk Jacket Design Philosophy
From what I see, this jacket is designed to be simple, minimalist, and practical above all. It has lived up to that criteria during my 3 months long, 3000 mile testing period. It's well-made and just plain works!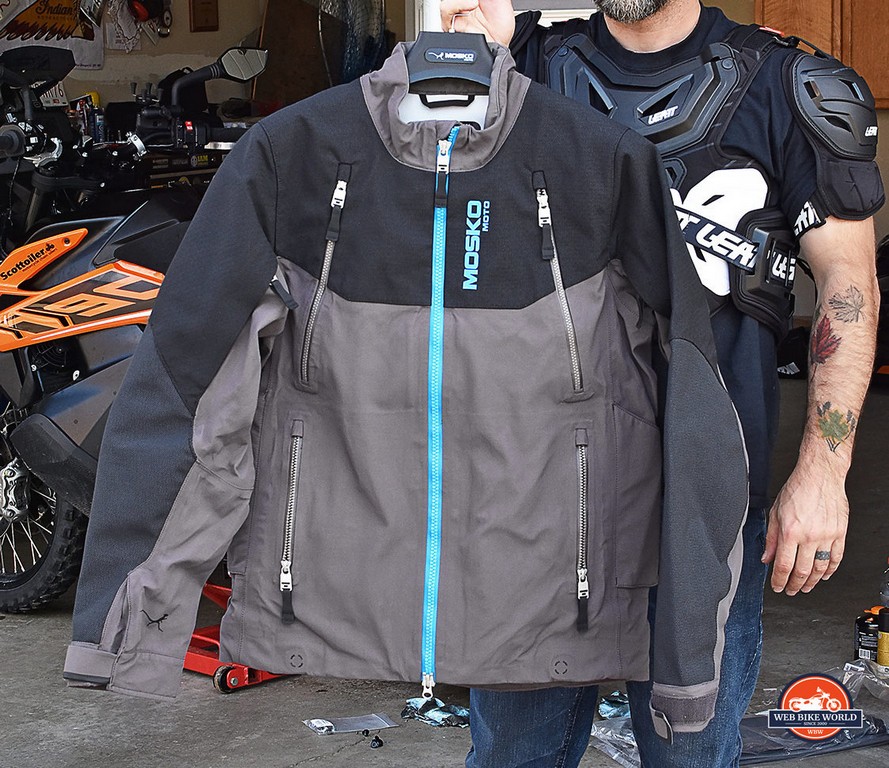 Interestingly, almost in opposition to that no-nonsense, and basics first ideology, this is the first jacket I've received that came packed in what reminds me of the zippered covers you might get a brand new suit coat in from a tailor. It's downright fancy!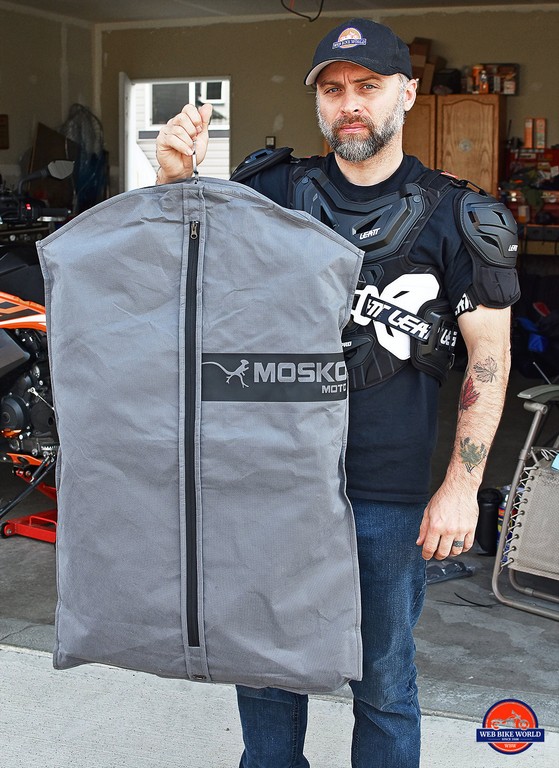 I'm not mad, but photo shoots always make me grumpy. I'd rather be riding
600 Denier Cordura Nylon Shell
The all-important outer shell on the Basilisk is made of the same tougher level of nylon most other jackets use to cover only the high-impact areas.
The Rukka ROR doesn't even go that far, sporting only 500D Cordura in the elbows and shoulders.
SuperFabric
When it comes to abrasion resistance the Basilisk Jacket is better than most competitors thanks to the massive patch of dark-colored SuperFabric covering most of the sleeves, shoulders, upper chest, and upper back. It has the texture of shark skin, but smoother.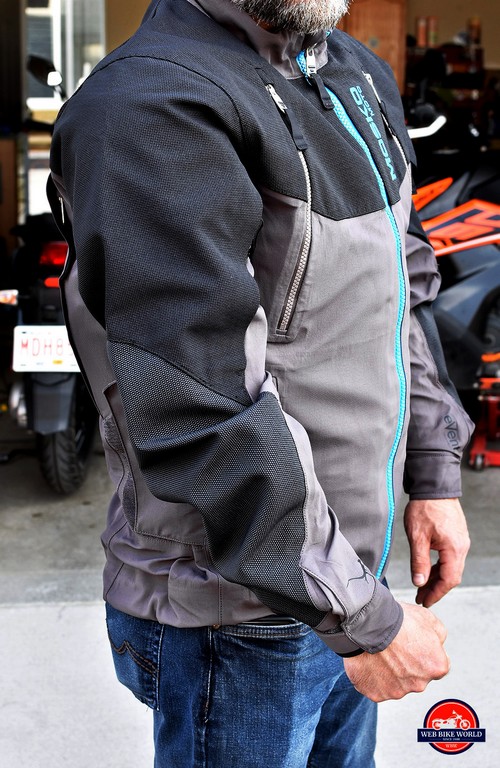 This ceramic material made up of small guard plates creates a barrier between the rider and the road/ground in a slide with a considerably lower coefficient of friction than normal. You slide instead of snagging and shouldn't heat up and burn/chafe the skin underneath nearly as badly as a result. It's brilliant stuff!
As an added bonus SuperFabric is breathable, antimicrobial (anti-Covid-19?), flame-resistant, slash-resistant, stain-resistant, and it dries 10X faster than nylon according to their claims.
SuperFabric costs about $40 US/yard which is stupidly expensive and probably the reason I haven't seen any other manufacturer put so much of it on their jackets. I haven't gone for a slide in it yet, but it's extra peace of mind knowing I have it on the jacket.
The Interior and Pockets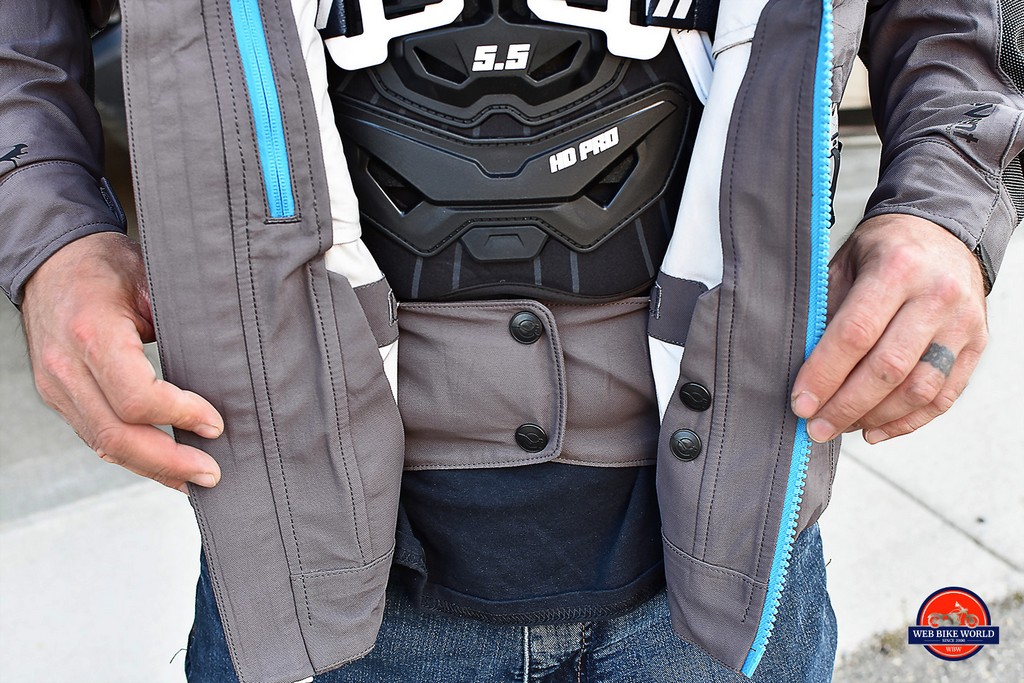 There's no inside mesh liner in the Basilisk in stark contrast to competitor products. I thought that would bother me, but it doesn't at all.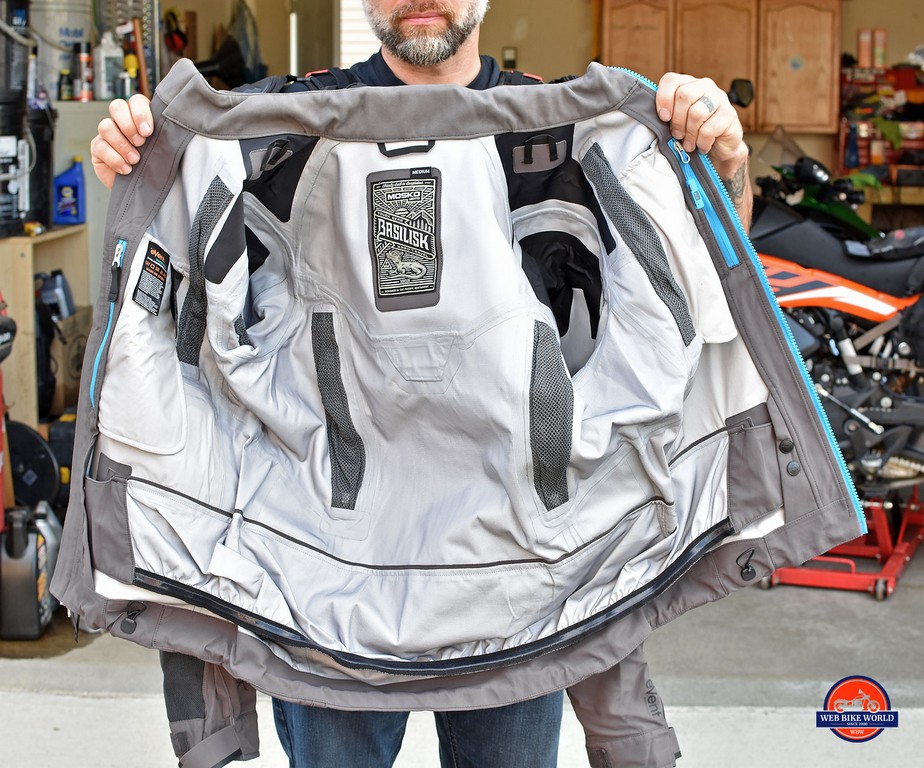 There are inner zippered pockets on each side of the upper chest to hold my most valuable items along with two pockets on the outside just above each hip. I haven't found myself looking for another pocket to my surprise. These four have done the job and reflect the wisdom and planning by Mosko. Nothing extra is included, just what a rider needs.
I love it!
The Zippers
In contrast to the sometimes problematic small-toothed zippers on the Rukka ROR, the large-toothed, higher-quality, YKK Vislon waterproof zips on the Basilisk never jam up with dust or dirt and are smoother to operate.
The Basilisk comes with a kidney belt inside that I never use, but you might.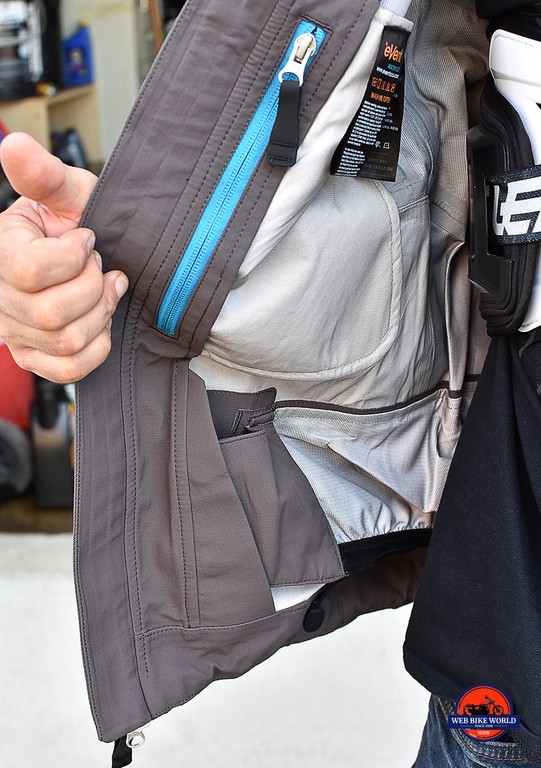 I still fight with the venting zippers a little bit while riding down the road, but it's easier than with the Rukka.
Am I Wearing a Tarp?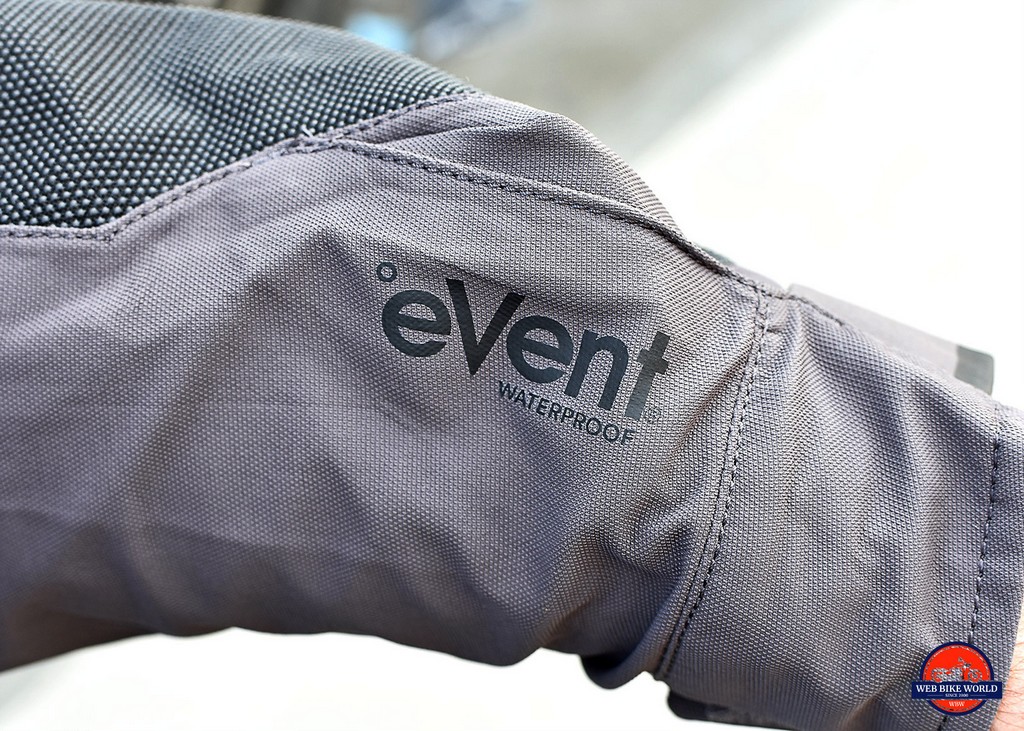 The missing silk liner material combined with the 600D nylon shell and a double-layer, eVent wind, and waterproof liner creates an odd sound when I put on the Basilisk. It reminds me of the sound a tarp makes when you fold it up. It's a crackling or rustling sound that's distinct and unusual in riding jackets. I only notice it when donning or doffing the jacket, so it's just an observation and not a problem.
This jacket feels a little bit stiff as tarpaulin material does as well. Conversely, my ROR feels almost like a windbreaker due to how soft and flexible the thinner Cordura on it is.
Yes, I made sure the jacket is waterproof as you can see in the photo below. I haven't been able to find any heavy rain to try it in just yet, but the pressure washer convinced me all is well.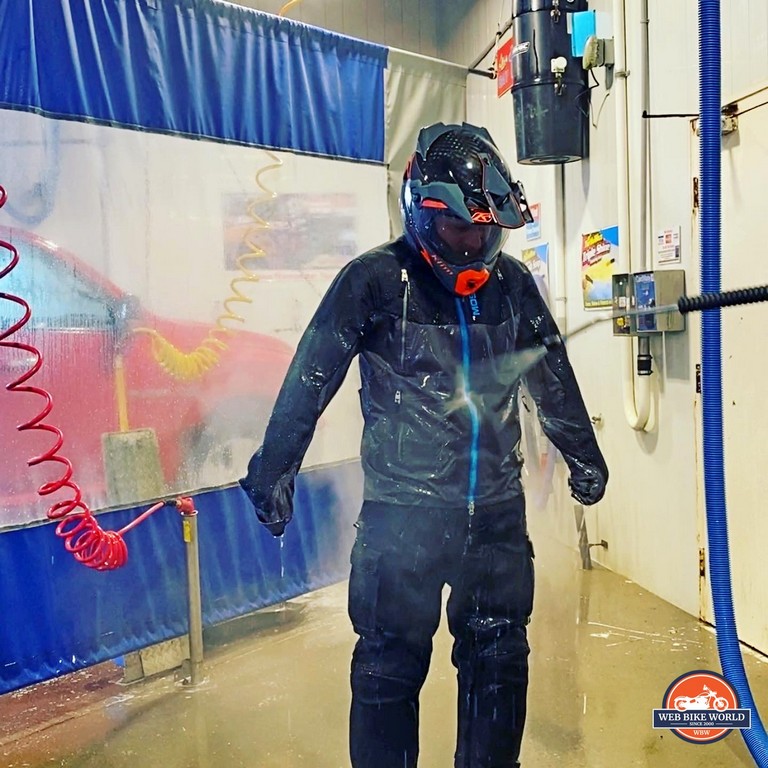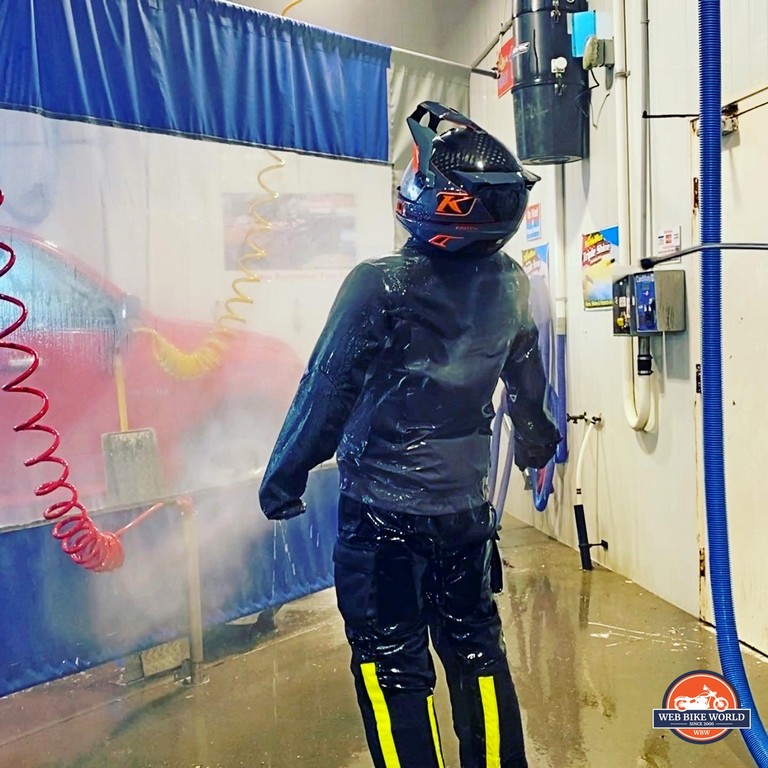 Gore-Tex is widely considered the gold standard of waterproof material, but the eVent liner in the Basilisk seems just as good to me.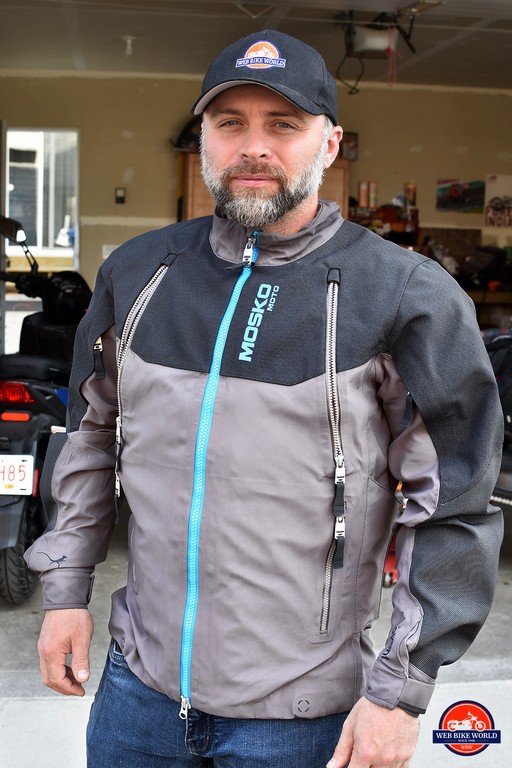 I'm wearing full CE Level 2 armor under this jacket. Can you tell?
Fitment
One look at the photo above will tell you the size Medium jacket recommended to me by Mosko's guide (below) fits my 40" chest and 34" waist perfectly while leaving about 3 or 4 inches of spare length in the sleeves thanks to my admittedly short 28" arm measurements. It's better for them to be too long rather than too short though.
The Wrist Closures
I'm 100% in love with the way Mosko designed the velcro wrist closures on the Basilisk. These are the best ones I've ever had the pleasure of using thanks to how long the straps are and how sure they seal against wind and water.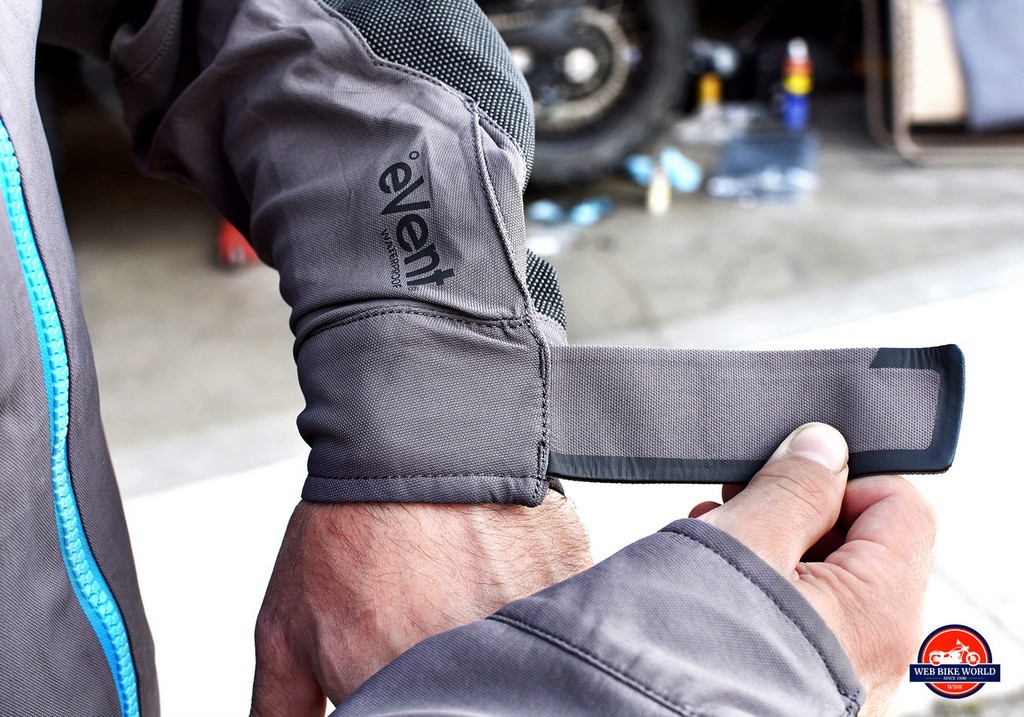 Even if you have tree trunk diameter wrists and forearms these will work over your gauntlet gloves perfectly.
The Collar Is Not So Great
The Basilisk collar fits weirdly loose and crumpled around my 16" neck in opposition to the way the fancy neoprene one on the Rukka ROR conforms. Adjustments are made to the Basilisk collar diameter via a pinch and lock device that chokes an elasticized string as seen in the photo below.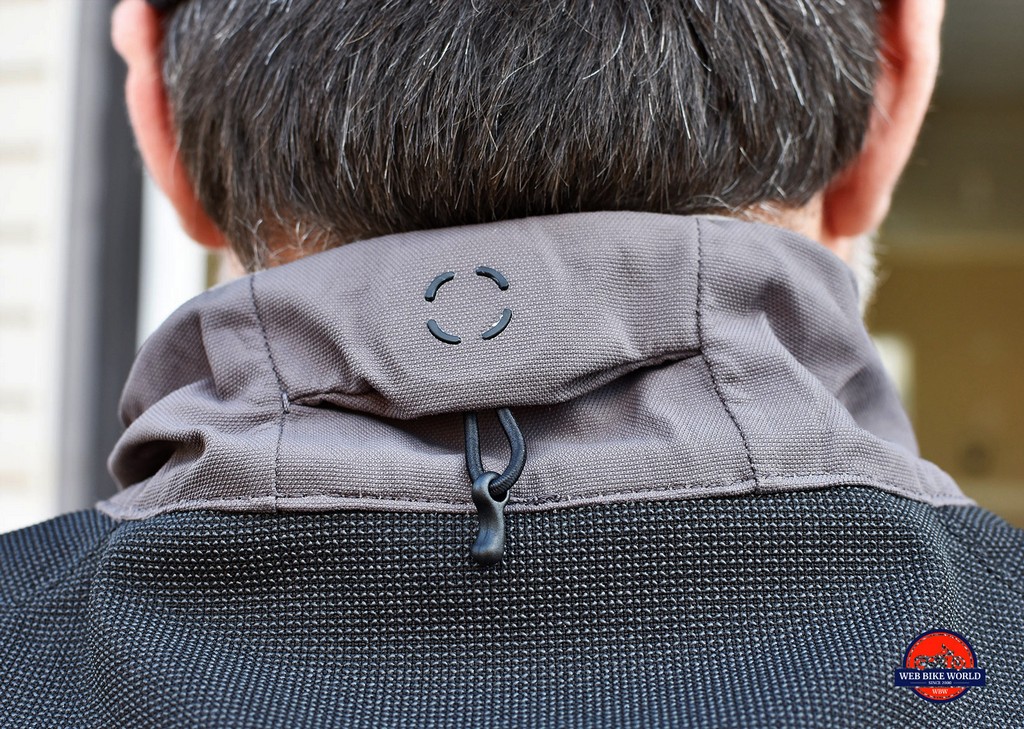 For me, this is the worst feature of the Basilisk jacket, but in reality, it's a minor aesthetic irritation more than a detrimental design problem. That speaks to how high the bar has been set now by Mosko Moto. I haven't yet experienced any discomfort or water intrusion despite the disheveled appearance of it. It works well but looks bad.
On the other hand, the neoprene collar on my ROR jacket does sometimes chafe against my neck skin in high humidity situations, so perhaps Mosko Moto is wiser leaving things loosey-goosey fitting as they are.
I would encourage their designers to take a swing at improving the collar in the next generation of Basilisk so that this jacket is a total home run.
The same adjuster and elastic string combo can be found around the waist area to tighten up the bottom of the jacket, but it doesn't deform the shell down there as it does around my neck.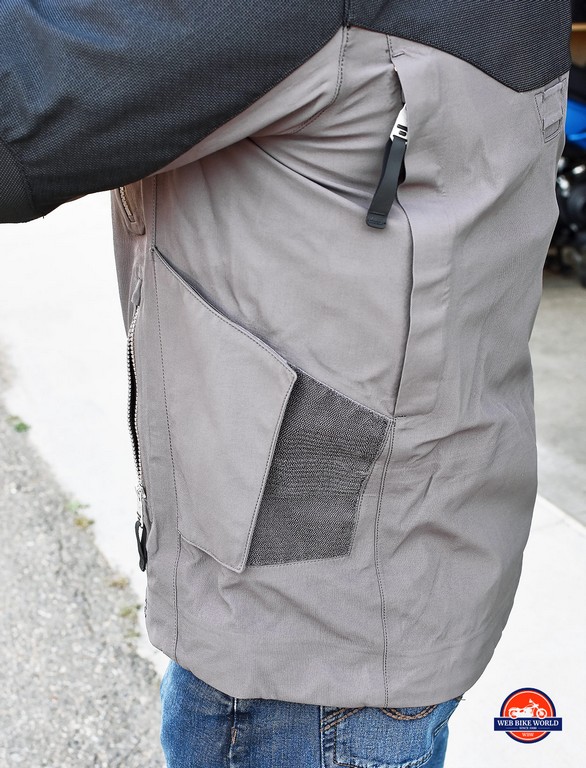 And more waist adjusters…
Velcro adjusters on either side of the Basilisk allow me to adjust for lighter armor or if I need more room after Thanksgiving dinner.
Separate Armor
Have you noticed even high-quality D30 armor that installs in many riding jackets and pants doesn't always stay put where you want it while out on the road? I have, and that's why recently I've switched to wearing armor that straps to my limbs instead of sitting in pockets built into the riding gear.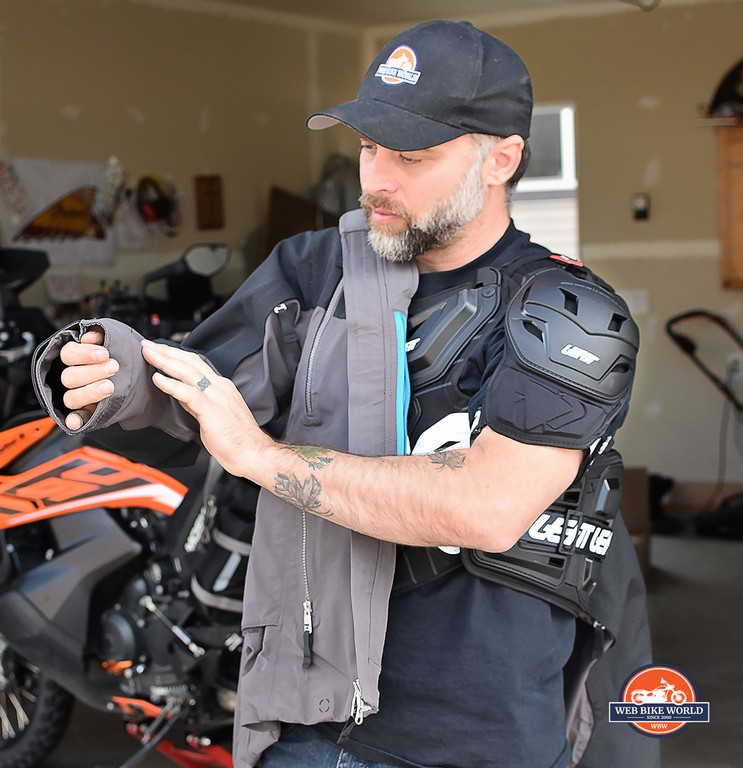 Both the Rukka ROR and Mosko Moto Basilisk jackets are sized from the factory with this strategy in mind. When you select your size from the chart you don't need to worry about making room for armor or thermal layers underneath.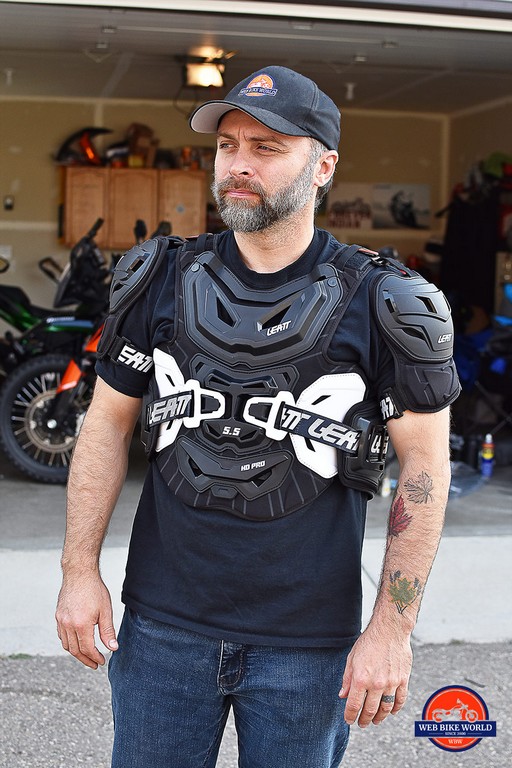 I bought the LEATT CHEST PROTECTOR 5.5 PRO HD and the matching LEATT ELBOW GUARD 3DF 6.0 during the annual Mosko Moto online sale event to use with the Basilisk jacket. I'm happy with that decision after wearing the combination for a few thousand miles thus far.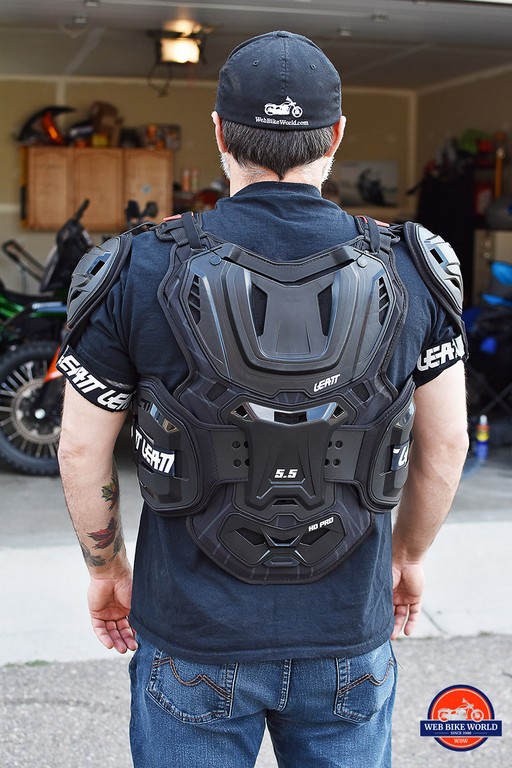 I've also worn Forcefield Armour underneath the Basilisk, but prefer the Leatt gear at this point. Eventually, I plan on switching to the Klim A-1 Airbag for defending the structural integrity of my chest and back.
The CE Level 2 Leatt 5.5 HD Pro armor design's secondary benefit is how it creates a small air gap between the jacket and me which helps cool me when I'm in hot weather and warm me in cooler conditions. I've only felt the need to take the jacket off once and ride wearing only the armor when temperatures rose to 37 Celsius or 98.5 Fahrenheit.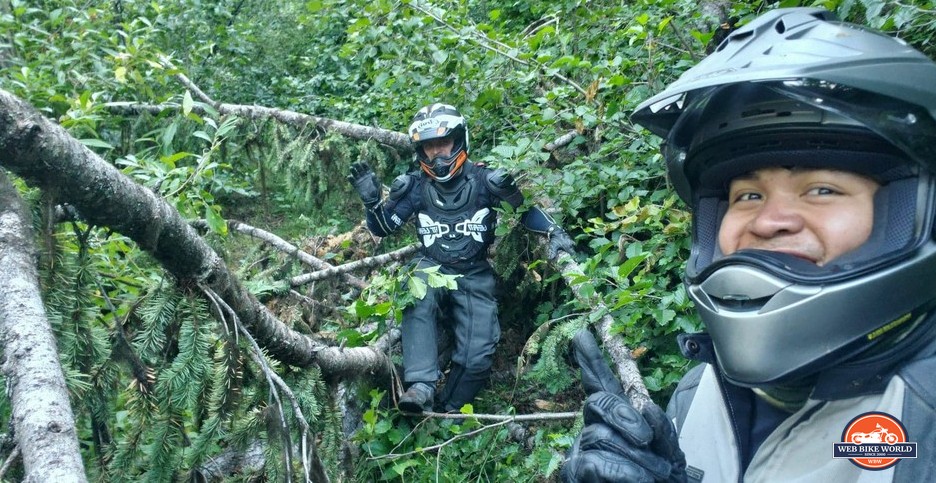 The photo above shows the day in question where I was riding in dense off-road terrain at slow speeds. My only complaint with the Leatt chest protector is that sometimes when I lean forward it rides up high enough to touch the bottom of my neck.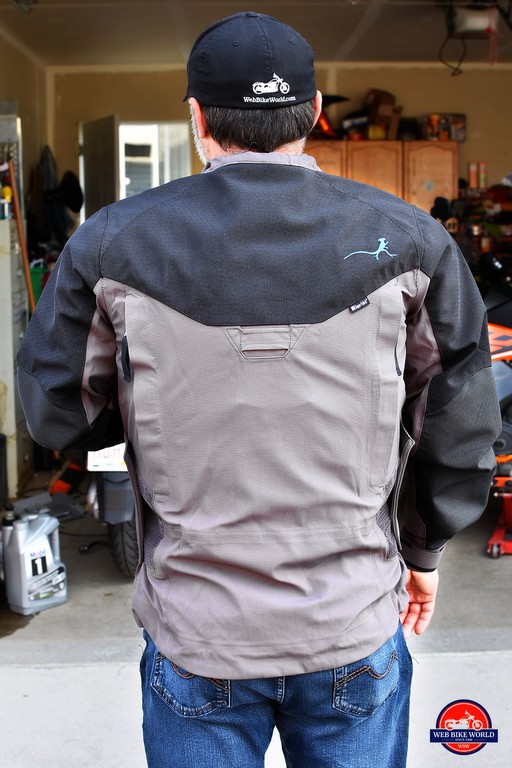 If I look a little lumpy in the photo above it's just the armor underneath the jacket, not my huge back muscles trying to burst through.
Ventilation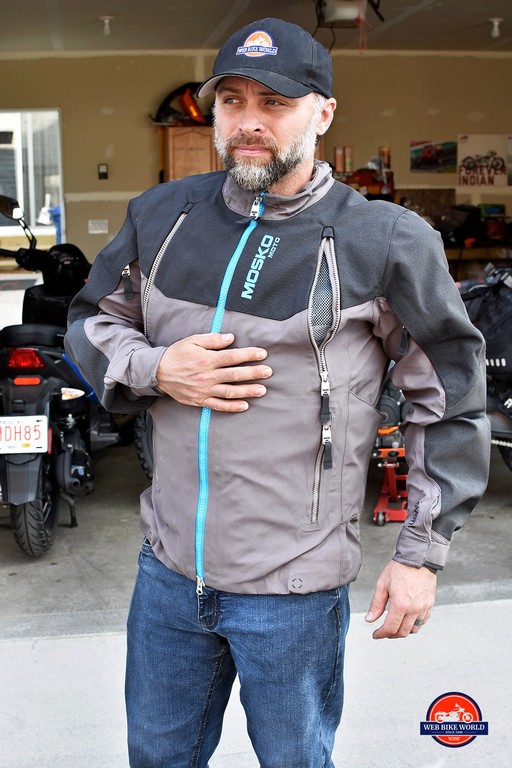 The vents on the front of the jacket are large mesh openings on either side of the center zipper that flow tons of air in with equally large vents mirrored on the backside.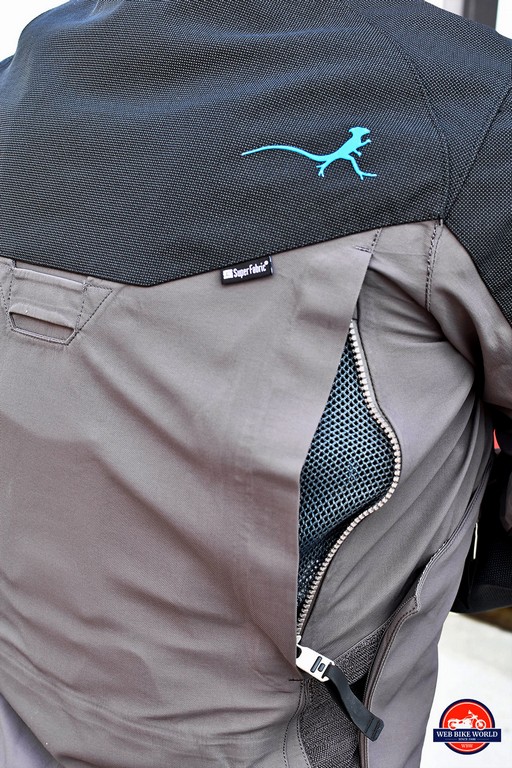 Each sleeve also has a vent on the upper bicep area that when combined with the other ones keeps me comfortably cool when I'm moving in almost any temperature I've encountered riding here in Western Canada.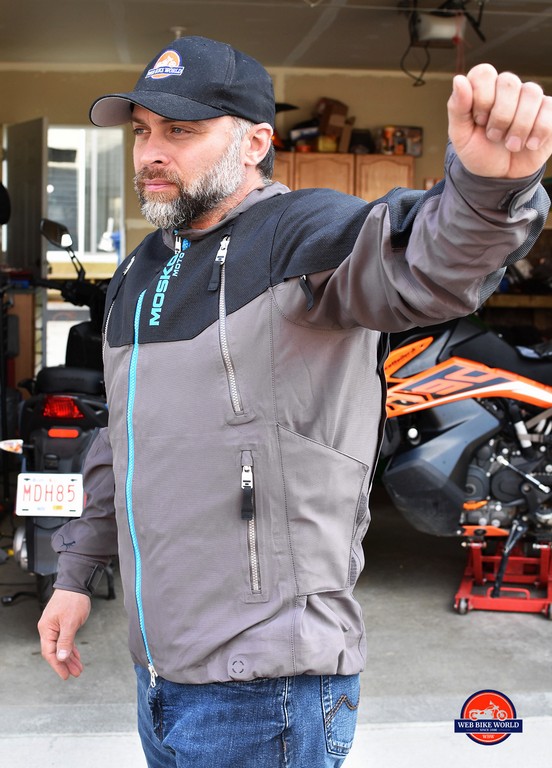 I was surprised to find with so much SuperFabric the jacket didn't cause me to overheat, but that's exactly what my findings reflect.  Bravo!
Got Safety Hi-Viz?
The Rukka ROR has outstanding reflective piping and logos on all four sides. The reason I like what Rukka has done with the pattern is how understated it is. It doesn't present as safety stripes until it gets dark out when they noticeably pop.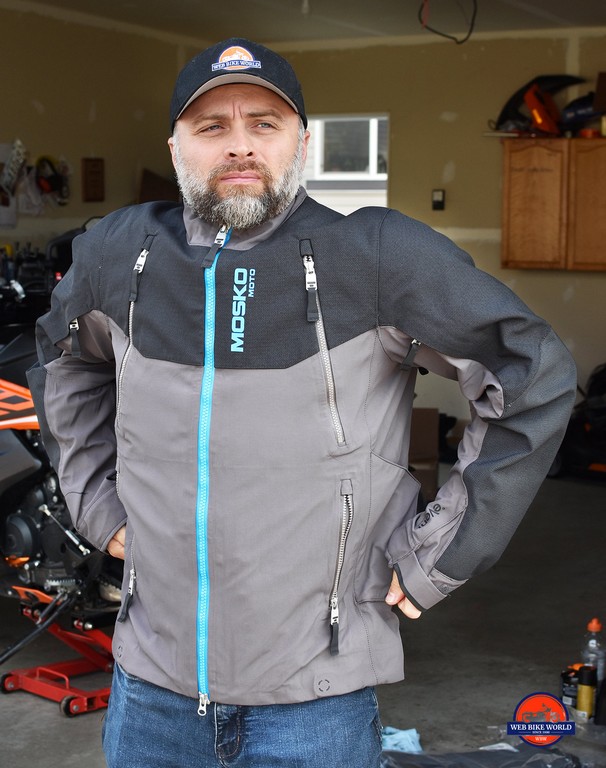 The Basilisk has little to no reflective material on it despite the bright turquoise/blue zipper and logos. I think Mosko Moto could implement some better reflective measures in the next generation of this jacket.
The Final Verdict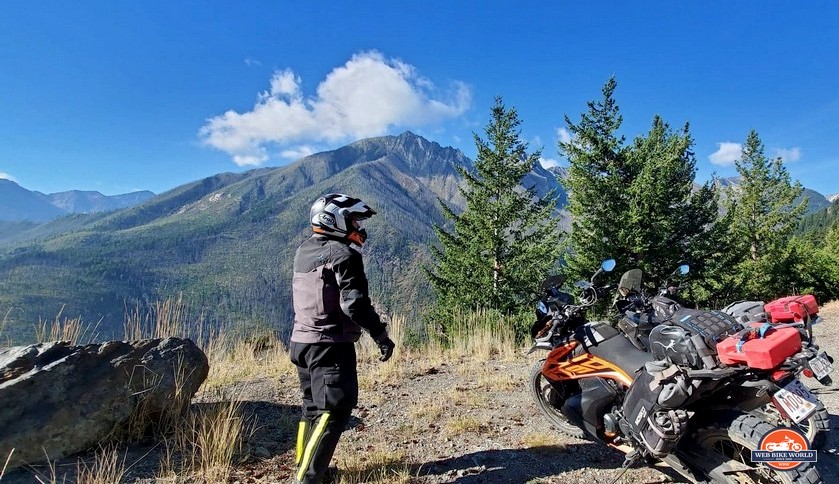 The adventure riding gear market is cutthroat and ultra-competitive. The established and proven brands churn out fancier and better gear regularly and we see prices climbing as a result.
Klim made some solid updates to their popular Carlsbad jacket in 2020 and I almost got to review it. I was sent the wrong size so that review got canceled due to a short supply of Mediums.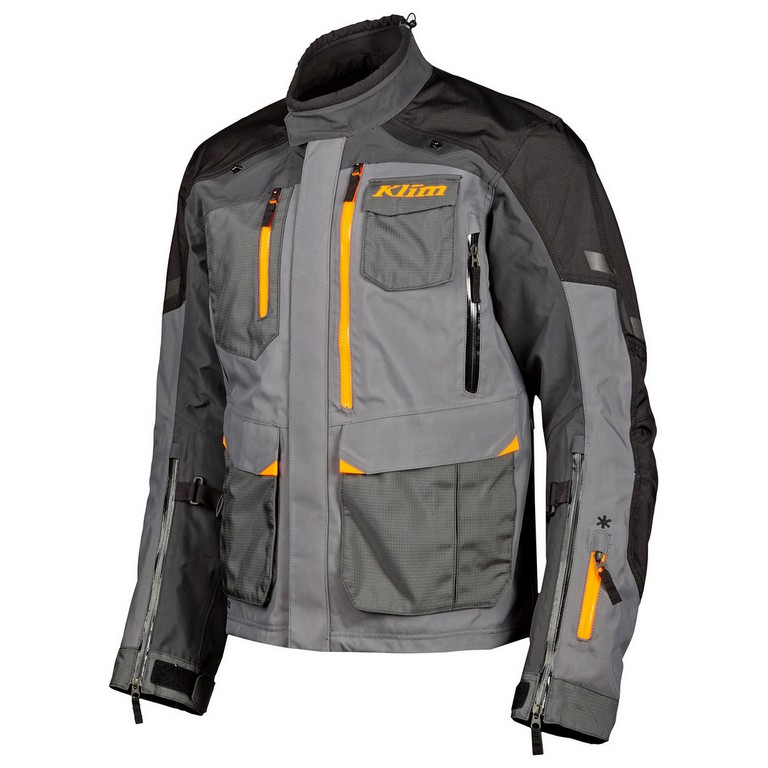 I liked what I saw from it but still prefer the Basilisk.
The Carlsbad has no SuperFabric and only the elbows, shoulders, and upper back have 630D Cordura while the rest is still 500D. The Carlsbad costs the same money as the Basilisk, but the noteworthy difference between the two is how the Basilisk will arguably protect better in a slide and crash if you're wearing armor underneath that stays in place when you hit the deck.
The Carlsbad has about double the number of pockets found on the Basilisk, but I'd never use the extra ones if I think about it. Ask yourself what you honestly need and want out of your riding jacket and I think you'll find as I have that the Basilisk fits just right.
Supply Problems
Mosko Moto is having the same problem as Klim when it comes to supply vs demand. As I write this I note there are no Medium or Large Basilisk jackets available on the site. Once they get any in stock they're quickly gone again and buyers are left waiting for the next shipment.
It's a nice problem to have if you're Mosko Moto, but not everyone will wait even if people like me proclaim from every hilltop it's worth it!
No Distributors
Mosko Moto sells direct to avoid middlemen that inevitably drive up prices. That's good, but bad if you're the kind of person who doesn't trust sizing charts and needs to try something on before buying it. Mosko Moto has an excellent return policy, but if you live outside the US things can get complicated recouping duty and taxes should you need to return a jacket.
To that I say, roll the dice and trust in the sizing charts. This jacket is worth the risk. In fact, I even wear this jacket when I'm not on my adventure motorcycle. I appreciate it that much.
Keep It Simple Stupid is a good principle to follow in the adventure riding world, whether we're talking about packing your luggage for a long trip or choosing riding gear.
Mosko Moto gets it and is leading the way.
Pros
Lightweight
Compatible
Durable build
Sized to wear armor and layers underneath
Waterproof
Abundant SuperFabric
Wrist closures: A++
Reasonable price
Minimalist look
Good ventilation
Cons
Sloppy-looking collar
No armor or thermal liner included with jacket
Insufficient reflective material
Availability issues
"Tarp" noises?
Specs
Manufacturer: Mosko Moto   
Price when tested: USD$ 599
Made in: Bangladesh
Sizes: SM, MD, LG, XL, 2XL
Colors: Red or Grey
Review Date: May 1, 2021
Where to Buy: Only available from the Mosko Moto website Mosko Moto Basilisk