Review Summary
This one-piece sport suit fit is excellent and can contain CE Level 1 or 2 armour in the 9 pockets built-in. It effectively locks the armour in position and the padding matches the contour of my body perfectly for the most part. Comfortable, breathable and surprisingly easy to put on or take off. It's a winner! It's expensive to buy (but worth it) and the zipper could be smoother/easier to use. I'm not completely sure how it will last long term especially since one of the stitches let go on my test suit. Having said that, it seems high quality after 600 miles of riding and one wash.
Build Materials & Quality
Pros
Modular armour system level 1 or 2
Keeps wearer warm or cool
Compression fitting is comfortable
Armour stays in place
No chafing or itching
Machine washable
Easier to take off than put on
Worth the money
1-year Motonation warranty
Cons
Elbow armour out of alignment
Lacks chest armour
Zipper is a bit awkward to use
Not as good as Forcefield Tech 2 as a base layer
Ripping noises?
Unusual sizing
Lifespan?
Forcefield Sports Suit Image Gallery
The Forcefield Effect
Last year marked my first encounter with Forcefield Body Armour products when I reviewed their Tech 2 base layer and Sport Tubes. It's become my preferred everyday riding gear ever since because it keeps me dry and warm when it's cold and cooler when it's hot out. I absolutely love the Tech 2 base layer and rate it highly.
Motonation knew this and offered me a brand new for 2019, single piece Sport Suit X-V to test as a follow-up. They gave me the option of either CE Level 1 or Level 2 armour in it other than on the back (it's CE Level 2 standard). I went with the Level 2 option all around because I already have plenty of Level 1 armour around here.
*Note: You may notice many extra letter U's in this review. That's because Forcefield is a British manufacturer. Jolly good…
What's This Suit For?
This one-piece Sport Suit was designed to be worn under racing leathers primarily. It makes donning leathers easier from what I hear due to the spandex/nylon material creating a slippery surface for the leathers to ride against.
I've never tried on a full set of leathers myself, but I can imagine it doesn't have a whole lot of give to it and could be a struggle to get on without something like this Sport Suit underneath. Forcefield also endorses wearing it under any kind of riding gear for on-road as well as off-road protection.
Do I look like I'm wearing CE Level 2 armour under this gear?
I chose to wear it under my Rukka ROR jacket and pants which were designed specifically to be combined with this sort of heavy-duty armour.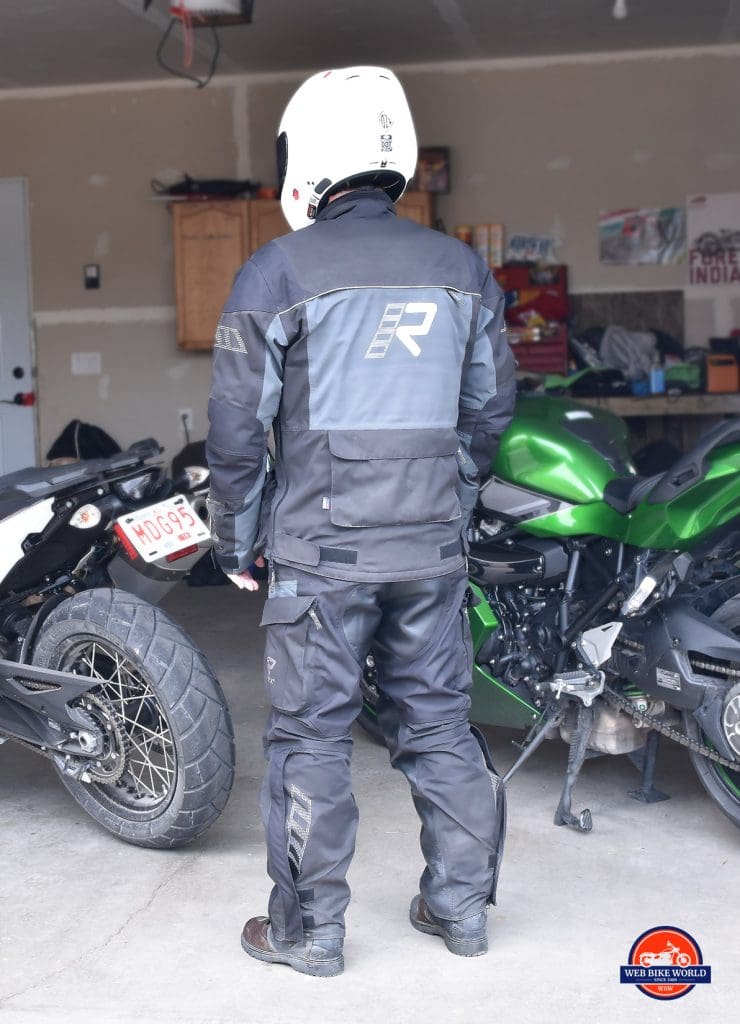 First Impressions
Extra Small???!!
I admit my 5'7" height isn't considered big anywhere in the world, but I've never been lumped in with the extra small or small crowd before now when it comes to clothing. Nonetheless, there it is on the packaging I've just received with the Sport Suit in it.
Forcefield Fitment and Sizing
Forcefield Sizing chart
| | | |
| --- | --- | --- |
| Size | Chest Measurement | Leg Inseam |
| XS/S | 32″-38″ | 30″ |
| M/L | 39″-45″ | 31″ |
| XL/XXL | 46″-52″ | 32″ |
My 40" chest, 28" inseam and 34" waist combined with shall we say some "junk in the trunk" make finding clothes that fit me correctly an adventure. I'm the epitome of short and stocky weighing in at 180lbs.
Well… here goes nothing. Their chart says I should be a Medium, but Motonation in their wisdom says this stuff fits big and to go with the wee XS/S.
Rrrrrip!
I decide to resist going commando and leave my underwear on for the initial insertion of my frame into the Sport Suit.
I pull the "super suit" up over the top of my Fruit of the Looms right to my waist easily. My lower body fits well except for leaving a few inches of length to spare as expected since I have legs that forgot to grow in my youth. As I insert my left arm into the appropriate sleeve I hear the sounds of stitches tearing one at a time going off all over the middle section of the suit. Yikes…
I boldly soldier on dauntless and soon I have it on me all the way, then I pull the zipper right up to the base of my neckline. It feels very, very snug… everywhere. More than my other Forcefield base layer, but at the same time I can't deny it's comforting. Maybe it reminds me of being swaddled like a baby in blankets or perhaps it's just the compression fitting design kicking in that I read about in the literature… maybe it's both?
I move through my full range of motion undoubtedly looking vaguely like DaVinci's Vitruvian Man drawing to discern whether this suit is going to split open and fart me out of it like a wet grape. It doesn't, but there's a whole lot more of that same "ripping stitch" noise going on and it's more than a little disconcerting.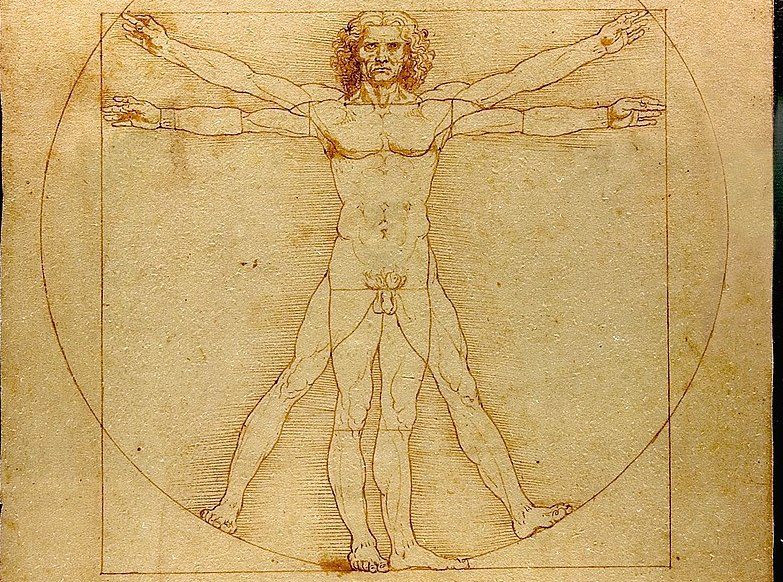 Photo: Luc Viatour
I'm impressed that despite how tight it fits there's zero interference from it when it comes to the range of motion. The 12mm thick armour padding placed throughout isn't bothering me either. Well done!
After five minutes of doing what amounts to sloppy yoga, I'm satisfied Motonation did, in fact, send me the correct size. I'm still a little insulted to be labeled XS/S but hey, what can I do?
Nothing At All! Nothing At All!
My wife walked in just after I had gotten settled into this Super Suit and burst out laughing at my calisthenics display.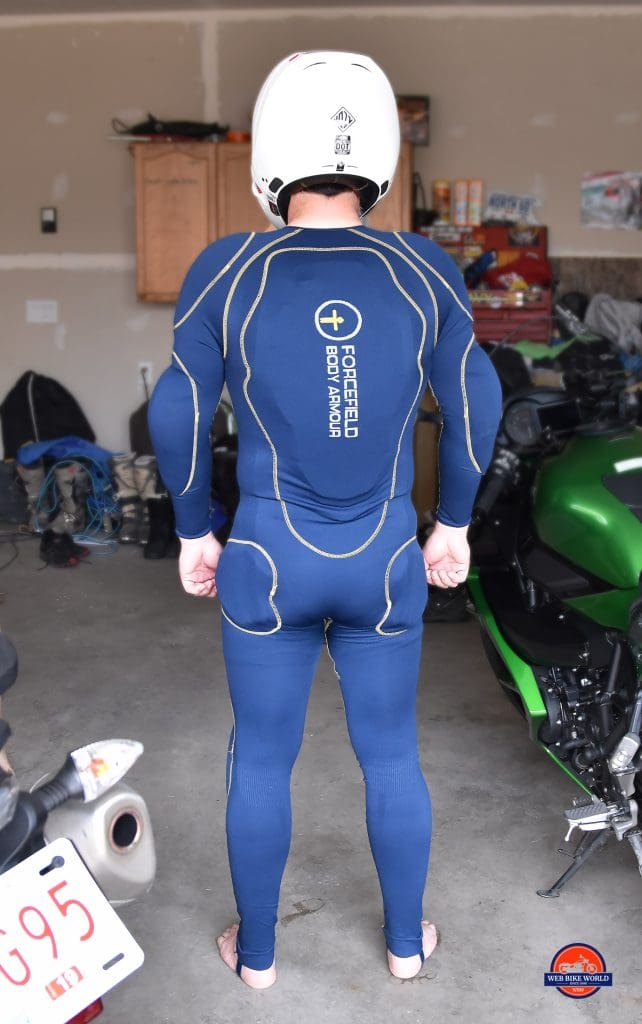 Between "guffaws" she manages to blurt out "Nothing at all! Nothing at all… stupid sexy Flanders!"
This is a Simpsons reference to the episode where Homer finds himself unable to concentrate thanks to an unwanted mental image popping into his head of his neighbor Ned Flanders dressed in a skin-tight, one-piece spandex ski suit.
Armour Qualities
Placement
The CE Level 2 armour is lightweight and doesn't move around at all in the suit thanks to how tight it fits me. No chafing, itching or discomfort had to be endured initially or throughout any of my time wearing it.
The suit has 9 different pockets to house the armour: 2 shoulder, 2 elbow, 2 knee, 2 hip, and 1 back. 
I will question why no chest armour pads were designed into this Sport Suit. That seems like something worth having if complete protection is the end goal. The placement of the armour is perfect for me with the only exceptions being the two elbow pads.
My elbow bone is left unprotected in the photo above
For some reason they won't sit in such a way as to effectively cover the bone jutting out from the inside of my elbow.
I looked it up and the medical name for this bone is the medial epicondyle. It would really hurt to break it in a fall from what I can tell, but try as I might I couldn't adjust the armour positioning within its pocket to compensate.
Maybe it was designed to sit like this and I just don't understand that it's correct as is? It seems to need a bit of a turn inwards to me.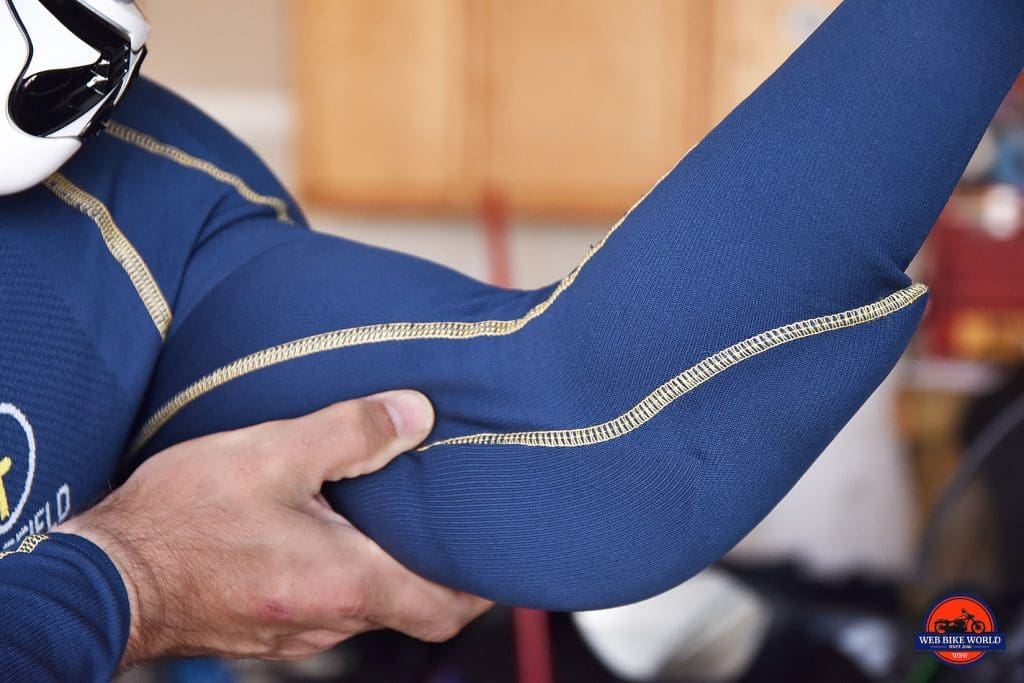 This is where the elbow pad needs to be to cover the arm bones fully.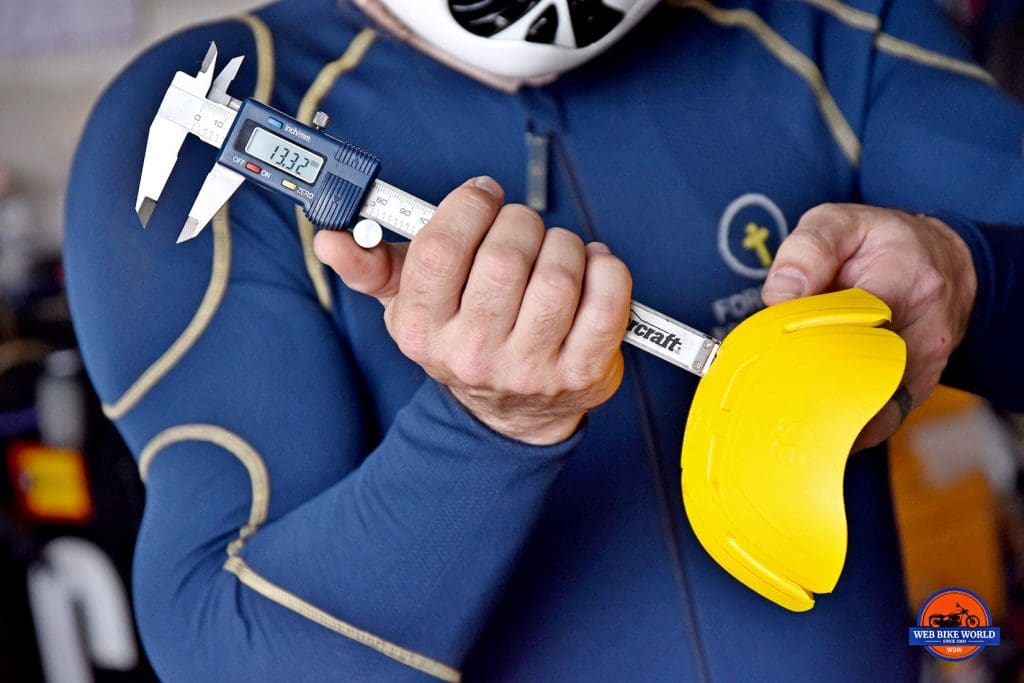 I measured the armour thickness at over 13mm.
It's unfortunate because during testing I was impressed with the smooth taper from the 12mm thick pads at the center and how they gradually slope down and meet up almost flush with the surface of my legs, hips, arms, shoulders, etc.
Body Heat Activated
The heat from my body molds the armour slightly to fit better after wearing it for a few minutes. It's so much better than wearing a hard, inflexible piece of foam and cloth padding like in hockey or other contact sports equipment.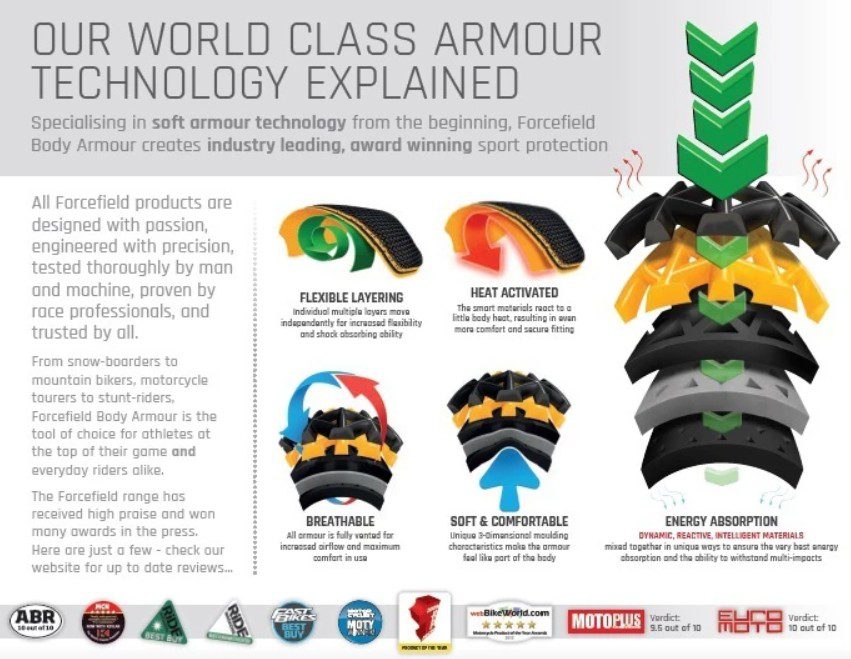 Armour Energy Absorption
It definitely absorbs energy effectively. I jumped up and landed right on the knee pads with my full body weight and elbowed the corners of walls without feeling pain or taking any body damage. It protects just as well as the Rukka D30 and Motoport USA Quad armour systems I'm familiar with from what I can tell after slamming my limbs into hard objects around the house.
This bizarre display of Incredible Hulk-like ferocity elicited laughter from my teenage children and the dog gave me more than one confused head tilt.
Sorry friends, I'm not willing to jump off a moving vehicle at 50 mph to really test it… yet.
Breathability
For the most part, I found even in temperatures as high as 27 C (80F) I didn't sweat excessively while wearing the suit because there are vent holes in the armour padding.
The only exception to this was with the back armour which is built out of 4 layers of loosely sandwiched foam pads. No doubt it protects very well, but it doesn't breathe that great despite having several large holes drilled through it.
Still, it's bearable and as long as it's worn under an external shell that flows air inside I think I'll feel comfortable enough and not overheat should temperatures get ridiculously high.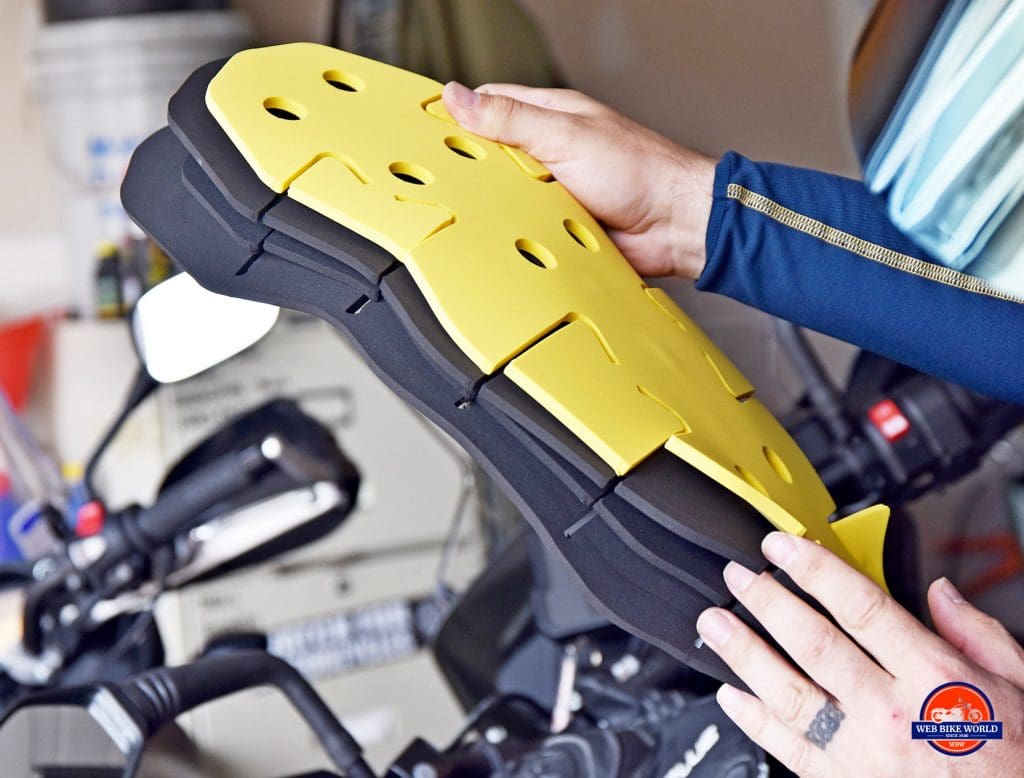 Combining it with the Rukka ROR was excellent since that gear has large vents to let ample cooling air in and a kind of thermal balancing system built-in as well.
Moisture Wicking Properties
The Sport Suit material (92% Polyamide, 8% Elastane) is decent at channeling sweat and moisture away from my skin. I wouldn't say it does it quite as effectively as the Tech 2 base layer does, though.
The Sport Suit turned inside out.
If you turn the Sport Suit X-V inside out you'll notice it doesn't look overly different than on the outside, but in comparison the Tech 2 base layer has strange patterns, grooves, layering and ridges running everywhere and that is likely the reason it's technologically superior to this Sport Suit X-V in my estimation.
It's too bad Forcefield didn't include the same interior on this new suit.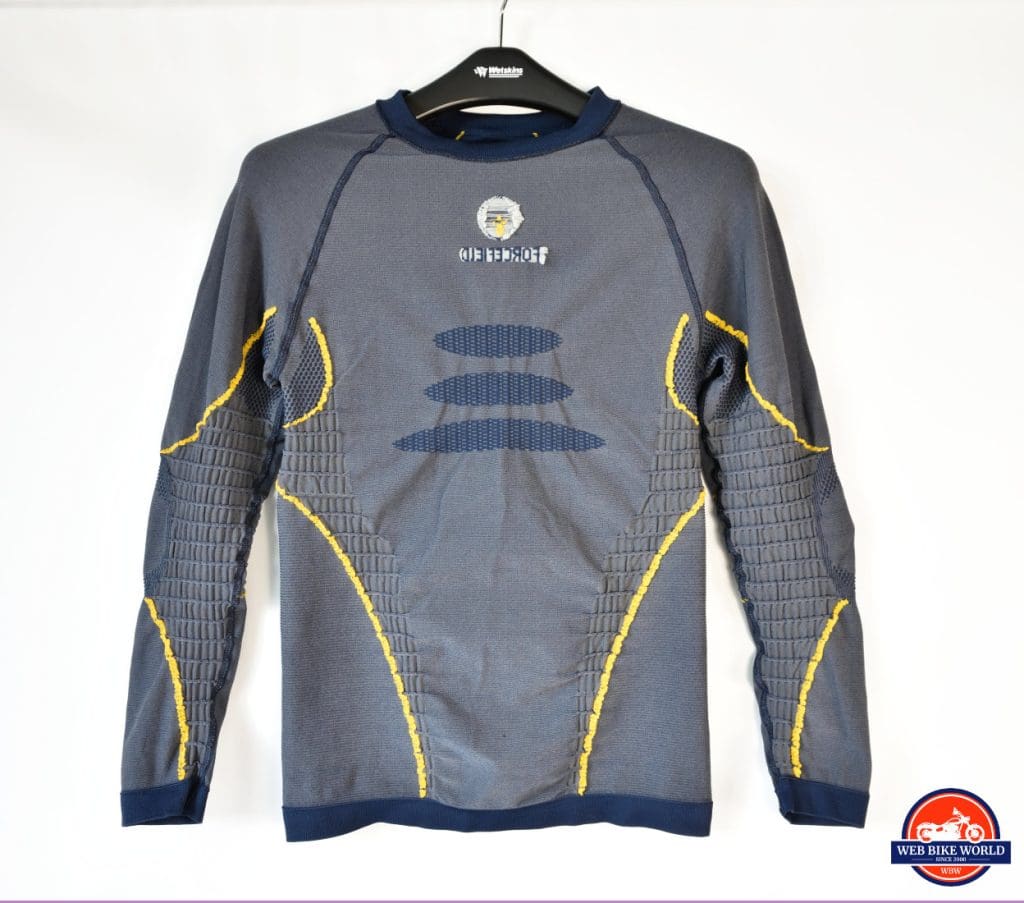 The Tech 2 base layer shirt turned inside out.
I believe this is also why I feel more comfortable in both colder and hotter temperatures while wearing the Tech 2 base layer than I do in the Sport Suit X-V. Science!
Washing
The suit material resists microbial growth well and can be worn several times without getting funky smelling and needing a wash. It didn't seem to stretch much either despite repeatedly wearing and stretching it using my limbs.
When it's time, you can wash it in a standard washing machine using cold water, then hang to dry.
Zipper Blues
When I pull up the zipper slider to close the front of the suit up I have to suck in my stomach to avoid having the zipper teeth snag on the numerous inhabitants of my hairy chest and abdomen.
The zipper has a slider at the top and more importantly at the bottom to facilitate "number 1" bathroom needs while fully outfitted in riding gear or jeans.
I did experience one bathroom emergency while wearing this super suit to answer an urgent "number 2" call of nature. The suit is much easier to get out of than into luckily. Drop the zipper and pull out one arm, then let gravity take over.
The weight of the back armour pulling down on the material definitely assists in "de-suitification", if you will. Forcefield may or may not have planned it that way out of necessity because the alternative: having a weird zippered or buttoned flap over your backside similar to those seen on underwear in old westerns would definitely ruin the Sport Suit's svelte, superhero look.
It Could Be Better
I'm not especially fond of the small tooth designed zipper though. I can't zip it up one-handed because of the flex/stretch in the material surrounding it and the high degree of resistance common to this size of zipper. It's irritating but not a deal-breaker.
I'd much prefer a larger toothed zipper because it would slide easier up and down. I suppose it's possible Forcefield went with this smaller toothed one on purpose thinking it would stay closed in a crash better?
Riding Up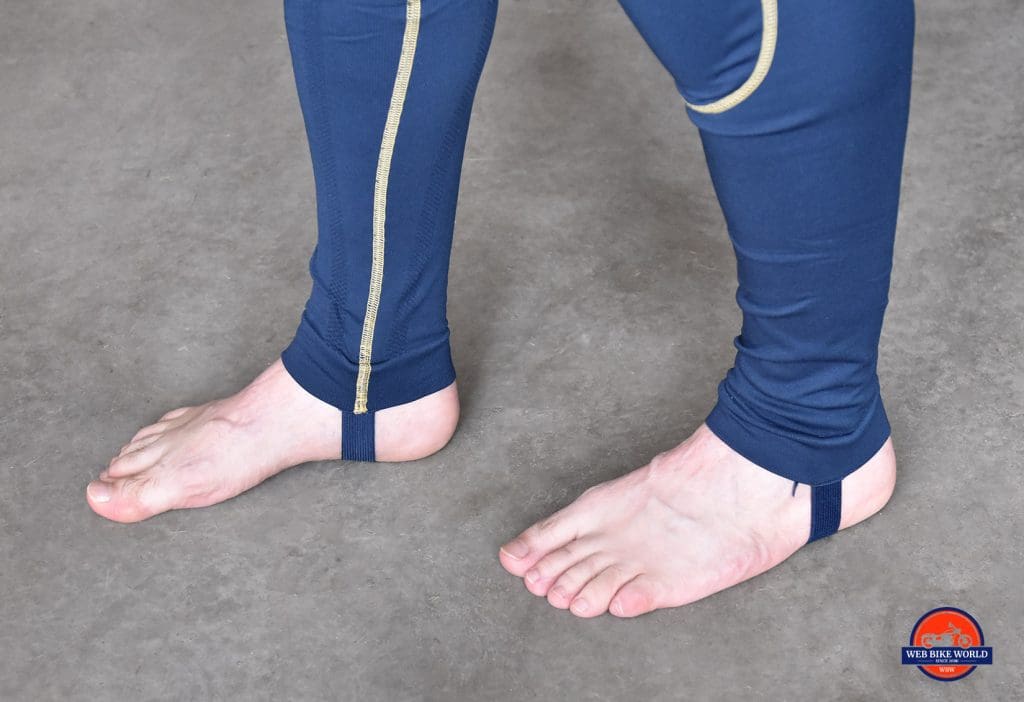 The legs on the suit have elastic straps at the bottom to keep them from riding up when you pull on riding pants, socks or whatever else over top. These are completely unnecessary for me because even after wearing the suit for a couple of days I didn't notice any part of it riding around whatsoever.
It really excels at staying put, which is the main must-have in armour protection systems. The best padding in the world won't do you any good if it's spun around the back of your shin when you fall off the bike.
Is A One-Piece Suit Better?
I keep waffling on my answer to this question.
In reality, I think I would be slightly happier with a two-piece Sport Suit X-V instead of this one-piece model. A two-piece option is available which Cam reviewed recently.
It's closer to what I'm used to wearing now since getting the Tech 2 base layer shirt and pants after all.
Having said that, more often than not I find myself putting on the one-piece suit, especially if I know I'm going to be riding all day. I get the feeling that in a crash the one-piece would stay put where it's needed better and not ride up in a slide.
If I'm just riding somewhere close to home, to work or somewhere else I'll need to change into different clothes I would lean more towards the two-piece system as well. It's just more convenient to get in and out of quickly.
As mentioned, I'm still on the fence about it. I'm thrilled to have both as an option, that much I'm sure of, but that's likely not a realistic option for most people out there. So how does one decide which way to go? Tough question.
Final Verdict?
Riding with all my protective armour firmly set in place where I need it provides peace of mind. I feel so much more confident and comfortable wearing this Sport Suit X-V that I'm going to keep doing it whenever I wear the Rukka ROR without a doubt.
If I ride in really high temperatures and opt for my Motoport USA mesh riding gear I'll switch to the Tech 2 base layer instead because the Motoport gear already has excellent Quad armour in it.
If you don't have the luxury of owning these two different Forcefield base layers I would probably still say you'll be happier with the two-piece Sport Suit X-V as opposed to this one piece.
However, if you always wear racing leathers, the one-piece will likely make more sense.
Cost Factor
This suit costs $299 which is a lot of money until you realize CE Level 2 armour pads cost about $50 each when purchased separately from Revzilla and there are 8 of them in this suit. That's $400 if my math is correct and we haven't even factored in the cost of the back armour or suit itself yet!
This suit is a nice bargain if you look at it that way!
Uh Oh… Seam Stitching Failure
Just as I was about to laud this Sport Suit as a can't miss success story I found a thread hanging down from the seam running right through the groin area. I guess all that noise actually did produce a failure after all. This happened after only washing the suit once.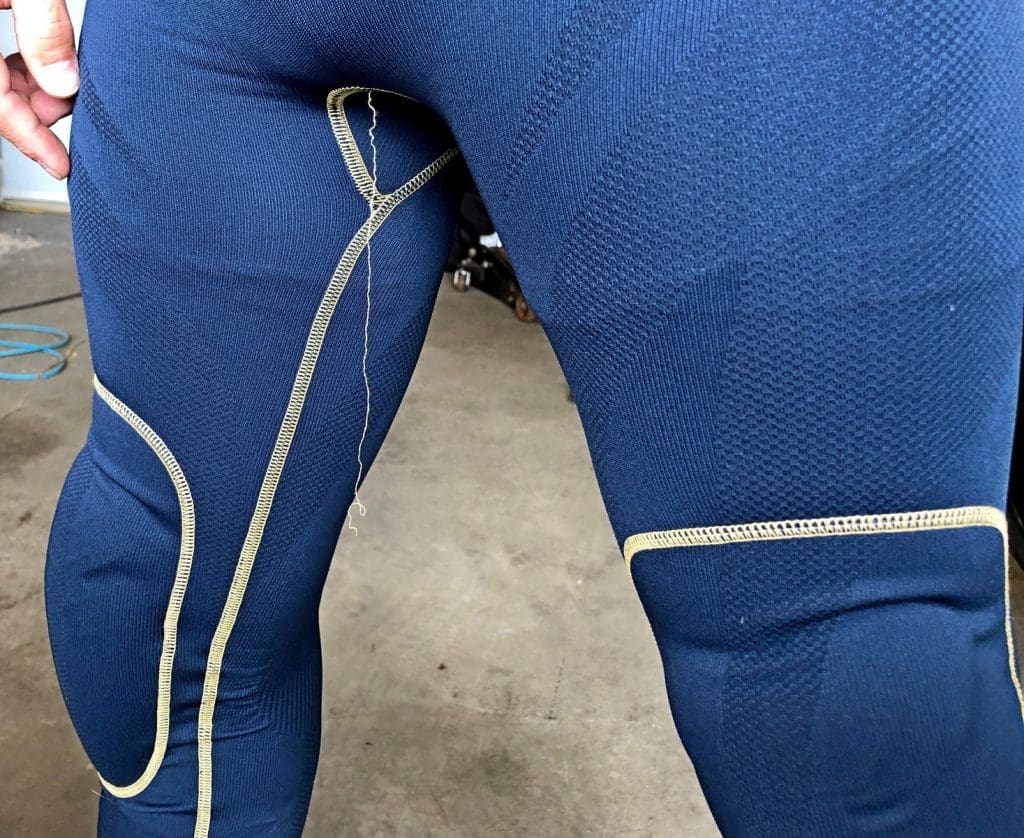 Of all the inappropriate places on the suit that a seam failure could occur this one really takes the cake.
At the risk of sounding crude I'll say as the thread has slowly worked its way out more over time it now looks like a tampon string hanging down off of me which made my wife howl with laughter (even louder than before when she first saw me wearing it).
I'm glad I could so easily brighten her day.
I contacted Motonation to ask whether this would be covered under warranty and they assured me it would warrant replacement. I guess that fact allows me to still feel confident enough in the product to recommend it, but it may not be quite as good as I first thought, unfortunately.
I very carefully melted this rogue thread using a lighter right up to where it was exiting the seam. This created a small blob of melted thread that I hope will prevent further unravelling. Time will tell.
FYI: nothing like this has happened with the Tech 2 base layer to date and I've got twice as many miles and 5 times as many washes on it.
Pros
Modular armour system level 1 or 2
Keeps wearer warm or cool
Compression fitting is comfortable
Armour stays in place
No chafing or itching
Machine washable
Easier to take off than put on
Worth the money
1-year Motonation warranty
Cons
Elbow armour out of alignment
Lacks chest armour
Zipper is a bit awkward to use
Not as good as Forcefield Tech 2 as a base layer
Ripping noises?
Unusual sizing
Lifespan?
Specs
Manufacturer: Forcefield Body Armour
Price when tested: $ 299 USD
Made in: Portugal
Sizes: XS to 2XL
Safety Designations: CE Level 2 race ready armour
Review Date: July 11, 2019