Rukka ROR Jacket Review Summary
Review Summary
The brand new 2018 Rukka Off Road jacket has the best quality fit and finish money can buy in riding gear. It looks and feels like finery from Hugo Boss, protects like a suit of armor and plays second fiddle to none when it comes to being ultra lightweight, waterproof and windproof gear. The slightly loose fit around elbows, spine, and shoulders offer the rider the option of wearing the sturdiest caliber of aftermarket crash armor underneath. The result? Supremely versatile touring adventure gear that can provide the highest level of off-roading protection. All it lacks is a thermal liner and some super fabric on impact areas to be the best adventure gear on the market.
Pros
Ultra lightweight, versatile, 100% windproof and waterproof Gore-Tex shell
Pockets can hold Rukka D30 armor or jacket fits loose enough for aftermarket heavy duty protection to fit underneath
Double thick layer of Cordura 500D in impact areas with soft and supple SPL 200 GoreTex with double stitching everywhere else
7 air vents for necessary cooling in hot weather
Regular, tall and short sizing available
Purchase price lower than many comparable jackets
Cons
Armor must be purchased separately
No thermal liner for colder weather
Still expensive to buy $649
Zippers jam up and sometimes fail due to dust ingression
Rukka ROR Jacket Image Gallery
Rukka has rolled out this jacket (and matching pants) for the adventure rider that rides in multi-season, hotter weather doing serious off-road work. That much is immediately clear when you look at how thin, really lightweight and breathable it is designed to be.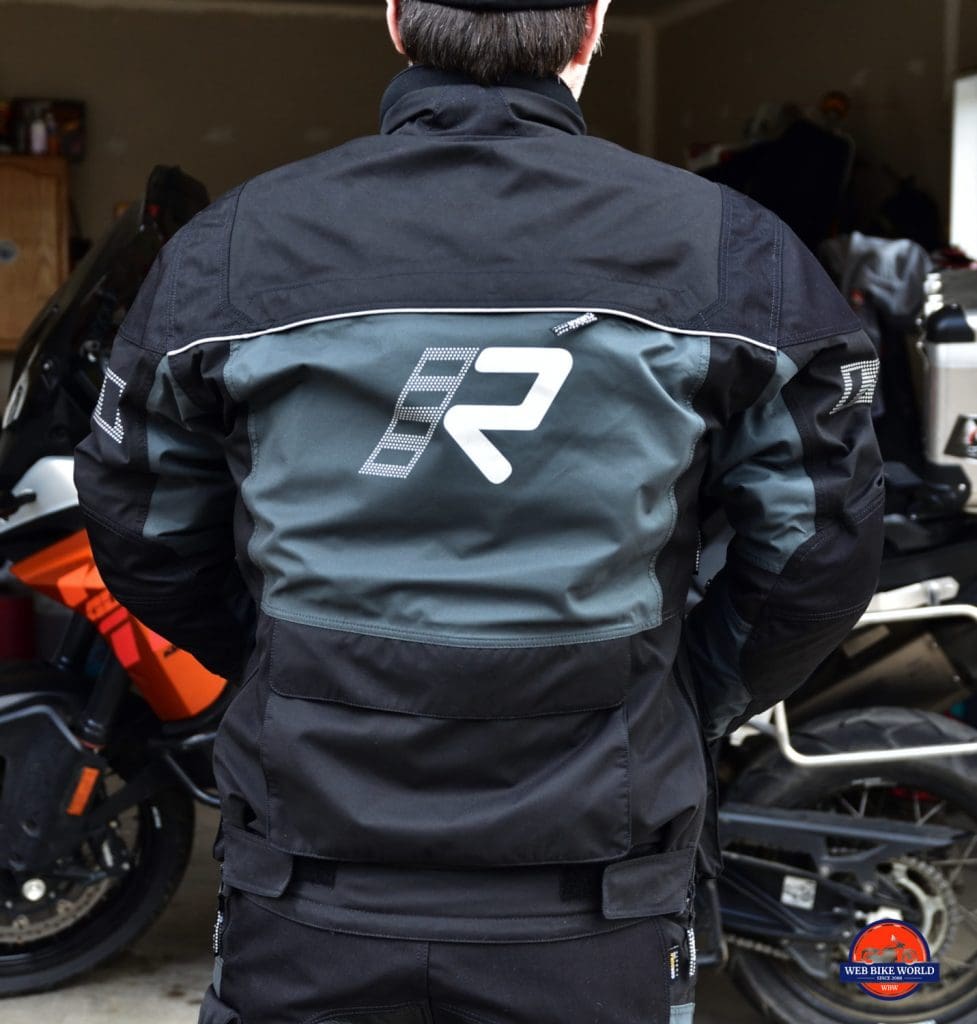 First Impressions
"Is this a windbreaker or really high quality off road riding gear?"
When I first picked up the ROR jacket I wasn't sure what I was holding. The 2-layer, 200 SPL laminated, Gore-Tex polyester shell is very soft to the touch (similar to microfleece, in fact!).
Even the double thick patches of Cordura 500D on the forearms, elbows, and shoulders is smoother and softer than any other jacket I've handled. The whole thing almost feels like it could be rolled up into a tight ball and stored in your pocket. I'm exaggerating but not by a lot.
How can this possibly protect me in a slide down a patch of asphalt, let alone taking a wicked tumble off a dirt bike out on the rocky trails I ride on?
Fit And Finish
At the risk of sounding a little too fanboy, I'll testify that this jacket exists on a higher level when it comes to the way it fits and feels to wear.
The first jacket sent to me was a size 48. It fit like it was molded around my 40-inch chest tapering down seemingly perfectly to my 34-inch waist. Sounds good in theory, but the ROR is supposed to fit loose in order to accommodate heavy-duty aftermarket armor underneath it.
There was no way I had the room to add the Rukka D30 CE Level 2 armor I had ordered for the jacket, let alone the old Forcefield stuff I usually wear (shown in the photo below). Back it went to Revzilla to be exchanged for a size 50 instead, which when I received it fit perfectly even with the Forcefield or Rukka armor installed underneath.
Revzilla's Hi-Viz Brian himself handled the transaction and was a great help in getting me the correct size. Many thanks for making it right!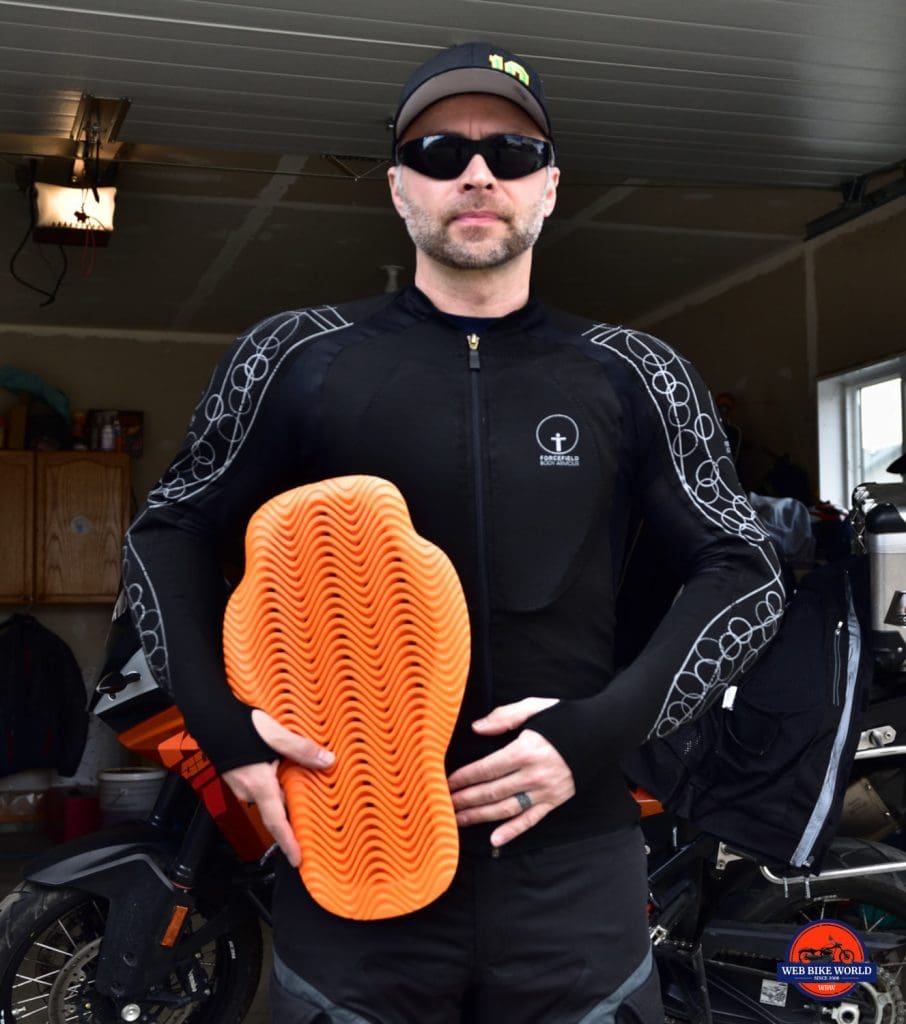 Armor
As a second option to using my usual Forcefield armor, I got the Rukka D30 armor with the jacket to try out. The bright orange, CE Level 2 armor fit into the shoulder and arm pockets easily and actually were thicker and lighter than the Forcefield armor I've tested very thoroughly over the years on several occasions and know works well.
The sleeves are a little long for my short 26" arms, but as you can see in some of the photos wearing my Forcefield armor underneath caused the jacket sleeves to hang up on them a bit and the cuff sat where I wanted it to as a result.
Velcro Closures
Speaking of the adjustable cuffs: they are so satisfying when it comes to cinching them down tightly against gloves. The velcro strips on the cuffs are about 3 inches long and grab better than average. I was able to tighten it completely shut against even the shortest and thinnest gloves I own. You can really crank them over to the point it starts to cut off your circulation. Not quite to tourniquet levels of tight, but close.
All of the velcro on this jacket whether it be on the cuffs, flap that covers the zipper or on the collar are a cut above what I usually find on other jackets. The grip is vice-like even at the slightest contact with its equal opposite.
Reflective Material
The reflective material on this jacket is so tastefully integrated that you don't even notice it until it flashes to life brilliantly in low light encounters with headlights.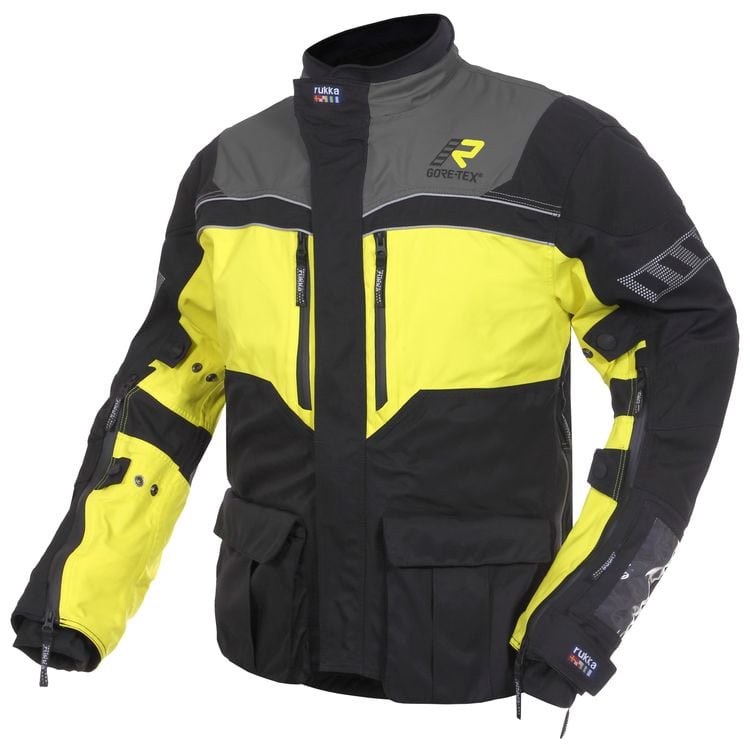 There are two thin pipes running across the top of the chest area from the armpit area to the flap covering the zipper in front. The same piping runs in a single band across the shoulder blades in back.
The large ladder-shaped reflective emblems on the bicep area of each arm are classy along with the 6"x6" one in the middle of the back. It's just the right amount overall to light the jacket up like it's Christmas in low light situations.
As shown above, there is a high visibility version of the jacket available if you aren't satisfied with the badging and piping.
Neoprene Collar
The collar has a layer of supple, high-quality neoprene about an inch tall that creates a snug seal around the wearer's neck. It is just the right amount of connection not to chafe or annoy and works well in keeping water out (more on that later).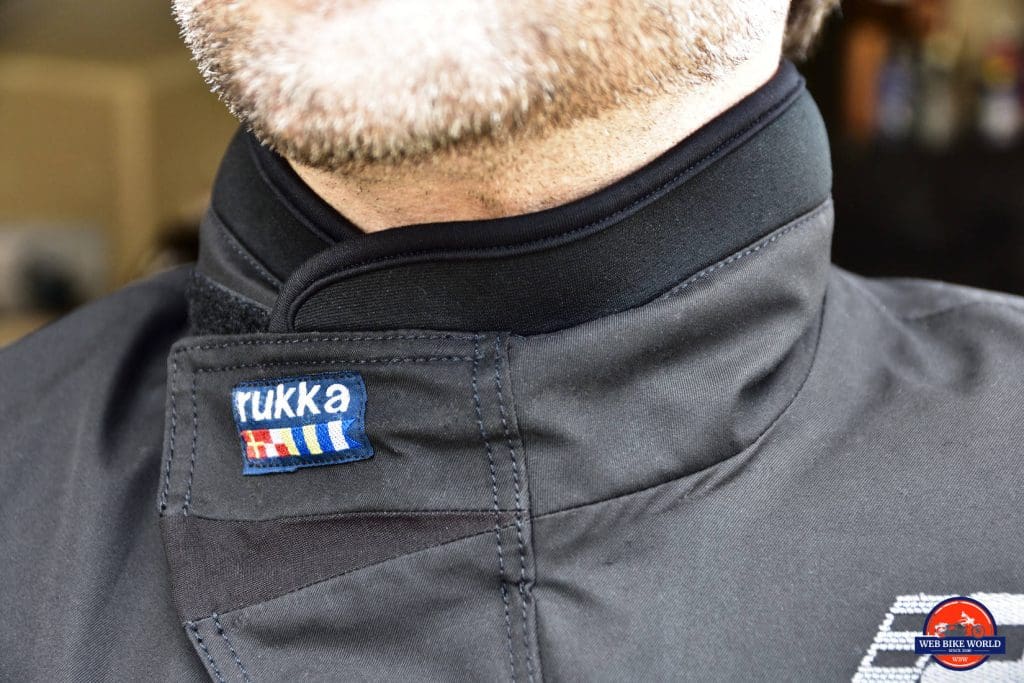 The velcro patch used to hold the collar shut can be doubled back on itself to keep the collar from closing if you get hot and want airflow to enter instead of keeping it out.
Zippers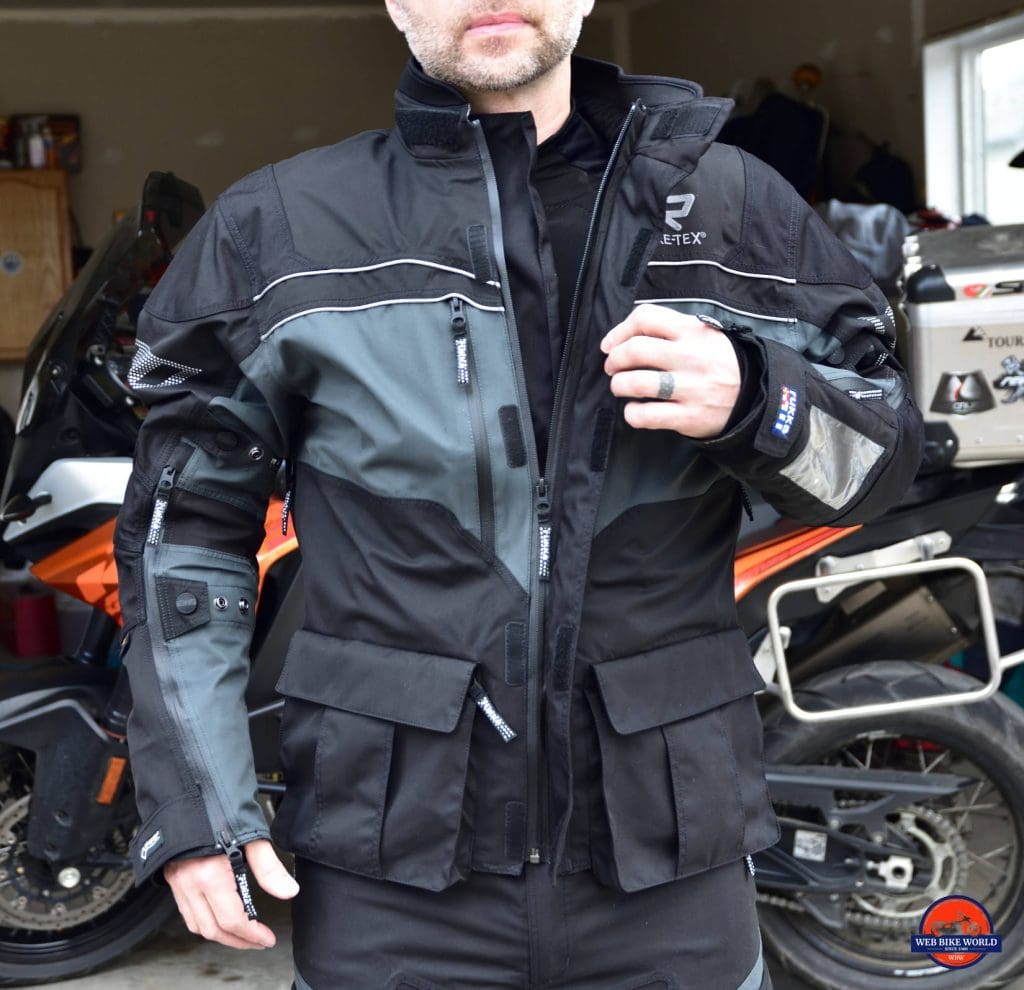 There seem to be high-quality YKK zippers everywhere on this jacket. There are 12 in total, in fact. Each one has a 1" long, foam tag hanging off it for easy gripping with the brand name Rukka embroidered on it.
Each of the 3 exterior pockets has a rubber sealed zipper.
2 vents on the chest, 2 going up the sides, 2 two-way zippers up each arm vent, and one on the back vent all are rubber sealed.
Both inside chest pockets have zippers, but these two have small metal tabs on them
One ESO zipper on the lower part of the jacket to connect with the matching ROR pants
None of them snag and all are fairly easy to slide up or down, although I find the pull tabs on them a bit small to manage while wearing gloves compared to some other jackets, to be honest.
***UPDATE November 2020***
I've been experiencing an irritating problem with the main zipper on this jacket for a few months now after riding in heavy dust. It appears to somehow be bypassing the rubber seal and jamming things up. I find I have to apply WD40 or candle wax to it to avoid this problem. It's disappointing because the jacket is my favorite otherwise for cold and wet riding.
Adjustment For Fit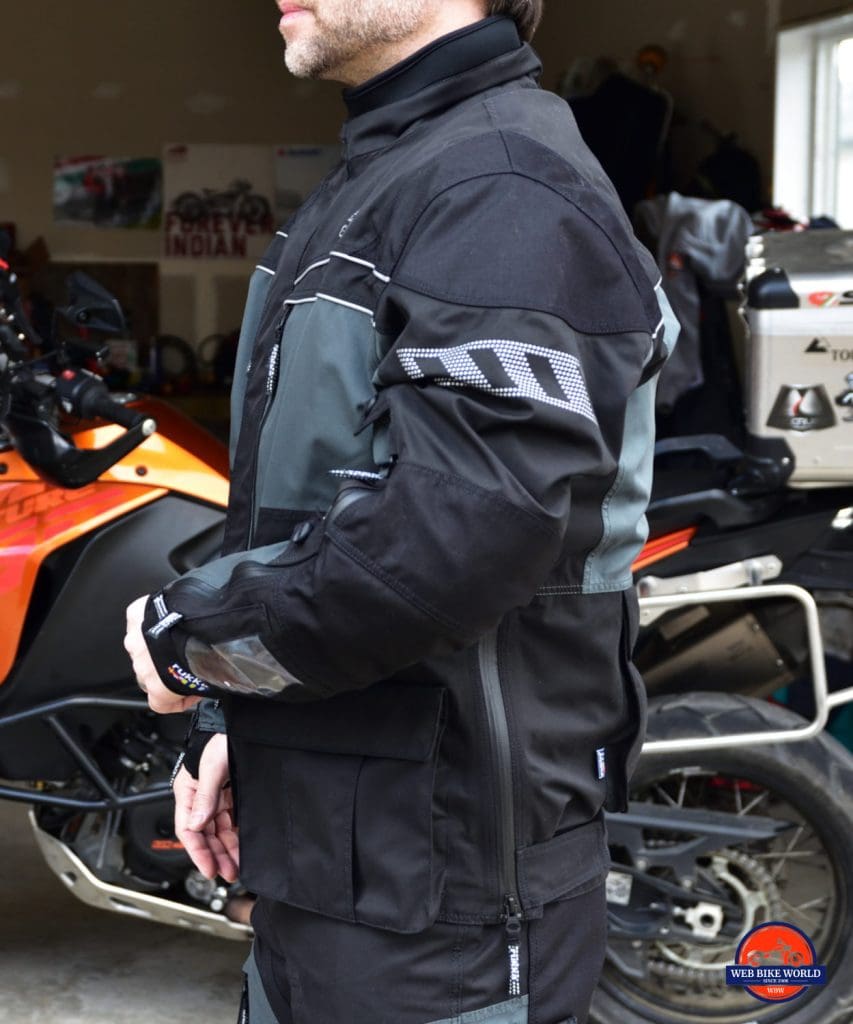 Each side of the waistband has a velcro adjuster in the back for waistline adaptation post-Thanksgiving meals and the sleeves have three position, rubber-coated snaps to shrink or enlarge the diameter of the material around your arm armor.
What really impressed me about donning this jacket is how when you slip your second arm down the sleeve and drop it down afterward, the two front halves of the jacket fall together so naturally that the velcro strips on either side automatically connect. Basically, the jacket almost does itself up without your help.
Venting And Airflow
Here's the really important part as far as I'm concerned with this and any jacket that is waterproof: How does it breathe?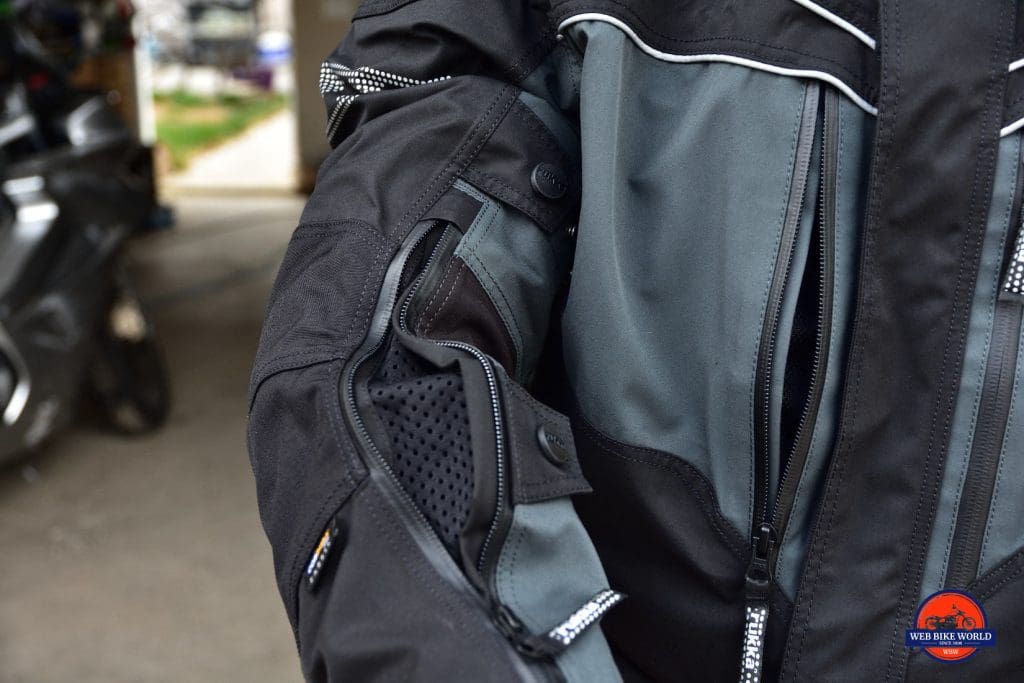 Not all GoreTex seems to breathe all that well, but the ROR sure does. Even while I wore it standing still out in the sweltering sun and 80-degree heat I didn't sweat much. On the bike with all the vents open in front, on the arms, sides and back it's a veritable wind tunnel of movement through the jacket.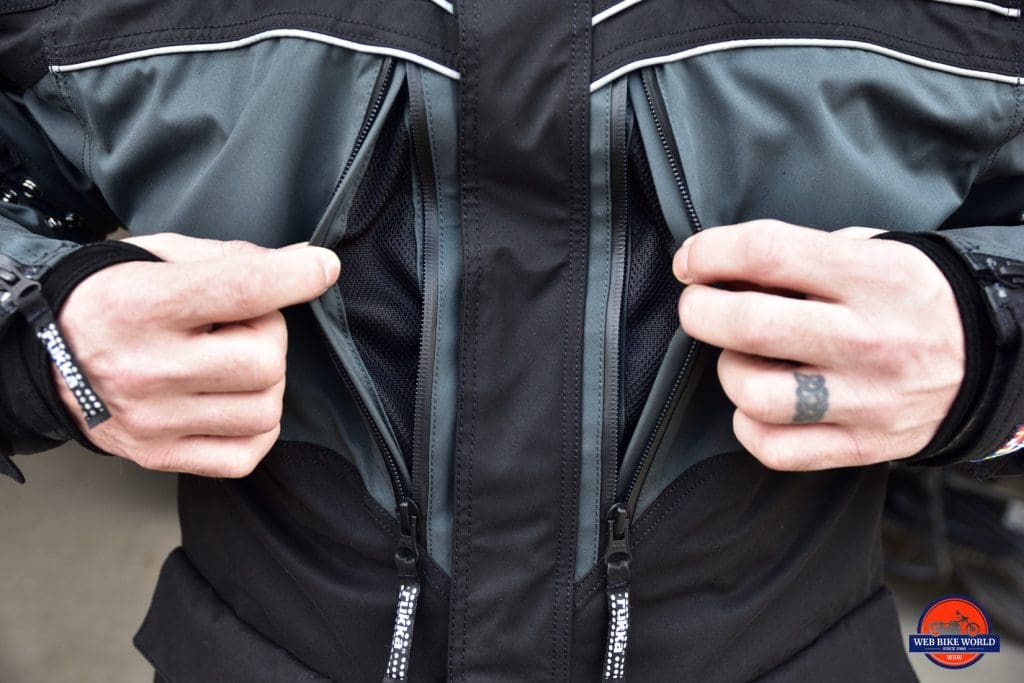 One slight irritation I had with the two chest vents is that there's no snap or mechanism to keep them open other than the wind hitting on your chest. If you have a tall windshield on your bike like I do on my KTM it can inhibit flow a bit, but surprisingly I found it cooled sufficiently all the same.
Waterproof Torture Testing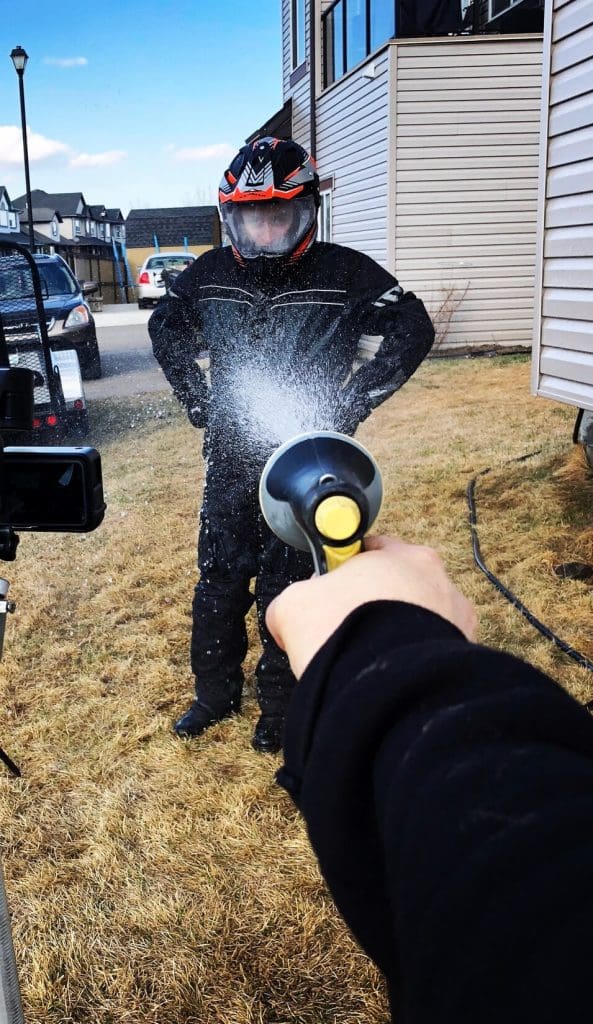 The ROR jacket was subjected to my ridiculous brand of waterproof testing. It involves my wife unloading ice cold water from the garden hose in the yard at 5 paces for 5 minutes covering every inch of the jacket.
We deliberately drenched the jacket hoping to expose an opening in the armor of the jacket and gauge how keenly the cold water is felt through the layers of the jacket additionally.
We stick strips of paper in every pocket to measure moisture intrusion too.
The Results Were As Expected, Yet Surprising Too!
There's no way I would have accepted that an expensive jacket like this let even one droplet of water through the exterior shell without trumpeting it from the rooftops. No worries though as the ROR lived up to that expectation with ease. All the Gore-Tex pockets kept the strips of paper inside perfectly dry. It was toying with us clearly.
Nothing to see here folks, move along.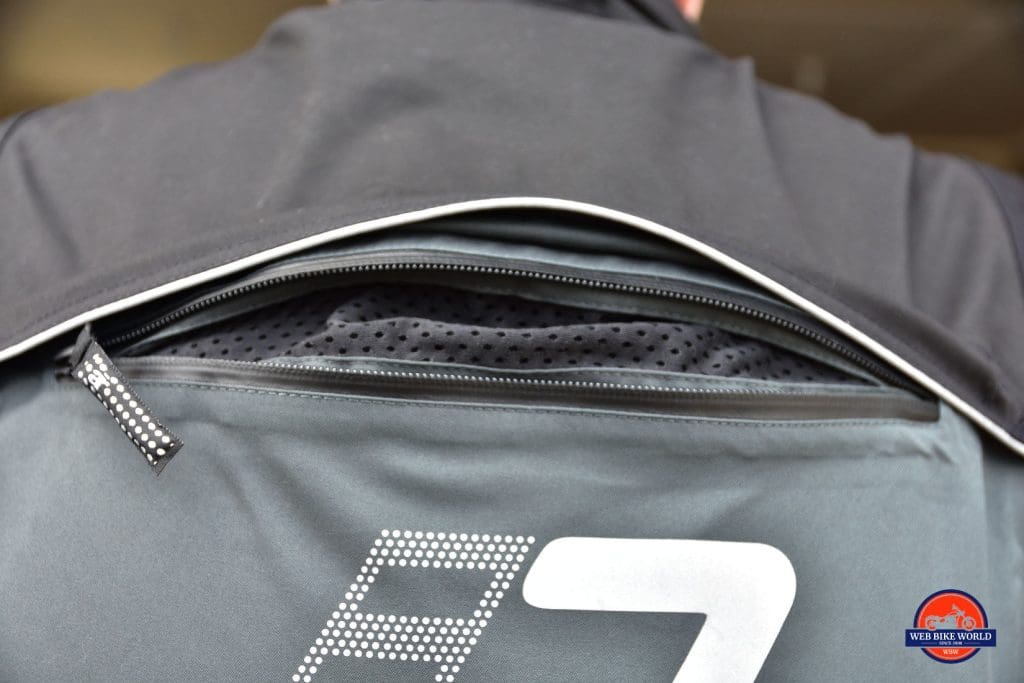 Hold up a minute, though. In my eagerness to get blasted with the water hose I forgot to close the air vent on the back of the jacket. It was totally unzipped while my wife unknowingly aimed the hose right at it. I only realized it was still open throughout the water testing after I took it off to hang dry.
I don't quite understand how no water came through, but it didn't. It should have I think, and I can only guess that the spray hit just right to push the zipper shut and so prevent water intrusion.
This is noteworthy because I'm sure anyone could and will eventually forget to close the back vent when it suddenly starts raining on them while out on the road.
See Through Sleeve Window
On the left sleeve at the wrist, there's a small pocket with a see-through, plastic window on it that is used by riders to house their credentials or whatever else floats their boat I suppose.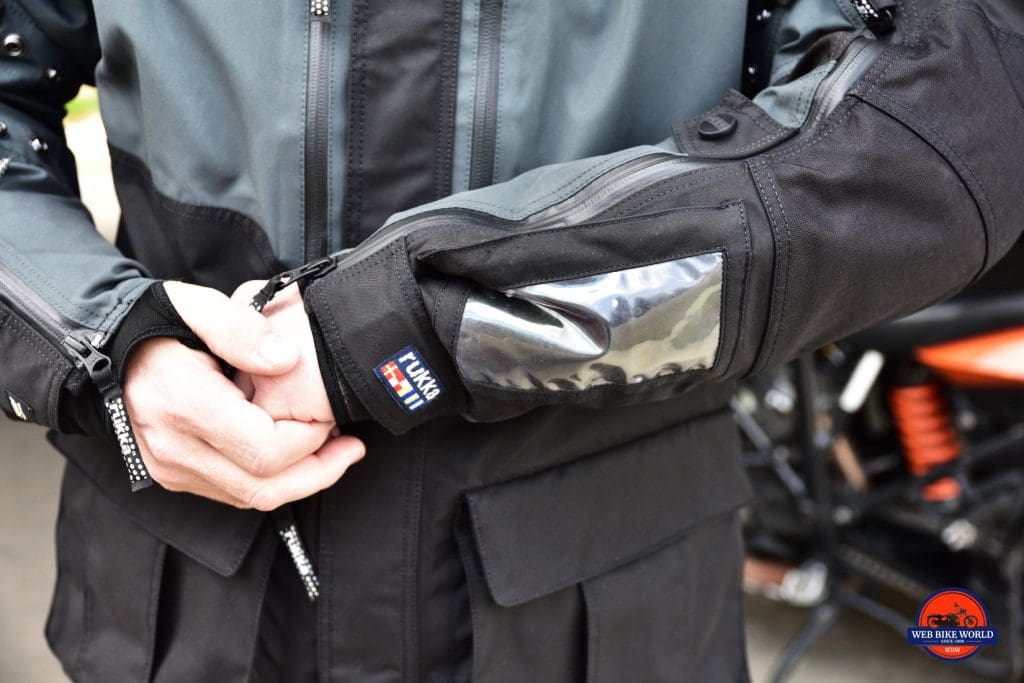 A word of warning about that pocket: it's not waterproof at all. It more closely resembled a hydration pack than anything else after our waterproof testing was completed.
Warmth Without A Thermal Liner
The cold water torture test was informative in more than one way. I noticed despite the fact the ROR has no thermal liner I still felt comfortable after enduring a five-minute deluge from the garden hose. I wouldn't venture to say I felt totally insulated from the cold because I could tell it was cold water hitting me, but it didn't bother me at all in that short time.
I haven't been able to find a proper cold day to test the gear on at this point with the coldest temperature I managed being a balmy 65 degrees during which I felt totally fine at highway speed.
Why Rukka? Why not include a simple thermal liner with the ROR to zip into the inside of this wonderful jacket?
I don't have the answer to this valid question. Perhaps next year's jacket will have it?
Riding Off Road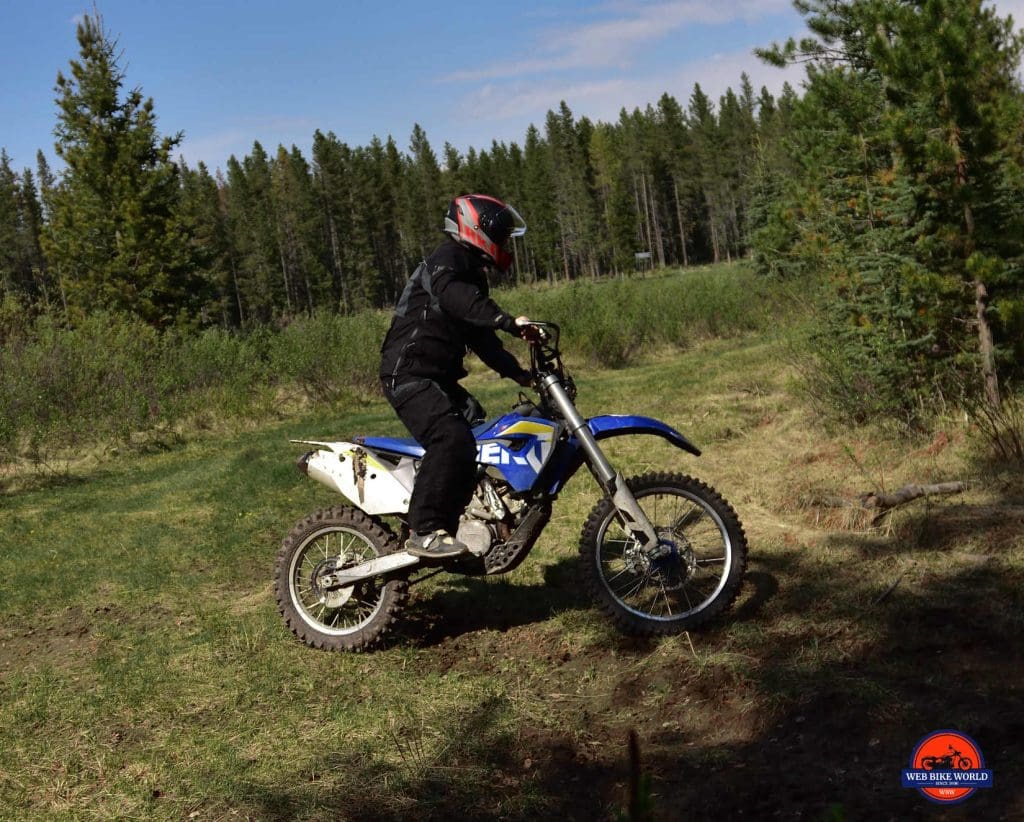 I tested the jacket on road extensively of course, but since the name of this jacket is the Rukka Off Road it demands to be tested properly out in the bush as well.
I borrowed my friend Alex Firth-Wilson's Husaberg 570 dirt bike and went for a trip down a beautiful trail in the nearby foothills of the Rockies. The scenery was breathtaking as always and it's a rider's paradise out there amid thousands of miles of trails as you can see from the photos.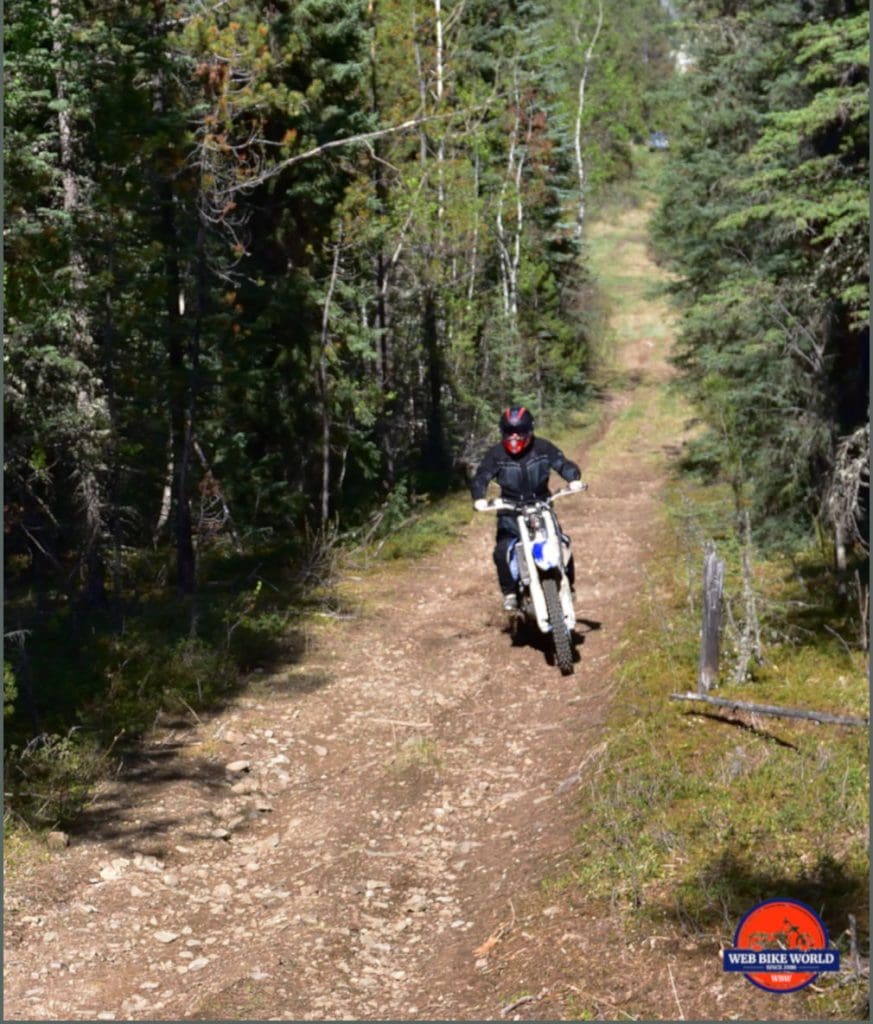 It was a sweltering 86 degree day with bright sunshine. I thought for sure I would be drenched in sweat after spending any amount of time throwing a dirt bike around so I opened all the vents fully on the jacket to deal with it.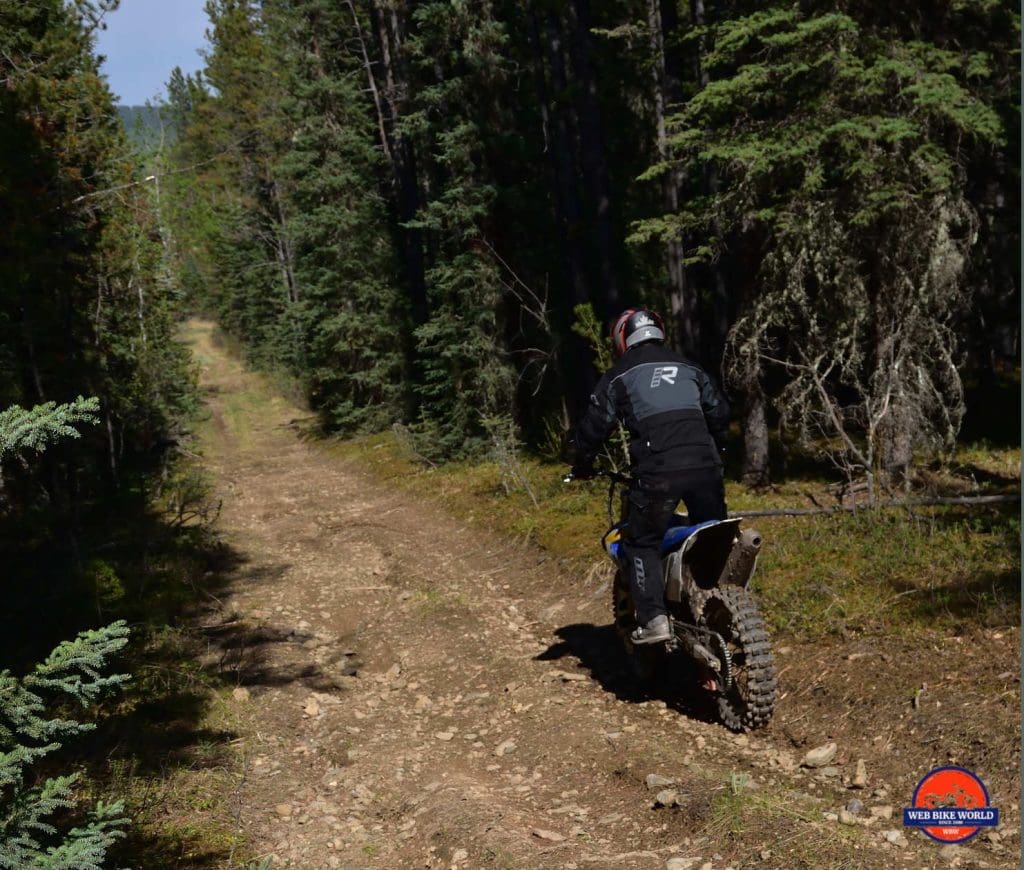 I'm not sure what impressed me more: the mind-numbing power of the Husaberg 570 off road or the fact that I stayed comfortably cool in the ROR riding gear.
Yes, I was warm but it was very tolerable levels and I wasn't drenched in sweat when I removed the gear after the ride. It's clear to me the Gore-Tex on this jacket breathes well when combined with the venting.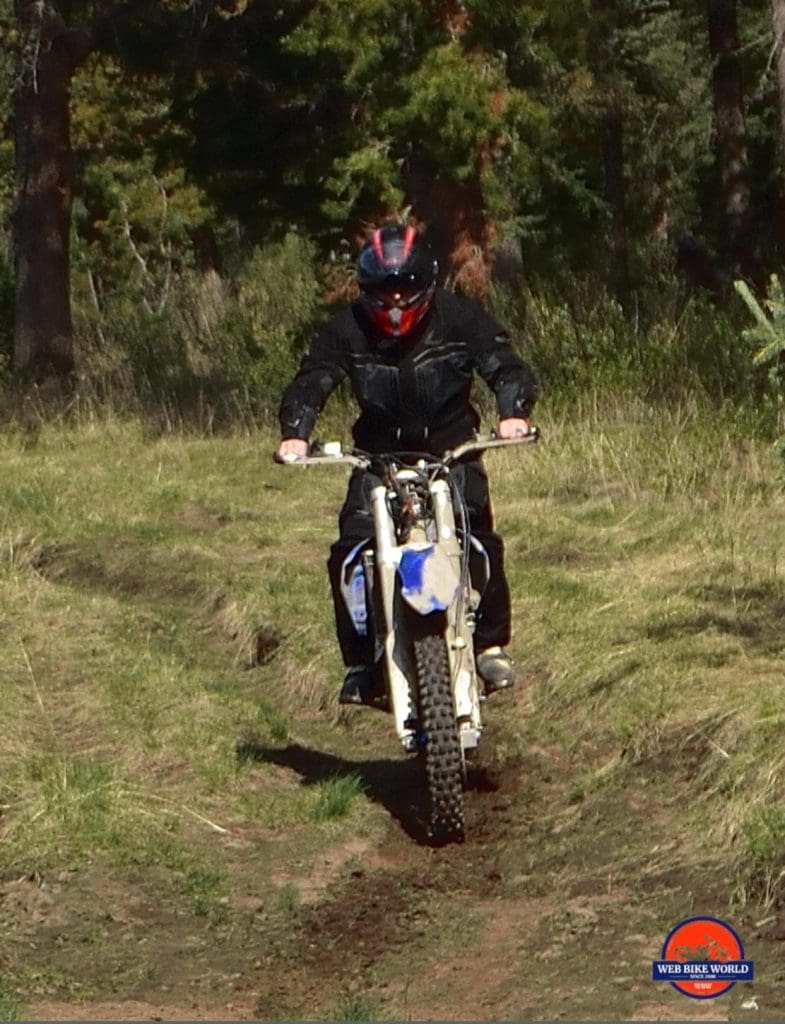 The fitment of the ROR is so light and comfortable that I felt no freedom of movement issues and didn't notice I was wearing full armor protection underneath. Rukka has fully met all my expectations off road with the ROR jacket and pants. I'm 100% satisfied with its performance.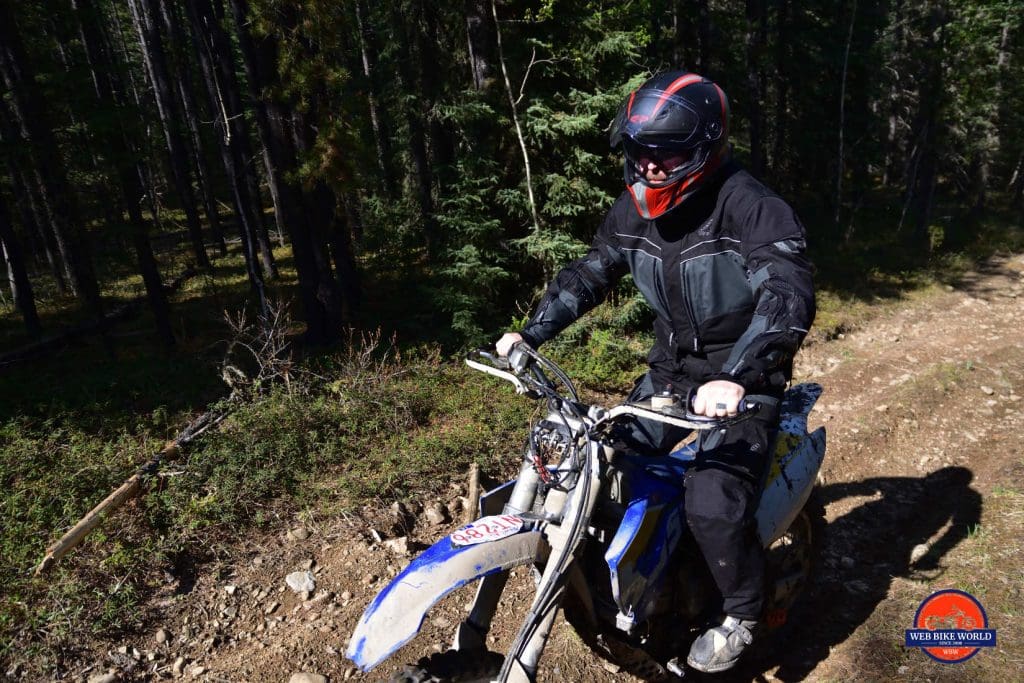 The ROR is almost too handsome for this environment to be honest. Off-roading this gear is like wearing a tuxedo to dine at McDonald's. Playing in the mud and dust on the trail seems ridiculous in a way, but it certainly works. I found the mud and dust didn't cling to the jacket thanks to the quality of the outer textile and even if it did I could hose it off instantly without any worry to clean it up.
The Final Word?
I'm a very observant and critical person with an eye for detail… to a fault really. So much the case that some people have accused me of being a pessimist at times.
I'm not negative, I'm straightforward and blunt when it comes to giving feedback or opinion. With that in mind, I really can't find anything legitimately wrong with this jacket after a few hundred miles of testing it on and off the bike. It's THAT good.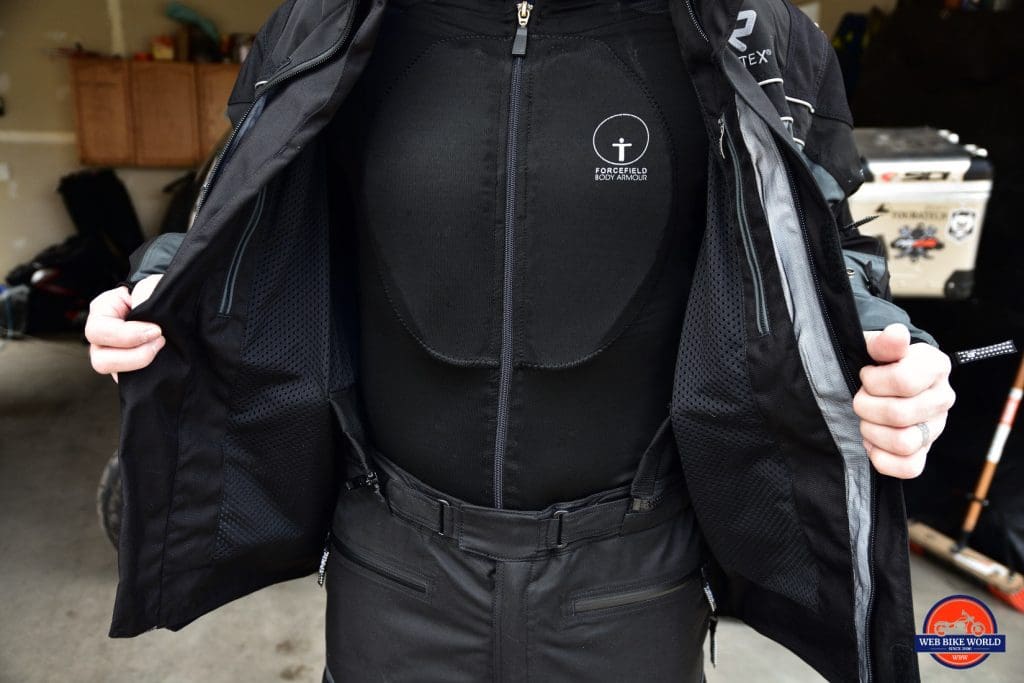 It's expensive and could benefit from a thin thermal liner to be a four-season, all-weather jacket, but that's really grasping at straws to find something to care about.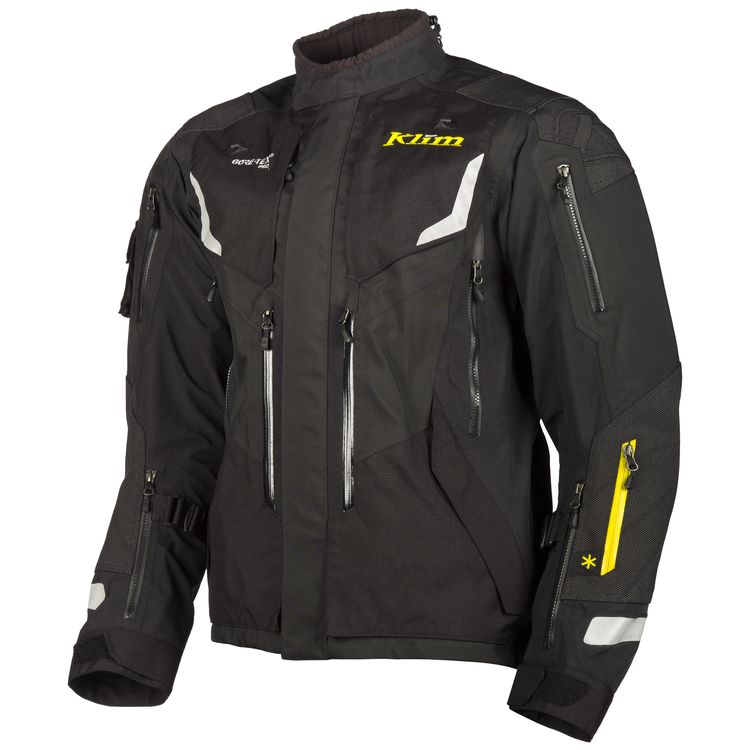 The Competition
The Klim Badlands Pro jacket costs almost twice as much as the Rukka ROR and isn't NEARLY as comfortable to wear because of how stiff and thick the exterior nylon shell is on it. I easily prefer wearing the ROR over the Badlands in every way except I would like to have the Superfabric found on the Badlands on the ROR jacket elbows and shoulders.
I'm certain the Klim would fare better in a crash and slide scenario due to its really heavy duty design, so if you're planning to ride around the world on an adventure bike I freely admit that's still the way to go when it comes time to pick your jacket. All hail Lord Klim!
Having said that, the ROR doesn't give up a lot to the Badlands when it comes to protection or quality and the rider will be able to move around a lot better in the ROR's flexible and ultra-light carcass.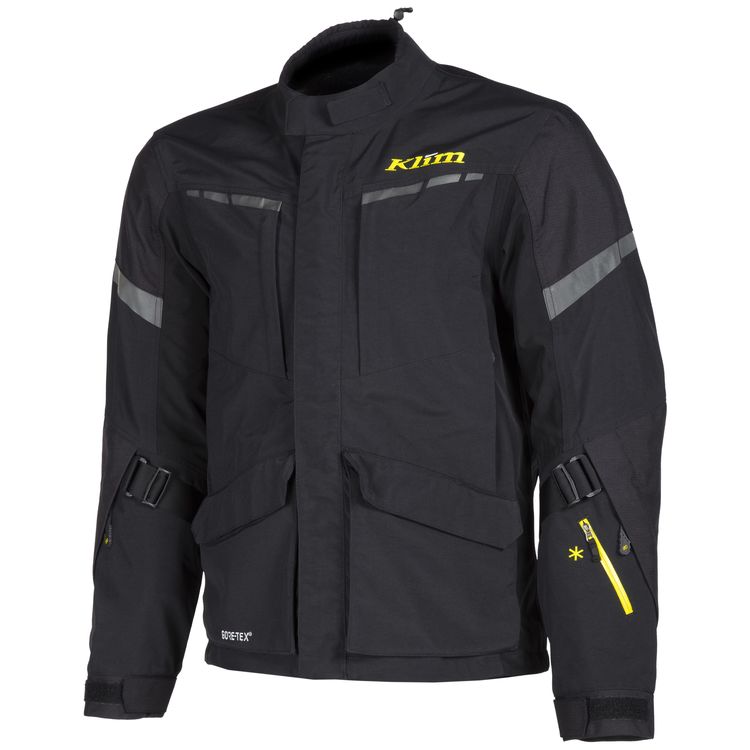 Another comparison could be made to the Klim Carlsbad jacket. It's a favorite among off road riders and similar to the ROR as well.
It lacks the same level of venting airflow, size adjustment features, tailored fit and finish, dashing good looks or the room to wear really heavy duty body armor underneath. The Carlsbad is almost $100 cheaper though and comes with Level 1 armor included.
I'd choose to pay more for the ROR and be exquisitely happy since I'm vertically challenged, but if you're a really tall person I'm told the Klim will likely fit you better as it's built for a typically larger North American sized consumer.
If however, you're more of an average adventure rider who wants to be comfortable and likes to do some serious off-road riding in addition to your road riding and don't want to buy a second set of gear, the ROR is a perfect fit for that application.
Rukka has given us a terrific option in a jacket with the ROR. Be sure to read my review on the matching ROR pants in addition to this one. Spoiler alert! The pants are just as good.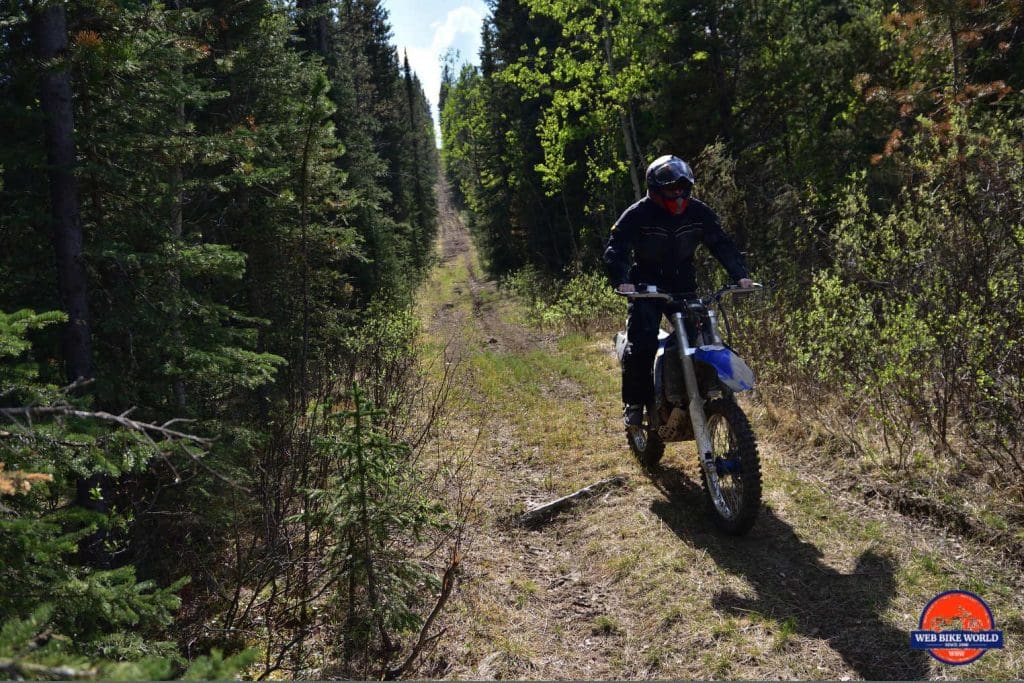 Pros
Ultra lightweight, versatile, 100% windproof and waterproof Gore-Tex shell
Pockets can hold Rukka D30 armor or jacket fits loose enough for aftermarket heavy duty protection to fit underneath.
Double thick layer of Cordura 500D in impact areas with soft and supple SPL 200 GoreTex with double stitching everywhere else. Arguably made from the finest textiles on the market.
7 air vents for necessary cooling in hot weather
Regular, tall and short sizing available
3 exterior waterproof pockets and 2 interior
5 year warranty
Purchase price lower than many comparable jackets
Cons
Armor must be purchased separately
No thermal liner for colder weather
Still expensive to buy $649
Specs
Manufacturer: Rukka Oy (Luhta Sportswear Company)
Price (When Tested): $649.00
Made In: China, Designed in Finland
Alternative models & colors: Hi-Viz Yellow
Sizes: 46 to 62
Review Date: May 22, 2018