Updated March, 2019
Our Top Picks
Best Overall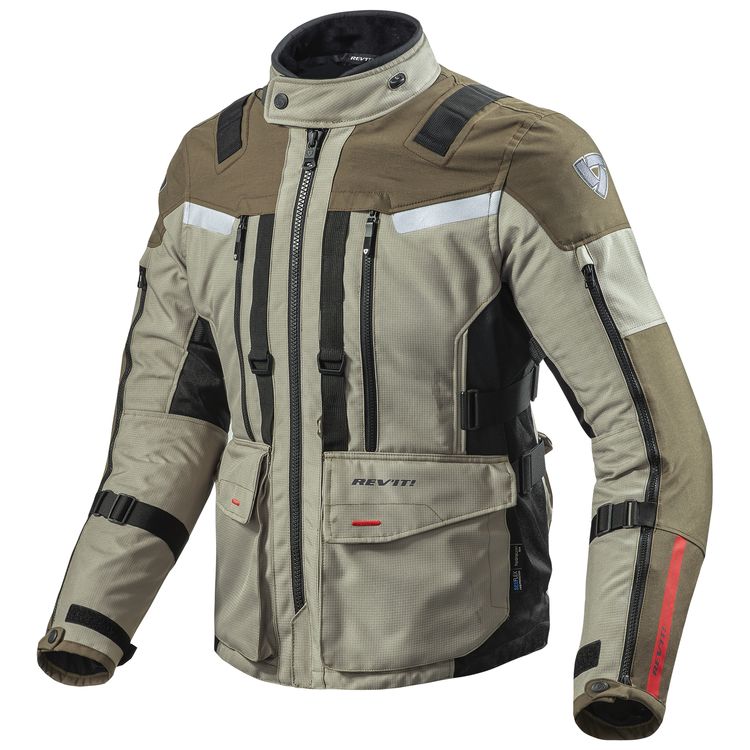 Best Value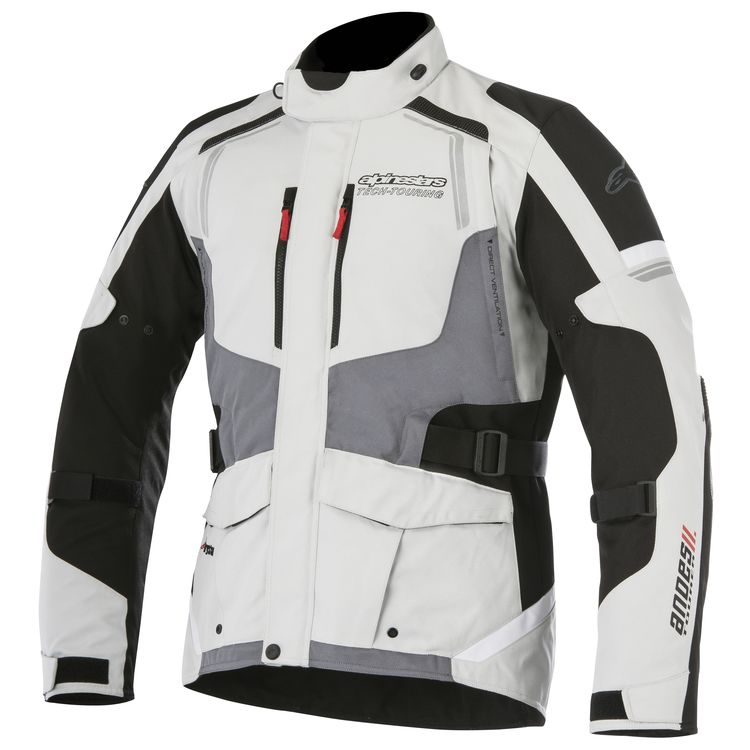 Fully Loaded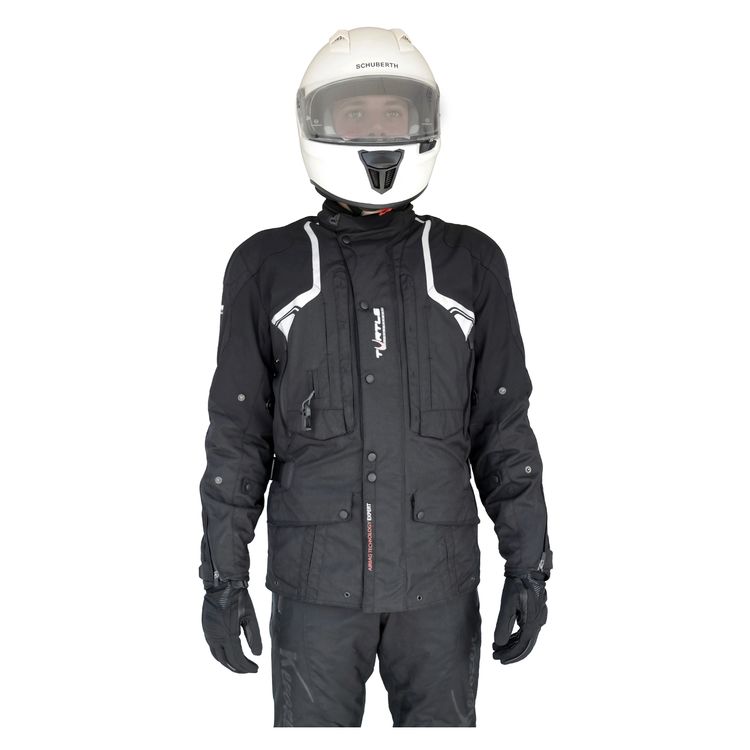 Other great options: Rukka Roughroad, Triumph Exploration, FIrstgear Kilimanjaro Women's
---
The adventure rider is likely to be the toughest customer for any gear manufacturer. By definition, adventure means to exploit or undertake an escapade, journey or quest – and that is what adventure riders do each time they put on an adventure jacket. They are in search of new paths to blaze and new terrain to conquer, and their jacket better is up for the challenge as well.
Potentially riders will face changes in terrain, temperature and weather conditions on every ride. This means that they adventure jacket that they choose must be able to function in a variety of temperatures, in both wet and dry conditions and under adverse conditions while still providing protection and comfort. And in most cases, riders are also going to want some highly functional gear storage in their jacket regardless of the temperature and weather conditions.
Meeting all of these demands means that adventure jackets need to be designed with removable layers that are fast and easy to remove and reassemble, easy access pockets in all layers and weatherproof qualities. In addition, they need to provide protection from abrasion and impact at all times. The adventure jacket is in many ways a suit of armor for the rider who is an explorer at heart as well as a bit of a thrill junkie.
And the final criteria for this jack, and jill, of all trades, is that these adventure jackets need to meet the budget of adventure riders of all types. So with this in mind wBW has evaluated the latest additions for 2019 as well as the historical favorites to offer our readers our recommendations for adventure jackets for 2019.
Be sure to check back regularly with us here at wBW to read about our latest hands-on reviews of motorcycle adventure jackets and other great products for riders.
Best Adventure Jackets
In Detail
Best Overall
The REV'IT Sand 3 is a true four-season adventure jacket that can protect you from the harshest temperatures and weather in the winter while still offering protection and comfort in the summer. In most cases, adventure jackets will claim to offer a true summer weight layer but at best it is really a spring/fall layer with a few extra vents.
The Sand 3 has gone a step beyond to offer a jacket that will provide protect and be comfortable even in the heat during a mid-summer ride.
Construction & Fit:
The outer shell is made of a lightweight durable polyester ripstop main construction with a seamless armpit for added comfort and range of motion that is needed when adventure riding.
The thermal liner is detachable as is the Hydratex waterproof and breathable lining.
The cut is a standard touring/adventure fit with a Flexisnap collar, an adjustable waist strap, adjustment straps at the upper arm and cuff, and a drawcord at the hips.
The pocket configuration includes a stash pocket, membrane storage pocket, hand warmer pockets, and inner pockets.
Safety Features:
Seeflex CE Level 2 protection in the elbows and shoulders plus a variety of back protectors can be purchased to meet your desired level of protection and comfort.
Jacket is prepped to use the Leatt and Moveo neck brace, Vest Connector HV and double short connection zipper.
Visibility is also addressed with a laminated reflection on the back and chest as well as the logo on the upper arms and the pocket flap.
Due to the ability of the REV'IT Sand 3 to function exceptionally in all four seasons and in all types of weather, it was chosen as the Best Overall Adventure Jacket for 2019.
Buy The REV'IT Sand 3
We receive a small commission when you purchase from one of our affiliate partners. Thank you for supporting us.
RevZilla
---
Best Value
Alpinestars main focus for the Andes v2 Drystar was to create a true four season jacket. The original version was a beast when it came to cold and inclement weather but it was also somewhat of a beast in the hot weather. The venting was limited to the Drystar membrane but now v2 is offering direct venting to make this an adventure jacket that can handle the cold as well as the heat.
Construction & Fit:
The poly-fabric textile and Drystar waterproof and breathable construction make this jacket functional in even the worst weather while still allowing your body to cool and regulate temperature naturally but without being drenched in sweat.
The removable long sleeved liner integrates easily for a cold morning and then can be removed as the day warms up.
Direct Ventilation System offers zippered air intake at the chest and exhaust ports in the back for dialing up the perfect amount of airflow on every adventure.
Safety Features:
The impact protection is provided by CE-certified elbow and shoulder armor and there are pockets where riders can insert the chest and back armor of their choice.
Added abrasion protection for the elbow and lower arm area comes from the reinforced polymer-printed surfaces.
Cargo can be stowed in external zipper pockets, the external utility pocket on the lower back and in the waterproof internal pockets. The contoured sleeves, soft edge collar, and double slider zipper add to the comfort features making the Andes v2 a fully functional four season jacket at a very reasonable price of less than $300. This makes Alpinestars Andes v2 the selection for the Best Overall Value Adventure Jacket 2019.
Buy The Alpinestars Andes v2 Drystar
We receive a small commission when you purchase from one of our affiliate partners. Thank you for supporting us.
---
Fully Loaded
When you are looking for the ultimate protection in a fully loaded adventure jacket, the bar is set high as the Helite Adventure is now sporting a built-in airbag system that deploys in under .1 seconds! This is some MotoGP technology baked into the ultimate adventure garment.
Construction & Fit:
The shell is constructed of waterproof Humax which is a very breathable fabric and added durability comes from the Cordura inserts.
For the coldest weather riders, a thermal liner can be added.
In warmer weather, the ventilation zippers on both sides of the front and exhaust ports on the back provide ample airflow.
Added vents on each sleeve help to cool your entire body in warm climates.
Several adjustments to customize your fit including an adjustable slider on the neoprene neck, with strap adjustments at the waist and biceps, and forearm and snap adjustments on the sleeves.
Gear can be stowed in the two lower waterproof pockets, or in the multiple interior or exterior pockets.
Safety Features:
Knox CE approved shoulder and elbow armor are included as well as a SAS-TEC back protector CE certified Level 2.
Internal airbag system that tethers to your bike. When the lanyard is given a really strong tug, the CO2 cartridge that is mounted just beside the front zipper inflates the jacket.
It is the protection that clearly sets the Helite Adventure jacket apart from the competition. With this jacket and a quality helmet, you are very well equipped to handle just about anything you encounter on or off the paved road.
While this jacket is a much larger investment than some of your other choices, the Helite Adventure Airbag Jacket is certainly the hands-down winner for the Best Fully Loaded Adventure Jacket 2019.
Buy The Helite Adventure Airbag
We receive a small commission when you purchase from one of our affiliate partners. Thank you for supporting us.
RevZilla
---
Other Great Adventure Jackets
In Detail
The Rukka Roughroad jacket is a blend of all-weather Gore-Tex, Outlast fabric and 500D Cordura that can handle any hazards that you might find on an adventure ride.
Construction & Fit:
Riders can insert the waterproof liner and the Gore-Tex for cold weather and slim down to just the outer shell for warm days.
The ventilation zippers on shoulders, chest, and sides allow for as much or little airflow as you feel comfortable with.
Five outer pockets, a back map pocket and two pockets on the interior for easy access to all of your must-have cargo.
Adjustments at the waist, upper and lower arm and stretch panels in the arms and back allow for a great fit to go along with the great protection. \
Safety Features:
D3O Air protectors at elbows and shoulder CE approved EN 1621-1 2012 and D3O Air All Back protector CE approved EN 1621-1 2014 make this a great jacket to be wearing when the worst occurs.
Added Full Back protection can be purchased separately for the included pocket.
Even with the price at close to $1,000, the Rukka Roughroad is a great option for adventure riders who are looking to get away from the pack and try something a little bit more refined.
Buy The Rukka Roughroad Jacket
We receive a small commission when you purchase from one of our affiliate partners. Thank you for supporting us.
RevZilla
---
The Triumph Exploration offers is the perfect choice for adventure riders who wear Triumph jeans and would like to create a full adventure riding suit
Construction & Fit:
Multi-material shell which includes Superfabric ceramic coated and laminated panels
The removable TriTex inner jacket is waterproof, windproof and breathable for protection and comfort when riding in adverse conditions.
Quilted long-sleeved thermal liner with back ventilation panels and stretch/flex zones for added range of motion and comfort on long rides.
Safety Features:
Removable CE certified D30 armor in the shoulders, elbows and back provide great impact protection without being too bulky or restricting movement.
Multiple reflective surfaces add to your visibility and safety when riding at night or in poor visibility.
As an added bonus, the exploration provides a connection zipper to attach to any Triumph jeans for added comfort and protection for your back.
At a cost of just $350, the Triumph Exploration offers many great features at a price point that's great for those only looking for a jacket and especially great for those wanting to complete the full Triumph look.
Buy The Triumph Exploration
We receive a small commission when you purchase from one of our affiliate partners. Thank you for supporting us.
---
There are many pieces of gear that ladies can borrow from the men's lines, but in most cases, the adventure jacket is not one of them. The hip area needs to be a little roomier and the length of the sleeves and the jacket overall don't work well for most ladies.
With that in mind, the Firstgear Kilimanjaro Women's adventure jacket is a great option for four season protection in a wide array of climates.
Construction & Fit:
The ladies Kilimanjaro is constructed of PTFE laminate which provides both waterproof qualities and breathability.
The shell offers the abrasion protection of 420 D nylon with 620D being used in the shoulder, upper arm and elbow areas for even more durability.
Additional cooling and air circulation are afforded from the vertical back panel vents and the shoulder vents. Other comfort features include:
Adjustable waist strap
Neoprene collar
Under helmet hood
2-way front and cuff zippers
Adjustable collar with a snap and slider
Saftey Features:
Impact protection is provided by the D3O elbow and shoulder guards CE certified to EN 1621-1 Level 1 and the D3O EVO T5 back protector CE certified to EN 1621-1 Level 1. (This armor fits into pockets that allow for micro-tuning of the placement and a customized fit of the armor and the jacket)
Plenty of storage in the three interior pockets including one specifically for a cell phone and the five exterior pockets.
All of these features and functions are included in this adventure jacket that is designed and cut to fit ladies who are adventurers by heart but also demand gear that fits correctly and is ultra comfortable.
Buy The Firstgear Kilimanjaro Women's Jacket
We receive a small commission when you purchase from one of our affiliate partners. Thank you for supporting us.
Download & Save Our Infographic!
Can't decide on your favorite Adventure Jacket? Acquire all the information you need with our handy infographic to decide later or on-the-go. Download and save all our top picks for best Adventure Jacket of 2019.