Updated February, 2018
The adventure jacket is kind of the Swiss Army knife of motorcycle jackets. This jacket is going to be asked to provide outstanding protection and safety features while still being able to adapt to a wide array of climates and environments.
In addition to fluctuating temperature and weather conditions, the terrain will also put this jacket to the test. Not only does adventure riding push the skills of a rider to the limits but it also demands versatility and quality from the riders gear.
Riders can face asphalt, dirt, and rock all on a single ride and an adventure jacket needs to provide a durable outer shell which can handle both a slide on the road or a dump on sharp rocks equally well.
The added demands of comfort for long rides and the ability to adapt to changing weather conditions means that riders insist on a jacket that is partially a transformer. Oh, and it needs to be capable of changing to meet new demands in just seconds. And the final criterion is a jacket that meets all of these needs without a huge price tag.
Be sure to check back regularly with us here at wBW to read about our latest hands-on reviews of Adventure Jackets and other great products for riders.
Recommendations
Our Top Picks
Best Overall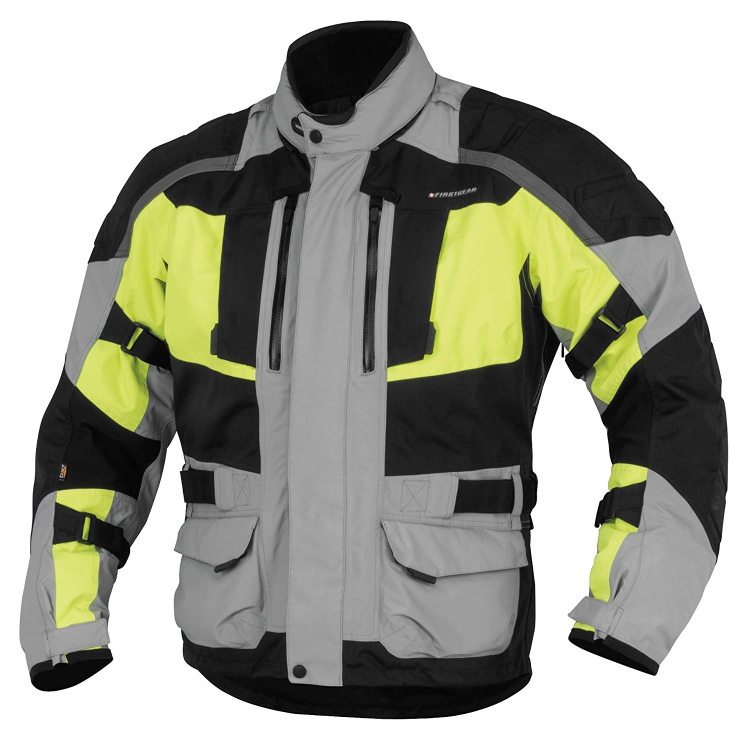 Best Value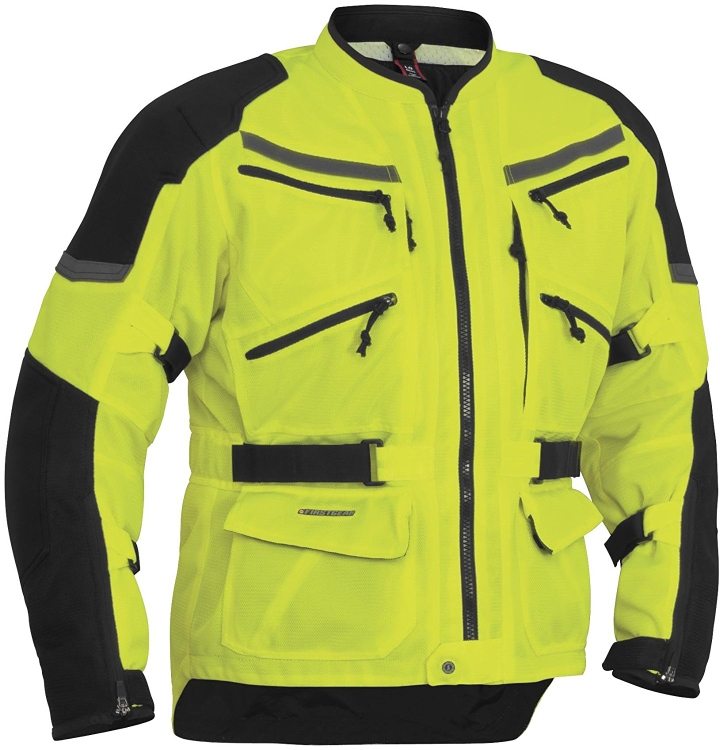 Fully Loaded
Other great options: Joe Rocket Ballistic Adventure, Scorpion EXO Yosemite Textile, Klim Badlands Pro
Adventure Jackets Buyers Guide
Adventure riding provides riders with the ultimate challenge of facing any type of terrain, weather, and environment imaginable. Riders need to have the skill to ride in wet weather, heat, cold and biting wind. And the only way that is possible is to have the right equipment and gear.
No rider would head out for an adventure covering on road, off road and potential rain or snow on a sportbike and they should certainly never face those condition in a sportbike coat. It is simply not the correct gear for the ride and that translates to unnecessary danger to the rider and a much greater potential for injury or worse.
We hope that our evaluations of some popular models will provide you with the information you need to make a solid decision on your purchase of an adventure jacket.
The Winners
In Detail
Best Overall


Firstgear Kathmandu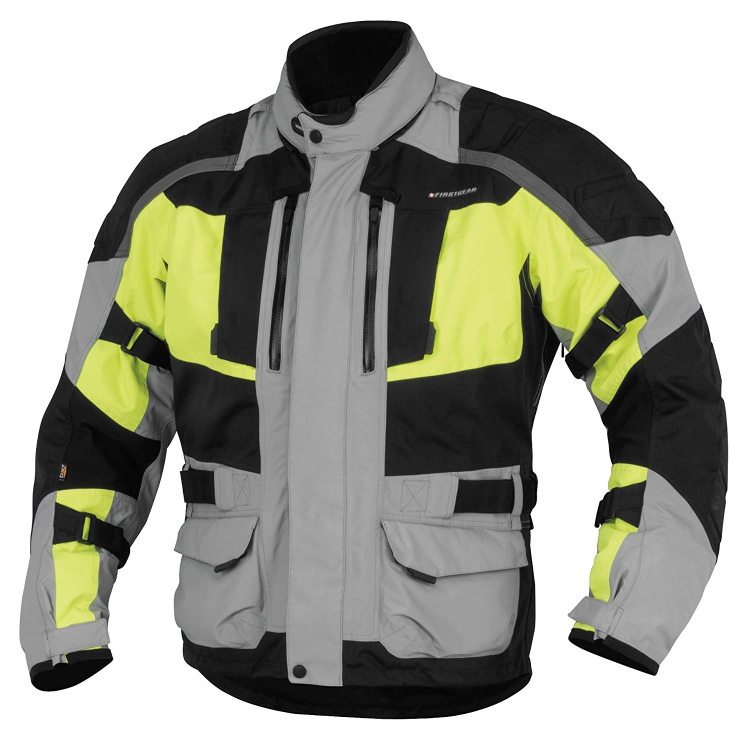 The Kathmandu provides a custom fit and enough adaptability to meet any climate or environment that a rider encounters while adventure riding.
The protection starts with the outer shell made of waterproof but breathable Hypertex. Not only does this material provide rip-stop capabilities but it is also lightweight for comfort and ease of mobility. The collar, cuffs, and waist all offer adjustable straps for a custom fit and added comfort.
It's always a concern that a jacket large enough to accommodate base layers is going to be too large when worn over less clothing, but the Kathmandu has added compression straps at the bicep and forearm to allow for a custom close fit when base layers are not needed. This eliminates that annoying flapping sound and feel of big loose sleeves.
When facing rain or a wet environment, the under helmet rain hood prevents water from running down your neck and the double storm flap front keeps water out of the front of the collar.
Your personal items will also stay dry in the myriad of waterproof pockets that the Kathmandu offers.
There are 4 front pockets as well as a huge 14" dry pouch on the back.
This pouch is also recommended as the onboard storage spot for the insulated liner.
There are also 2 additional pockets on the inside of the jacket for even more storage.
The safety features of this jacket are equally as impressive as its adaptability to meet any and all weather demands.
Fully adjustable D30 T5 CE armor in the shoulders and elbow provide the same protection as standard CE foam armor but do so with a thinner material which is more flexible.
An EVA dense foam back pad is also included.
Visibility was also addressed by placing reflective material on both the front and back of this jacket.
And a few added features include a 1.5-liter hydration bladder in a removable backpack and 6 air vents for maximum airflow.
The final reason that this is our number one choice for Best Overall Adventure Jacket is the fact that it is available in both men's and women's sizes. This last bit of flexibility means that every rider can experience all of the safety and comfort benefits of this great jacket at a pretty reasonable price. You could easily spend over $1,000 on several jackets to meet all of the conditions that this single jacket is able to meet for a cost of only $349.95.
All of these features and choices at a very reasonable price are what makes the Kathmandu our Best Overall choice for adventure jackets.
Buy Firstgear Kathmandu
---
Best Value


Firstgear Adventure Mesh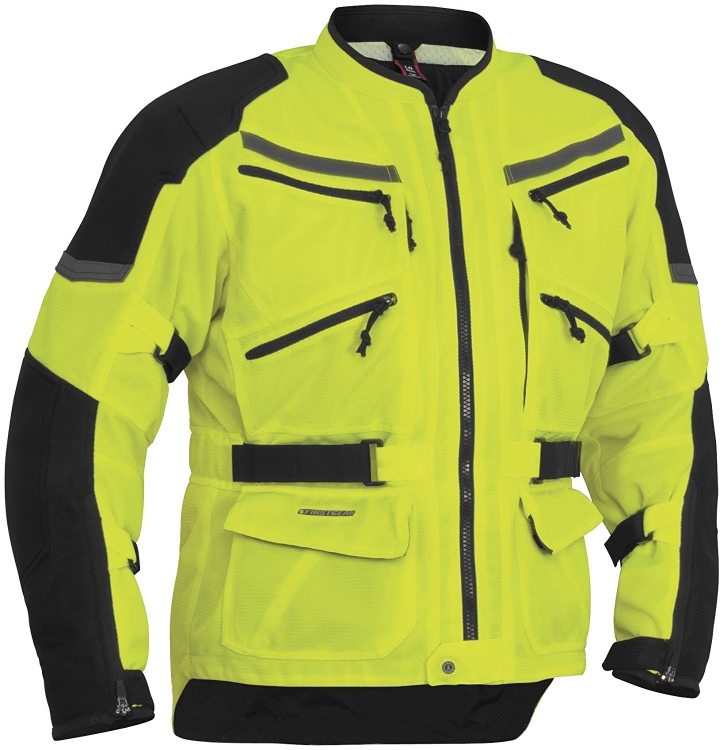 At less than $300, the Firstgear Adventure Mesh is a reliable choice for a lighter weight adventure jacket.
The outer shell is constructed of highly breathable 250 denier poly mesh for toughness and durability. For added warmth and protection the removable windproof and water resistant liner is a great feature which is easily stowed in the rear pouch. The 6 front pockets provide a lot of storage and easy access. Just like the more expensive version, the Kathmandu, the Adventure Mesh offers the adjustable straps on the cuffs and waist for a custom fit and added comfort.
It's always a concern that a jacket large enough to accomodate base layers is going to be too large when worn over less clothing, but the Adventure has included compression straps at the bicep and forearm to allow for a custom close fit when base layers are not needed.
CE approved armor covers the shoulders and elbows for added protection and durability in the event of an accident.
Front and back reflective material keeps riders visible in all weather conditions.
There is also the option to purchase the neon yellow color for added high visibility at night or in poor weather.
This jacket is a great selection for an entry-level adventure jacket from a proven name brand. It sports a 2-year manufacturers warranty, which is not common in this price range and provides great durability and safety at a reasonable price.
Buy Firstgear Adventure Mesh
---
Fully Loaded


Klim Adventure Rally
When you decide that you are ready to invest in the best adventure jacket that money can buy then the Klim Adventure Rally is where you will end your research and make your purchase. This is certainly the top of the line but it also carries that one of a kind price tag. However, once you get over the sticker shock, that is the only pain you will feel, as the Adventure Rally will keep you comfortable and well protected in any environment that you might encounter- at least on your bike!
Starting with the outer shell made of Gore-Tex 3-layer Pro Shell Armor, you will have amazing tear resistance and abrasion protection. In addition, this material is waterproof and you have a guarantee that it will keep you dry. Large Gore-Tex 3 layer Pro Talisman Superfabric is also added to the shoulders and elbows to reinforce the slide zone areas. Stretch panels at the shoulders provide added comfort and range of motion even with the additional material for safety.
Safety features are also impressive in the Adventure Rally.
D30 Xergo shoulder and elbow pads exceed the CE Level 2 protector standards and the D30 Viper Pro back pad meets the CE Level 2 standards.
A unique feature of this jacket is the fully ventilated silicone Dow Corning Deflexion chest armor which is integrated into the design of the jacket.
The collar is also neck brace compatible if the rider desires added protection in that area.
And if that is not enough to sell you on the Adventure Rally, there are still many more features that will help you to make your decision.
10 external pockets and 3 internal pockets provide all of the storage space and easy access that you will need on even the longest rides.
Ventilation back exhaust vents, 4 zippered arm intake vents, moisture-wicking mesh lining, microfleece-lined collar and the onboard 3-liter hydration pack are all included to make sure that you start out comfortable and remain that way throughout your ride.
No matter where you are riding and what conditions you might encounter, the Klim Adventure Rally is going to ensure that you are comfortable and very well protected. The price might appear to be a little steep for some riders, but for those who cannot put a price tag on their comfort and safety, then this is your best choice for a Fully Loaded Adventure Jacket.
Buy Klim Adventure Rally
---
Other Great Adventure Jackets
In Detail
Joe Rocket Ballistic Adventure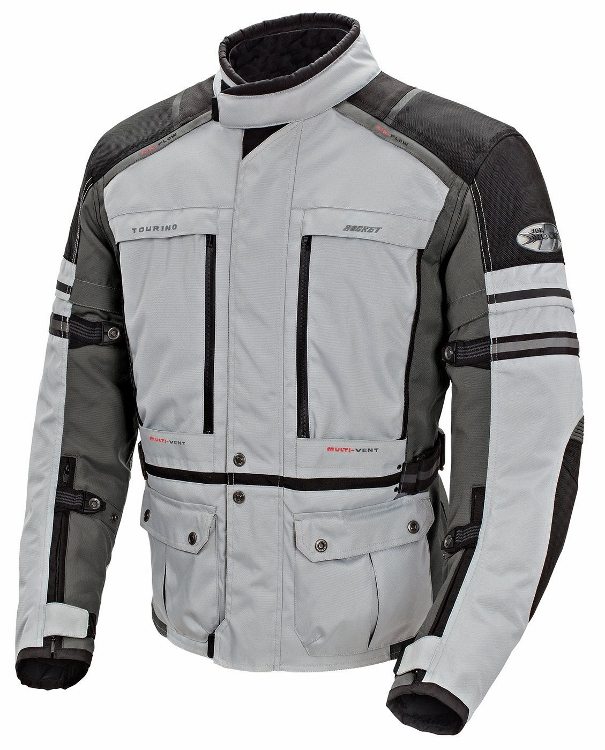 The Joe Rocket Ballistic Adventure jacket offers a lot of safety and creature comforts in one durable and versatile jacket.
The water-resistant RockTec 600 outer shell offers ventilation and protection from any debris you might encounter. Add in the 2 stage waterproof full sleeve zip out liners and you are protected in any inclement weather that might be in your path. Shoulder and elbow protection comes from the 840D Ballistic Nylon reinforcements and the CE approved armor. A removable high-density spine pad is included or it can be replaced with optional CE armor. The 8 point sure fit system allows you to customize your fit with adjustments at the waist, torso, wrists, and arms. And reflective material provides you with 360-degree visibility at night or in bad weather.
Added comfort is provided by the Full Flex elbow expansion joints, the added ventilation from the zipper panels on the chest, the extended microfiber lined collar with the Velcro closure and the extended back.
This jacket also offers a great amount of storage from the 2 front cargo pockets, the rear storage pocket, and the 4 interior pockets. For under $300, the Joe Rocket Ballistic Adventure jacket offers great comfort and fit while still being adaptable to a variety of weather conditions and temperature. This makes it a great choice for versatility at a good price.
Buy Joe Rocket Ballistic Adventure
---
Scorpion EXO Yosemite Textile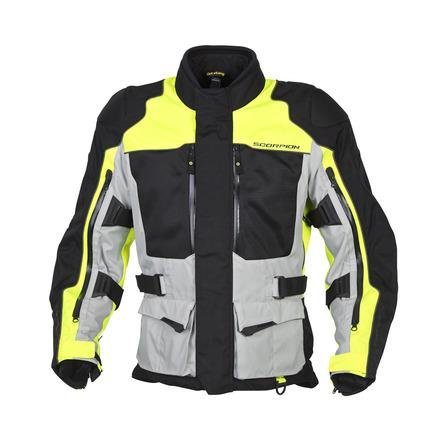 The Scorpion Yosemite Textile jacket offers some versatility that is not found in many other adventure type jackets.
The ability to convert from a windproof textile to a more open-air mesh-like configuration is a huge advantage that this jacket offers riders. And the option of a thermal liner makes this a great jacket for a variety of temperatures. Not many other adventure jackets can conquer this huge variation of both temperatures and climates.
The 500 denier nylon body and 1680 denier nylon in the abrasion zones allow this jacket to provide superior abrasion and slide protection.
Sas-Tec CE Level 2 certified armor at the shoulders and elbows provide additional protection on impact and at high friction areas when sliding.
A PE foam back pad is included but riders have the option to remove it for an optional Level 2 Sas protector.
Added safety at night is provided by the reflective material placed on the front, back, arms and elbows of this jacket.
Comfort and temperature control are also important features for most riders. A ride is never much fun if you are too hot, too cold or wet. But the Yosemite has solutions for all of those issues.
The wind panels that keep the cold air out on cooler rides can be unzipped and folded down to reveal torso vents and full-length arm vents for rides in warmer conditions.
Full sleeve AirGuard waterproof/windproof liners can be inserted as well as full sleeve EverHeat liners to keep your arms warm and dry even in rainy, cold weather.
The soft neoprene collar and accordion stretch panels at the elbows allow for added comfort and range of motion of your head and arms.
6 pockets throughout provide you with all of the cargo space that you need and all within reach when you need them.
Finding a single adventure jacket that can handle any and all climates and weather conditions is rare. And having a price tag of less than $400 makes the Yosemite a great option for riders who always want to be prepared and comfortable no matter what conditions they encounter on their adventure.
Buy Scorpion EXO Yosemite Textile
---
Klim Badlands Pro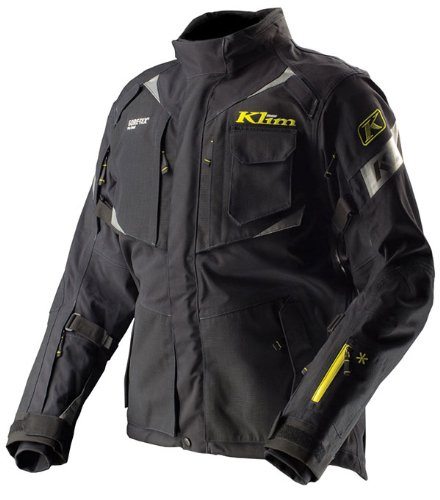 The Klim Badlands Pro is designed to live up to its name and be able to handle even the harshest terrain and weather conditions.
The outer shell is made of Gore-tex and is guaranteed to keep you dry but still offers the breathability that is needed for comfort. Custom engineered Superfabric is added to the shoulders, elbows, and forearms to increase durability. 500D Karbonite ripstop panels are also added to potential high abrasion areas for even more protection from sharp objects protruding through the fabric. Aero Pro D30 armor covers the elbows and shoulders while a D30 Viper Pro CE Level 2 pad protects the back and spine area. All of the armor is inserted into adjustable pockets to allow for fine adjustment of armor locations for added safety and comfort.
Additional comfort is provided by the curved arm construction and action back shoulders allowing for greater range of motion.
The adjustable wrist gaiter and 2 sleeve adjustment straps allow the rider full comfort throughout the arms of this jacket with or without the liners.
Six air intake vents and 4 exhaust vents ensure great airflow and rider comfort even in the warmest riding conditions.
10 pockets ensure enough room for everything that you need to carry on an adventure ride.
There is even a dedicated pocket for riders to add the hydration bladder of their choice to help fend off dehydration on a long ride.
Safety and versatility make the Klim Badlands Pro a good selection for any rider who will be facing a wide range of temperatures and terrain changes.
The protection and comfort offered by this jacket are superior even when riding in hot temps and on challenging ground. You won't ever be disappointed with the durability or reliability of your Badlands jacket.
Buy Klim Badlands Pro
---