Michelin Anakee Image Gallery
Summary
When I first purchased my (used) 2002 BMW R 1150 GS (review), my intentions were to explore more unpaved roads.
It wasn't long before I discovered that riding off-road requires an additional set of skills, especially when riding a bike as large and heavy as my GS.
You can learn some of these skills yourself, starting by watching some videos, like the BMW GS Off-Road Riding Skills (review) video and others found on the webBikeWorld Motorcycle Video Reviews page.
Of course, if you're planning on riding off-road, then it's best to spoon on a set of dirt-oriented tires, as we did with the Continental TKC-80 tires (review) on our Trans-Labrador Highway ride and this year's Trans-America Trail ride (report).
But, if your travels are primarily on paved roads, then an off-road type will grind away too quickly and the noise can get tiring. So what's an adventure-touring rider to do?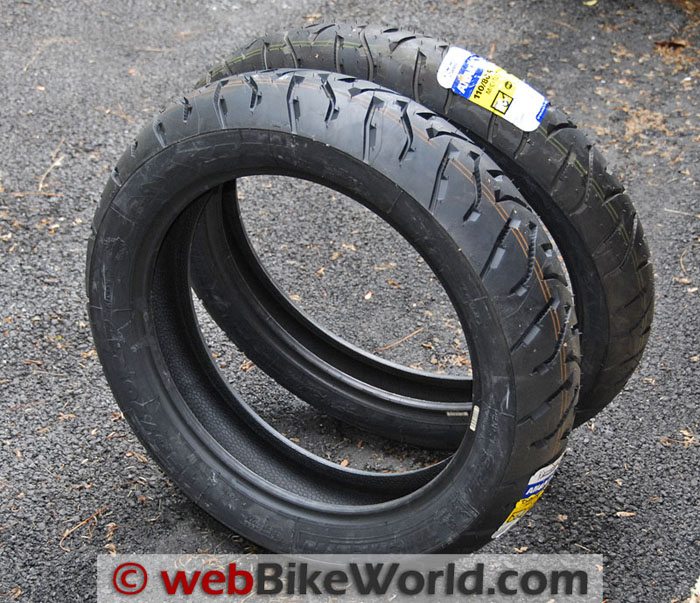 What Tires?
The adventure-touring segment of motorcycling has become extremely popular (not to mention competitive). But I suspect, as with most of the four-wheel-drive SUVs purchased, that most Adventure-Touring bikes rarely see much of the "Adventure" half.
But then what the heck — isn't riding a motorcycle all about the image? OK, maybe not for everyone….
Actually, as I found with the GS, adventure-touring (aka dual-sport) bikes are very versatile rides and adaptable to a wide variety of road surfaces.
They've also become popular with long-distance riders too. But, if your journeys are pretty much confined to paved roads, you're probably going to want a more pavement-oriented tire.
Enter Michelin's Anakee series tires.
I'm not sure of the actual timing, but Michelin started the Anakee series, which replaced their previous T66, using a "silica-based rubber mix to enhance wet traction and a reinforced carcass to better handle the weight of a fully loaded Adventure bike".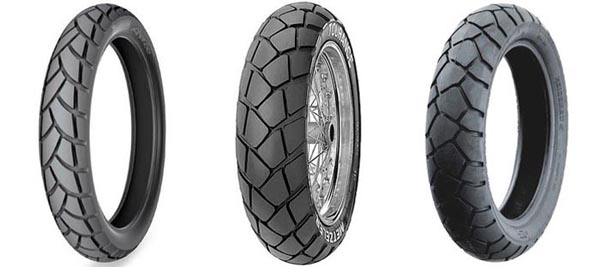 The Anakee — and its replacement the Anakee II — both had an "open tread design" and a large tread block pattern in order to provide adequate grip for dirt roads.
The latest Michelin motorcycle tire in the Anakee series is the Anakee III.
Right off the bat, I noticed the Anakee III is completely different from the previous two versions; gone is the large block pattern which has been replaced by some of the most unusual tread patterning I've ever seen on a motorcycle tire.
The Anakee III appears to be more like a road tire than any other dual-sport tire I've seen before. Just looking at it I had to wonder how well it would do off-pavement.
It's interesting also that I noticed in all of the Michelin literature, they refer to the Anakee III tire as an "Adventure Touring" tire. This would lead one to believe that its primary focus is pavement, with a dash of "dirt road" thrown in.
Here's a one-page Michelin Anakee III Data Sheet (.pdf) with all of the official information on these tires.
But to confuse matters a little bit, Michelin also sent us this "Road Tire Positioning Chart", which shows the Anakee III as a cross between a "Sport-Touring" and "Touring/Cruiser" tire, with no other off-road or dual-sport tires in sight: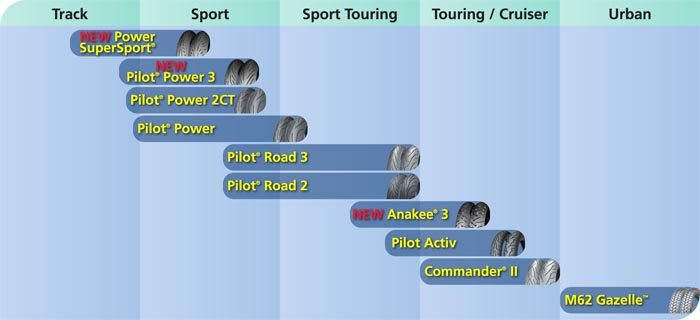 The Big Difference: Michelin Anakee III Turn-in and Tire Profile
Over the past 5-½ years, I've run Avon Distanzas, Dunlop 607s, a rear Bridgestone TW152, two sets of Continental TKC 80s, and even a pair of Shinko 705s on my BMW R 1150 GS. Each tire had its strengths and weaknesses.
The Shinko 705 tires were due for replacement when the Anakee III tires arrived, so it was great timing. A pair was spooned onto the wheels using the Cycle Hill tire changer (review) and the Michelins were then installed on "Beeker", the mighty GS.
Even though I've heard that manufacturers have cut down on the amount of release agent used in the tire molds, which makes for potentially slippery riding for the first 100 miles or so with a new set of rubber, I always take it easy with a new tire for a couple hundred miles just in case.
Right from the start though, I noticed that the turn-in with the Anakee III tires mounted is completely different than any other tire I've ridden on before.
With every other motorcycle tire I had on the BMW — whether street- or dirt-oriented — the bike tends to "fall" into a corner, especially when the tires are new, requiring less pressure on the handlebars as the lean increases.
It was like the bike knew where and when I wanted to turn.
I didn't get this feeling at all with the Anakee III tires. The turn-in seems to be rather linear and as a result I need to push more and longer for the same corners than before. I may be wrong, but the tire seems to have a much rounder profile.
Could this be the cause?
By the way, I should point out that I'm not a professional rider nor do I proclaim to be a tire expert.
I'm just an ordinary rider that up until recently had been riding between 20,000 to 25,000 miles (32,000 to 40,000 km) per year in all types of weather conditions back and forth to work.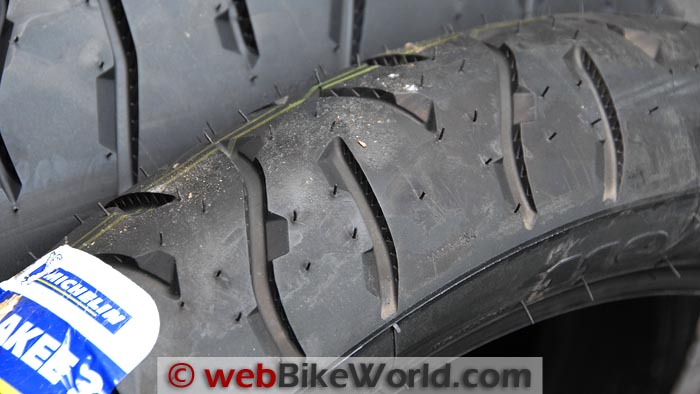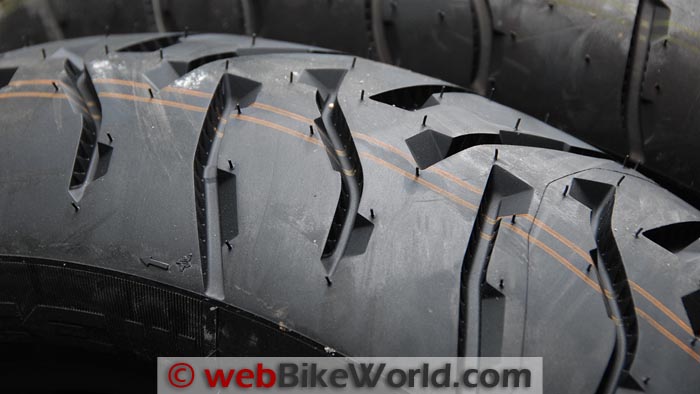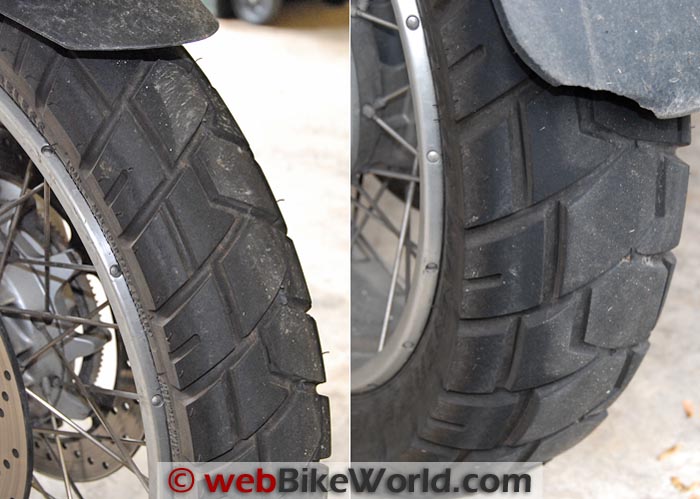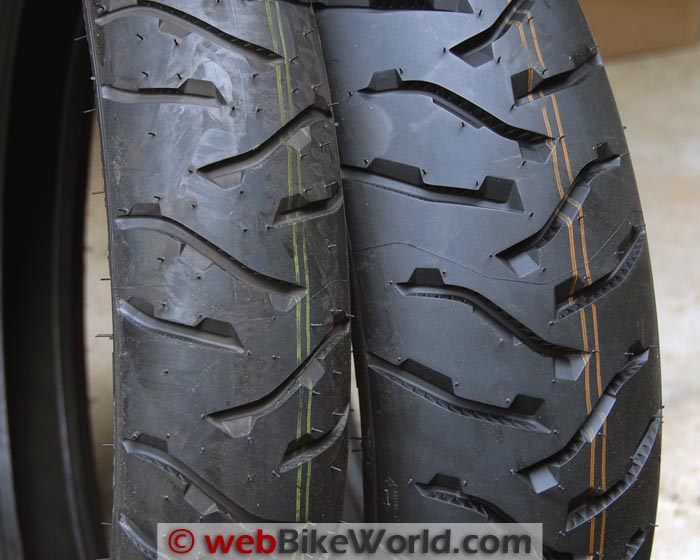 Michelin Anakee III Tires: Riding Impressions
The Anakee III tires seem to warm up quickly, but then again I learned during my California Superbike School (review) rider training to always let your tires warm up fully before cranking up the lean angles.
I've had no problems with the Anakee III tires gripping the pavement, but then I'm not dragging the foot pegs on the GS either.
Unlike my BMW K 1200 LTC, which will drag a foot peg with ease, it's a long way over with the GS.
Wet traction with the Anakee III tires is good, but there again, when the pavement is wet I tone it down. On dry dirt roads, the tires actually work fine.
But after using the Michelin T63 tires (review) on my Suzuki DR-Z400S (blog) during the Trans-America Trail ride (the T63's are classified by Michelin as 50/50 on/off road tires), I wouldn't want to intentionally venture into any mud or try to climb any steep hills.
I did have the rear Anakee III in a small ditch once during some damp weather, and I'll have to admit that it simply would not work to get the bike to climb up and out. In the end it took two of us to get the GS out of there.
So these tires are probably more like 80/20 or even 90/10 street/dirt, regardless of the "Adventure Touring" categorization by Michelin.
Straight-line tracking is very good with the Anakee III's however, and I suspect this is where the tires could be targeted, judging by their shape and design.
Since the winter weather has set in rather early, I've only put about 1,000 miles (1,600 km) on the tires so far.
Normally I would have had logged much more by now, but the Suzuki DR-Z400S project dominated my time over the last few months.
So it's too early to tell, but I am very pleased with the  wear thus far.
One problem I've always had with the BMW GS was a very noticeable feathering of the front tires as they become worn, but I haven't noticed that or felt anything unusual so far with the new Anakee III tires.
Conclusion
Michelin has (radically) revised their "Adventure Touring" tire entry with the all new Anakee III.
With a design that hints at a far more pavement-biased tire, it could prove to be an excellent choice for those riding the large adventure-touring bikes primarily on the street. Should you decide to venture off the pavement and on to any dirt roads it will probably do fine.
Mud and slippery stuff are going to be a real challenge, however, since the Anakee III tire lacks any sort of block pattern to dig in and hook up.
If you're a dirt-loving Michelin fan, then try a set of the Michelin T63 tires (review) instead. Bottom line: if you do most of your riding on the street, it's the Anakee III. If you really are going to ride in the dirt, try the Michelin T63's.
I'm not sure on the Anakee III tire life yet, but so far the wear rate is encouraging.
Although it's not an inexpensive tire, after pricing the competition, the Anakee III tires are about even with other quality brands.
See Also: Michelin T63 Review  |  More wBW Motorcycle Tire Reviews
w

BW

 Review: Michelin Anakee III Tires
List Price (2013): $180.95 – $275.95
Made In: Thailand
Colors: Black
Sizes: Front: 90/90×21 to 110/80-19. Rear: 120/90-17 to 150/70-17.
Review Date: December 2013
Note:
 For informational use only. All material and photographs are Copyright © webWorld International, LLC since 2000. All rights reserved. See the webBikeWorld® 
Site Info page
. Product specifications, features and details may change or differ from our descriptions. Always check before purchasing. Read the
Terms and Conditions
!
Owner Comments and Feedback
---
From "B.L." (November 2016): "I thought I'd add my $0.02 after having just crossed the 10,000 km mark on the rear Anakee III.
In June I found myself in California, in 39 C temps having just melted my rear E07 off the Super Tenere and in dire need of a tire (on a Saturday afternoon!).
Luckily I found a shop that had a tire in stock that fit my Tenere and it happened to be the Anakee III. I was mid-trip and doing both on and off road riding in California and Oregon. It joined my almost-new K60 Scout front.
This tire has surprised me, not only does it handle like a sportbike tire, but it's more capable off-road than I would have expected.
With a bike loaded for a multi-week trip, at 42 psi it carves corners, dragging pegs without problems. Off-road, aired down to the lower 30's, it handles things well, just say out of the mud and really loose stuff.
I had one flat recently after 2 hours of riding off-road, with over 9,000 km on the tire. They've squared off quite a bit but still work well on wet and cold roads (it's now November).
For heavy adventure-tourers that spend most of the time on the road, this is an excellent tire."
---
From "A.S." (January 2015): "I get surprised shown on the pictures from the 1200 GS the Michelin Anakee III tires. It's a big improvement!
I own a Triumph Explorer 1200 XC. From the first beginning, once near 150 km/hr the bike started to wobble like driving with a grade 12 earthquake.
I tried everything, from adjusting front fork, wheel balancing and tamping with the suspension. Not a modest improvement. Think about: a bike that cost US$ 24'000.00 here in Chile and you cant drive faster than with a cheap piece of junk.
After praying to the Lord and promising I will behave like a saint for the next 3.5 months if there is a way to fix this hefty wobbling, I get the inspiration a changed the Metzeler Tourance brand new factor tires (with 1000 km) for a pair of Continental Attack 2 tires.
Result: I could improve the speed from +- 150 km/hr max to 165 km/hr max.
You can´t imagine yourself how much time and money I wasted to the get rid from the scarring and extremely dangerous wobbling. Nothing helped.
Finally I got two choices: accept my faith and stick with the expensive bike and never overpass max 165 km/hr, or do the right thing and drive the US$ 24'000.00 bike to the dumpster and let it rotten there.
But Fortuna goddess smiled to this humble biker and make myself find a tiny video on You Tube from Michelin about wobble and tires. Helas, just what happens to me (or the bike)!
Early next morning I started to find Michelin Anakee III tire from the Explorer XC. Not a easy job here. Once more I lost a lot of time and phone calls but finally I got an pair of the Michelin Anakee.
It is really not to be believed, but with the brand new tires ( it was not possible to wait the break-in period) drive at 200 km/hr on the same road, with top case and side panniers and the same annoying side wind, the bike behaved soft and steady like a Cadillac!!
For people doesn't like bikes it seems I was ready for an high security psychiatric facility, because only bikers can know and suffer when the bike behaves wacko.
Good to know BMW changed the tire brand and with the right one. It gives confidence to know if something is wrong with the bike, the manufacturer looks on his own to fix it. Michelin deserves a big applause.
After searching tons of solution for the steering wobble (means life-time – our most valuable and non renewable capital – and money), this tire company solved this nasty and hazardous depressing problem.
Search in You Tube for the video about wobbling.
The video is made and posted by Michelin. It shows exactly what happened to me and a whole bunch of sad bikers. There are many forums out there about this issue.
My problem is 100% solved with the Anakee tires. After I can drive like a fool on the public roads using the Waze app is a must. Thanks Rick for webBikeWorld."
Editor's Note: The Anakee III tires don't come standard on the GS as far as I know, Chris put the tires on this older GS just to try them.
---
From "B.S." (January 2014): "My Super Tenere has had Anakee 3 tires in a mix of on- and off-road uses on the East coast. While they have been great for commuting and generally good road tires that will last a long time, I don't plan to buy another set.
PROS:
Life: I have over 4,000 miles and they look like they are going to last a long time. As a commuter, this is important to me. The front may be wearing faster than the rear.
Rain: We get lots of rain in the Washington DC commuting area and they have been less affected by it than a lot of tires. Not sure whether to attribute this to the tread pattern, rubber hardness, or something else.
Road irregularities: Because the rain grooves (sipes) in the rubber cross the tread, they don't follow lines in the pavement, such as resurfacing when new asphalt is about to be laid or the steel mesh of some bridges.
Rugged: I've hit some pretty good pot-holes, rocks off road, and picked up a number of nails & other road debris. The tire has not split, chunked, or had some of the other impact damage I have seen on other tires.
The tread is thick enough that none of the road debris has punctured it yet. (Added the word "yet" to stave off jinxing myself.)
NEUTRAL: Predictable handling: This could be seen as a pro or a con, depending on the situation. I would agree that the A3s won't fall into a turn and are not sport bike tires, but the input/response is quite linear.
They are great on the highway, there are times when you don't want a twitchy tire, and it's nice to know what you are going to get.
Off-road: I'd put these in a 80-20 or 90-10 group, provided there is no real mud.
They remind me of DOT trials tires on a dual-sport bike, in that they do surprisingly well in gravel and sand. Not great – but better than expected.
The V-shape of how the A3 tread sipes are cut really does sling out better than most of the 80/20 tires. But if the bike starts to sink at all into mud, it's time to get off because the #s are not much better than a street tire.
Running up a steep dirt trail slowly they also will spin and once the tread loses traction, these are a set of slicks. I simply do not trust the A3s when crossing streams.
Take the off-road comments with a grain of salt and don't try to compare these to a knobby T63 like the reviewer or to a Heidenau K60, because the A3s are intentionally in the 80/20 or 90/10 group.
CONS:
Like the reviewer, I usually am not trying to grind the pegs on the tall beast. Even so, the rear tire has virtually no chicken strips and when I've leaned to the edge of the tread the rear has a very greasy loose feeling.
At least it gave me warning, and that much is a positive. I would not want to push these tires harder and have not had them in full sporty bike mode.
It sounds minor and silly, but my biggest issue is how loud these tires sing when at more than about 50 mph. They bug me like water torture and I've read plenty of other write-ups in which owners have written about the noise.
The bike is fine and the tires are fine, but the tread pattern sings loudly at the speeds on the highway where I regularly ride."
---
From "S.S." (December 2013): "I purchased a 1995 Triumph Tiger last summer and mounted a pair of the Shinko 705 tires, as the forums all spoke very positively about this tire.
Having recently put a pair of Pilot Road 3s on my street bike, I was shocked at how inexpensive the Shinkos were in comparison.
And although I only managed to put 2007 miles on the bike this summer, I was very happy with the tires. As you describe, they fall into the corners, and the bike feels like it is reading my mind it turns so easily.
Getting back on board my Legend street bike with the Pilot Road 3s, in fact, surprised me in terms of the effort required to initiate and hold a turn, something that I had never noticed previous to riding the Tiger.
Having no long term experience with the Shinkos and none whatsoever with the Anakees, I obviously cannot compare how the two would do on my Tiger.
If, however, the tread longevity was at least close, and the trun in characteristics were as you described, I would go with the Shinkos for the easier handling. Factoring in the cost would only add to their appeal.
Perhaps you can comment on a comparison of these two tire choices in more detail once you have some additional miles on the Michelins? As always, thanks for the great reviews!"
---
From "E.S." (December 2013): "I have them on a DL 1000, and got 22,000 miles out of them, 90/10 street/dirt use. Next set will be the same."