This bike is the first visible example of the long-term partnership between Mercedes-AMG and MV Agusta since the German took a 25% share in the Italian motorcycle manufacturer.
They call it a Solarbeam Theme for the MV Agusta F3.
There is little detail available, but a joint release says the bike is a collaborative effort. 
"To celebrate the iconic partnership between MV Agusta and Mercedes-AMG, together we built a bike that is the epitome of performance and passion: the MV Agusta F3 800," their press release says.
"Inspired by the Mercedes-AMG GT, the F3 800 sports the 'AMG solarbeam' theme with black accents and AMG logos, reflecting the dynamic personality of the MV Agusta bike."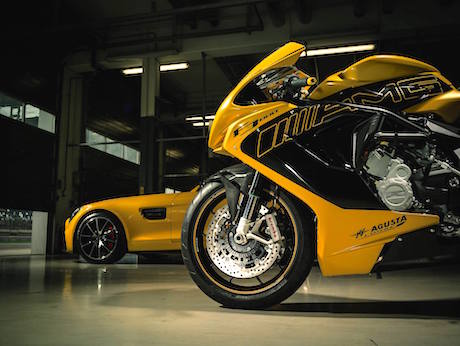 There is no word on whether the AMG solar beam will go into production, but it will probably be an expensive limited production run.
While it may be the first visible sign of a collaborative project, we believe the Germanic influence has pervaded the company with higher quality production, more efficient parts delivery systems and more cash to make expand the range.
And hasn't it expanded!
Several new models have already been issued including their first touring bike, the Turismo Veloce 800.
Recently MV CEO Giovanni Castiglioni confirmed will have three new 1000cc models in 2016, including a new F4, Brutale and a "crossover" which possibly means a move into the lucrative and rapidly expanding adventure market.
We can expect to see several of these models at the EICMA Motorcycle show in Milan.
Meanwhile, in Australia, the MV Agusta partnership with Mercedes-AMG can be seen in most dealerships now having at least one MV Agusta motorcycle on display.