THE MECUM LAS VEGAS MOTORCYCLE AUCTION 2020 IS ALMOST HERE!
We go almost every year, but this auction has been going for 29 years now, and is the grandaddy of classic motorcycle auctions. It started out as the MidAmerica Motorcycle Auction, but Mecum bought them out a few years back, and they have grown it into the gargantuan event that it truly is. Today, the Mecum Las Vegas Motorcycle Auction 2020 will run for 6 solid days and over 1,750 gorgeous bikes will roll across the block. Check in was on Sunday & Monday, January 19 & 20, with pre-auction previews on Monday. Then bidding started on Monday and didn't stop until Sunday, January 26. I was selling three bikes there myself, my legendary Yellow Bike ('73 Bonneville custom cafe racer), the Royal Clone ('79 T140D Bonneville Special made to look like a '81 T140LE Royal Wedding), and my Harley ('08 Dyna Street Bob). 2 out of 3 sold, only the Royal Clone is left. Stay tuned for all the blow-by-blow action.
LIVE FACEBOOK FEEDS FROM MECUM LAS VEGAS MOTORCYCLE AUCTION 2020
I did Live Feeds from the Auction, and Bonham's one-day auction on Thursday of this same week, along with Las Vegas at large. Tune into our FACEBOOK PAGE to keep up with it all. Or better yet, next year, why not take the week off and come to Vegas. This is one event that should be on every motorcyclist's bucket list. Hope to see you here. Tune in.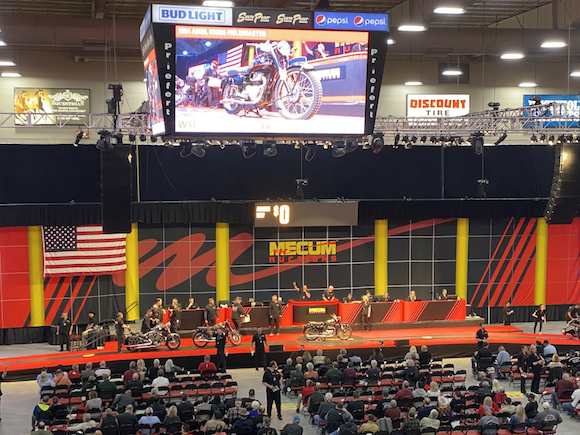 ABOVE: The first day of the auction always starts out slow. Unfortunately for the sellers of lower-priced bikes (under $10,000), they all got crammed into the first day, so bidding was weak. That's when all my bikes ran. Oh well. However, for buyers, the first day is a goldmine!
BELOW: This is just one of the rooms full of classic motorcycles to be auctioned off.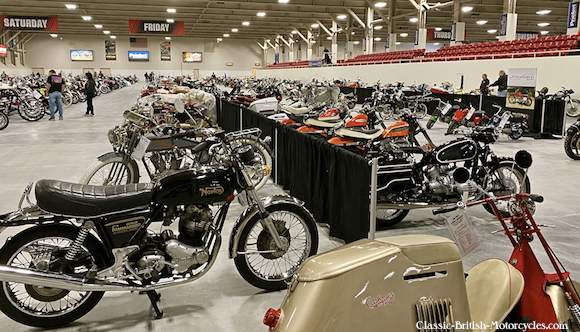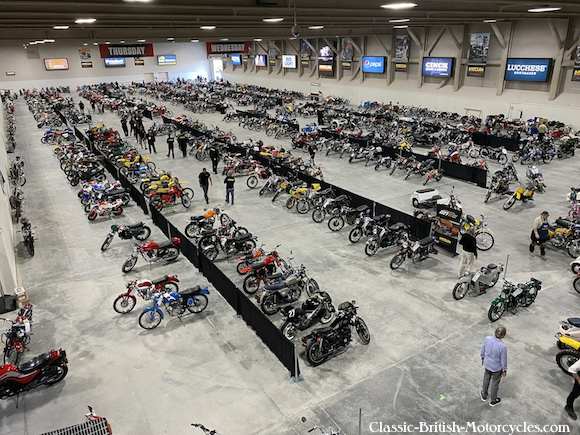 ABOVE & BELOW: Bikes, bikes and more bikes. It literally is the world's biggest motorcycle show.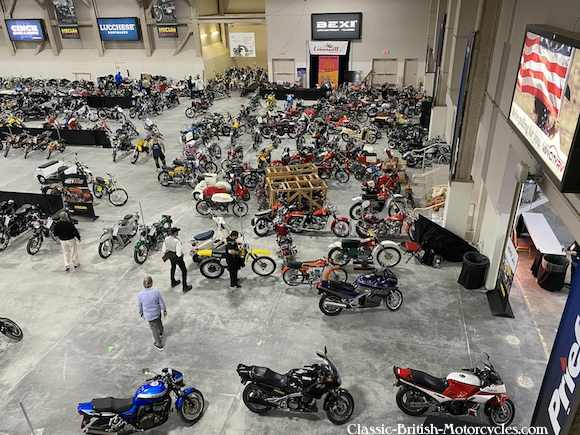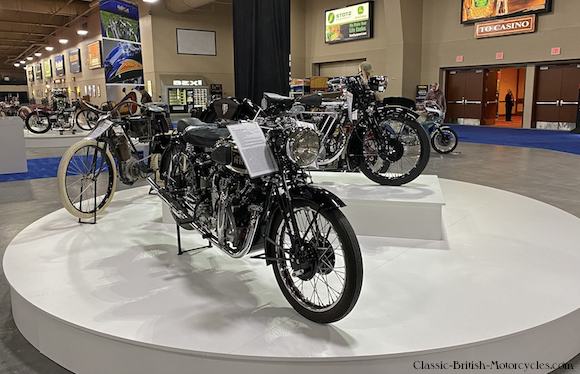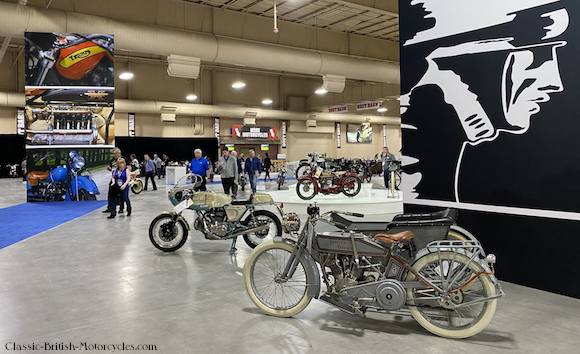 BELOW: It wasn't just bikes. There were many, many lots of memorabilia, motorcycle-abilia, signage, even coin-op motorcycle rides that used to sit in front of grocery stores. That 24″ X 36″ Indian neon dealer sign (Lot #S3) sold for $11,210. The motorcycle ride (Lot #S4) sold for $7,670.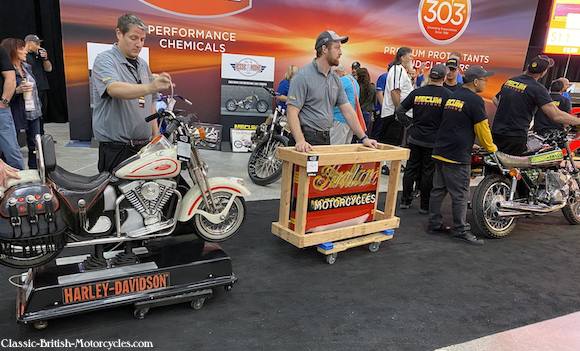 ABOVE: My beloved "Yellow Bike" (Lot #G41), a 1973 TR7 come-Bonneville custom Cafe Racer, sold at the auction in Vegas for a mere $8,250.
BELOW: "The Royal Clone" (Lot #G39) started out life as a 1979 T140D Bonneville Special. I morphed it into a tribute to a UK-spec 1981 T140LE Royal Wedding. Brand-new everything, more than I can list here. It too crossed the auction block at the Mecum Las Vegas Motorcycle Auction 2020, but failed to meet my reserve. I brought it home on the trailer. It's for sale for $8,000.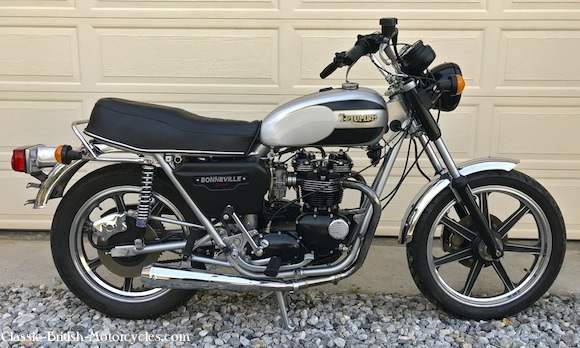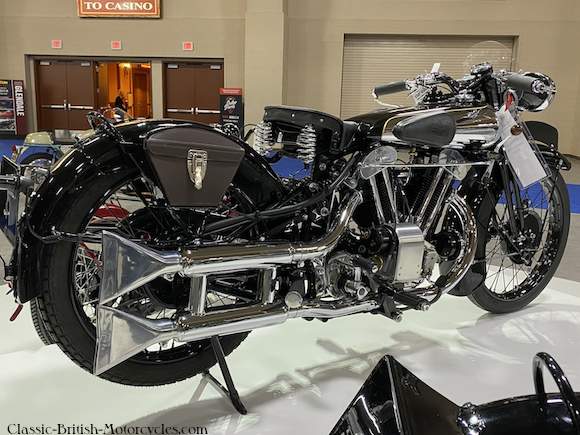 ABOVE: This 1930 Brough-Superior SS100 (Lot #S141) sold for $239,250, and was the second-highest sale of the week. Another Brough, a 1922 SS100 (Lot #F166.1) was the top dog, selling for $308,000.
BELOW: This gorgeous 1946 Norvin cafe racer (Lot #S156) sold for $51,700. A Norvin is a NORton frame (Featherbed) with a VINcent V-twin engine.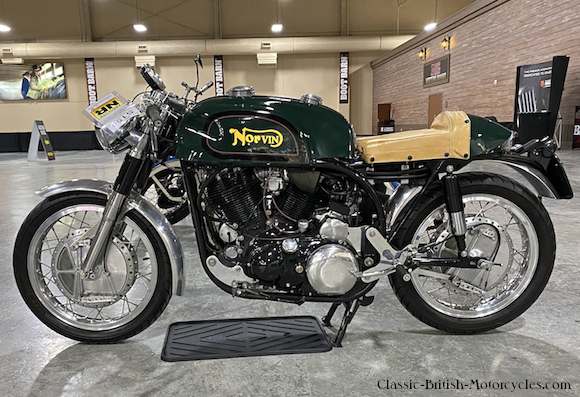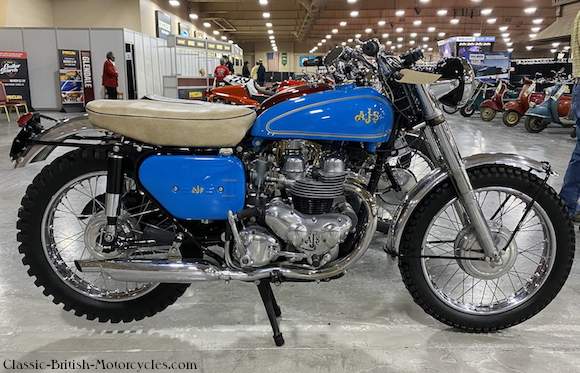 ABOVE: This lovely 1958 AJS Model 31 (Lot #S144) sold for $13,200.
BELOW: This is a 1960 Rickman-McQueen (Lot #T187), and it sold for $14,300. Seems kinda' cheap. It's actually built by Rickman in modern times, and one of their most popular models today. It replicates the way screen- and racing-legend Steve McQueen used to set up his desert racing bikes. He was a huge fan of Rickman's with Triumph engines, he owned several.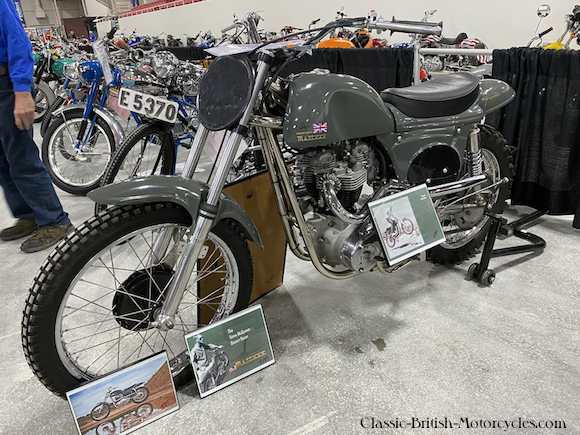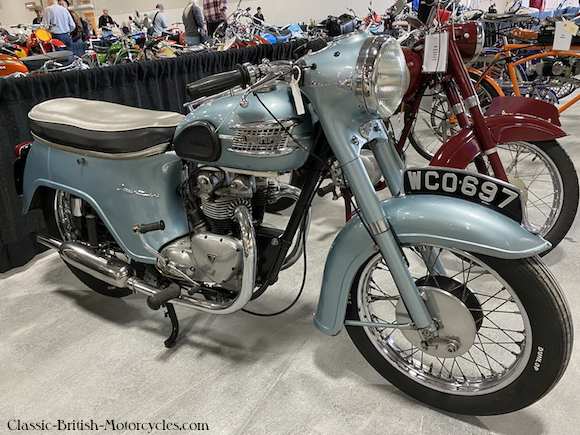 ABOVE: The elegant 1962 Triumph Twenty-One 'bathtub bike' (Lot #W51) sold for $15,400. They go for more than 60's Bonnevilles today. Funny, huh? The reason is that people used to hate that stodgy bodywork, and they'd strip it all off and throw it away. Either that, or it rusted to pieces over time. Either way, there are relatively few cherry bathtub bikes left, hence the higher prices. Triumph built both 350 twins and 500 twins with bathtub bodywork. The "Twenty-One"-name represents the cubic inch displacement of the 350cc twin.
BELOW: This sturdy 1963 Norton Dominator (Lot #T197) sold for $5,500. Classic bikes are a steal, right now.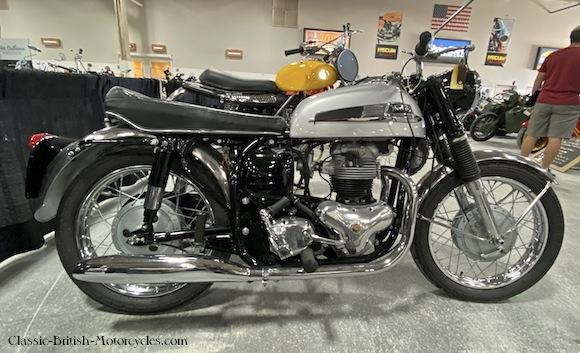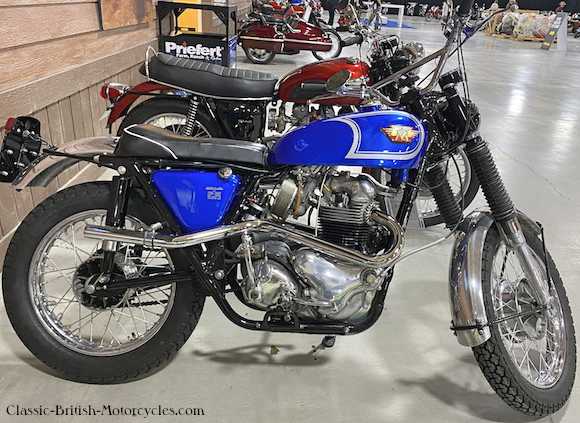 ABOVE: This is a 1967 Matchless P11 (Lot #S175), and it sold for $15,950. The P11 was a mash-up of a Matchless frame with a Norton engine. It was created by the factory, since parent-company AMC (Associated Motor Cycles, not American Motors) owned both the Norton and Matchless brands, in a vain attempt at reviving the ailing Matchless brand.
BELOW: This 1968 Velocette Thruxton (Lot #S177) represents the absolute zenith of technology from Velocette. Famous for building twins only, Velos were as fast on the street and track as many British twins of the day. This one sold for $20,900.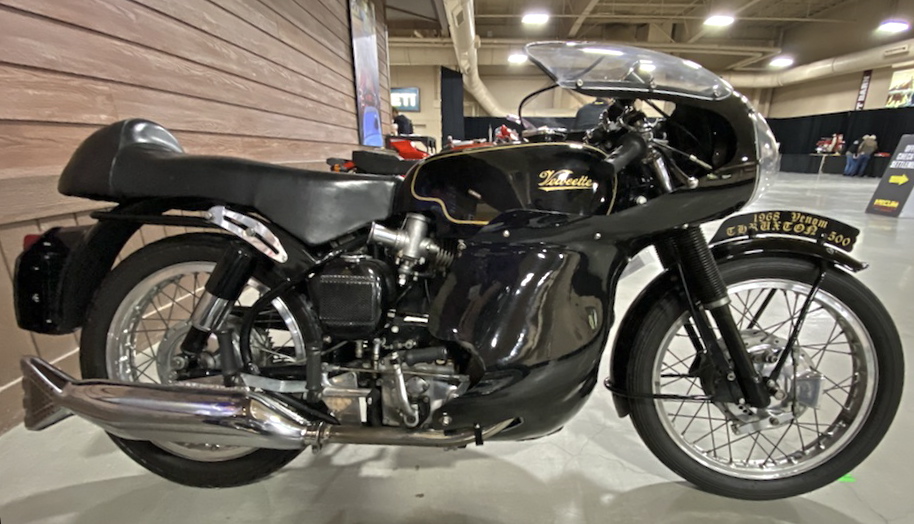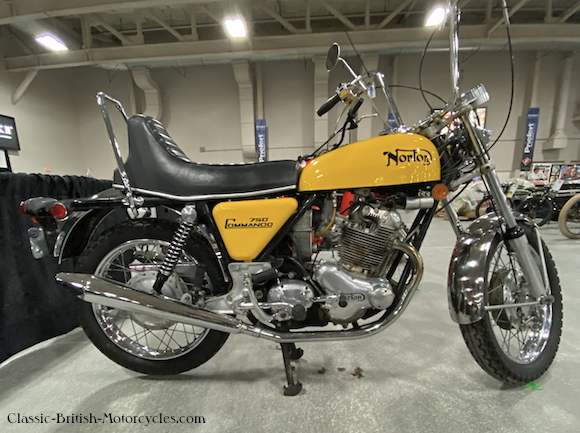 ABOVE: This crazy-looking ride is a 1971 Norton Commando Hi-Rider (Lot #T171) sold for $7,150. In 1969, the movie "Easy Rider" came out and suddenly everyone wanted a chopper. A few factories created factory customs 1973 Triumph Hurricane, Harley Super Glide, et al), and Norton couldn't resist jumping into the game. They created the Hi-Rider by dropping a smaller tank, crazy-high handlebars, and that ridiculous banana-seat with sissy bar. Passengers couldn't keep from sliding forward. Sales were slow for the homely Hi-Rider, making it an 'interesting' low-volume collectable.
MECUM LAS VEGAS MOTORCYCLE AUCTION 2020 RESULTS
The action ran fast and furious for six solid days, Tuesday through Sunday, January 21 through 29, 2020. 1,540 motorcycles were sold for a 90% sell-through rate and a total sales volume of $22.6 Million. That's big money in the world of motorcycles. And as you can see, many incredible classics go for very low prices, compared to their special-ness (if that's a word). It reminds me of the classic car genre about 15 years ago, when it was still an 'Every-man's hobby', because the cars we all grew up with were still relatively cheap and easy to buy and own. Today, the classic car market is flooded with investors, and retired rich doctors who have driven classic car prices into the stratosphere. Today, normal working people can't afford a decent big block muscle car. The same thing will happen to classic motorcycles. The bikes that are a paltry pittance today will someday command eye-watering prices, and normal people like us will be priced right out of our own hobby. Will it take 5 years, 10 years? Who knows? But, I have no doubt that it will happen. Buy now.
DON'T MISS THE NEXT ONE
If you're a motorcycle buff, if you grew up around the now-classic bikes of the 50s, 60s and 70s, heck even the 80s, this is one pilgrimage that you need to make before you die. Put it on your bucket list. If you're buying, or selling, or if you just like looking at rows and rows of awesome classic bikes, you need to go to Mecum.com and start planning your sacred pilgrimage to the holy land of motorcycles. And Vegas isn't to bad either.