Harley-Davidson will soon start building bikes in Thailand with lower prices "largely in our Asian market", says company CFO John Olin. So does that mean lower prices for Harleys in Australia?
On a company organisational level, Harley-Davidson Australia and New Zealand is part of the Asian market and has its regional headquarters in Singapore, so by "Asia" John could include Australia and New Zealand.
Our markets already get the Street family bikes from India and it is unclear yet which bikes will be manufactured in Thailand and where they will be distributed.
However, if we continue to get bikes made in the US, prices could rise as John said increased tariffs on their raw materials would cost the company an extra $15-$20 million a year.
Controversial quarter
John's comments came at the announcement of financial results from the second quarter which was marred by President Donald Trump's controversial tariff war.
The formerly overt Harley supporter turned on the company and slammed their decision to move some production overseas to avoid increased European tariffs imposed in response to the US increasing tariffs on their steel and aluminium.
Click here to read the full tariff saga. (UPDATE: The EU is negotiating to drop the US tariffs and buy more US soybeans and liquified gas in exchange for exemption from US steel and aluminium tariffs.)
While the company said it may consider manufacturing in Europe to avoid the hefty 31% tariffs on American products, John says they are still considering their options.
"We've got three international facilities, and we're looking at the best opportunity to supply the EU out of those facilities," he said, referring to factories in India, Brazil and now Thailand.
"The purpose of the (Thai) facility, like we have in Brazil and India, is to be able to provide a lower price to our consumers … we feel that the affordability of our products will increase," he said.
President and CEO Matt Levatich defended their "business decision" to move more production overseas to avoid the EU tariff hike from 6% to 31%.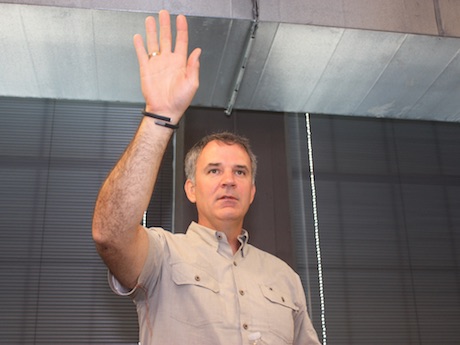 "When tariffs were enacted by the EU in the second quarter, it put further pressure on our business, and we made the best decision given the circumstances. The best decision for our customers, our dealers and our business in this critical market," he says.
He was referring to absorbing the increased tariff costs per bike of $US2200. They move will cost the company $30-$45 million while they establish a non-American origin of supply which would only attract 6% EU tariffs.
"We will continue to make the best business decisions for Harley-Davidson and our stakeholders based on the facts and circumstances before us, and we will continue to build Harley-Davidson motorcycles for our US riders in United States, as we have for our entire 115-year history."
He made no guarantee that other markets such as Australia and New Zealand would continue to receive American-built bikes.
The costs of "restructuring" — moving more production overseas — will be $100-$115m this year and $35-$40m next year and none after that, or $135-$155m in next two years.
Sales results
Harley-Davidson global sales in the second quarter were down 3.6% to 78,428 or -5.1% for the first half of the year.
US sales were down 6.4% (Q2) and 8.7% (half year) and slightly up internationally by 0.7% (Q2) to 31,938 and 0.5% for the first half.
Harley predicts their operating margin will drop to 9-10% this year due to the expected impact of tariffs, compared with previous predictions of 10.5%.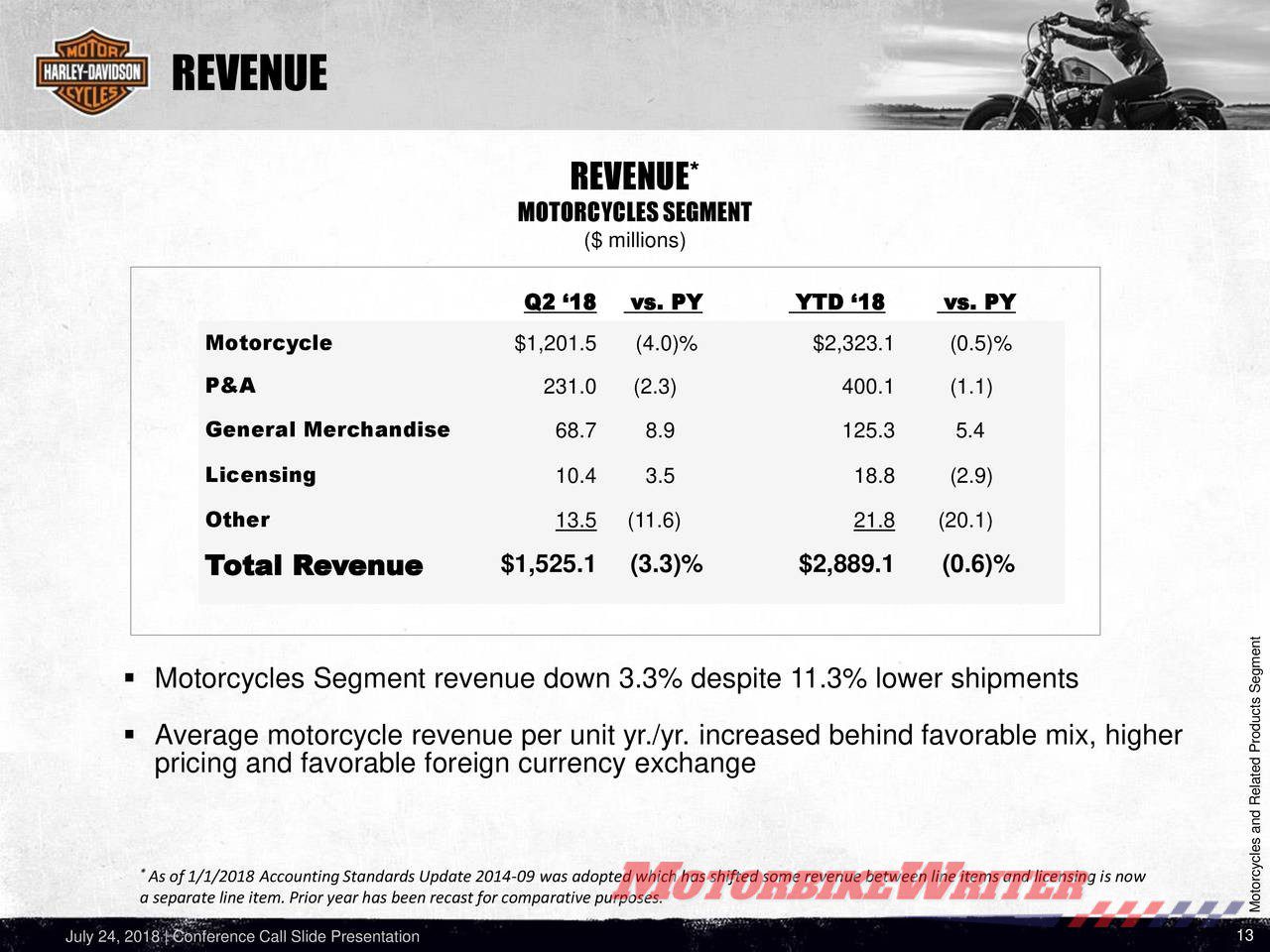 Total revenue during the quarter was down, but cushioned by a $US1244 increase in the average motorcycle revenue per bike.
This increase was mainly driven by an increase in prices and a "richer product mix" meaning they sold more expensive Touring models which have a higher profit margin than lower priced Street and Sportster models.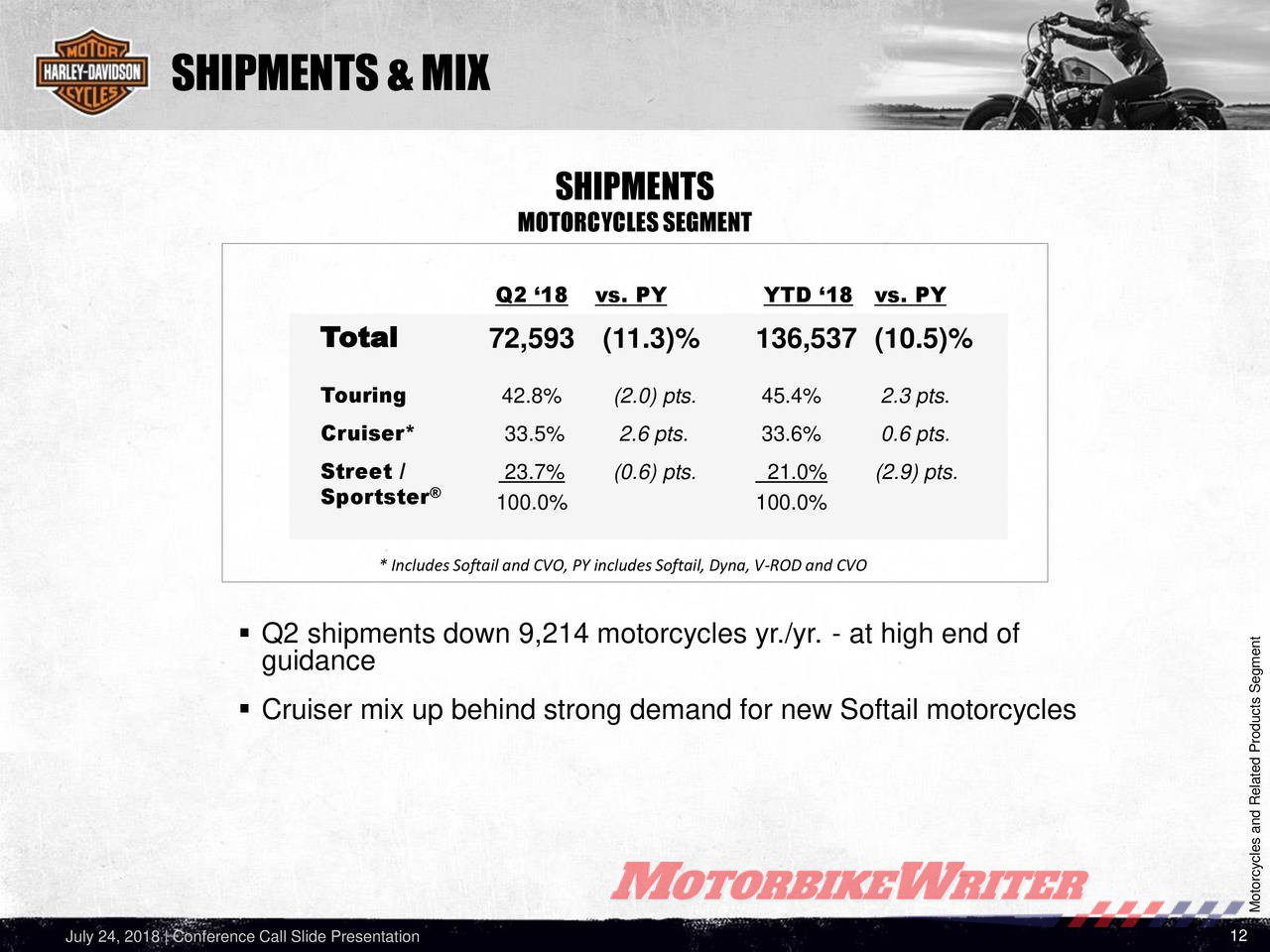 It was also affected by a favourable currency exchange with US currency down about 4%.
Harley expects to ship 231,000-236,000 this year and will deliver their strategy for growing sales next Monday.