The latest Charley Boorman and Ewan McGregor adventure, the Long Way Up, will be shown on Apple TV+ in the next few months.
In the third and probably final "Long Way" series, the Brits ride Harley-Davidson electric LiveWire motorcycles from Tierra Del Fuego at the bottom of South America to LA.
Apple TV+
It starts in the US on 18 September 2020 with an episode every week. There is no date for the series to start in Australia, but when it does, you can get a free seven-day trial and binge-watch the series.
If you enjoy Apple TV+ you can then subscribe in Australia for $A7.99 a month.
Unlike their previous adventures on BMW GS machines, this one was on Harley's new electric LiveWire which will be available in Australia in September for a whopping $A49,995 ($NZ53,995).
That's more than the feature-laden Ultra Limited tourer at $A41,495!
While the specially modified bikes did get the pair to their destination, Ewan admits he ran out of "juice" a couple of times and even had to hitch rides with cars by hanging on to the B pillar.
The admissions came in an interview on the American Tonight Show with Jimmy Fallon in February 2020.
In the interview, he explains that they chose electric motorcycles because they "wanted to be part of that new wave of transportation".
"It proved to be amazing and quite tricky at the same time," McGregor tells Fallon.
"Charging is the issue. There's no real infrastructure for charging in Patagonia, for instance.
"We'd just knock on people's doors and ask if we could plug them in.
"They usually do let us. We'd camp in their garden and we'd plug in."
However, he said charging two bikes at the same time would sometimes blew the houses's fuses, so they would charge one at a time.
"People were so generous and lovely about it," he says.
"We'd ride all morning and then if we stopped to look around the town we'd find somewhere to plug in at a restaurant or a cafe or something."
Out of juice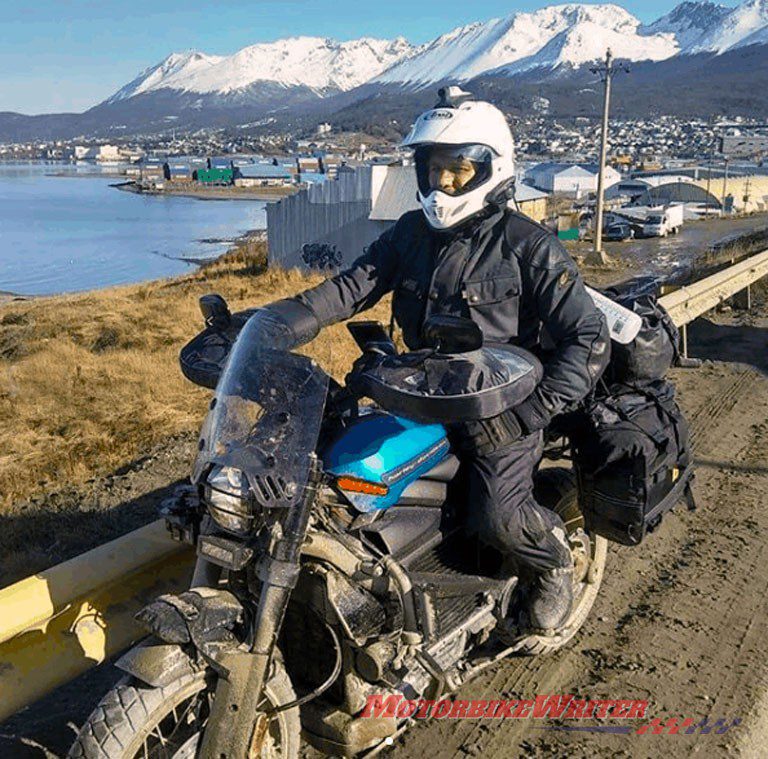 According to Harley, LiveWire range is about 150km on the highway and about 235km in the city.
So, what did they do when they ran out of "juice", Fallon asked?
"Hope for a hill," McGregor replies.
"I got towed a couple of times. I was the only one that ran out.
"Charley never ran out of juice and he'll tell you it's 'cause he's a better rider than me and it may well be the case."
(We suspect Charley did not do his usual frequent wheelies!)
"But I ran out a couple of times, so I'd just hold on to a car."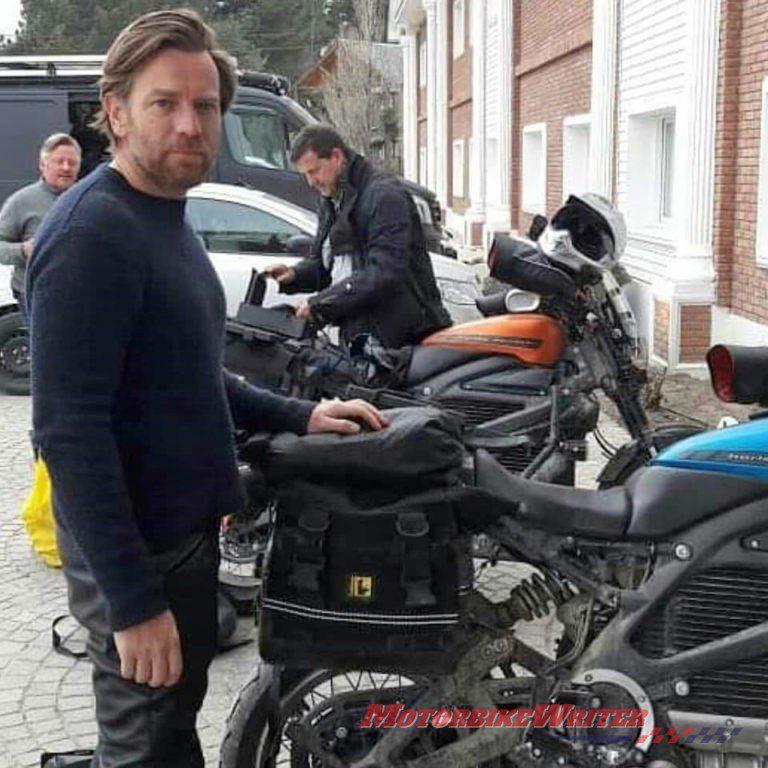 He explains how this stunt was performed and we assume it was at slow speed and could have been using one of the back-up vehicles.
"If you open the back windows and the front of the car you could get your arm around a pillar and you just muscle along like that for a while," he explains.
Ewan says the first time he saw this done was in New York when he was about 21 or 22 riding in a yellow cab.
"A Harley-Davidson guy — a Hells Angels guy — who'd run out of gas or his bike was broken down clattered into the side of the cab, grabbed hold of the pillar and he shouted the address of the Hells Angels clubhouse to the driver who just took him there and didn't ask any questions; just drove there like that.
"I think the Hells Angels owe me $5.26."
Not sure if we believe that, but it's a great story.
And it sounds like Long Way Up on Apple TV+ will also be another great series.
It's been a long time between trips for Ewan and Charley.
From 14 April 2004 to 29 July 2004, they rode across Europe and the USA in Long Way Round and from 12 May to 4 August 2007 they rode from the top of Scotland to Cape Town in South Africa for Long Way Down.
With Ewan becoming increasingly busy with Hollywood movies, Charley squeezed in the 2006 Dakar rally for his series, Race to Dakar, and has produced several other travel shows.