Land Moto is one of the latest PEV start-up companies to specialise in electric motorcycles. Until now, these innovative designs have remained merely a concept, with production finally starting recently. Despite taking big steps, overall production volume remains small scale, anticipating just 50 produced within the next 3-4 months. Currently, only a few lucky customers can pre-order these bikes, with the first batch of orders projected to be ready by late summer.
A Dashing Design
These electric motorcycles are all American-made, designed and manufactured in Cleveland, Ohio and remain in accordance with U.S. regulations. Land Moto models are also one of few electric motorcycles eligible for registration and use as normal road vehicles, similar to the CAKE Kalk. We feel that this company will definitely set a number of new trends and standards throughout their release process. The design is simplistically stylish, lending an air of intrigue and innovation; coupled with a futuristic feel emanating from the modern yet minimalist frame alone.
This kind of design is something we would have expected to see from Tesla as a companion for the Cybertruck. In accordance with this, these models also incorporate a number of convenient and cutting-edge technologies alike. This includes everything mentioned below, specifically regenerative braking and the boost button. But first, we bring our attention to the battery.
Notable Specifications
The behemoth 1.8-4.5 kWh batteries especially excited us, currently a combination of two "hotswap" batteries. These e-Moto models offer ranges between 80-160+ miles when using ECO mode; with the swappable battery feature allowing riders to switch out batteries on the move and further extend mileage. Despite this remarkable range, both models take a mere 90 minutes to charge to 100%. Land Moto states that these batteries charge on a standard house/240W outlet, making this rapid charge time even more impressive.
Thanks to this removable battery, riders can charge remotely from any plug socket, without having to transport the entire bike frame. This is quite convenient, especially as the First Edition weighs 68 kg (150 lbs), with the Founders Edition weighing 79 kg (175 lbs). However, both models still weigh far less than conventional motorcycles, which often weigh between 180-250 kg).
For a full list of specifications, check out the District product page.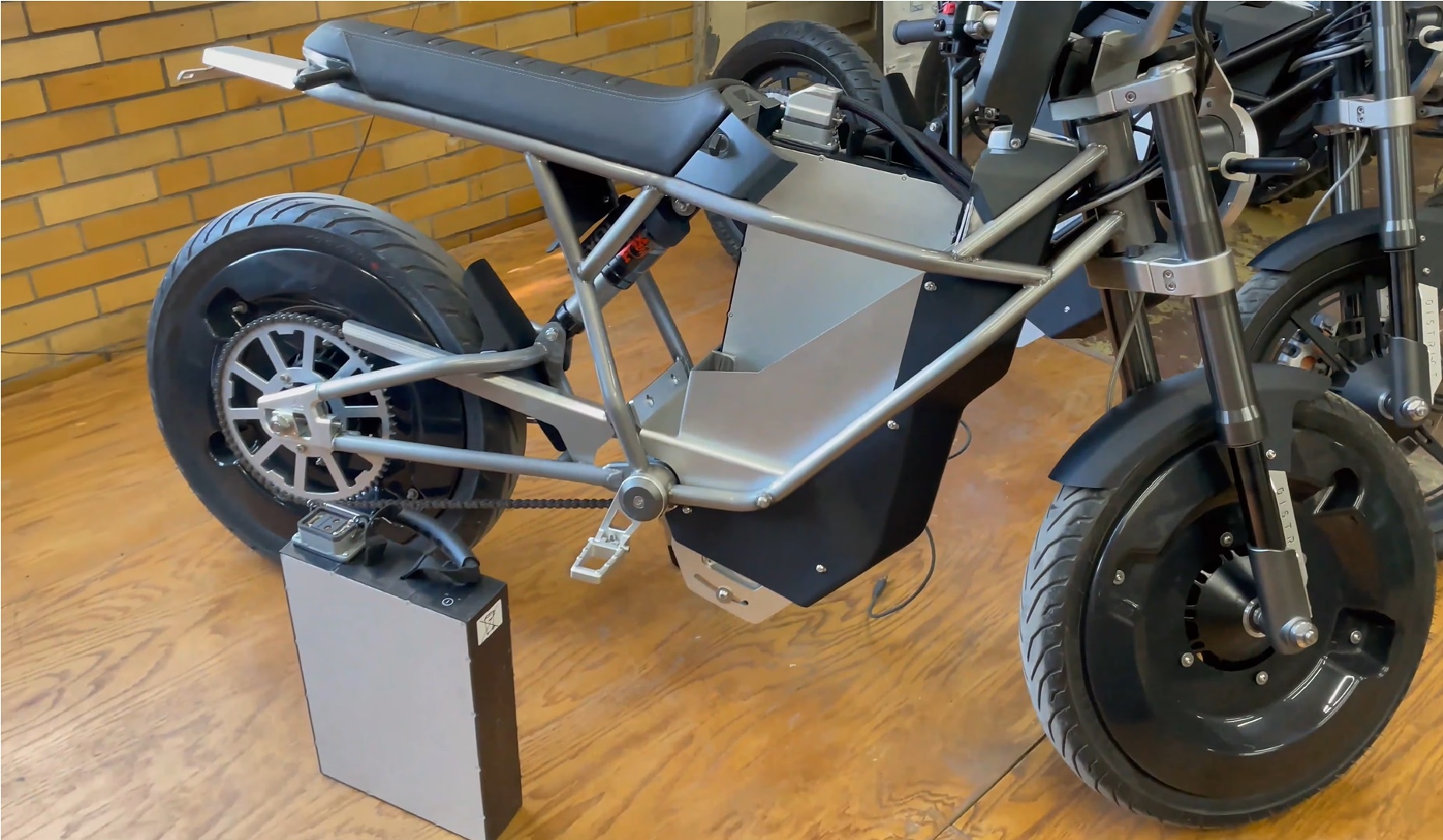 These e-Moto models accommodate a number of riders, mostly due to their speed-mode selection. Described as an "eBike when you need it and an E-Moto when you want it", we very much appreciated the versatility of these models. Land Moto claim that these models also achieve great off-road functionality, supposedly reaching speeds of up to 65+ mp/h. The District incorporates 4 different ride modes to choose from:
e-Bike: The first level and essentially implemented to help new owners learn to ride and get to grips with the District, limiting them to 27 mp/h.
e-Moped: Slightly increased speed and power. The e-Moped level best suits intermediate riders testing the waters, before even further raising their speed.
e-Moto: Burn rubber reaching speeds up to 65 mp/h. This mode offers a significant difference in speed and power compared to previous options.
e-Motorcycle: The final and most powerful riding mode, offering exhilarating speeds of up to 75+ mp/h. Quite an impressive speed for a first-time electric motorbike, especially within its price range.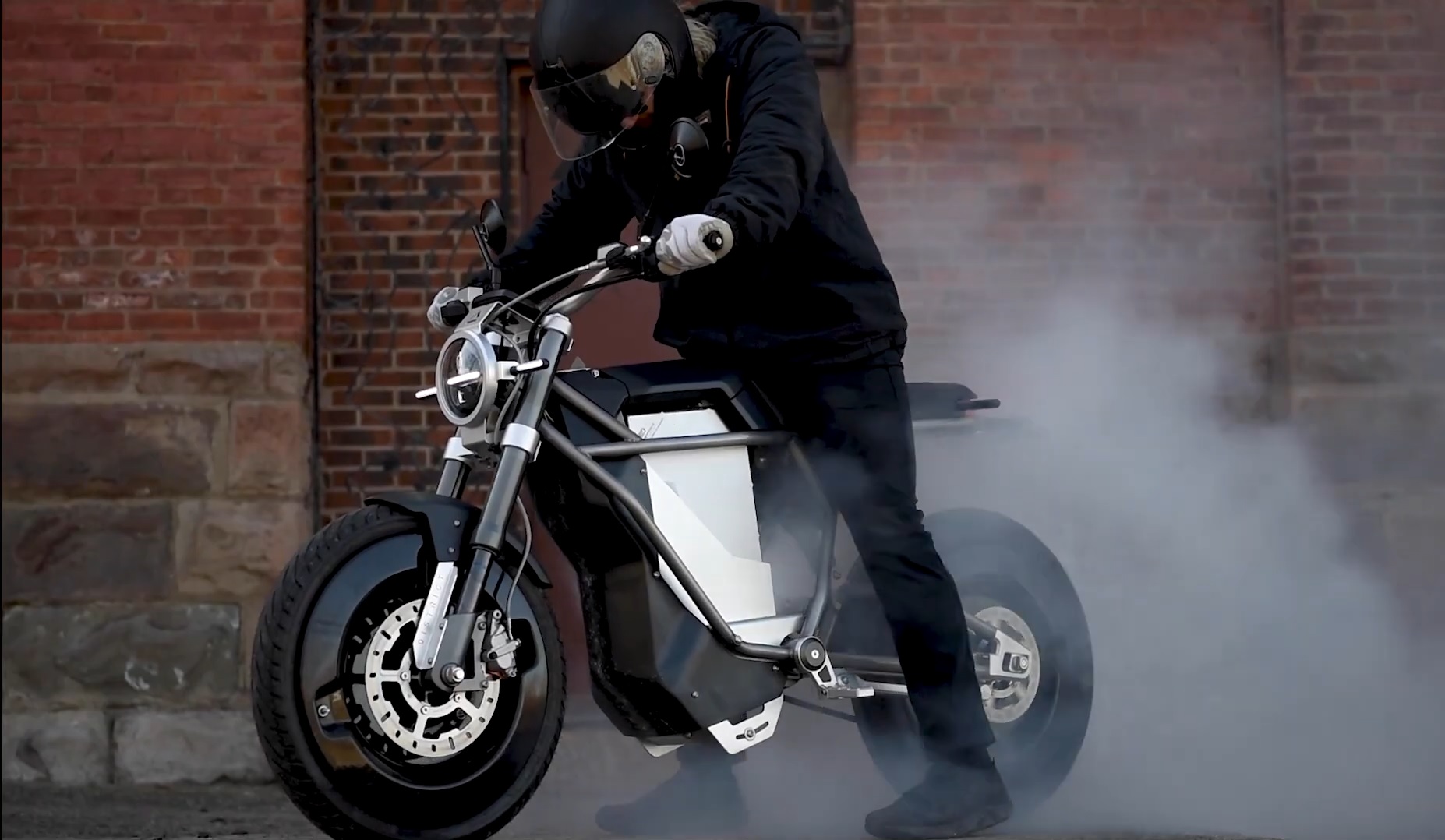 Power, Design and Production Process
On the topic of power, both bike models adhere to regulations set by governing bodies, resulting in speed and torque restrictions. Despite this, these bikes are shaping up to be a brilliant entry into the PEV market. The "First Edition" possesses a peak power of 750-1500W and a top speed of 65+ mp/h. The "Founders Edition" claims 39 Nm of torque and peak power of 13 kW (13000W), resulting in a top speed of 85+ mp/h. We can currently only imagine the true potential of these e-Motos, should they remove these limitations.
The District is a far cry from a passionless, mass-produced PEV. Every bike is built by hand, individually numbered and limited to 20 (Founders Edition) and 60 units (First Edition) units respectively. Overall, the design and materials used are solid, with Land Moto clearly placing a high priority on quality control. Although we found no overall waterproof rating, the motor is IP65 rated, offering protection against dust ingress and sustained water of moderate pressure.
An extended list of features includes:
Removable battery
Front & rear lighting
Regenerative braking
Multiple riding modes
Clutchless direct drive
Dual front/rear suspension
Fully charged within 90 minutes
2 years warranty with unlimited miles
Boost button (up to 20 seconds of extra power)
Front/rear dual-piston brakes with 200mm rotor
Supports a maximum weight of 170 kg (375 lbs)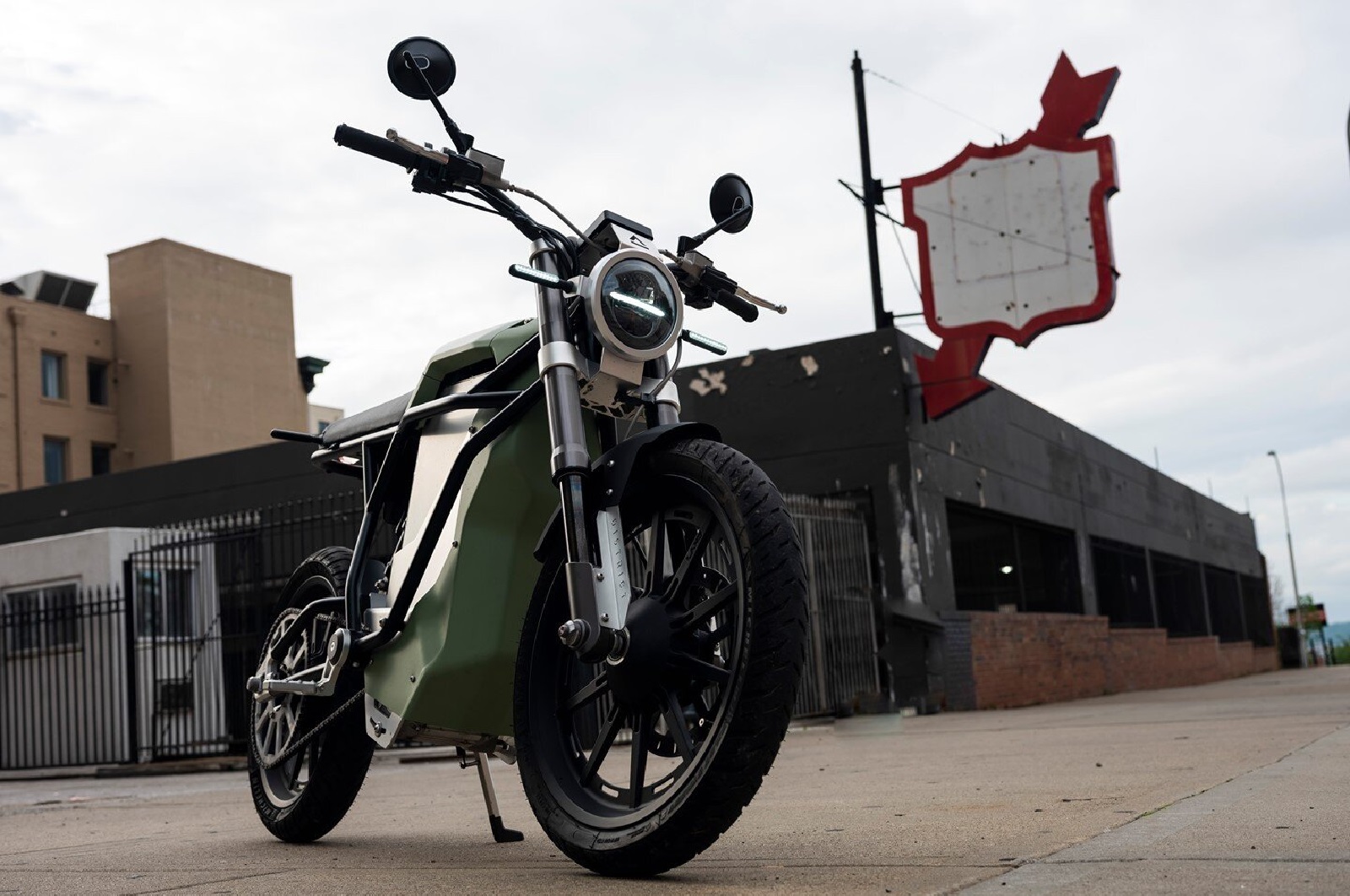 Conclusion
From what we know, Land Moto clearly care about their customers. They are currently one of few companies that allow customisation on each order, whilst maintaining a responsive support team. Their team maintain a great level of transparency, uploading updates regularly to their YouTube. Land Moto also offer a number of payment and finance options, with deposits for the "First Edition" starting as low as $100. Although the price tag may make some uncertain, riders can quell any doubts they have, with test rides available to pre-order customers by appointment.
Currently, riders can only pre-order these new models; however, we hope to see them enter full-scale production soon. Keep an eye out for these electric motorcycles, as we're sure we will see many more on the road in the future. As a team of PEV professionals and enthusiasts, we really couldn't contain our excitement for this new addition. Designs like these make us think how close we are to waving goodbye to fossil fuels and combustion engines.
Remember, these models are extremely limited and it's unlikely Land Moto will continue to customise orders once they reach full production; so grab one whilst you can. Return to our PEV news section for more developments, or leave a comment and let us know what you think of this awesome arrival!