The last week of March 2021 saw Triumph Hinckley announce 'phase 2' of their hush hush, cloak and dagger, top secret electric bike project. And unlike some other manufacturers who will remain nameless, it doesn't seem to be all blue sky, smoke and mirrors. So should you get all excited and start selling your hard-mined Bitcoins now? Well, yes and no. Here's what we know so far.
You Can't Ride It. At Least Not Yet
As you can probably tell by the preponderance of 'artist renditions' here, there's no bike to photograph at the moment. But make no mistake; this clearly isn't just another feel-good exercise to keep the EU and the environmentalists happy. And that's great news for riders like you and I. So while work has begun on the battery, frame, engine and electronics, all Triumph really has at the moment is a bunch of separate elements that are still under development and a frame that holds them all together.
Despite this, they are saying that it'll be capable of 177ps (174bhp), while torque will be a beefy but nut crazy 80lb-ft. Keep in mind that it may be capable of more than this, but probably only in short bursts. Think 215 horses, or thereabouts. Also, note the Harley-esque belt drive set-up shown above. Weight is anyone's guess at this stage of the project, but it'd be fair to say that with a motor that only weighs 15kg (33lbs) and some very bleeding-edge battery technology, it'll likely be more svelte than a scarecrow on a hunger strike.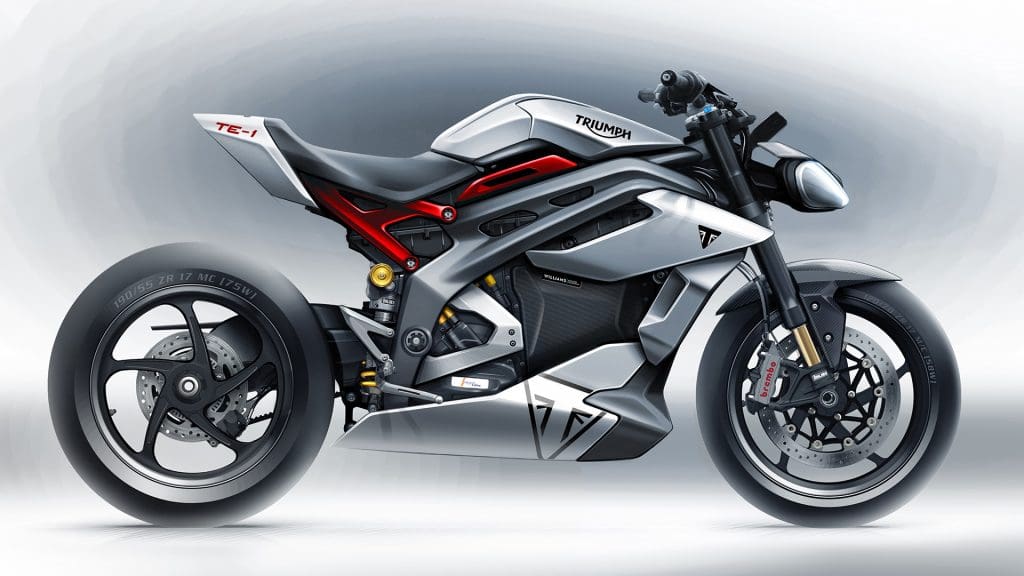 It'll Probably Be More Than One Bike
Triumph's 'Chief Product Officer' Steve Sargent chose his words carefully during the highly scripted Triumph press video below. In it, he was very clearly talking about the new tech being a development 'platform' – manufacturer marketing speak that belies their intention to use these new electron-packed bits and bobs in more than one bike.
And why wouldn't they? If it proves successful as a superbike, detuning it for less speed and power will make for a super-usable, more city-focused e-bike with an epic range. Besides, one quick look at their nine-model 'Modern Classics' range should tell anyone that they aren't shy of busting out a bunch of similar bikes should their customers warm to the idea of electric propulsion. Expect an e-Bobber and e-Bonneville sooner than you can say 'two-wheeled Tesla'.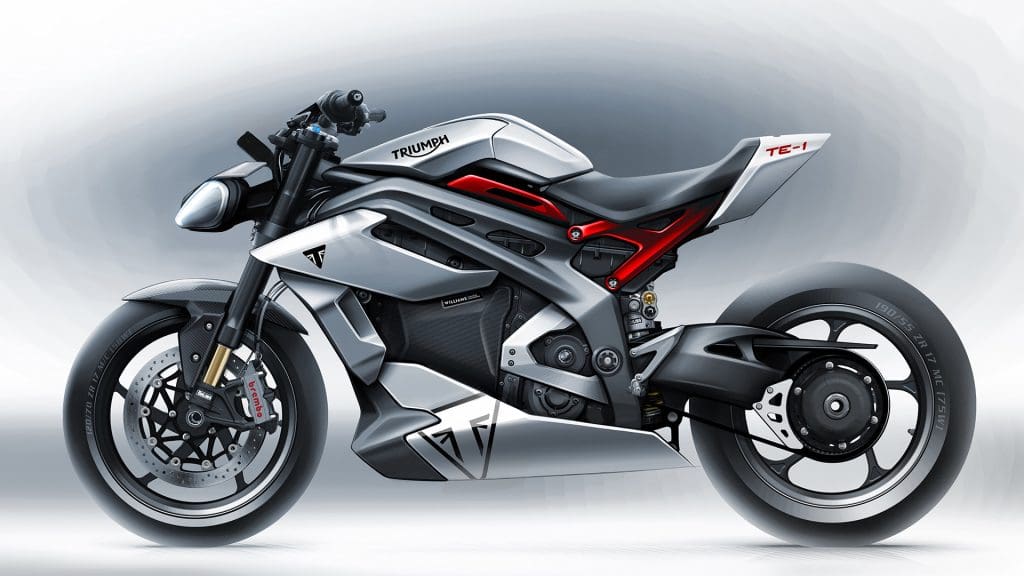 It's A Team Effort
In a similar way to Harley's approach for their Livewire, Triumph has teamed up with specialists in the cutting-edge tech needed to make the bike a reality so they can get where they need to go quickly. Standing on the shoulders of giants and all that. In a list longer than your already-stretched throttle arms, the project has F1 legends Williams Advanced Engineering working on the battery and a 'control unit', Integral Powertrain Ltd. are developing the motor and inverter, with the University of Warwick doing all the modeling and simulations.
Even the British Government has jumped on board and if you know anything about politicians, they don't do that unless the project has every possible chance of succeeding and/or making them look like they've actually done something useful. It's clear that this ain't a bunch of Triumph engineers banging parts-bin spares together after hours over a six-pack.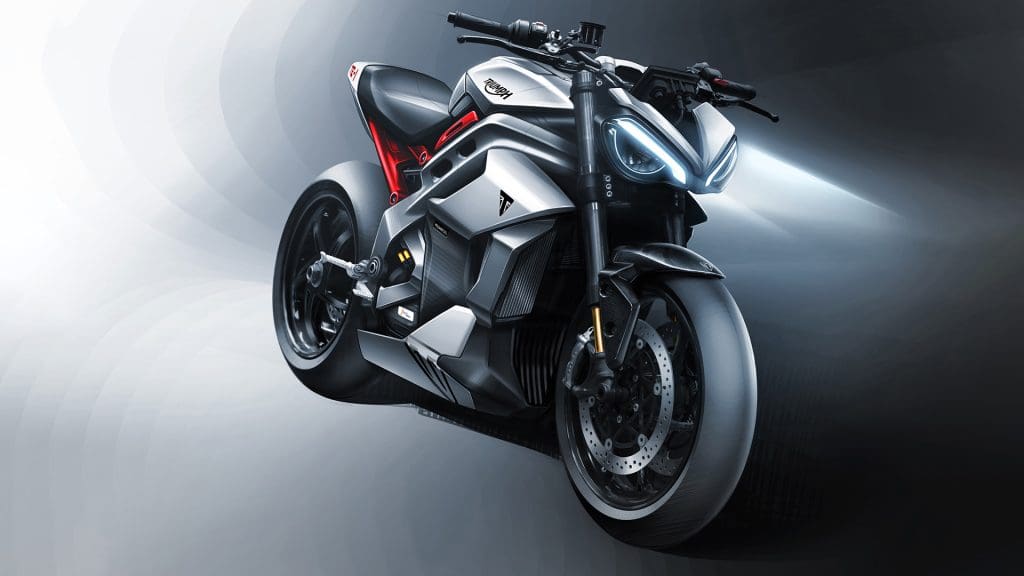 It Will Feel Familiar
Despite the massive leap in tech required to make this bike a reality, it's a safe bet that it won't ride like something that's just been rolled out of an alien spaceship. Triumph knows that test rides sell bikes, and if prospective buyers are freaked out by unfamiliar controls or weird-ass power delivery, they'll probably opt out of the experiment there and then.
Expect their engineers to go to great lengths to get that 'user experience' as close as possible to a modern, internal combustion sportsbike to ensure that possible owners are wowed by its usable performance and slickness and not by how weird it seems to us stoneage petrolheads.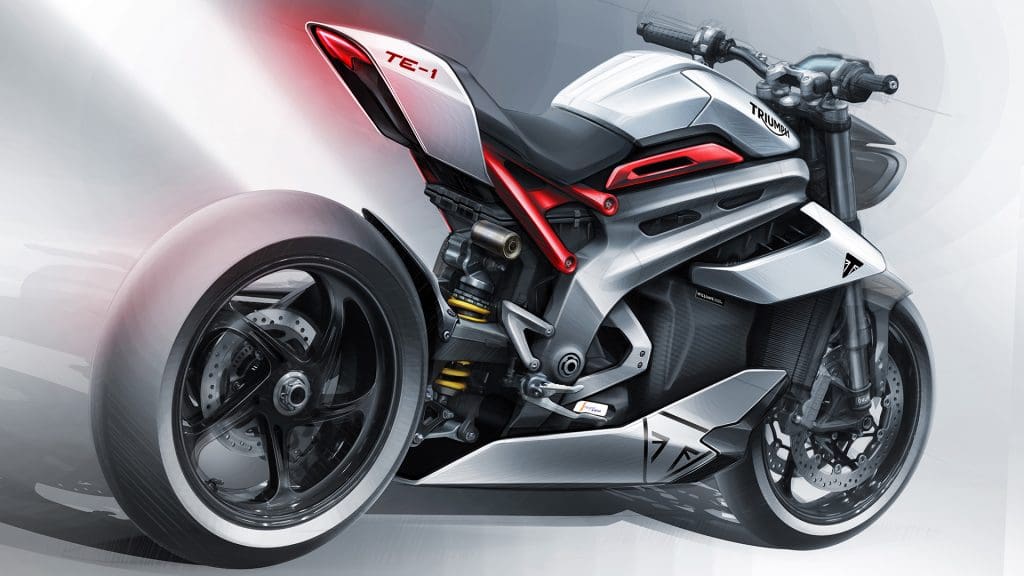 The Powertrain Could Power An e-Racing Class
In more sneaky, 'reading between the lines' insights, we've noted that Williams' Dyrr Ardash – their Senior Commercial Manager – said that the bike is being developed primarily 'for track-based riding'. This, along with the F1 race-bred Williams' involvement in and of itself, screams racing to anyone with twisty wrist syndrome.
Add this to the fact that Triumph have made much of their contract to supply the triple-pot engines to Dorna for Moto2, and it's not too hard to conclude that something may be afoot. Can you imagine the market share they'd garner by being the first manufacturer with an electric bike that was winning trophies at your favourite race circuit? As they used to say in the 1970s, 'win on Sunday, sell on Monday'.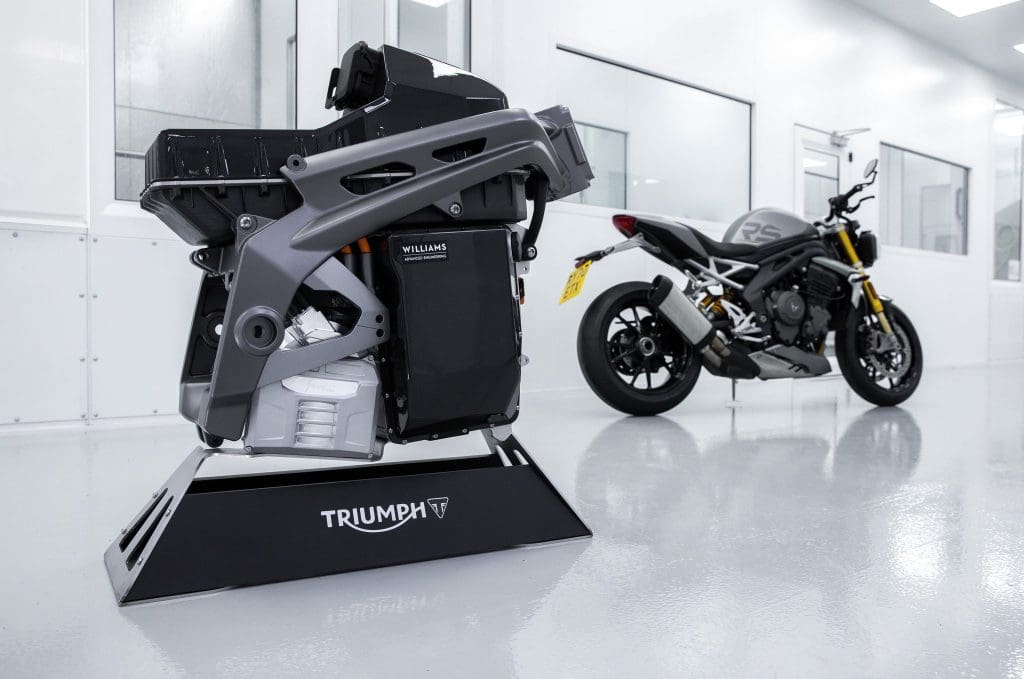 This Isn't Off-the-shelf Tech
Even a cursory browse of Triumph marketing guff will give you a very definite impression that what they are doing here is intended and designed to be a kind of 'great leap forward'. A manufacturer that was just wanting to tick a box wouldn't be pulling in a cast of thousands, increasing the project's budget, complexity and the likelihood for it to go pear-shaped. Hell no. If that was their intention, they'd just be ordering off-the-shelf gear and stuffing it into an existing chassis.
But the involvement of this broad team, along with the British Government itself, smacks of a manufacturing initiative that will likely see a raft of benefits for the country all hinged off the new technology being the envy of the world. Of course, these kinds of 'nation building' projects can be a double-edged sword (British Leyland, anyone?), but hey – we're kinda hoping that they kick some big goals here for the sake of motorcycling in general.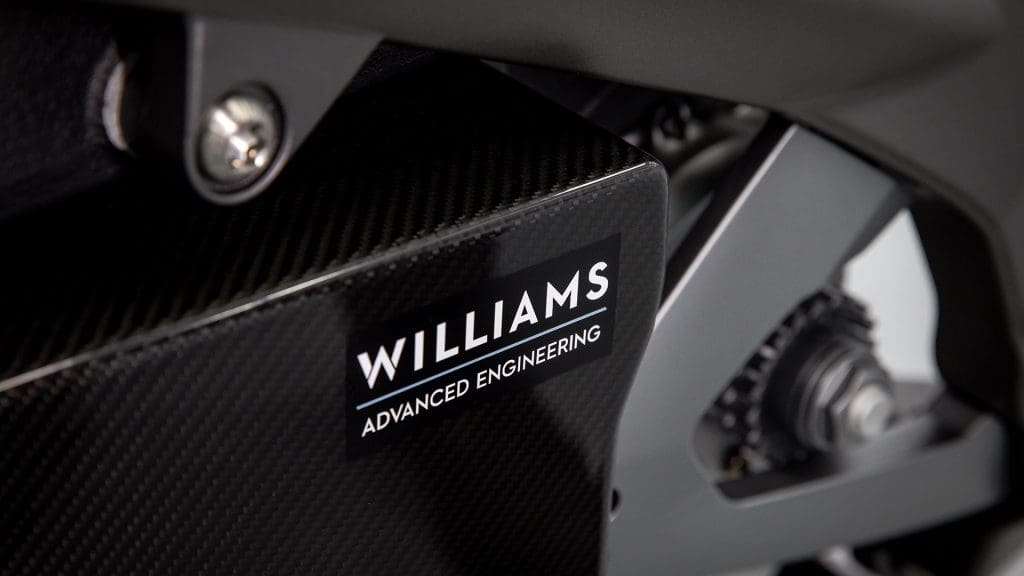 It Looks Like A Speed Triple
Don't put too much thought into the drawings you see here. As anyone who has done any design work in the past will tell you, what you want something to look like at the start of a project and what it ends up looking like are most often two very different things. Just think of how cool car concept art looks before the designers have to worry about annoying, real world things like budgets and safety.
What's more concerning is how restrained the drawings seem. If they saw fit to keep things so conservative at this early stage, maybe that's an indication as to where their heads are at in the long term. If there is one thing you can say in support of Harley's expensive Livewire, it's that Harley decided to start with a blank sheet of paper and let their imaginations run wild. The end result there was a bike that – to our eyes at least – looks as good as any Harley has produced in recent memory. Maybe Triumph should take a leaf out of Harley's book here and create some lines that are as innovative as the bike's proposed underpinnings?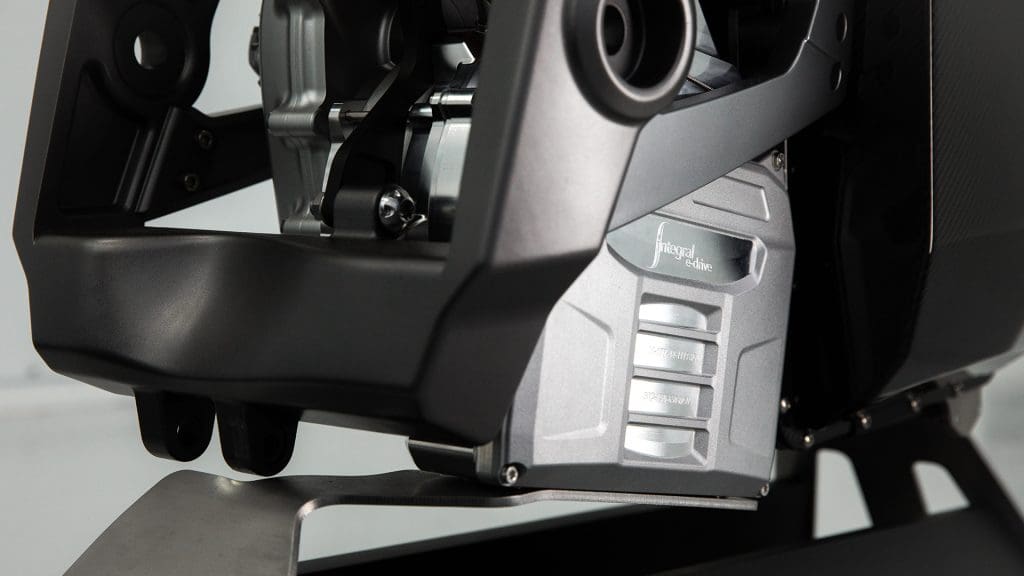 The Next Thing We'll See Is A Working Prototype
Phase one of the project was little more than a press announcement, phase two is the reveal of the images and tech you see here. But more excitingly, phase three will be a real, honest-to-goodness test mule motorcycle. Now what's interesting here is that Triumph have said that this bike will be revealed by the end of 2021. COVID delays aside, you'd assume that we won't get to see the zip ties and duct tape' alpha prototype of the bike, and eight months isn't enough time to build something from scratch, so it may be possible that there's something silently running around the test tracks near Hinckley in the dead of night right about now.
While you're waiting to see what they come up with, feel free to take a look at the video Triumph released, below. Yes, we know that it's a bit cheesy and that the male model presenter does sound a whole lot like Top Gear's Richard Hammond, but if they do manage to pull this off, we'll be more than happy to forgive them for a little stiff acting and questionable casting choices.
VISIT TRIUMPH'S OFFICIAL TE-1 WEBSITE
*All photos courtesy of Triumph UK