Review Summary
Much like the Klim Marrakesh Jacket, these pants offer incredible comfort, Level 1 CE protection, and provide ample cooling to riders who are looking for a bargain in the mid-range priced textile pant segment.
Pros
Extremely comfortable
Level 1 armor at all potential impact areas
Excellent fit, true to my normal pant size
Offered in short, regular and tall pant length
Heat shields in lower calf area for smoker bike riders
Pricing is a good option for mid-range priced textile pants
Cons
No armor in the tailbone area
Could use a rear zippered wallet pocket although this would compromise crash impact in the seat area
KLIM Marrakesh Textile Pants Image Gallery
Like many including myself when I first began riding, I had no issues spending money on a jacket. Back in the day how it 'looked' seemed more important to me than how much protection it offered. Textile riding gear was not a big thing and the only company who 'seemed' into 'that stuff' was Aerostich. But it was only after I had been riding for 10 years that I decided that wearing a leather jacket with jeans with a normal rain hoodie just wasn't cutting it for commuting. So I invested in an Aerostich Roadcrafter one-piece suit and wore it for a good 15 years.
Then came a period in my life where I was raising and supporting two kids so motorcycling went on the back burner. My father taught me the following in order of ascending expense when I was young: 1. Anything that uses gasoline. 2. Girlfriends/wives 3. Kids – Yep, dad was right as always!
But as soon as funds became available I got back into street riding and wanted to try the Darian two-piece line of Aerostich suits. And man they worked great in the rain as well as during the summer. After I stopped street riding and spent my money at the racetrack the poor Darian suit hung in my garage.
20 years later and 20 pounds heavier I got back into street riding after purchasing a Zero DSR. I could still manage to get back into the Darian jacket but not the pants. I decided to look for what was new, heck someone had to have a suit as good as a Stich by now… I began reading about different brands and many recommended some company called KLIM. WTF I'd never even heard of them before. So after reading I got out my credit card and ordered a pair of their Marrakesh pants.
After having owned them for six months and ridden in them during the early summer of 2021, they are my favorite riding pants.
KLIM Marrakesh Pants Design & Aesthetics
When they arrived I was surprised I had purchased a pair of riding pants that don't go over my street clothes. But man they are handsome pants especially compared to my previous riding pants. Not overdone with tons of pockets either.
There are basically four pockets, two slash pockets that are very deep and wide along with two zippered pockets on each upper thigh. Having them in this position makes it very easy to store/remove items while sitting on the bike. With your legs bent and even with gloved hands they provide easy access.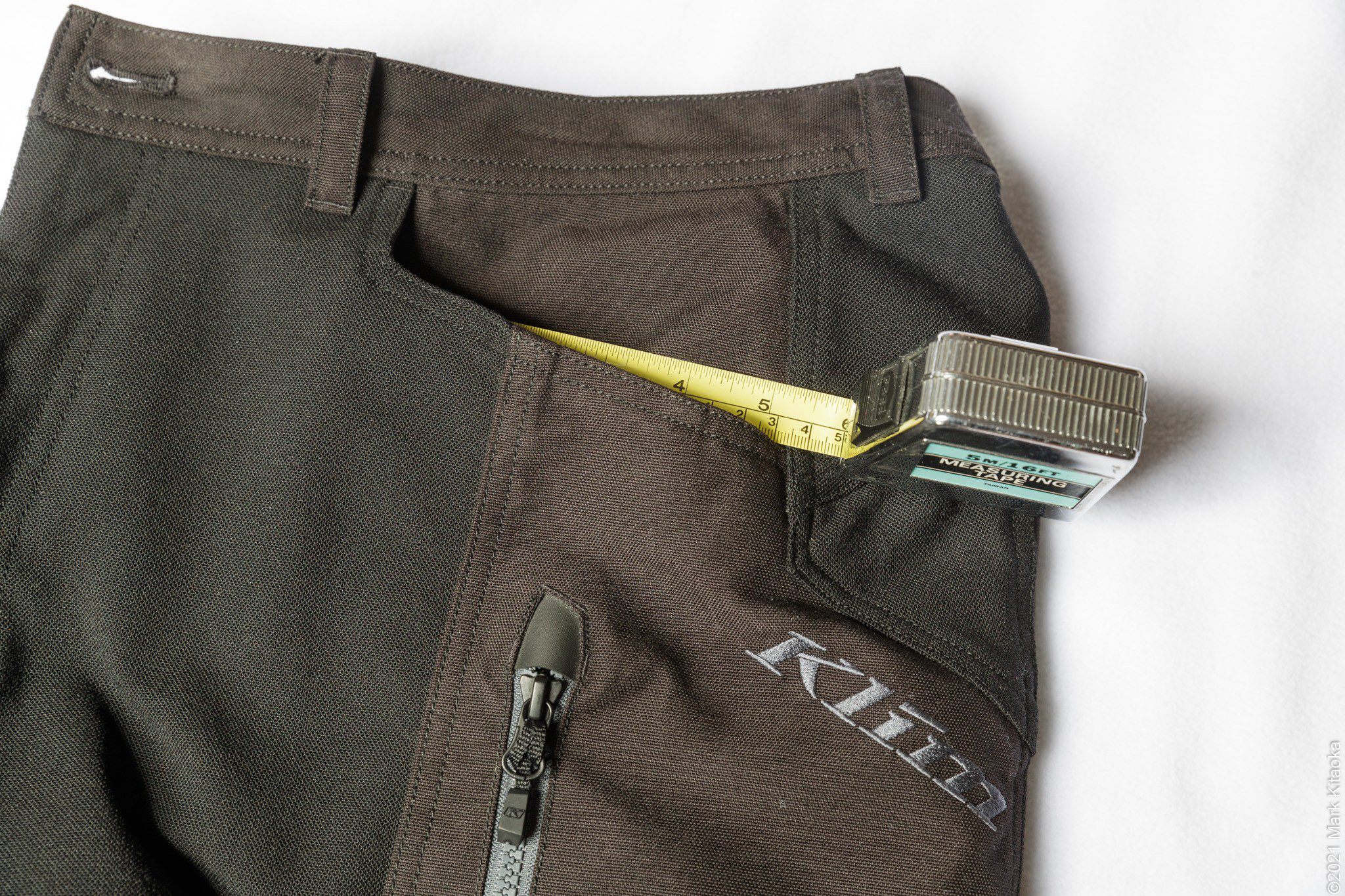 The two slash pockets are larger than Levi jeans pockets and much deeper too. I never worry about my wallet or keys falling out as I ride.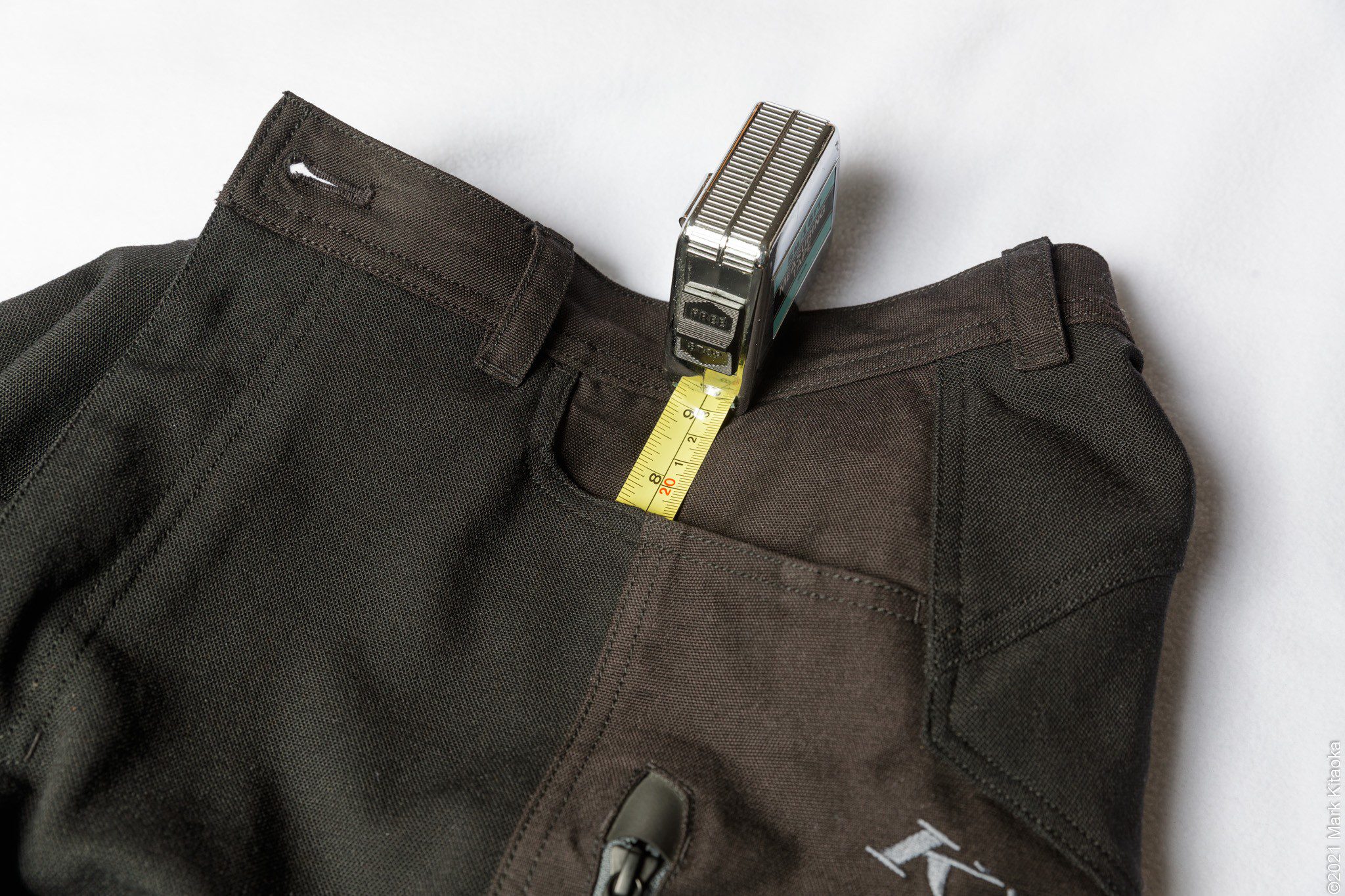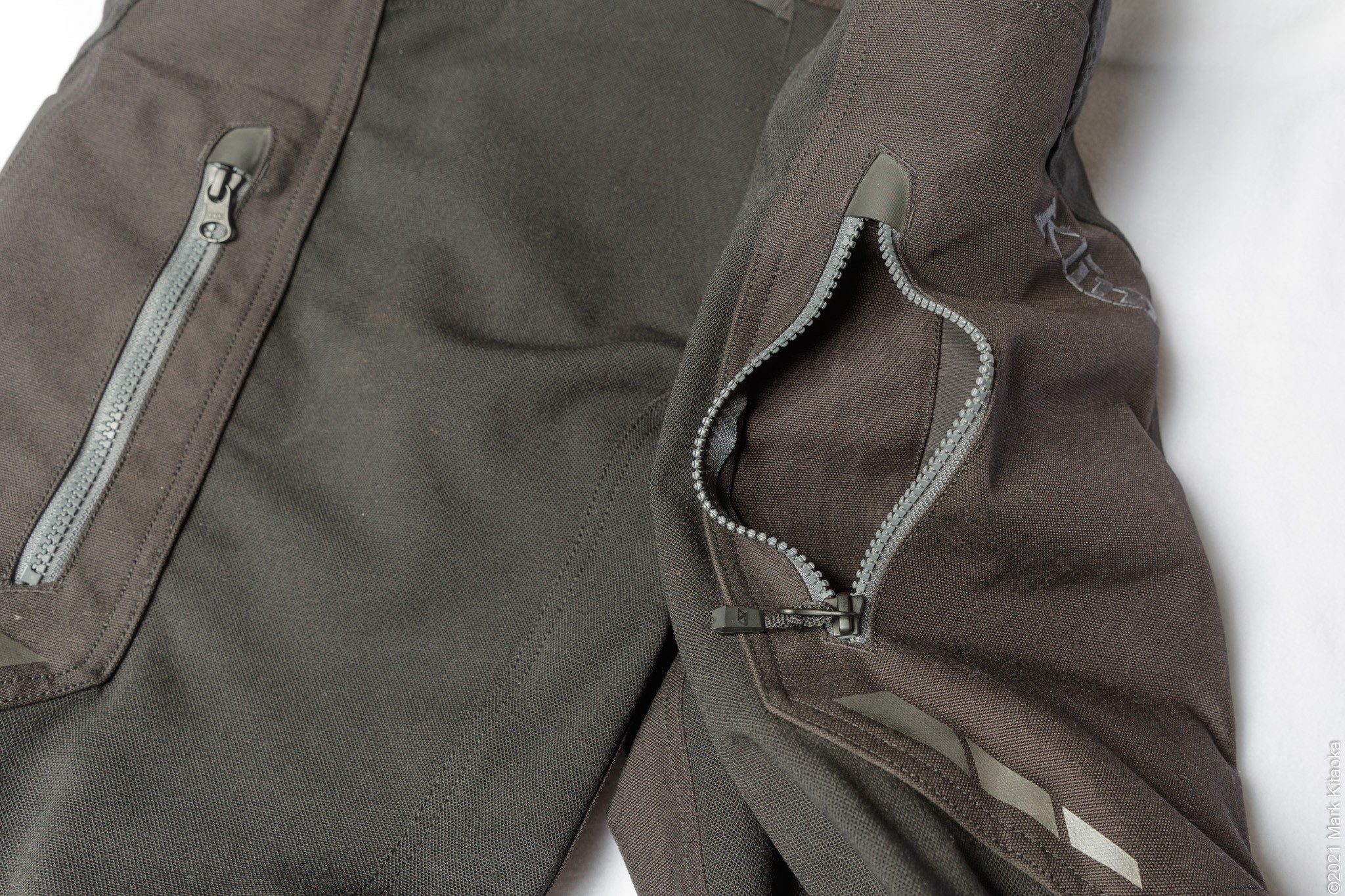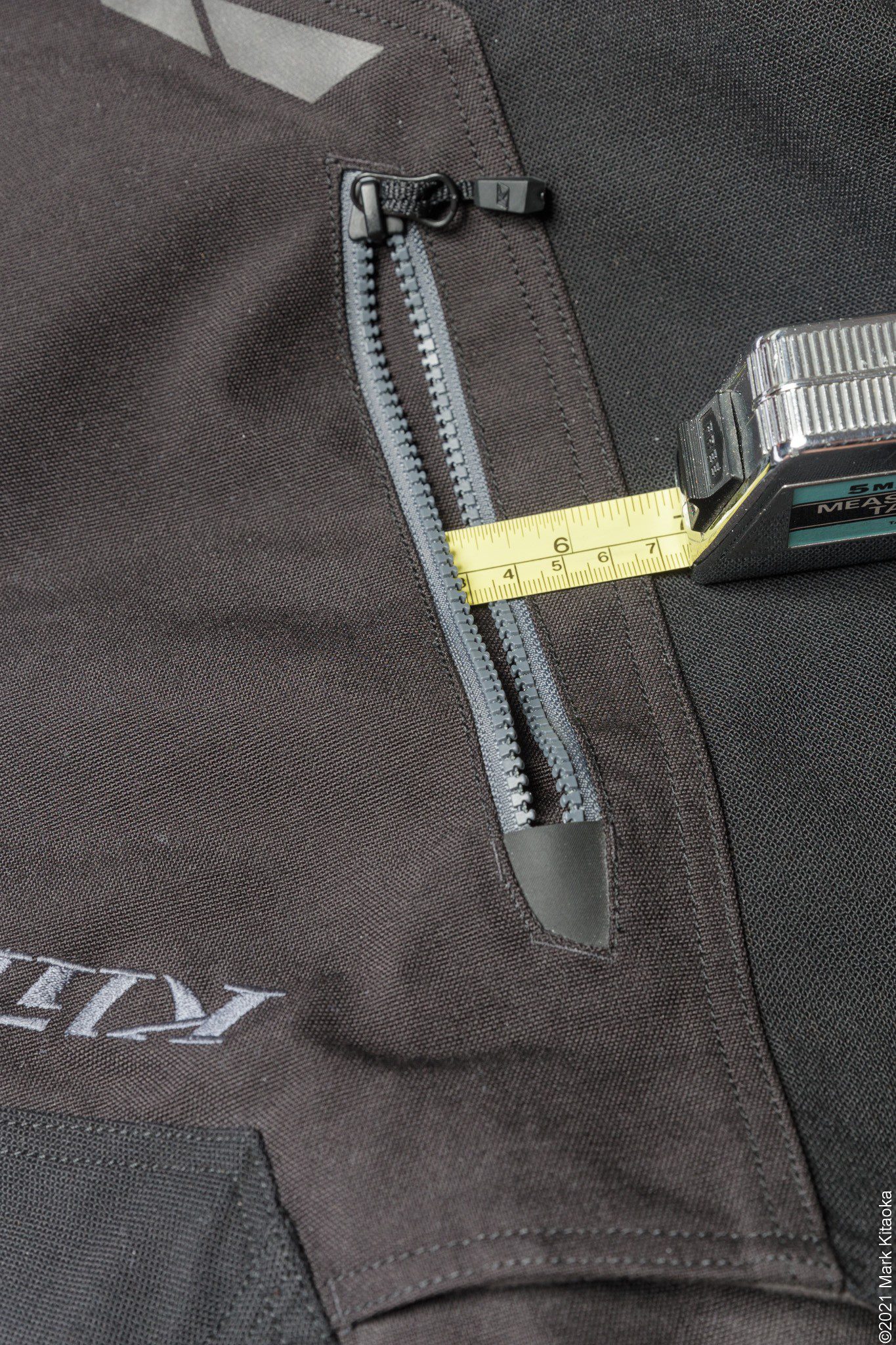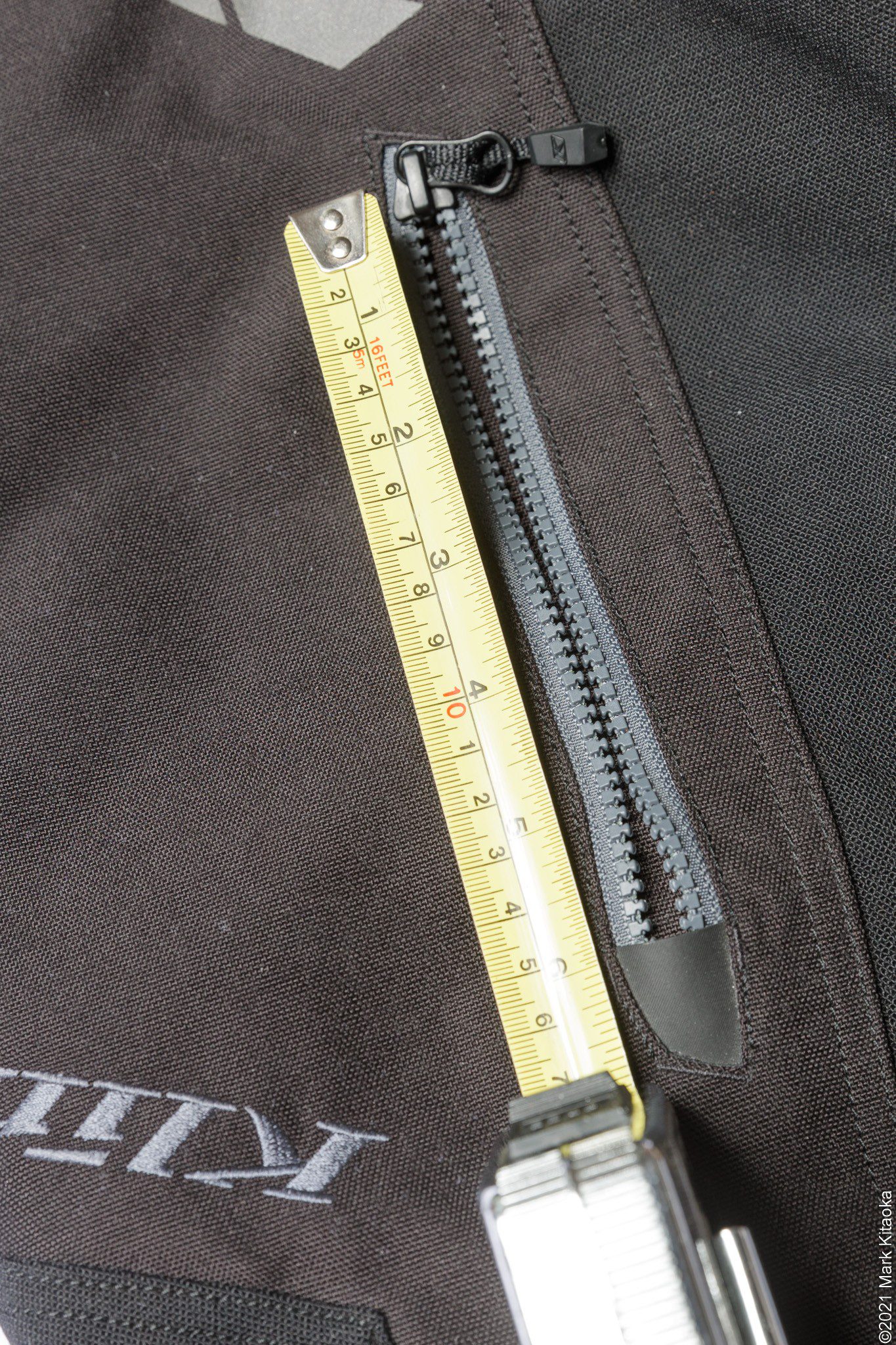 There is a fifth pocket kind of like Levi's 501 5th pocket, but NOT located inside of the right slash pocket. Instead, it is located on the right side of the outer hip portion of the pants. At first I wondered what the hell it was for. Then one day I found myself simply slipping my single ignition key into it. Then on another day some cash.
This is a very clever and handy little stash pocket. KLIM calls this the HYPALON THIGH KNIFE POCKET. I imagine if you have fat digits it may be a little tough to get your fat finger in and out of it. I want to say it feels like some sort of vinyl or rubber since I have no idea what Hypalon is. Not sure but I have no worries about it ripping or stretching out of shape.
Very handy and the pants are both handsome and functional. Unless you're looking for 1500 military-style pockets where I forget which pocket I put what in, these are just right in my mind.
As with so many items, it's the small attention to detail that are important for the end-user. Small items which make a big difference in the actual usage of a product show thoughtfulness went into its design. Here are two examples:
A zipper pull on the fly….really Mark why is that a big deal? For anyone who has survived a long stretch of tarmac or dirt trail, having to 'go' means you need to go NOW. And this simple addition means I can either keep my glove on while I go for my zipper or rip off the glove and find the fly NOW.
Then there's the hanger which KLIM supplies with their gear:
And if you're wondering what the big deal is well….riding pants are not like your khakis or dress pants. They tend to be heavy and the Marrakesh are heavier than normal pants. Those silly ass plastic hangers don't make it and the wood ones are OK but not nearly as good as these metal strong clip hangers sent with the pants. Each and every time I hang up my riding pants I literally say "THANK YOU KLIM!"
KLIM Marrakesh Pants Build Quality
I have not included photos of the stitching or the seams on these pants. Suffice it to say that I would feel very comfortable that these pants would not fall apart in a crash. The seams and the thread quality is top-notch and even as well as consistent. The materials KLIM lists using in the Marrakesh pants are as follows:
KARBONITE™ MICROMESH 4-WAY STRETCH 1000D CORDURA® CHASSIS
STRETCH WOVEN MATERIAL FULLY POROUS FOR AIRFLOW
HYDROPHOBIC COATING REPELS WATER AND DRIES FAST
3M™ SCOTCHLITE™ C790 CARBON BLACK REFLECTIVE MATERIAL
BIOMOTION RECOGNITION
DURABLE 750D CORDURA® FABRIC FOR SEAT, CARGO POCKETS, CUFFS, HEM
BURN PROOF KEVLAR INSIDE KNEES FOR HEAT RESISTANCE
YKK® ZIPPERS
CE AA RATING CERTIFIED TO EN 17092-3
All of the materials used in the pants are highly rated. Keep in mind that these pants are not normally used in heavy rain or severe winter seasons. I don't really need to say more other than the build quality gives me confidence should I go down either on the road or dirt. No they're not as protective as my $2.5k custom road race leathers, but then again not much is.
KLIM Marrakesh Pants Comfort and Fit
I normally wear a size 34/32 Levi 501 pants. My inseam is 30.25 inches. I'm 5-8 and weigh 165 pounds. Based on my size I purchased the KLIM 34 short size in the Marrakesh pant. And they fit me perfectly.
Keep in mind that the waistband does NOT stretch so if you're hoping for some give in the waist it's not there. Think of it like jeans that don't stretch over time in the waist. There are belt loops which fit a 1.5 inch wide belt. Two belt loops are located in the very back which is much appreciated as well. I use an older Aerostich nylon buckle belt on mine from my older Darien pants. I like the way the buckle rapidly clicks and unclicks when I need to undo my pants…you know for urgent number 1 or 2 situations. If you never have the need for that I call BS. And now that I'm on the subject of eventually 'soiled pants' these are washable. Just remove the armor and zip up the zippers.
These are not over-pant riding pants. I wear them with just normal underwear. I have worn a thin thermal layer underneath when I think that the weather may be cooler than normal. The pants do flow air but not like mesh. The combinations of materials they use allow heat to escape from the leg and crotch area well. I tend to run warm normally and these never allow me to get sweaty or overheated. Even in 90-degree weather.
I live in the SF Bay Area and they maintain my core temperature during Spring Fall and early Winter. Why did I not say summer? Summer is the coldest time in San Francisco! I laugh whenever I see tourists in shorts and tank tops in the City during the summer; I know they are from out of town! LOL But seriously during summer too in cities OTHER THAN San Francisco these pants are very comfortable.
I wanted to state an observation here with the KLIM Marrakesh line of clothing. In hanging out with people who grew up in high temperatures; Africa, South America and the Middle East, I've always noticed they do not wear tank tops and shorts. They are always covered with sleeves and different garments than us American types.
When I asked my pal Reggie and his wife Regina about this, they told me that the sun and wind sap moisture from our bodies when directly exposed and by keeping skin covered natural cooling occurs as our sweat evaporates under our clothing. The moist clothing apparently acts like a swamp cooler. Of course, in very high humidity, nothing helps.
This may explain why I've noticed my Marrakesh pants and jacket cool me differently than the full mesh or vented motorcycle gear I own and have worn. Just an observation that is tough to describe until you actually experience the feeling.
These are by far the most comfortable pants I own other than my covid era sweatpants! Even with the armor which I talk about later they are damn comfy. Some may say "Oh sure Mark, you're riding a Zero DSR that can only go so many miles before you stop." Uh OK, I hope you find comfort in your assumption. Street riders measure distance by miles, dirt by time….now you get it? So when I'm riding to a trail/fire road then riding on the dirt and then riding back on the tarmac the pants are comfortable. We're talking about 2 to 2.5 hours. By that time I need some water, take a piss and just get off the bike. This brings me to the next point.
These pants are incredible to walk in. No bunching, no binding, no problem. I have read some others complaining about the lowers 'shuttering in the wind' but I have not found any such issue. I wear a pair of Sidi Mid Rise boots and I've not noticed any issues at all. And since I ride electric, I'd certainly hear any flapping noises or feel them on my calves.
I cannot attest to the heat shields KLIM places on the inner portion of the calves because well….my bike doesn't produce heat that needs to be mitigated by heat shields. But it's nice to know KLIM addressed that issue for smoker bikes! KLIM lists the material as "burn-proof kevlar inside knees for heat resistance."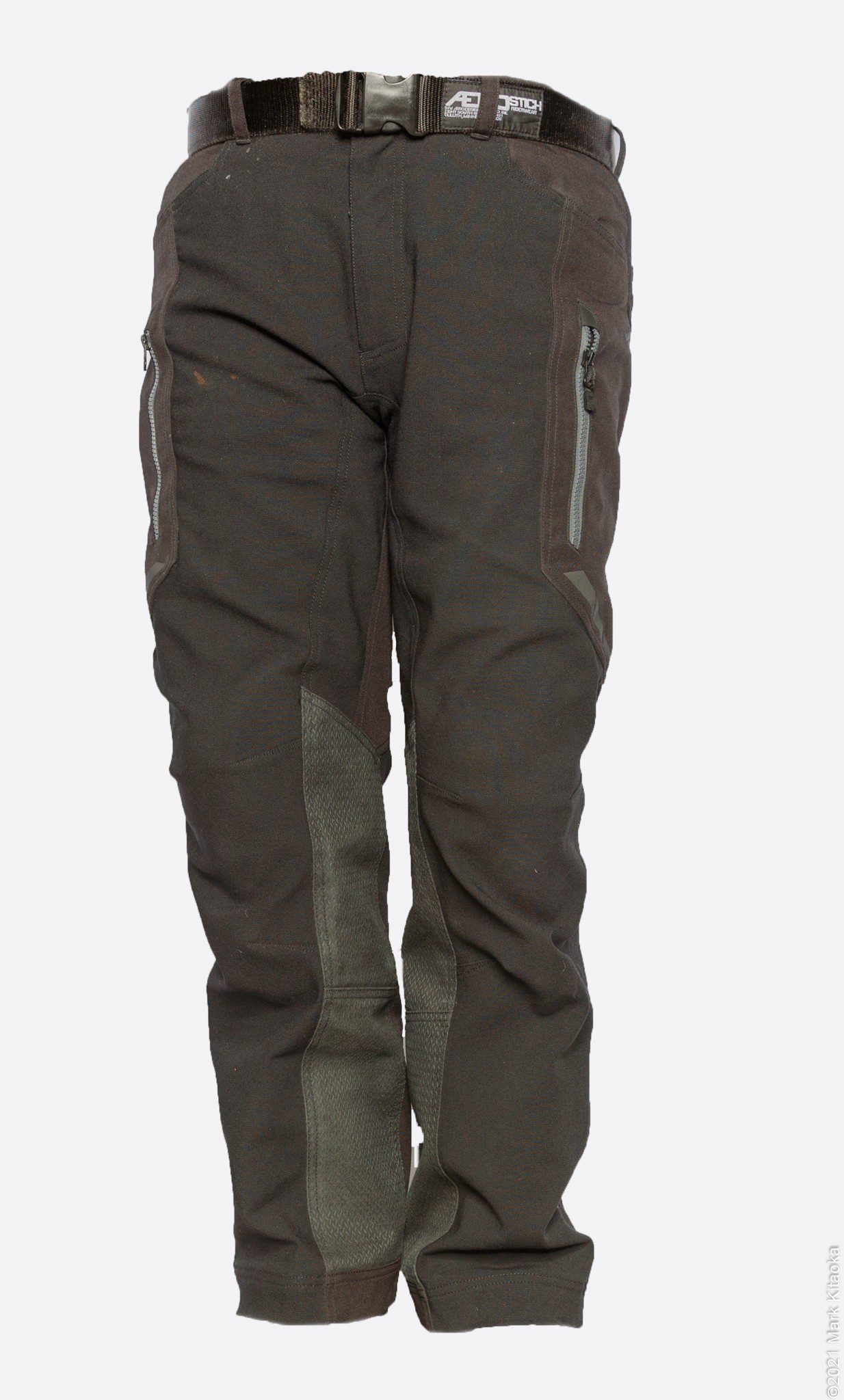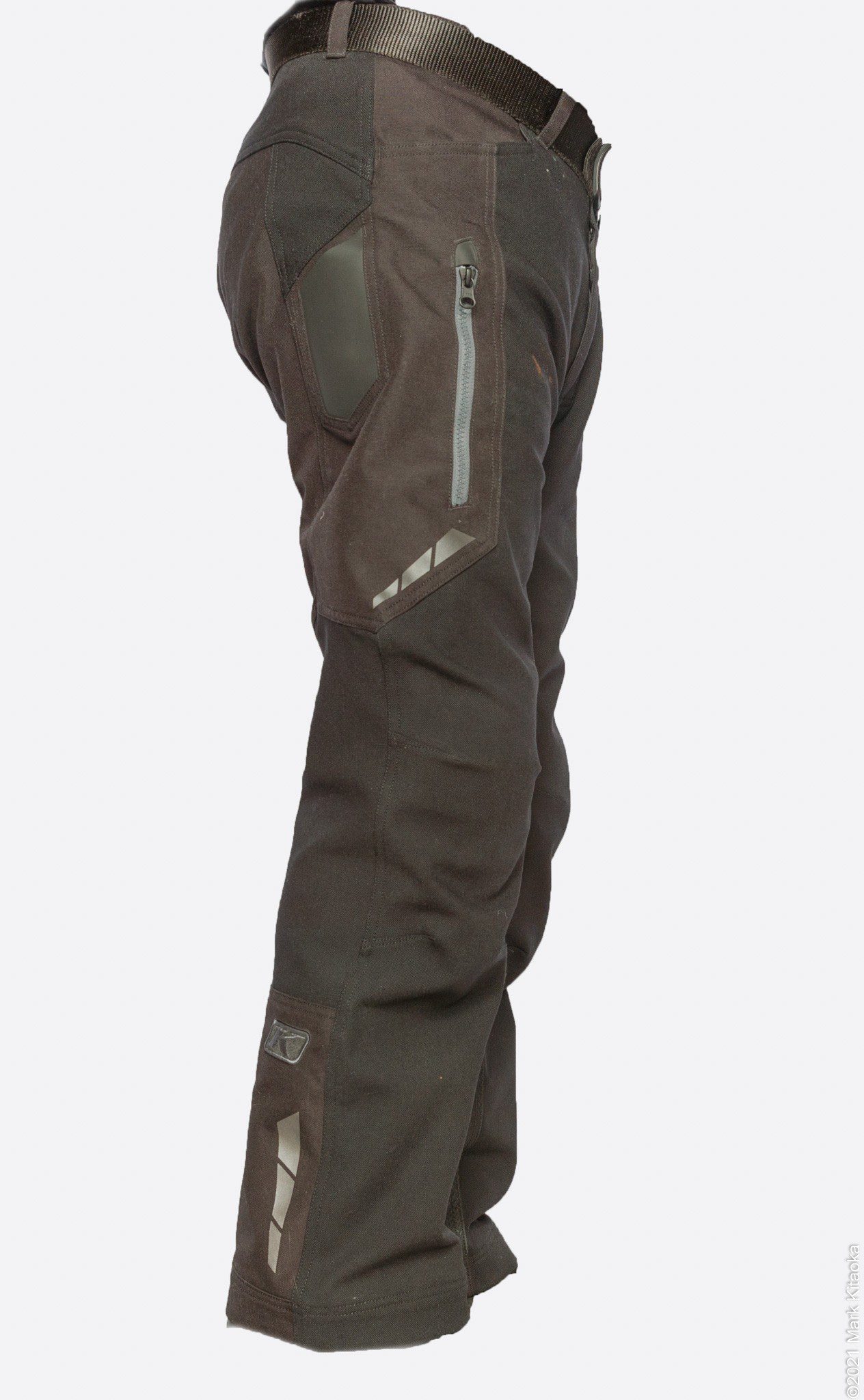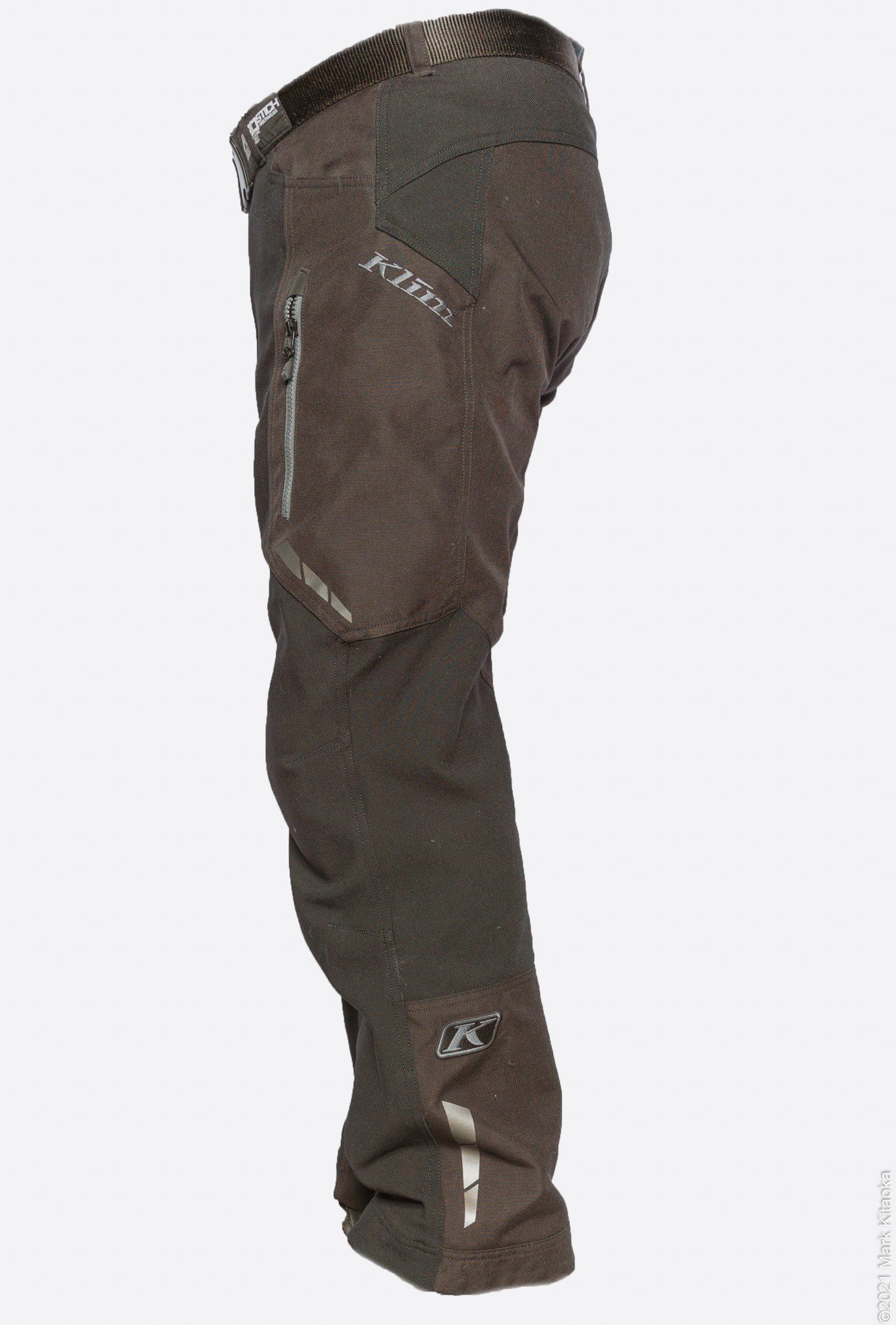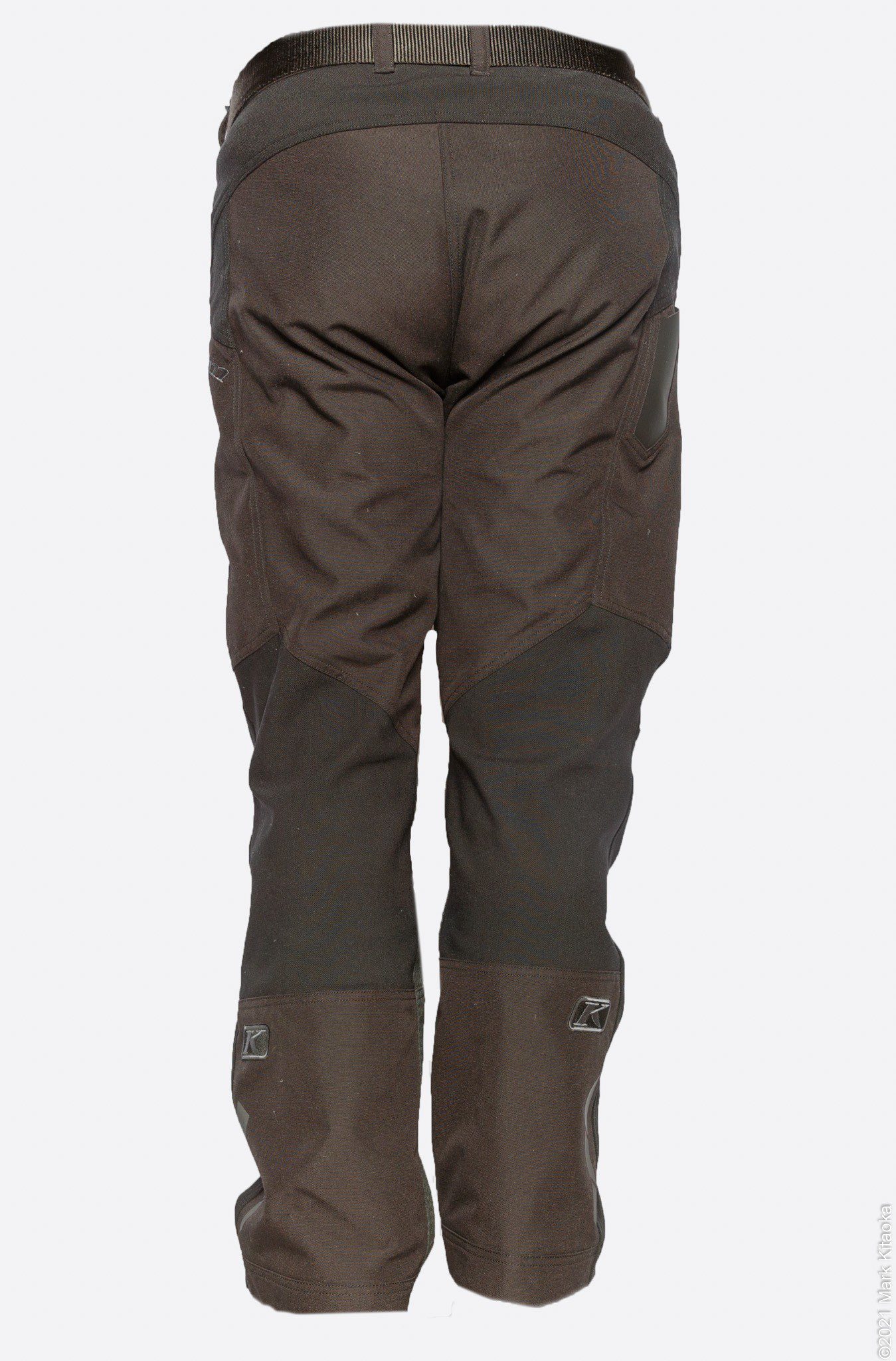 Extra material is added to the crotch area to improve wear. I imagine it also helps your bike's hygiene in those "OH SH!T" situations as well. Never had any of those? LIAR LIAR PANTS ON FIRE!!!
KLIM Marrakesh Pants Protection
The Marrakesh pants utilize D3O® Level 1 Armor at the hips and knees. The armor is all vented which allows air to flow through them.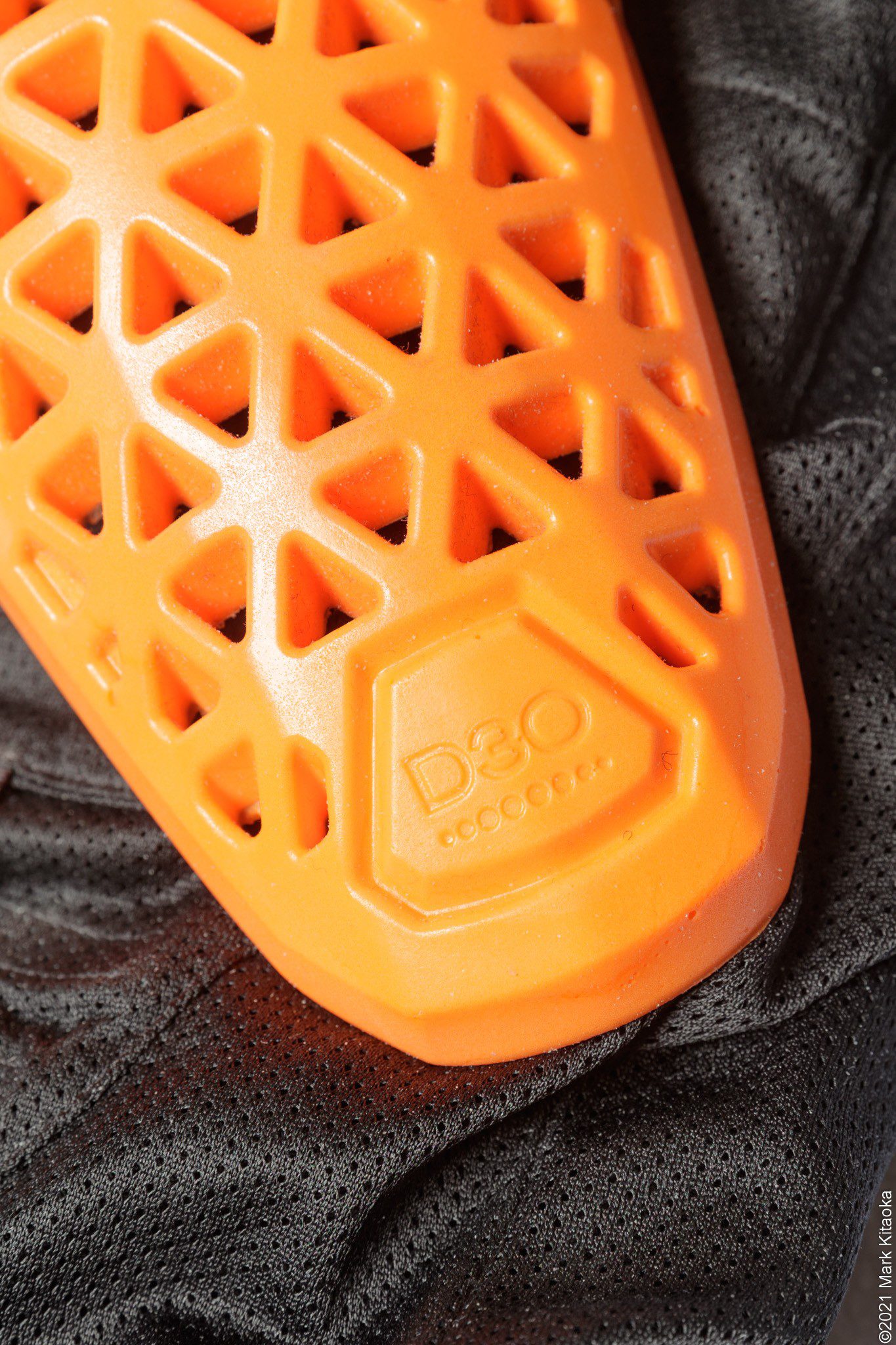 The hip armor pockets do not allow for adjustment for placement but the knee armor pockets do.
Hip D3O® Level 1 Armor
Here are some photos of the knee armor pockets and how they allow adjustment up and down the knee.
Knee Armor
Sewn into the top of each knee pocket which holds the armor in place are two horizontal Velcro strips. The strips DO NOT attach to the armor itself, but instead allow you to secure the strip in place against the inner fabric to adjust its location vertically. The Velcro creates a 'block' by adhering to the fabric so that the armor is located higher or lower in the knee area depending on the user's preference.
I tend to like my armor higher since through firsthand experience. I historically know the way impact affects my riding gear. Although I have not (yet) crash-tested the pants, I believe this method will hold the armor in place more effectively than Velcro on the pad itself. Of course, time and experience will tell.
Verdict
Each person decides for themselves the value of any product or service. For the vast majority of riders effective protection is a necessary and welcomed element of long-term riding. My protocol has always been the right tool for the right job. The KLIM Marrakesh pants are the right tool and an excellent value for me. Comfortable means I look forward to wearing them, which means I WILL wear them when I ride. $369.00 is a bargain for this level of comfort and protection. I view these pants as mid-level in terms of cost. I own riding pants that were #60.00 and others that cost over #600.00. So these fit somewhere in the middle of my riding pants arsenal.
One of the issues I have experienced with riding pants is the level of heat they tend to retain during a ride. The Aerostich line can be left snapped at the ankle and completely unzipped up the leg which flows air like you're riding in shorts. BUT in the event of a get off you'd have no protection. Like life, all of the riding gear we use is a compromise between safety and protection. The Marrakesh pants offer the best balance I've found in my years of riding.
Nope, I have not crash-tested them YET, but I'm confident after having my share of track crashes that they will hold up and protect me well. Safety gear can be a hassle and uncomfortable which is why so many sacrifice safety for comfort. Heck, I don't blame anyone for that trade-off. I'd much rather ride only in a t-shirt and jeans. Having to pull on leathers in 100+ degree heat and the track temp was 130F ain't no fun! But road rash and broken bones or worse isn't fun either. We all had a saying we'd tell students during the rider's meeting when we were talking about safety gear at the track:
"Tell you what we only require safety gear like helmets, gloves, boots, back protectors, one-piece leathers when you know you're going to crash. So if today is not that day, ride nude for all we care. We just don't wanna watch."
So these pants are as close as I'm comfortable wearing that balances comfort and protection. My personal value rating for these Marrakesh pants is a 10/10 based on price, comfort and level of protection.
Pros
Extremely comfortable
Level 1 armor at all potential impact areas
Excellent fit, true to my normal pant size
Offered in short, regular and tall pant length
Heat shields in lower calf area for smoker bike riders
Pricing is a good option for mid-range priced textile pants
Cons
No armor in the tailbone area
Could use a rear zippered wallet pocket although this would compromise crash impact in the seat area