January is a great time to buy a new motorcycle as companies try a raft of incentives to shift stock not sold over the Christmas period and make way for new models.
Suzuki was the first to offer discounts in the form of free on-road costs on all Hayabusa and GSX-R sports bikers and Boulevard cruisers.
That includes 12 months' registration, Compulsory Third Party (CTP) insurance, stamp duty, dealer delivery and freight charges.
The offer until the end of February is on all GSX-R models (600, 750 and 1000) as well as all three Boulevard engine capacities for the classic 'C' and muscular 'M' models, including the 800cc C50 and M50, through to the massive 1800cc Boulevard C109RT and M109R Black Edition. (See the ads at the side of this page.)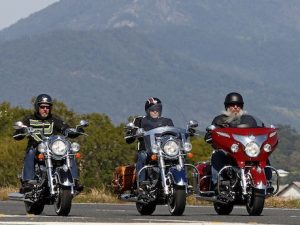 Victory has also offered free on-road costs on all its 2014 stock while sister company Indian offers the same on all new and demo 2014 Indians.
Harley dealers are also doing individual deals on available 2014 model showroom stock, so you'll need to check out what's left at your local dealer.
Aprilia and Moto Guzzi have also announced "huge savings on all 2014 stock and advise customers to contact stores for local deals.
Stand by for more great motorcycle discounts in the next few weeks of January*.
Other great times of the year to buy new and demo motorcycles are June and December.
These are the bonus months when motorcycle companies offer big discounts, free on-road costs, free accessories, "cashback" incentives, or a combination of these.
In June, motorcycle companies and dealers try to clear stock to balance the books at the end of the financial year (EOFY) and in December they offer pre-Christmas incentives to cash in on increased trade.
* Since publishing this story, BMW and Honda have offered incentives up to the end of March.
BMW is offering rideaway pricing on the G 650 GS ($9,990), G 650 GS Sertão ($10,990), F 700 GS ($13,490), F 800 GS (16,990) and F 800 GS Adventure ($18,990).
Honda is offering $500 "Honda Dollars" with the purchase of the CB500F which can be used at the dealership on accessories such as helmets, gloves and jackets, for servicing, or as a credit toward the motorcycle.