The auctions of two Indian Chief Vintage custom-painted Jack Daniels motorcycles has helped raise a quarter of a million dollars for charities in Australia and the US.
In June, an Australian online charity auction of another limited-edition Jack Daniels Indian Chief Vintage raised $50,700 for the Black Dog Ride. The BDR raises awareness of mental health issues.
The prototype Jack Daniels bike has now fetched a surprising $US150,000 at the Barrett-Jackson Las Vegas auction to benefit military vets.
At today's currency that's almost $A200,000 which is a bit of a market up from the retail price of $31,995. The funds raised will benefit Operation Ride Home which assists active duty US military personnel in traveling home to visit their families.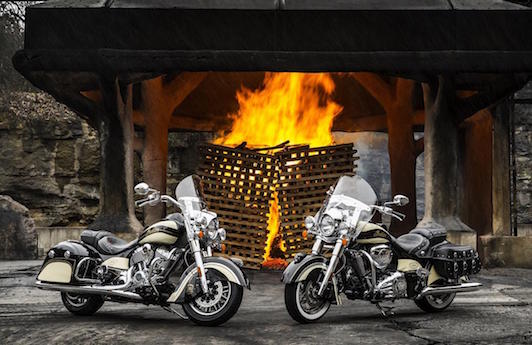 They were two of 150 special limited-edition Jack Daniels versions, along with 150 of the new Indian Springfield also released in JD colours which sold out in one day.
"It's fantastic to see these two great brands partner for such a worthy cause," said Steve Menneto, President of Motorcycles for Polaris Industries.
"Both Indian Motorcycle and Jack Daniel's have a respect and admiration for our enlisted men and women, and bringing military families together for the holidays is something that is truly special."
Indian Motorcycles Australia has also offered a Chief Dark Horse as the raffle prize at the Revving the River Rally from Melbourne to Echuca in March 2017 in aid of Zaidee's Rainbow Foundation which promotes organ donation.
Historic motorcycles
The two limited edition bikes were created to commemorate the 150th anniversary of the Jack Daniel Distillery, which was registered in 1866.
Despite the mix of machine and alcohol, the bikes are part of the distillery's "Bottles and Throttles Don't Mix" responsibility campaign.
They were designed in conjunction with Klock Werks Kustom Cycles of Mitchell, South Dakota, who have also been heavily involved with concept projects for both Indian and their Polaris stablemate, Victory Motorcycles.
They feature a custom-printed Jack Daniel's whiskey barrel top to commemorate each bike, a two-year unlimited mileage factory warranty and free membership in the Indian Motorcycle Riders Group for one year.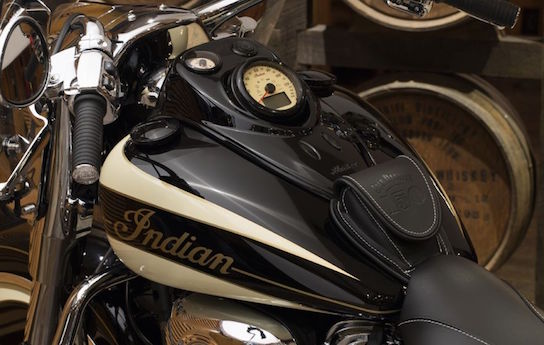 Each fender is also inscribed with the names of the seven Master Distillers who have overseen the Jack Daniel's distilling process over its 150-year history.