Patented designs have surfaced for a BMW W-3 engine that looks like a V-twin with an extra head and would suit a Bavarian return to cruisers.
BMW last made the ill-fated R 1200 C cruiser from 1997 to 2004 and the R 850 C only until 2000.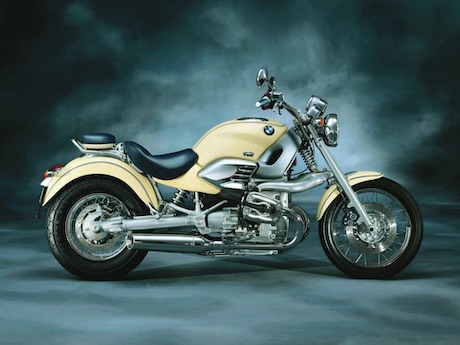 Despite launching the R 1200 C in the James Bond film Tomorrow Never Dies with a radical Vietnamese chase scene that made number five in our top 10 film motorcycle chases, the cruisers bombed.
SEE VIDEO OF THE TOP FILM CHASES
They were considered ugly and even a little twee, yet I've ridden them and found they handled quite well with loads of cornering clearance. They are now even considered a coveted collector's item.
Fingers burnt, the Munich manufacturer has repeatedly rejected a return to cruisers ever since.
However, it now looks like they might be courting the idea as cruisers are selling well in so many markets.
But BMW has never built conventional engines – look at the boxer twin, K-series flat four and three "bricks" and the K 1600 transverse off-set slant six – so their version of a cruiser could feature a W-3, according to recent patent documents unveiled by American Motorcyclist magazine.
The main problem with the boxer twin R 1200 C was that it just didn't look right in a cruiser format. Cruisers are traditionally V-twins, or maybe parallel twins (Triumph).
BMW's answer to a new-generation cruiser is likely to not religiously follow the trend, but find a radical variant, so the W-3 design makes sense for them.
Despite BMW always chasing modern technologies, the patent applications are both air-cooled with traditional pushrods rather than overhead cam.
But that's where the traditional nature of the engine ends.
One of the patents shows 75-degree cylinders sharing a crankshaft, while the other has two cylinders sharing a crankpin and the third getting its own crank throw, all pots angled 65 degrees.
The second is more likely as it is a compact engine – narrower and shorter – which would allow greater latitude for the designers.