Now may not be the best time to buy a collector bike at a motorcycle auction as there seems to be no end to what some collectors will pay for them.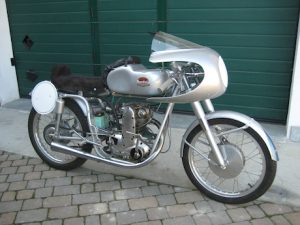 International auctioneers Coys of Kensington have broken two world records when they sold a 1931 Indian 1300 for £90,000 (almost $164,000) and a 1953 Mondial 125 Monoalbero for £60,000 ($109,000).
The British auctioneers has recently returned to the international collector motorcycle market after other auction houses have also set world records over the past year.
Late last year the Bonhams annual sale of collector motorcycles at Stafford set a world record total of £1,337,475 ($A2.2m), a Brough Superior owned by the company boss set a world record of $389,202 in April and the Bonhams summer Classic Sale in May included a heap of rusted and battered parts from a 1955 Vincent Black Prince that fetched a world record £91,100 ($162,800).
In Australia, a record price of $65,000 was paid for a post-WW II Harley Davidson 'Knucklehead' in March and in February one of four 1969 Honda CB750 prototypes sold on eBay for a record $163,844 after attracting 102 bids.
It certainly is a good climate for Coys to return to the motorcycle auction business.
Coys managing partner Chris Routledge says some of their bidders included "some household name celebrity buyers".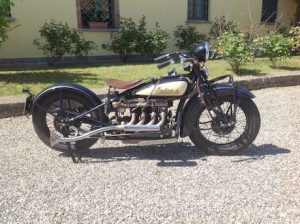 "I'm really excited about our return to motorcycles," says Chris … and so he should be.
The record-breaking 1931 Indian is the four-cylinder 1300cc 402 model with alloy pistons, lacquer frame, cadmium plated spokes and an effective rear brake. It was also the first Indian to get chrome.
The 1953 Mondial 125 Monoalbero is the model that clinched several world speed records, reaching peaks of more than 165km/h. This particular bike, Chassis 013, took part in a number of 1950s Milano-Taranto races.