I've reviewed many Bluetooth systems and the biggest failing is the sound quality from the tiny seekers that come with them.
Now you can upgrade your speakers for under $30, improve the sound and reduce distortion. Finn Moto has auxiliary speakers which work with the R3 and R4 Bluetooth systems they sell and will fit any system which has an auxiliary speaker input socket.
FIND OUT MORE ABOUT FINN MOTO HERE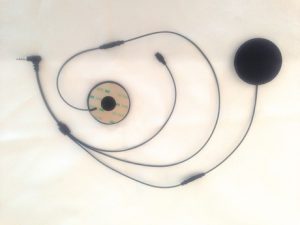 I haven't tried the R3 and R4 systems, but I have a Sena SMH10 Bluetooth system with the special adaptor to take an auxiliary set of speakers or headphones. The Finn Moto speakers just plug straight in. The Finn Moto speakers also feature a plug for a boom or button microphone to work with the R3 and R4, but you can just tuck it inside the lining of your helmet and not worry about it as it doesn't affect the microphone set-up of the system you are using. If you wanted, you could snip it off, if it's a problem.
Sound quality from the speakers is very good. It is clear with low distortion and the speakers are larger, so there is a better spread of sound and more bass. Despite being bigger than most speakers supplied with Bluetooth systems, they are actually lower profile. They also come inside a cushioned fabric liner so they can sit right up against your ears without causing pain.
They have large velcro pads on the back so they can be positioned exactly where you want them. For maximum effect, they need to be right over your ear hole, just like any of these speakers. Put them too far away and they sound tinny and weak. Position them right and the clarity and bass are better.
One of the advantages of having good quality Bluetooth sound is that it reduces fatigue from listening to shrill and distorted music all day. If you don't need stereo sound and only want to use one speaker for intercom or CB use, the other speaker unclips easily.
PRICES
Hifi Speakers & Motorcycle Helmet Intercom Mount: $29.90
R3 Motorcycle Bluetooth Intercom Headset: $189 (reduced from $289)
R4 Motorcycle Bluetooth Intercom w/ Remote: $279.90 (reduced from $379.90)