The age of electronic rider assistance seems to be approaching at an ever-increasing rate with the world's biggest motorcycle manufacturer, Honda, applying for a blind spot alert patent.
BMW was the first motorcycle manufacturer to offer blind spot alert technology in two-wheel vehicles and Bosch is working on blind spot alerts for motorcycles and now Honda seems to be following suit.
The Japanese company has filed a patent for a system that uses cameras and radar to detect vehicles in the rider's blind spot.
It will have a visual display in the instruments or in a separate housing on the triple clamp that shows where the obstructed vehicle is and tactile warnings.
If the rider pushes the indicator to turn in that direction, they will find the indicator switch difficult to move, which acts as a warning to the rider.
The patent also says there could be other alerts such as vibrations in the handlebar grip, footpegs, seat or the fuel tank knee indents.
It was lodged with drawings of the device on a VFR1200, but could be applied to any of their motorcycles.
The BMW Side View Assist system only uses flashing warning lights and is being offered as an option in their C650 GT and Sport maxi-scooters.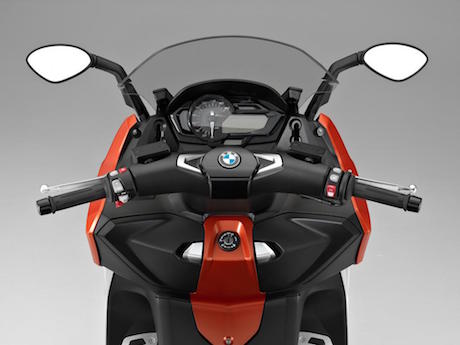 There is no word yet on how the Bosch system will work, when it will be available and on which vehicles.
Blind spot technology has been around for about 10 years in cars, starting Swedish safety-oriented car brand Volvo, and now spreading to many other brands and vehicles.
Some supply a visual warning of flashing lights in the instrument panel, or on the wing mirrors, while others use vibrations in the steering wheel or seat.
Are these rider and driver assistance systems improving safety or making motorists lazy?