A Harley-Davidson signed by Pope Francis is the holy highlight of the Bonham's Autumn Stafford sale in the UK on 19-20 October 2019.
The 2016 Custom Cycle "White Unique" is estimated to fetch up to $A180,000 when it is offered for sale on 20 October, 2019, with all proceeds to be donated to charity.
White Unique was created at the suggestion of Dr Thomas Draxler, founder of the Jesus Bikers group in Austria, as a fundraising vehicle, to be donated to the Pontifical Mission Societies (Missio), the official support for Catholic overseas missions.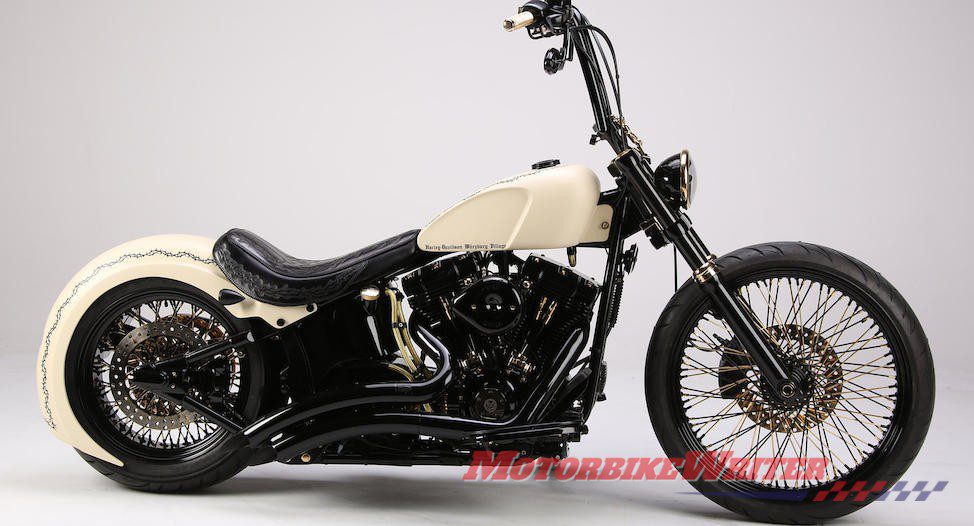 Bavarian-based Harley Davidson dealer, Würzburg Village, supplied the Softail and collaborated with the Jesus Bikers on its customisation.
As the name suggests, the machine is finished in pearlescent white, with Chicano (Mexican American) style detailing, numerous gold-plated components, a Dorne wreath ornament, a sunken cross and Pope Francis' signature on the tank.
The Harley Davidson was unveiled to the public in Würzburg on 29 June 2019 before being accompanied by the Jesus Bikers to the Vatican, via Assisi, where the 'Pope Bike' was handed over to the Vatican at a ceremony with His Holiness in St Peter's Square on 7 July.
Holy bikes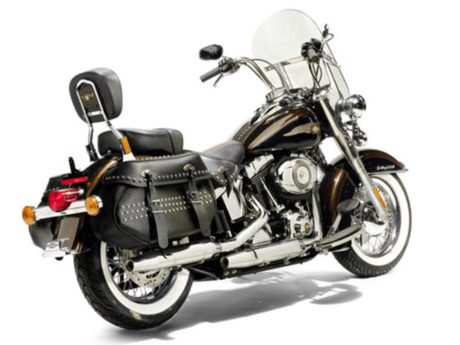 The holy Harley is the latest in a short succession of holy motorcycles and cars donated to the Papacy and sold on for charity.
In 2014, a Harley-Davidson owned by the previous Pope sold at a Paris auction for the "bargain" price of $67,700.
The Harley Heritage Softail was one of two Harleys gifted to Pope Benedict XVI to celebrate Harley-Davidson's 110th anniversary in 2013.
When he resigned, Pope Benedict was replaced by Pope Francis who decided to sell the bikes for homeless charities in Rome.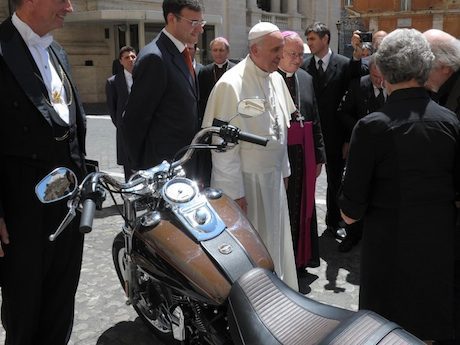 The first bike, a Dyna Super Glide, sold for $364,476, while a Harley leather jacket also sold for an astounding $86,829.