Shoei Neotec II Review Summary
Shoei Neotec II Image Gallery
Choosing not to rest on their laurels, Shoei has taken an already excellent modular helmet design in the popular Neotec (see our review) and made it even more worth our hard earned dollars in the new Neotec II.
Features and Benefits
---
Multi-Purpose Utility
The Neotec II is touted as the premier, multi purpose helmet by Shoei. Comfortably used for upright or sport riding positions and even as an open face helmet.
If you're an uncompromising gentlemen who (like myself) rides several different classes of motorcycles frequently the luxury of only needing one helmet is alluring indeed.
Modular Design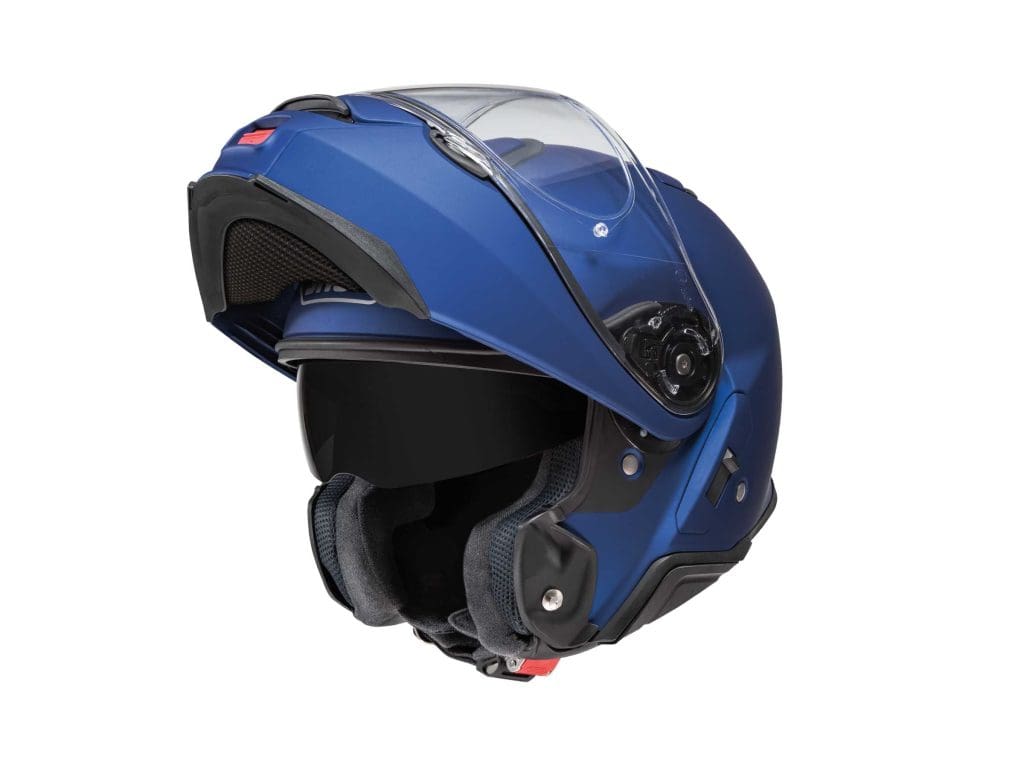 I'm a big fan of modular helmets. Flipping up the chin bar to give my wife a kiss farewell, take a drink, have a mano a mano conversation with the police officer who just pulled me over, or simply being able to ride open face in high heat is my cup of tea… all easy thanks to the modular design.
Shoei improved the Neotec II chinbar locking mechanism in such a way that it officially passed their criteria to be used open faced if desired. The old Neotec wasn't endorsed as such, but everyone used it that way regardless. Fight the power!
Shoei knew this and so the locking mechanism was improved to accommodate us rebellious types as such.
User-Friendly Controls
The big red button on the front isn't for initiating a self destruct sequence or ejection off your bike. That might be on the Neotec 3 possibly…
It's for lifting up the chinbar easily even while wearing bulky gloves. Ditto for the controls of two vents and a switch on the left side to raise or lower the integral QSV-1 sun blocking lens. Once you wear a helmet with this feature in it you'll never use sunglasses again. It effectively blocks 99% of the UV rays encountered and is replaceable if damaged.
Visor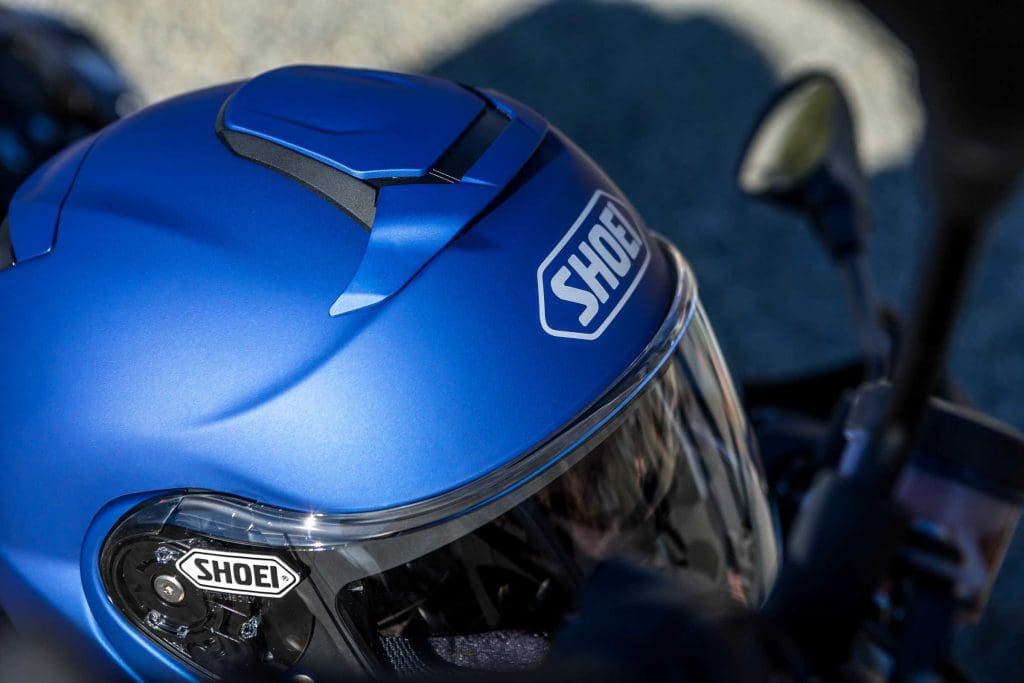 The CNS-3 Visor and base have an improved seal from the original Neotec to keep water and dirt out of your face. Add to that the PinLock anti fog system which Shoei claims is the best in existence at keeping your view fog free.
Shoei visors are a cinch to replace in seconds compared to say an Arai visor which is more challenging and takes practice to do without damaging something in the process.
DOT Approved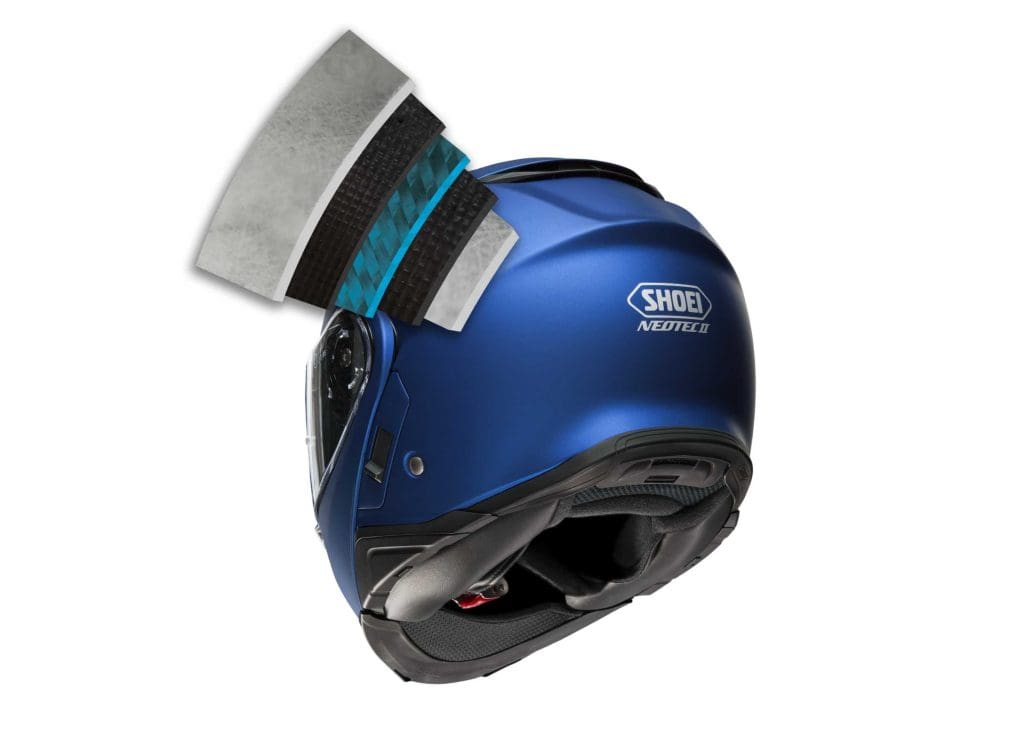 The Neotec II unsurprisingly received a solid safety rating from DOT testing. It's equipped with Shoei's exclusive Multi-Ply matrix shell on the exterior and several layers of impact absorbing, varying density foam on the inside.
The mixture of organic and synthetic fibres on the outer shell were carefully chosen to keep the weight down wisely. The original Neotec weighed in at about 4 lbs. I couldn't get an exact weight spec for the new helmet as of yet.
I have no doubts about the life saving potential of this or any Shoei helmet, but was a little surprised not to see a SNELL Memorial Foundation pass. It's very rare for SNELL to stamp approval on a modular helmet, but I was hoping the Neotec II would reach what I view as the highest level recognition.
Silence is Golden
The biggest gripe with modular helmets is how much wind noise has to be endured by the wearer. Shoei chose to specifically target that and make this helmet quiet through extensive wind tunnel testing and design strategies.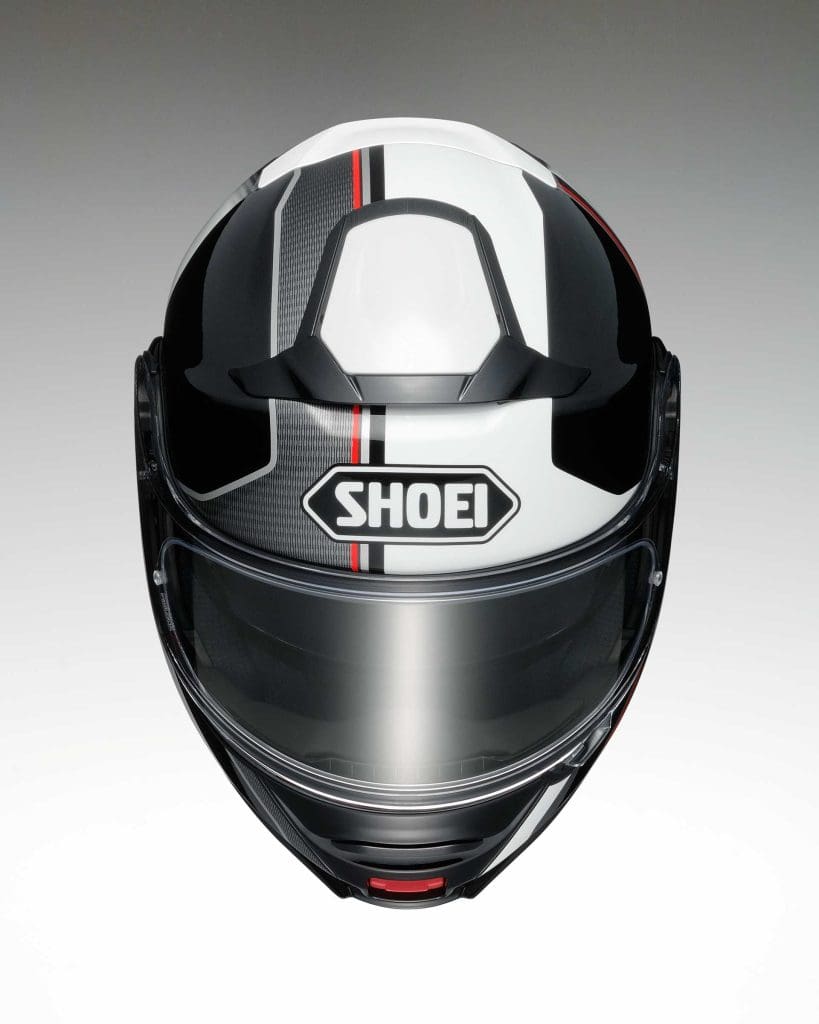 The vaguely coffin-shaped intake vent on the top not only draws cool air in nicely, but acts as a spoiler when the wearer is riding in an upright position.
In other riding positions the numerous ridges and scoops molded into the shell exterior work together to quiet airflow over the helmet and reduce or prevent drag and lifting. The skirting around the underside minimizes turbulence and the cheek pads have specific noise deadening qualities in them.
Sizing Options
The Neotec II is available in 4 sizes of outer shell ranging from XS to XXL. Six total sizes are possible by swapping out interior padding. This should ensure a custom fit when combined with the Interior Comfort System. This is the name given to the myriad of different sized pads available for the helmet that are removable and washable.
Micro Ratcheting Chinstrap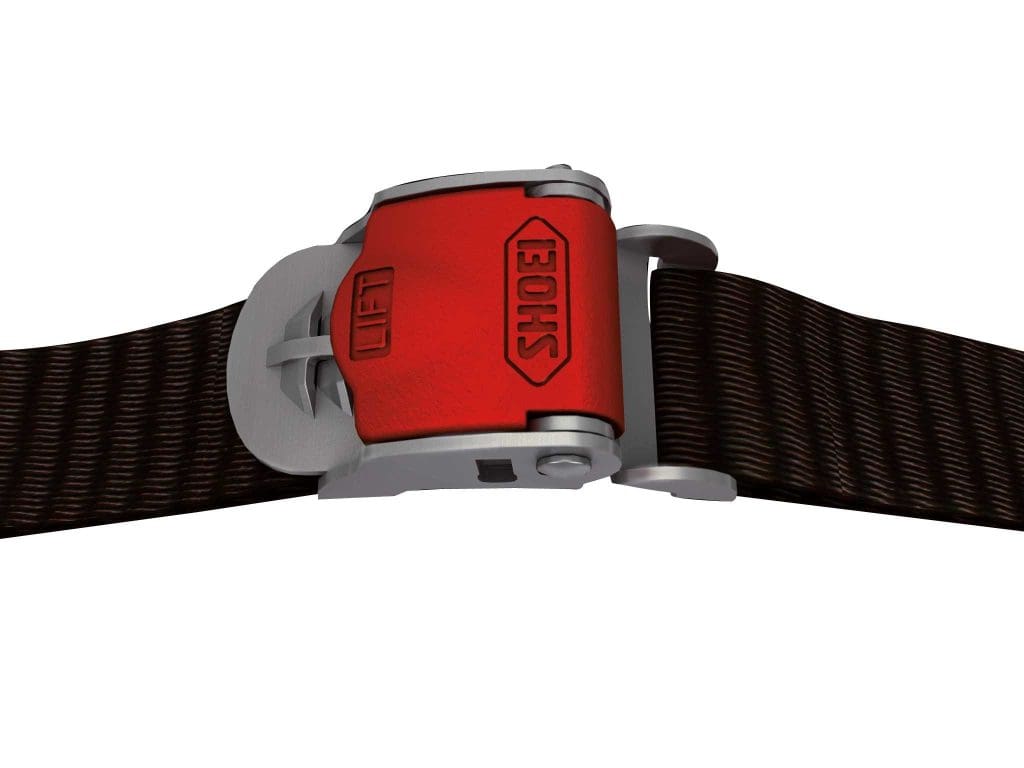 I recently bought a new Harley Davidson modular helmet that doesn't have a ratcheting chin strap figuring I could live without it. I was wrong. I'm really missing it now, since I had it on my previous helmet and liked it a lot. You don't know what you've got 'til it's gone.
Fortunately it is a feature on the Neotec II.
The quick release strap is very useful for emergency removal of your helmet in the event of the wearer needing medical attention for example. Paramedics will often just cut a chinstrap to access a patient which would ruin the helmet.
Staying Cooler: Improved Air Flow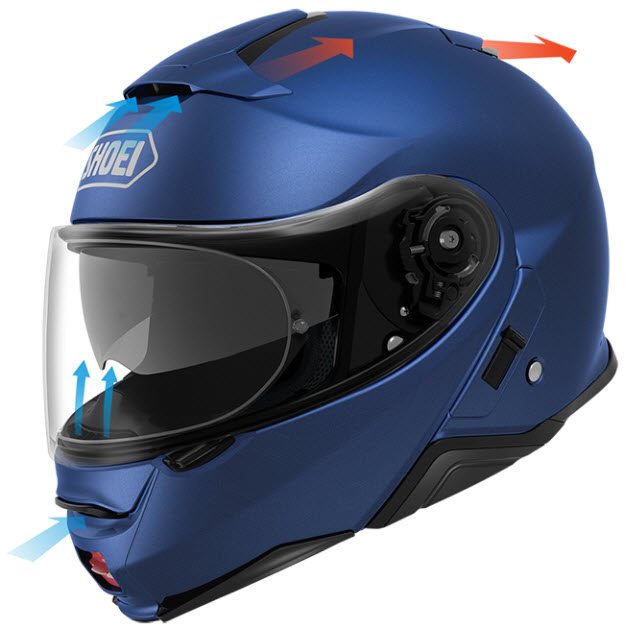 Venting from two front air inlets route cool air effectively through channels inside the EPS foam and liner to exit cleanly out the rear "exhaust" opening. No one likes a sweaty head and not all venting systems are created equal. This one has a lot of engineering and thought behind it. It looks like a winner.
SENA Seamless Integration
---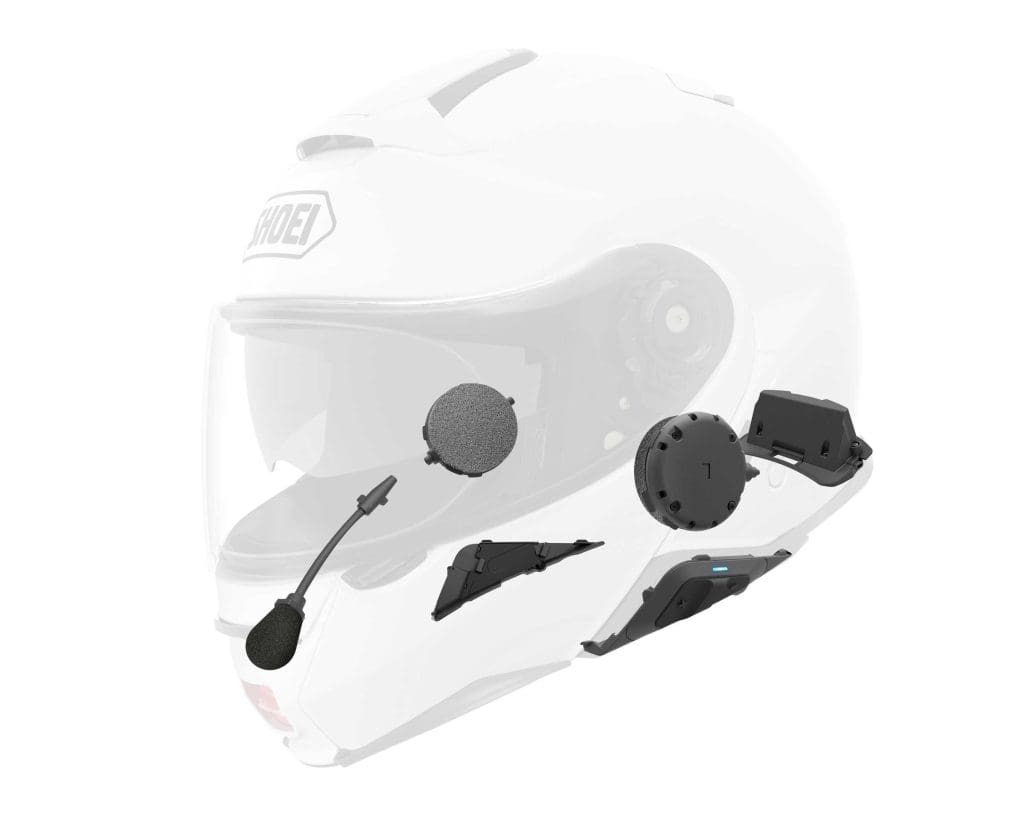 That air flow will come in handy to remove all the hot air you'll produce using the SENA SRL Communication System (Shoei Rider Link). It has a talk time capability of 10 hrs after all.
Pair with your phone to access music media, make/take calls or talk to other riders in your group with very minimal weight increase. Nothing was missed by SENA in the SRL system, it's got all the options anyone would list on their helmet comms wishlist.
SENA designed this system specifically for the Neotec II. The components install easily and completely on the inside of the helmet, so there's nothing outside to create noise through added wind turbulence. The custom design ensures there's no negative effect to the helmet's level of protection either (no holes to be drilled in the shell or padding adjustment).
You have to buy the SRL system separately as it's not included with the helmet. I couldn't find an exact availability date for the system at the time of this writing, but more in depth details for the SRL are available on Sena's website here.
Price Tag: "Cha-Ching!"
With all these features protected by a 5 year warranty and the level finery found in a handmade helmet, it's no surprise the price to own a Neotec II isn't low. It starts at $699 USD for solid colours and $799 for the detailed, graphic-rich ones.
Then you have to shell out some more bitcoin for the SENA… because it wouldn't be right not to listen to music and call all your friends to tell them how much fun you're having while out living life to its fullest on two wheels.
Let me add my voice to the many claiming that it's worth the cost. I know someone whose life was saved because he was wearing a premium quality brain bucket. Specifically it was a Shoei on his head at the time of his accident. The helmet absorbed nearly the full force of the crash, destroying itself in the process, but without doubt preserving him.
Availability
Shoei already released the Neotec II to the European market back in October 2017. They expect to release it everywhere else this year. That leaves us here in North America and those in Asia some time to save up for this can't miss offering in head protection technology.
Photo Gallery
---