Harley-Davidson is putting the sport back into Sportster with the new Roadster featuring fat upside-down forks, dual front discs and emulsion rear shock.
The Roadster arrives in the next couple of weeks at $19,495 ride away ($20,250 in New Zealand) and we reckon it will become Harley's top-selling motorcycle.
SEE ALL THE PHOTOS ON PINTEREST
Harley-Davidson Australia marketing guru Adam Wright and PR honcho David Turney agree saying it will attract a younger crowd and won't cannibalise other Sportster models.
They say it will also attract novice riders stepping up from the very popular Street 500 which is starting to slow down in sales now that it's reached near-saturation levels after 18 months on the market.
Similarly, the top-selling Breakout is nearing saturation levels after almost two years as the brand's top seller.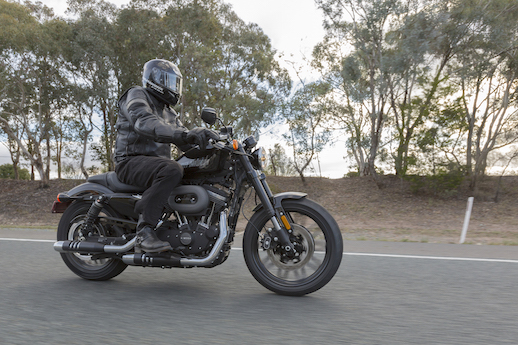 Just a few years ago the Sportster 883 Iron – the first of the Dark Custom model – was Harley's number one so it makes sense that another Dark Custom could top sales.
It certainly looks the part with its shorty pipes and black slotted heat shields, the fastback neat tail end, small headlight, bobbed fenders, low bars, "peanut" tank and black mag wheels.
It's reminiscent of the first Ironhead Roadsters and the 1950s HR.
Build quality is good with deep paint and chrome, but there is a lot of messy wiring and an ugly frame weld near the rear shock.
Last week's press launch for this hot new bike was held in the very cold hills surrounding Canberra.
Here, the bike proved its sporty nature, bumping and grinding over the lumpy hills and putting a smile on every rider's face.
David says it's "a rider's bike".
The Roadster features mid-mount pegs, low-riser bars and, at 785mm, the highest seat in their range, which certainly gives it a more aggressive riding position.
David is enthusiastic about the bike's sporty nature and challenges us to touch the footpegs down.
That's interesting, because the mid-mount pegs actually reduce clearance. It has 31.1 degrees lean angle on the left and 30.8 degrees on the right because of the pipes.
That compares with the Dyna Street Bob (30/31), but still not as good as the Road King (33/31).
HD tech-head Marcus Wilson says they removed the hero blobs for our ride to gain a little extra clearance.
Later in the day David may have been ruing his "red rag" challenge to these media "bulls" who took it upon themselves to chamfer as much of the pegs as possible.
The rubbers didn't last the first roundabout.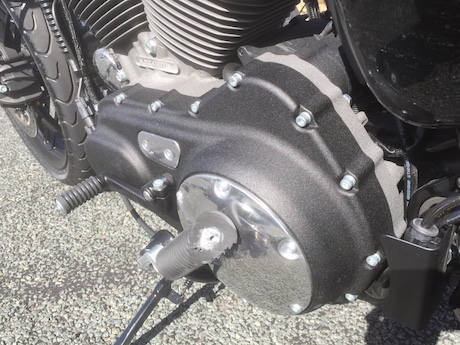 Every other corner consisted of a shower of sparks.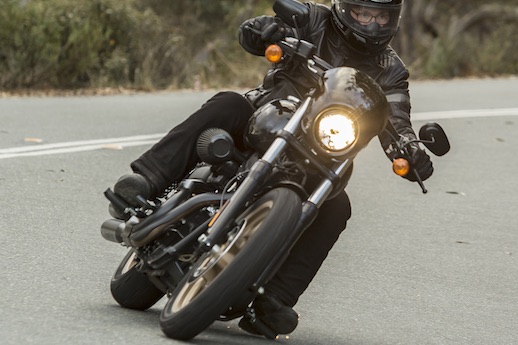 Still, with its aggressive riding position, it's the sort of bike that encourages you to lean it over and give it some stick.
Thanks to beefier triple clamps and 43mm upside-down forks,  it steers sharply and accurately for precision carving trough the twisties.
The emulsion rear shock that was added to the 2016 Sportsters also refines the rear end, although the bigger lumps out on Cotters Rd had the back wheel pogoing a little, so it needs a little more rebound damping to tie it down.
Marcus wound off the preload on the dual-rate springs a little to soak up the bigger bumps.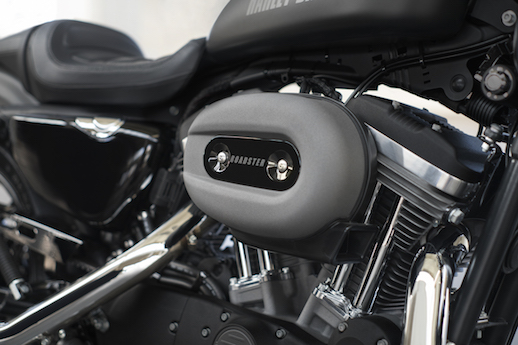 The 1202cc Evolution V-twin pushrod engine has a lusty midrange and spins out easily to its max 6000 revs with a set of five gears nicely matched to the task.
First is a little high and there is a bit of a gap between second and third, but it seems to suit around-town duties and on the country roads you shift quickly through the gears.
Fifth is tall enough for the highway without any need for a sixth gear or changing down for overtaking.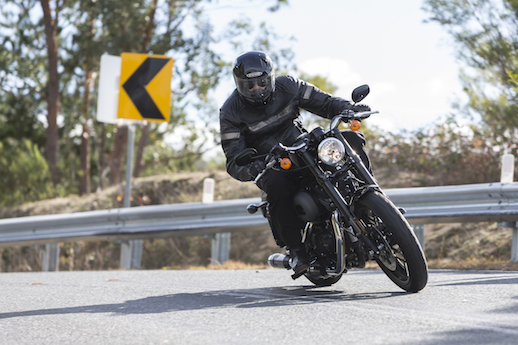 The gears feel purposeful without being overly notchy and neutral is easy to find.
Around town, some riders might find the clutch pull a little on the heavy side.
When it comes time to pull up, the dual front discs are very effective for a bike that weighs 259kg.
Even our short 130km ride was enough to show this is a bike that will appeal to people who like to ride hard.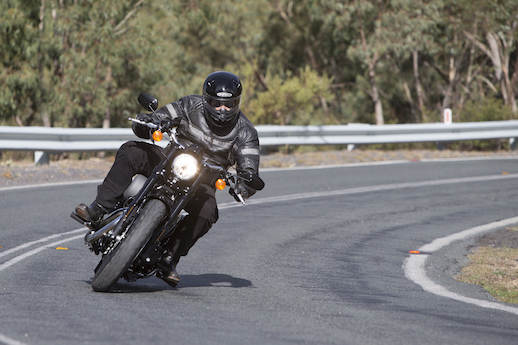 I thought the hard and flat seat would be a drawback, but it actually felt very comfortable and I'd like to try it on a longer ride.
Not that you will ride for that long without needing to fill up thanks to the 12.5L peanut tank. Harley claims fuel economy of 4.9L/100 km, but our fuel lights came on a little after 100km with three litres of fuel left. However, we weren't exactly riding economically.
We were also doing a fair bit of throttle-blipping because the stock exhausts have such a nice guttural cry.
The small, single pod instruments are new, featuring an analogue tacho to encourage more enthusiastic revving.
The speedo and other information are included in a small LCD screen that is too dark to clearly read the all-important speedo.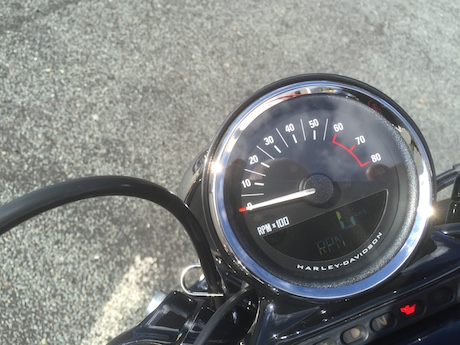 Marcus says they have already asked Harley for a fix to brighten the display.
Strangely, the screen also includes a digital tacho readout, so you can end up with a second, redundant digital rev reading as you toggle through the information via the button on the left handlebar.
As expected, Harley has a comprehensive line of special Roadster accessories including a cafe racer solo seat, Daymaker headlight, optional handlebars, quick-release sports screen, low sissy bar, and Screaming Eagle exhaust, filter and performance kit with cylinder heads, cams and pistons.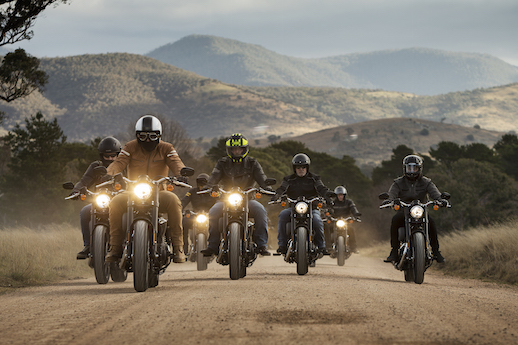 Harley-Davidson Roadster XL1200CX Sportster
Dimensions
| | |
| --- | --- |
| Length (mm) | 2185 |
| Seat Height (mm) | 785 |
| Fuel Capacity (litres) | 12.5 |
| Dry Weight (kg) | 250 |
Powertrain
| | |
| --- | --- |
| Engine | Air-cooled, Evolution™ |
| Displacement (cu.cm) | 1202 |
| Engine Torque | 98 Nm (72.3 ft-lb) @ 3750 RPM |
| Transmission | 5-speed |
Wheels/Tyres
| | |
| --- | --- |
| Front | Offset-Split 5-Spoke 19 in. x 3 in. (482.6 mm x 76 mm) Tyre: 120/70R19 M/C |
| Rear | Offset-Split 5-Spoke 18 in. x 4.25 in. (457.2 mm x 108 mm) Tyre: 150/70R18 M/C |
Colour Options
Colour Options
Solids: Vivid Black; Black Denim; Velocity Red Sunglo
Two-tones: Billet Silver/Vivid Black