Better Softail brakes, a welcome return of the Road Glide and two new CVO models are the main features of the 2015 model Harley-Davidsons arriving in Australian dealers from October.
Harley claims the new Softail braking system is smoother and more responsive with 40% less lever effort. ABS has been standard on all Softails for the past year but now the brakes now get a rigid four-piston fixed front brake calliper, 34 and 32mm pistons coated to minimise initial displacement, brake pads with high-output friction material, a new master cylinder with a higher mechanical ratio, and a new 300mm front brake rotor. 
As expected, the Road Glide returns to the pack after a one-year hiatus from when the new Rushmore Project models were released last year. While in the US there will be a standard and Special model, Australia will only get the Special which comes standard with Dual Reflector Daymaker LED headlamps, premium Boom! Box infotainment, upgraded suspension, Reflex linked braking with ABS and a new handlebar with reduced reach and a new wrist angle for improved ergonomics.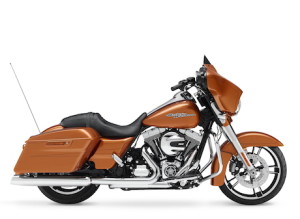 It also gets the Rushmore aero including a vented, frame-mounted fairing to reduce buffeting.
The CVO Street Glide comes with a Boom! Audio system with 600 watts of power and 12 speakers in four locations. It also has an "intricate" paint scheme and four colour options.
Meanwhile, the CVO Road Glide Ultra is "drenched in chrome and custom paint". 
Other updates across the rest of the 2015 product line include eight new paint colourswith new Custom colours Black Magic and Radioactive Green, and new Hard Candy Custom metal flake colours Cancun Blue Flake and Quicksilver Flake, for a total of 25 different paint schemes.
Harley is also adding hundreds of new Genuine Motor Parts & Accessories and there are new jackets, boots, helmets, shirts and other accessories available.
Harley-Davidson 2015
(All rideaway prices with New Zealand prices in brackets)
Sportster
XL883L SuperLow $14,750 ($15,250)
XL883N Iron 883 $14,995 ($15,495)
XL1200V Seventy-Two $18,495 ($18,995)
XL1200C 1200 Custom $18,750 ($19,250)
XL1200X Forty-Eight $18,995 ($19,750)
XL1200T SuperLow 1200T $19,250 ($19,995)
Dyna
FXDL Low Rider $23,495 ($25,495)
FXDB Street Bob $22,495 ($24,495)
FXDBB Street Bob Special $23,995 ($25,995)
FXDWG Wide Glide $24,995 ($26,995)
FXDF Fat Bob $25,495 ($27,495)
FLD Switchback $26,250 ($27,495)
Softail
FLS Softail Slim $26,250 ($27,495)
FXST Softail Standard $27,250 ($28,495)
FLSTFB Fat Boy Lo $28,750 ($31,250)
FLSTF Fat Boy $28,995 ($31,495)
FLSTN Softail Deluxe $28,995 ($31,995)
FXSB Breakout $29,495 ($32,495)
FLSTC Heritage Softail Classic $29,995 ($32,995)
Touring
FLHRC Road King Classic $32,495 ($35,750)
FLHXS Street Glide Special $34,995 ($38,995)
FLTRXS Road Glide Special $34,495 ($38,495)
FLHTK Ultra Limited $37,995 ($41,495)
V-ROD
VRSCDX Night Rod Special $27,250 ($29,495)
VRSCF V-Rod Muscle $26,995 ($29,250)
CVO
Softail Deluxe $44,995 ($46,495)
Street Glide Special $46,995 ($49,495)
Road Glide Ultra $48,995 ($51,995)
Electra Glide Ultra Limited $50,995 ($53,995)
Trike
FLHTCUTG TriGlide Ultra ($52,495) available only in New Zealand