Harley-Davidson and Indian Motorcycle might face higher taxes if they move production offshore in the escalating trade wars, President Trump has threatened. 
It seems Harley has become a political football for Trump who once lauded the company as an American icon and exemplary manufacturer.
Taxes Tweet
However, in an unprecedented threat, Trump has now Tweeted: "If they move, watch, it will be the beginning of the end — they surrendered, they quit! The Aura will be gone and they will be taxed like never before!"
He might soon also have to threaten Indian Motorcycle which is now considering moving production to Polaris facilities in Poland to avoid the repercussions of Trump's trade war with Europe.
Company spokesman Jess Rogers says they are considering "the possibility of moving production of Indian Motorcycles destined for Europe from Iowa to our facility in Poland".
Parent company Polaris also has manufacturing facilities in Mexico and has been considering an assembly plant for Indian motorcycles in India.
"The growing impact of this trade war is increasing the production costs of our vehicles," Jess says.
"We continue to examine various options for managing the cost increases from both tariffs and the domestic materials pricing."
Trade war chronology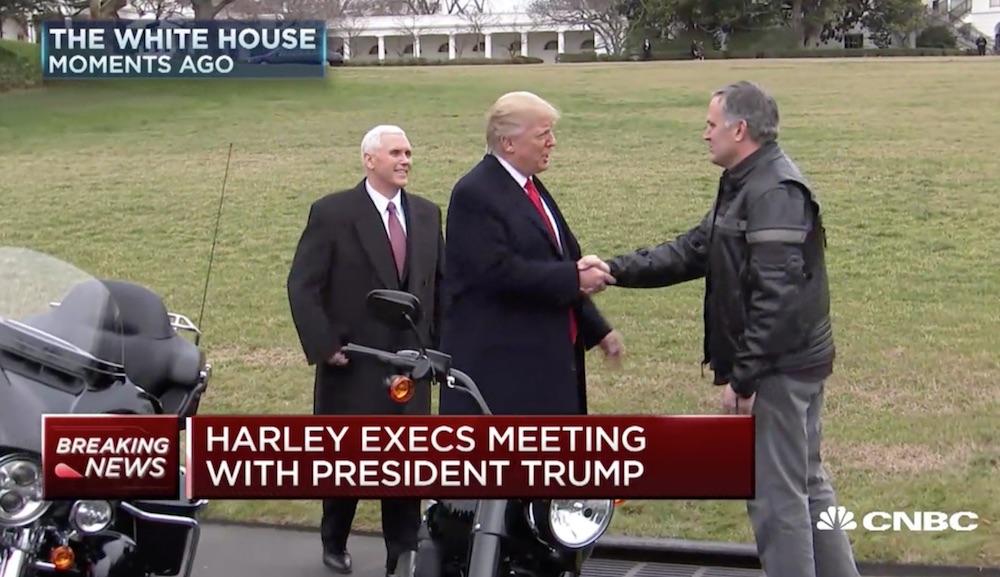 The talk of trade wars began early last year when Trump mentioned "unfair tariffs" of 100% against Harley in India.
Fake news!
The fact is, only a few Harleys imported into Indian copped a 75% tariff (now 50%), while partially assembled Harleys and Street models built in India had much lower tariffs.
Then Trump slapped a 25% tariff on steel and aluminium, which placed cost pressures on Harley and others who Trump was trying to protect.
The tariff further backfired on Harley when Europe slapped a 31% retaliatory tax on Harley, Indian Motorcycle and other American products.
Harley claimed this would increase the average cost of bikes imported into Europe by $US2200 ($A3000, €1800), so they announced they would increase prices in the northern Autumn.
But Harley then decided to absorb the costs until they could move more production offshore to its Indian, Thai and Brazil factories.
This move outraged Trump who sent a series of nasty Tweets about Harley  "waving the white flag" and surrendering to soon.
It seems he wants Harley and other companies to suffer while he beats his chest on the world stage.