The Harley Fat Boy has been a top seller for the company for several years but in the past couple of years some custom bikes have usurped the king.Fat has never been so much in style.
Now the Fat Boy is back as the top seller and it's easy to see why.
With its massive front tyre, heavy duty chrome forks, low seat and slammed hard-tail rear end, it looks the business.
Not only is it the top-selling Harley, but the best-selling bike over 650cc and the seventh best-selling road bike, beaten only by postie bikes and small-capacity beginner bikes.
At $28,750 it's not cheap, but Harleys hold their value and what price can you put on image?
There are three models in the Harley Fat Boy range: the blacked-out and lower Fat Boy Lo at $28,495 and the 110th Anniversary Fat Boy Lo at $28,995 with special paint, solid bronze fuel tank badges and limited production runs which all go to making the bike exclusive and guaranteeing high resale values.
Harley evolves its bikes, so for 2013, this bold bike gets subtle changes such as mirror chrome aluminum bullet hole disc wheels, new colour schemes and a slighty larger odometer which these days also includes gear indicator, revs and clock. Shame they haven't made the fuel gauge on the faux petrol cap easier to see. At least it now has a more accurate reading thanks to a new fuel tank sender.

Harley build quality is getting better and better and this is a prime example with deep chrome and paint, and neat low-profile handlebars with internal wiring. Even the inside of the petrol filler is now properly finished.
All Softails are now powered by the 1690cc Twin Cam 103 V-twin as are most of the Harley fleet these days. It's rigid mounted yet counter-balanced, so it throbs through the frame at idle and builds up a pleasant vibe as the revs climb.
Clunk it into gear and let out the now lighter clutch and it pulls away with 130Nm of stump-pulling torque.
Harley never provides power figures, but it doesn't matter with all that torque on tap. Just slip through to fifth gear and ride the grunt.
Sixth is almost useless in Australia, except for 110km/h roads. If you want to pass, you'll still have to drop it a cog.
Out on the highways, the Harley Fat Boy ambles along at a leisurely heartbeat, useful for more than 300km from the 18.9-litre tank.
With no windscreen and a windsock pose, you couldn't go any faster than the posted speeds anyway.
Despite its hard-tail look, it is actually a Softail with a hidden shock absorber underneath so you don't break your back over every pothole.
Softails are probably the least capable Harley for twists and turns, but if you learn how to ride them properly you can hustle them along at a brisk pace.
That fat front tyre gives a lot of confidence for pushing the front end into corners. It has immense grip, even in the wet.
Pitch it into a corner and let the floorboards skim along the tarmac as a guide to your lean limits. However, be aware that on decreasing radius corners you won't be able to tighten the line if your floorboards are touching down.
Brakes are often misunderstood on cruisers and Harleys, in particular. With its low and rearward weight balance, there is actually more stopping power in the rear than the front, unlike other bikes.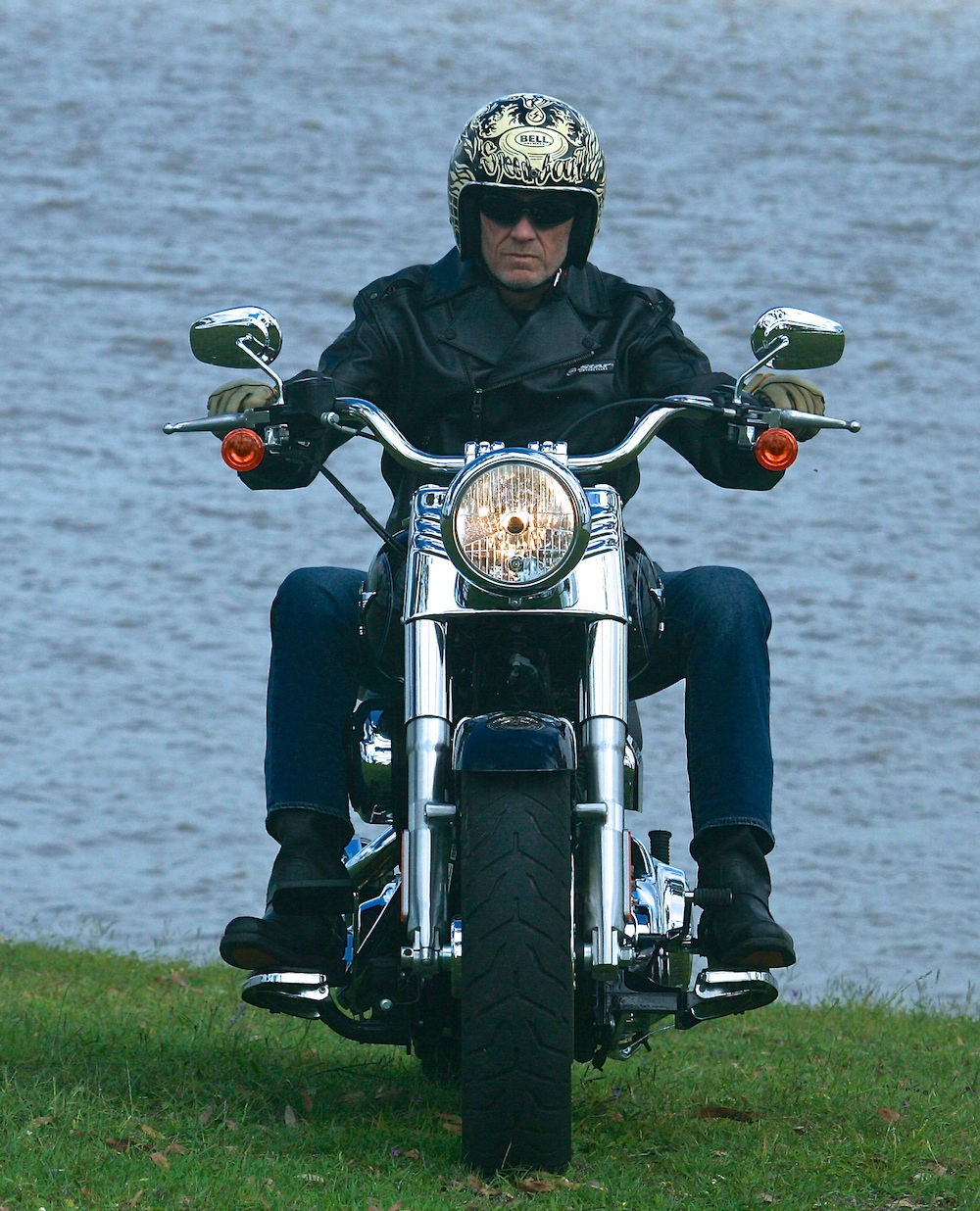 Grab both brakes and the bike squats and stops very quickly.
Pillions are a bit of an afterthought with a narrow seat that slopes away down the fender. Most owners replace them with a decent cushion or remove them completely for a clean rear end.
So if style is your style, then the Fat Boy is worth trying on for size.
Harley-Davidson FLSTF Softail Fat Boy
Prices: $28,750, $28,495 (Lo), $28,995 (Lo 110th)
Engine: air-cooled 1690cc Twin Cam, 130Nm
Transmission: 6-speed, belt drive
Dimensions: 2395mm (length), 635mm (seat), 1638mm (wheelbase)
Tyres: 140/75 R17; 200/55 R17
Fuel: 18.9L tank, 5.6L/100km
Warranty: 24 months, unlimited km
Service: 1600/8000km
Dry weight: 313kg