With its aggressive knuckles-to-the-wind riding position, 114-cube Milwaukee-Eight engine and sharpened steering, the Harley-Davidson Low Rider S really does mean business.
And Harley-Davidson Australia will be hoping it means lost of business as did the original, short-lived 2016 Low Rider S with its 110-cube Screamin' Eagle engine.
That was a twin-shock Dyna. Now it's part of the updated Softail family with a stiffer and lighter frame and improved handling.
Price is now $A27,995 ($NZ29,995), up from $25,995 in 2016 when it had a 110 engine and $3500 more than the standard Low Rider.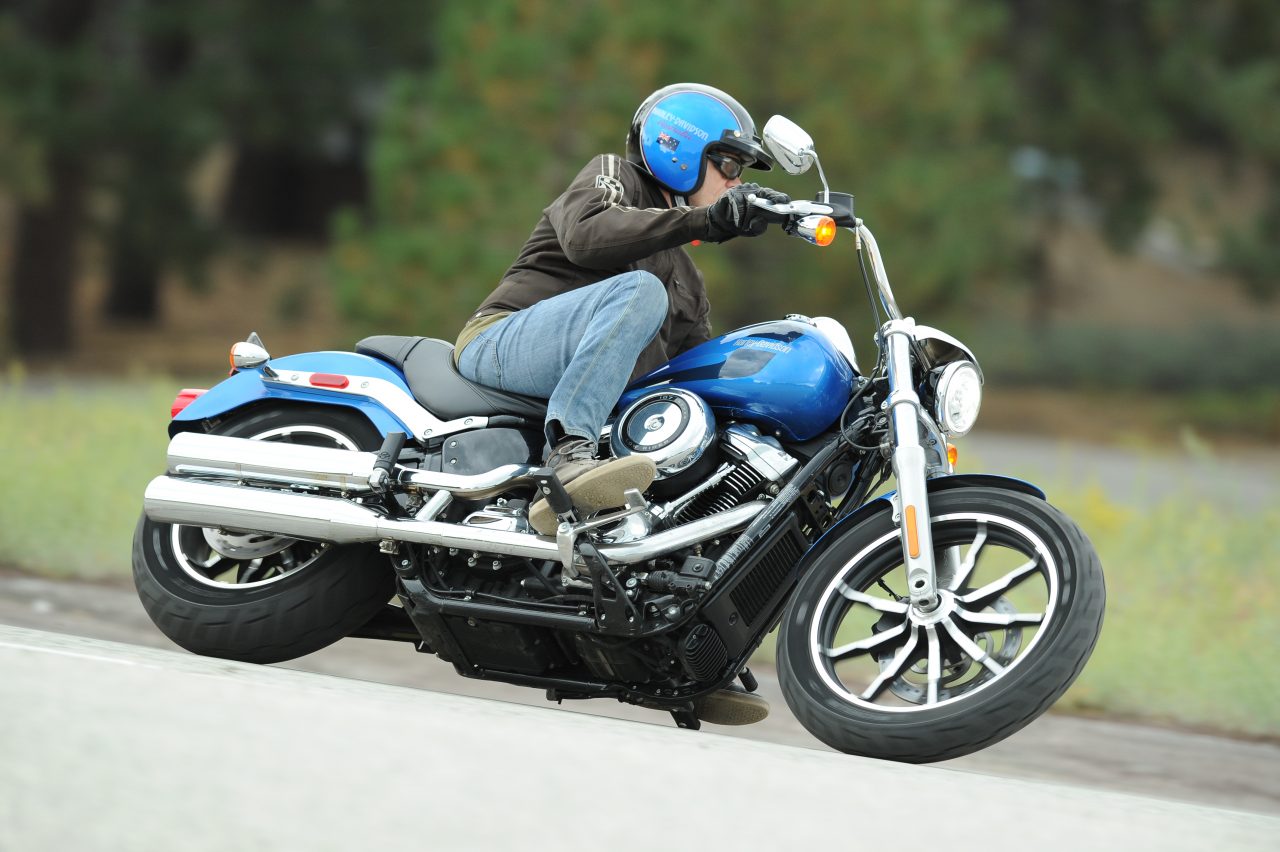 Apart from the extra cubes — and there is no replacement for displacement, right? — riders get a cruiser that looks the business. That is, if Sons of Anarchy business is your business!
That little headlight fairing, aggressive mid-control riding position, blacked-out finishes and solo seat is very SAMCRO.
Harley calls it the "SoCal West Coast" look, but we all know they are going for that popular SAMCRO style.
It's knuckles to the wind for Jax with the 2.5cm (one-inch) diameter motocross-style handlebars mounted on 10cm (four-inch) straight risers.
The Low Rider S powertrain, primary cover and tank console are finished in Wrinkle Black, the derby cover, intake, and lower rocker covers are Gloss Black, the mufflers and exhaust shields are Jet Black and the forks, triple-clamp, riser and handlebar, and rear fender supports are Matte Black. Even the LED layback tail lamps have a smoked lenses.
It sits on very tasty bronze cast-aluminium wheels and comes in Vivid Black and Barracuda Silver.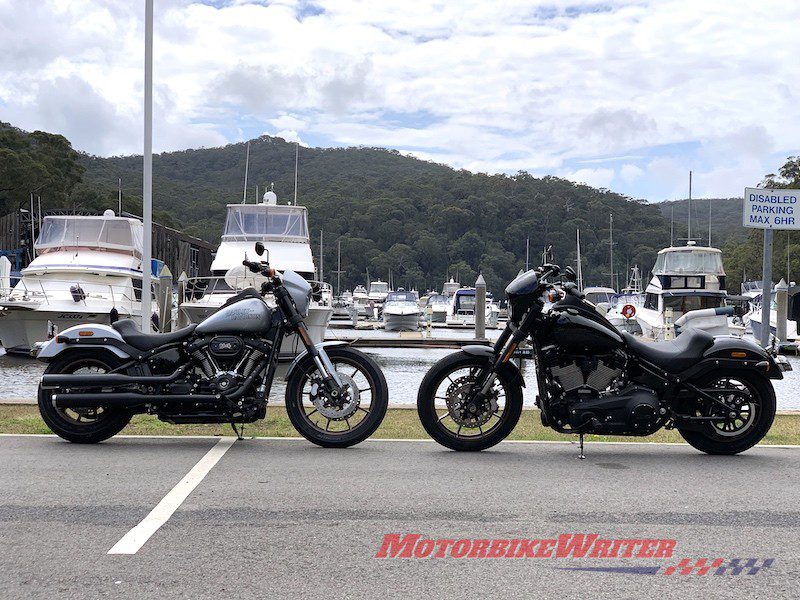 Harley flew me to Sydney for the media launch which was truncated by wet weather to a half-day ride from Manly about 30km to Akuna Bay in Ku-ring-Gai National Park with about 40km of riding along West Head Rd for photos.
It was just enough to get an introductory feel for the Low Rider S. A longer review will come in the next month.
The business end
The business end of this bike is the 114 M8 engine.
While the counterbalanced 107 M8 is a refined and sophisticated engine that feels like two hippos bouncing on a trampoline, this has more thump, more grunt and a little more "character" — like two elephants on a trampoline!
It pulls from low down in the rev range and surprisingly revs out without losing a lot of puff.
Yet for all that mechanical thump, it feels smooth, doesn't jolt when switched on and clicks into first gear without a lot of clunk.
Clutch pull is fairly heavy, so you will be glad at every set of lights that neutral is quite easy to find.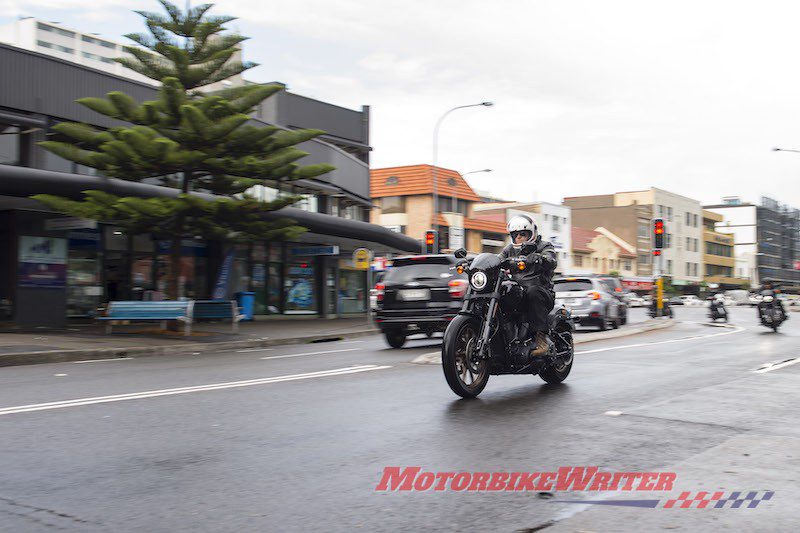 Click through the gears and it rides around town in fourth. It will even go into sixth as low as 80km/h with enough roll-on acceleration for overtaking without changing down.
At the end of the day, I suspect you'll return decent figures of around 5-5.5L/100km.
Handling upgrade
To harness the extra oomph of the 114 M8, Harley has swapped out the traditional telescopic forks for inverted 43mm Showa forks with a steeper 28-degree rake compared with 30 on the standard and 32 on the older Dyna.
This set-up sharpens the steering so you feel more connected to the road with lighter and more precise turn-in.
Yet on the joyously swooping corners of West Head Rd, it still feels balanced and stable thanks to the 19-inch front wheel and long 1615mm wheelbase.
You also have the ability to safely correct your line mid-corner and dodge those water run-off lurking around blind corners.
Together with the underseat single coil-over monoshock hydraulically adjustable for preload, it should have reasonable ride even though it's a short 11cm spring.
I couldn't tell because the roads were all fairly smooth.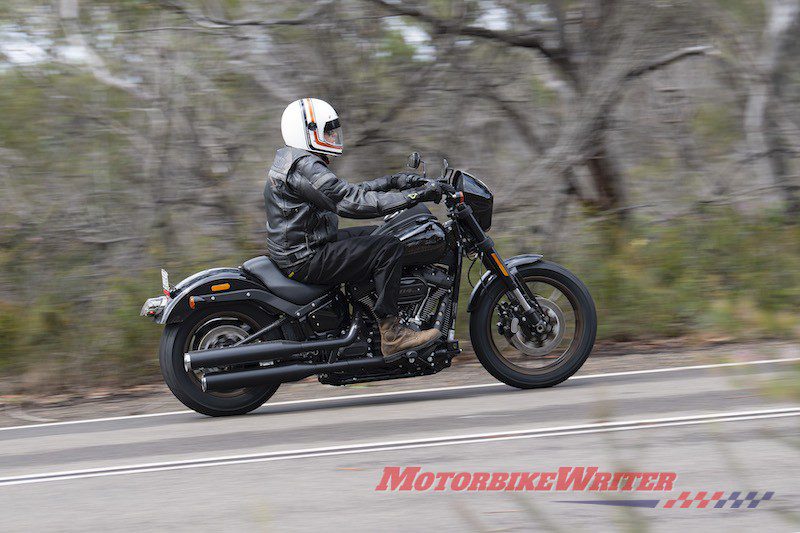 As we rode back and forth along West Head Rd, my confidence grew and the bike complied with extra throttle in an exciting, but reassuring way.
The Michelin Scorcher tyres have plenty of grip, even across the wet and dry patchy surface.
As the speed climbed, so did the turbulence from the sporty fairing. Either no fairing or the optional larger fairing might be better.
As it is, there is a blank behind the fairing that is bland and ugly. Perhaps Harley should decorate it with another bar-and-shield logo!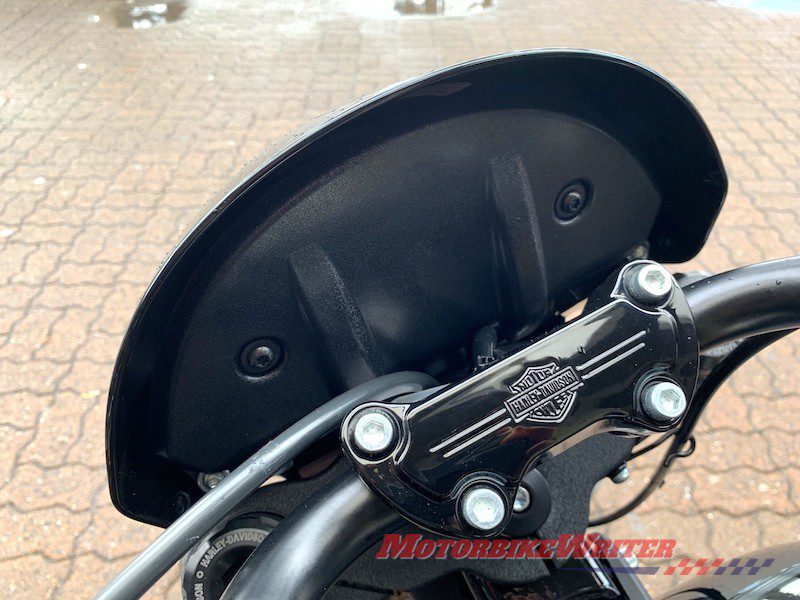 The analogue speedo and tacho dials sit on top of the tank and are angled toward the rider for a reasonably clear view.
However, the accompanying LCD screen is a little small and difficult to read in bright sunshine.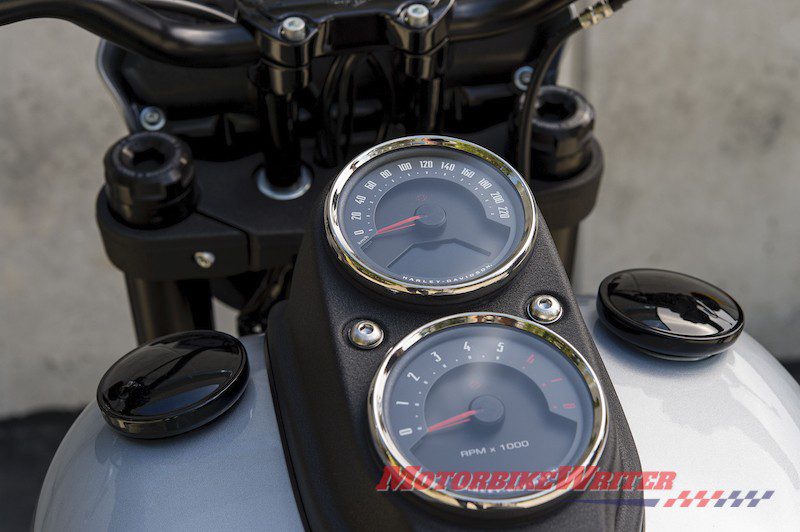 All the info is available via the usual toggle on the left switchblock.
Target market
The target market market for this bike is obviously not ageing Baby Boomers like me.
I found the riding position more like a yoga position with my knees sitting high and akimbo which put pressure on my dodgy hip nerve.
Even though I'm 183cm (6') tall, it is still a bit of a reach to the bars.
The overall effect is like sitting on a potty while holding on to the towel rail.
Not very comfortable for the duration of the expected 380km from the 18.9-litre fuel tank.
That's a strange tank size for this "coastal cruiser".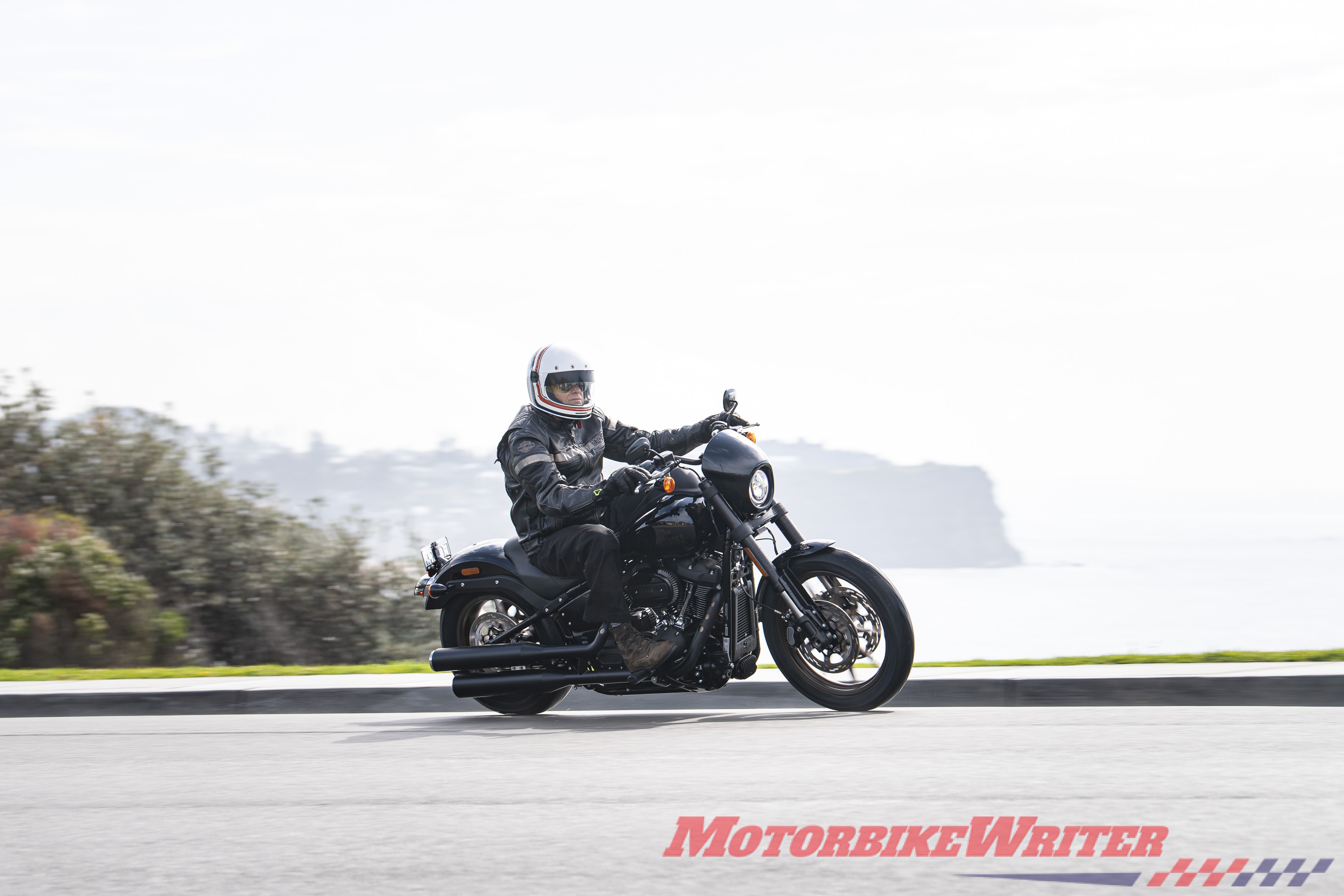 While I often criticise modern bikes for having small tanks, this is one that could have got away with less fuel capacity.
At least the solo low 690mm saddle is very comfortable with an extra hump of lower back support.
All the same, I would probably go for the optional forward controls to ease the hip pressure and make it easier to flick the side stand up.
They might also improve the already generous (for a cruiser) 33.1-degree lean angle.
However, I'm not the target market for this bike.
Harley is targeting a younger, hipper (no pun intended), more nimble and supple rider who is genuinely excited by the SAMCRO looks and the 155Nm of elephantine grunt.
But not too young as they might not be able to afford it!
Harley-Davidson Low Rider S
Ride-away price: $A27,995

(

$NZ29,995

)

Engine: MilwaukeeEight 114 (1868cc) V-twin

Power: N/A

Torque: 155Nm

Bore x stroke: 102x114mm
Compression: 10.5:1
Length: 2355mm

Seat height: 690mm

Clearance: 120mm

Rake: 28deg

Trail 145mm

Wheelbase: 1615mm

Fuel: 18.9L

Tyres: 110/90B19,62H,BW; 180/70B16,77H,BW

Wet weight: 308kg

Lean angles: 33.1deg

Brakes: 4-piston front, 2-piston rear