Harley-Davidson has finally issued a statement in the ongoing trade war sparked by President Donald Trump's dubious claims that America is disadvantaged by import duties.
It started when Trump complained about India's import duties affecting Harley and escalated when Trump threatened to raise import duties on steel and aluminium, prompting threats of retaliatory 25% duty levies in Europe.
Harley is caught in the crossfire and says it would be disadvantaged twice. Riders and Harley fans will also be disadvantaged.
"Import tariffs on steel and aluminium will drive up costs for all products made with these raw materials, regardless of their origin," the Harley statement says.
"Additionally, a punitive, retaliatory tariff on Harley-Davidson motorcycles in any market would have a significant impact on our sales, our dealers, their suppliers and our customers in those markets."
Trade war impact
Harley is no doubt concerned about the impact on sales in Europe which represents more than 16% of their worldwide market.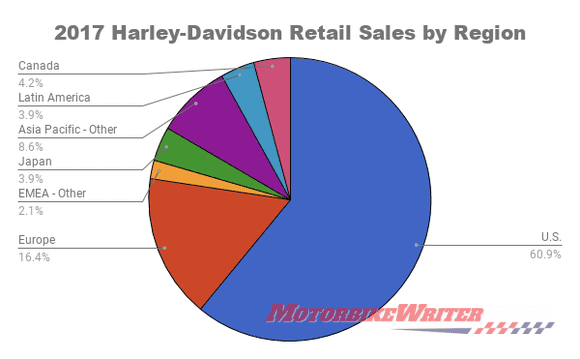 Besides, domestic sales of Harleys have been in decline for four years, prompting the company to close its Kansas City plant, and is now relying heavily on growing its overseas sales.
The last thing the company needs is a trade war that hits it from both sides on the price of raw materials and its finished product.
Riders will be the ultimate victim of such a trade war.
Interestingly, 33 years ago President Ronald Reagan hiked import tariffs on Japanese motorcycles to help Harley over tough times. Harley was able to return to profit and request the tariff protection be ended early.
How Trump is wrong
Trump is basing his tariff fight on incorrect information and unsound economic principles.
His initial claim that India imposed a 100% tariff on Harleys was wrong.
That duty only applies to second-hand motorcycles. Harley pays about 15% because it imports bikes in parts and assembles them in India.
Harley builds Street motorcycles in India for export to markets such as Australia and plans to build an assembly plant in Thailand.
Trump is also taking a simplistic view of world trade by isolating one tariff.
In fact, America receives multi-billion-dollar benefits from trade with India that includes goods and services as diverse as aircraft, IT and education.