Goondiwindi, is not only the home of famed racehorse Gunsynd, but also a crossroads for six highways – Gore, Leichhardt, Barwon, Cunningham, Bruxner and the Newell.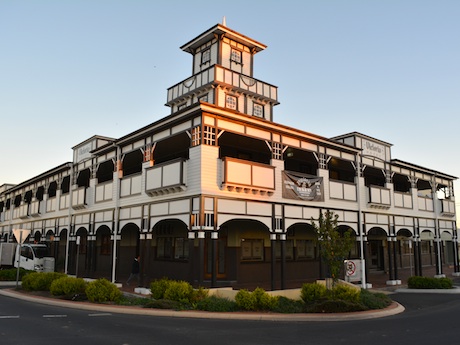 As a major crossroads, it's a common destination or waypoint for motorcycle riders heading in virtually any direction through Queensland and New South Wales.
The border town started as a gatekeeper and tax collector before Federation and it still plays a gatekeeping role with many interstate riders making it an objective to reach the border by sunset for an overnight stay on their longer sojourns.
I revisited the town this week with a few mates and once again stayed at the motorcycle-friendly Victoria Hotel in the main street.
There are plenty of hotels and motels in the town that make bikers feel welcome, but this once goes just that little extra.
We booked ahead for their Beer and Bullshit Tour which usually starts at 11am and finishes with a beer and lunch on the 4m-wide verandah. However, because we booked ahead and there were seven of us, they put on the tour from 5.30pm with a dinner instead. Publican John Klein says they are happy to do the same for other bikers who book ahead.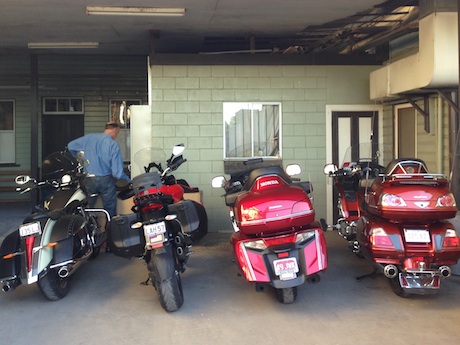 At $25 a head, it's pretty good value with a beer and generous meal included. Our guide, Gordon Fleming, keeps us entertained with historical tales of how the Gundsynd racing syndicate was formed in the back bar, bawdy tales of the past and even some ghost stories.
The hotel has been freshly painted and renovated with new carpets since I was there last year and it's a welcome oasis at the end of a long day's ride. There is undercover parking in a locked compound or you can ask to have your bike locked inside the beer storage shed.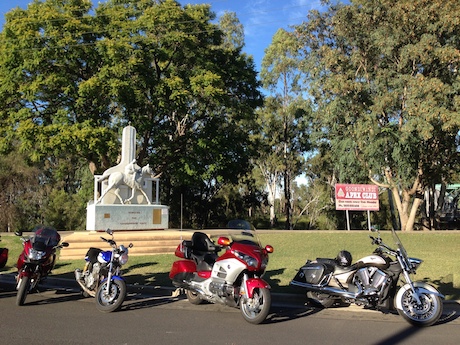 Rooms are $60 a pop with two comfortable single beds, a ceiling fan, airconditioner and a sink. There are hooks behind the door for your jacket and oil heaters to dry any wet riding gear. The best feature is a big common room with a large flat-screen TV, fireplace, and coffee/tea and toast-making facilities; a great place to debrief on the day's ride with your mates over a few drinks from the bar or bottle shop.
Publican John Klein saved the oldest pub in town from the wrecking ball in 2006. Since then he's been steadily reviving the pub from its sorry state into an award-winning pub that clinched the 2012 and 2013 Australian Hotels Association awards for best budget pub accommodation.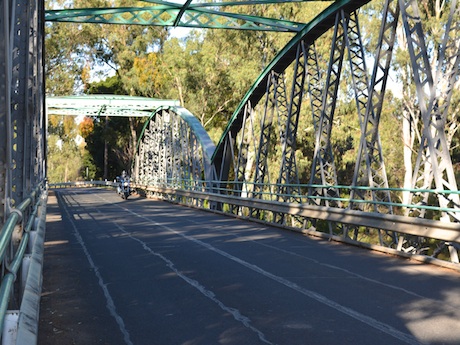 While in Gundi, it's a must to ride the old bridge across the Macintyre River into NSW, take a photo of your bike in front of the Gunsynd statue and visit the Customs House historical museum with its vast collection of old machinery and vehicles. Gundi councilor and president of the local historical society, David McMahon, says they also plan to introduce some old bikes to the display.
He's a keen supporter of motorcycle tourism and was instrumental in making nearby Texas the first Motorcycle Friendly Town in mainland Australia. He wants to do the same with Gundi and is currently planning a Trains, Planes, Automobiles and Bikes event for next June to mark the 150th anniversary of the railway line.
Victoria Hotel
Web: victoriahotelgoondiwindi.com.au
Address:  81 Marshall Street, Goondiwindi
Phone: 07 4671 1007
Fax: 07 4671 1009
Mobile:  0428 592805