Garmin has unveiled its new zūmo XT GPS which is brighter, smarter and packed with more features.
It would want to be, too, as it now costs  $A849 in Australia and $US499 in the USA.
If you have the Garmin Drive app it will also allow riders access to smart notifications, real-time fuel prices, live traffic reports and weather updates, and various hazard warnings.
Garmin Zūmo XT features
The new 5.5-inch HD resolution "ultrabright display" is brighter and clearer than ever and is claimed to be visible in the brightest direct sunlight.
However, if you turn the brightness up high it will reduce your battery life from about six hours to 3.5, although most riders hardwire it to the bike's battery.
They say the rainproof unit works fine with any glove, whether it has touchscreen sensitivity or not.
You can switch from preloaded on- and off-road maps to topographic maps and BirdsEye Satellite Imagery for an extra $39 at the touch of a button.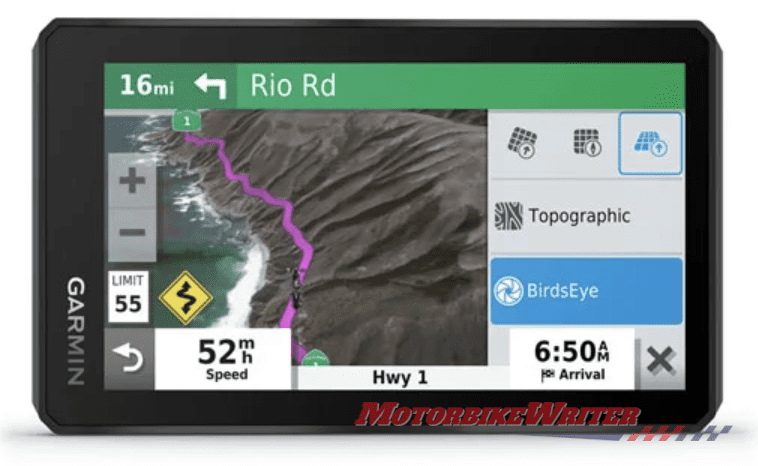 It features something called Garmin Adventurous Routing which they say will "turn straightforward rides into twisting, gnarly adventures by selecting your road preferences".
That sounds very much like what other GPS units offer.
You can also record all the details of your ride and then share it with fellow riders using the Garmin Drive app.
However, be careful what you store as it could be incriminating.
Data stored includes distance, total time, moving time, stopped time, current speed, overall average speed, moving average speed, and maximum speed!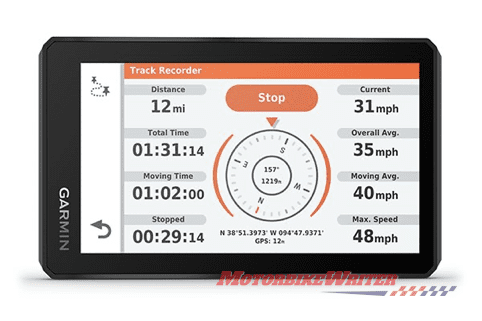 Bluetooth
Bluetooth the zūmo XT to your helmet for spoken directions, live traffic and weather updates, as well as listening to music and making and receiving phone calls.
In the event of a crash, you can set the GPS to sent a text of your location to an emergency contact of your choice.
You can also send GPX files from your phone to the zūmo XT.
It comes with a database of notable sites, points of interest, iOverlander and millions of popular places, thanks to Foursquare.
If you are touring, it provides TripAdvisor traveller ratings for hotels, restaurants and attractions along your route or near your destination.
It will also provide alerts for hazards such as sharp curves, speed changes and speed cameras.
You won't have to plug it into your computer to update either. So long as you have a wifi connection, you can keep your maps and software up to date on the road.
Zūmo XT even tells you when new updates are available.