It is a relevant fact that riding a motorcycle, by the very nature of it, is objectively more dangerous than driving a car. You have two small contact patches with the pavement instead of four larger ones, you are exposed to the elements instead of wrapped in metal and glass, and you are smaller than the average vehicle on American roads, which some people may not be looking out for. There are many ways to mitigate the risks, however one of the most important things to have while riding is dedicated and specialized motorcycle insurance.
This insurance, at the very basic level, covers the same things as automobile insurance covers, namely personal liability and property coverage, namely the bike itself. There are many levels of this basic coverage, and many do ride with just the liability and property coverage because of its low cost. However, there is an important area of motorcycle insurance that many are not aware of, namely riders.
Image via
What Is An Insurance Rider?
In layman's terms, an insurance rider is an optional piece of coverage dedicated to a specific type of coverage on top of the basic level insurance. A great example is if you're riding an old 1960's Harley Davidson that is lovingly restored and wrenched on every weekend to keep it rumbling along in fine style, it may very well qualify for a "classic" or "antique" insurance rider.
This type of rider is in place as parts and services for older motorcycles can be rare or hard to find, and your insurance company will have already done the legwork to have authorized, knowledgeable mechanics and specialist shops lined up to return your cruiser to rideable condition should anything happen. The level of coverage is also very much up to the owner, which means that you can tailor the coverage you want to suit your budget and tastes.
Another example of a motorcycle insurance rider that many outside of sportbike owners do not consider or simply skip over is protective equipment coverage. This has left many motorcyclists hanging high and dry after an accident, as while the bike may be repaired or replaced under basic insurance, the protective gear that you were wearing (you were wearing all your gear, all the time, right?) did its job and sacrificed itself to keep you intact. So now you have a bike, but a cracked helmet, torn jacket, one boot had the sole ripped off, and the like, and we all know just how pricey proper gear can get.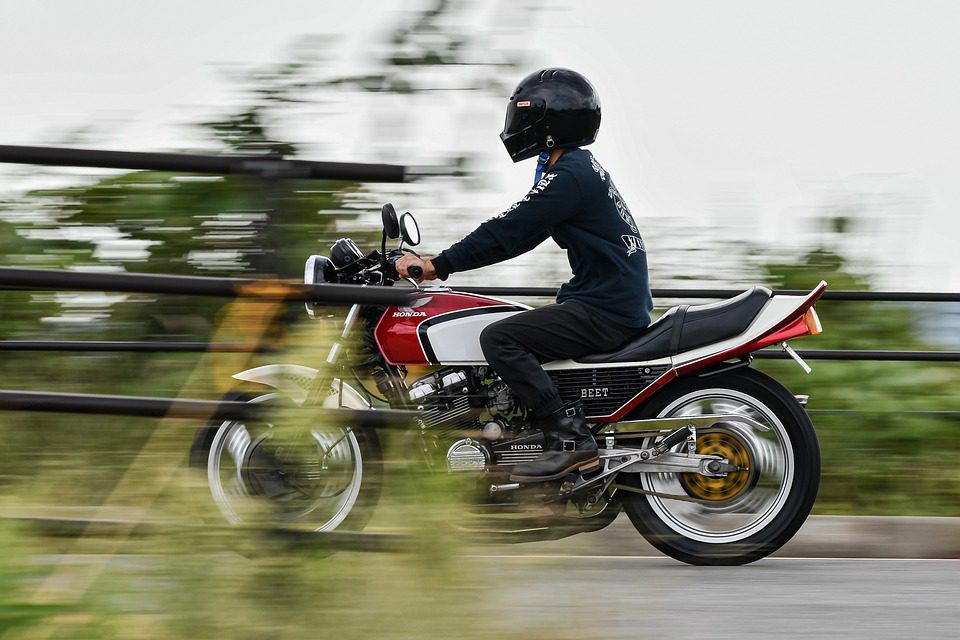 Image via
Not All Motorcycle Insurance Is Created Equal
So far, we've been talking about the most basic level of motorcycle insurance, personal liability and property. There are, however, other levels of "basic" coverage, and even specialized coverage, that, while being more expensive, cover far more than the true basic level.
In fact, you may already have the next step up from basic coverage on your car and not even realize that you can get it on your motorcycle. This is the famous "Collision & Comprehensive" level of insurance. So what makes it different from basic insurance? On top of the liability coverage, this tier of insurance covers everything you would need in case you are involved in an accident. Medical bills, medical transport, lost wages from injury, personal disability if it was a serious, life altering accident, and the like.
On the comprehensive side, coverage includes acts of god (mostly extreme weather, flooding, fire, et al), theft, vandalism, and even falling object coverage such as a tree branch snapping off in the wind and knocking your bike over. Basically, anything that can happen to your motorcycle while it is not in motion and you are not in the seat is covered here.
As well, depending on your insurance company, "C&C" in insurance parlance may also cover gear automatically. The key wording to look for in the coverage brief is "protective equipment, properly used, in the event of a collision." This is usually limited to a maximum of $1,000 to $1,500, and does operate on a priority system of enabling you to legally ride again, with the helmet quite often being the most expensive, and first priority, on that list. A leather jacket or a pair of riding boots are "affordable" in terms of replacement, but the most important bit, your head, needs protection first and foremost.
Beyond the "C&C," things enter into specialized insurance. While you might be able to insure both your car and bike together under one company and save a little, if you want to go up a tier of standard coverage, you will be looking at insurance companies that only deal with motorcycles. Quite often, you will find that coverage through these companies starts with Collision & Comprehensive as the most basic level, and moves on up from there.
With specialized insurance, you might also get coverage against uninsured or underinsured motorists, a nice bit of protection if someone writes off your bike but only gets a ding in their door and doesn't drive with insurance coverage. Another feature quite often featured as a draw to specialized insurance is "Mechanical and towing" as standard. This coverage has helped many riders, on intercity cruises, afford to be able to get a specialised tow truck with a motorcycle cradle and harness out to them, get their bike to an authorized shop, and get the bike repaired, all with very little or no out of pocket from the motorcyclist.
What Riders Should A Motorcyclist Have & Why?
While most motorcyclists have most of their concerns covered with a "Collision & Comprehensive" level plan, there are some important riders that are worth the extra investment. We asked the experts at InsuranceNavy, a very popular insurance provider and brokerage in the Western US, as to what are the best investments to make in insurance.
Image via
Additional Gear/Accessories Rider
While insurance will often include between $1,000 to $1,500 worth of gear coverage, if you have had custom gear made, such as a one piece riding suit, fitted riding pants, et al, that $,1500 maximum coverage starts to look very small. For a few more dollars to your premiums, you can add gear and accessory coverage above and beyond the "Standard" level of insurance. According to InsuranceNavy, this can cover anywhere from $2,000 to $30,000, depending on total cost of gear when new.
Most insurance plans have this rider, although you will find the higher values more often with dedicated providers.
Image via
Passenger Liability Rider
Most motorcycles are designed for one, but many have the option to seat two people on them. Some are even designed to be extremely comfortable for two people, such as transcontinental cruisers and tourers. What isn't covered in most insurance plans, however, are the passengers themselves. While you, as the operator, may have full coverage, if your passenger is injured in an accident, they are very often not covered under standard plans.
This rider adds coverage equivalent to your own for your passenger, and is very much worth getting if you are going to be frequently travelling with your partner on the rear seat, or often provide rides to passengers.
Image via
Disability Rider
One of those "I really don't like talking about this" riders that you, quite honestly, should talk about with your insurance broker/provider. This rider covers the unforeseen extra expenses and issues regarding injuries sustained in an accident that may be considered under three different insurance terms: temporary disability, permanent disability, and life-altering disability.
Without getting too gory in description, a temporary disability would be something like a comminuted tibia break, where multiple surgeries would be needed to repair the bone, up to and including inserting a rod into the leg to stabilize the area that is healing. Permanent disability is a step up, which covers catastrophic injuries that require amputation and/or removal of damaged organs, which often leaves you with a lifelong disability that, while not pleasant, does not remove your ability to live independently.
The most serious is life-altering disability, a form of permanent disability. The major difference is that a life-altering disability is one where you lose the ability to be independent in life, such as spinal injuries, traumatic brain injuries resulting in loss of function, and other disabilities that will require specialized care and equipment for the rest of your natural life.
Accidental Death Rider
Quite often bundled with the disability rider, a death rider is one that every motorcyclist, of any age, skill, ability, or experience should have in their plan. This is also why almost every insurance policy has you name a beneficiary. As morbid as it seems, out of all reported motorcycle accidents of any type in 2019, just under 1% of them resulted in fatal injuries to the motorcyclist (as per the IIHS). In terms of motor vehicle fatalities, they made up a huge 14% of all deaths on the road.
Having an accidental death rider in your insurance is one of those common sense things, really. This rider, at the very least, covers recovery of your body and transportation to the medical examiner or morgue, as well as expenses related to end of life services including religious ceremonies, funeral or cremation expenses, and all expenses that may accrue during this period related to your body.
Almost all death riders will also include a life insurance policy, which will pay out to your beneficiary. Depending on the level of coverage selected, this payout could be simply a multiplication of total costs from your death to your burial, or could be a set amount to provide for your partner and/or children in the event of your passing while on your motorcycle. There is also a waiver available for this part of the rider, as many Americans have independent life insurance unrelated to vehicular insurance that pays out in the event of any natural cause of death, be it a vehicular accident, old age, or the like.
Image via
As you can see, these are just some of the recommended riders that are beneficial to add to your insurance plan for your motorcycle. As well, in 48 of the 50 states of the USA, motorcycle insurance is required by law, and while you can get away with having basic liability coverage, it's recommended to at least get collision and comprehensive coverage.
As well, motorcycle insurance varies wildly from person to person, depending on type of motorcycle, brand, age and driving/riding history of the motorcyclist, and about 30 other factors. By nature, someone riding a Kawasaki Ninja 650 will pay much less than someone riding a Ducati Panigale V2. One is a sport tourer, the other is a race bike with wing mirrors.
No matter what factors affect your premium, both we here at webBikeWorld, and the brokers at InsuranceNavy, recommend going through an insurance broker to get the best deal on your policy. These are specialized professionals that will present your request for insurance to multiple companies, with the riders you want, and will communicate back to you the offers they received with any caveats. Best part of all, you don't have to pay a cent to the broker, as they are paid directly by the insurance company you select for generating business for them!