Forcefield Sport Shirt Review Summary
Review Summary
An investment to be sure, but a worthwhile one thanks to CE-rated armor and good quality of build. You'll feel cooler wearing them, even if you don't *feel* cooler...
Pros
Comfortable
lightweight
CE-rated armor
Cons
Awkward seating thanks to butt armor
chest armor moves around a bit
Forcefield Sport Shirt Image Gallery
Quick specs:
Retail price: $219 (shirt, with armor) / $199 (pants, with armor), CE level 1/2 armor (see full review)
Early May I received the Forcefield Sport Shirt 1 X-V and Sport Pants 1 from Motonation, the North American distributor for a few popular brands including Forcefield, SIDI, and Trilobite (as well as their house brand, Motonation Apparel). I viewed the Forcefield combo as a way to make up for the fact that I ride ATGATT as often as I ride MOTGATT.
I know, I know. I haven't found a pair of riding jeans that I've been completely satisfied with, so I usually skip riding pants when I hit the road despite having a couple of pairs on-hand.
This is a long-winded way of saying that the body armor provided by a good base layer wouldn't go unappreciated. After all, a layer of armor where there was none before – and CE 1/2 armor at that – is much better than no armor at all, even if it's not an ideal replacement for a proper riding pant/jacket combo.
With that in mind, let's have a look at what has turned out to be a pretty impressive pair of armored base layers.
Disclosure: this gear was provided at no charge by Motonation for the purposes of this review.
Forcefield Sport Shirt X-V Features
From ForcefieldBodyArmour.com:
Secure armour fit
Ideal for use under outer pants/Kevlar jeans
Lightweight, high-performance compression material
Breathable
New ergonomic shaped armour hips and buttocks
Isolator CE1 or Isolator CE2 armour
Armour thickness from only 8mm (CE1) or 12mm (CE2)
Isolator 2 passes all 4 areas of the CE2 test (Ambient, Wet, Hot, Cold)
Repeat Performance Technology
Use for on and off road
DRI-M Technology (Dynamic, Reactive, Intelligent Material)
Certification details: ​CE: Sport Shirt 1: EN1621-2 Level 2 (Back). SATRA M28: 2007 Level 2 (Chest). EN1621-1 Level 1 (Elbow & Shoulder)
Forcefield Sport Pants Features
Lightweight, high-performance compression material
Ideal armour fit and body placement
Lightweight, removable armour
Isolator CE1 or Isolator CE2 armour
Armour thickness from only 8mm (CE1) or 12mm (CE2)
Repeat Performance Technology
Use for on and off road
DRI-M Technology (Dynamic, Reactive, Intelligent Material)
CE Certification: CE: Sport Pants 1: EN1621-1 Level 1 (Hip, Elbow/Knee). Sport Pants 2: EN1621-1 Level 2 (Hip, Elbow/Knee)
You're Looking At Roughly $420 for the Pair
RevZilla currently has the Shirt for $219 and pants for $199 (both with armor). Without armor, you're looking at $129/each. With or without armor, pricing is on the high-end of market competitive. The Knox Urban MK3 is $30 cheaper than the Sport Shirt, for example, though the Knox doesn't offer quite the same level of protection. RevZilla doesn't list much that directly competes with the Forcefield offering.
The Sport Shirt is more armored than most armored base layers on the market. When you start to drill into available options with chest protection, the Forcefield offering becomes one of the only options available with this level of protection at a reasonable price with CE-rated armor. There are even fewer comparable pants.
Speaking of protection, the Sport Shirt 1 and Sport Pants 1 protect your major joints and probable impact zones.
The Sport Shirt 1 X-V comes with CE level 2 armor in the chest and back, and CE level 1 armor in the shoulders and elbows.
The Sport Pant 1 X-V comes with CE level 1 armor in the knees, hips, and buttocks. Yes, these pants will make your butt look big.
Comfort is King
Slipping into the shirt and pants proved to be nice and easy. Form-fit material like this can be hit or miss but is a "hit" here. Both top and bottom are skin-tight, neither of which leave much to the imagination. If all you're wearing is the underlayer, be prepared for your bits and bytes to be, uhh, "countoured" and visible. These are not clothes you wear without something over top… especially if you're self-conscious.
But once they're on, and I'm not exaggerating when I say this, they effectively disappear. Even with all the armor inserted, the pant and shirt combo is very comfortable, lightweight, and non-restrictive. There are some small sacrifices made in terms of ergonomics, but they are negligible and tolerable for long rides.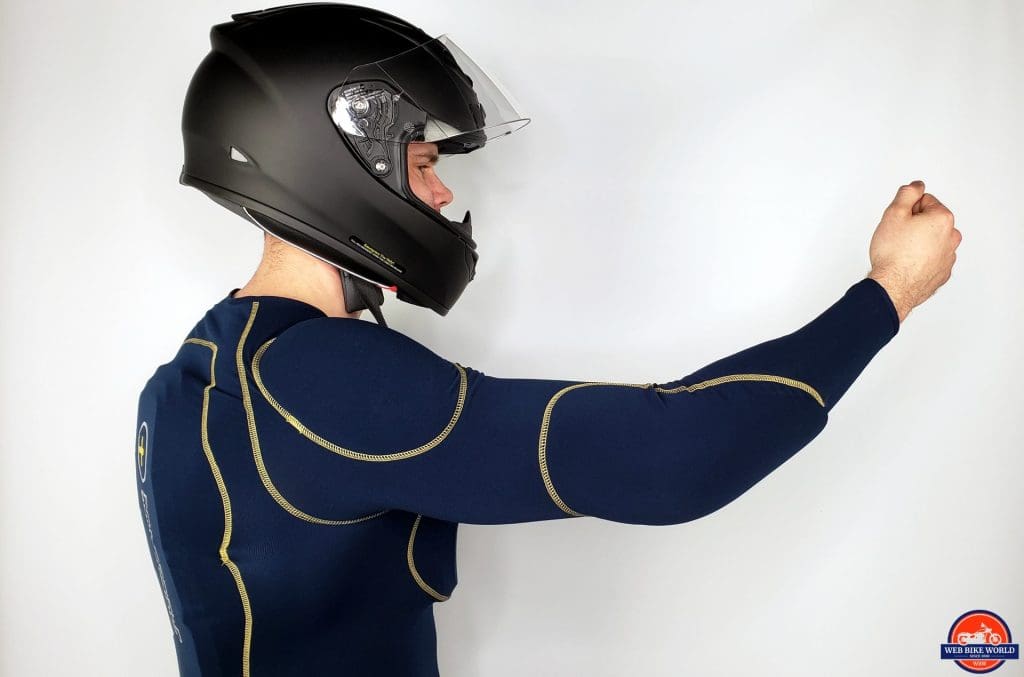 The material Forcefield is using is remarkably similar to athletic compression wear (you know, that sheer-like material that is soft and form-fitting), and I actually found that it was easier to put on my riding jacket when wearing the Sport Shirt. Thanks to the stretchy material, jackets just slide right on. Forcefield calls it DRI-M (Dynamic, Reactive, Intelligent Material). Jim talked more about the material in his Forcefield Sport Tube and Tech 2 base layer review if you want to learn more.
It's All Good Down Under!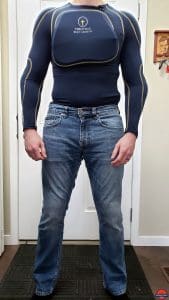 No, I don't mean that.
Worn under clothing, the entire ensemble is surprisingly comfortable. I am able to wear my usual jeans over the Sport Pants, armor and all. In fact, you almost couldn't tell I had anything going on- the only giveaway is how the butt armor makes your butt look a bit wider and a lot flatter.
It's the same story for the Sport Shirt, which slips into a jacket without any fuss. I have worn the Forcefield gear underneath a REAX Jackson, Fieldsheer Suzuka, and Motonation Dominator (review coming soon- all comfortable and with minimal range of motion impairment from the armor. In the Suzuka I did notice tightness in the chest area due to the chest/back armor on the Sport Shirt, but it's also a closer fitting race-style jacket compared to the other two.
Made for Cool Kids
If you're concerned about heat management, fret not: air slips right through the DRI-M material (which is 92% polyamide and 8% elastane). If you're wanting under layers that add a bit of warmth to your ride, these are not the items for you. Heat is kept under control, in part because the material is good at wicking moisture away from your skin.
A Comfortable Package
All told, I'm impressed with the pair. I'm very impressed with how the pants and shirt fit as comfortably as they do underneath a riding jacket and pair of jeans. I can wear these for hours and not be bothered by them.
Build Quality
Given the pricetags tied to the gear, it's fair to have high expectations in terms of build quality. I had read a review on RevZilla that was less than favorable, with a major bone to pick with the build quality of the shirt (and the zipper specifically), but my experience hasn't been the same. In the two dozen rides or so I've had with the gear, I've yet to find a tear or snag the zipper. The zipper isn't YKK, sure, but it feels sturdy enough and hasn't come undone on its own.
Fit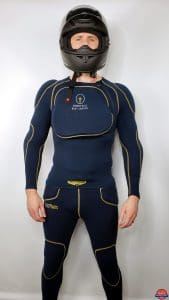 Reviewing this type of product is always an interesting experience, if only because the photos show off every curve you've got. But we know that already.
The material is lightweight and comfortable, and while I seriously questioned my ability to fit into the size large (per the size chart), getting in and zipping up was easy.
Thanks to its skin-tight fit I am able to wear my regular size jeans/jackets with the Sport Shirt/Pant combo underneath, and that's with armor inserted.
The hip and butt armor on the pants took a few minutes to get used to, but the awkwardness of having a piece of armor under my butt quickly faded.
The armor is inserted into pockets at the various points throughout the garment and stays put once you've got the gear on and adjusted. The exception to this is the chest armor, which I found tends to move around if you're doing a lot of hugging or hand talking- I usually have to readjust it before I zip up my jacket.
Wear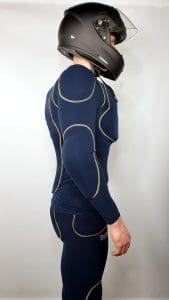 As mentioned above, the Forcefield gear has been getting plenty of wear. I'm pretty impressed with how well the material has held up. So far, I haven't experienced any color fading, pilling, or frayed stitches.
Admittedly, I've been quite nice to the gear. I'm mostly a city rider and the gear is well-kept. The weather has also been unseasonably cool, so I haven't been sweating much when on the bike.
Still, both top and bottom have been washed several times and have come out looking good.
Care
I put the gear in the wash on a delicate cycle (with armor removed) and hang to dry. Removing the armor and putting it back in is trivial, and stripping the armor from the gear only takes a moment. If they've shrunk, it's not appreciable- the gear is just as tight as I remember it.
Armor
Sport Shirt 1 X-V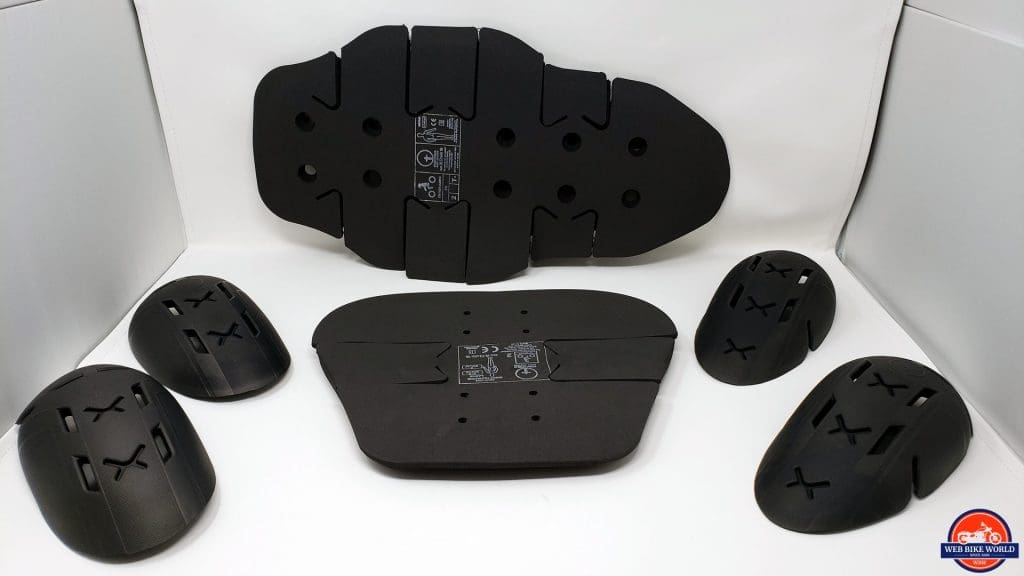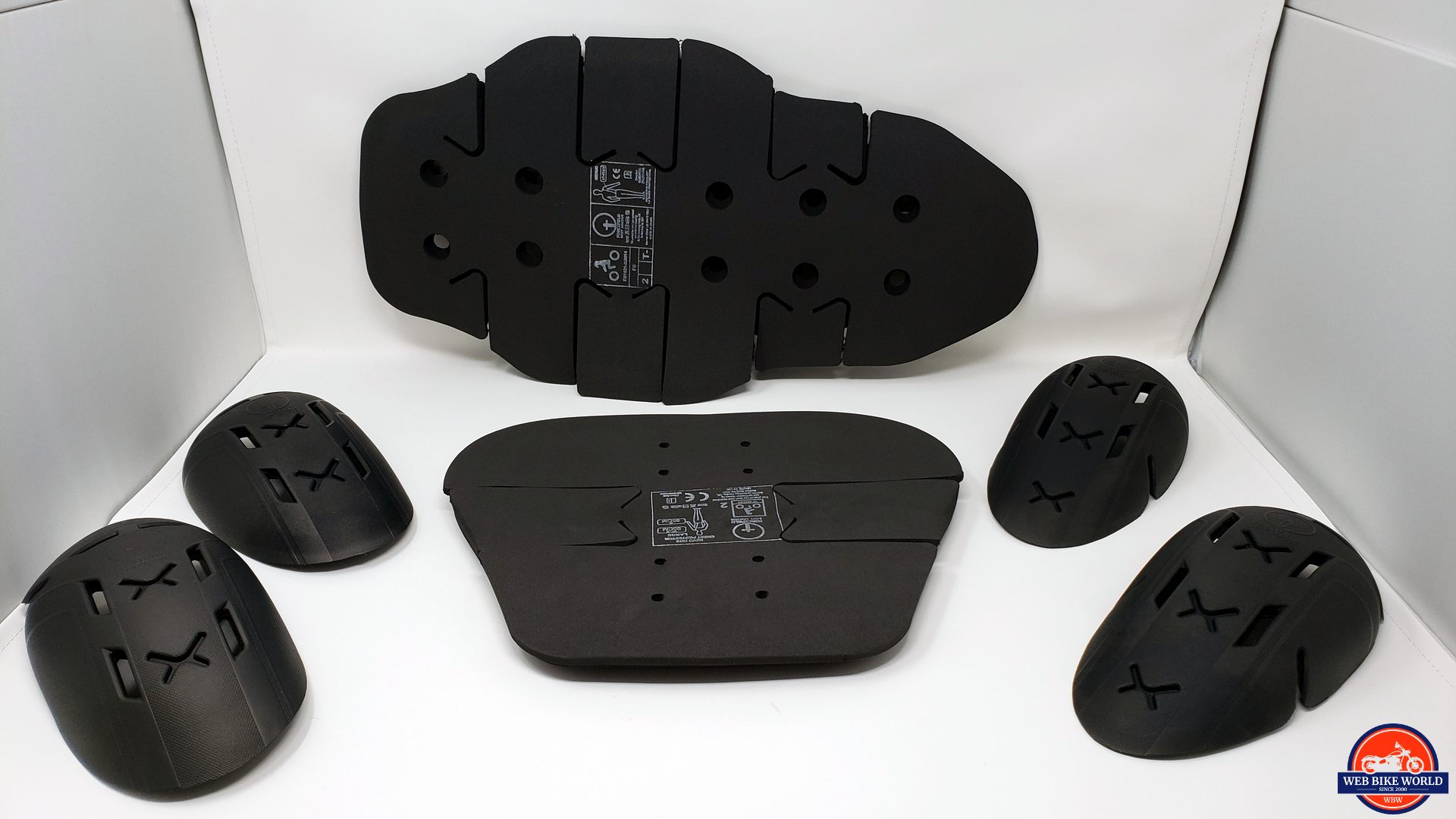 The Sport Shirt has six armored pockets: both elbows, both shoulders, the chest, and the back. The armor used in the elbows, shoulders, and knees is "Isolator" CE 1, 8mm thick, and somewhat soft. The slim profile is what helps it tuck away under your clothing. In the chest and back Forcefield is using 12mm thick CE level 2.
The armor pockets have a thin opening that stretches to insert or remove the armor. There are no zips or snaps: you just reach in and do your thing. The overlapping "mouth" of the opening has enough fabric coverage to keep the armor in place once you've inserted it, but opens wide enough so as to ensure you're able to insert/remove the armor easily.
The armor is lightweight and doesn't add any appreciable bulk. You may notice a slight change in the weight of the garment, but once it's on, it's compressed tightly against your body and so the weight becomes immaterial.
Sport Pants 1
The Sport Pants have armor in the butt, thighs, and both knees. They are inserted/removed in the same way as they are in the Sport Shirt, and share the same qualities when it comes to comfort, placement, and ease of insertion/removal.
The butt armor is the most noticeable component of the entire two-piece ensemble, as when you sit, you're sitting on it. The size of the plate might be big and soft enough to make uncomfortable seats more tolerable (anything is possible), but in my experience, it doesn't add much to the ride. It feels like what it sounds like: sitting on a plush piece of foam on top of the bike seat.
If the butt protection is less valuable than comfort, you can remove it and go back to your au naturel derrière. I leave it in since I imagine road rash on the butt is particularly uncomfortable.
If You're Happy With the Price of Admission, the Forcefield Sport Shirt & Sport Pant Combination is a Good Way to Level Up Your Protection
I recognize that armored base layers are not a proper substitute for well-built riding pants and jackets. That said, they are a great way to add protection and peace of mind to your ride. For those that ride ATGATT, this Forcefield gear could be a good way to up your protective ante. For MOTGATT riders, it adds armor and protection without asking much of a sacrifice with respect to comfort.
That said, if you aren't already wearing riding pants and a jacket, you can get into a decent jacket/pants combination for roughly the same price as this Forcefield gear. I'd also argue that, if choosing between the two, you'd be better served with the jacket/pants vs. armored base layers.
You can upgrade to CE level 2 armor in both the Sport Shirt and Sport Pant, which is a meaningful but not inexpensive upgrade. The Pro Shirt 2 is $259, as are the Pro Pants 2, resulting in a $100 premium compared to the Sport Shirt 1/Pants 1.
Overall, Forcefield is offering a good product in the Sport Shirt and Sport Pants. They are not the least expensive options in their respective segments, but they are good quality and packed with CE-rated armor. I rarely ride without them.
Pros
Comfortable
Use of CE-rated armor
Easy to get on/off
Ease of armor insertion/removal
Cons
Chest armor moves around a bit
Butt armor takes a bit to get used to
Review Details
Manufacturer: Forcefield
Review date: July 2019
Price when tested: $219/shirt, $199/pants (with CE 1 armor)
Shirt Sizes: XS-XL
Pants Sizes: XS-XL