REAX Jackson Review Summary
Review Summary
The Jackson is a well-made "incognito" riding jacket that offers a good amount of protection while still being conventionally good looking. Nondescript branding - or a total jack of it - helps the jacket fly under the radar. It's comfortable and I am happy to see CE level 2. A second interior pocket and a chest vent or two would be a welcome addition.
Pros
Good looking black on black scheme works with almost anything
CE level 2 armor in the shoulders and elbows
More relaxed pre-formed fit is more comfortable than more aggressively fitting jackets
Close fit that doesn't encroach on being too tight
Cons
No back armor (can be added separately)
Doesn't flow air nearly as much as the perforated panels would suggest
Quite stiff for the first several rides
Could use more sealable storage
REAX Jackso Image Gallery
REAX is a new line of gear from COMOTO, the parent company of RevZilla and Cycle Gear. Kevin went into who they are in a bit in his review of the Ridge jacket and you can check out their corporate site here to learn more about them.
The high-level overview is that REAX is RevZilla's house brand, designed to be price competitive and appealing to "millennials". I put "millennials" in quotes because I find that their gear is a fairly conservative universal style and don't see how it'd be specific to millennials.
Then again, I'm a millennial. Moving on.
The point is REAX markets themselves as a new brand made by people in the industry that "get it". While testing the Jackson I avoided reading Kevin's review of the Ridge jacket until I was finished my review, as I was quite curious to see for myself what REAX was all about.
Features
Matte Buffalo leather 1.2mm-1.4mm thickness
Strategic perforations
SAS-TEC CE Level 2 elbow and shoulder armor
Pocket for optional back protector (back protector sold separately)
Reinforced protective shoulders
Reinforced Superfabric elbow inserts
Reinforced double-layer elbows
Arm and shoulder stretch inserts
Articulated sleeves
Adjustable waist
Zippered cuffs
Hand pockets with key clip
Neoprene inserts at collar and cuffs
Moisture-wicking stretch mesh lining
Interior waterproof device pocket
Interior cargo pockets
Interior belt/jeans loops
Subtle reflective highlights
YKK zippers
Two (2) year warranty on materials and workmanship
Initial Impression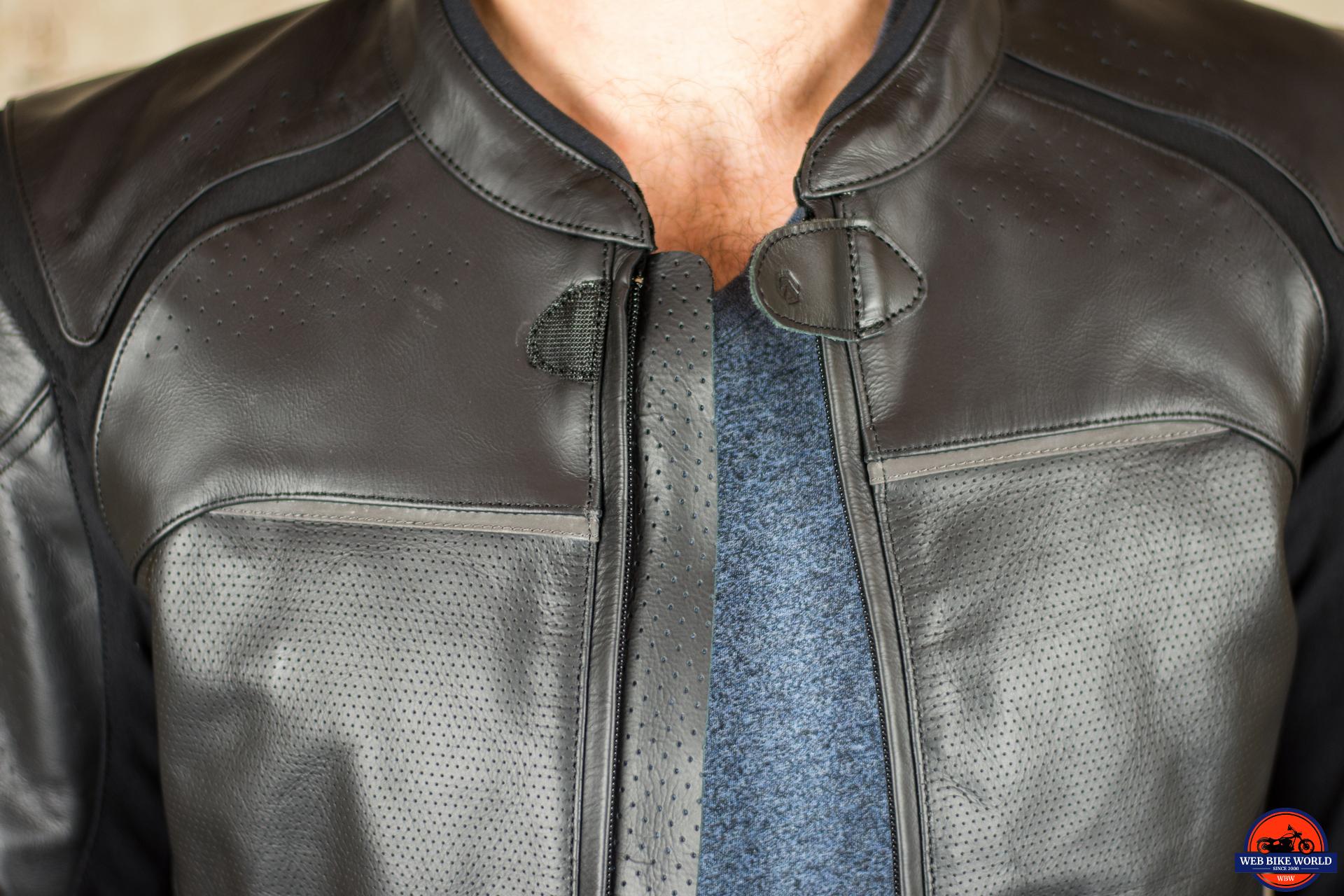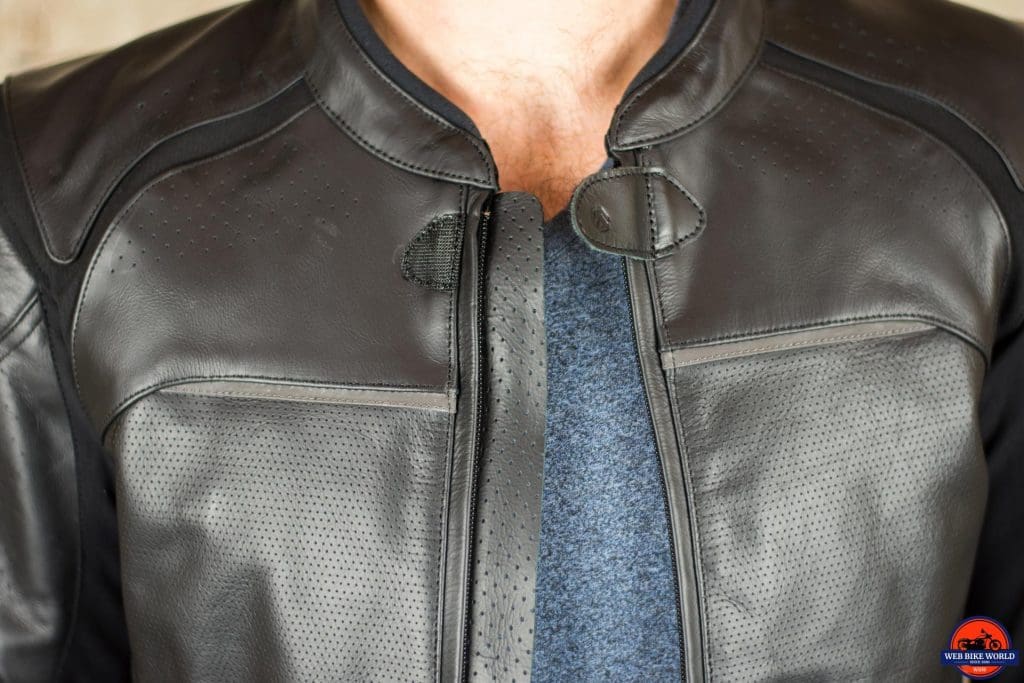 The Jackson is a good looking leather jacket and it makes a strong first impression.
The all-black scheme works for it, blending the stretch panels, armor, and leather sections together. REAX branding, while present, is minimal and done in all-black, embossed in the leather. You won't see it from a distance but it is there.
It looks like something a stealth fighter pilot would wear, and I'm 100% down with that.
The first try on goes well. I'm wearing the Jackson on the heels of the Fieldsheer Suzuka review, and immediately I'm getting the impression that the fit of the Jackson is more relaxed by comparison. Excellent.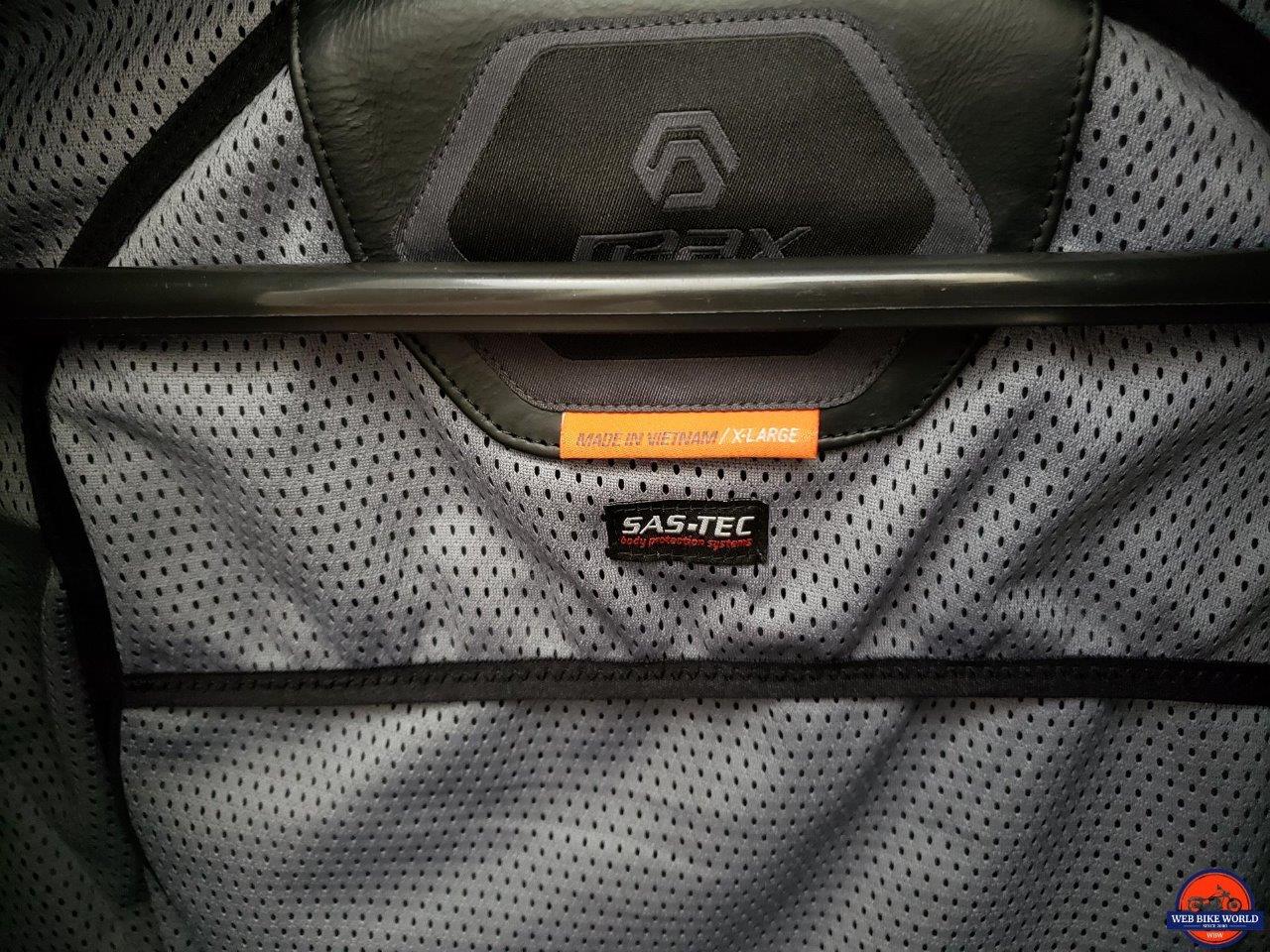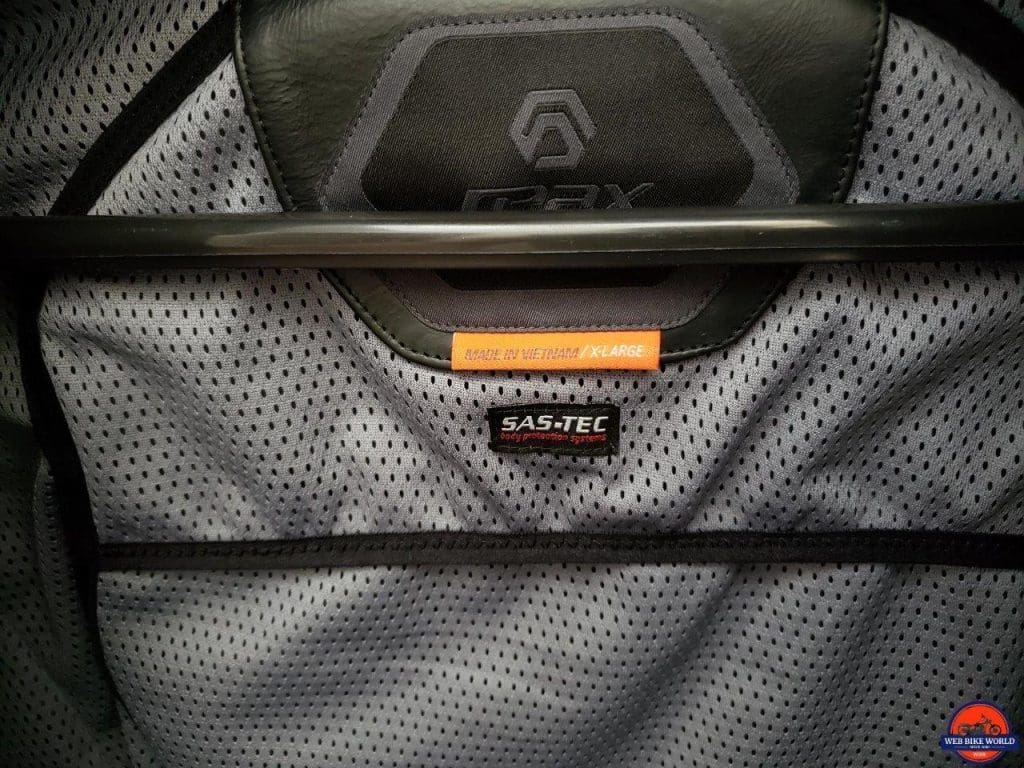 The Jackson is a one-piece jacket – the liner is not removable and there are no matching pants (though REAX does have three different pairs of pants in their lineup at this point). There are two belt connectors at the rear, though.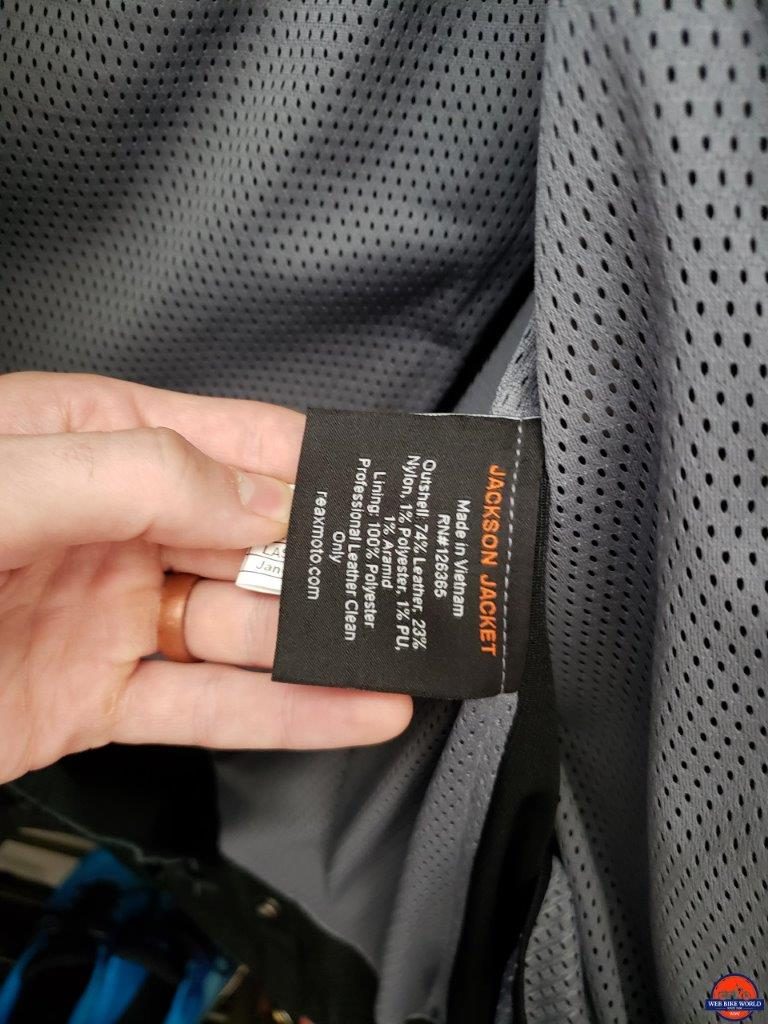 Both front pockets zip up, there are two pouch-style pockets in the liner, and another zippable (and waterproof) pocket on the inside left breast.
As of today, the Jackson is worth $429 new on RevZilla. That's a fair buck but not out of line for a good quality leather jacket. Value is important to me as anything that asks for my money had better be worth it.
So far things are looking good, though!
Aesthetics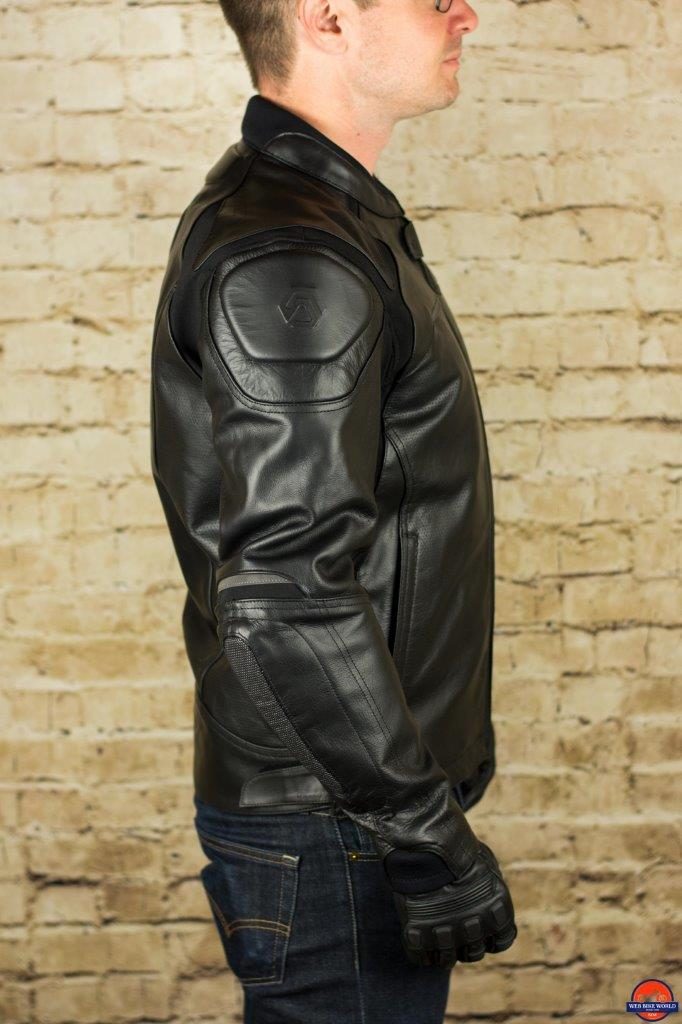 The people I've shown this jacket to generally have given one of two reactions: "that's a great jacket for $430" or "who's REAX?". Not a bad sign.
There are four reflective areas on the Jackson: on the front chest (both sides), on each arm just above the elbow, and on the back at the top of the spine. These reflective areas are normally a dull grey but light up like Christmas against a light source (such as a car's headlights).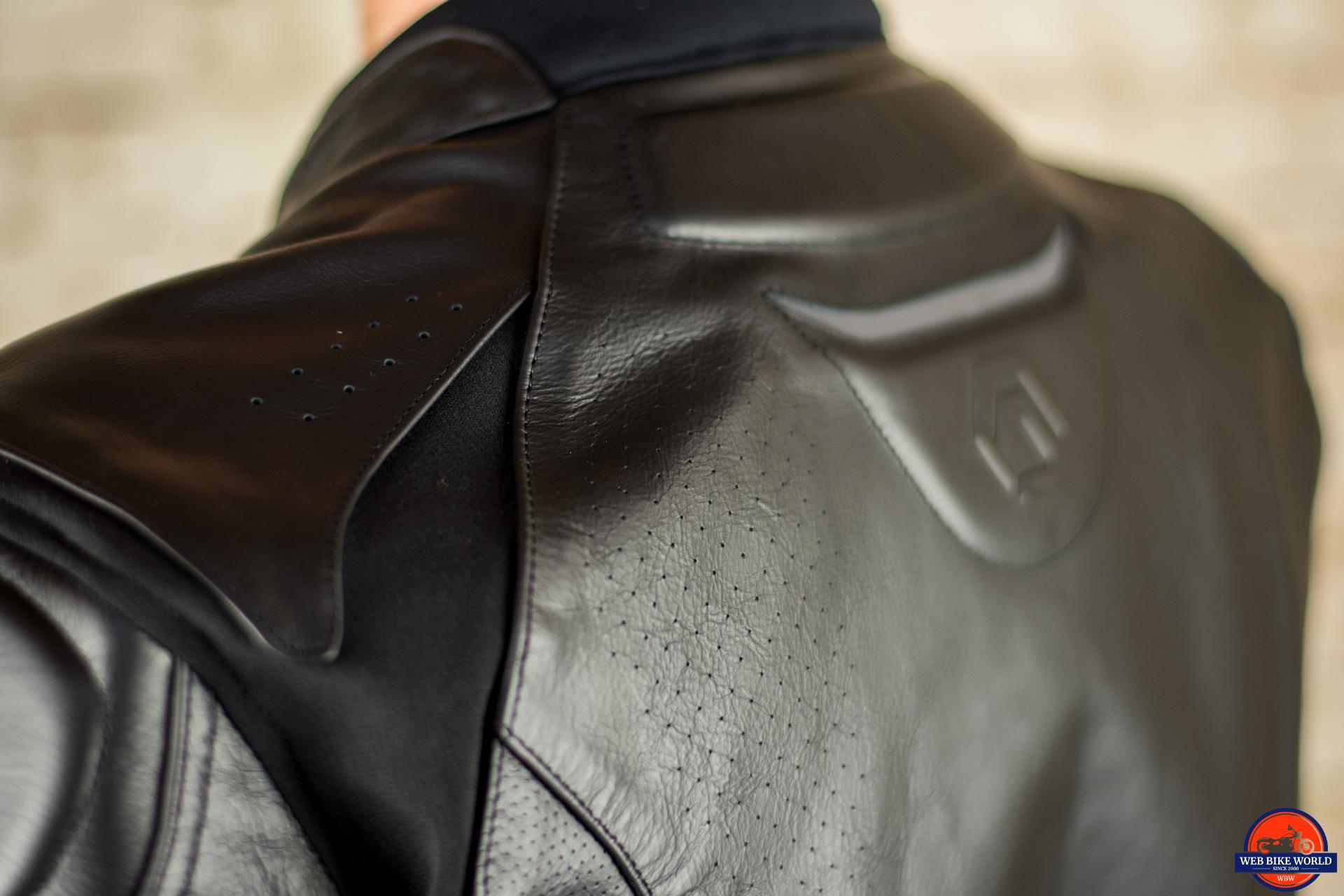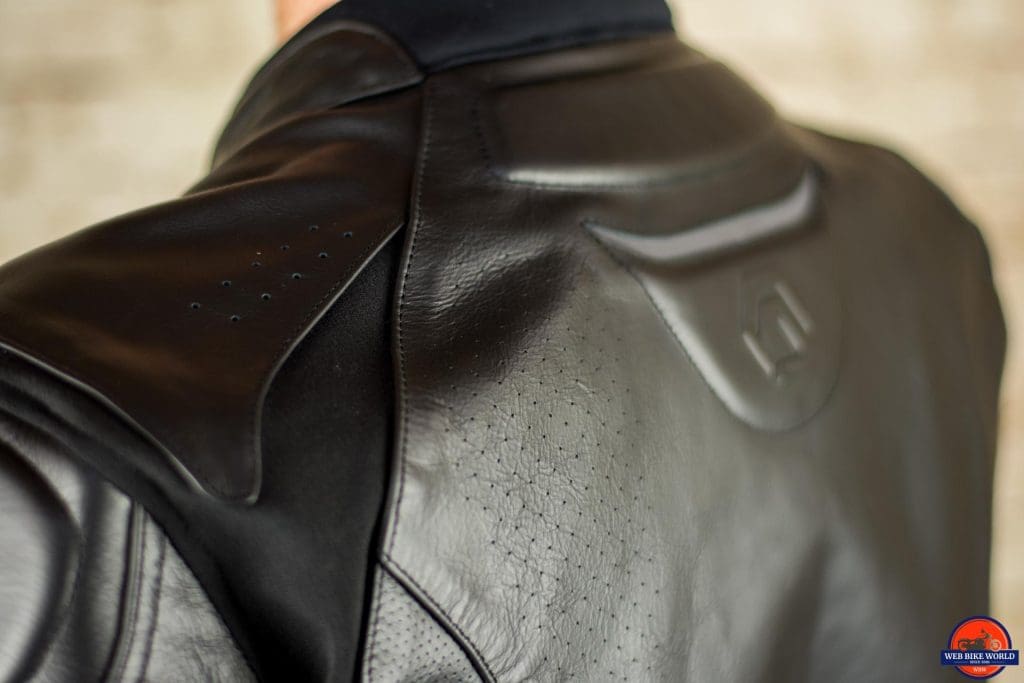 I like how they've paneled the leather and stretch material. With the way they've designed it, the Jackson looks like it came out of a futuristic sci-fi movie, and I am also down with that. While maybe that's a stretch, that doesn't change that the Jackson looks good.
The perforated leather that dominates the front and rear of the Jackson is complemented by the perforated panels on the arms and shoulders.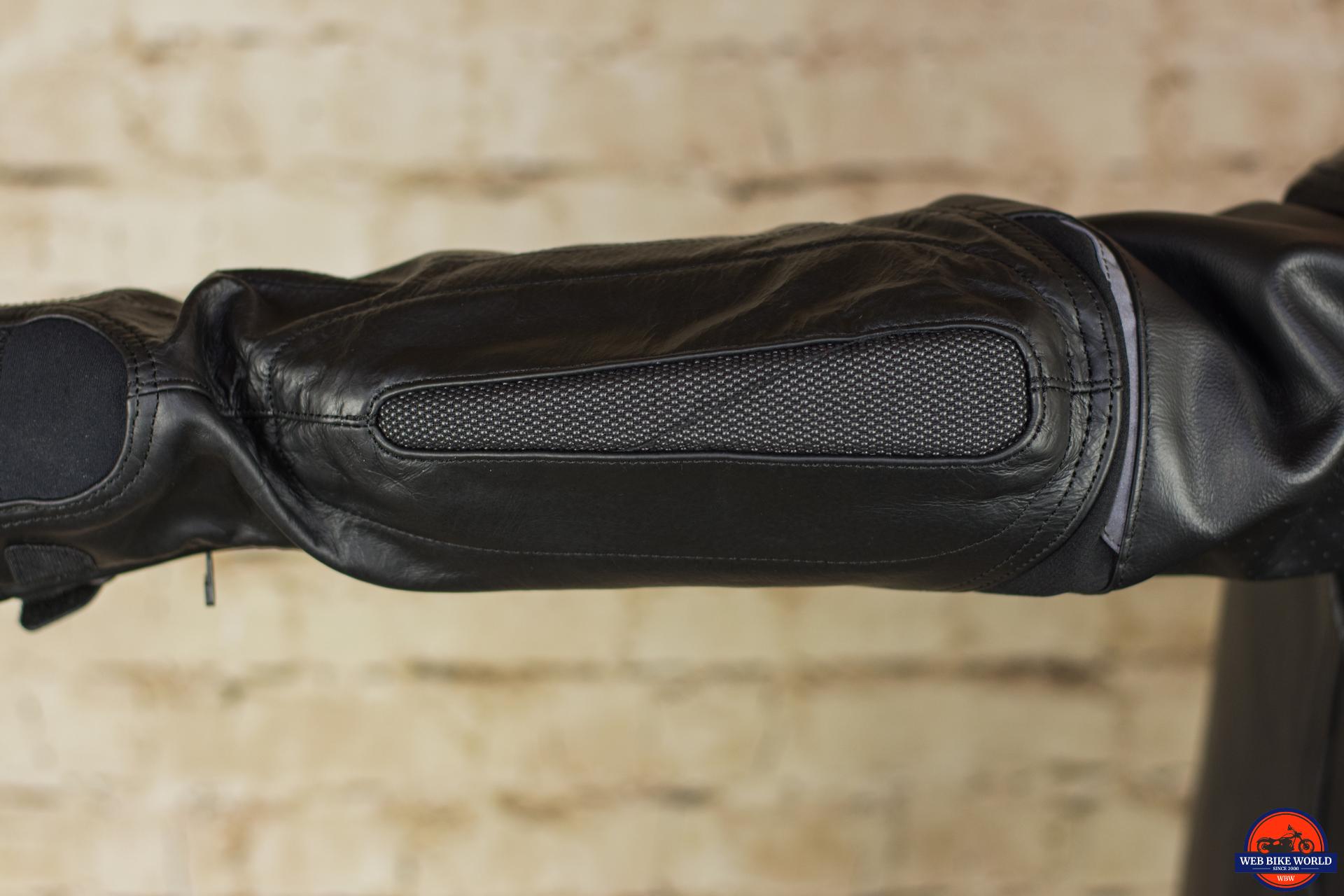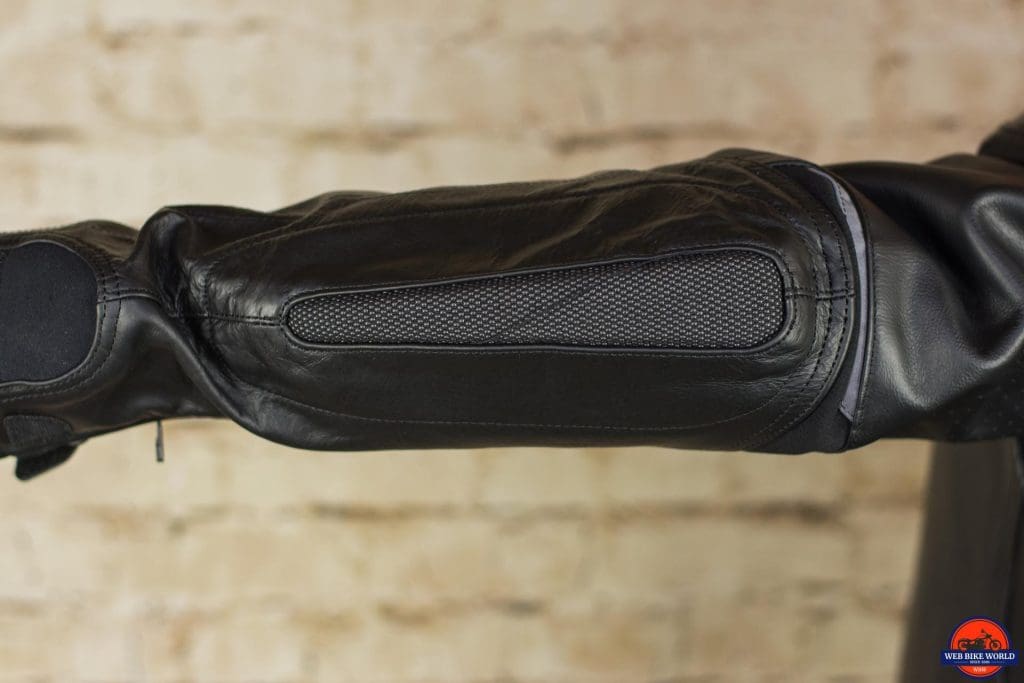 I like how the armor is integrated into the shoulders, elbows, and arms. It sticks with the black theme and doesn't detract from the jacket at all. It doesn't feel out of place and I think it adds a bit to the jacket. In the case of the elbows, the armor and finishing material offers a slight visual break from the all-black and enhances the look.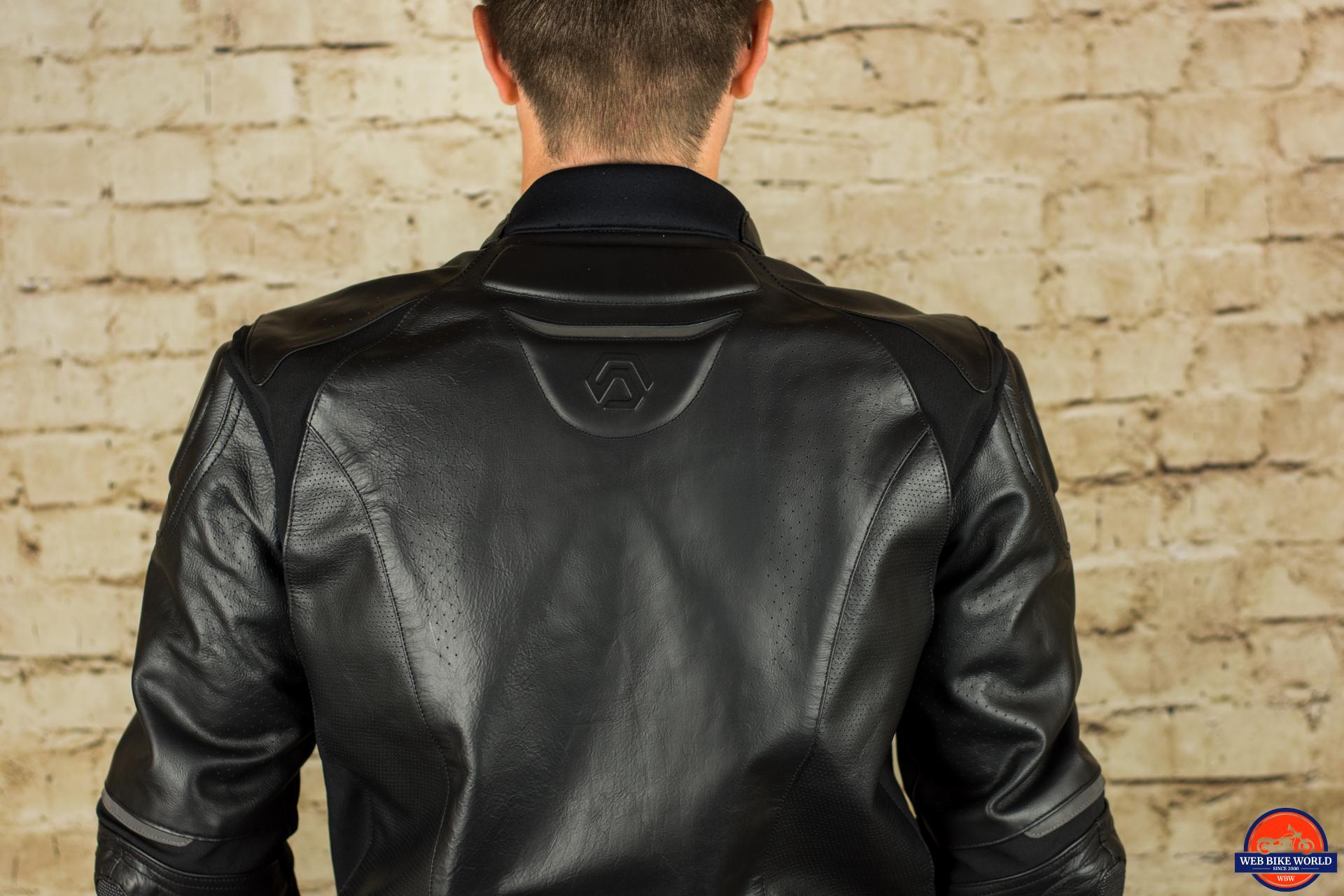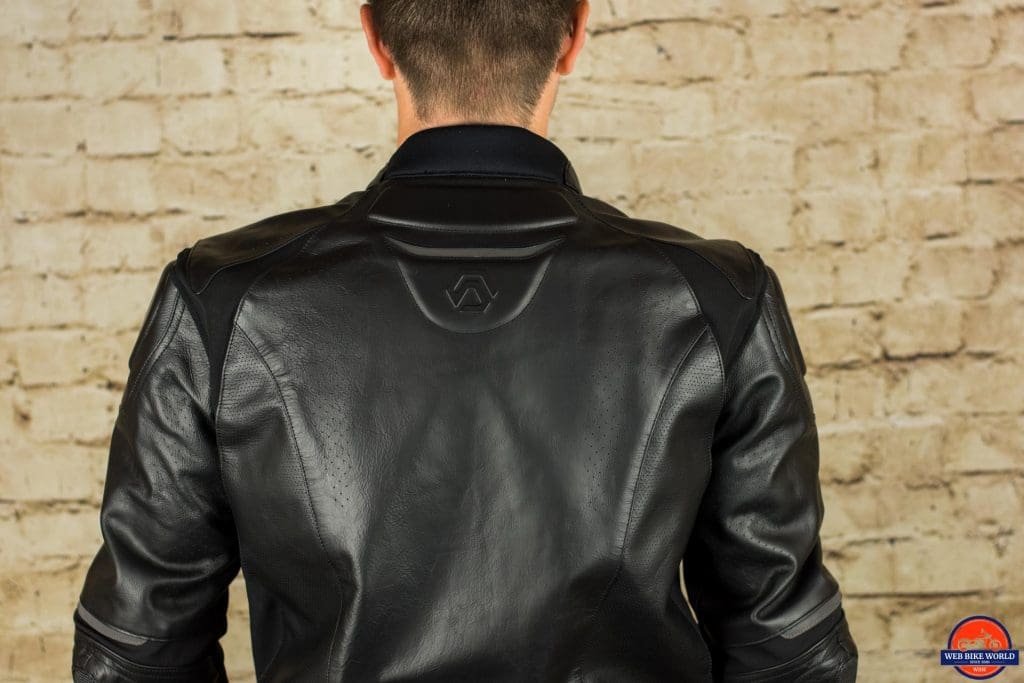 All in all, I think that the Jackson is an aesthetic win. I'd wear this jacket anytime. So I guess that's a +1 for the Millennial-focused style.
Fit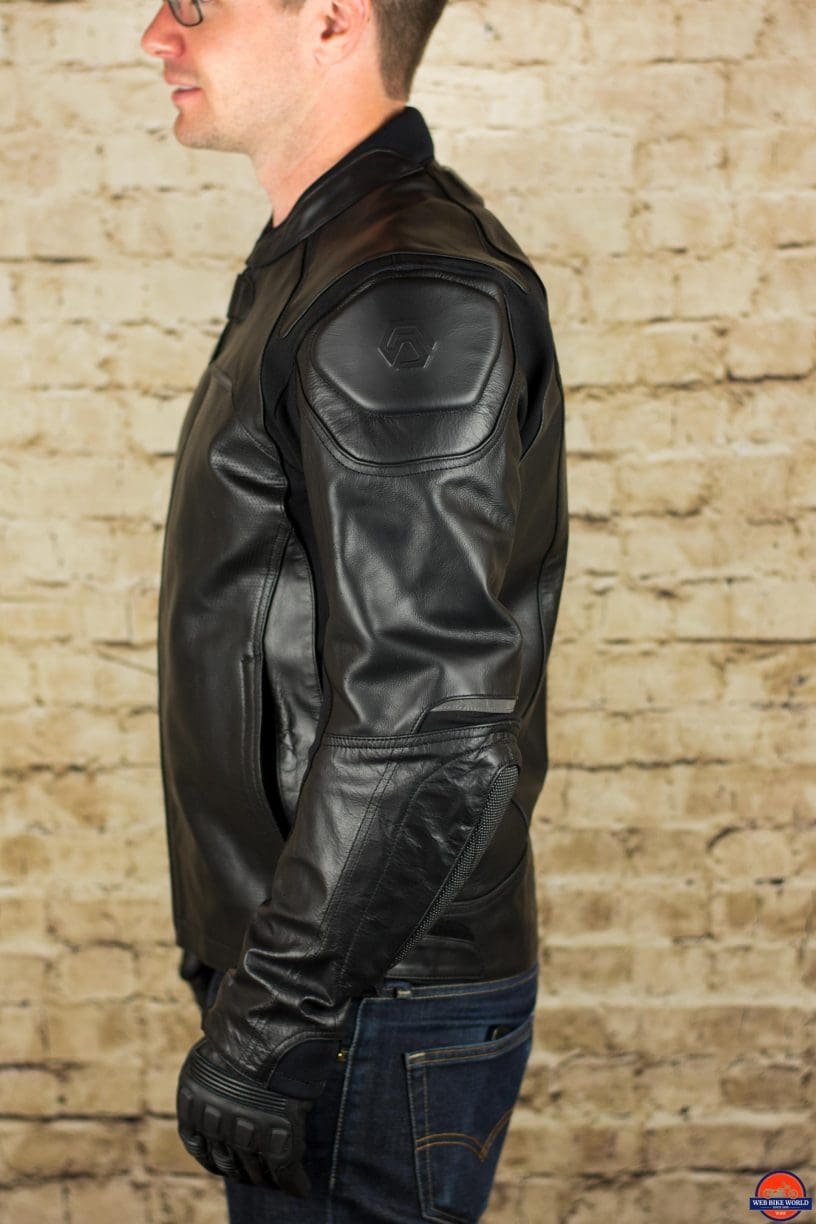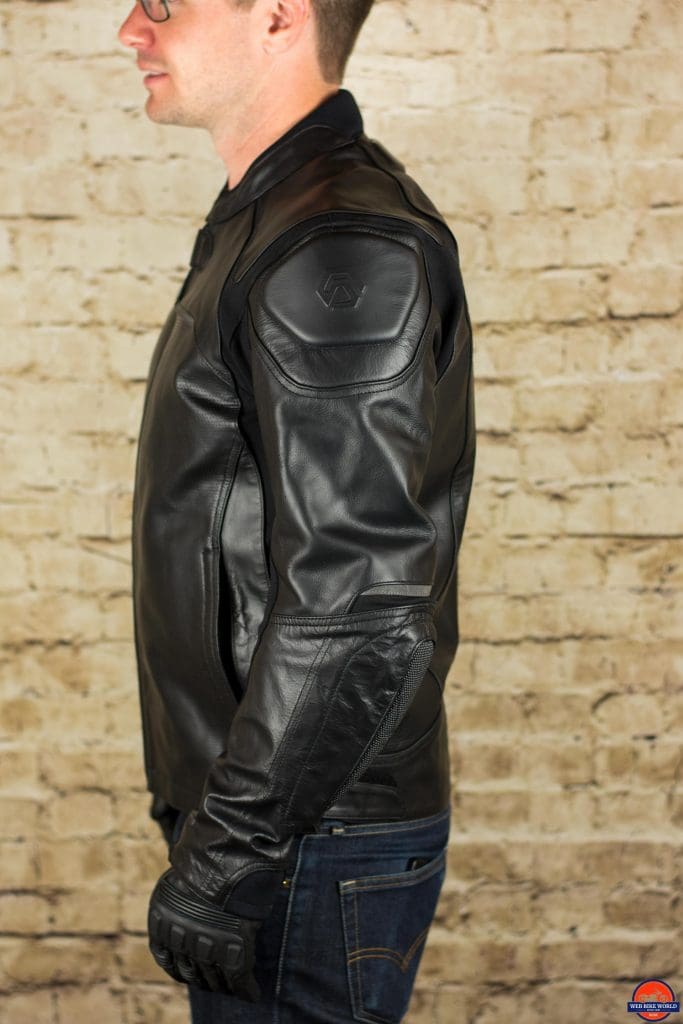 Bryce weighs approximately 180lbs and is wearing the Jackson in a size extra-large (he's the handsome fella showing off the Jackson in these pics). It's a bit loose-fitting on him but not so much so that he'd want to size down to a large (his words). I'm 195lbs and also find the XL comfortable. In the video on RevZilla's Reax Jackson page, Hi-Viz Brian is shown in the Jackson and he's 195lbs.
The fit is sporty but not racey. The Fieldsheer Suzuka I recently reviewed fits much more aggressively than the Jackson does, though the Jackson is still a sport fit. I've got a pretty large chest at 45" and find that the fit in the Jackson is fine but were I any bigger, I'd want to bump up to an XXL.
Arm mobility is pretty good, but you won't be doing much hugging with the jacket zipped up.
Comfort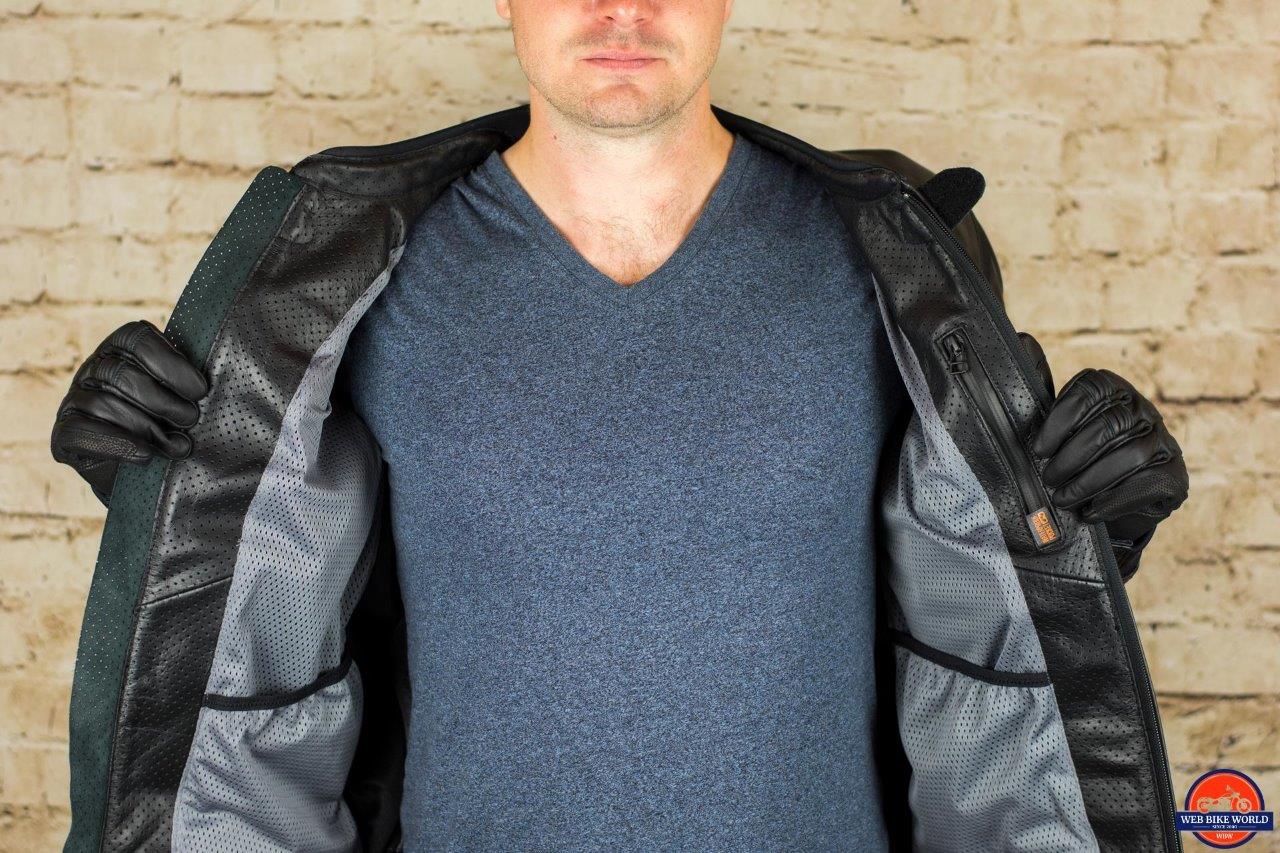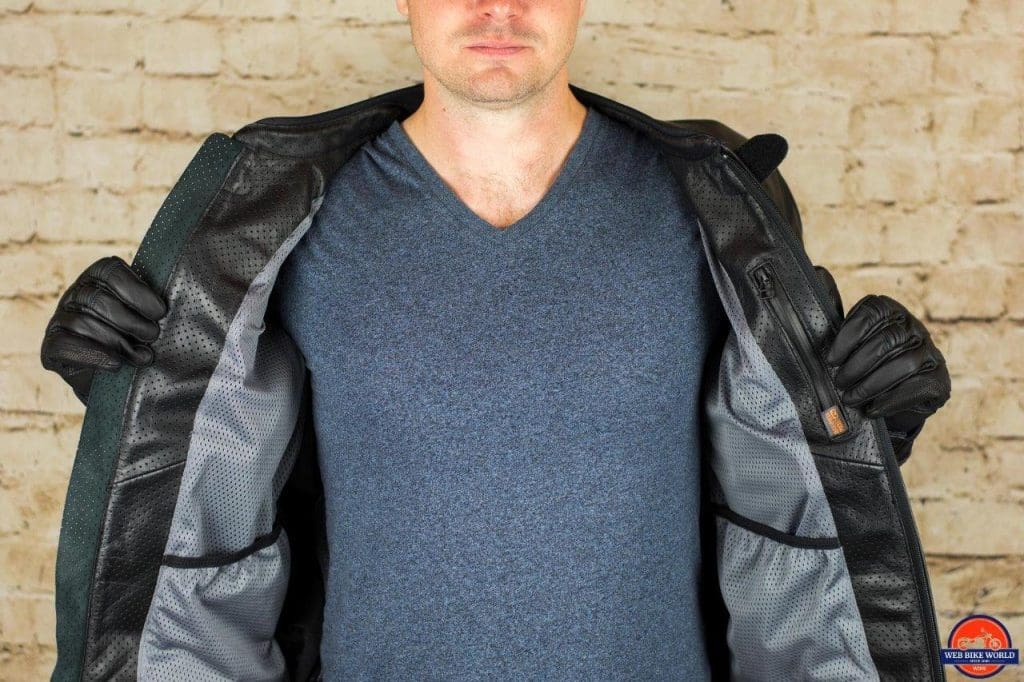 The Jackson can be adjusted on either side of the waist via low-profile velcro and at the wrists with the usual zip.
The pre-formed sport fit is there but it's not uncomfortable. Standing and walking around in the Jackson is only a little awkward, but other than a bit of stiffness in the arms, it looks and feels like a normal jacket (well, looks that way from a distance, anyway).
Airflow
I'm honestly quite surprised at how air flowed through the Jackson. Coming from the Suzuka, which flows air more freely and is very comfortable to ride in on hot days, the Jackson feels more constricted and doesn't vent as well in the torso.
I was expecting more airflow on the chest and back given the use of perforated leather and stretch panels, but it's modest at best. The arms are well ventilated, though, and can be made even more so by loosening the cuffs.
Other than the cuff zips, there are no other areas that you can open or ventilate. The Jackson relies on its breathable material and perforations. This doesn't translate into sweltering-hot rides, but the mediocre ventilation on your torso, combined with the black on black everything, does mean that the Jackson can heat up- especially when the sun's out. If you live in a hot climate, you'll definitely want a lighter jacket to wear on those hot, sunny days.
However, people that live in climates with cooler mornings/evenings and where the average temperature isn't 90+ (like this Canadian), the Jackson would work pretty well as a 2-almost-3 season jacket.
Storage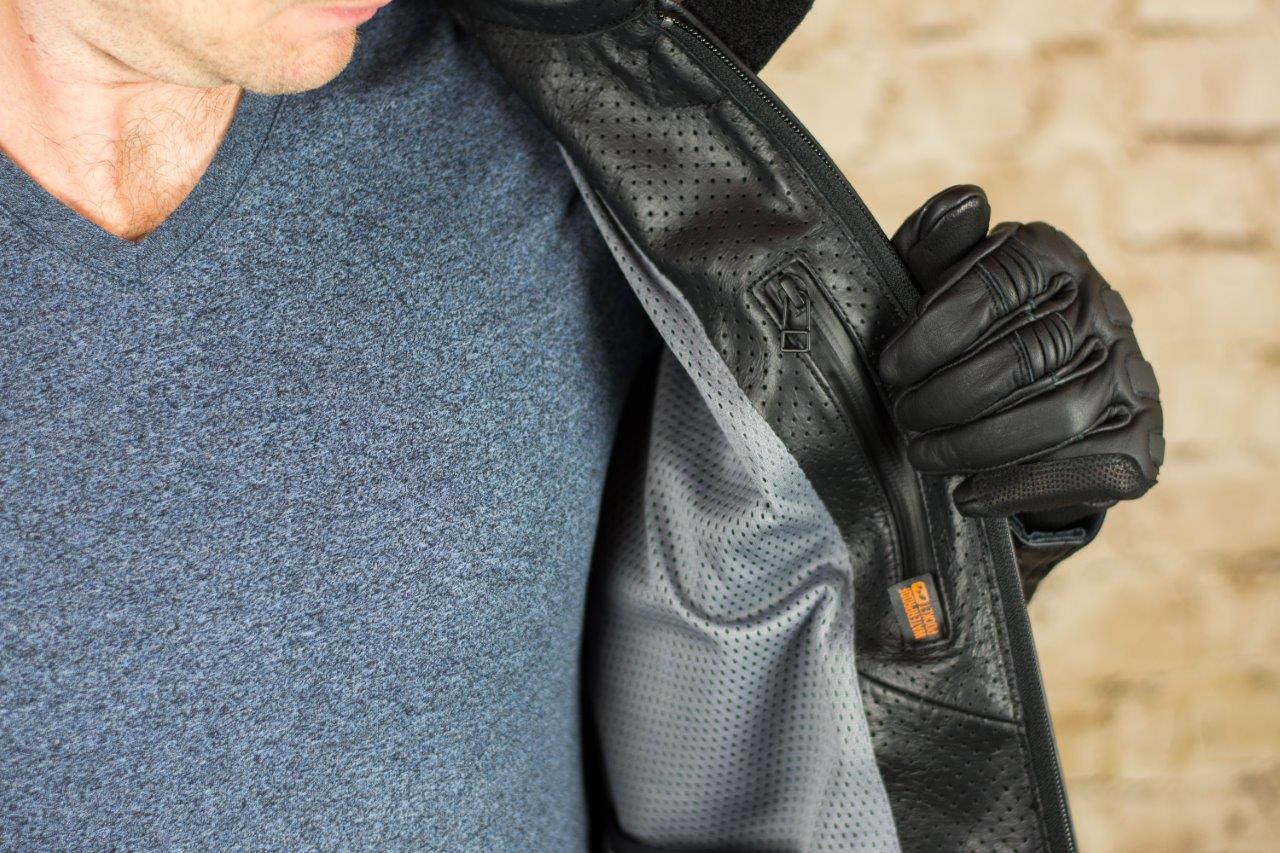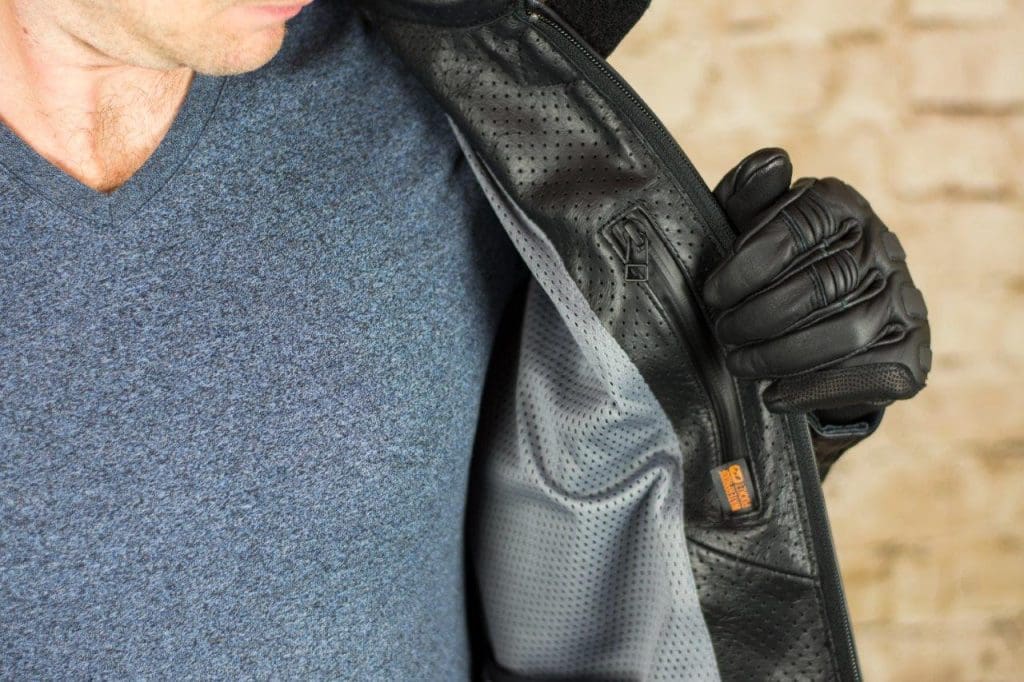 The Jackson has three zippable pockets – front left/right, and inside left breast – as well as two pouches in the jacket liner. I call them pouches because they don't zip closed or seal at all. I don't like to use pockets that don't seal, zip, or snap closed in some way. Believe it or not, but years ago I lost an iPhone to a Ninja 500R, open interior jacket pocket, and a small pothole.
If you're free of that personal restriction, then you've got five pockets to use.
The waterproof breast pocket is big enough to stash my wallet, Samsung S9, and some. Plenty deep and with the previously-mentioned stuff, it zips right up. The chest does get a bit tight when you've got the jacket zipped up and the breast pocket loaded, though.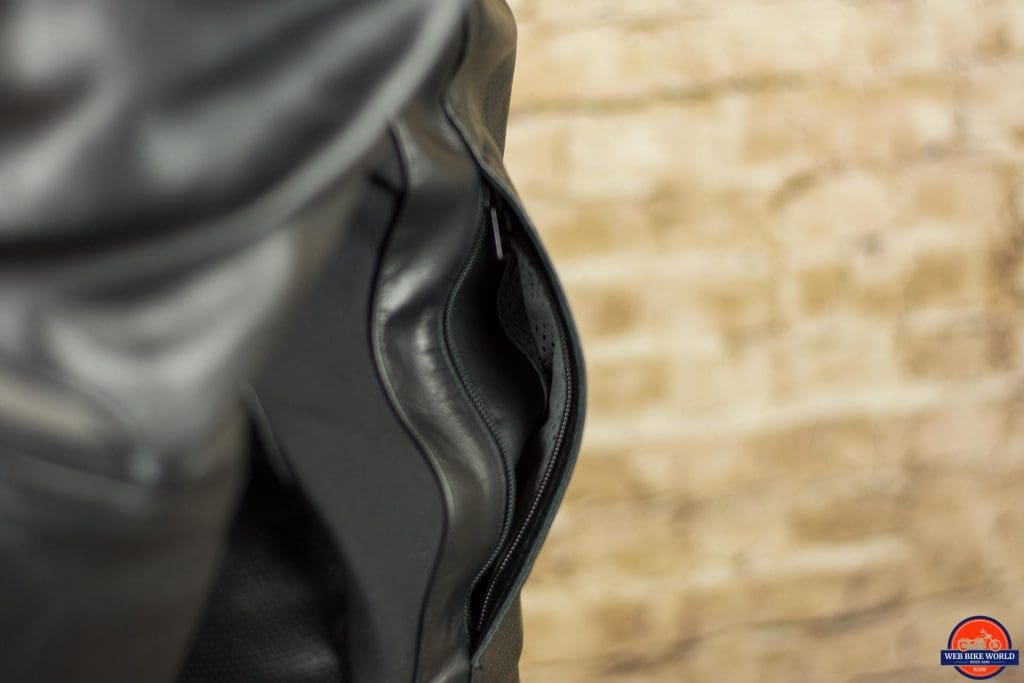 Both the front pockets are also a good size and can carry about the same amount of stuff as the breast pocket. These zip up but aren't waterproof.
Construction & Protection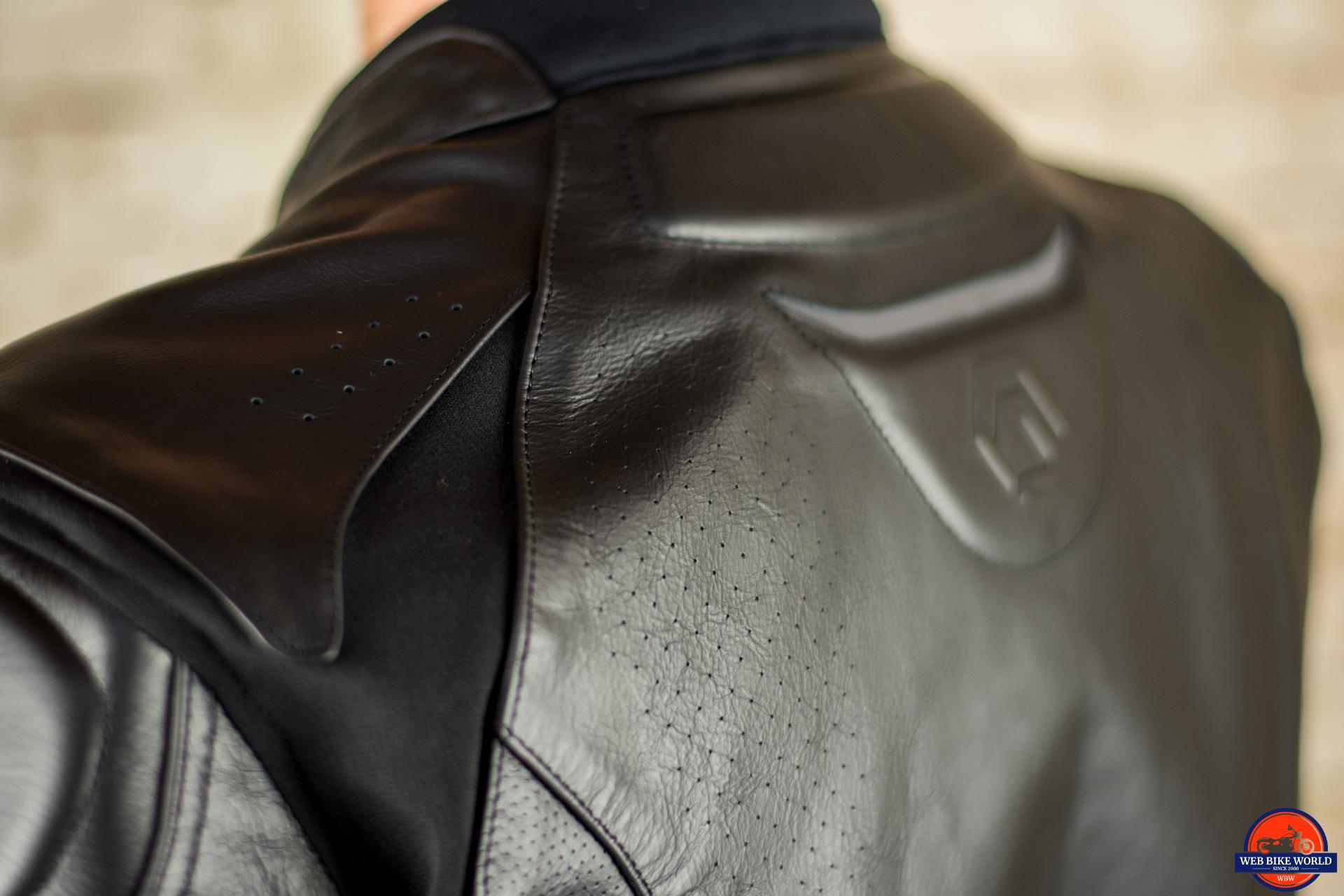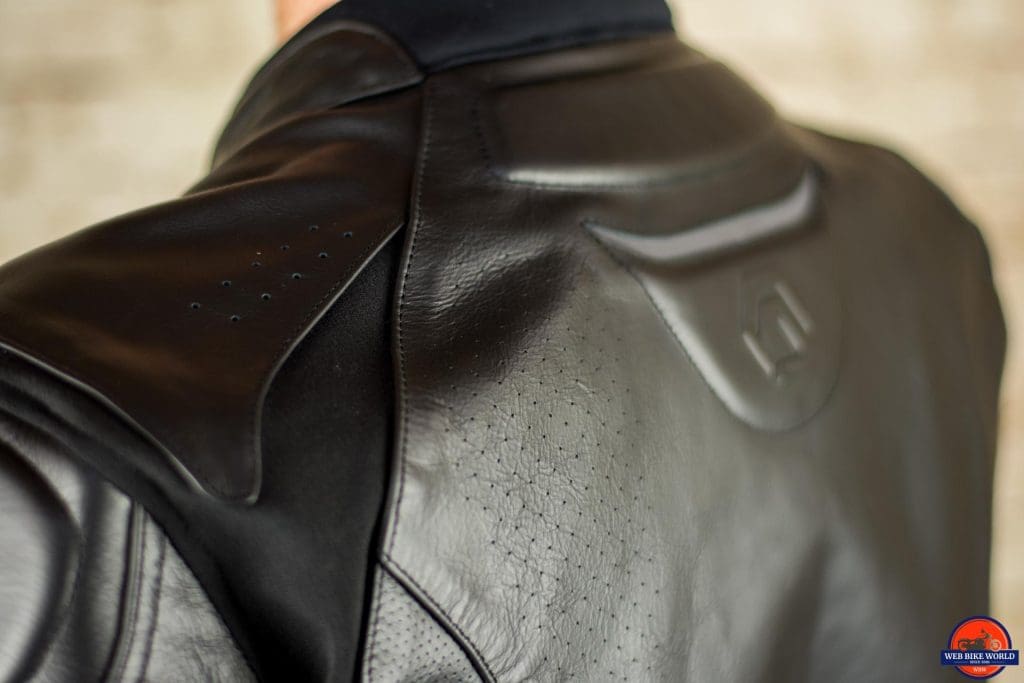 Aside from some cracking in the leather in perforated areas, the Jackson looks really solid. The stitching looks good on both the leather and nylon areas. This is also the case for the liner, which is integrated nicely into the jacket with no loose sections to snag or strings to catch.
With this much perforation you can't expect much in the way of water resistance, so unlike Kevin and Jim, I opted not to stand in front of a garden hose to test. No bathtubs, either.
Armor
CE level 2 protects your shoulders and elbows, while 1.2mm – 1.4mm leather covers the rest. There's room for a back protector, but in its place is a foam pad that doesn't offer any real protection. If you're keen on back armor, budget to add that to the Jackson.
Conclusion: A Solid Jacket for the Street Rider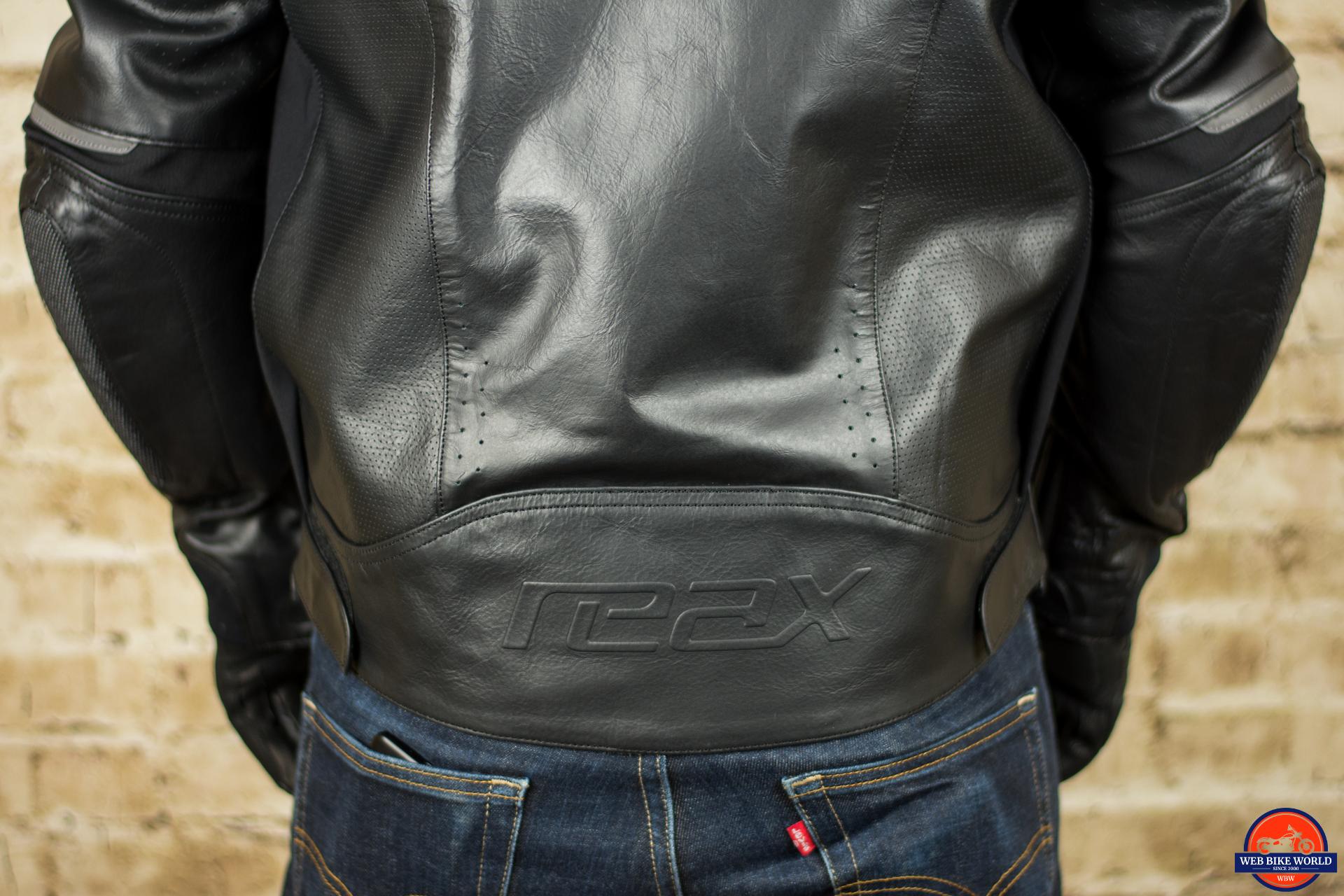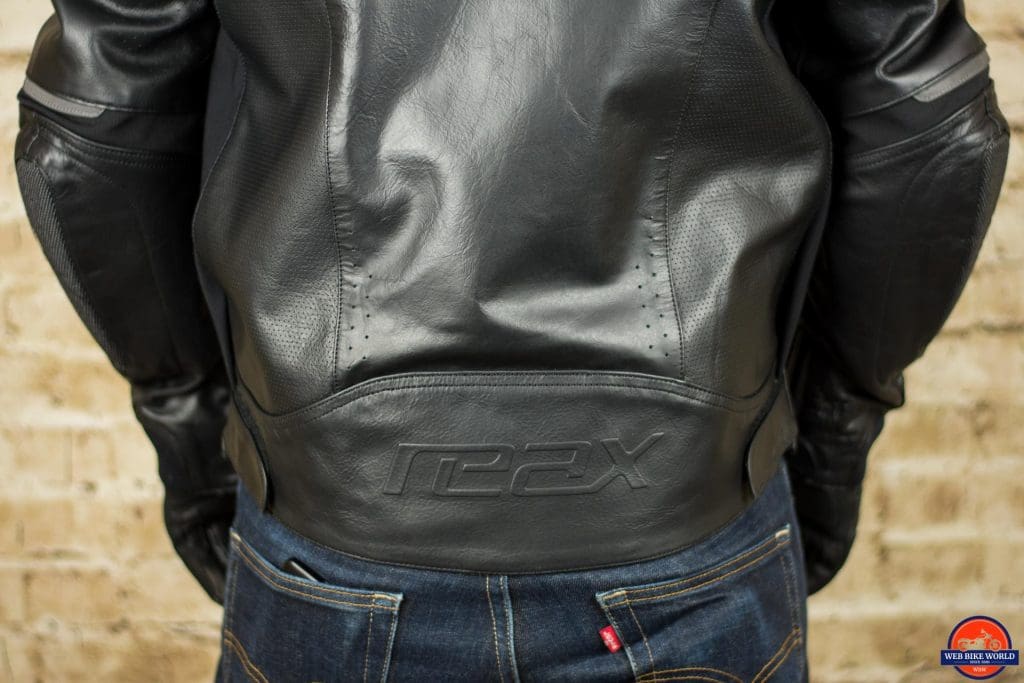 The Jackson does a good job in its role as a daily wearable street jacket. In my mind, a good street jacket is good looking, affordable, and versatile enough to be worn in most situations.  It should also be safe and comfortable to wear.
The Jackson is not excellent in any given category, but it's pretty good in all of them. My biggest gripes are the low use of reflective material, which make the Jackson harder to see at night (which isn't helped by its all-black motif), and that it could use a few more sealable pockets.
With respect to affordability, the Jackson as purpose-made to slug it out in its price range. It's specs match or better the best-selling jackets in the space, such as the Alpinestars GP Plus R V2 or REV'IT Stewart Air. The Jackson often has the protective edge thanks to its use of CE level 2 armor, and it's priced near the lower-end of its segment.
I've ridden in the Jackson on hot days and cool mornings, and both were comfortable, though you'll probably want a long sleeve shirt to wear on those cooler rides simply because of how well ventilated the arms are.
It's not surprising that the new stuff from REAX is pretty good given Comoto's position in the market (and the data RevZilla undoubtedly provides their product planners).
The Jackson isn't perfect, but it's pretty darn good.
Pros
Good looking
Comfortable fit
CE Level 2 armor
Cons
Have to buy back armor separately
Chest ventilation is just okay
Not very reflective