Review Summary
The Exotogg thermal vest is very effective at doing what it's designed to do: ASSIST in keeping the wearer warm and dry in cold temperatures by creating a barrier of air insulation. It's built strong, folds up small enough to fit in a coat pocket and is idiot proof to use. It looks kind of funny and feels slightly encumbering to wear under a tight-fitting motorcycle jacket, but it always works.
Pros
Effective insulation
Sturdy materials and design
Simple to use
Folds up small for convenient storage
Reliable
Inexpensive compared to similar products
Allows moisture to evaporate
60 Day money-back guarantee
Cons
Sometimes uncomfortable to wear
Single air chamber
Unconventionality might deter people from trying Exotogg
Exotogg Thermal Vest Image Gallery
Where Did This Come From?
The United Kingdom, but there's a lot more to this story…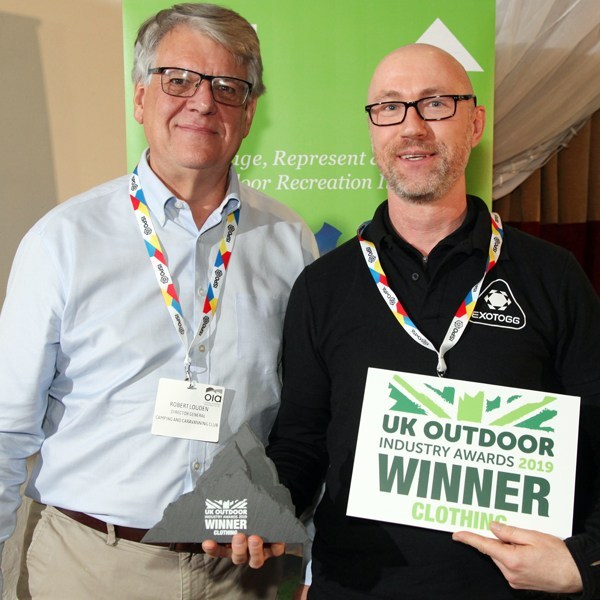 I don't recall how I first heard about the Exotogg, but it was nearly 2 years ago I first got in contact via email with its designer Tony Hawkins. It was in the final stages of development at that time and I found the idea of a thermal vest that didn't use any electricity or insulation other than air intriguing. I asked Tony for a sample to review and he got me one to try out as soon as the production began.
How It Works
The Exotogg is meant to be worn as a middle layer between your jacket and base layer clothing.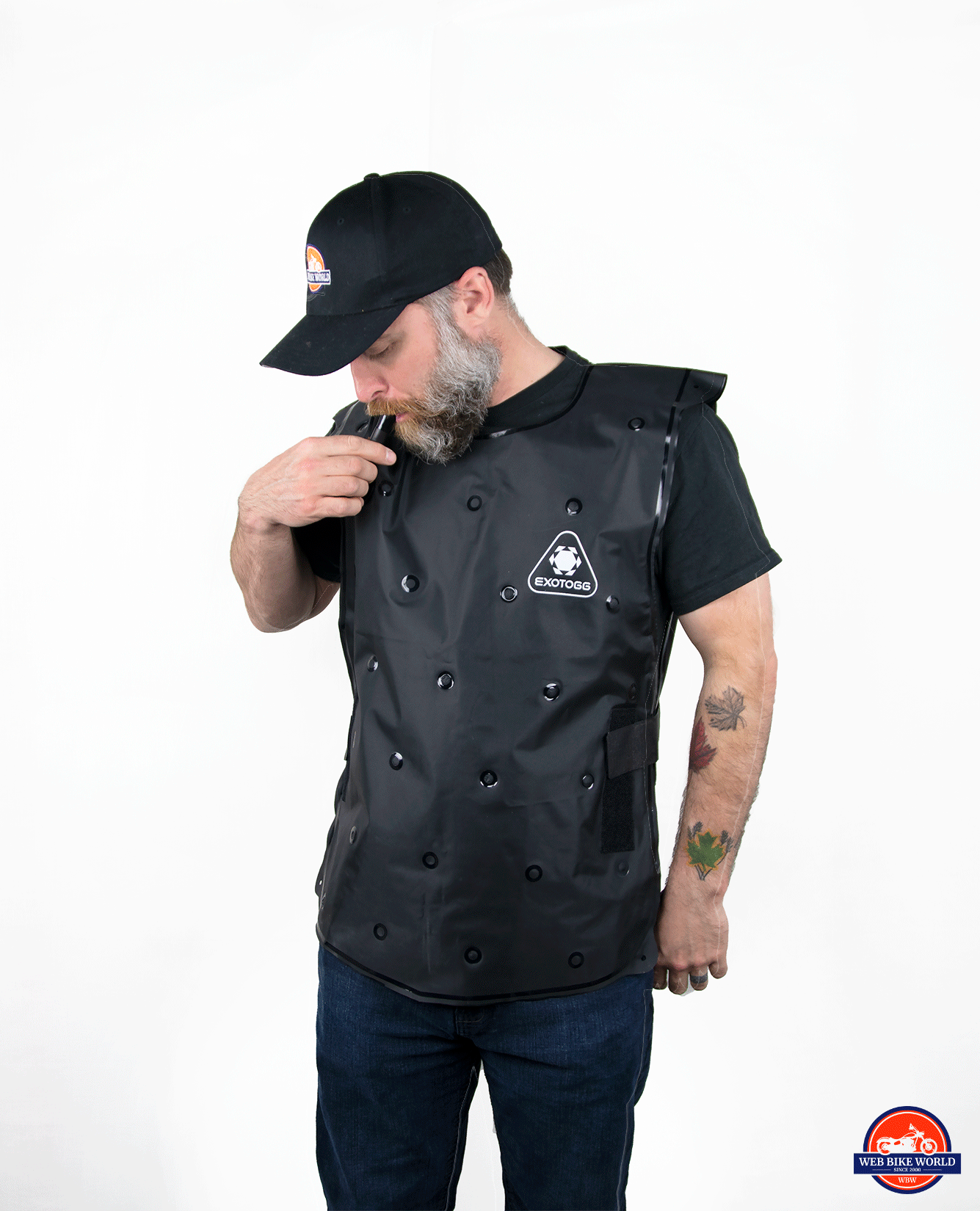 You put it on then add between one and four breaths of air through a tube to partially inflate the vest and thus separate you from the cold better.
Canadian Motorcyclist Problems
I'm always looking for a better way to stay warm on the motorcycle being that I live in Alberta, Canada. I like to push the envelope and start riding as early as possible every year after winter tapers off. That means consistently riding in temperatures right around freezing and it can be painful at best, deadly at worst if you're unprepared.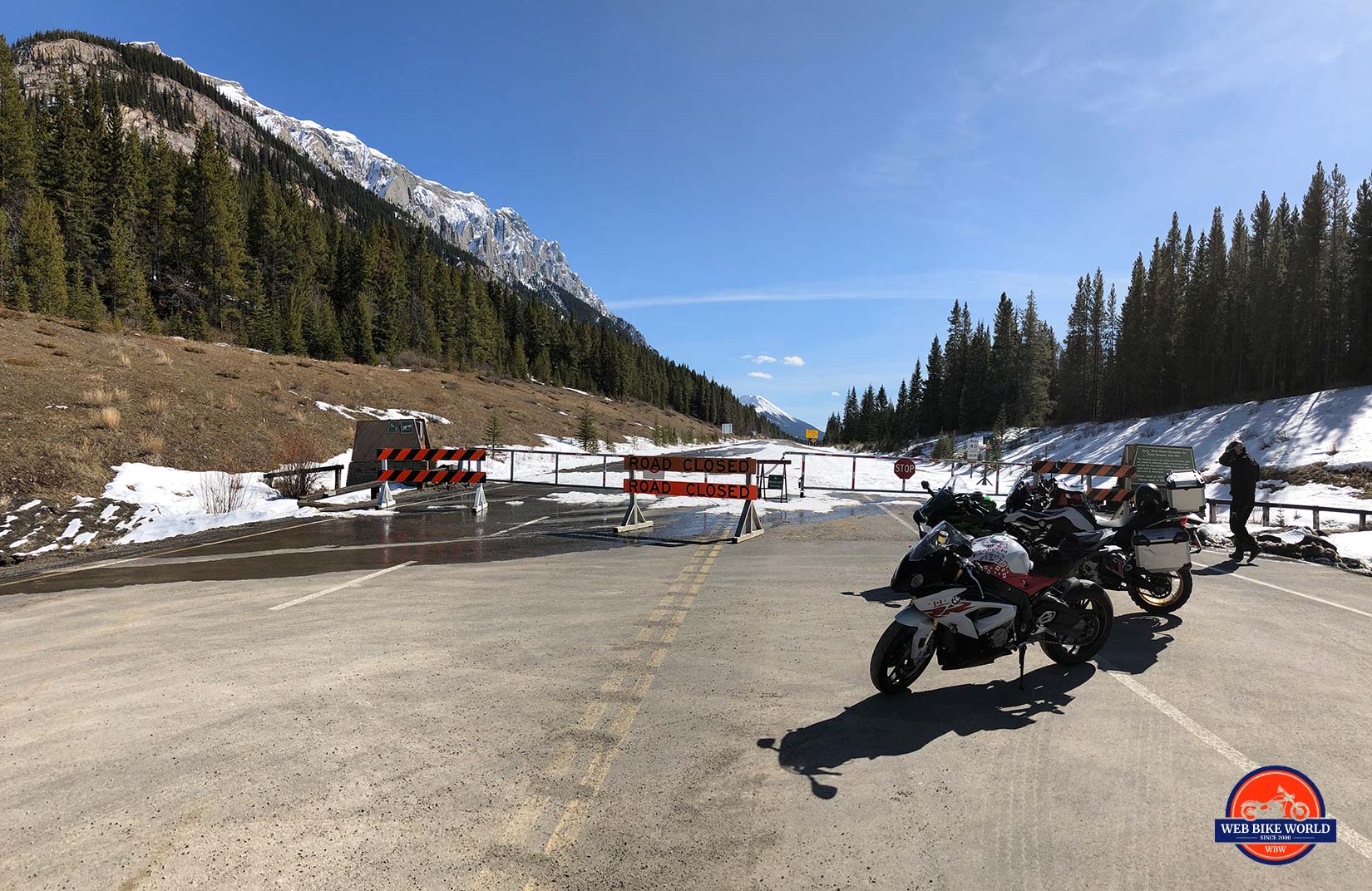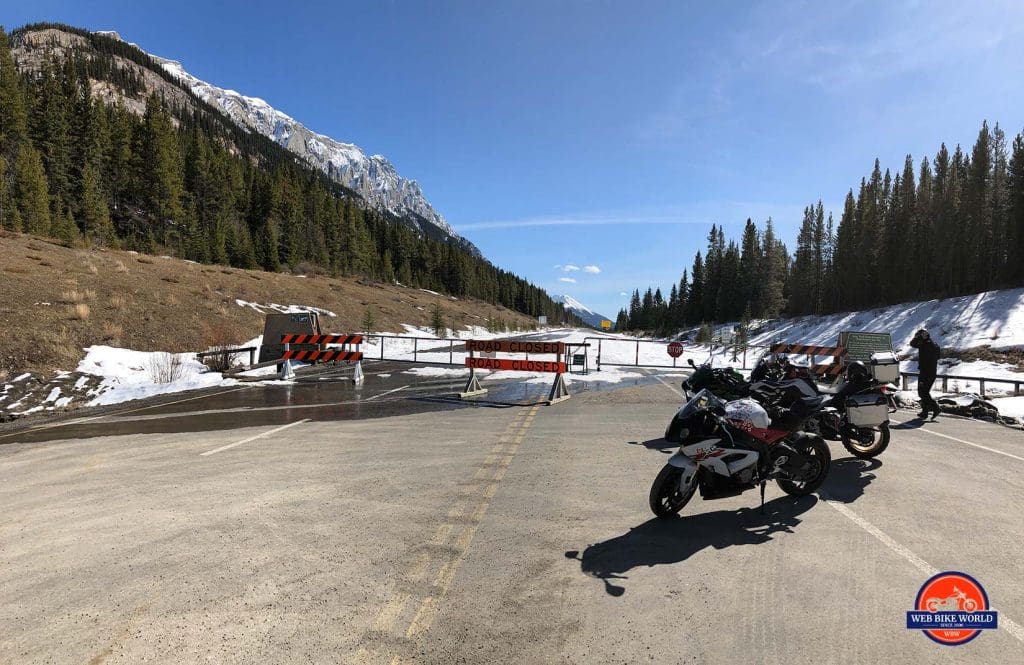 I've logged about 600 miles of riding now with the Exotogg in the nearby Canadian Rockies and learned plenty about it.
First Impressions
Am I Riding Or Going Sailing?
When I first pull out the vest from the handy carrying bag I can't help picturing the airline safety demonstration put on by flight attendants I've witnessed countless times. This particular guy takes it to a new level in the video below, especially the life jacket part:
The Exotogg might have been inspired partly by an airline life jacket in the way it looks and the tube used to inflate it by mouth. Incidentally, the vest can be used as an emergency life jacket in a pinch among a number of other things (more on that later).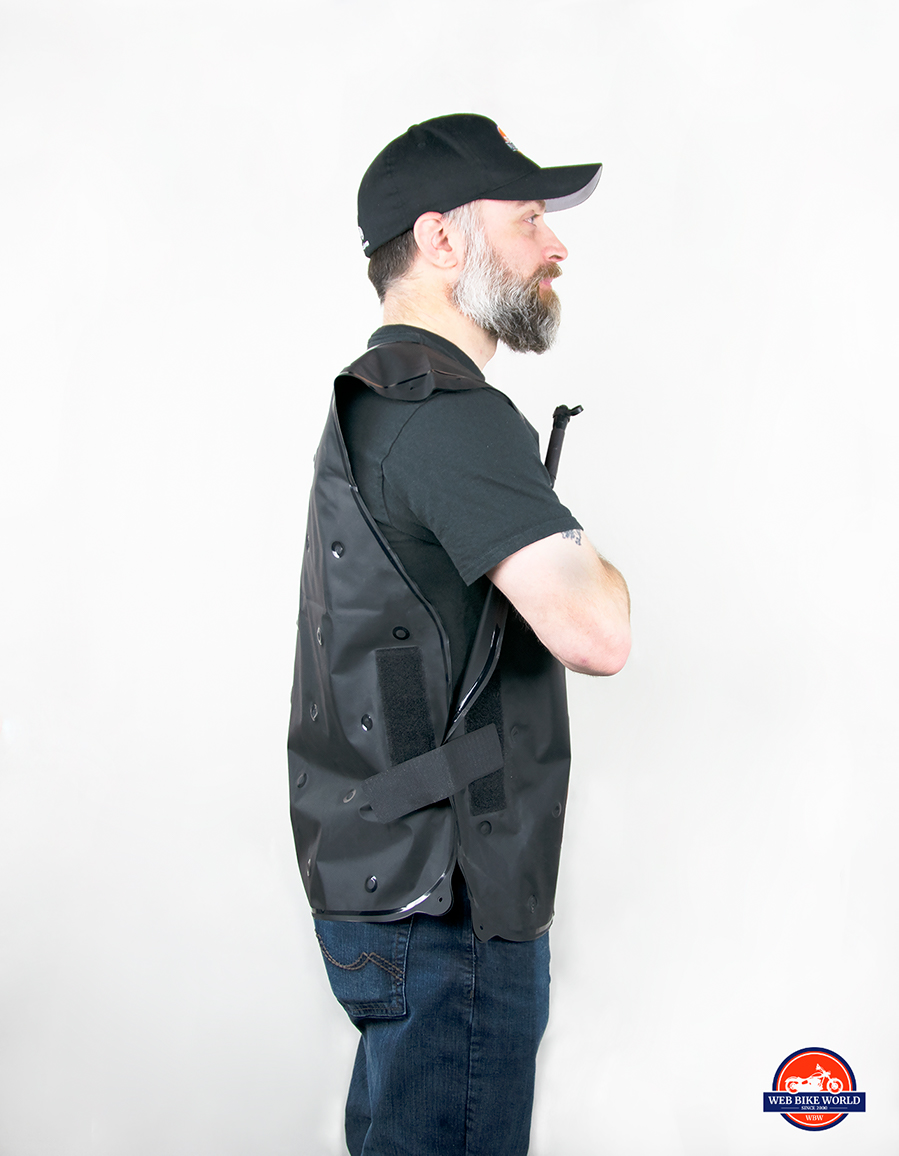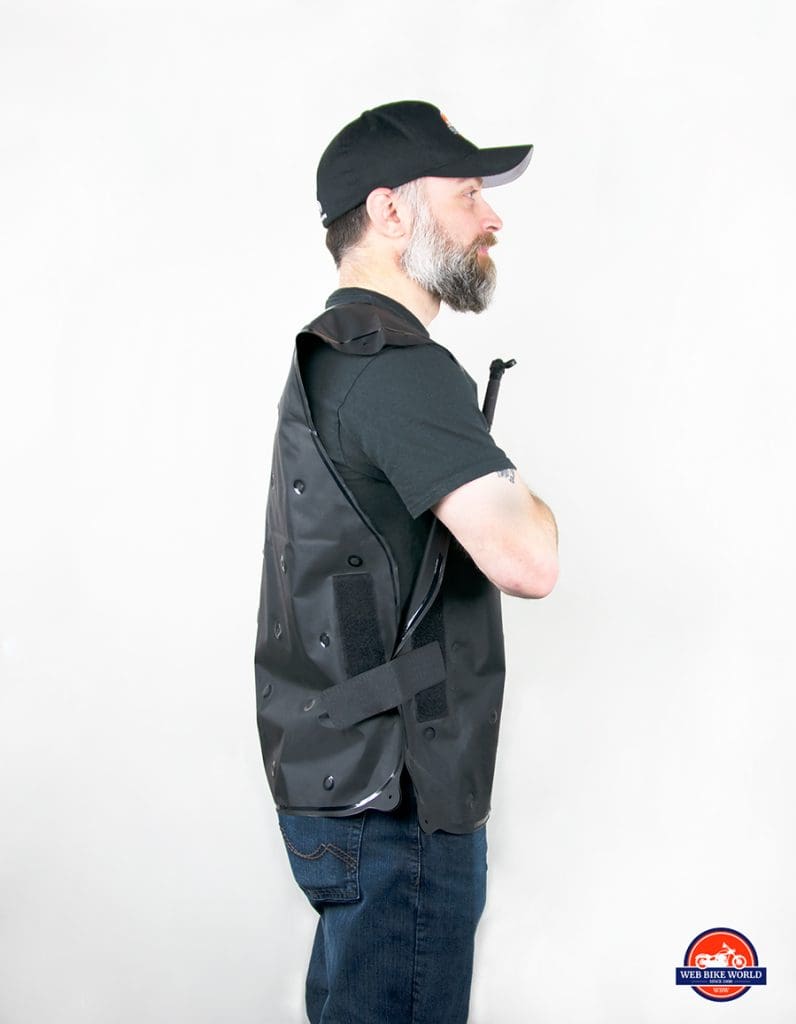 It's also reminiscent of one of those plush, leather smoking chairs you'd find in an old English manor thanks to the "dimples" dotting the surface front and back when inflated.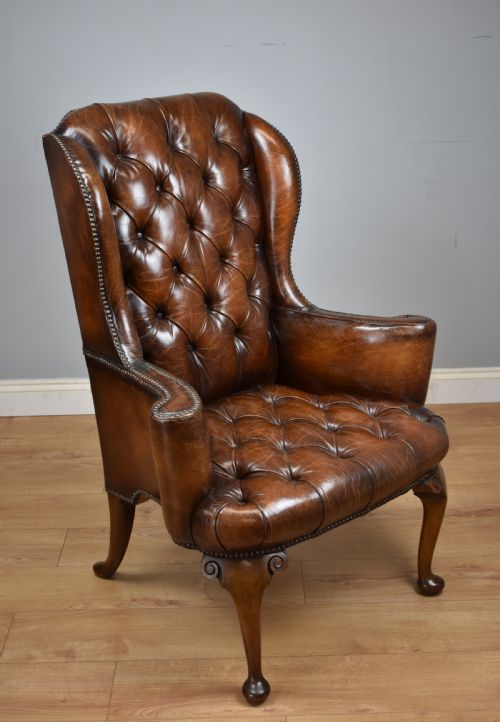 Image from Selling Antiques
What's In A Name?
The brand name was born out of a combination of the words "Exo" meaning 'Outside', and Tog being a unit of insulation (as used on duvets). Literally 'outside insulation' but with an extra 'g' because it looked good.
Made in Great Britain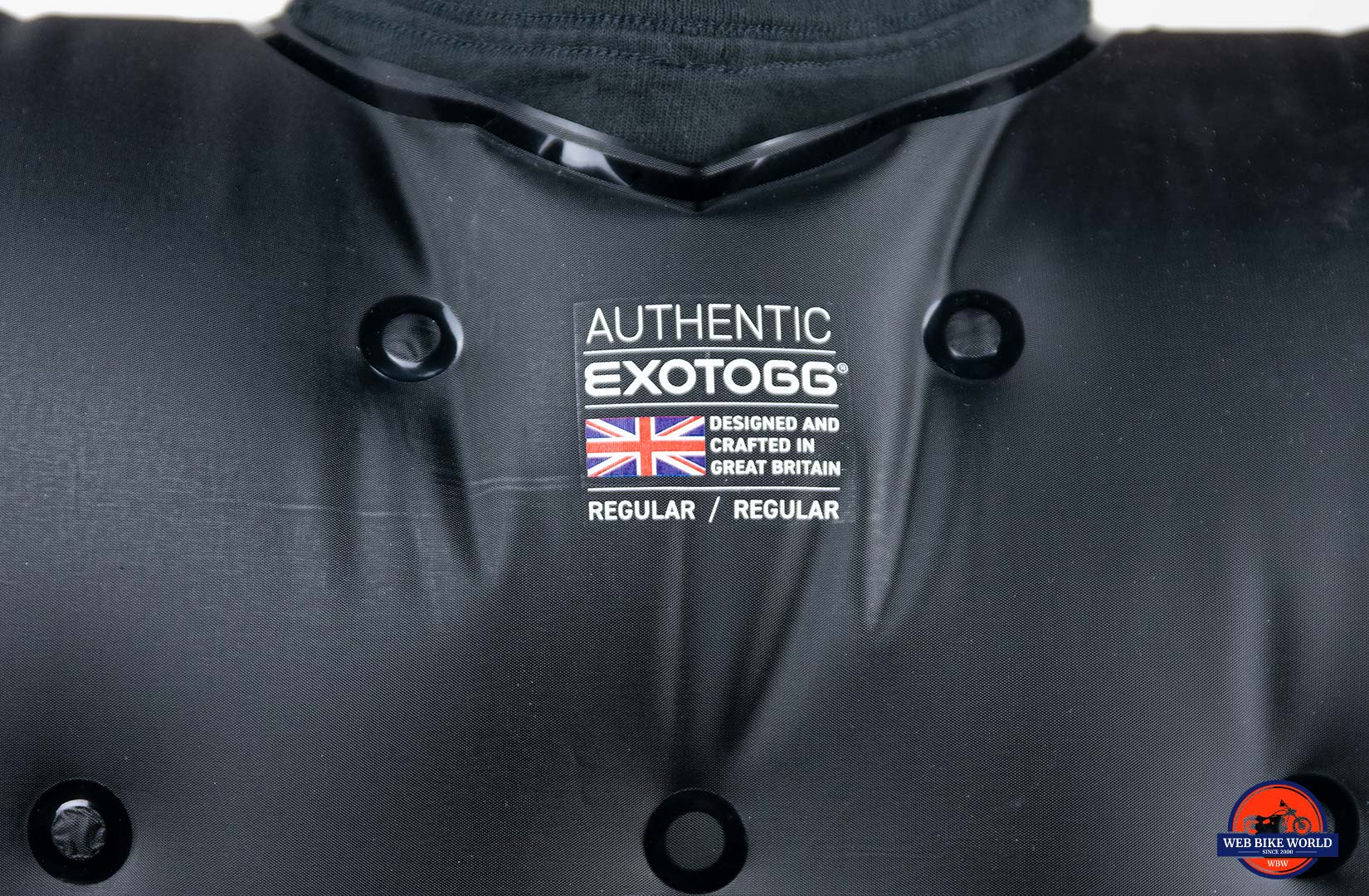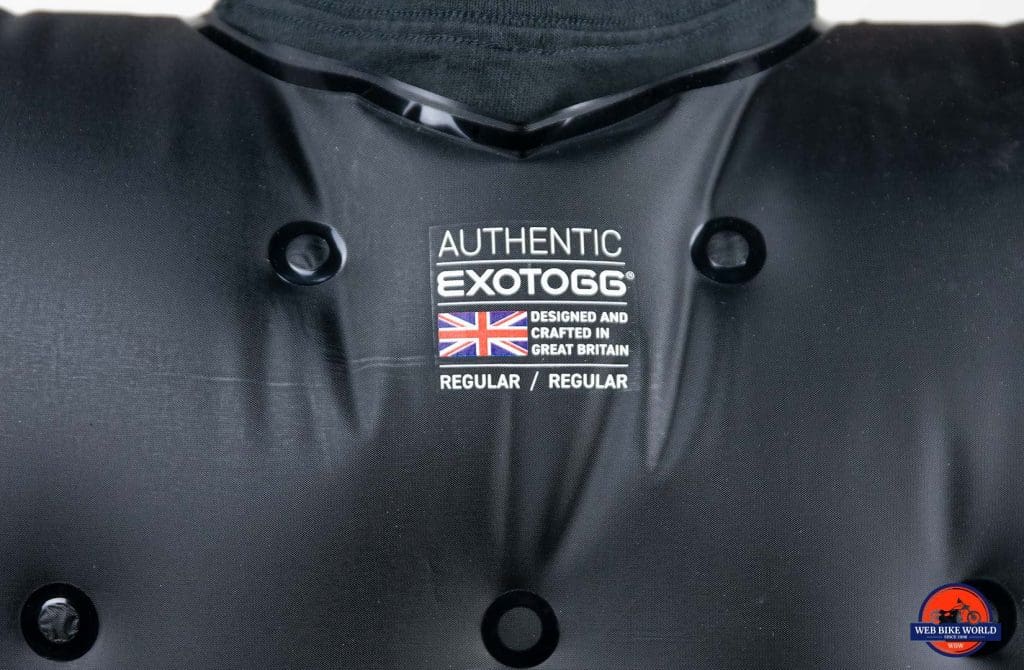 The Union Jack emblazoned on the backside below the neck opening catches my eye and pleases me. Not that I have any issue with ethically manufactured goods from Asia, but I like knowing for sure those who worked to manufacture the Exotogg were treated appropriately for their labour.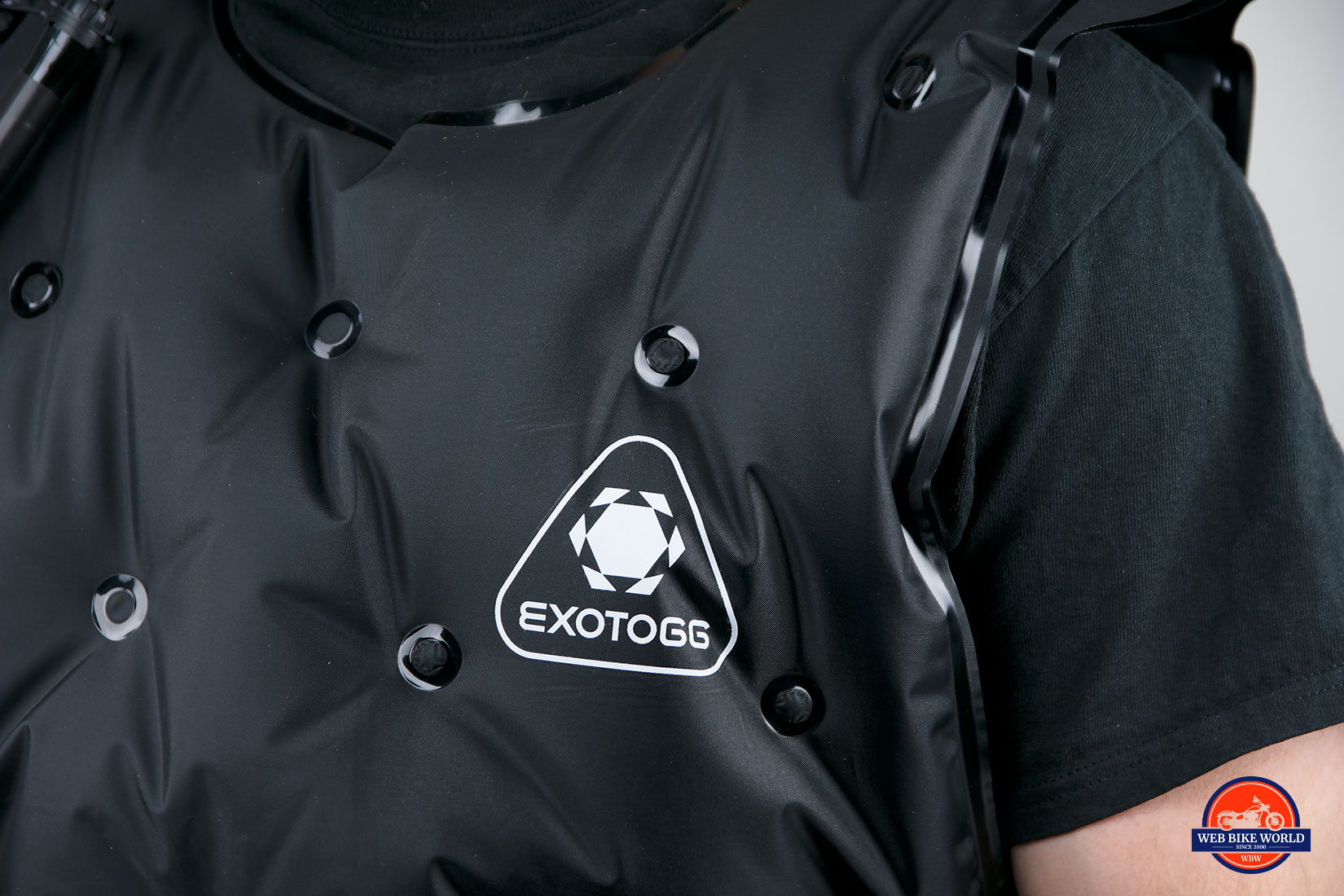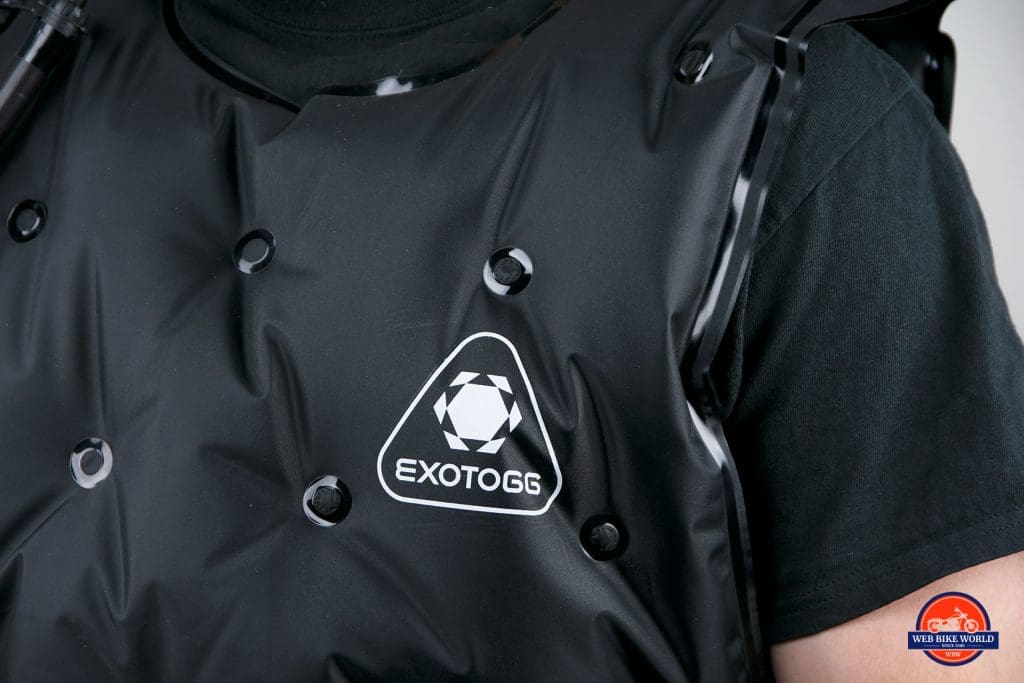 I think Exotogg also has quite a snazzy looking logo printed in stark white on the front. Very professional looking which probably subconsciously helps legitimize the product in my mind. Ah, the power of branding.
Exotogg Vest Specifics
Constructed from durable, and puncture-resistant recyclable TPU – selected and tested to endure the harshest conditions
Won't absorb water and allows the vest to vent moisture
Anti-microbial/bacterial
Weighs 9 oz or 0.5 lbs folds up small enough to put in a coat pocket when deflated
Marine-grade air check valve to keep air in the vest
Available in a short or regular length to suit different jacket sizes
Velcro adjusters on each side to fit different sized wearers
Claimed insulation effect range up to 10 Celsius (50 degrees Fahrenheit)
Can also function as a pillow, a trail seat, a sleeping pad, a flotation device*, a splint*, a dog cozy, a camera or wine-bottle protector in luggage
Ride Report
The first day of testing is shaping up to be perfect. It's only 5 degrees Celsius (41 F). I better choose my base and outer layers carefully to compliment the Exotogg, but not overshadow it or I won't be able to evaluate how effective it is.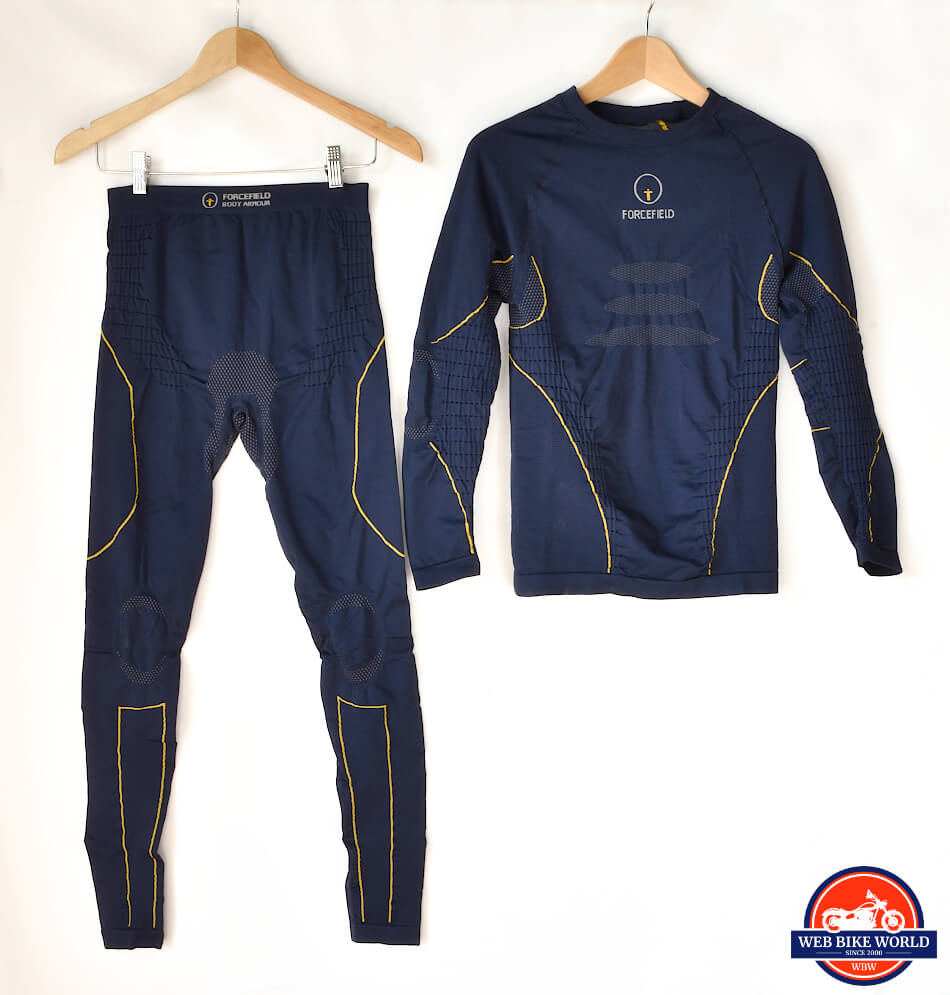 I put on a Forcefield Tech 2 base layer to start with, then regular jeans on the bottom, topped off by my Motoport USA Stretch Kevlar riding pants. On top along goes a long-sleeved cotton shirt and the thermal liner from my Joe Rocket Canada Ballistic 14 jacket because that's what I would normally wear without the Exotogg on a ride in these conditions. It worked on the ride to Tuk last year after all.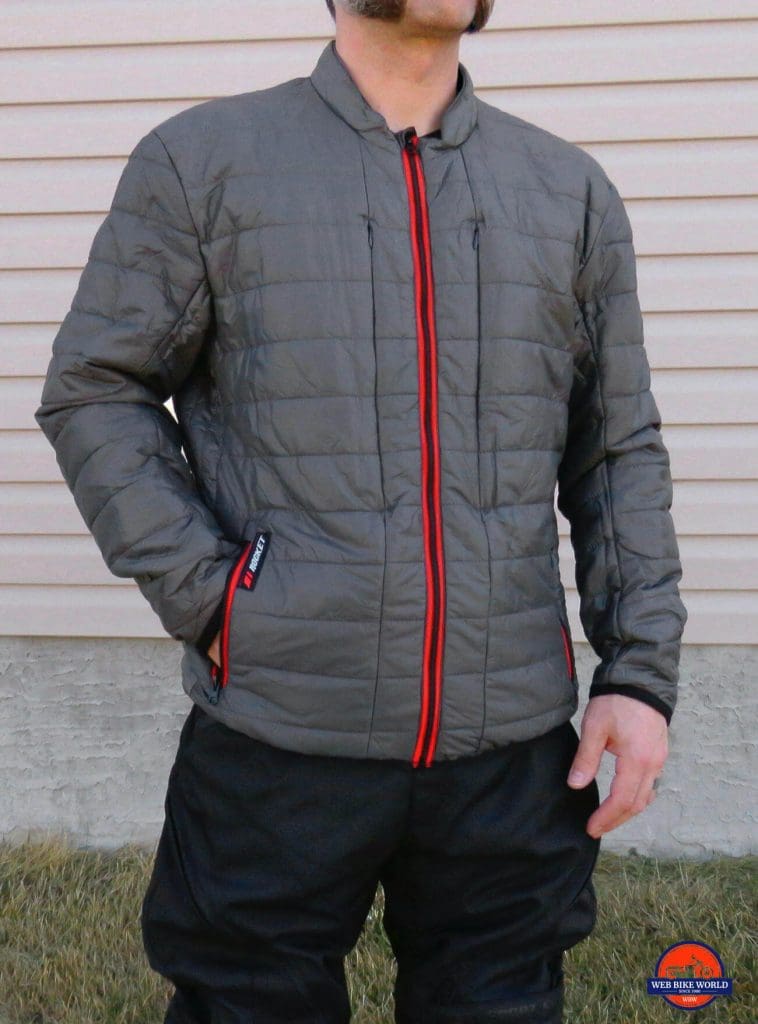 For my outer shell, I choose to wear my Motoport USA Marathon Ultra mesh jacket (review coming soon) without its thermal liner installed. This will ensure lots of air penetrates through to reach the Exotogg and Joe Rocket Canada layer to see how they perform when combined.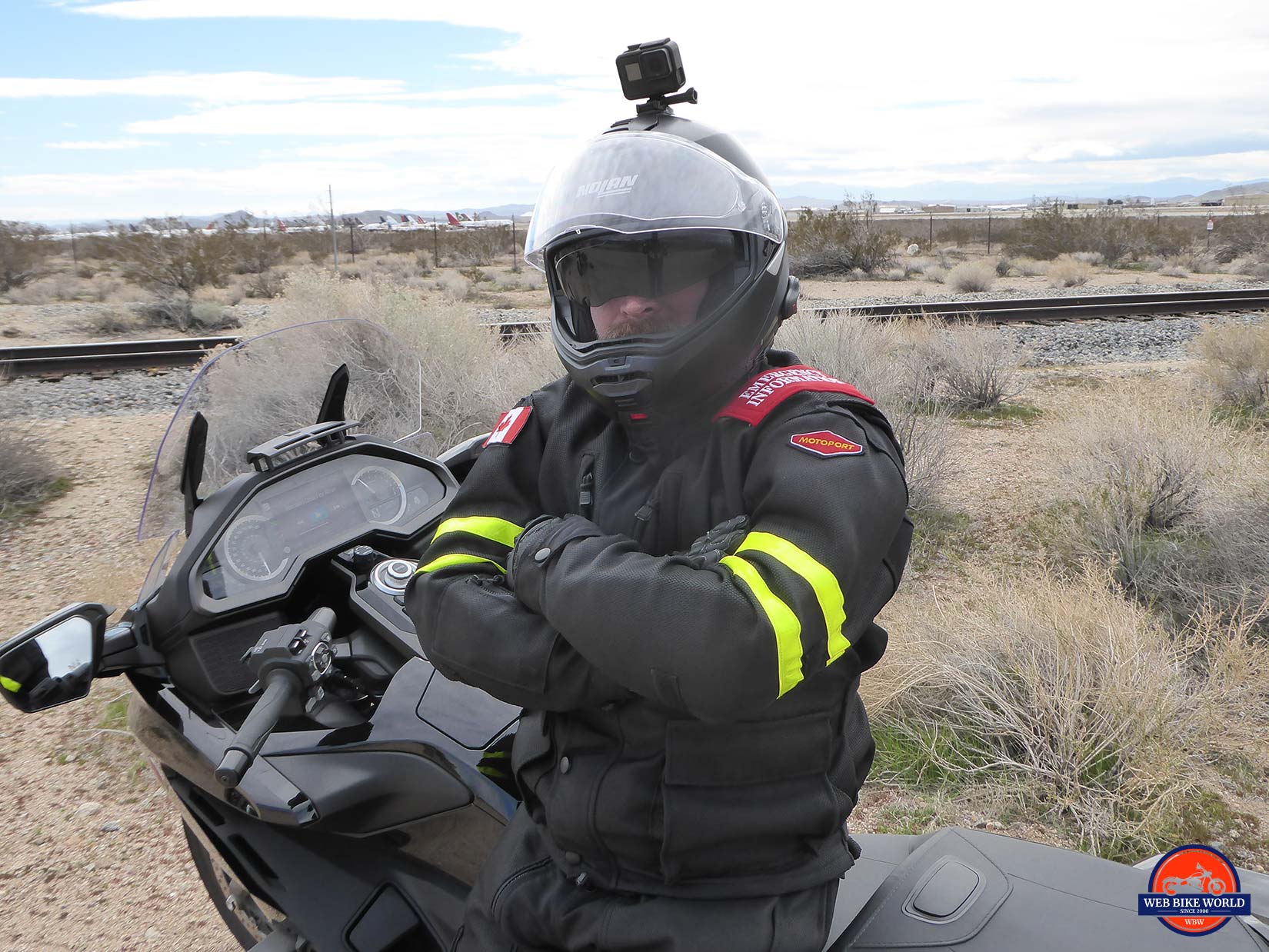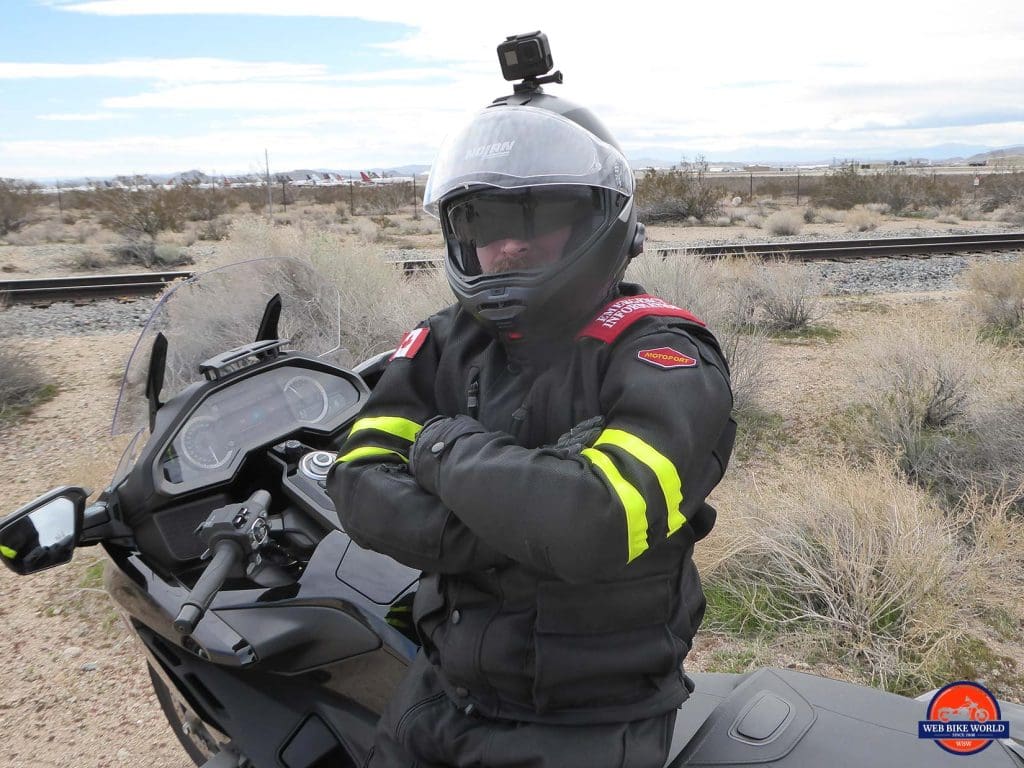 No Zipper Weak Spot
A noteworthy feature of the Exotogg is also one of the things that makes it a bit irritating. It doesn't have a zipper in the middle like most other vests. That makes it a little awkward to put on or take off, but the huge upside is no drafts can slip through a zipper seam. I've noticed even when no actual drafts come through jacket zippers it's still possible for the metal teeth to slowly conduct cold through contact with the outer shell and then transfer it to my chest.
The Exotogg completely eliminates this issue. No zipper, no problem!
I'm Puffy
The inflation tube on the Exotogg is positioned high enough to inflate without taking off my jacket. I only have to lower the jacket zipper about 8 inches from the very top in order to blow into the inflation tube 4 times.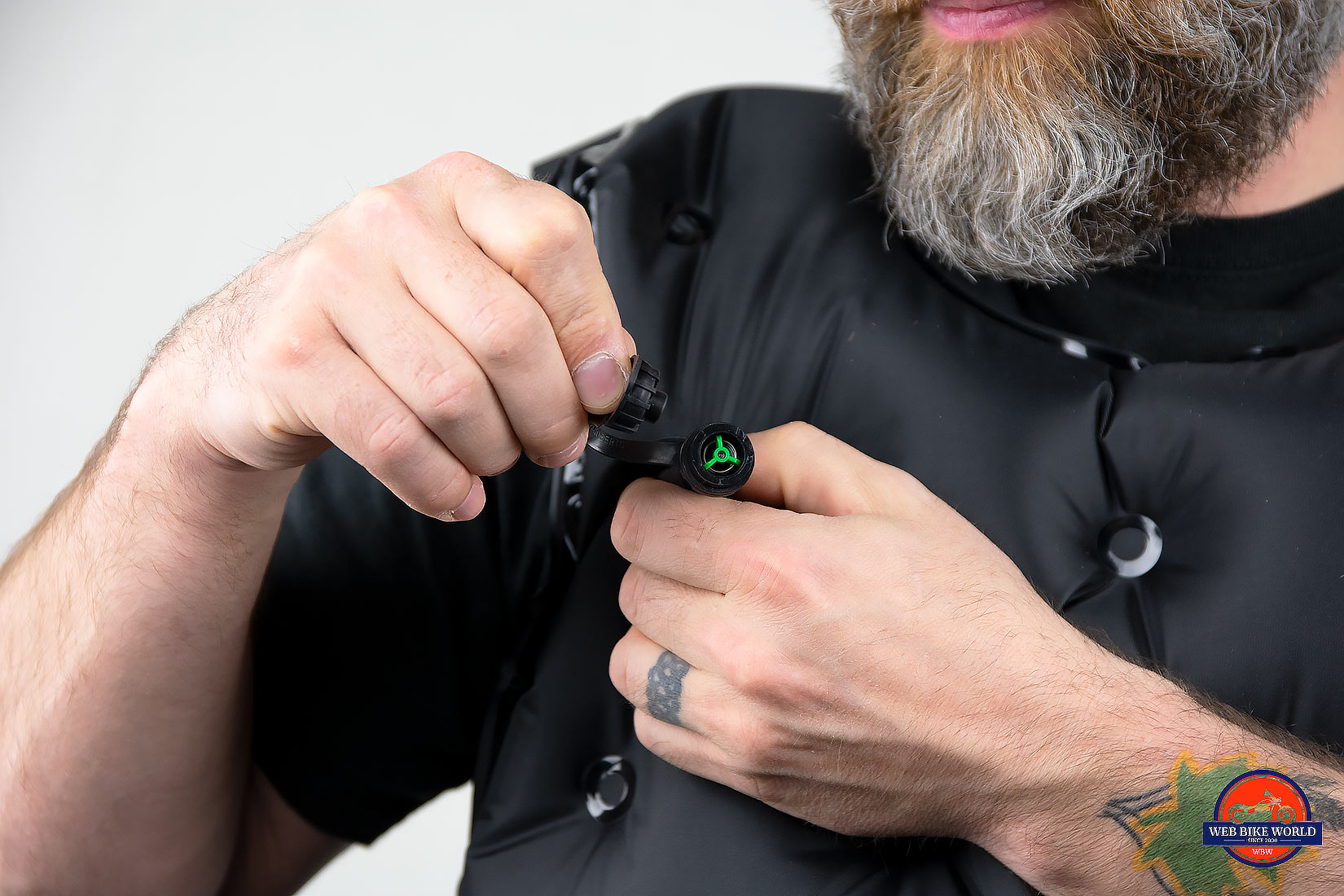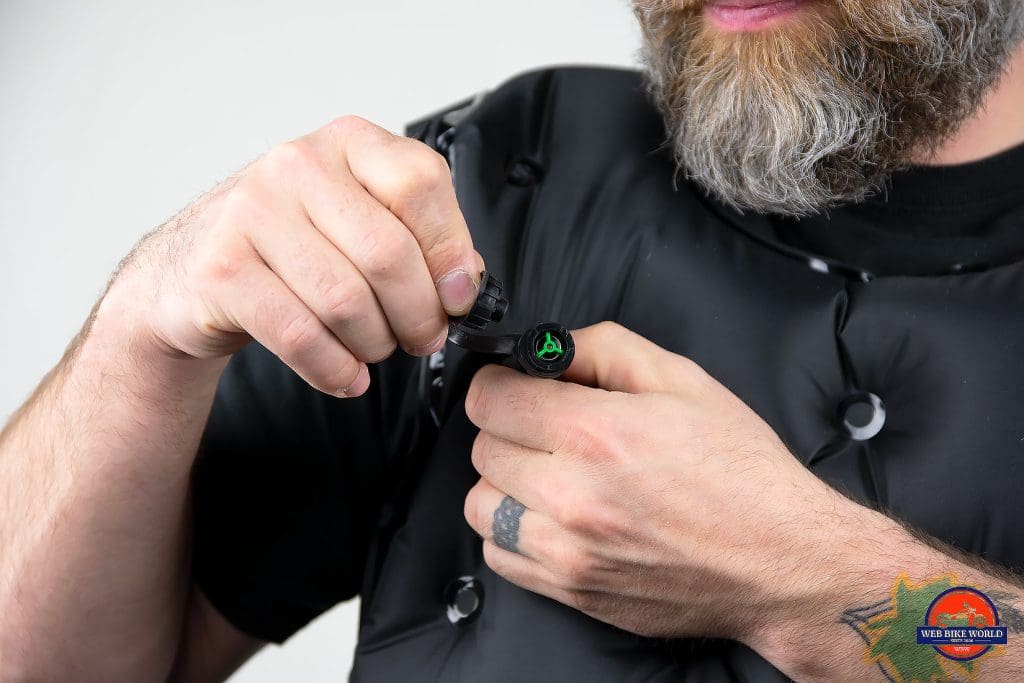 Right away I see a problem with this setup. This jacket fits tight around the waist to reduce wind flap and doesn't stretch much at all. That causes most of the air I'm breathing into the vest to move upwards and collect around my shoulders, neck, and chest area uncomfortably. I push the air release valve and bleed off at least one of the breaths I put in. Things relax significantly and I don't feel like I'm being suffocated.
It's still a feeling I'm unfamiliar with being ballooned up slightly like I am. I'm going to try and get used to it. I'm not sure but perhaps I still have too much air in the vest.
I already feel noticeably warm, but I wonder how this setup will do out in the airstream with the windchill working on me.
Flowing Air
I jump on the Ninja and hit the road! In the city at lower speeds, I can definitely feel the coolness on my arms where the Exotogg has no coverage, but my entire torso where it conducts business is unaffected and comfortably warm.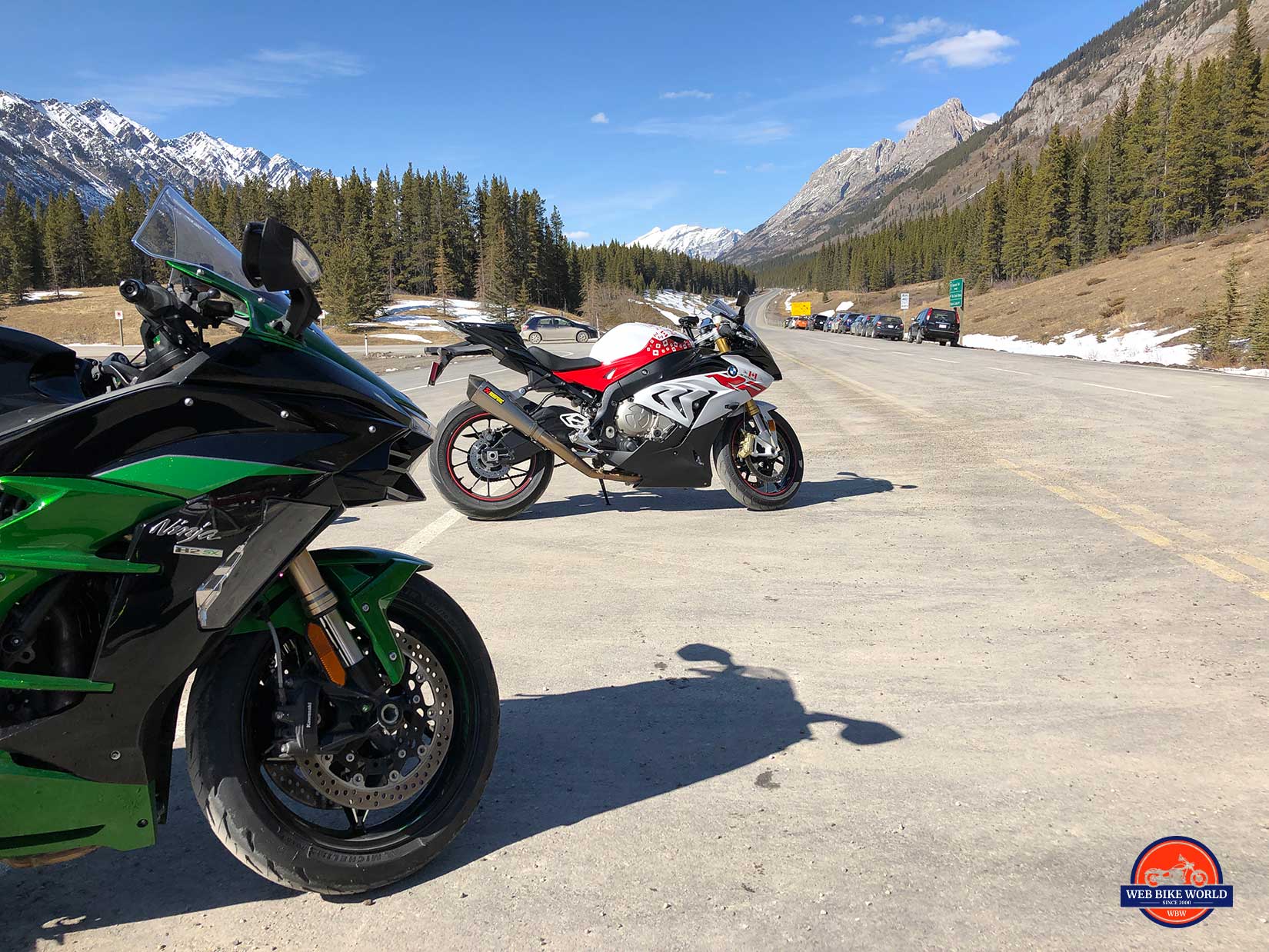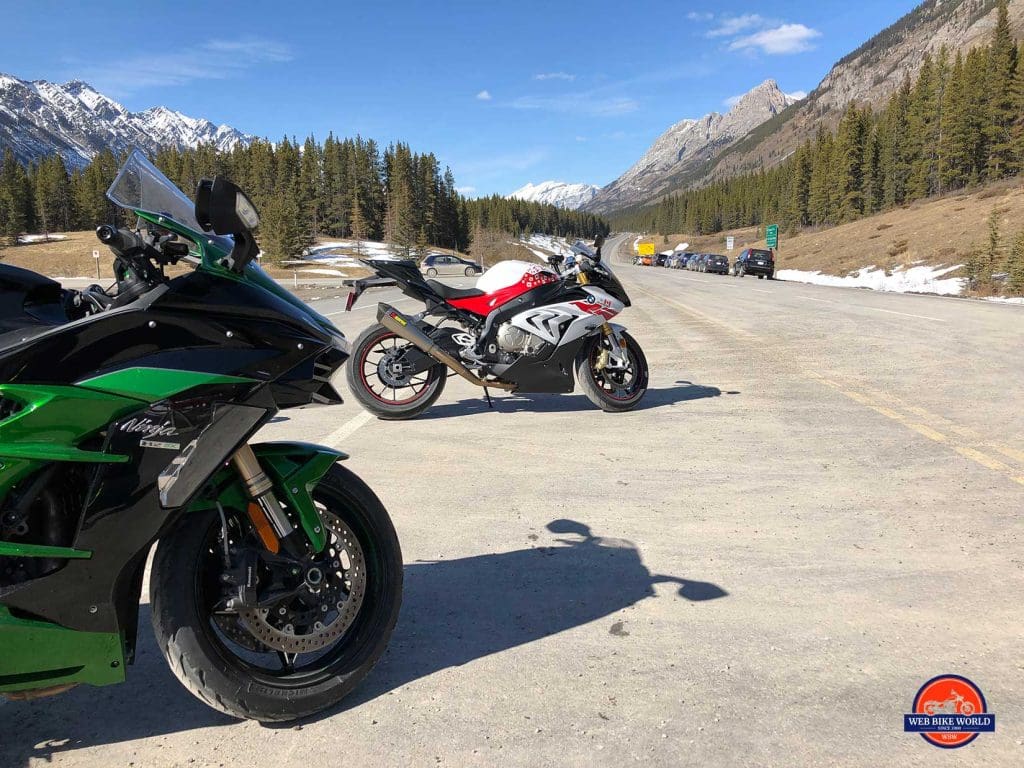 I carry on riding for an hour at highway speed averaging 70 mph before stopping for a break and a chance to size things up. Even after that amount of time, there's no question the Exotogg works despite the windchill.
I am noticing cold air penetrating into the armpit area on each side quite a bit and it's beginning to get uncomfortable. The Motoport jacket I'm wearing is designed to be used in extremely hot weather is that it's a mesh kevlar outer shell. It's overexerting its influence on this experiment by flowing way too much air. I'll love this in the summer when temps climb into the 30s (90s), but right now it's undesirable.
I ride for another two hours before getting home. I decide that I need to run this test again using a non-mesh jacket to realistically gauge how good the Exotogg is. Having said all that it's impressive I was able to ride in such low temperatures for several hours without getting chilled in a mesh jacket!
Round Two
The next morning it's an even colder -2 Celsius (28 degrees F), bright and sunny testing environment. I'm going riding for the next 3 hours en route to Radium, British Columbia for a visit with the beautiful and soothing hot springs located there.
I meet up with my friend Greg Phillips who's always up for an adventure. He's doing some testing himself of a new electric heated vest he recently bought. Game on! Let's compare the two vests and discover at the end of the day who's warmer.
A New Combination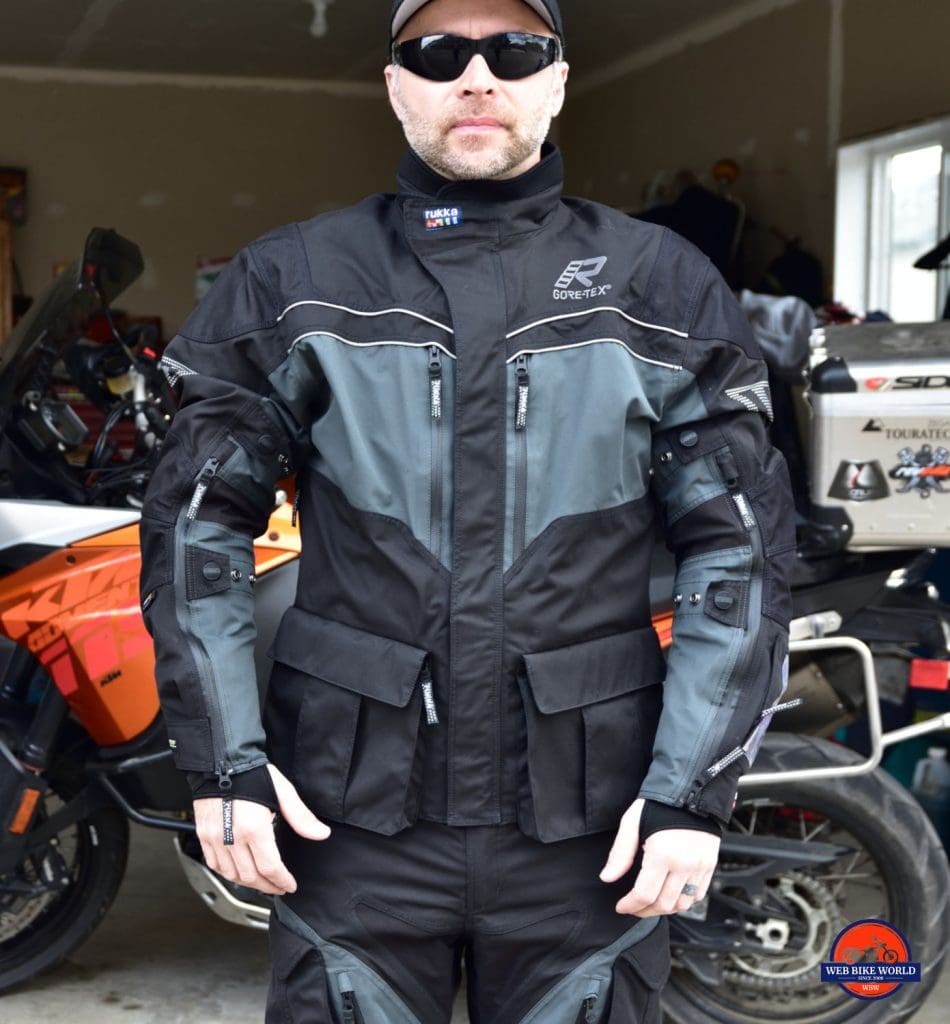 This time I've exchanged the Motorsport jacket for the Rukka ROR (review here). It's my favorite jacket reviewed to date and made from a wind and water blocking Cordura/Gore-Tex outer shell. It also is built with extra room in the shoulders, arms, and chest to accommodate heavy-duty riding armor. It should work perfectly with the Exotogg. The rest of my layers are the same as last time.
The Ride
Greg and I set out early and get to the hot springs after 3 hours without any discomfort despite the fact we maintained 65 to 75 mph and the temperature is a paltry 0 Celsius (32F).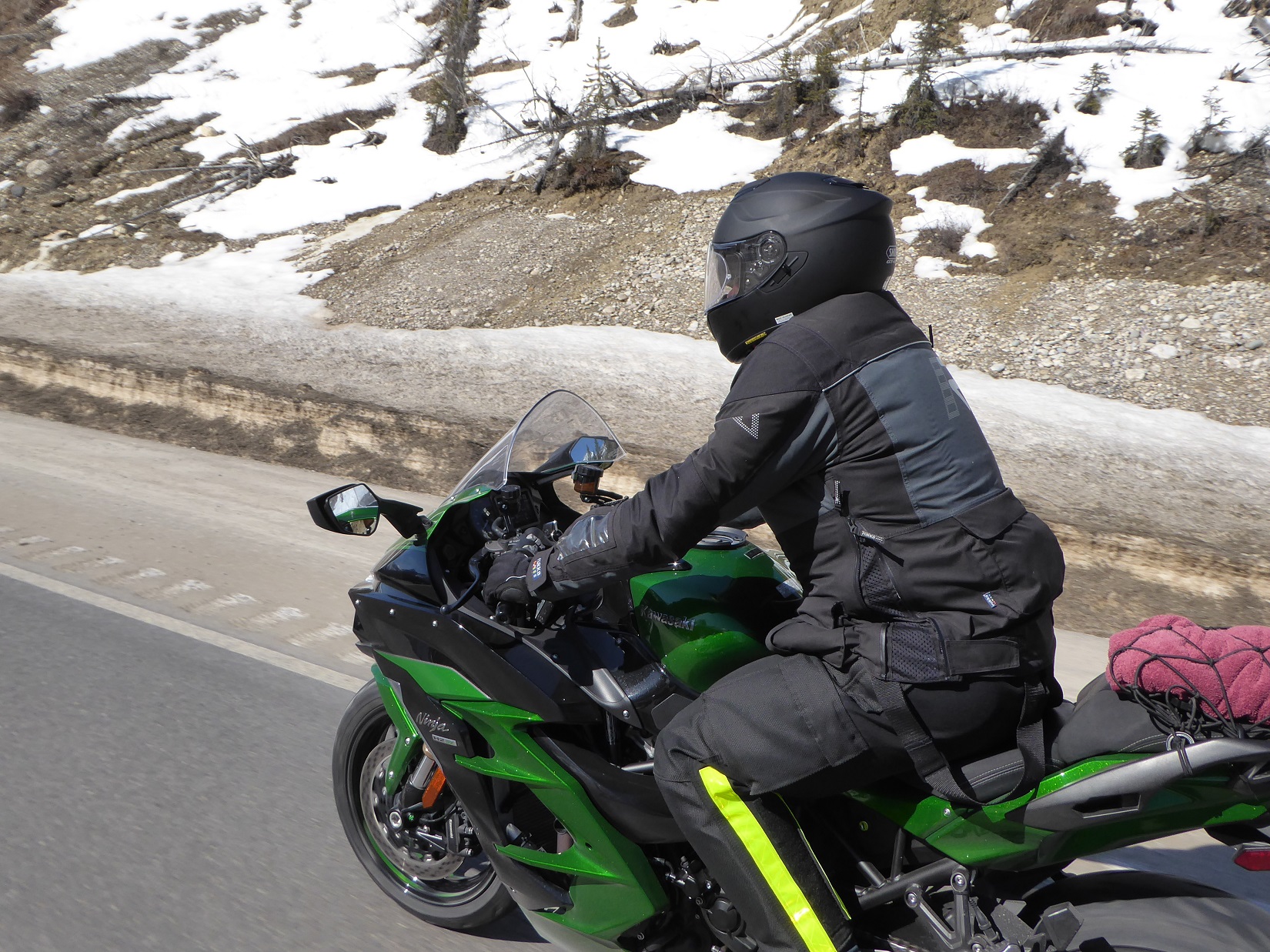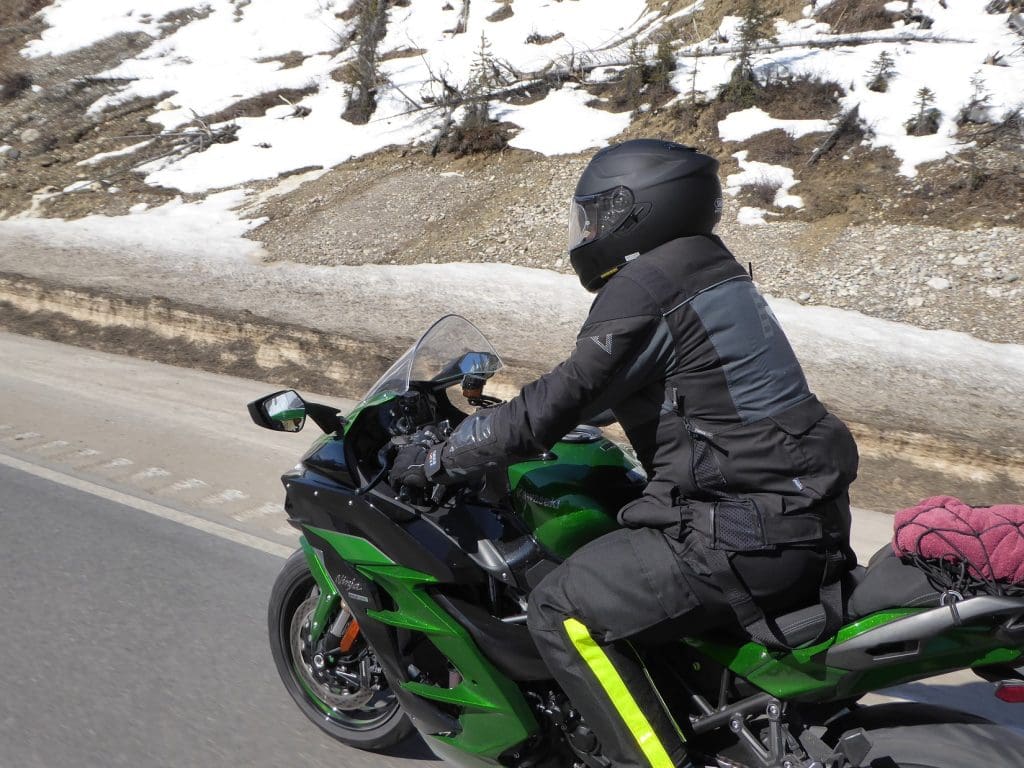 Photo by Greg Phillips
I only put 3 breaths into the Exotogg this time but it still puffed up substantially in the ROR jacket mainly around the chest, neck, and shoulders. An interesting side effect of this puffiness is that the jacket has pushed up enough to seal off the bottom of my helmet and quieted my ride as a result!
Maybe Exotogg should advertise this as an added benefit of wearing it on a bike?
The Cold Ride Home
After soaking for a while in the hot springs Greg and I mount up again to ride to Golden, British Columbia before we head home. It's a scenic route and we like to get in some serious miles just because it's who we are.
The temperature has risen to 14 Celsius (57 F) by now and I decided to only put 2 breathes into the Exotogg because I'm starting to feel uncomfortably warm. Even after only 2 breaths, I find it working too well so I drain all the air out and run with it deflated completely in comfort until we reach Golden.
It Breathes!
Even with it deflated I'm layered up quite thick making me almost too warm at this ambient temperature. I didn't sweat though, much to my surprise! How can you wear what is basically a plastic bag and not sweat? I couldn't figure it out at first, but when I closely examine the surface of the Exotogg material I notice it's covered in tracks of tiny surface grooves that somehow allow vapour to flow away from the wearer's body when combined with the smoking chair dimples.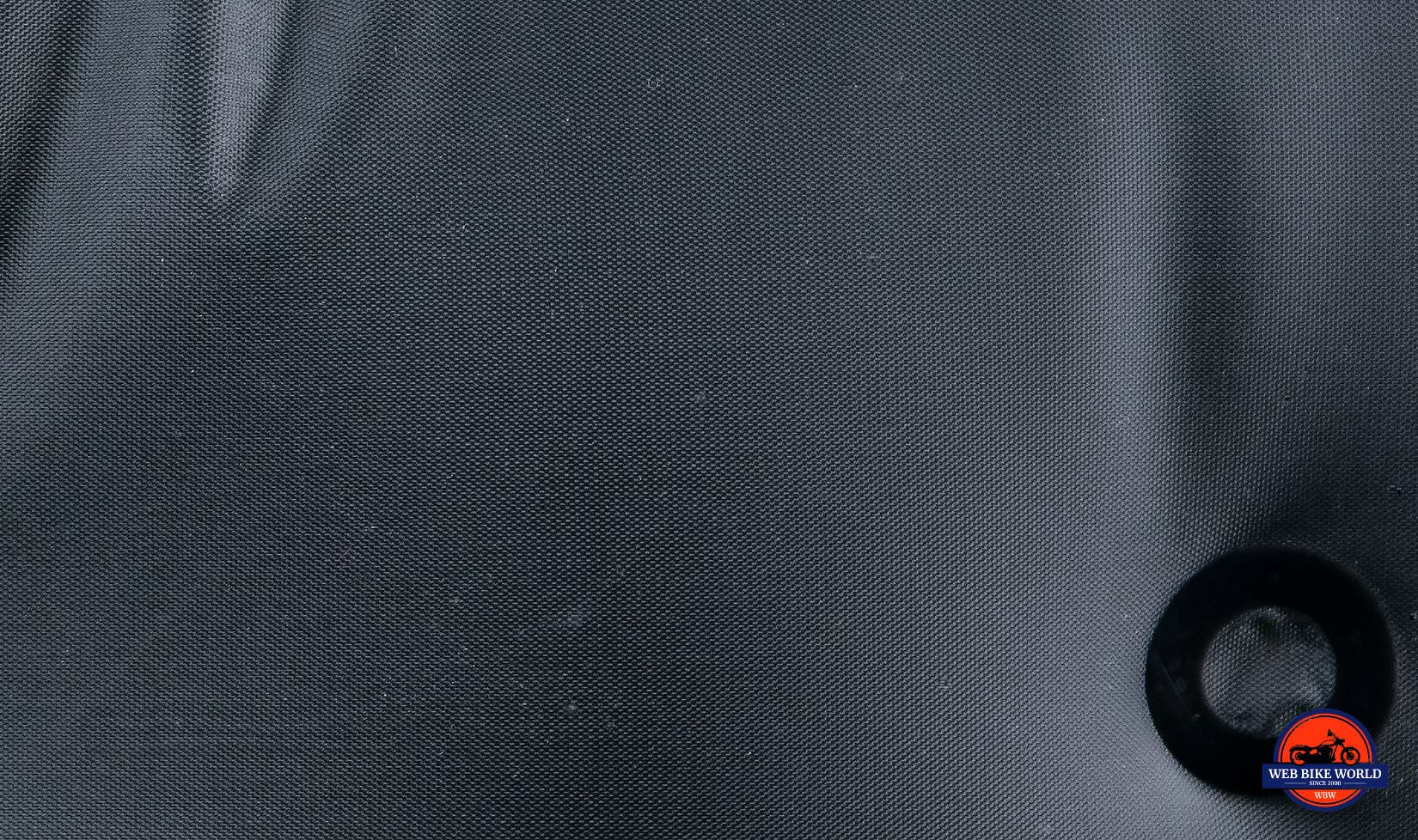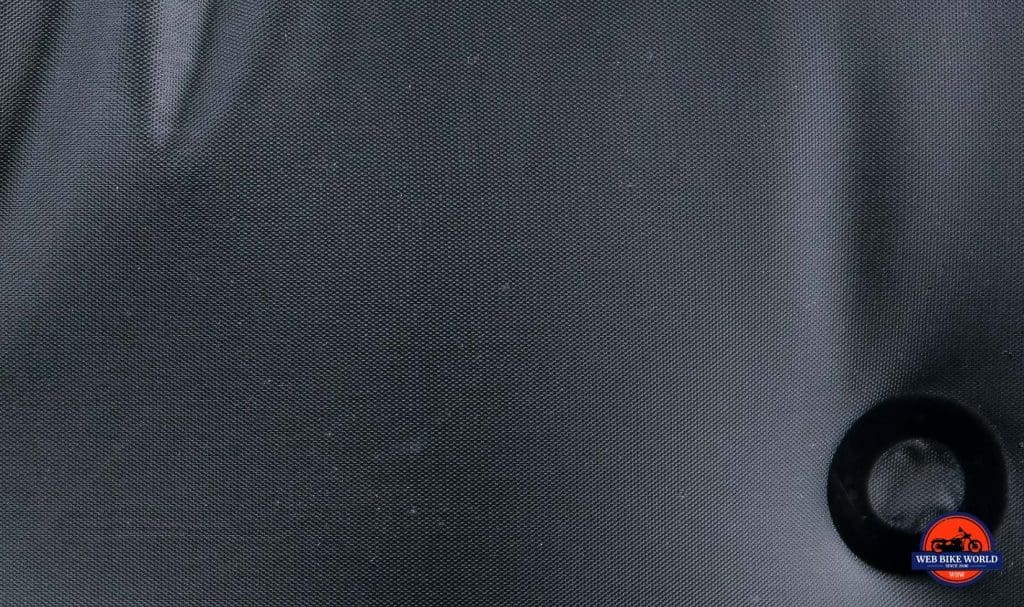 It's crazy but it's true. Now if it's really warm out it won't work and you'll sweat for sure wearing it, but of course, you'd remove it once the temperature reaches about 17 to 18 C (65 F) to avoid that happening.
I digress… back to the cold ride home.
Oops
We stop for a bite to eat in Golden, BC at an excellent pizza place. It's then we discover the electrical cord for Greg's heated vest has managed to come loose somehow and get ripped apart in his chain. There'll be no more heated bliss for Greg over the next two and a half hours ride home.
The temperature is steadily dropping too so this is going to be rough for him. He didn't layer up like he normally would without the heated vest.
I'll Join In
At this point, I take the Exotogg off, deflate it, and put it in my coat pocket. It's brilliant how small it can fold up for storage.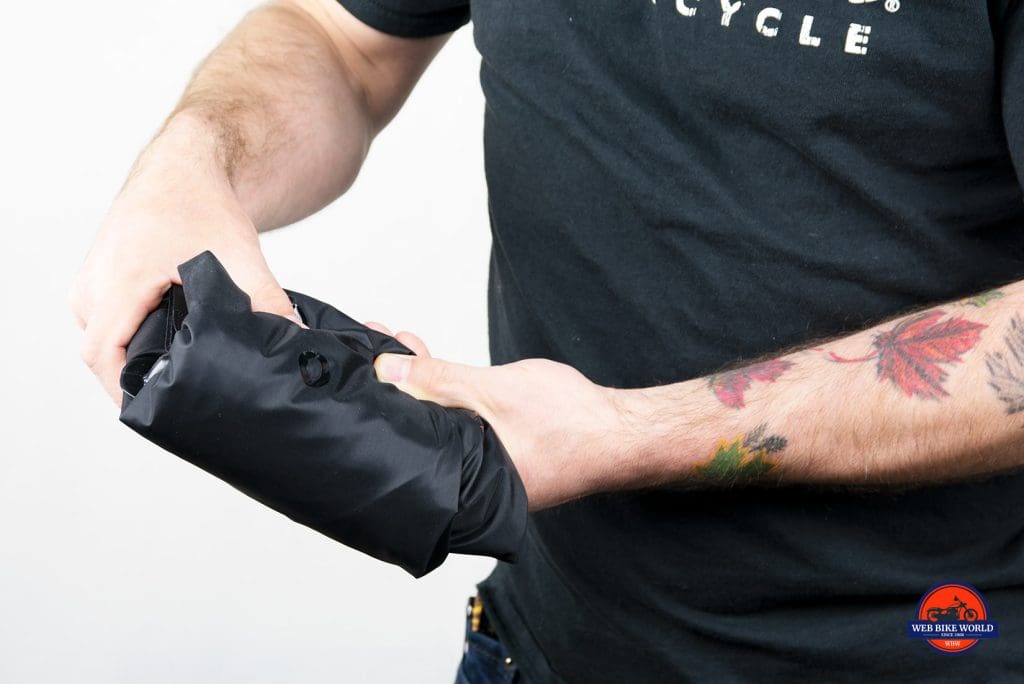 Why would I do that you might ask? I need to know the difference without it on the ride home to compare properly… and besides, I feel sorry for Greg and will happily suffer along with him in the name of thoroughly testing products for WBW. This is awesome!
The temperature on the way home got down and stayed right around 3 degrees Celsius (37 F) the rest of the way. Brrrrrr…
As you can imagine we both froze and were chilled to the core when we finally got back to our respective homes.
Lessons Learned
This experience really highlighted the Exotogg value. In a nutshell: it can't easily fail while the more high tech electric vests can.
If you're an adventure rider like Greg and me, you'll find yourself in extremely unpredictable weather often and you need your gear to perform reliably or even bail you out. Yes all Greg had to do was replace his electrical cord for the vest which is easy in a major city, but try doing that repair in Alaska on the Dalton Highway or in the middle of Mongolia.
Other Applications For The Exotogg
The website for Exotogg claims it can be used as a camping seat, air mattress, or pillow among other things. That excited me because the bedroll I currently use when motorcycle camping is very compact but does still take up space on the bike. If I can leave it at home and wear my bedroll in the form of the Exotogg instead (or just store it in my coat pocket until I need it) that's a huge win!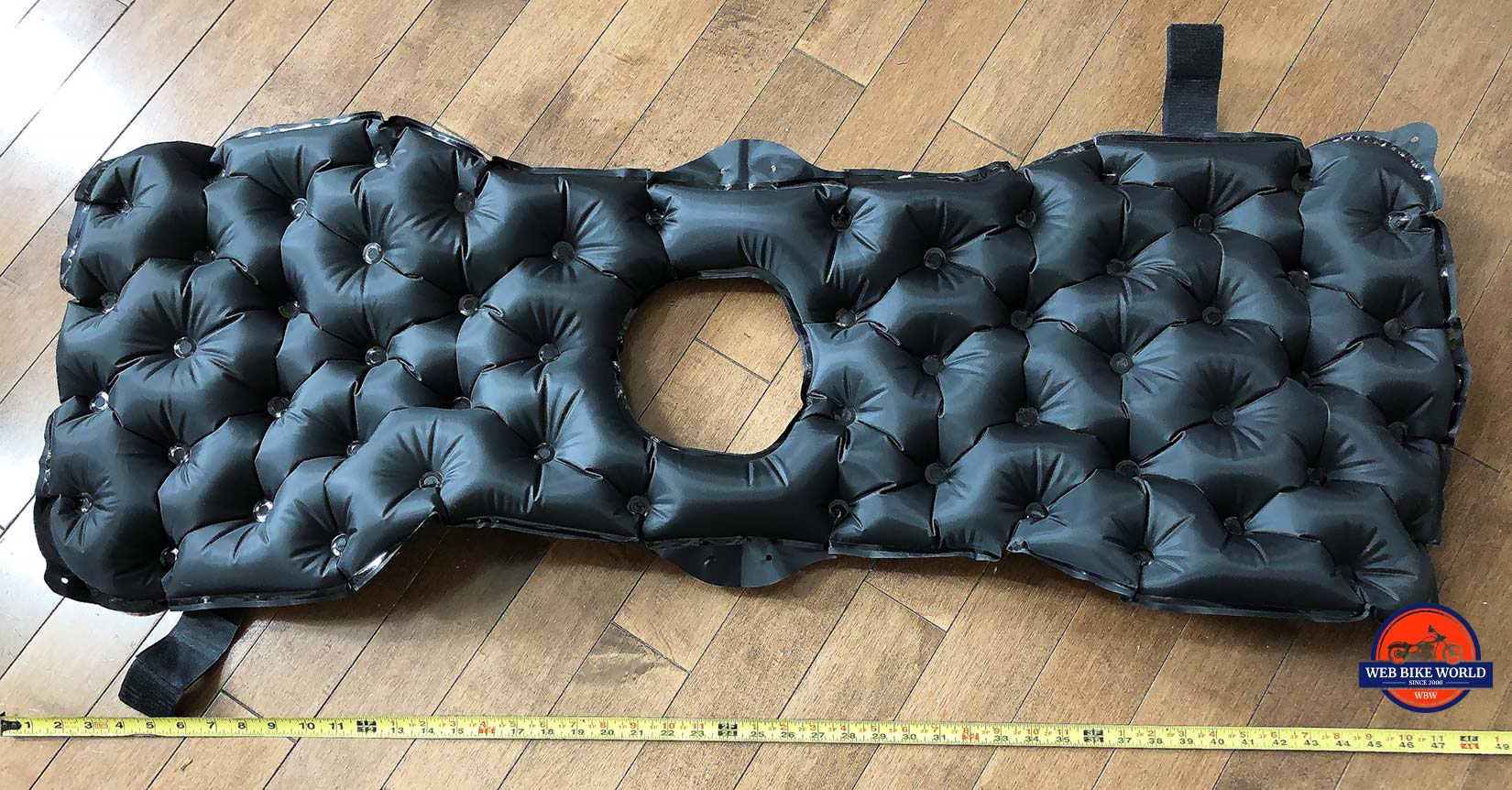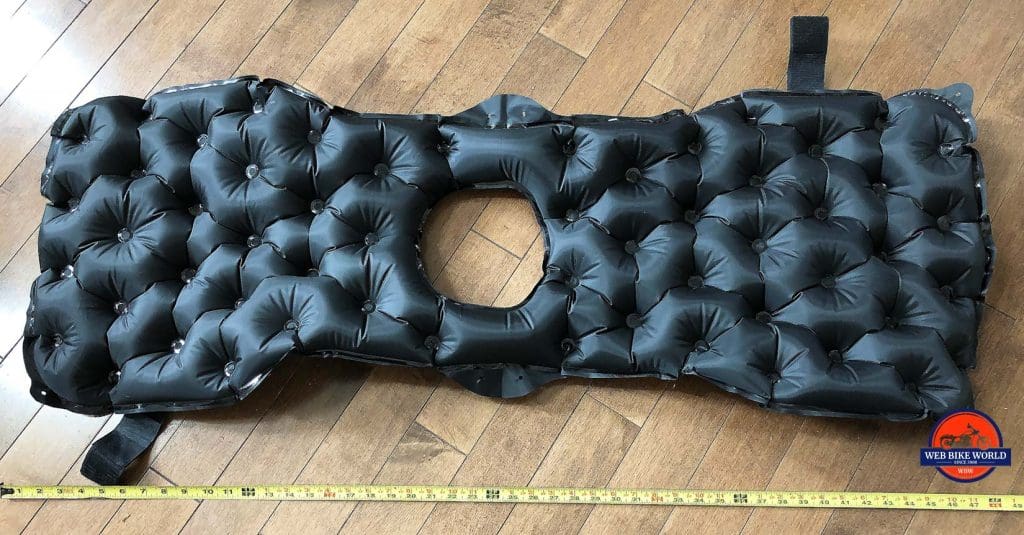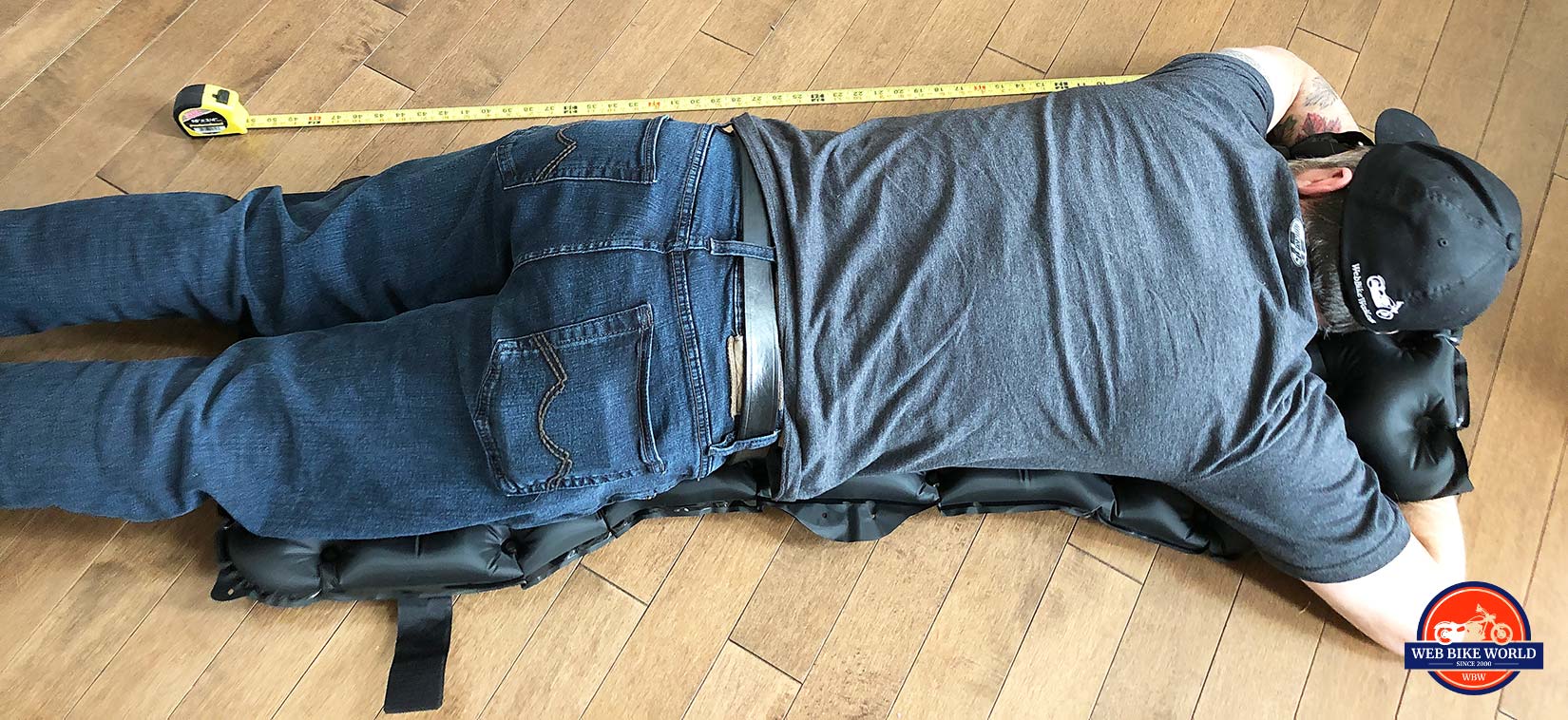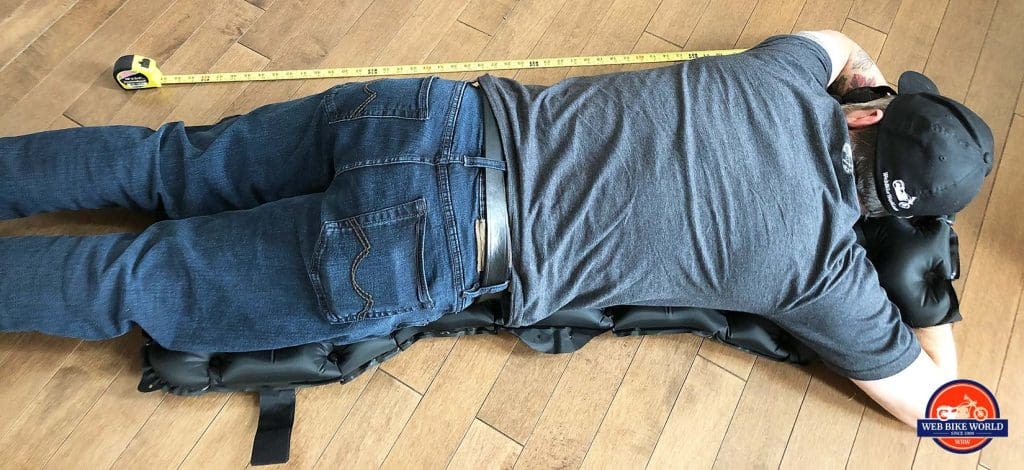 The Exotogg laid out flat and fully inflated is about 4 feet long. As you can see someone my height (5'7") can easily fit on it and use it as a bedroll. Instead of actually sleeping on it what I did was place a ton of heavy books on top of it in my living room and I checked to see how well it held air over an 8 hour period.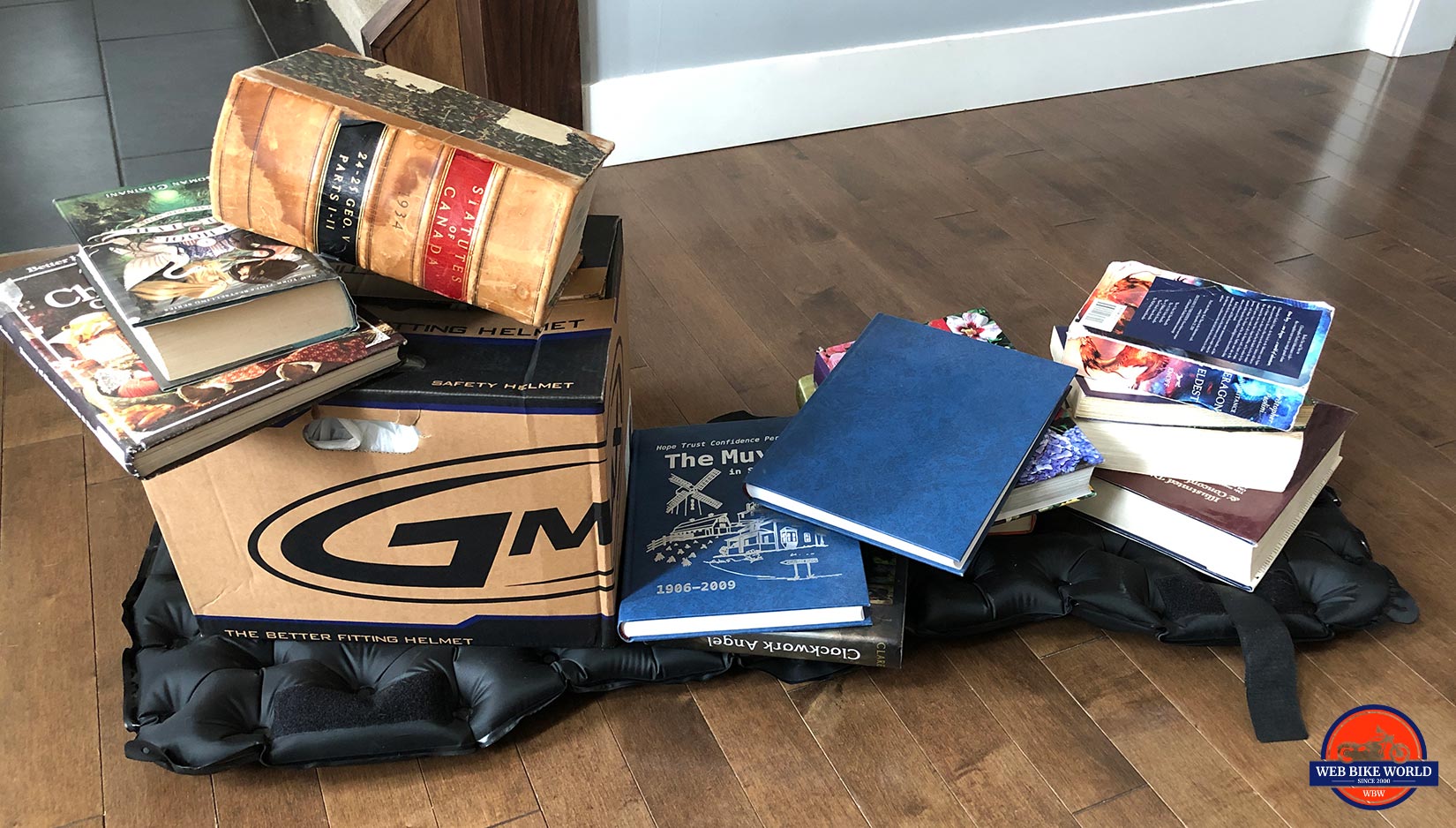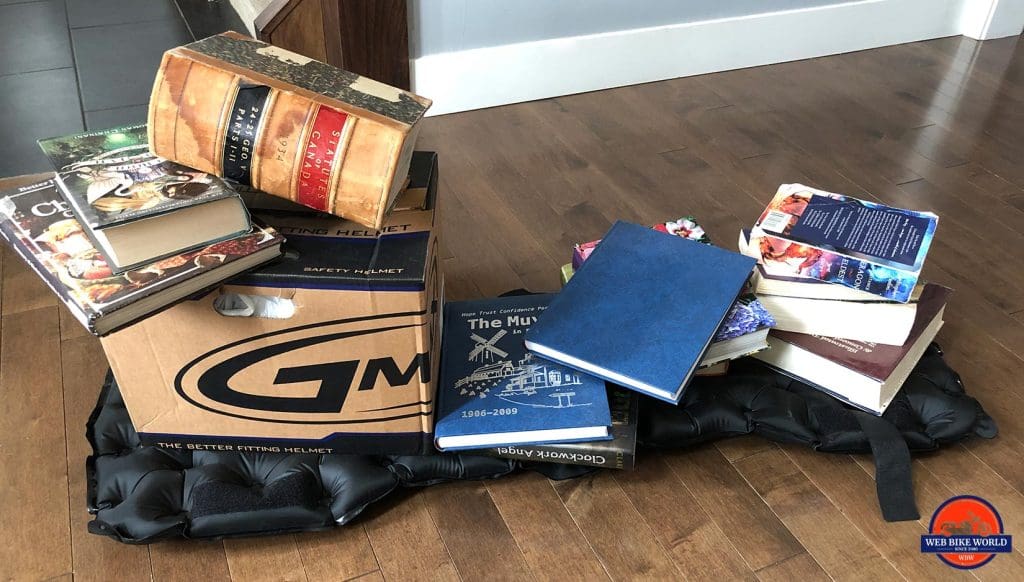 Unfortunately, after only 3 hours about half the air had leaked out somehow. I don't think I can use this exact Exotogg to replace my camping bedroll because I would have to re-inflate it during my sleep to be comfortable. I guess I could go with the Exotogg by just really roughing it and accept that I won't wake up floating entirely on air.
Maybe I got one that has a slow leak while others normally would hold air while I slept on it for 7 hours?
I submerged the Exotogg underwater and located a pinhole leak just beside one of the "dimples". I don't know whether I caused the leak or it came that way, but it only leaks when it's squeezed and the vest is fully inflated. It held air while I wore it on the road, but then again I didn't have it anywhere near fully inflated while road testing.
See the video below to witness bubbles coming from the problem area.
I asked Tony from Exotogg about it and he figures it's a rare manufacturing defect that caused the leak. He says this would be covered by warranty without question and offered to replace the one I have at no charge.
Outdoor Activities
The Exotogg feels better under a non-motorcycle jacket that fits more loosely. That allows you to feel unencumbered by air being forced from the tight-fitting waist area up to gather around your chest, neck, and shoulders.
I think it would be excellent to bring hiking or anytime you partake in outdoor activities away from shelter and warmth.
The Verdict?
Greg wasn't overly fond of the Exotogg looks and I got some good-natured ribbing from friends when I posted a photo of myself wearing it on my FaceBook profile. Unlike the other thermal vests on the market, you couldn't wear it out and about off the motorcycle without drawing a few quizzical looks unless it was covered. It is quite unconventional looking and if I'm completely honest makes me chuckle a bit and crack jokes while wearing it.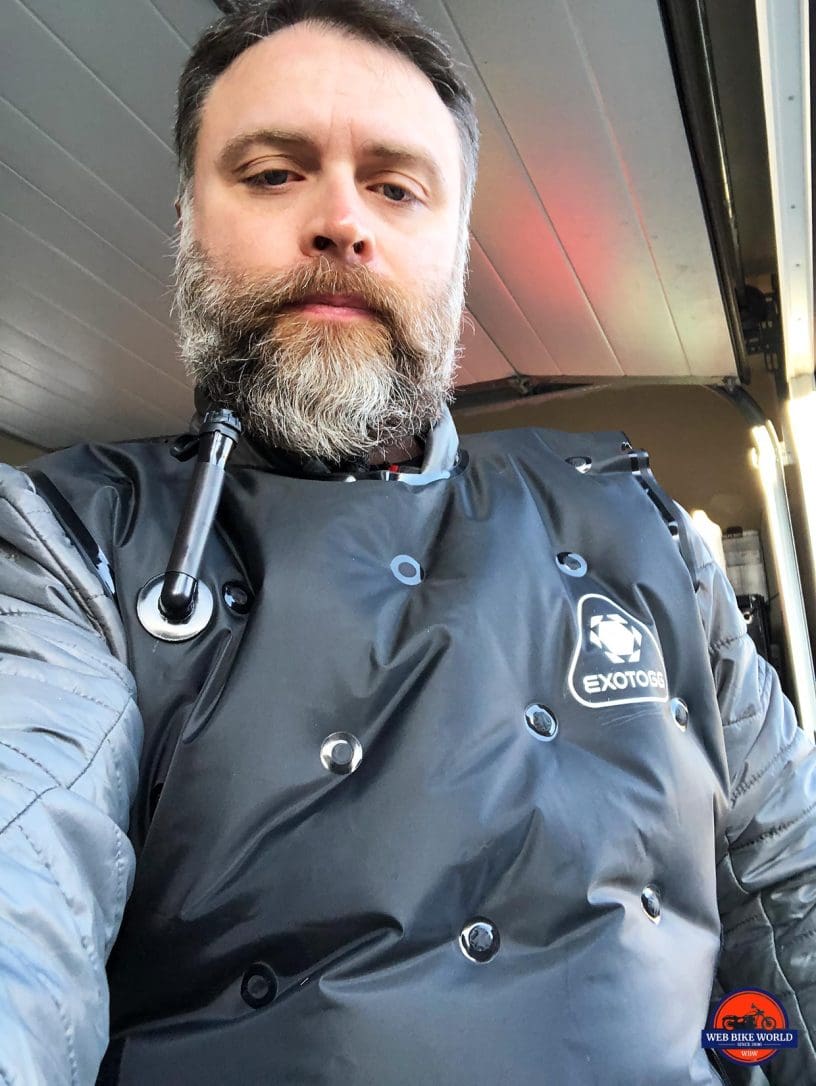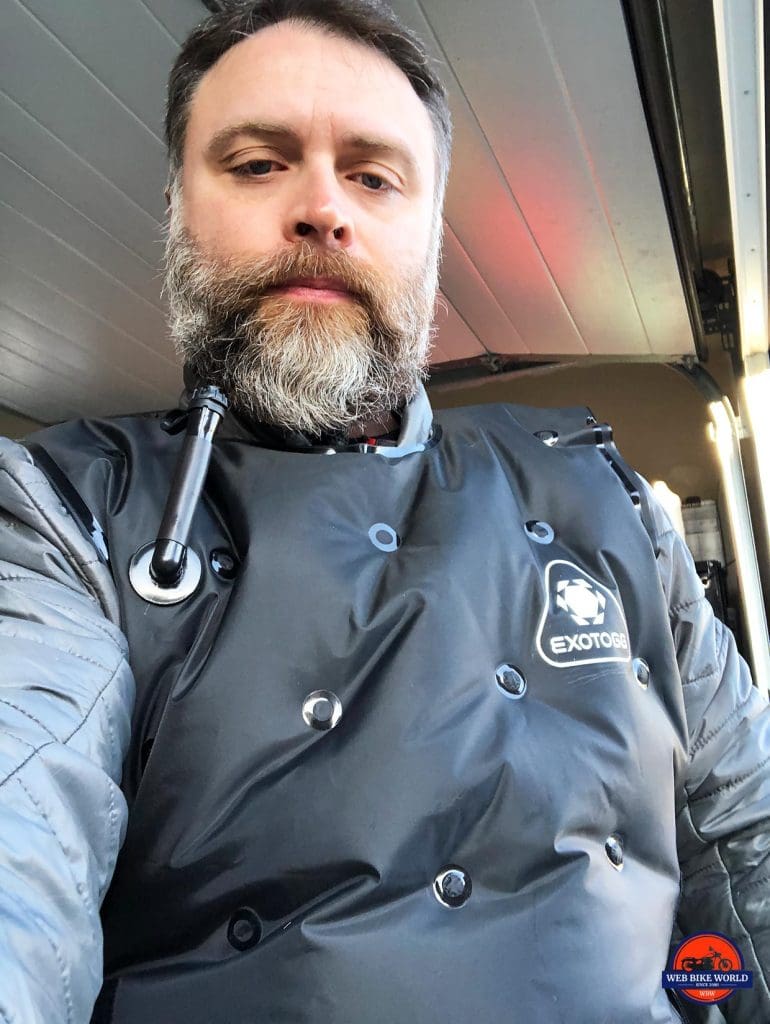 I wasn't entirely comfortable wearing it because of the "fluffy" or "puffy" sensation, but that comes down to my personal taste.
Should any of that actually affect my opinion of this product? Not significantly.
Do I want to be warm or fancy? I'm firmly in the function over form camp. I'm not a fashion guru or worried much about how I look in general. I value performance foremost and the Exotogg works.
I would like to see it refined a bit more to somehow stop air from transferring so much from one area to another if possible. Maybe more than one air chamber is the answer perhaps?
If the degree of expansion was limited to about half its current capacity that would make it more comfortable for me to wear under a motorcycle jacket. It would still keep me warm at half the thickness too.
Value & The Competition
The Exotogg sells for £99.00 or about $130 USD. Sound kind of expensive? Stand by.
There are other thermal vests on the market which use air as an insulator like the Aerostich Airvantage. It sells for $247 USD. It has built-in electric elements to combine with the air insulation, so it probably works really well but it has a zipper running up the center.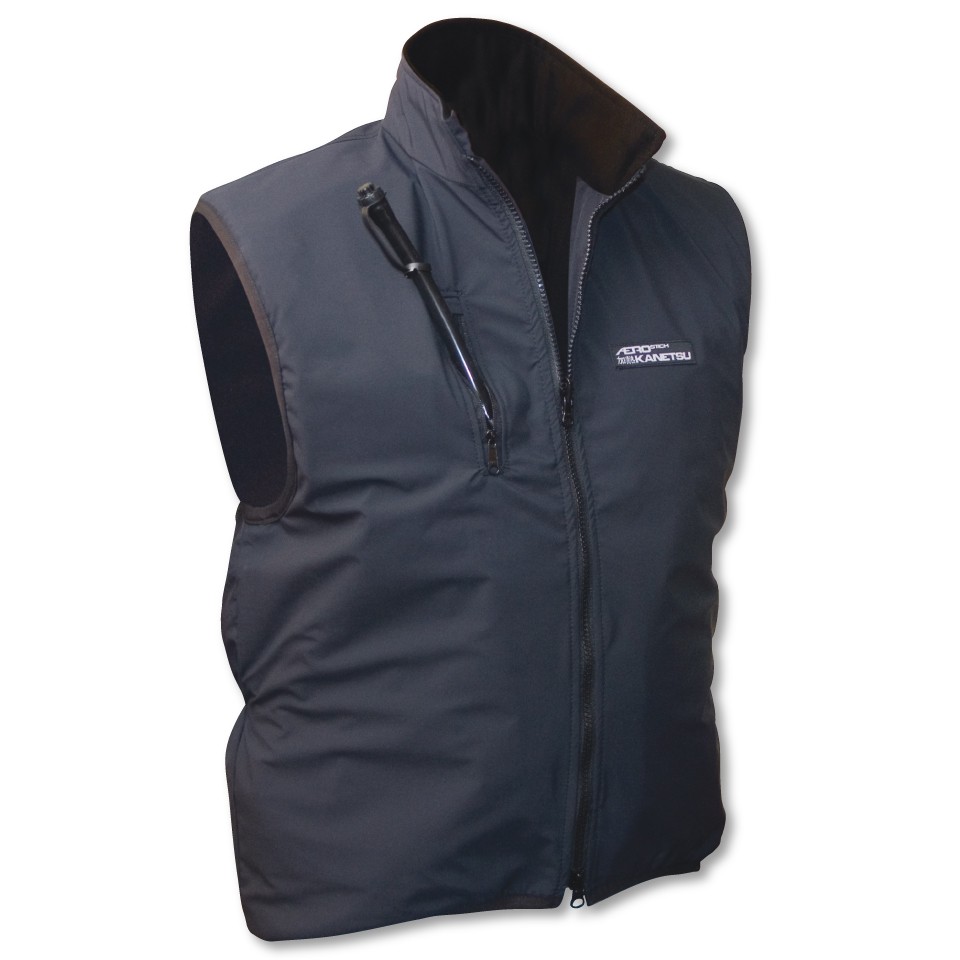 Photo from Aerostich
There's also this Echo Lake one from Nudown (link) that sells for $180 but isn't made specifically with motorcycling in mind so I'm not certain how it would perform even though it's a fairly reasonable price. It also has a zipper running up the middle to possibly transfer cold through to your chest.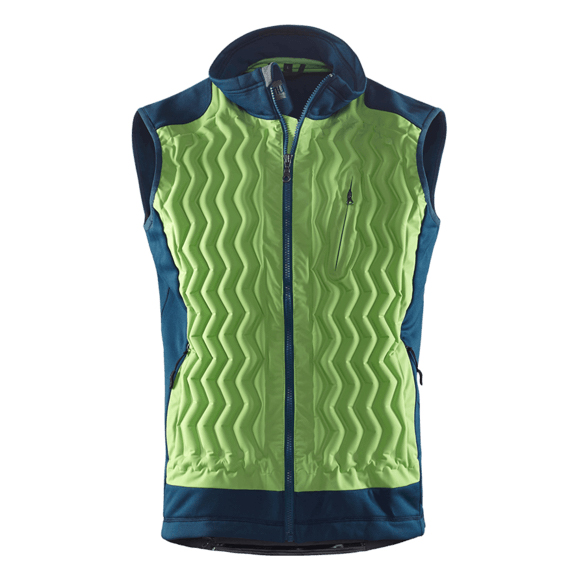 Photo from Nudown
In the end, I think there's a strong case to be made in favor of the Exotogg if you're willing to be pragmatic and think about unplanned usage of it out on the road.
Yes, the others might be fancier and maybe more polished looking, but what's that really worth to you when you're caught out on the road in a rainstorm and soaked to the skin?
Even if you're not wearing it before getting soaked it could be pulled out of your jacket pocket and put on then to help warm you up. Try doing that with the competitor vests.
I think that's why you might buy the Exotogg in the end over the others: flexibility, value, and simplicity.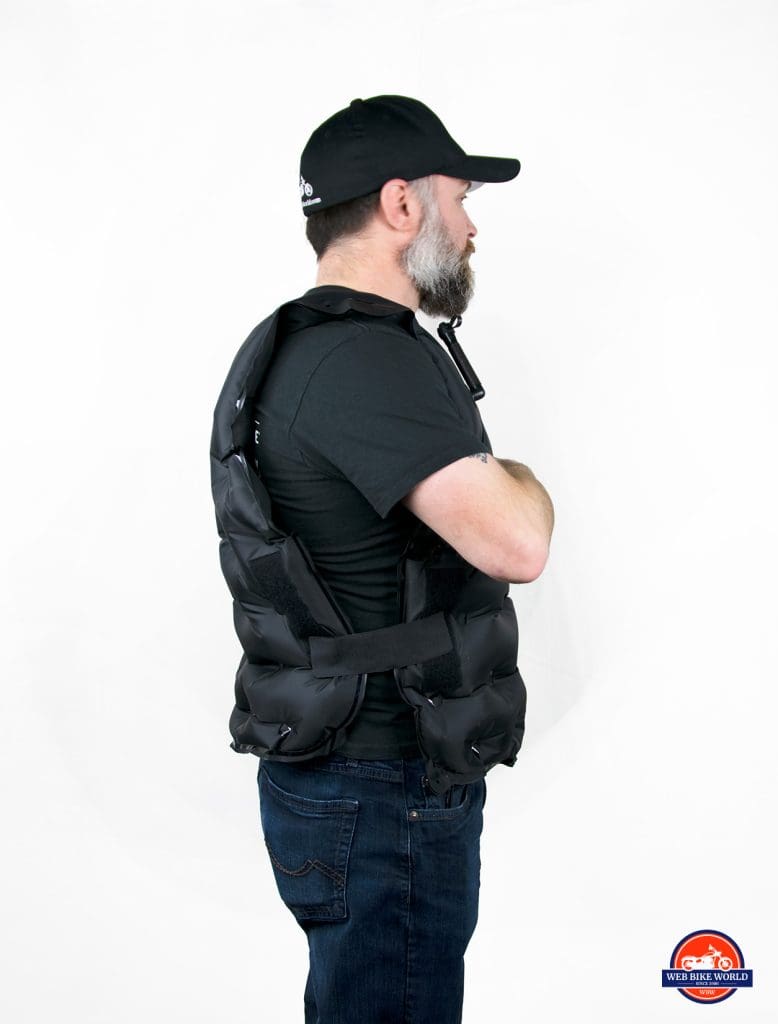 Pros
Effective insulation / Sturdy materials and design / Simple to use / Folds up small for convenient storage / Reliable / Inexpensive compared to similar products / Allows moisture to evaporate / 60 Day money-back guarantee
Cons
Sometimes uncomfortable to wear / Single air chamber / Unconventionality might deter people from trying Exotogg
Specs
Manufacturer: Exotogg
Price (When Tested): £99.00
Made In: Great Britain
Alternative models & colors: Short & Regular lengths
Review Date: April 1, 2019