When I first opened my inbox to find an e-invitation from Royal Enfield, I was both intrigued and impressed; here was a brand willing to cover flights, travel, room, and board so we could get to an event with the following description:
"Everything's bigger in Texas, and our next launch is set to be
METEORIC
." 
While we weren't given a clear heads-up on the bike beforehand, the above hint was enticing. The Super Meteor 650 was the brand's most hyped-up motorcycle since its first reveal at EICMA 2022, though the retro cruiser had yet to set wheels to western shores.
Was Royal Enfield launching their newest middleweight cruiser, or was another of a similar moniker about to hit the limelight?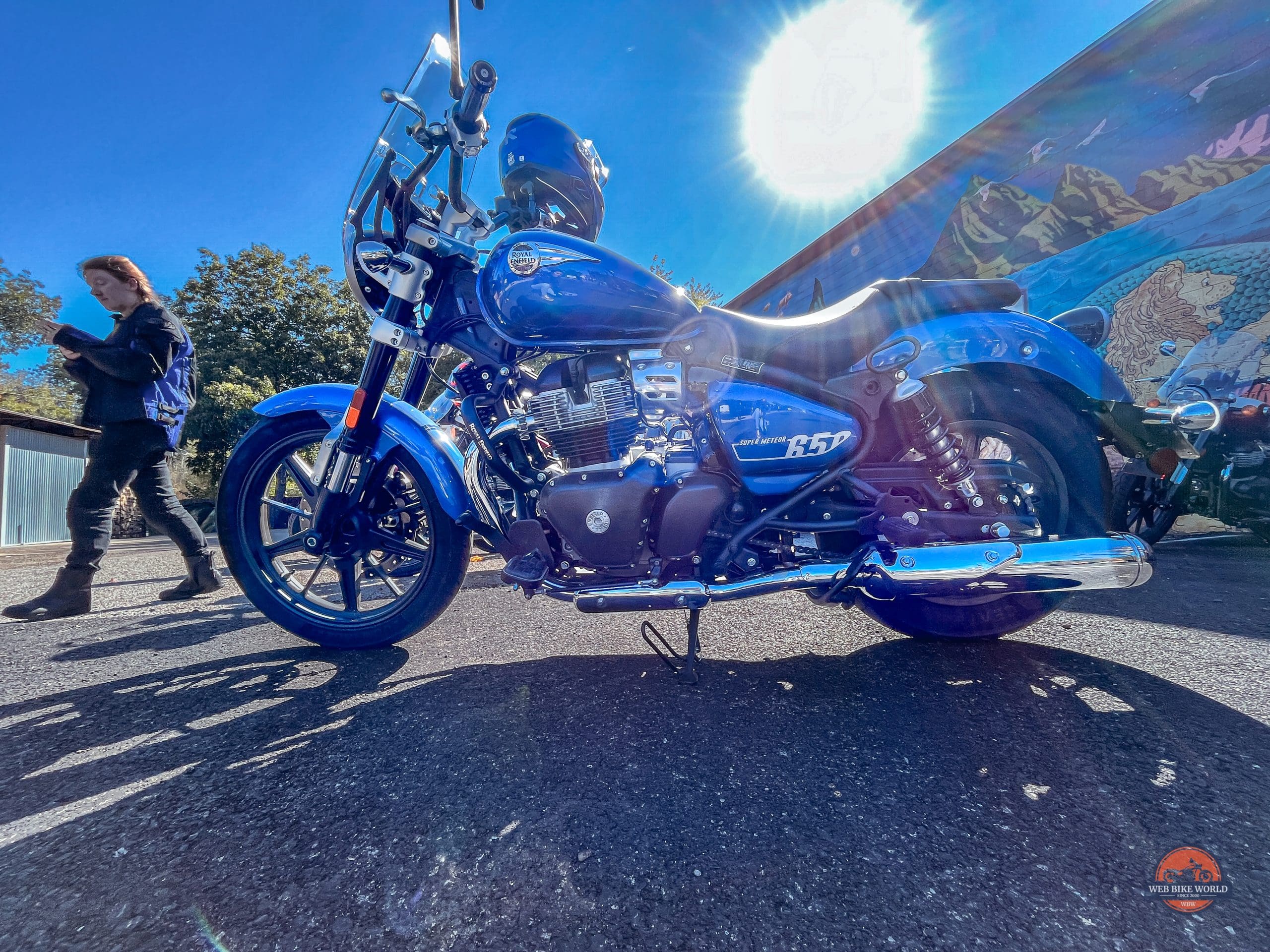 Time would tell; in the meantime, the promise of a complimentary experience trumped any and all verbiage vagueries.
Event forms, passport forms, and license forms were speedily submitted and renewed, and the first available aerobird was boarded out of YXU proper to DFW.
Texas, baby!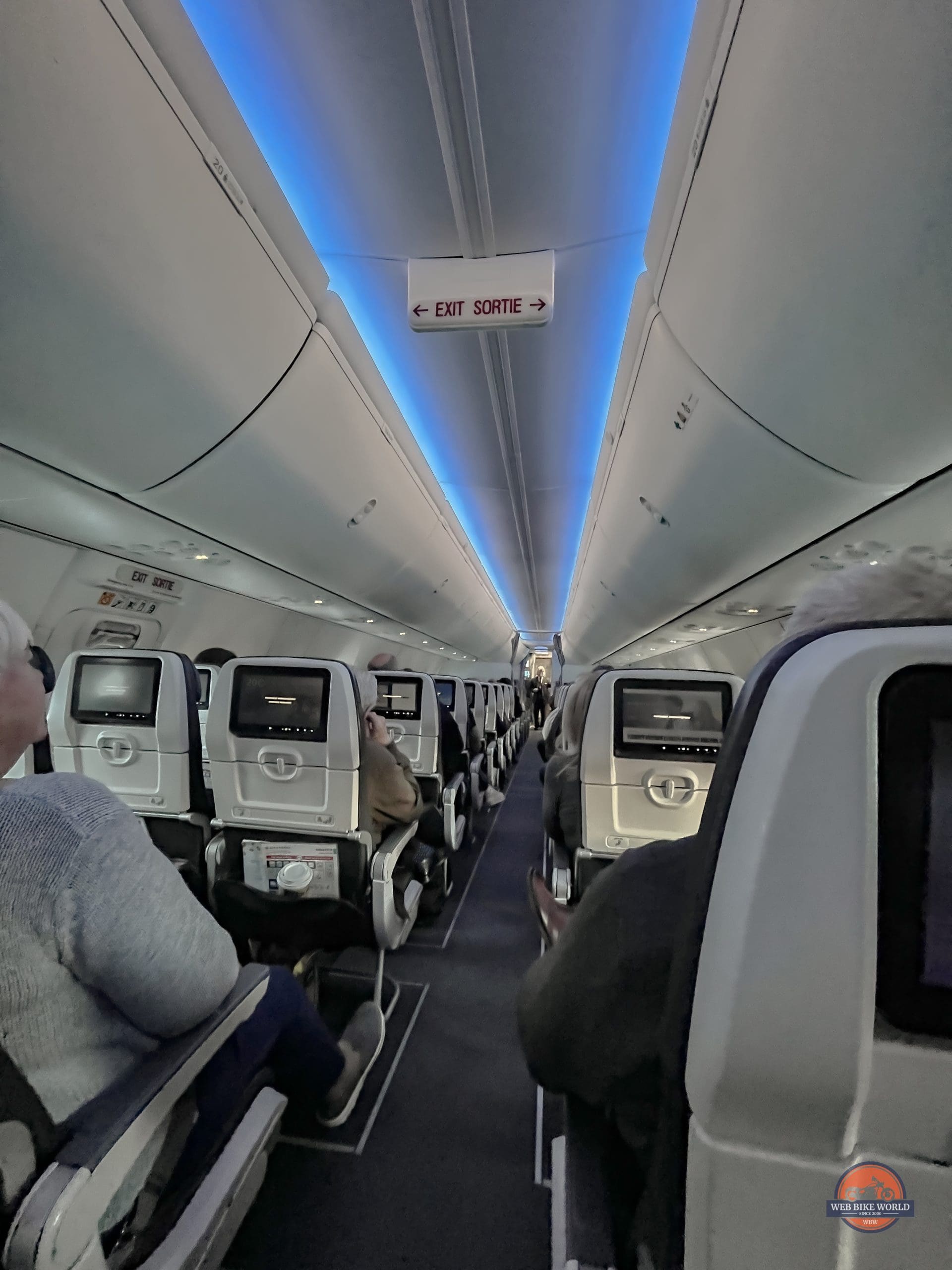 A seamless flight exit, bag pickup, and 10-minute Uber later, and I was at the Omni® Las Colinas Hotel. Here was the itinerary I received on the back of my name tag as I checked out: 
THURSDAY
Dinner at the Cork and Pig Tavern
FRIDAY
Ride
Pit stop at the Royal Enfield Tech Center
Ride
Lunch at the Greenhouse Restaurant
Ride
Cocktails, evening presentation, and Super Meteor 650 price reveal
A full roster.
Imagine my surprise when the PR team let out that we would each be given a Super Meteor 650 to toggle around!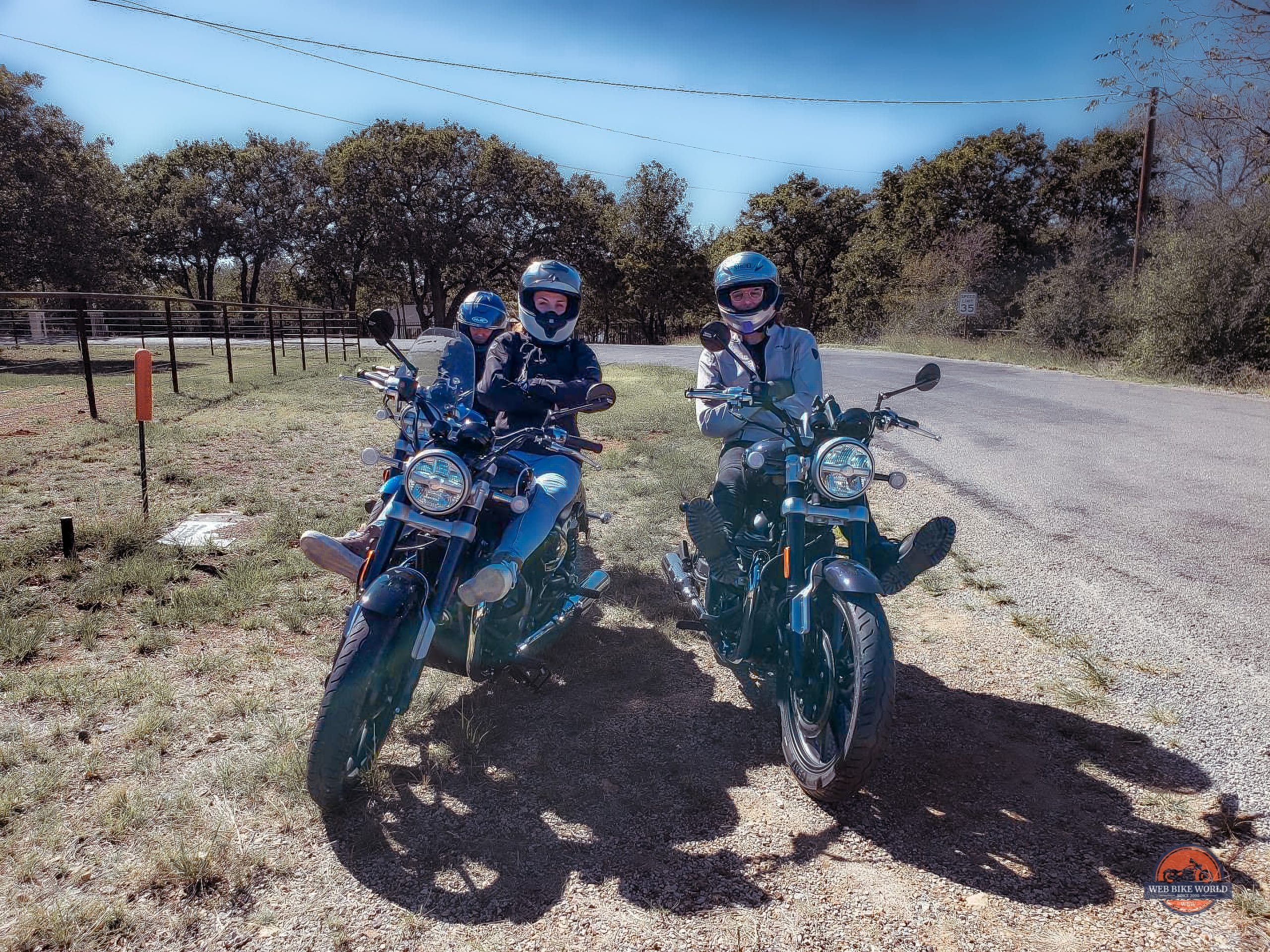 I wasn't as familiar with Royal Enfield events, but at this point I couldn't help but feel that the bike would live up to my expectations in one way or another. A bike brand doesn't spend multiple figures on plane tickets, hotel rooms, open bars, and commercial liability insurance unless they can at least back up their claims with a good product, right?
Besides – we already knew that the bike's debut had been delayed due to lockdowns, so it wasn't like RE was short on time to get the perfect equation with this machine.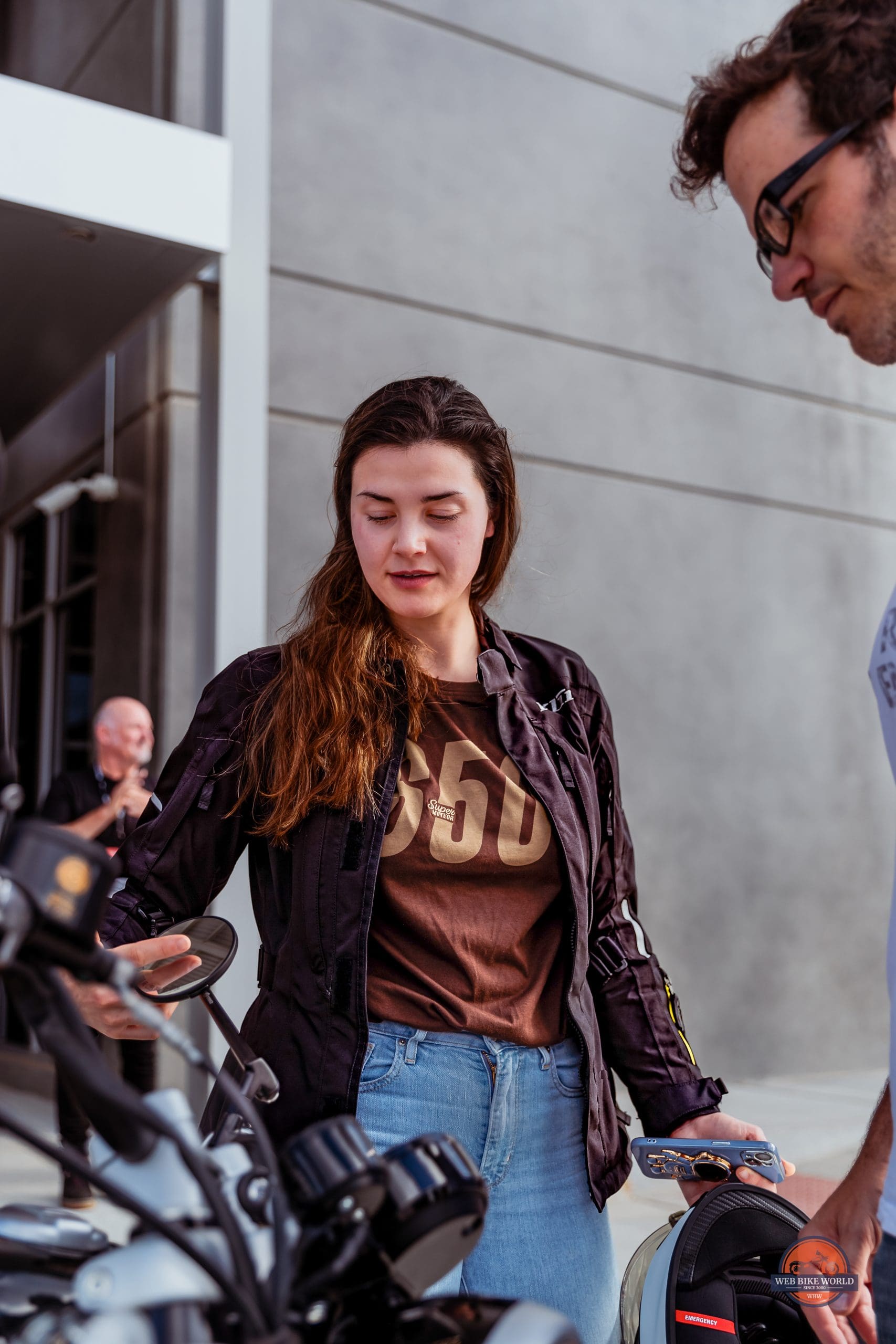 The first evening's outing at the Cork and Pig Tavern was a stone's throw away from the sprawling lawns that fronted Irving's Lake Carolyn – an idyllic jaunt around the corner with the tepid temps, one that we all made with a certain air of weightlessness and excitement.
Entrance into the tavern boasted a bustling atmosphere where we were ushered into reserved booths laden with appetizers and menus, each of us next to our future roadmates for the next day's package of pavement pleasures.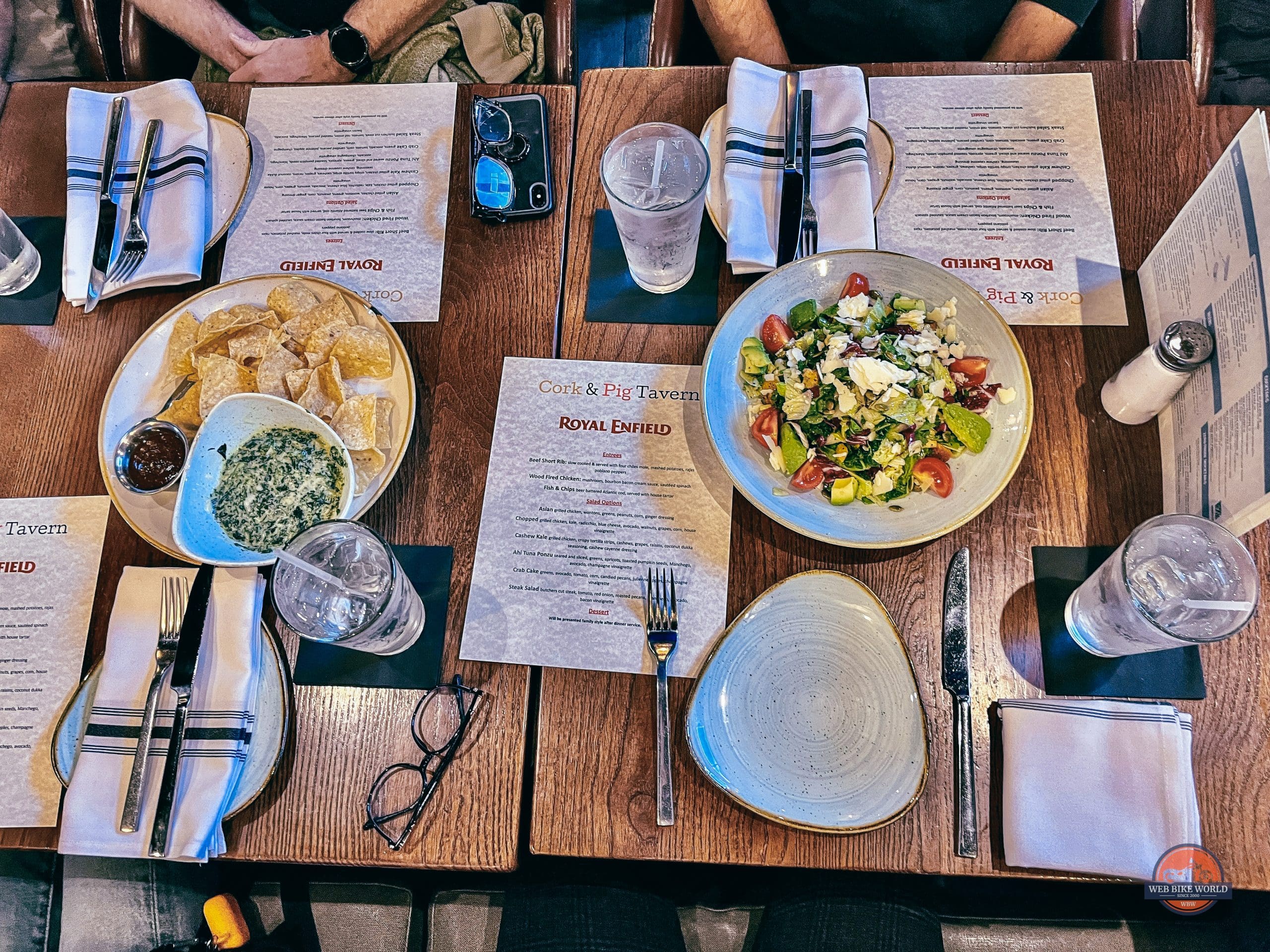 We settled into the orders and I requested my beverage of choice: A cocktail equivalent to a Bloody Mary and bested by a profusion of olives, celery, hot peppers, sriracha and pickles.
It wasn't until after I described the aperitif to the whole of my table that I realized Bloody Caesars were a Canadian thing (more's the pity). Amidst that hilarity, I realized the verbally modest gent to my right was none other than Adrian Sellers, the Head of the Industrial Design Department for Royal Enfield.
While I received Sellers' perspectives on everything from the potential for solid-state batteries over the hype of hydrogen tech, to the why's of certain cruiser concepts (and how buying a bike shouldn't always be about knocking the fenders), the table moved from ahi tuna, braised chicken and multiple parts of cow to sugar-dusted beignets, chocolate cake and some sort of cheesecake confection. 
All in all, an obscenely memorable night.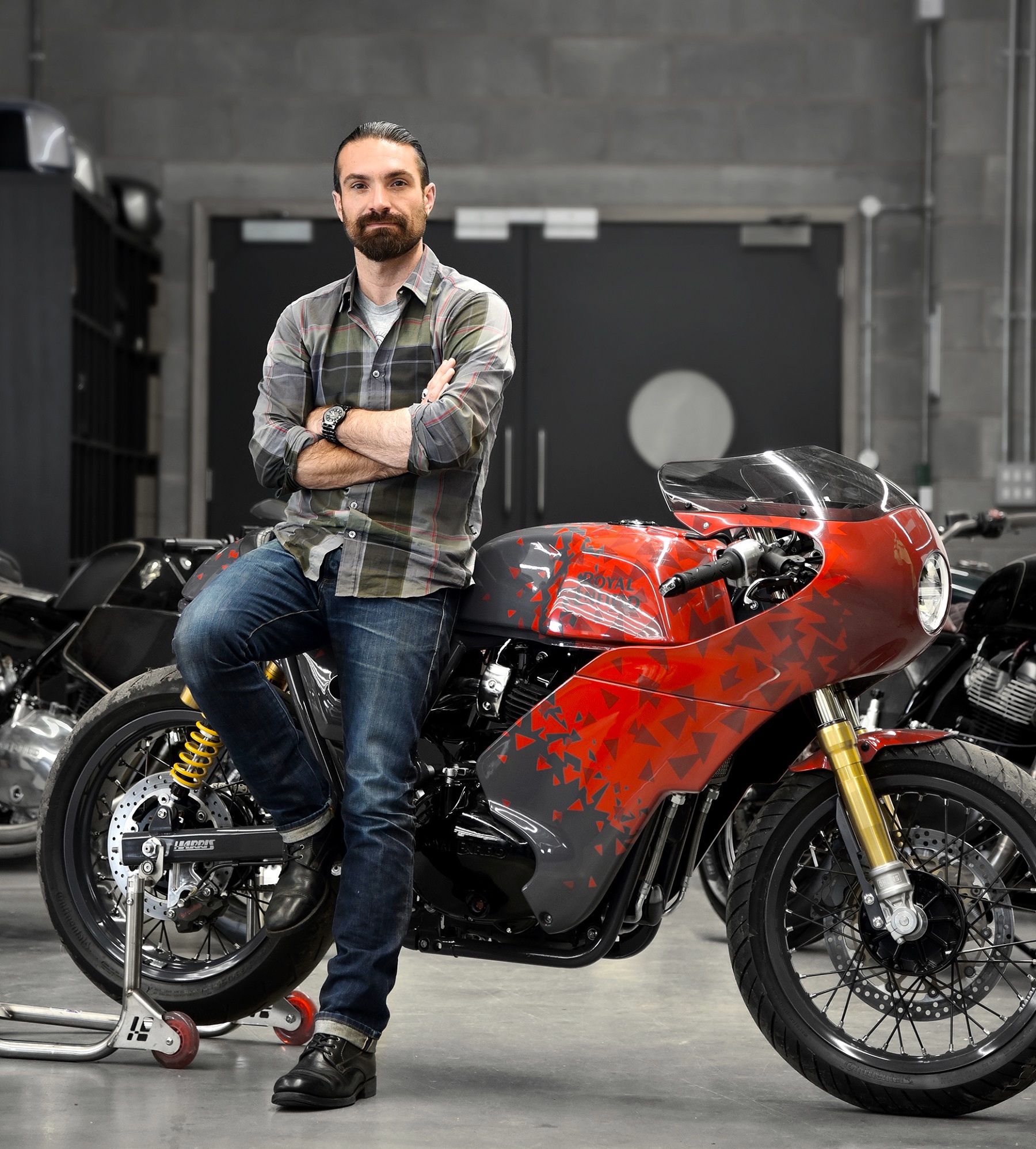 With the Super Meteor, we placed a huge emphasis on getting the materials right. Usually, when you walk into a generic dealership, one of the first things that people do when they walk up to one of these big, authentic cruisers is they knock on the fenders to check if they're metal or not.  

It's so old-school, it makes no sense. Metal fenders make no sense, they add weight… [but] it's this visceral need from the customer that "this is quality, " and there's also the continued link to the past."

– Adrian Sellers, Head of the Industrial Design, Royal Enfield
… more on that for when the Sellers interview goes live. 
The next morning showed off a squinty 6:30am breakfasting start and I got to know the members of my particular group a little better. Apparently, there were actually two or three groups scheduled to have their go on the Super Meteor 650 fleet and we were the first of the event to swing a leg over.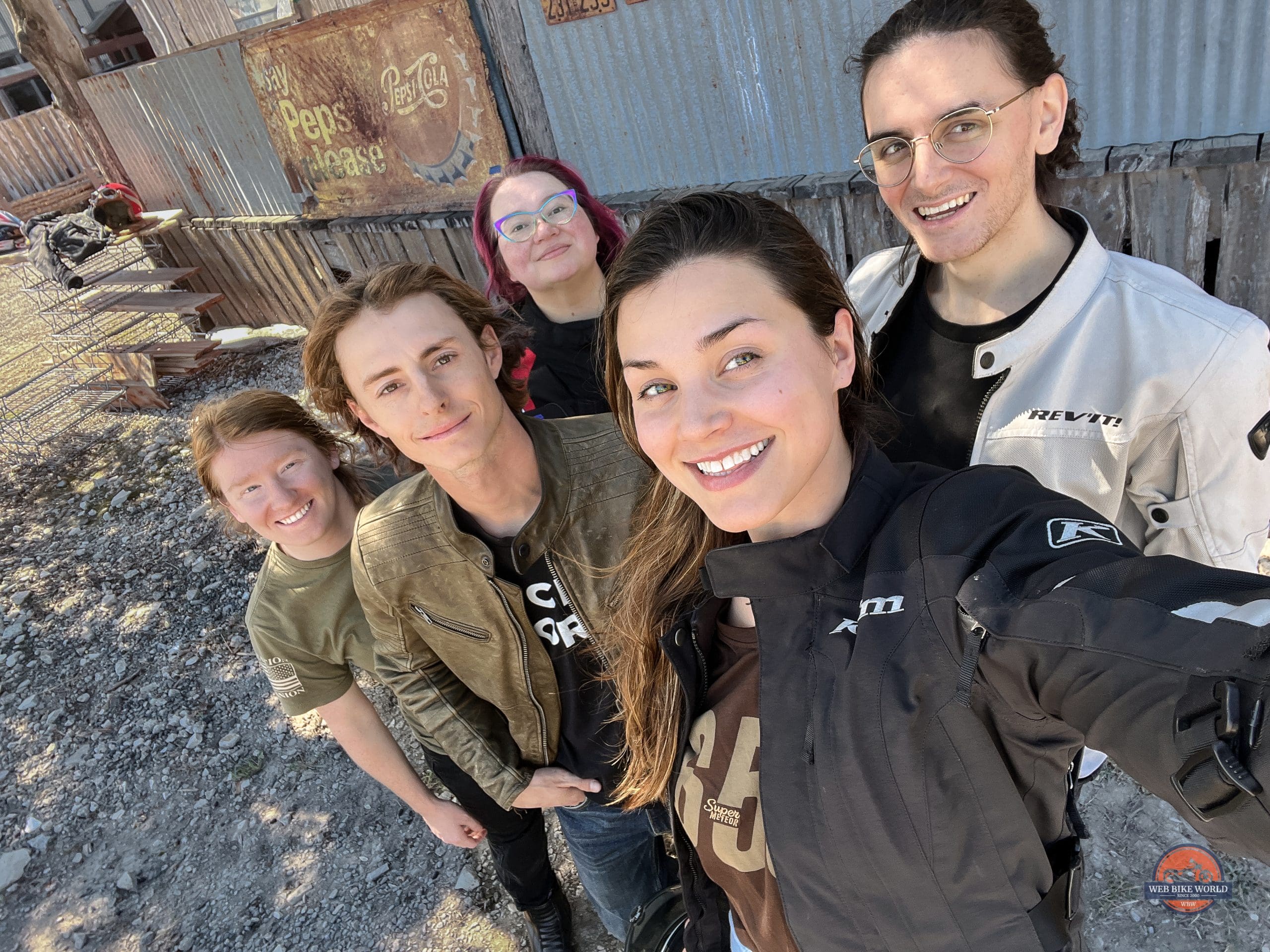 Included in our little band was Kelly Callan (Ultimate Motorcycling), the enigmatic Ted Edwards (Road Dirt TV), the ever gracious and equally sarcastic Constant Didier (Motoplus.ca), a bright-eyed Steve Dasilva (Jalopnik.com), the superbly informed Michael Gougis (roadracingworld.com), the bushy-tailed and talented Evan Allen (CycleWorld.com), Allison Parker (Rider Magazine), Adam Waheed (Motorcyclist.com), Manny Padya (CafeRacerMag.com), Janaki Jitchotvisut (RideApart.com), Will Roberson (RoadRunner.net), Troy Siahaan (Motorcycle.com) and Patrick Lambie (InsideMotorcycles.com).
The above crowd was joined by others and various members of Royal Enfield's core team.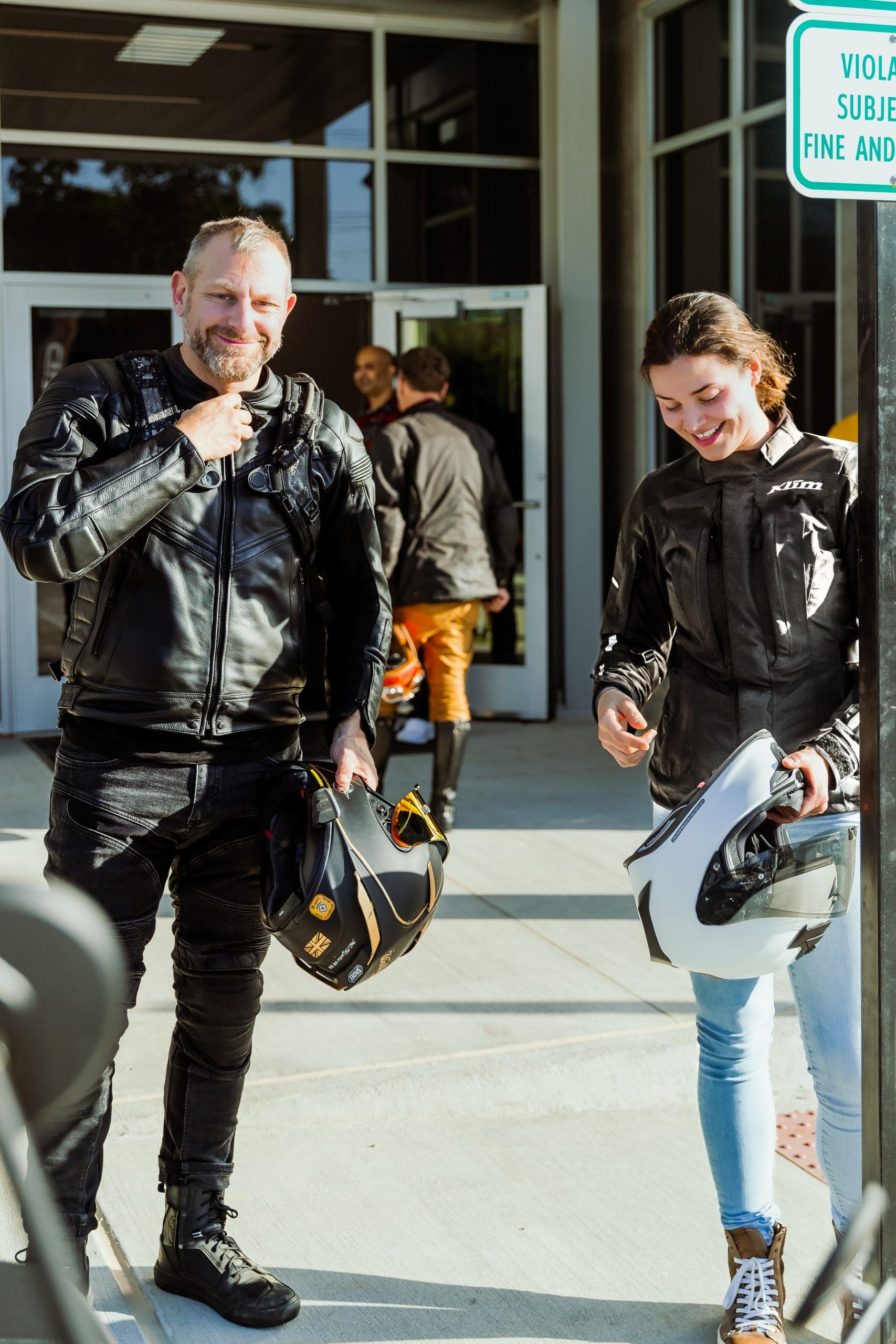 Adrian Sellers joined our gang alongside Mark Wells, RE's Chief guy for Global Product Strategy & Industrial Design at Royal Enfield – and that's where it hit me. 
We were to be riding with the two blokes responsible for the existence of the Super Meteor 650… on the Super Meteor 650s they designed… and we were even going to get to pick their brains about it afterward. 
Banging group, yeah?
Off to the asphalt we went.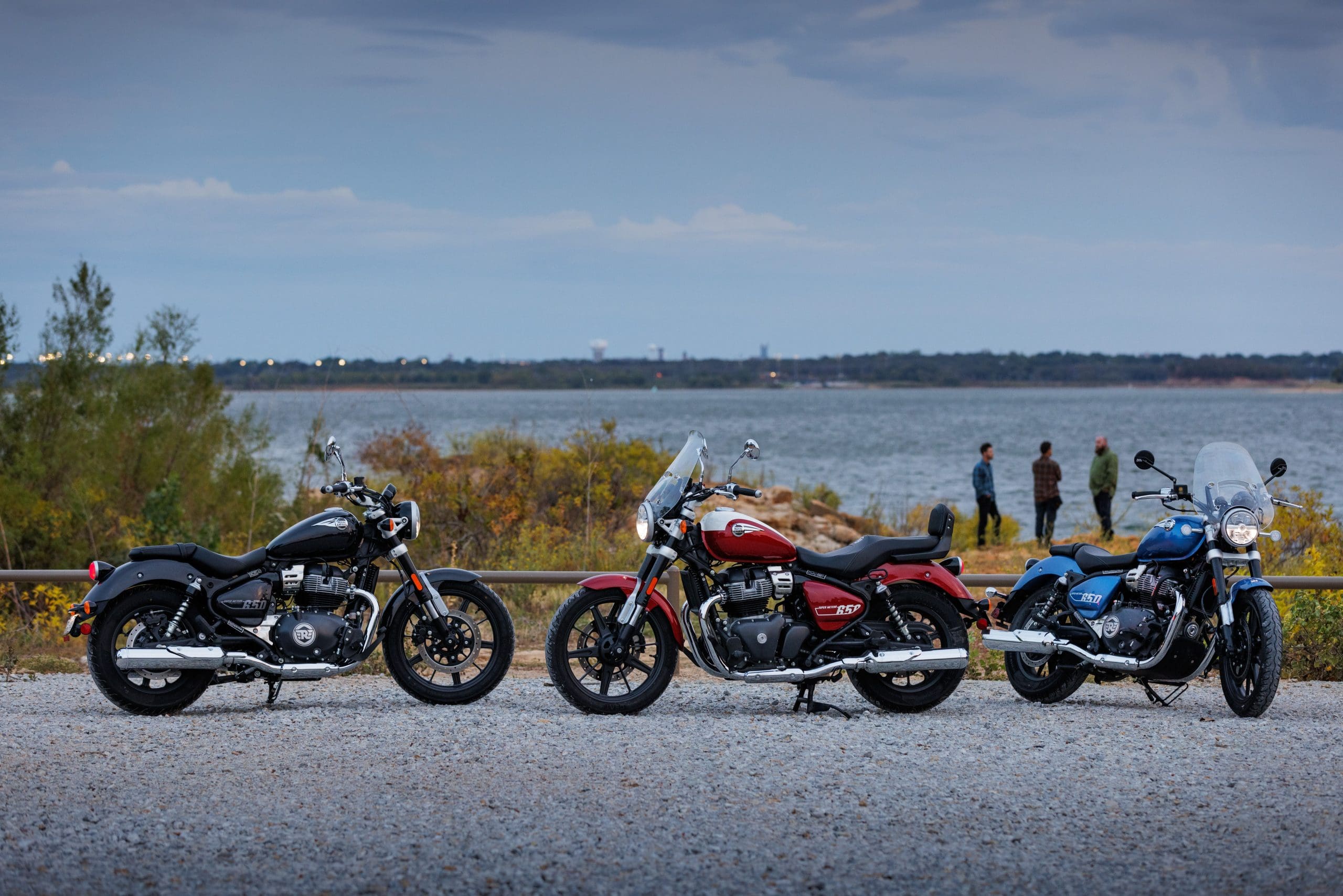 Royal Enfield gave us around thirty bikes in several color schemes for our group to choose from. Some models showed off a more basic, "naked" aesthetic and single-tone color. These, I understood, were Royal Enfield's "Astral" variants and carried the least amount of extra features.
Other sapiens went for a more true-blue cruiser vibe with windscreens, passenger backrest, and wider footpegs, among other additions. These variants were two-toned in livery, with the "Interstellar" variant being the middling choice and the "Celestial" option touting those other additions I mentioned above.
I myself selected a dark, two-toned number with a black and subtle olive green flake – a color scheme titled "Interstellar Green" and priced, I later found out, at an MSRP of $7,299.00 USD / CAD 9,799.
(If you're curious about the pricing of the other variants…)
For the above bike, I had the below specs 'n' perks:
Engine Type

Parallel twin, 4-stroke, SOHC, Air-Oil Cooled

Bore x Stroke

78mm x 67.8mm

Displacement

648cc

Compression Ratio

9.5:1

Maximum Power

46.4hp (47PS) @7250rpm

Maximum Torque

52.3 Nm @ 5650rpm

Ignition System

Electronic Fuel Injection (EFI)

Clutch

Wet, multi-plate

Gearbox

6-Speed constant mesh

Air Cleaner

Paper element

Engine Start

Electric

Chassis Type

Steel Tubular Spine Frame

Front Suspension

43mm Showa Big Piston, Upside Down Forks, 120mm travel

Rear Suspension

Twin Shocks, 101mm travel, preload adjustable

Wheelbase

59″ (1500mm)

Ground Clearance

5.3″ (135mm)

Length

88.98″ (2260mm)

Width

35″ (890mm)

without mirrors

Height

45.5″ (1155mm)

Seat Height

29.1″ (740mm)

Curb Weight

531.3lbs (241kg)

with 90% fuel & oil

Fuel Capacity

4.15 gallons (15.7L)

Tires Front

19″ – 100/90 – 19 M/C 57H (Tubeless)

Tires Rear

16″ – 150/80 B16 M/C 71H (Tubeless)

Brakes Front

320mm disc, twin piston floating caliper

Brakes Rear

300mm disc, twin piston floating caliper

ABS

Dual-Channel
A quick set of signatures on the obligatory waiver, and we were away.
Nearly everybody was on their best behavior for the first 45-minute chunk of road; when I say "nearly" everybody, I mean that Wells and Seller were easily the most at-ease examples within the group. Wells, in particular, soon proved himself king of a hooligan move or three mid-situ (as one does being Chief of Design for Royal Enfield and knowing the thing's capabilities inside and out).
If anybody has any qualms as to the nimbleness of this bike, book a ride with Wells; you'll be remedied in short order.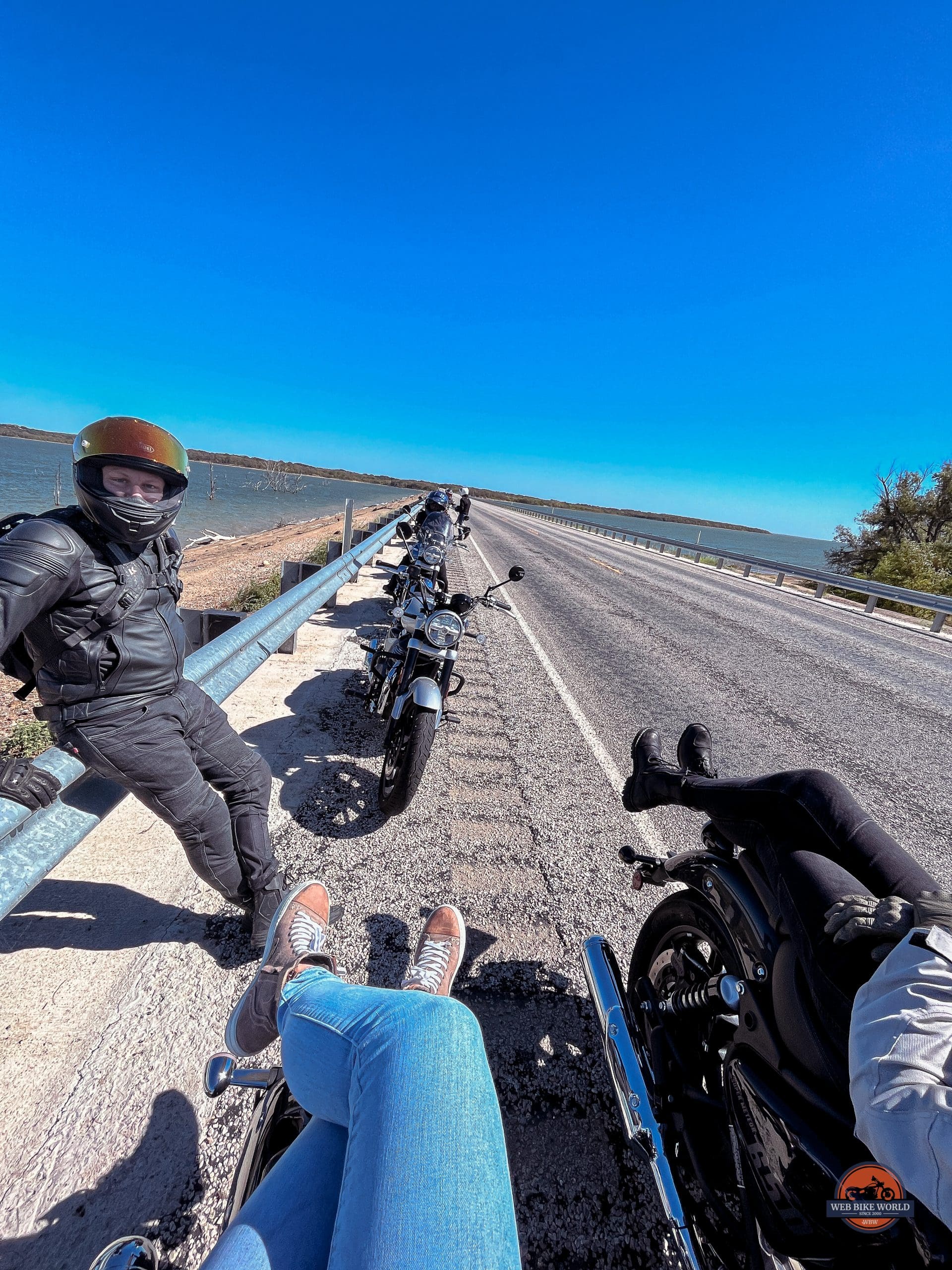 The glee of the more lively riders was infectious; before long, we were all following suit slapping through the Super Meteor 650's gearbox and putting forth a bevy of saddle-bouncing, slaloms and a ton of throttle/footwork – all the while trying to answer the big question prevalent in all of our minds.
"W
hat kind of bike is the Super Meteor 650?"
Without spoiling it too much for the ride review, I can confirm one thing for certain: The Super Meteor is a true cruiser, and she gave nothing but good vibes all day.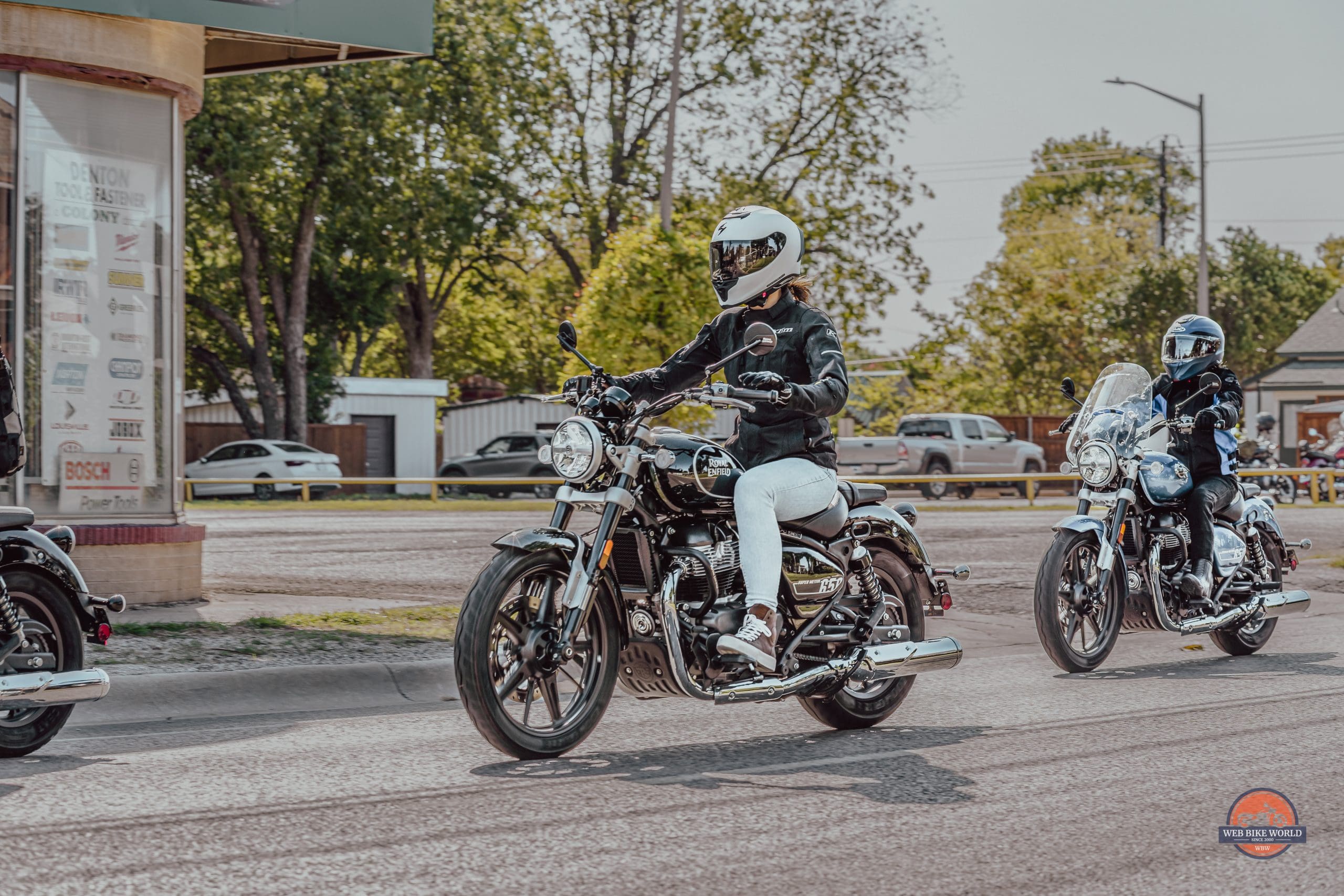 A velvety smooth throttle carries roughly 46 ponies through an easy-going six-speed gearbox; 530lbs might seem a bit heavy, but Adrian and Mark didn't build this bike to fit in the shoes of a supersport's revline, nor did they try to reach for big-bore performance.
The Super Meteor 650 is nothing less than an accessible, versatile cruiser designed to appeal to both ride and rider, with scads of free-rolling fun and intuitive handling… though it should be mentioned that some of the other riders wanted a bigger platform – an opinion I fully get, as more cc's would have been a killer combo with this bike's sweet personality.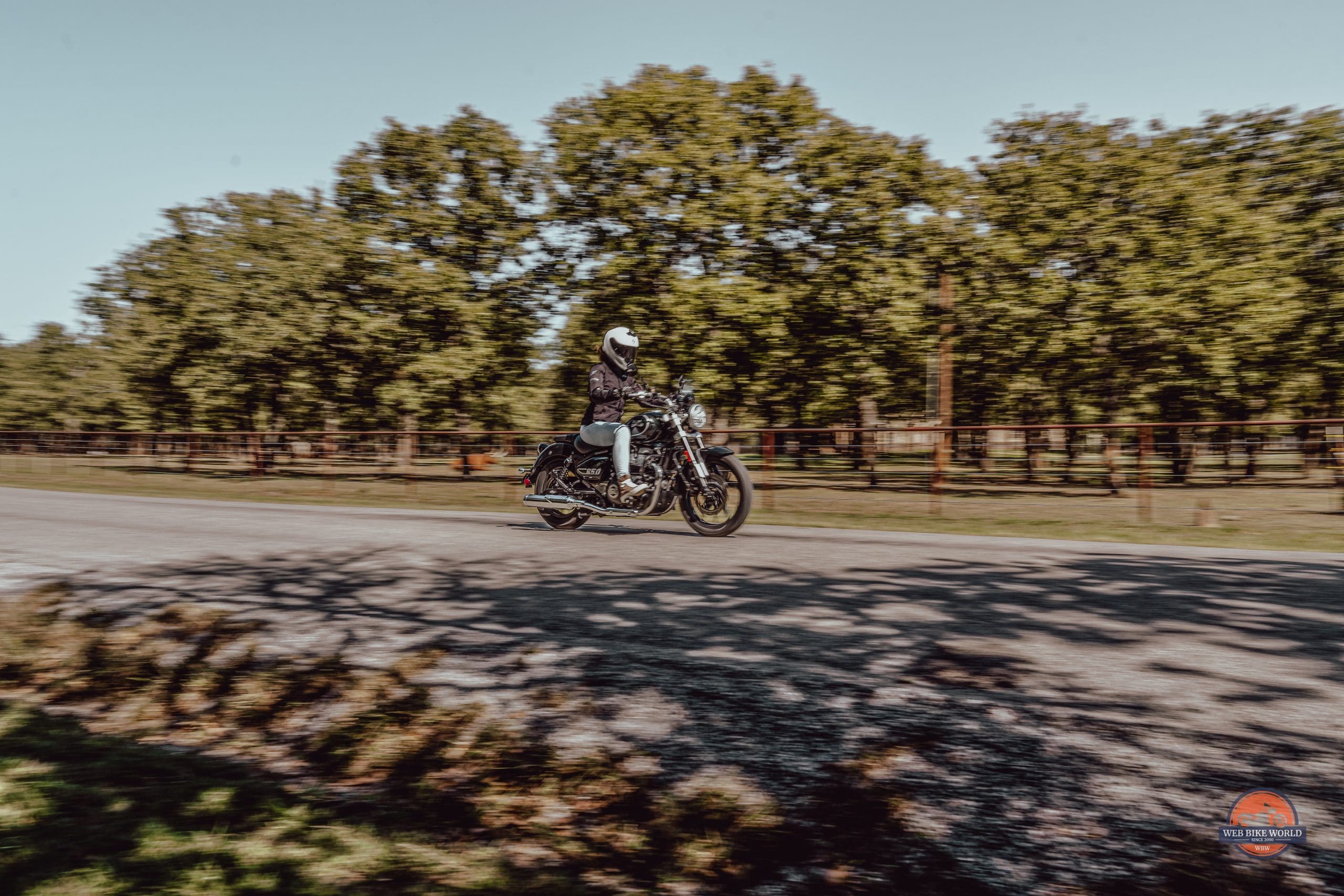 Yes, we hit the freeway multiple times; no, the yank wasn't as discernable in 5th and 6th gear as it was in the lowers – but again, it wasn't meant to be. Light small-talk at the multiple intersections confirmed for nearly all of us that the nimbleness of RE's Super Meteor 650 was a huge factor in the fun of the thing, making the bike's rev range all the easier to explore, with responsiveness that made you want more.
My opinion? The design team at Royal Enfield pulled a clever move in shortening the Super Meteor 650's wheelbase for lean-happy shenanigans, that's for sure.
But I'll save the rest for the ride review.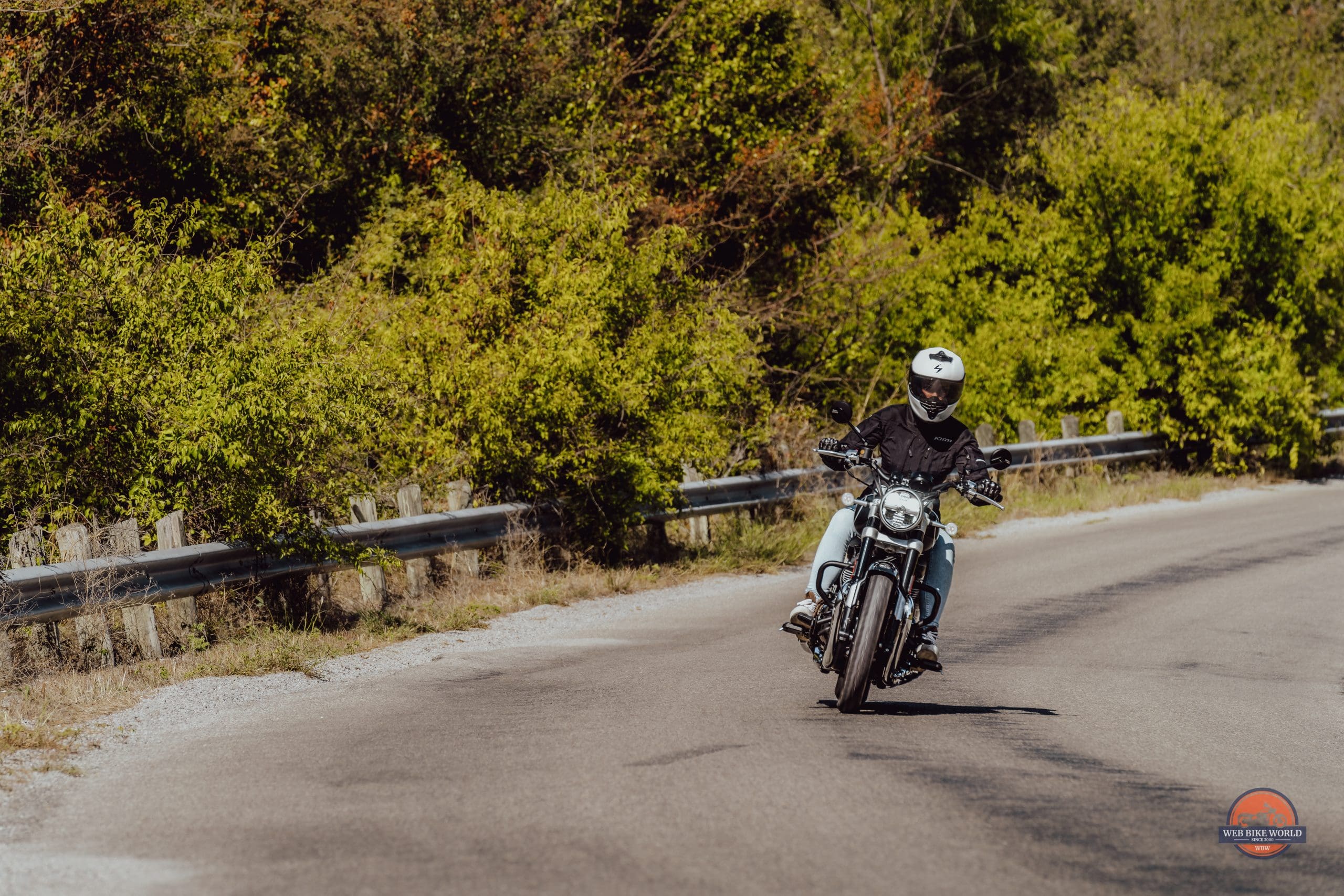 Rolling into the Tech Center, we were met by members of Royal Enfield's North America core team as well as reps from the Global party. Our tour began with a quick ceremonial cutting of the Tech Center's ribbon (big congrats to Royal Enfield for the added space!), and continued with a walk-about of the building's work spaces.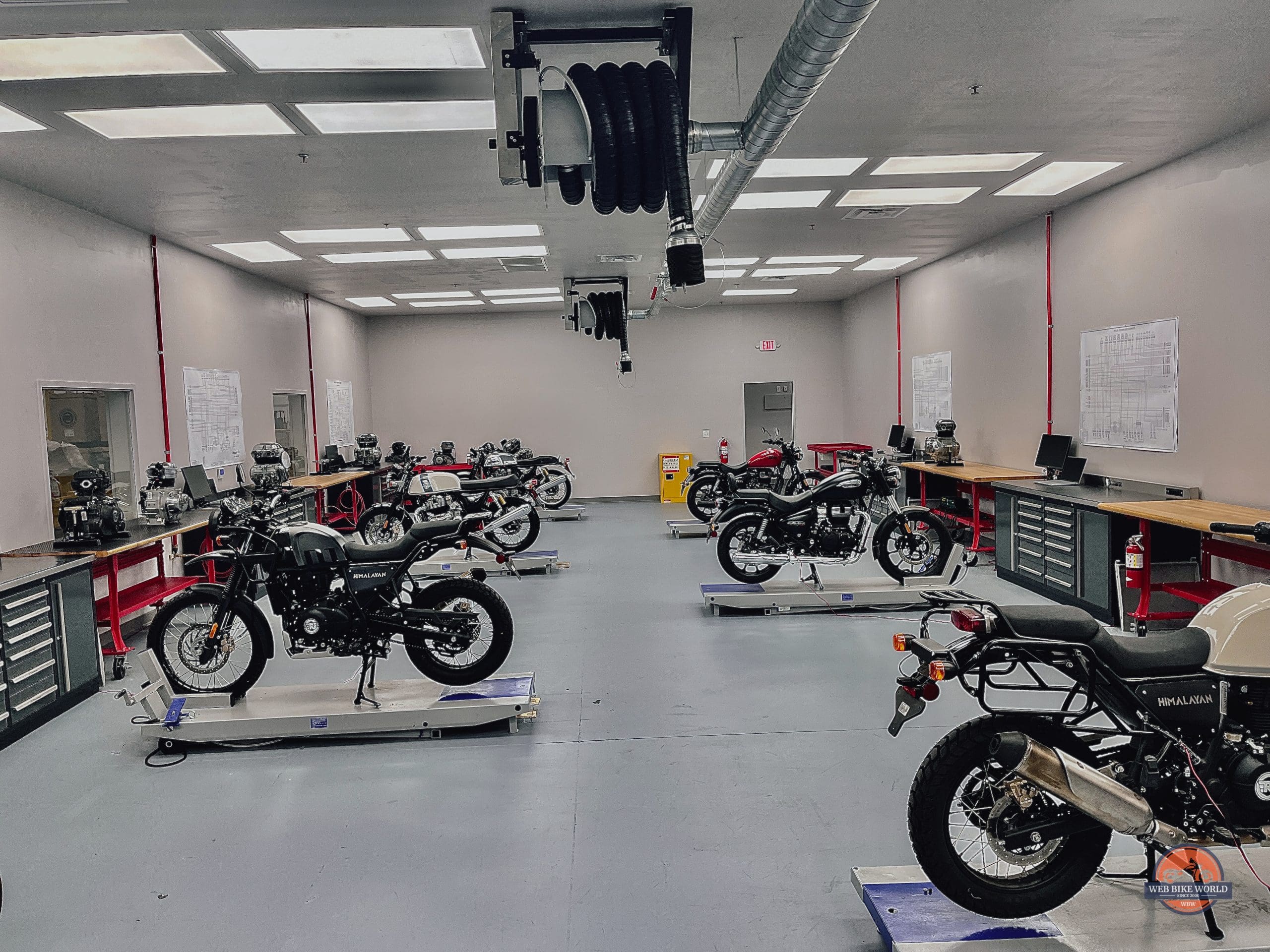 The main area – presumably where technicians would be working on various Royal Enfield models – was lined by a plethora of Royal Enfield hearts; center stage was Royal Enfield's current Himalayan, as well as the Interceptor 650, a Continental GT, and a pair of Super Meteors. 
This Tech Center wasn't just a new building for the company, by the way; since Texas is a mecca of trade and transport, RE chose this state's convenient location to better serve both products and technical training courses into the laps of our eager Powersports community. 
Krishnan Ramaswamy, President of Royal Enfield North America, believes the heat helps the ideal location, too:
For the previous six years, we have been holding technical training classes in Milwaukee… Typically dealers send their techs for training in the fall or winter, and Milwaukee is the LAST place you want to be in the winter…" 

– Krishnan Ramaswamy, President & Business Head, Royal Enfield North America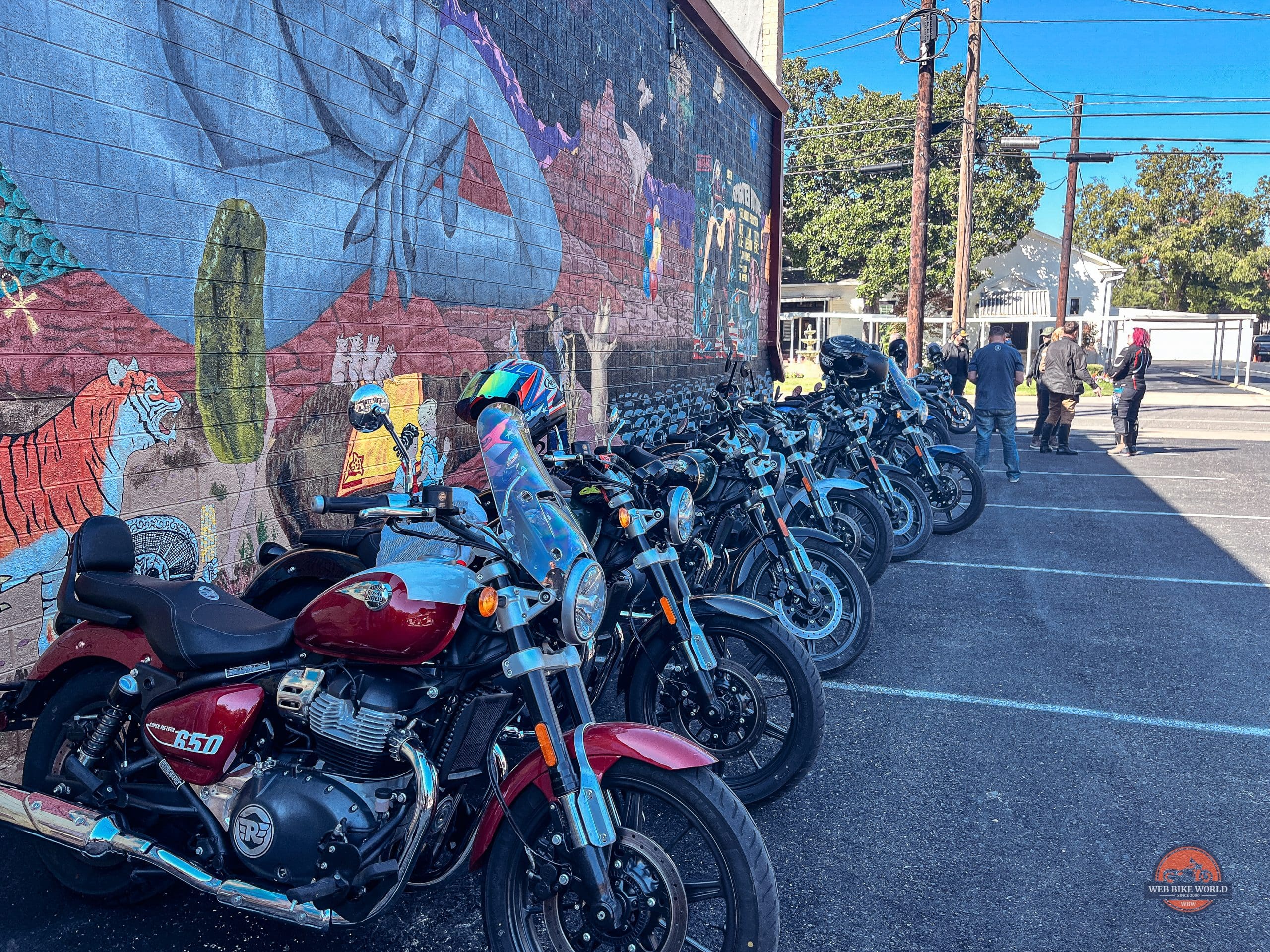 The second stint of riding took us to the Greenhouse Restaurant, where patties and potatoes were ordered to accompany the deep-fried jalapenos and tortilla chips. This particular sit-down had Mark Wells sharing his part in the design of the Super Meteor 650 and how the idea of the Meteor 350 (and an elder sibling Super Meteor) was kind of all there at the beginning:
Back in 2015/2016, we were looking at incoming emissions requirements and also expanding the lineup in wanting to create something that was a progressive step for the user. At the time, we had the UCE 350 and the 500, which were essentially the same engine, bored-out."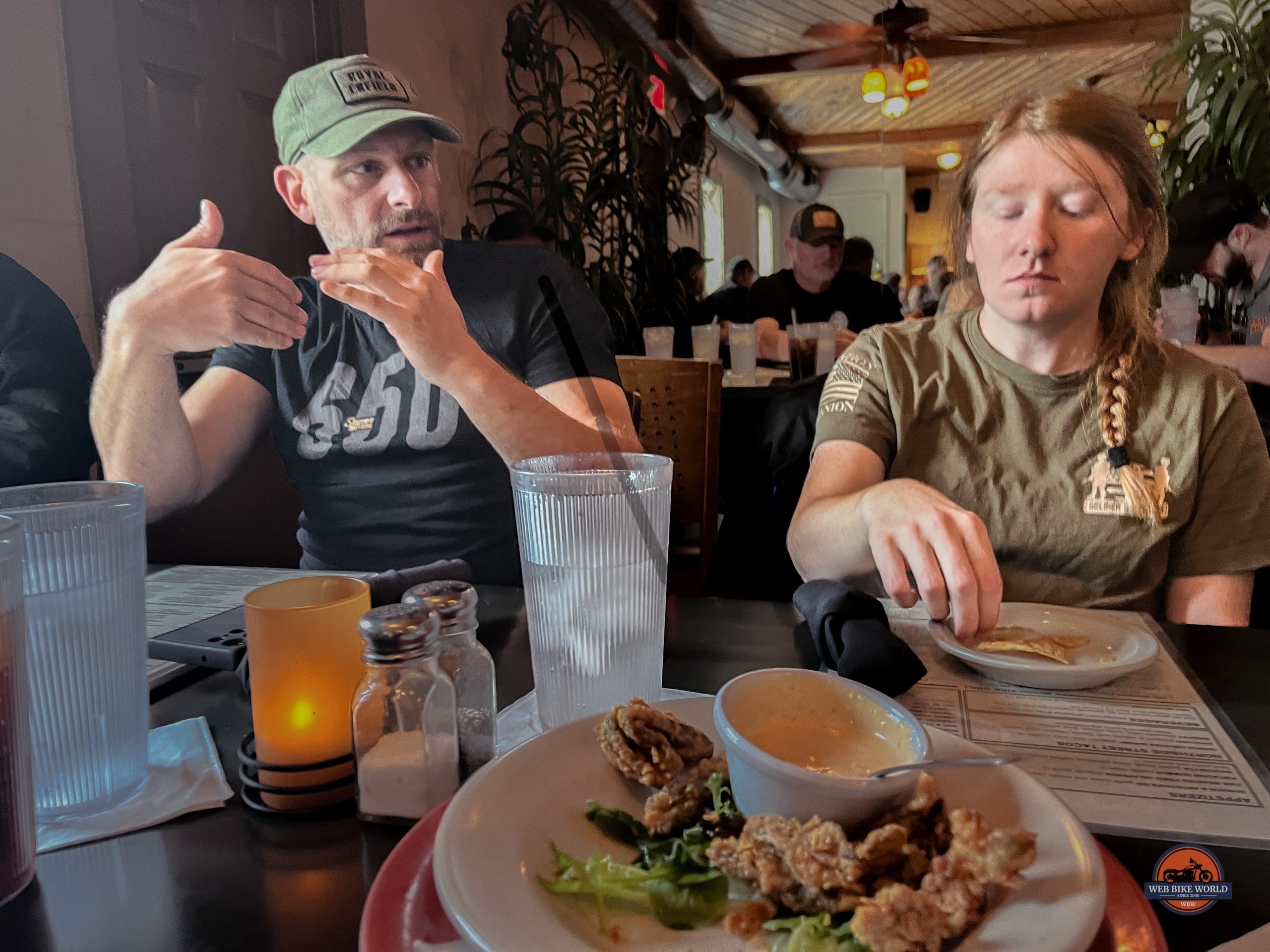 We wanted to do a parallel twin because that's kind of where our heritage is at – we made parallel twins in the past and we knew we wanted to make a range of products with that… [and] we knew we wanted to replace the Thunderbird, we wanted to do a proper cruiser. All told, I'm super happy with how the product's come out."

– Mark Wells, Chief of Design / Global Product Strategy & Industrial Design, Royal Enfield
More on that when the interview with Mark Wells goes live.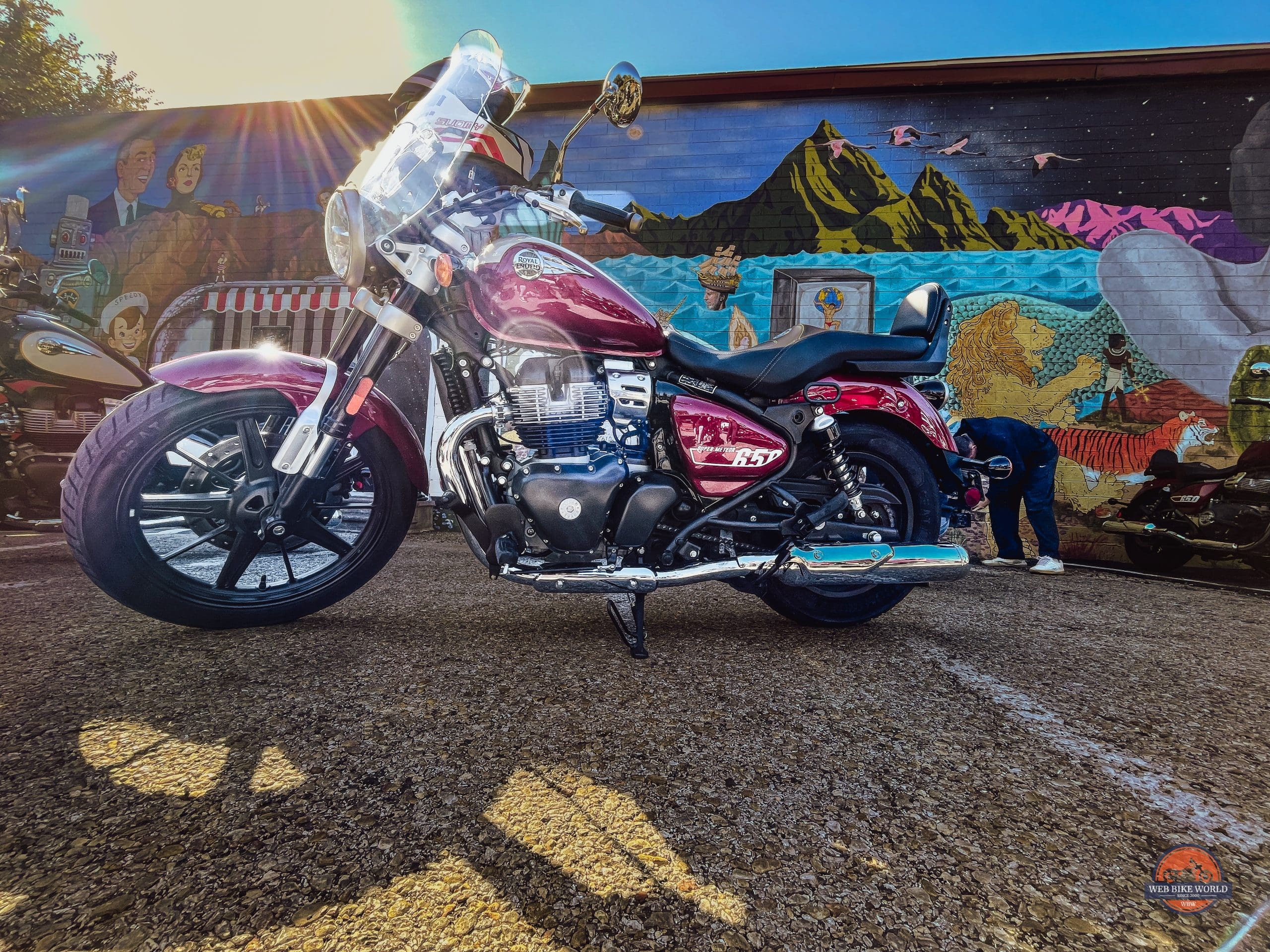 Bellies full, we (I) waddled back to the parking lot where a few of us swapped bikes. I traded my "Interstellar Green" in for a pretty "Celestial Red" unit, complete with upgraded seats, windshield, passenger seat + backrest, thicker footpegs and more. 
Our troop rolled about the flat terrain of Texas countryside with ​​Chad Osborn, Darryl Tocco, and Billy Klingsporn pulling some very nice moves in the pursuit of some hi-res photos and live-action filming.
The change of bikes, by the by, was quite noticeable, especially on the freeway where I enjoyed all the benefits that a windscreen and cushy saddle could afford.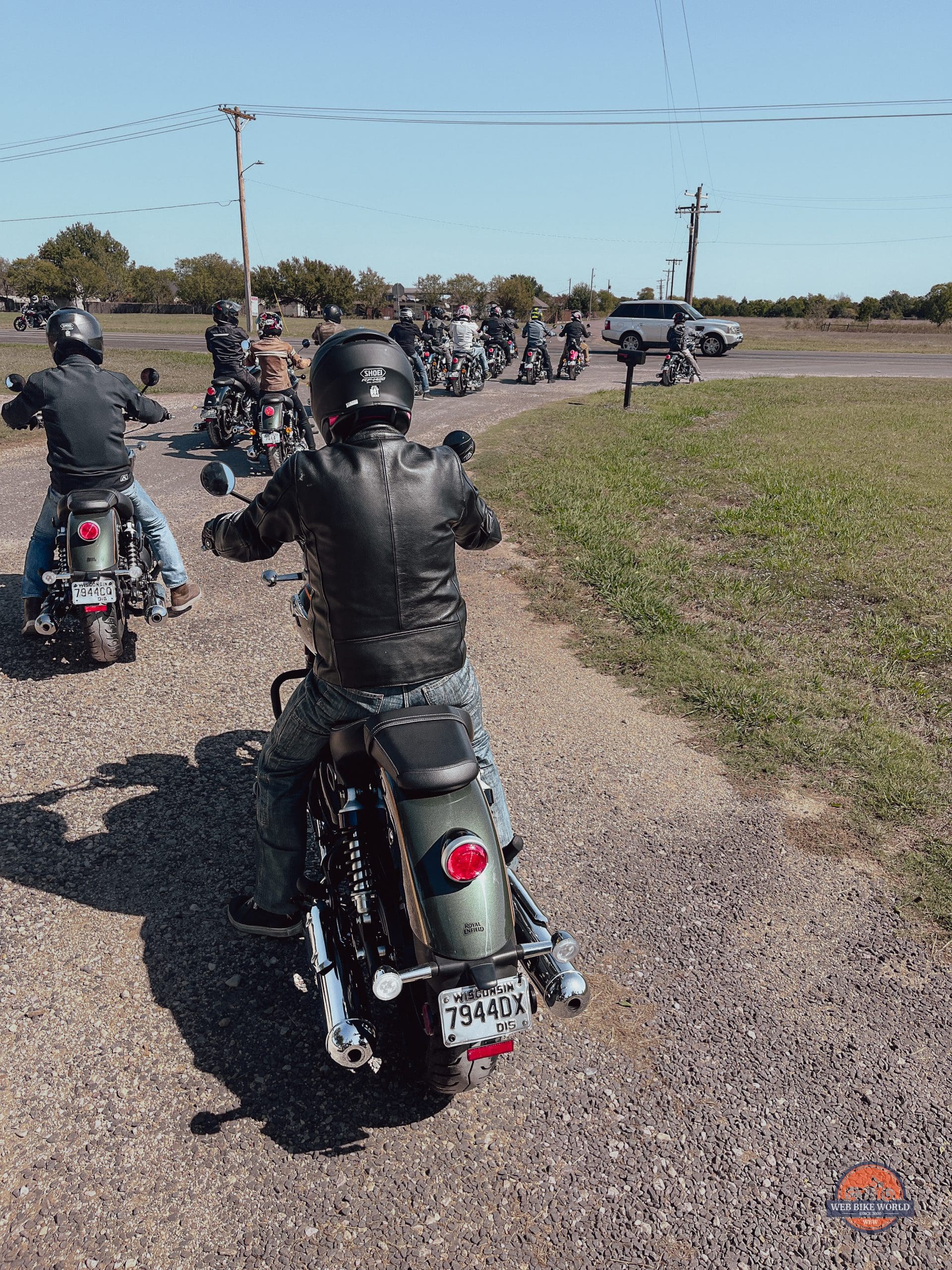 Rolling back into home base, we reluctantly relinquished our steeds for a quick nap before strolling to the open bar and dinner on the lawn; there, Royal Enfield officially revealed their pricepoints for all variants of the Super Meteor 650, as well as the neat news that Canada's markets would receive the Super Meteor 650 at the same time as the US!!
Woohoo!
The next morning was a mix of emotions. I was suddenly hankering to ditch my plane for a velvety cruise back to my homeland.
No dice; instead, I received a big-bang surprise from Royal Enfield's core crew, dropped in the last moments prior to my Uber lift to DFW airport. 
Yadvinder Singh Guleri, CCO for Royal Enfield, had an hour of time to spare!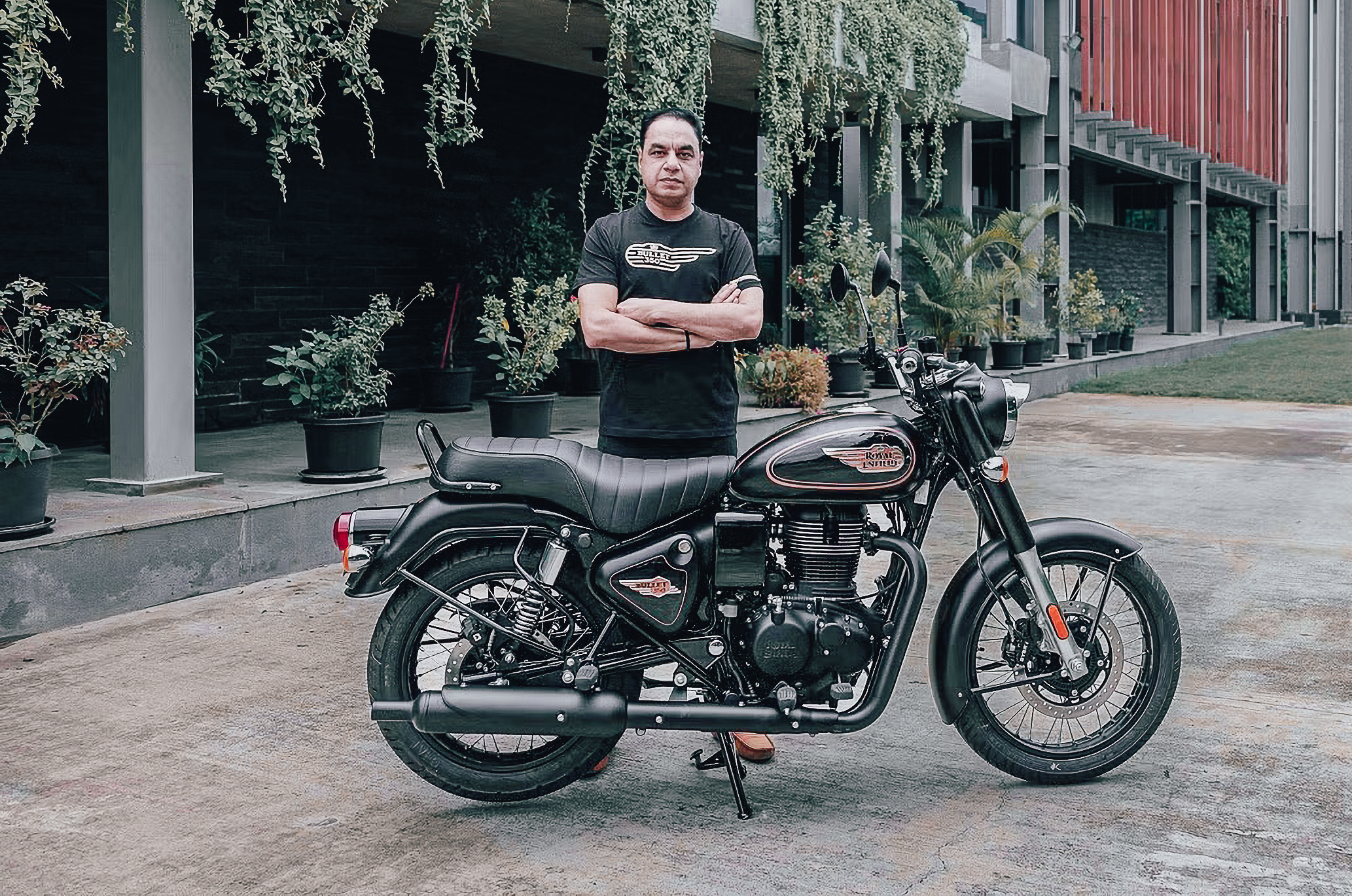 The obvious question to posit in this interview: What would Royal Enfield look like for the future?
Here's a sneak peek at what the brand's Chief Commercial Officer had to say: 
There are certain things [from our heritage] which we always kept. Yesterday, Adrian talked about the "triangle on the frame." That [design] is one thing which we'll still retain… a challenge for people like Mark, who needs to make something new."

People will say, "I can give you another wonderful, totally new bike if you allow me not to be restricted by this kind of design language!" But no, this we will keep."
– Yadvinder Singh Guleri, Chief Commercial Officer (CCO), Royal Enfield
Of course, there's a lot to take away from this event; as you'll soon see in Yadvi's interview, the company has more than enough finances to back new projects, but they're not keen on signing up for drastic changes to their lineup anytime soon.
What we DO know is that now, more than ever before, the world's oldest motorcycle brand in continuous production is gunning for the customer – news that I was happy to hear, given how well the Super Meteor 650 performed.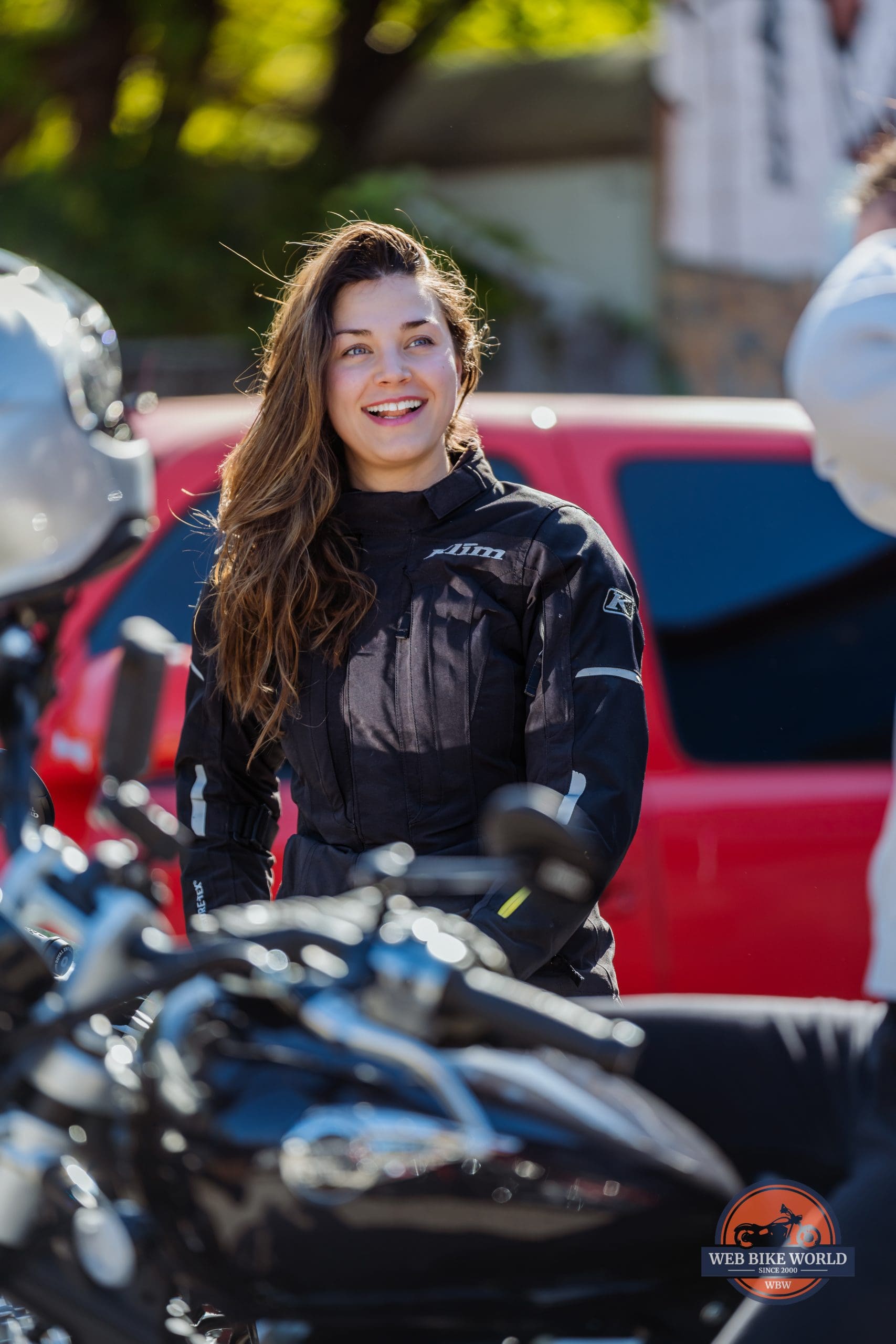 Curious to hear more about the event and how the Super Meteor 650 behaved for us? We'll include the requisite articles below upon completion. 
See you on the next one, and as ever – stay safe on the twisties.
*All media procured by Amanda Quick and the Royal Enfield crew, with the exception of Yadvi's image, sourced from EVO India. Special thanks to Chad Osborn, Darryl Tocco, and Billy Klingsporn (and the rest) for their amazing work on the media package. Wish someone could have recorded you guys in your element; the live-action filming was awesome. Catch you on the next one.*