Well, that was a blast and a half. 
The past few days have been stuffed with complimentary flights, meals and wheels – unforgettable company and an exclusive scoot or three.
If you haven't heard, Royal Enfield invited WBW to attend the reveal of their Super Meteor 650 to the American masses – a bike well worth the 10-hour layover at YYZ proper, as I soon found out.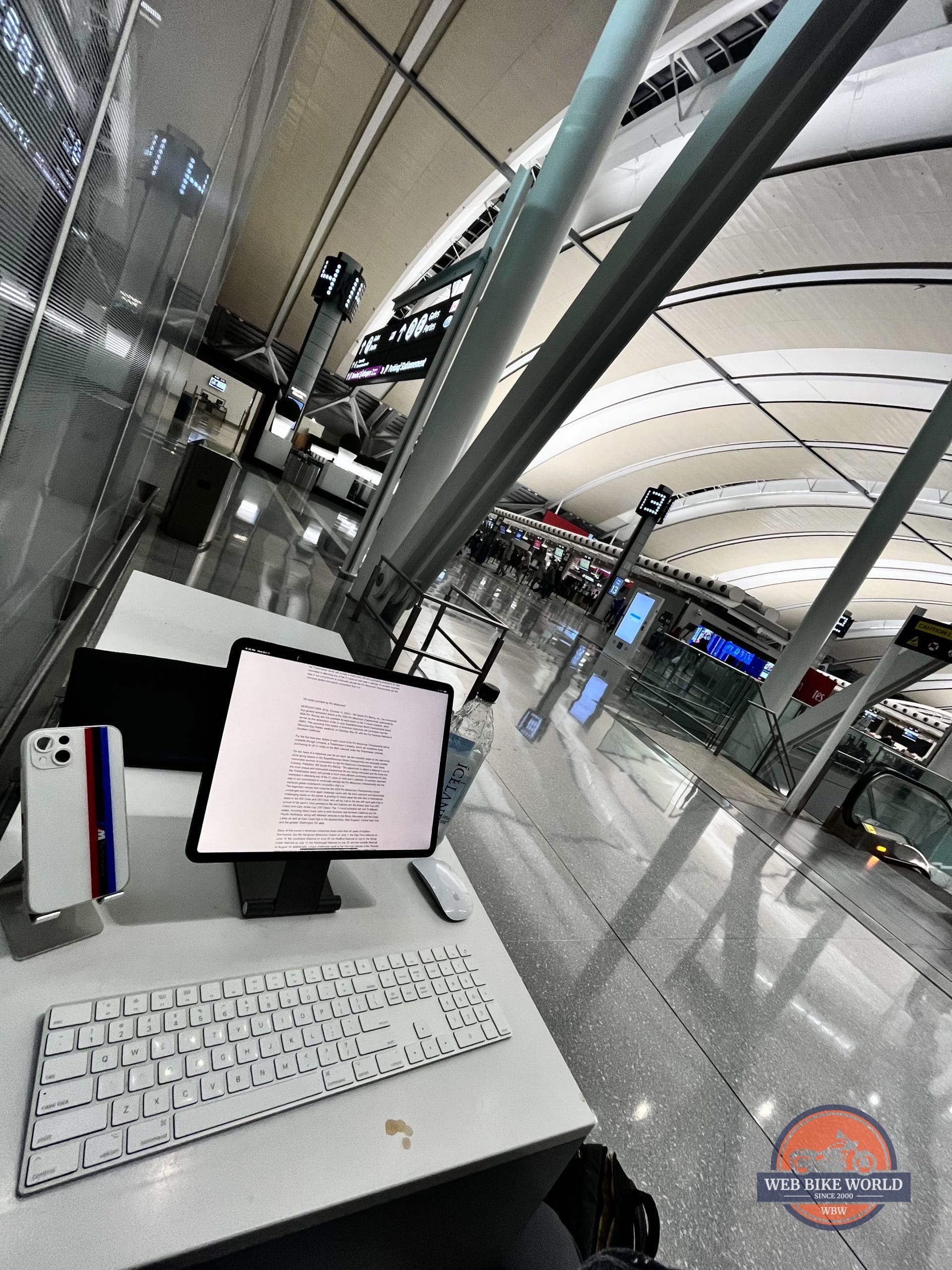 Luckily for us, RE's event included a full day(ish) in the saddle testing the nimble cruiser along the Lone Star State's topography, concluding with the official release of the bike's pricing that evening to top-tier platefuls of munchies. 
Fancy a guess at what Royal Enfield has priced their newest brainchild (and when it'll be in US dealerships)?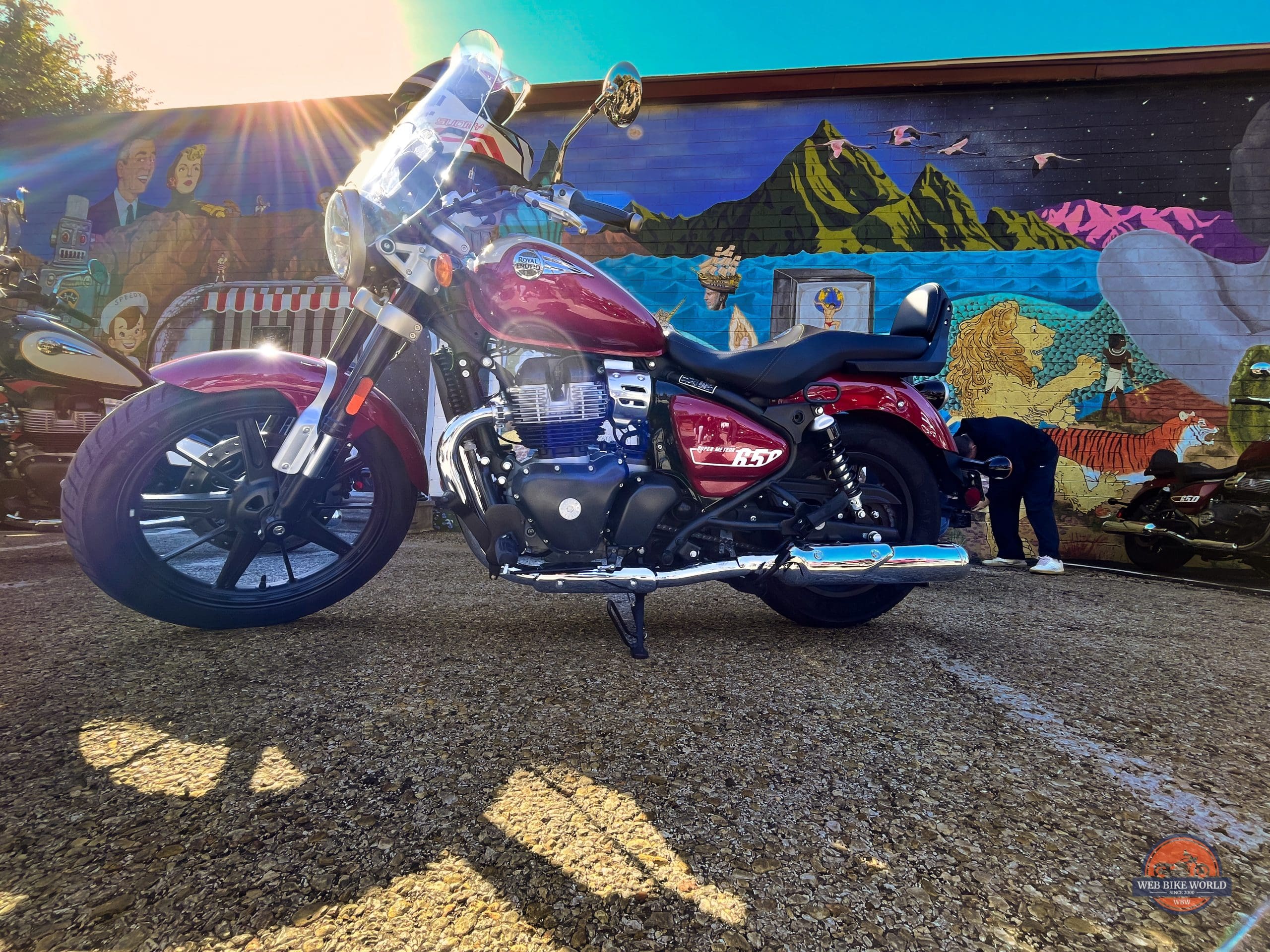 Super Meteor 650 Prices
*All prices are inclusive of a 3-year warranty and Roadside Assistance*
Astral Variant: $6,999.00 USD / $9,599 CAD (MSRP)
Colors: Astral Green / Black / Blue
Identifiers: RE's Base Model, built to suit the solo rider
Interstellar Variant: $7,299.00 USD / $9,799 CAD (MSRP)
Colors:
Interstellar Grey / Green
Identifiers: A pair of two-tone finishes create a retro vibe 
Celestial Variant: $7,499.00 USD / $9,999 CAD (MSRP)
Colors:
Celestial Red / Blue
Identifiers: RE's luxury variant, featuring "an OE-fitted deluxe touring seat [and] pillion backrest"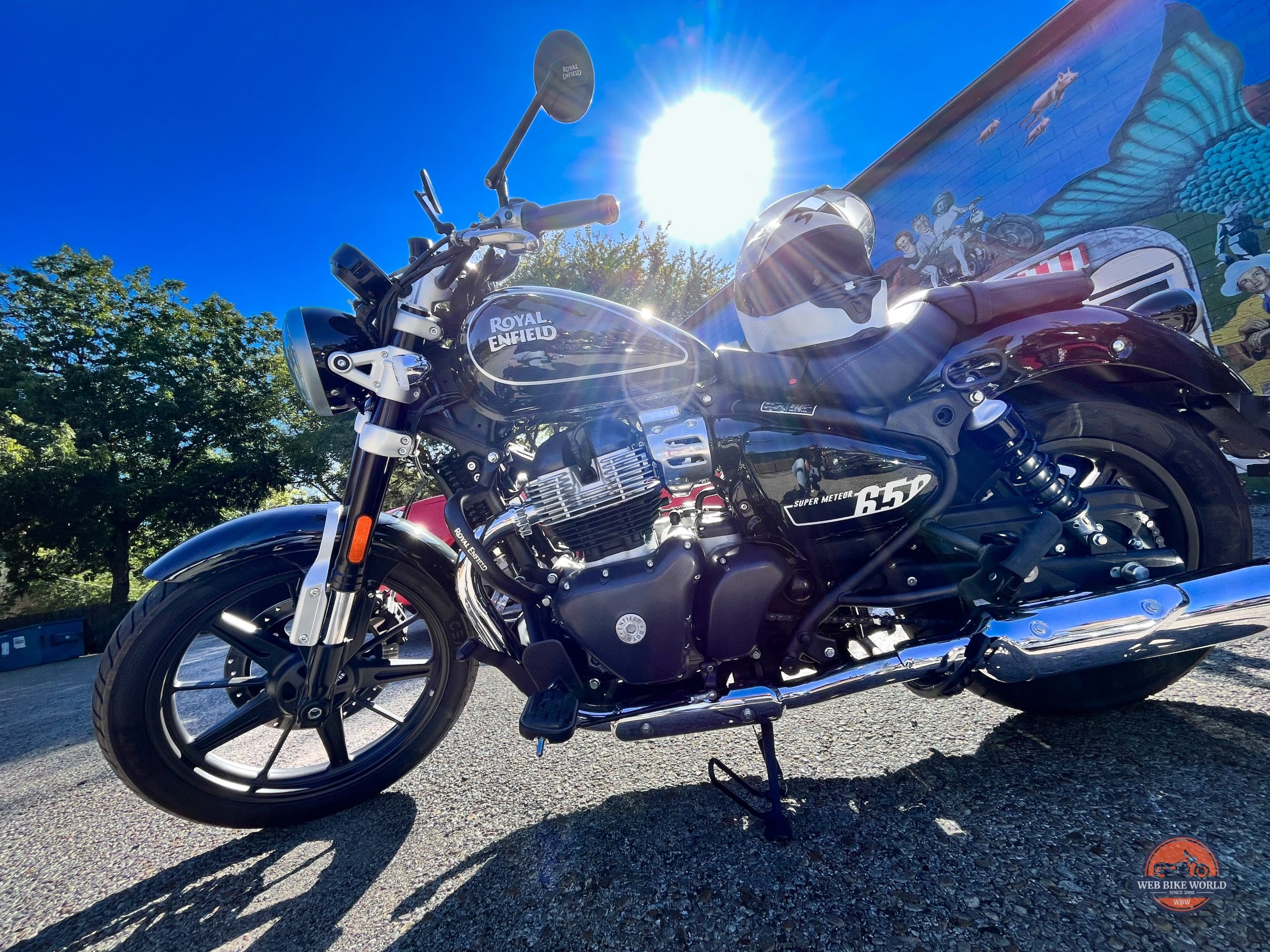 When will the Super Meteor 650 hit dealerships?
As of October 13th, we've been told that Royal Enfield's Super Meteor 650 will be rolling into American dealerships in the next few weeks.
If you hail from Canada, we have some pretty awesome news for you, too; Yadvinder Singh Guleria, Chief Commercial Officer for Royal Enfield, tells us that we Canadians now have the same dealership date!! 🤩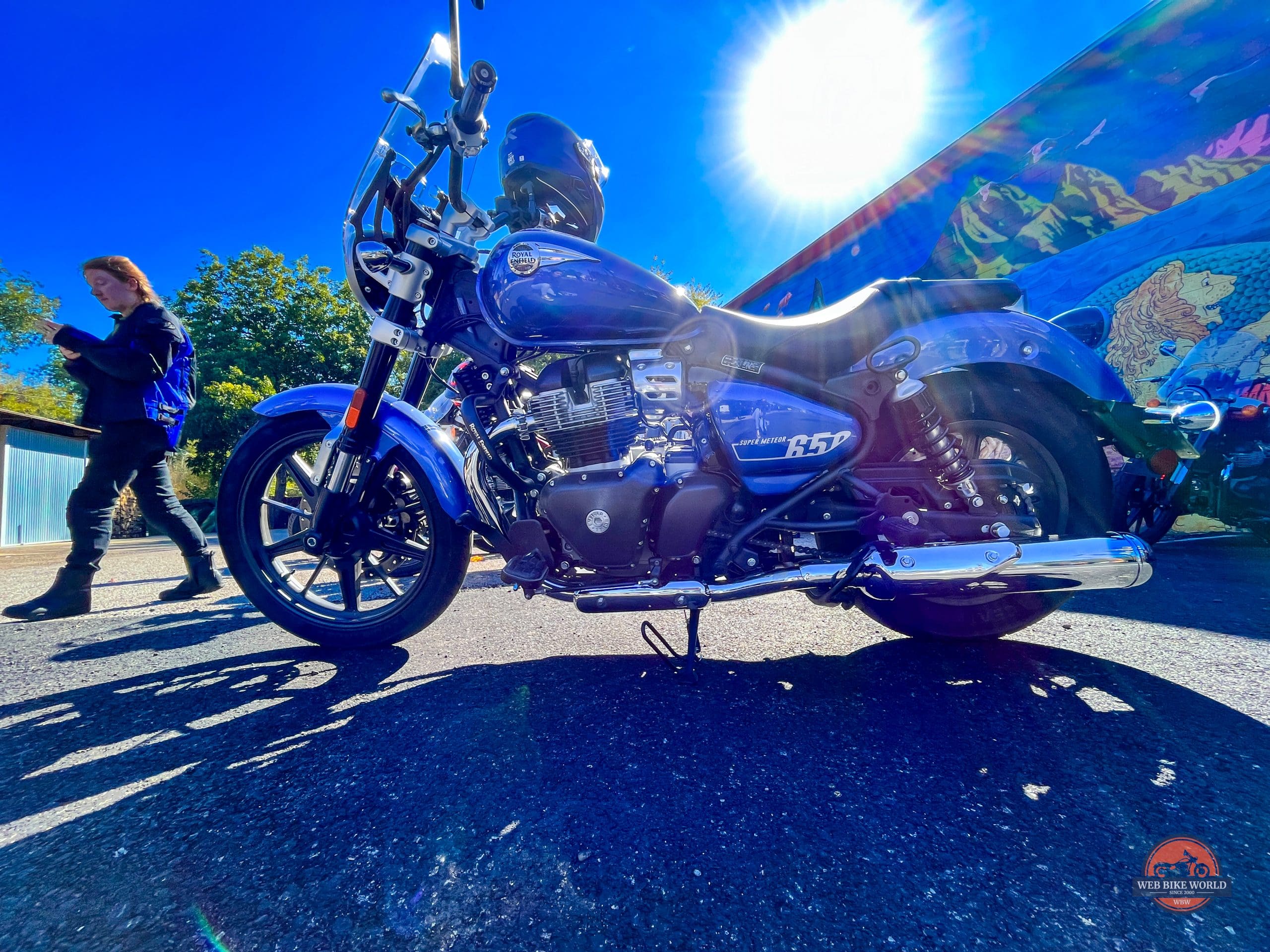 What about Super Meteor 650 accessories? 
While not everything will be available right away, Royal Enfield has put a stupid amount of thought into accompanying bits 'n' bobs. 
On top of the seat/backrest and flyscreen offered on the Celestial variant, RE accessories will eventually include choices for:
Rims

Crash bars

Sliders

Front lights

Rear lights

Handlebars

Mirrors

Saddle

Pillion

Matching saddlebags

Belly pan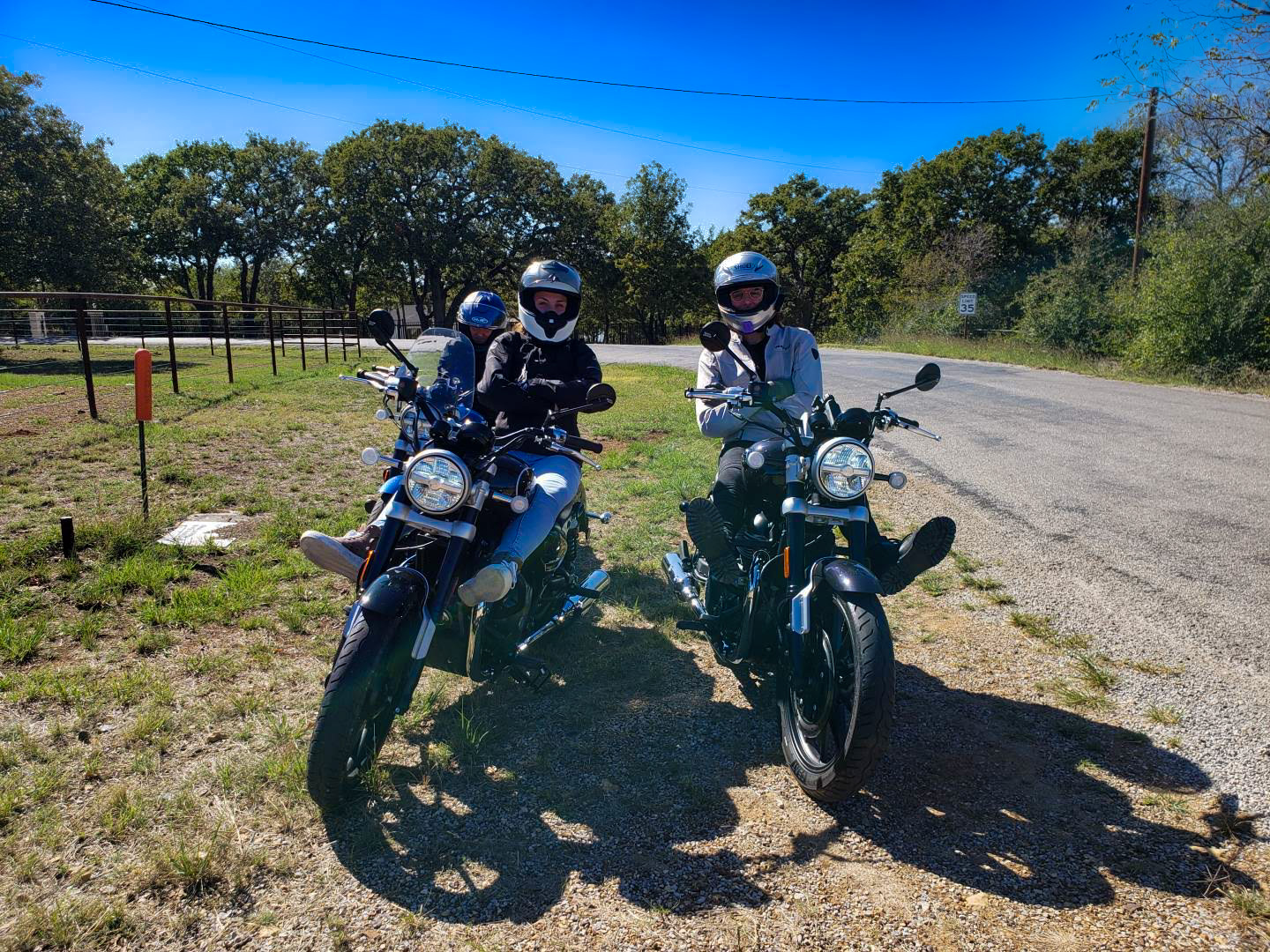 What are the specs of the Super Meteor 650 again?
A reminder that the Super Meteor 650 carries RE's 648cc parallel twin platform – a heart capable of 46.4hp (34.6kW, or 47PS) @ 7,250rpm with torque providing a thoroughly relevant 38.57ft-lbs (52.3Nm) of yank @ 5,650rpm.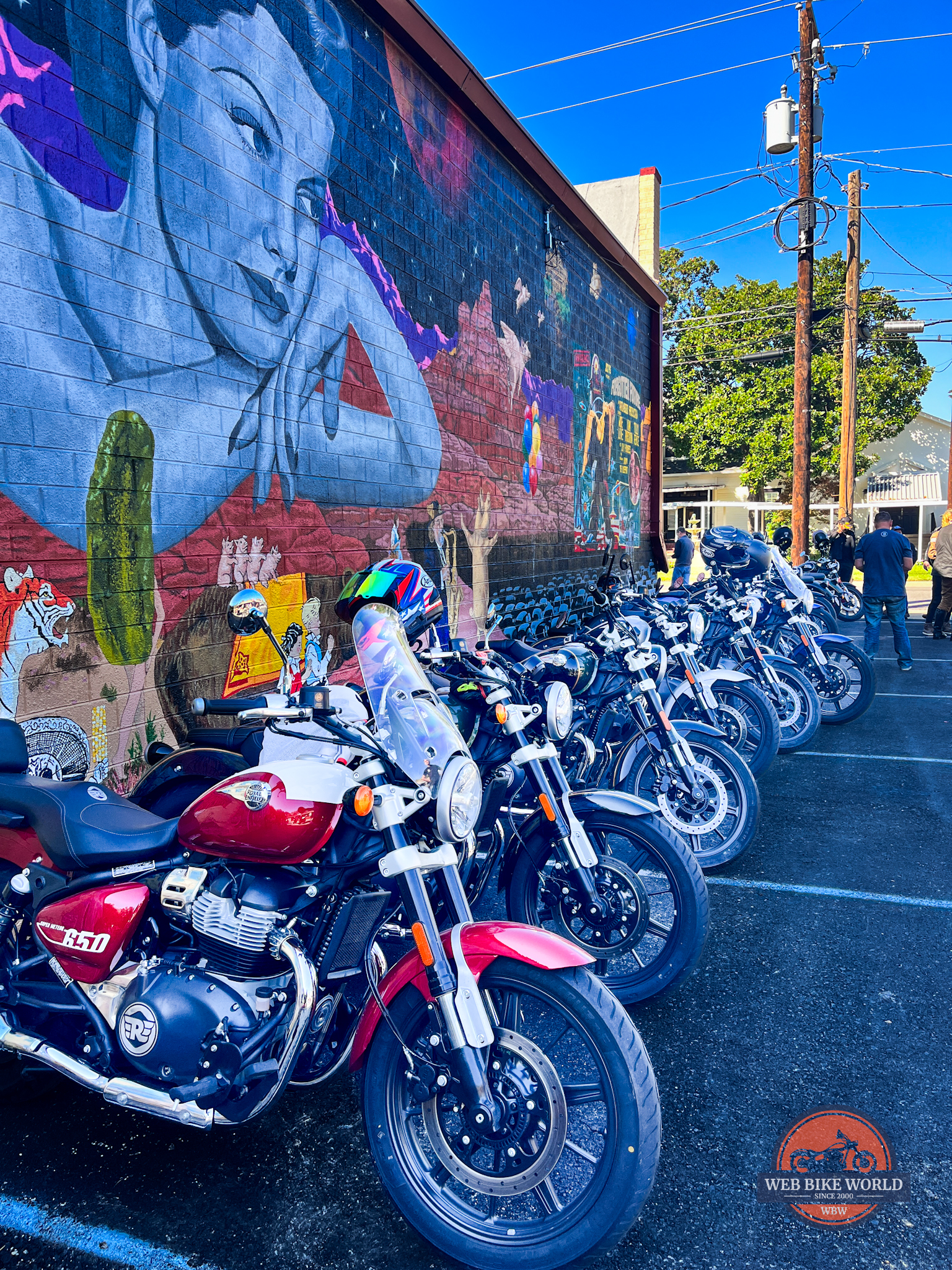 Other defining features
The above ratings carry 531.3lbs (241kg) of bike (when 90% wet), of which the following perks are highlighted: 
Brand new inverted forks in the form of a 43mm Showa Big Piston and 120mm-travel Twin Shocks complete with 101mm of travel (5-level preload adjustable)

Aluminum switch subs and levers

Steel teardrop fuel tank

RE's first full-LED headlight

Bespoke pipe & air box

Premium forged upper + lower yokes, headlamp holders, handlebar risers, and clamps (complete with anodised finish)

Dual-channel ABS

Digi-analog dash/cluster
Suffice it to say that the company is more than a little proud of its newest, biggest, most premium motorcycle, with both Yadvinder and RE Chief of Design, Mark Wells, waxing eloquent for the occasion:
The Super Meteor 650 punches above its class in the middleweight cruiser segment. This motorcycle is an evolution of all our focus and efforts in the segment, and is a thoroughbred, retro cruiser in every sense."

– Yadvinder Singh Guleria, Chief Commercial Officer (CCO), Royal Enfield
The bike has confidence-inspiring stability, corners exquisitely, and feels planted at highway speeds. It is the ideal mid-segment bike that will not only turn heads, but put many more enthusiasts out on the roads to find the kind of enjoyment that pure cruising from Royal Enfield can offer."

– Mark Wells, Chief of Design, Royal Enfield
What do you think of America's new, nimble retro cruiser?
*Media property of WebBikeWorld. All rights reserved.*