Having recently had the Royal Enfield Continental GT 650 on loan, I was eager to find out if the Interceptor matched my expectations or exceeded them.
The Interceptor garners a lot of interest on social media and there seems to be a lot of positive vibes about this bike, so I was interested to see for myself what the bike was like.
Review Summary
Weighing approx 217 kg, the bike feels heavier than that to me especially when moving it around.
For $8,477 USD / $11,232 CAD / £6,599, you are getting a lot of bike for your money.
No riding modes which is a huge plus point for me although I know some of you will not agree with me on that.
Love the twin silencers, but they are not loud enough.
I experienced a 'twitch' at about 65/70 mph, not sure if this is to do with brakes or suspension, but would need to explore the cause.
At A Glance
Wet weight: 217 kg
648 cc air/oil cooled parallel twin engine
47 bhp
6 speed
Twin silencers
41 mm telescopic forks with twin rear shocks and external reservoirs
18 inch wheels with single 320 mm front brake disc and 240 m rear brake disc
805 mm seat height
Price: $8,477 USD / $11,232 CAD / £6,599
For the rest of the fleet, check out Royal Enfield's 2023 model lineup.
First Impressions
Very nice. I love the styling of the Interceptor and I think Royal Enfield have got it right with this bike.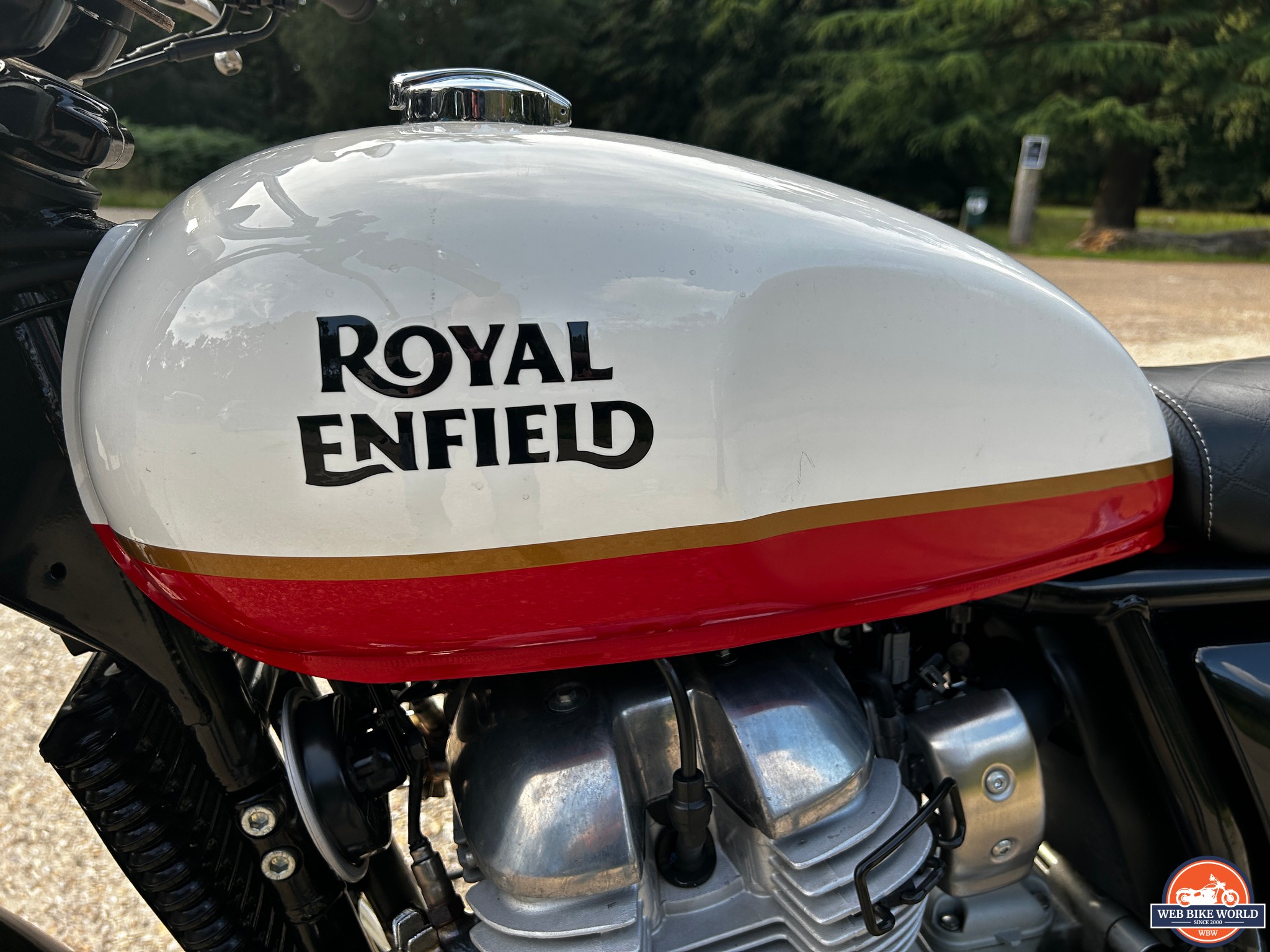 The riding position is more of an upright one which I found to be very comfortable, my legs were not too scrunched up and with a 805 mm seat height, my feet were firmly planted on the ground when stationary.
I did notice straightaway how heavy the bike felt, it weighs in at approx. 217 kg (wet weight) and at 5'6" I found moving the bike out of the garage was a bit of an effort for me. When my other half moved the bike for me though, at 5'10", he could not see what my problem was!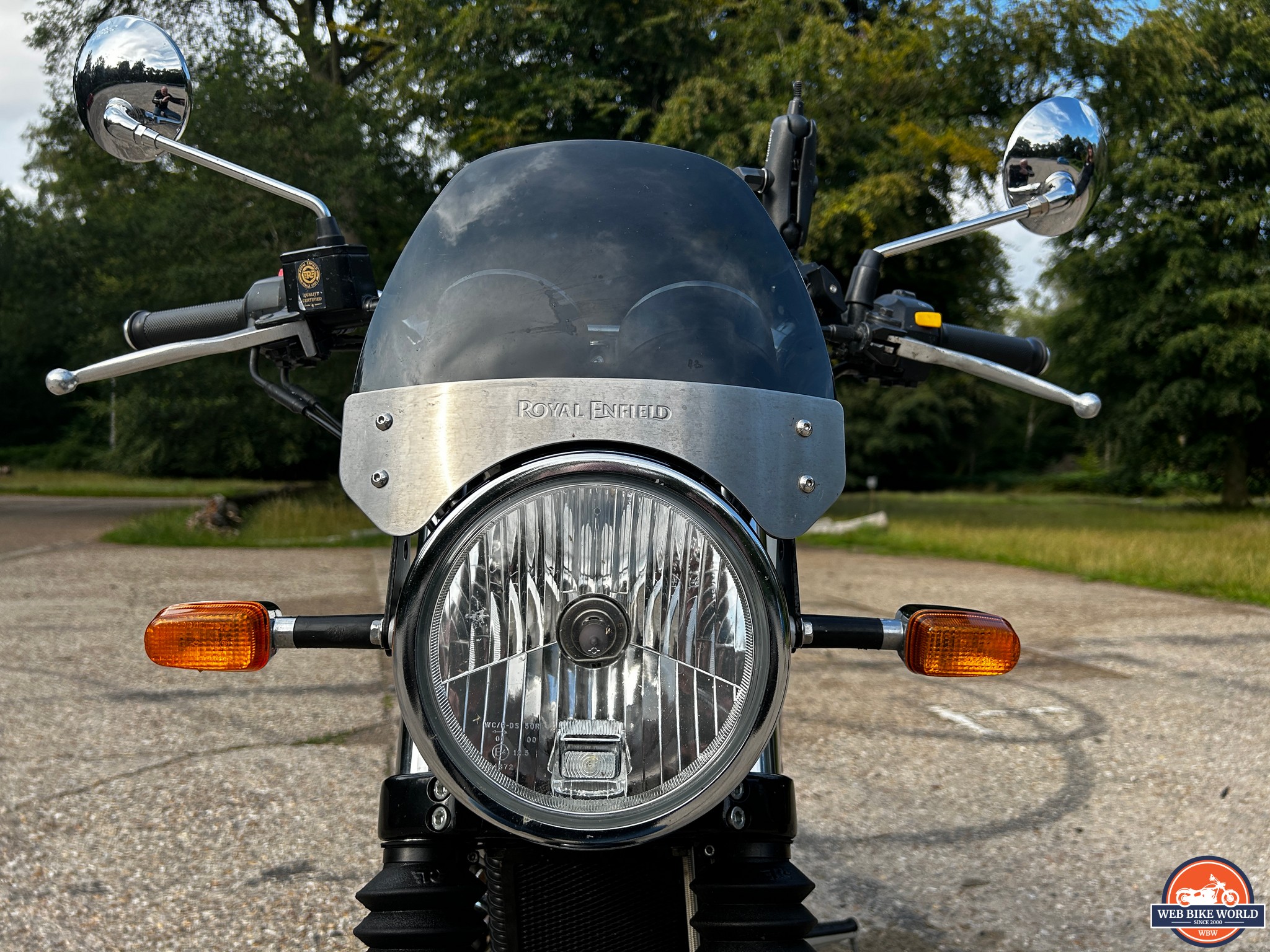 Looking around the bike, there are some nice touches to the bike, for instance, the screen has a silver metal plate at the bottom with the 'Royal Enfield' logo; the footpegs have 'Royal Enfield' on them as does the engine casing.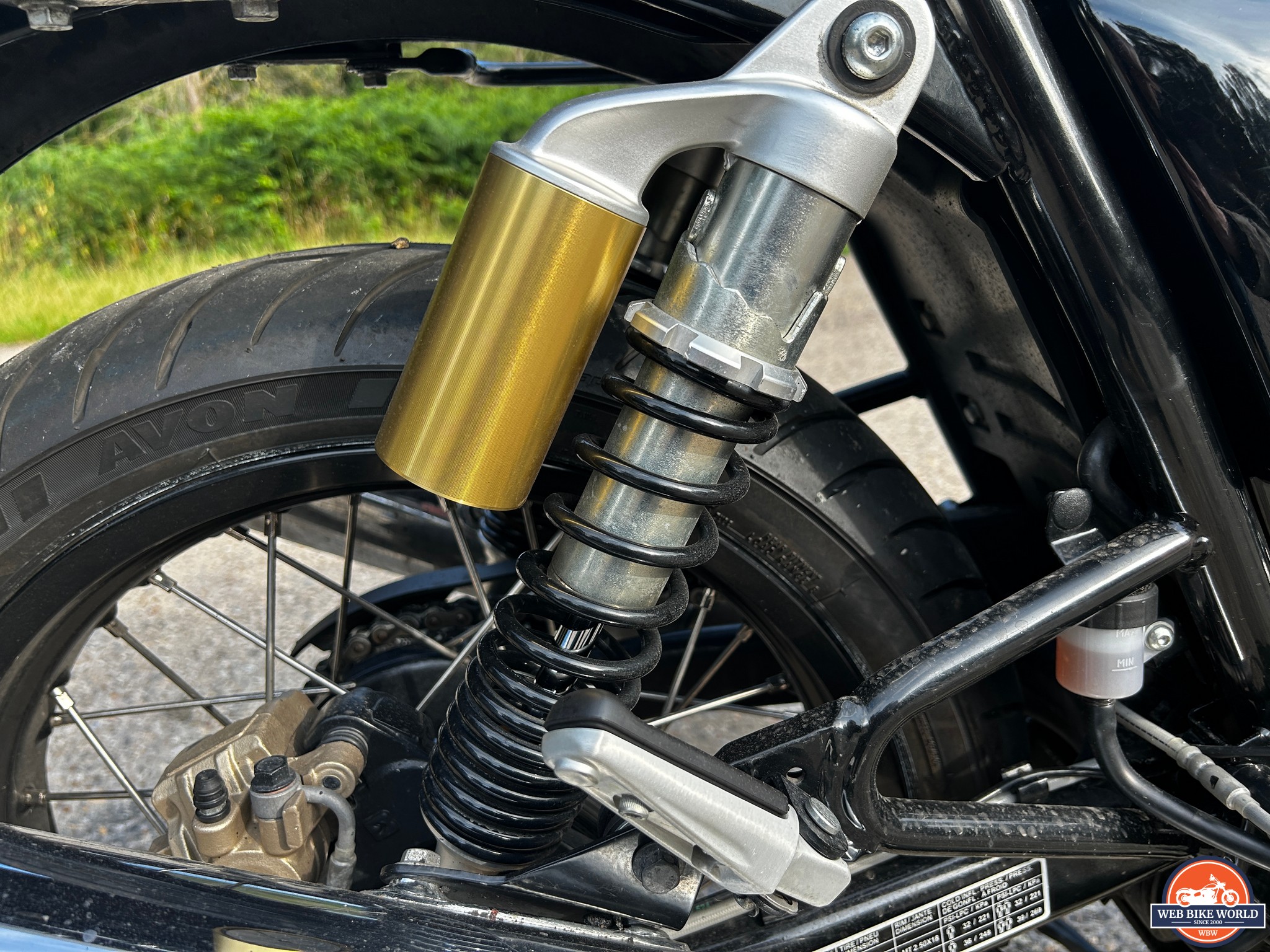 There are knee guards on the engine and the suspension has gas shocks with a small remote reservoir which look remarkably like another famous brand to me, these really add styling to the bike.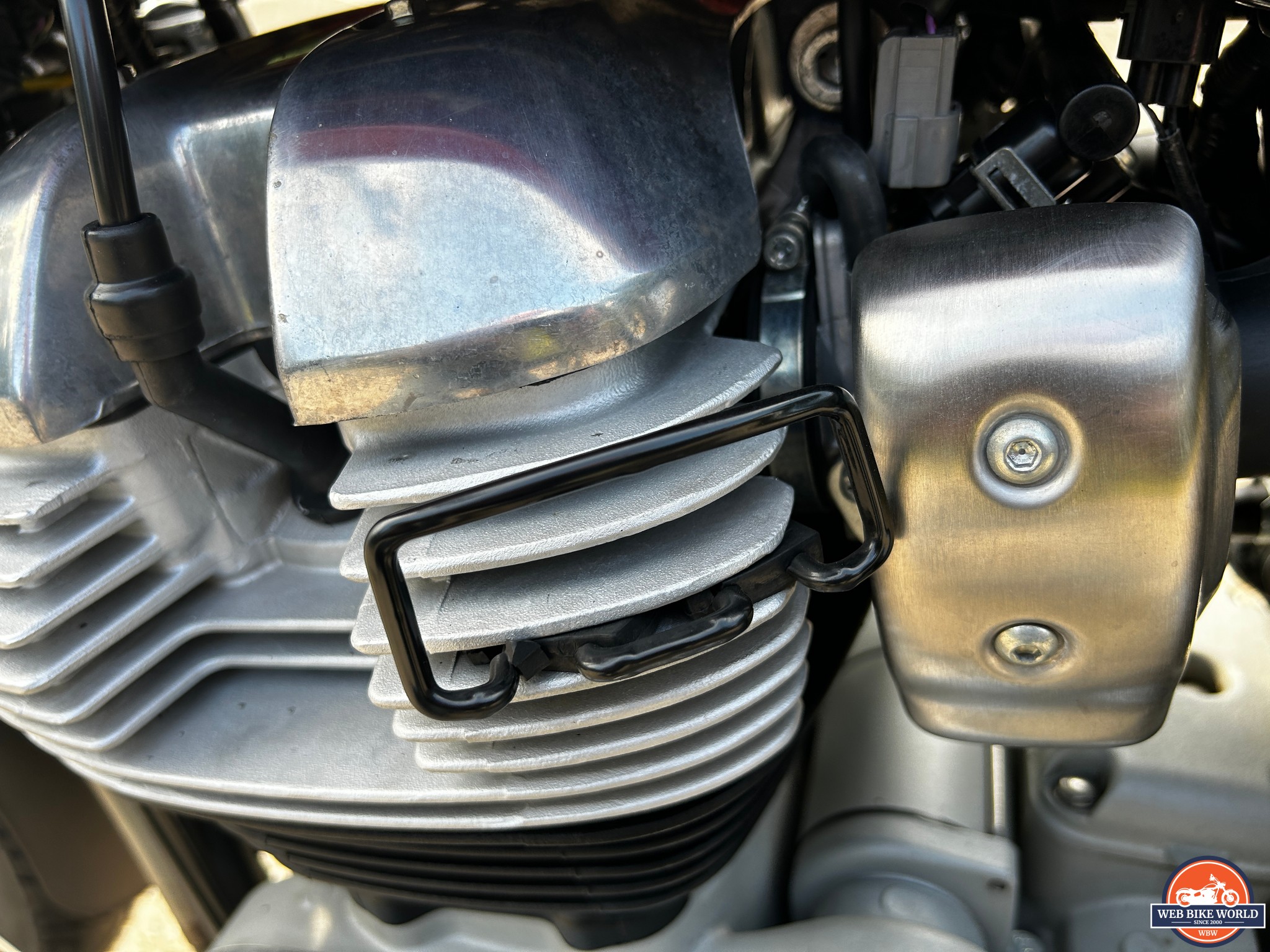 When sitting on the bike, it feels sturdy and well made despite being at the lower end of the price bracket, you really are getting a lot of bike for your money.
With the Interceptor being a twin, I knew before it arrived that I would love that part about it, I have a soft spot for a twin.
The twin silencers look the business but on starting the bike, I did think they were lacking in noise, I knew if it was my bike that they would be the first thing I changed!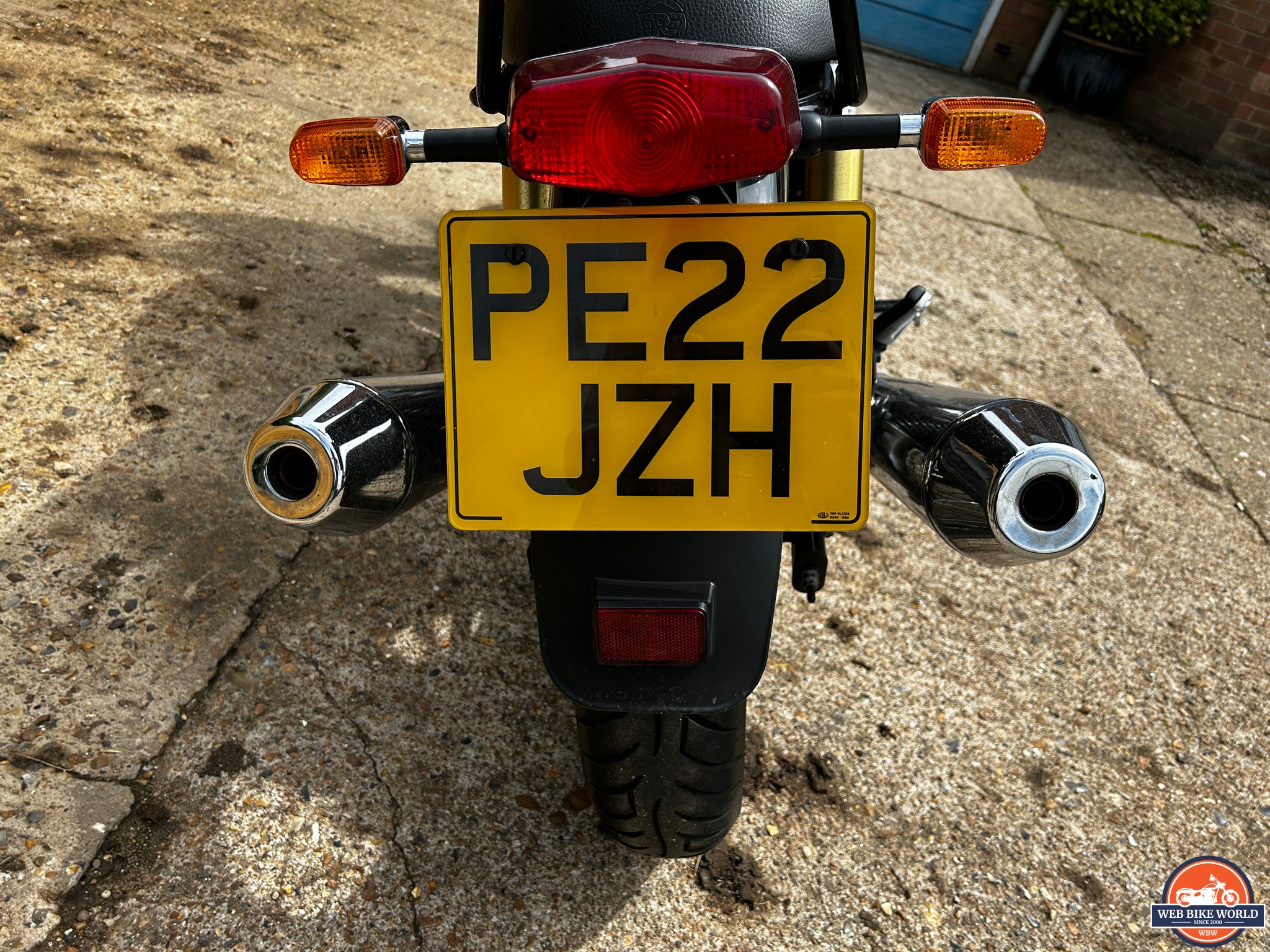 I know some of you will disagree with me, but I love the fact that there are no riding modes on the Interceptor, this particularly endears me to the bike, it's like going back in time to old school values but having modern running gear like brakes etc. The best of both worlds, if you like.
Engine
The Interceptor 650 is fitted with Royal Enfield's 648 cc air/oil cooled parallel twin engine with electronic fuel ignition pushing out 47 horsepower at 7150 rpm and a maximum of 52 Nm of torque at 5250 rpm. I thought the throttle response was smooth throughout the rev range.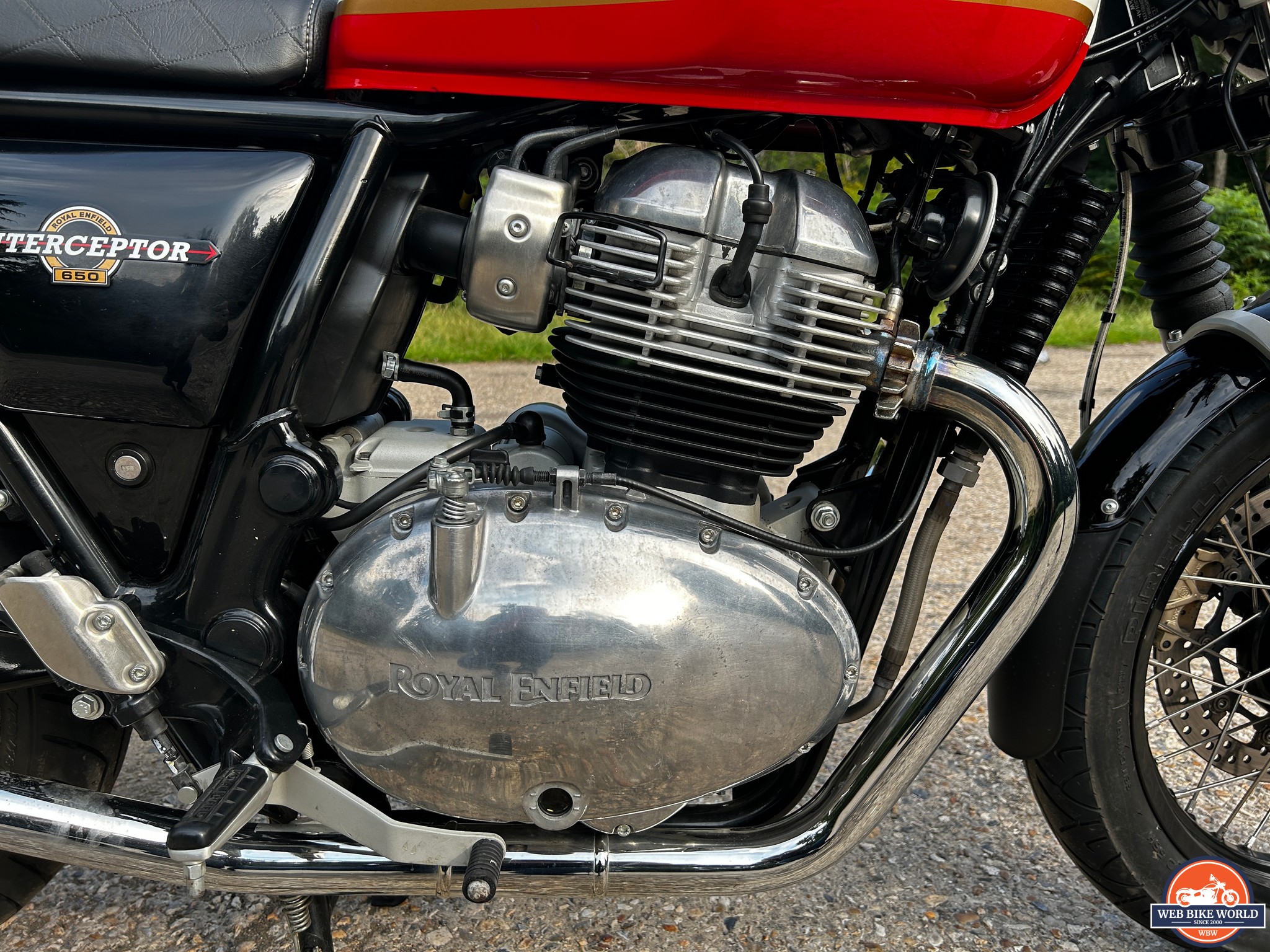 The Interceptor was happy at low speeds around town but get it onto an open road and it feels as though the bike was made for these roads, it really does like a smooth, flowing, winding road and would put a grin on my face without fail.
The six speed gearbox is smooth although at times I did have difficulty finding neutral when parking up.
The engine casings and plug cover are nicely engraved with 'Royal Enfield'. I like the little attention to details that have gone into the styling on the Interceptor.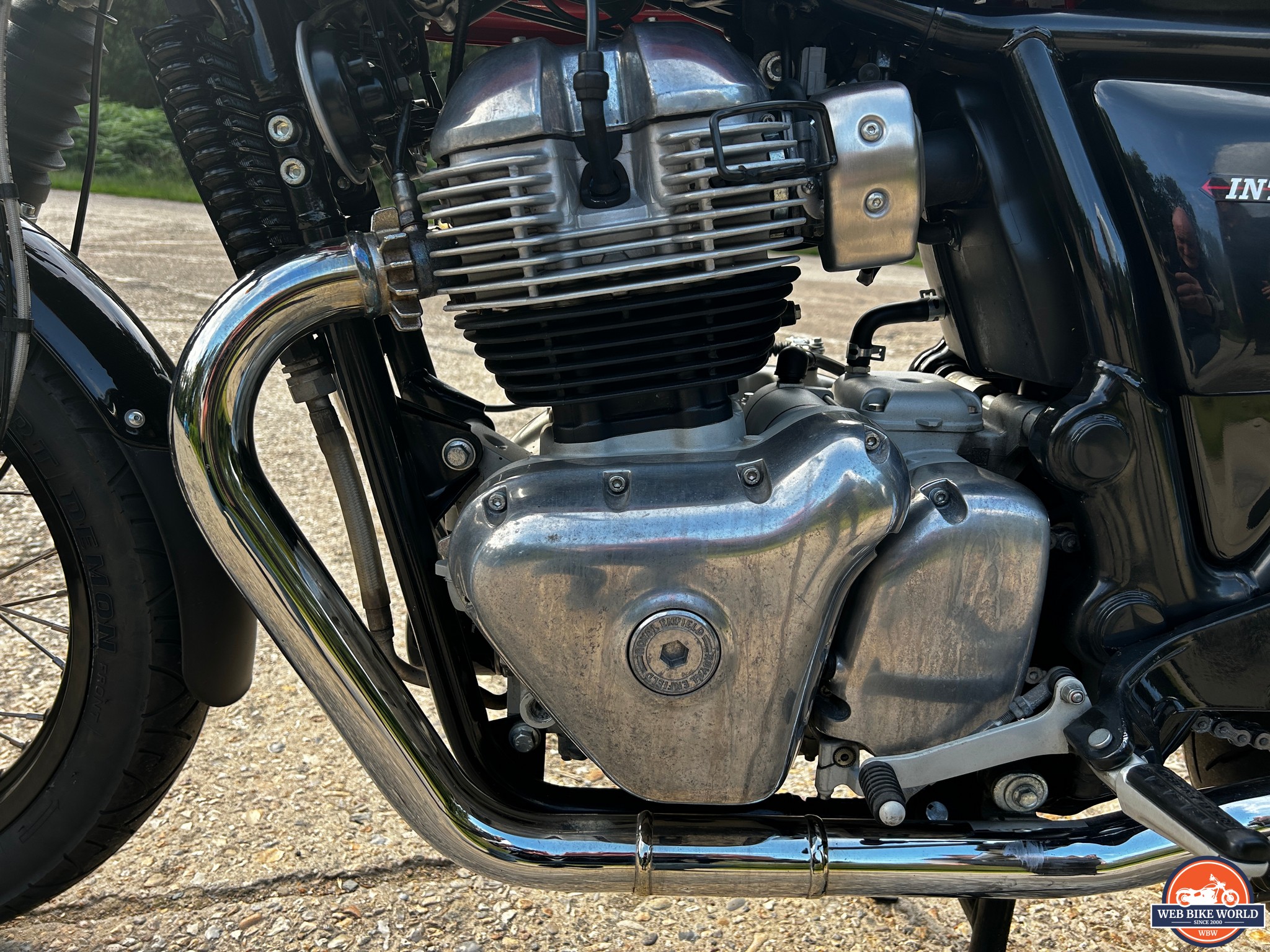 I felt stable in the corners on the Interceptor, it feels solid and hugs the road nicely, it certainly gave me confidence when riding that it was happy on the road and I could feel that through the bike when riding.
At higher speeds, approx. 65-70 mpg, I did feel a twitch at the front. I am not sure if this is to do with tires or suspension, it could just have needed a service but this is something that definitely needs exploring.
Chassis
The steel tubular cradle frame houses the engine and gearbox with most of the 217 kg weight low down on the bike. I have a friend with one of these bikes who has shed some of the weight on his bike by removing the center stand and replacing the exhaust system with a lighter version that is both louder and throatier.
There are 18 inch wheels front and rear with braking in the form of ByBre single 320 mm disc on the front and 240 mm on the rear with dual channel ABS.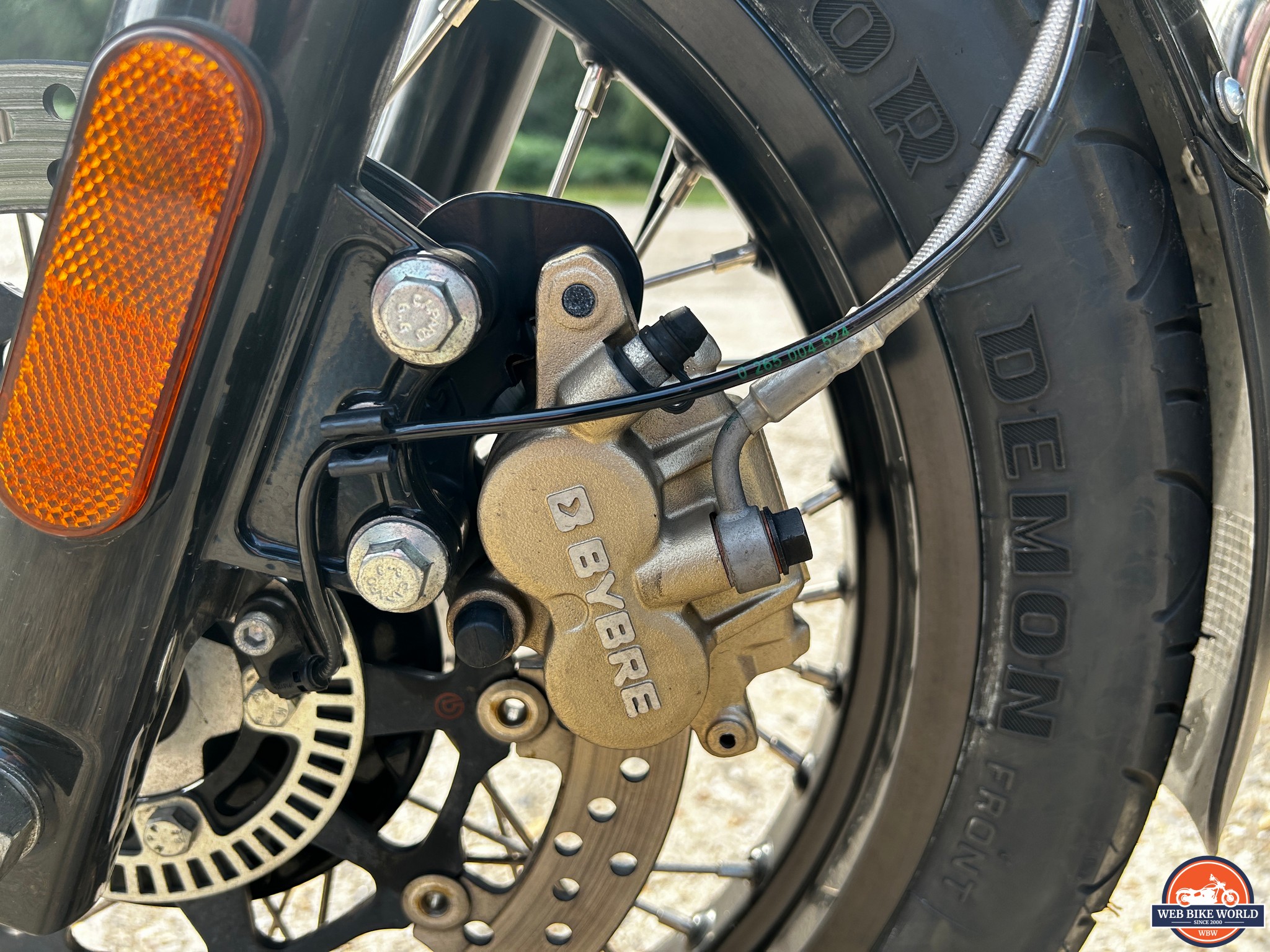 The suspension is made up of 41 mm telescopic forks with 110 mm of travel and twin rear shocks with external reservoirs. I found the ride to be soft but perfectly adequate in absorbing our lumps and bumps on our roads.
Instrument Clocks
Traditional clocks house the speedo and rev counter with subtle 'Royal Enfield' detailing on each. There are no modes or gizmos on this bike so there is no need for digital screens or an abundance of information to be shown.
The speedo has a digital display simply showing the mileage and fuel gauge. Perfect.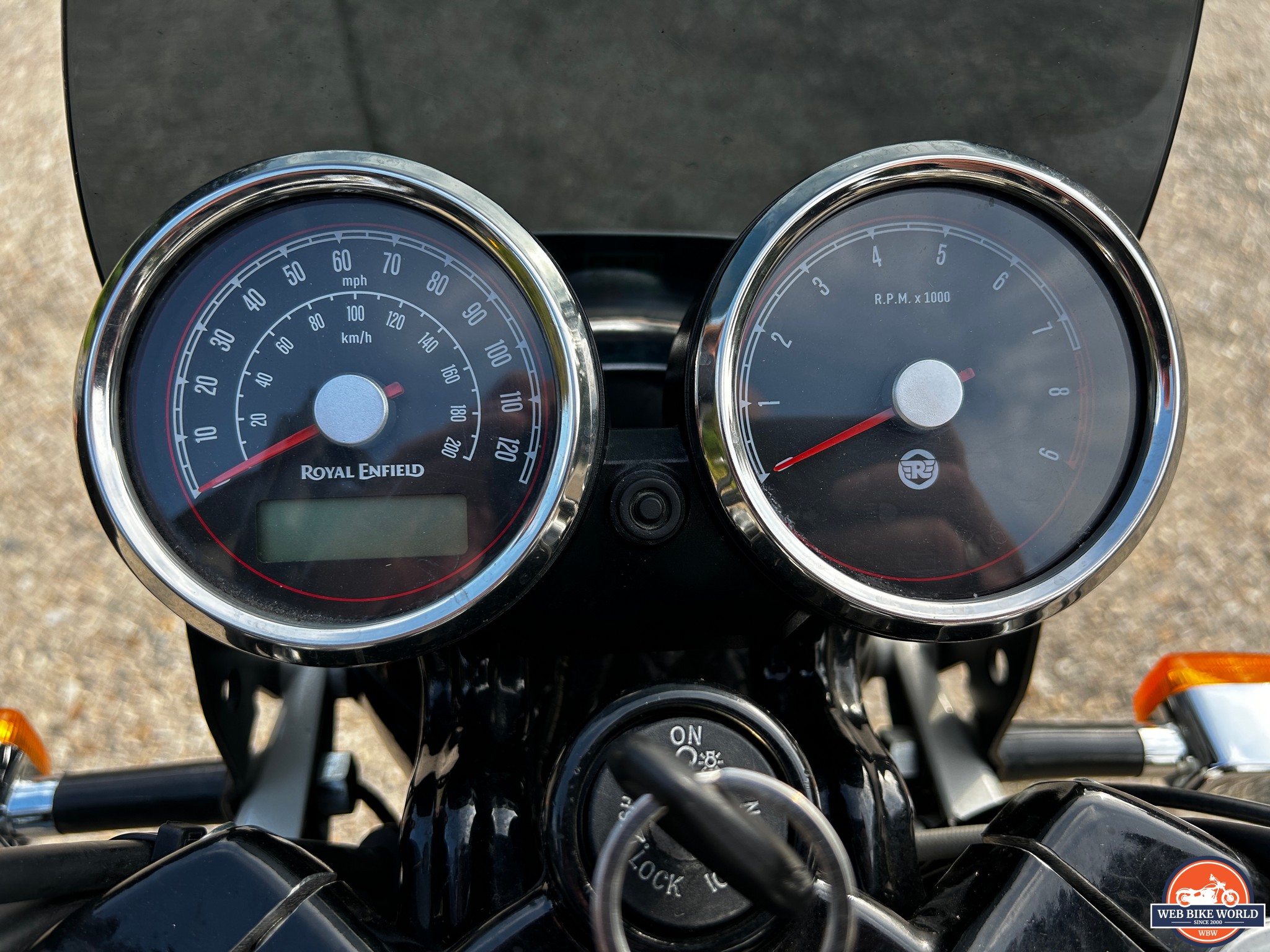 The rev counter clock has the usual icons that light up for the indicators and neutral and when the bike is switched on, the ignition icons appear ie. battery, oil, engine etc but these disappear once the engine is started.
Tires
The tires that came on the Interceptor I had were odd in that the front had a Pirelli Sport Demon and the rear had an Avon RoadRider. I liked the way the bike felt with these tires, I had confidence in these that they would perform as they should do.
The Continental I had earlier in the year came with Ceat Zoom Cruz F tires which I was not impressed with at all. I thought the tires felt 'floaty' and there was a distinct lack of grip. I did not have the feel or confidence that I expect out of a tire with the Ceat tires.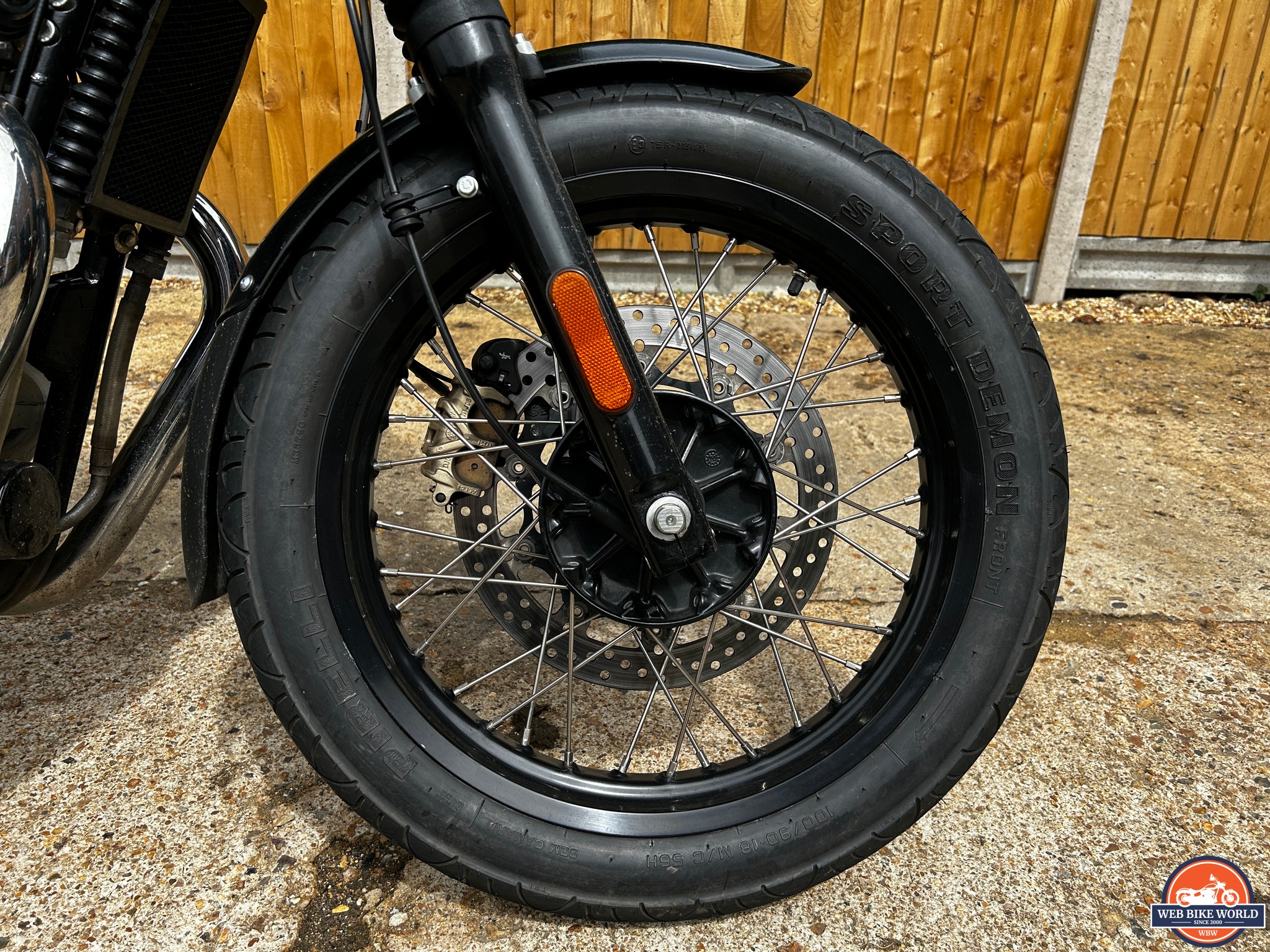 Pirelli describe their Sport Demon tires as:
'An x-ply tire for sporty medium displacement bikes:
Uniform and progressive performance in all riding conditions thanks to the rear multi-radius profile
High grip on wet and dry surfaces with excellent mileage
A safe and reliable tyre in all riding situations, with a particularly favorable cost/quality ratio suitable for Sport Touring motorcycles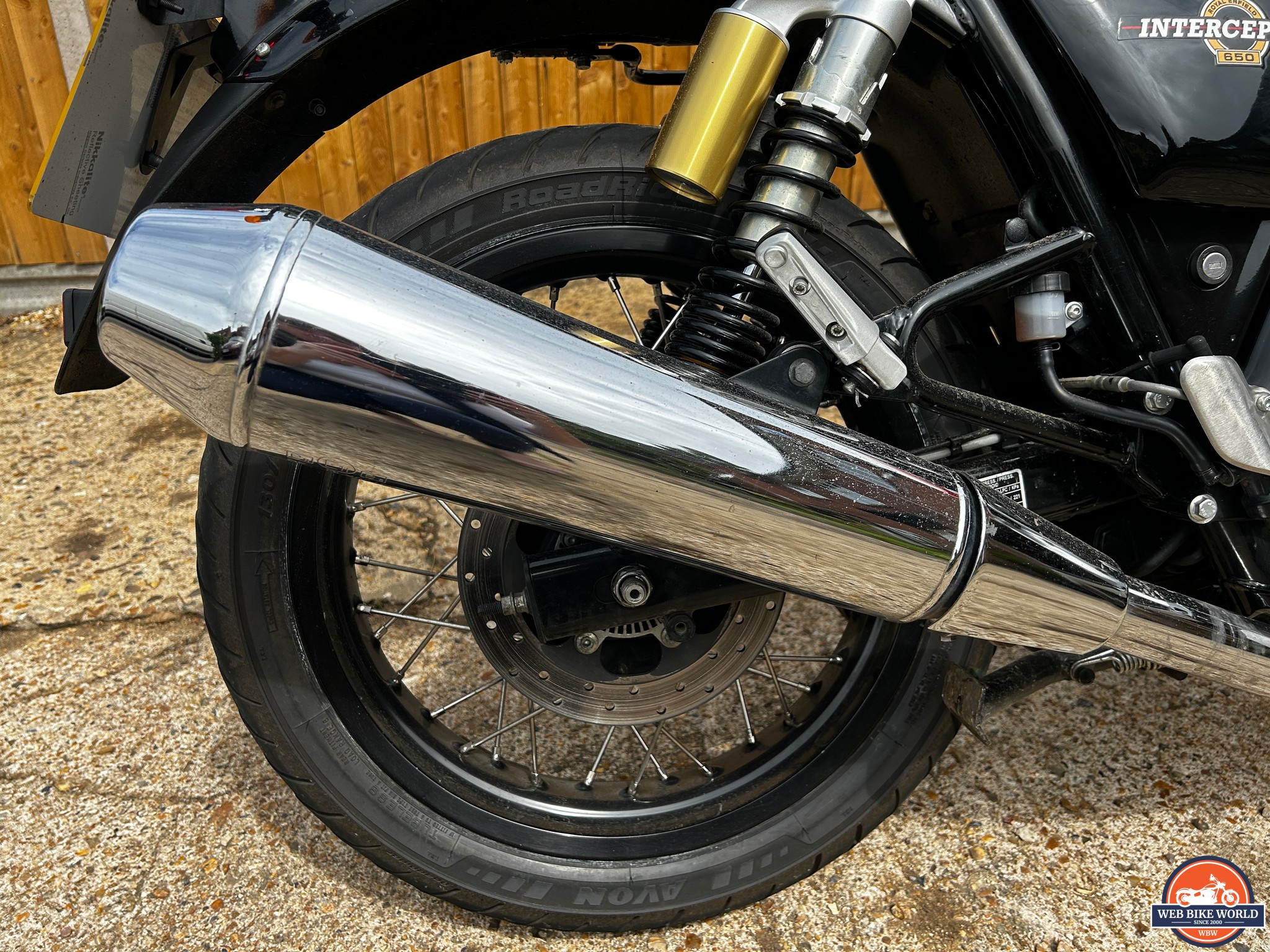 Avon describe their RoadRider tires as:
Performance upgrade for classic and vintage motorcycles. Manufactured in the UK.
Advanced tread ARC design; Improved contact patch for increased grip.
Latest tech x-ply construction design; Improved handling and stability.
Universal rotation; Multi fitment.
LED Lights
The retro style single round headlight on the Interceptor houses a traditional bulb which illuminates the road in front of you fairly well. To be honest the main beam does not make a huge amount of difference but does offer some more light.
The 2023 model still has the same round retro headlight but the traditional bulb has been replaced with modern LED lights offering increased visibility.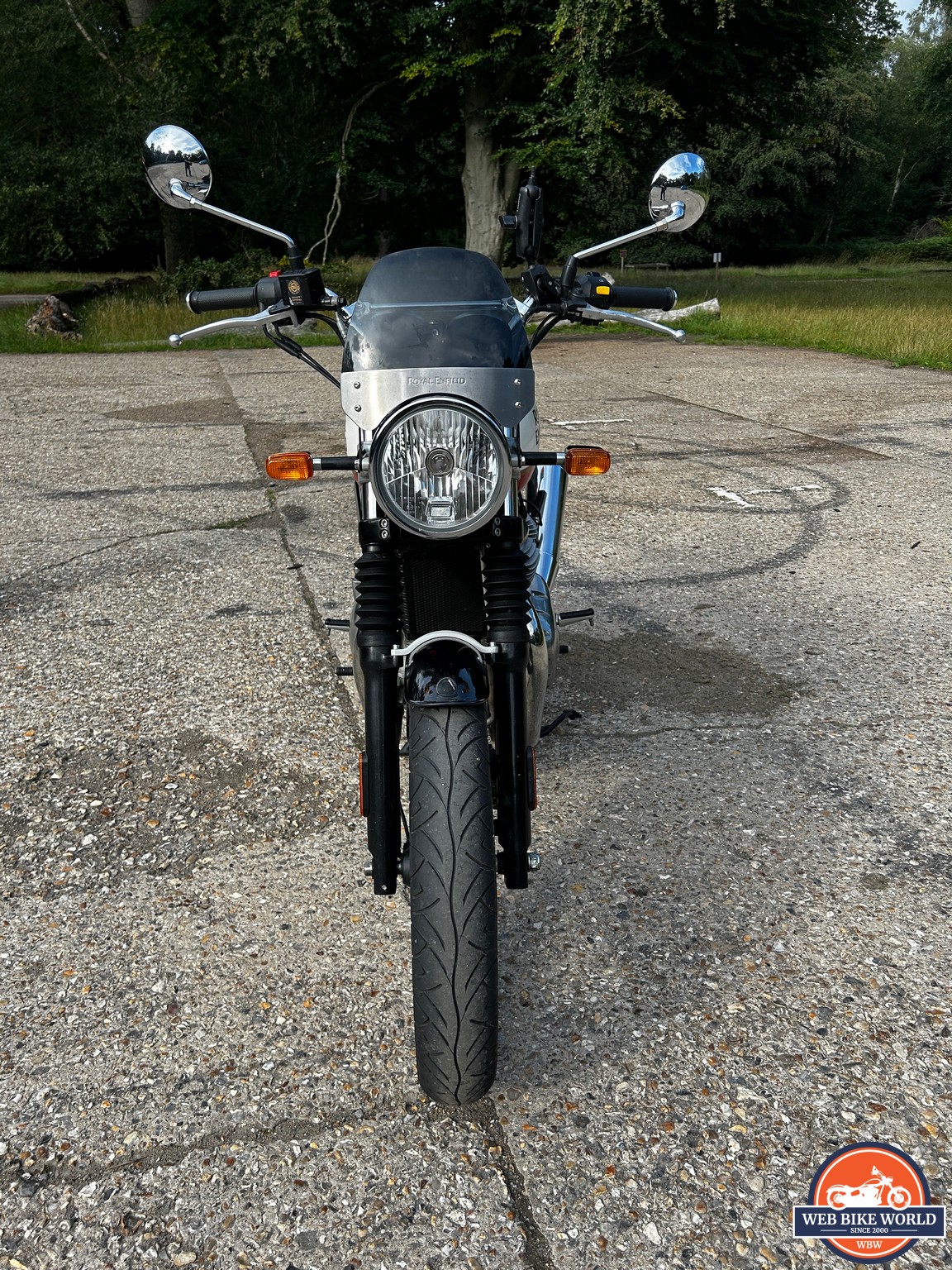 I like the simple rear light sitting neatly at the back of the seat but I would definitely change the front and rear indicators. Although these are functional and do what they are supposed to do, I do not like the quality or look of these and feel replacements would suit the bike better.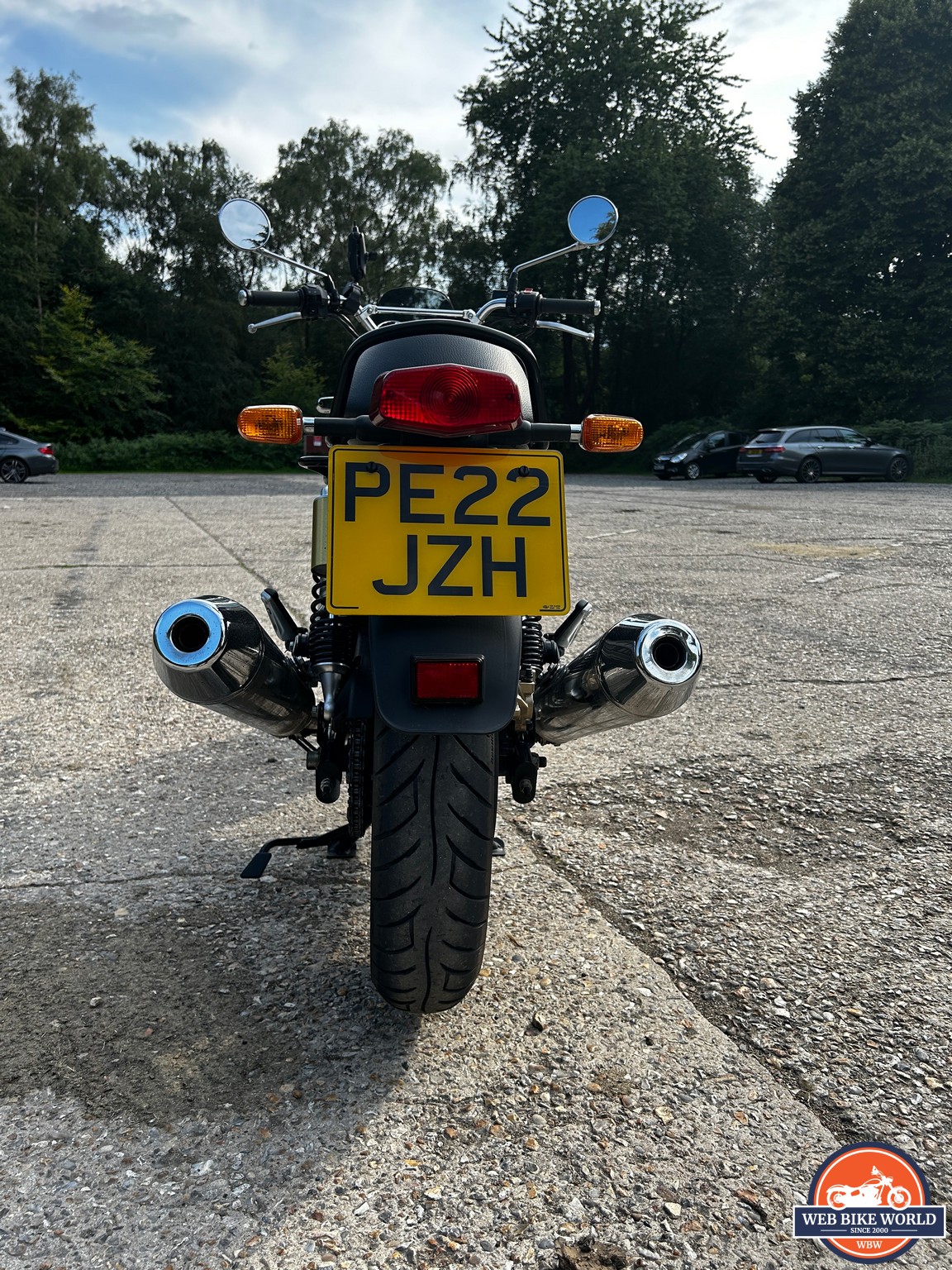 So, What is the Royal Enfield Interceptor 650 like to Ride?
Absolutely lovely. This is my second Royal Enfield that I have had on loan, I previously had the Continental GT 650. The Continental has a great following and I could definitely see why due to its styling, it is more of a cafe racer style with clip ons.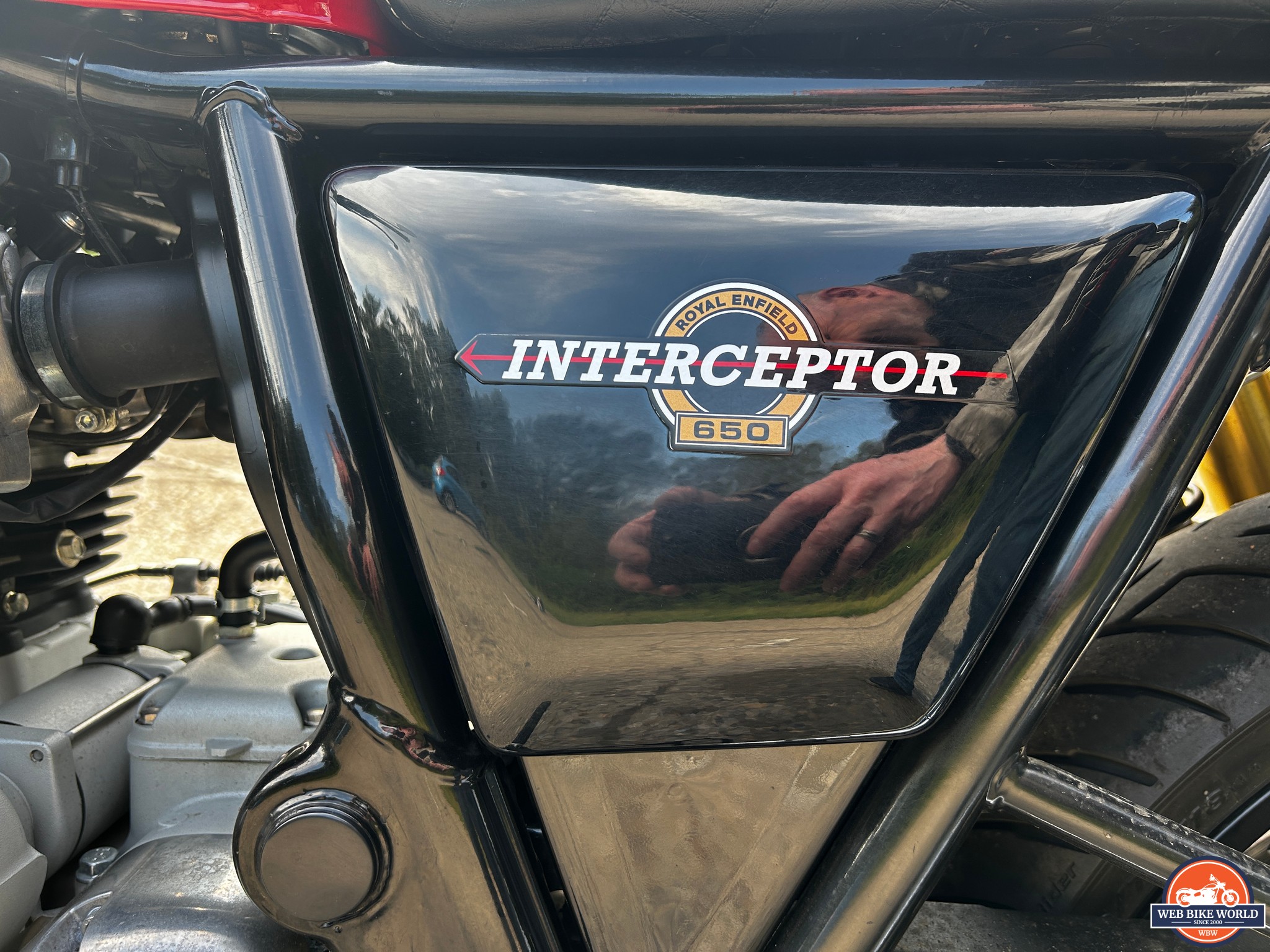 The Interceptor, although similar in styling with the cafe racer look, has a more upright riding position as you'd expect with standard bikes and I felt much more comfortable on this bike. The Interceptor and I gelled on our first ride together.
With a wet weight of 217 kg, which is a little on the heavy side, the Interceptor actually feels heavier than that when maneuvering but you don't notice this when riding.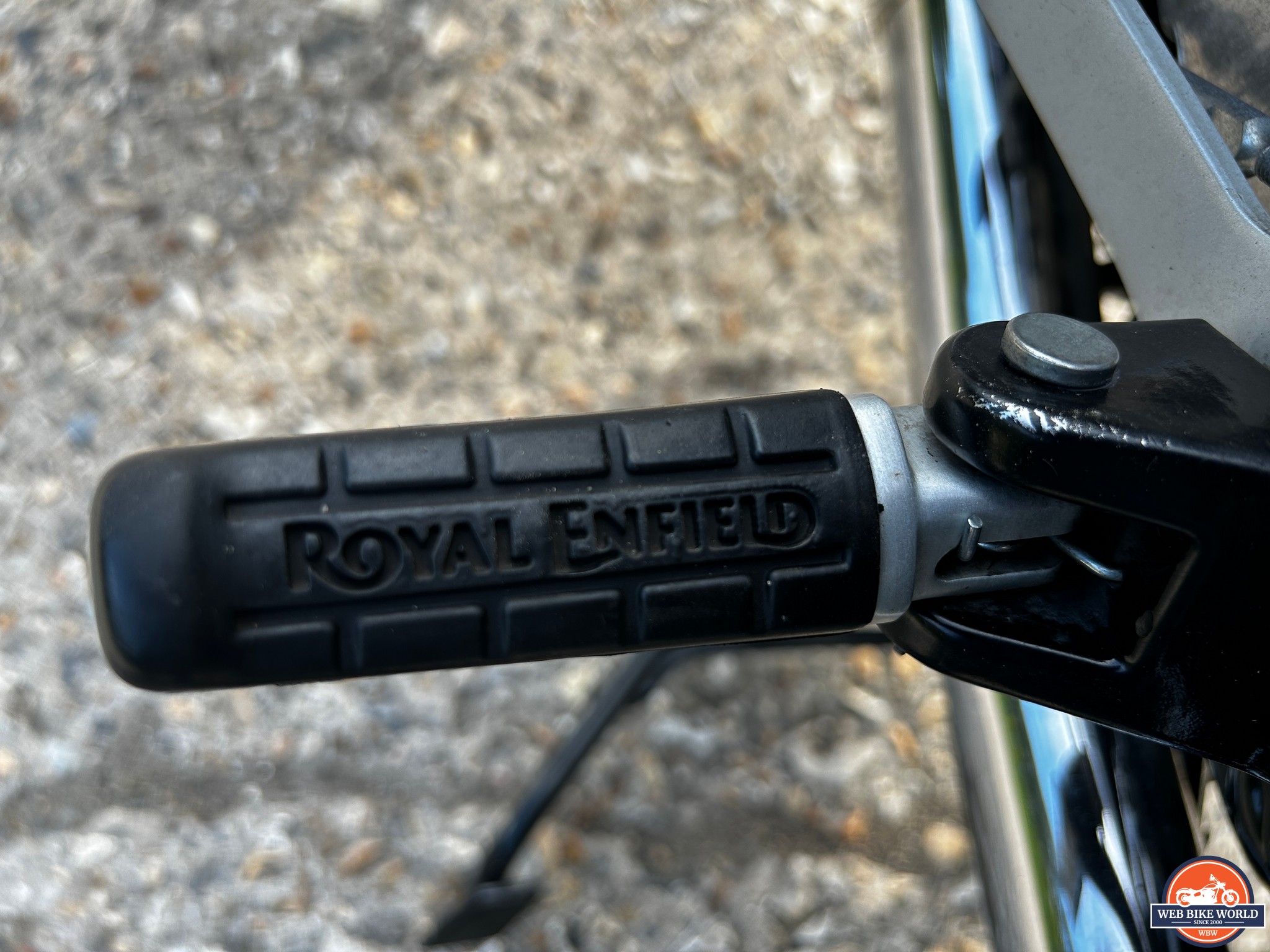 The twin exhausts, although look beautiful and really suit the styling of the bike, are not loud enough and could do with being more throatier and I would look to change these. Of course the sound of your pipes is a personal preference.
The unmistakable sound of the air/oil cooled parallel twin engine just sets me grinning from first starting up the bike. The engine is quite torquey and is happy at low speeds around town but it definitely felt at home when you opened it up on an open road.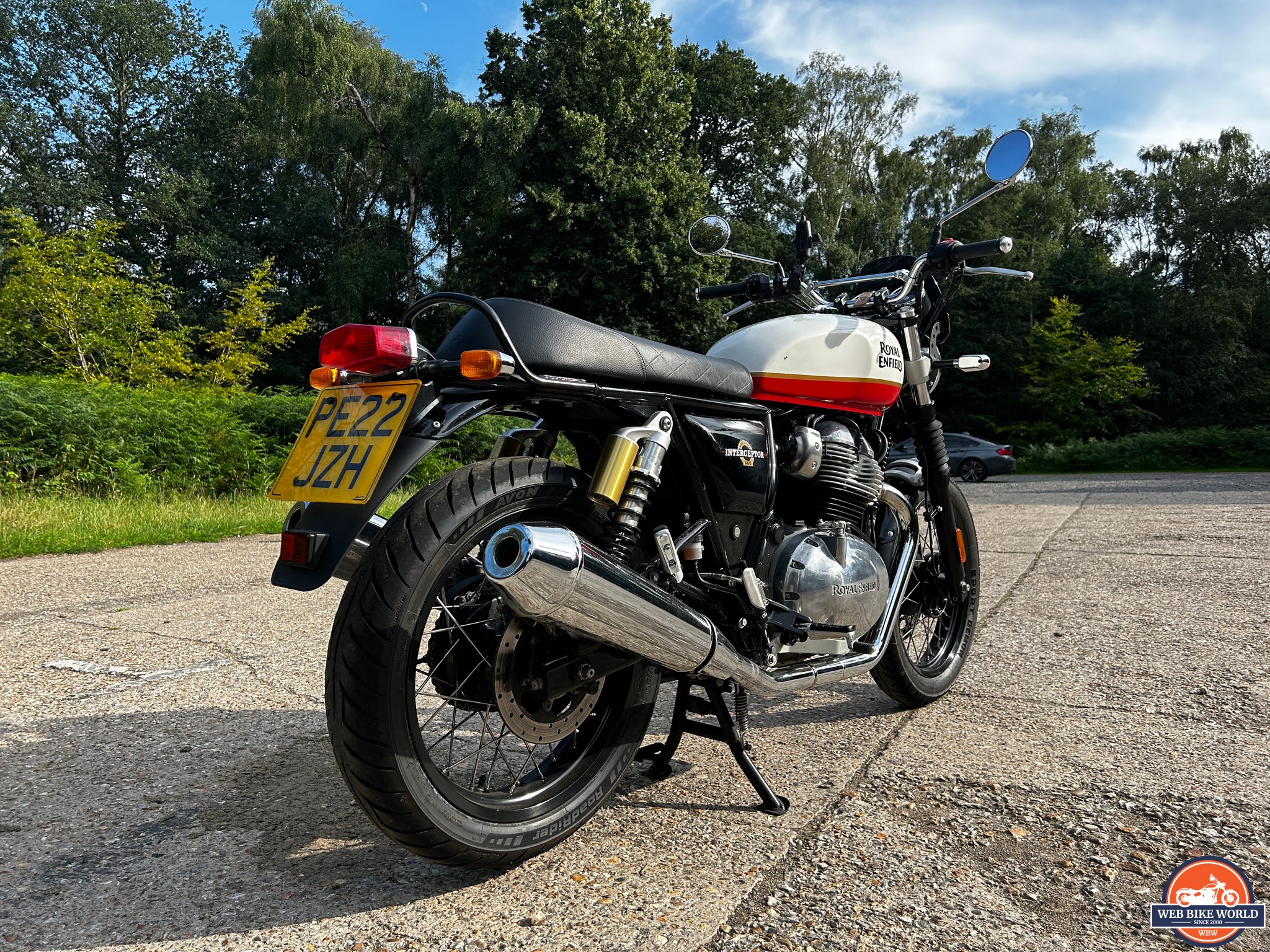 I loved the way the Interceptor made me feel when riding the bike on an open road, it is at home on a long flowing, winding road, soaking up the bends nicely. The Interceptor felt nicely planted on the road, maybe that is partly due to its weight.
Although the tires on this bike were odd, the front a Pirelli and the rear an Avon, I definitely preferred these to the Ceat tires that came on the Continental GT.
I did experience a kind of twitch on the front of the bike when reaching speeds of 65-70 mph which was a little unnerving. I am not sure if this is because the bike has odd tires (I can't imagine this is the reason) or the suspension needs adjusting, but looking into this would be my first priority.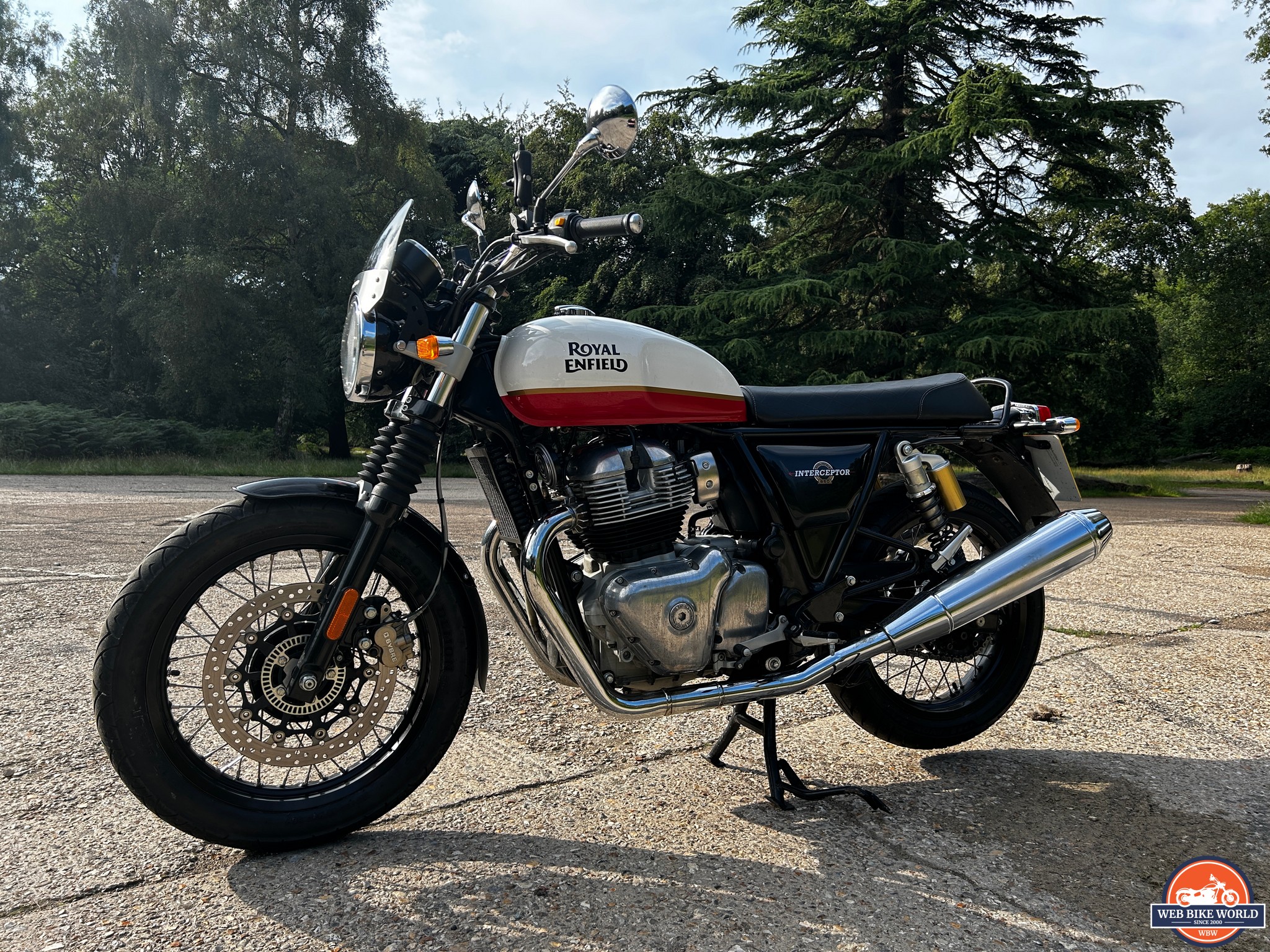 Bearing in mind there is one front brake disc, I thought the brakes were very responsive especially when they needed to be but it would be nice to see two discs on there.
I felt the suspension was soft and soaked up the lumps and bumps in the roads nicely, certainly for me it offered a comfortable ride.
At 47 bhp, this is by no means the fastest bike on the road, this is not what the Interceptor is about, but having said that I had so much fun riding this bike, I was out on the bike as much as possible, even running small errands the bike would come out and off we would go again.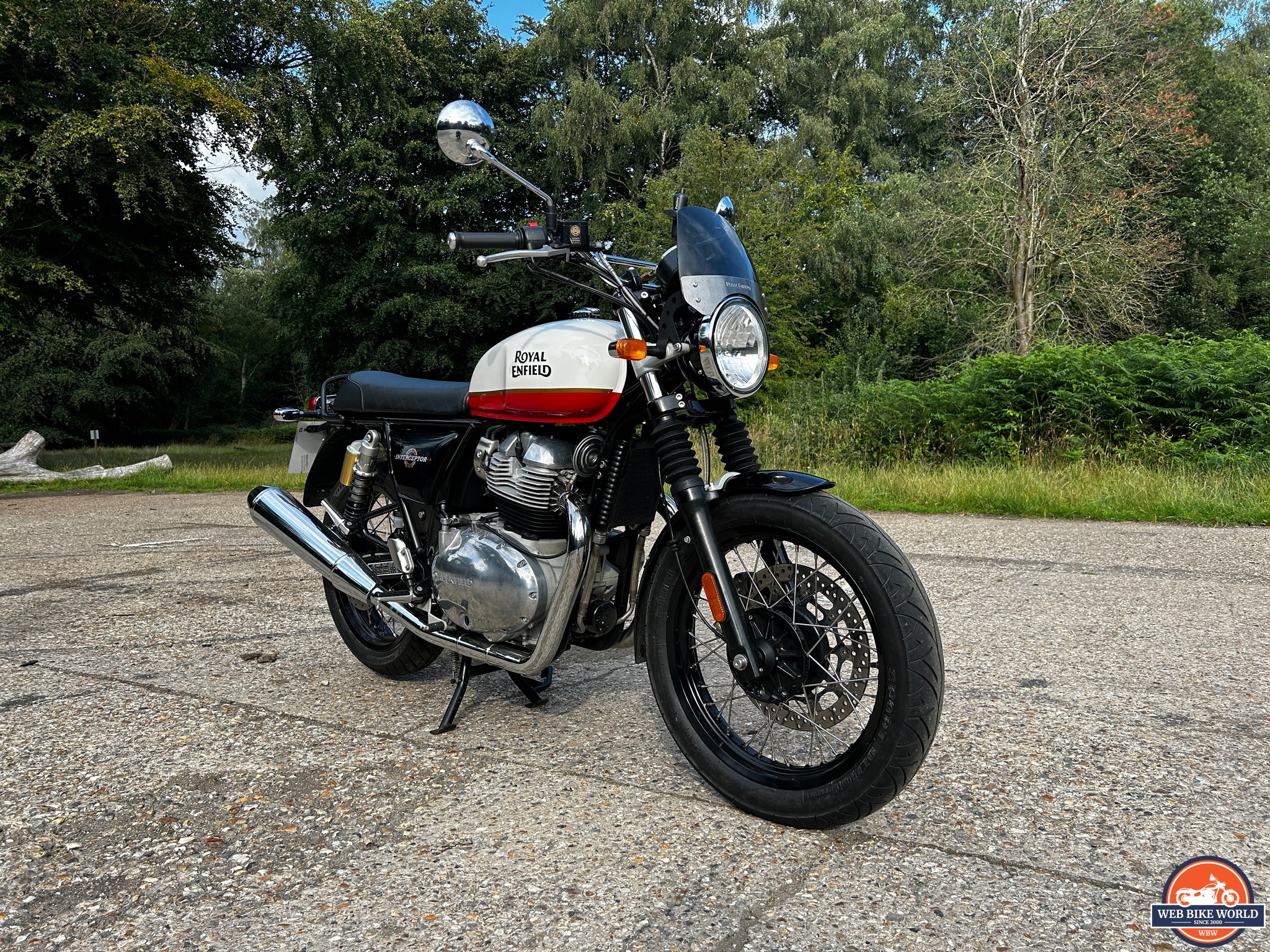 Royal Enfield's seem to have a following and I found whenever I parked up, I would have people come up and talk about the bike and this would often lead to their stories of fond memories of Royal Enfield's of old. This is a huge plus for me as I love chatting with people about their bikes and listening to their stories.
With a price tag of $8,477 you are getting a lot of bike for your money, the Interceptor feels nice, handles extremely well and puts a grin on your face without fail.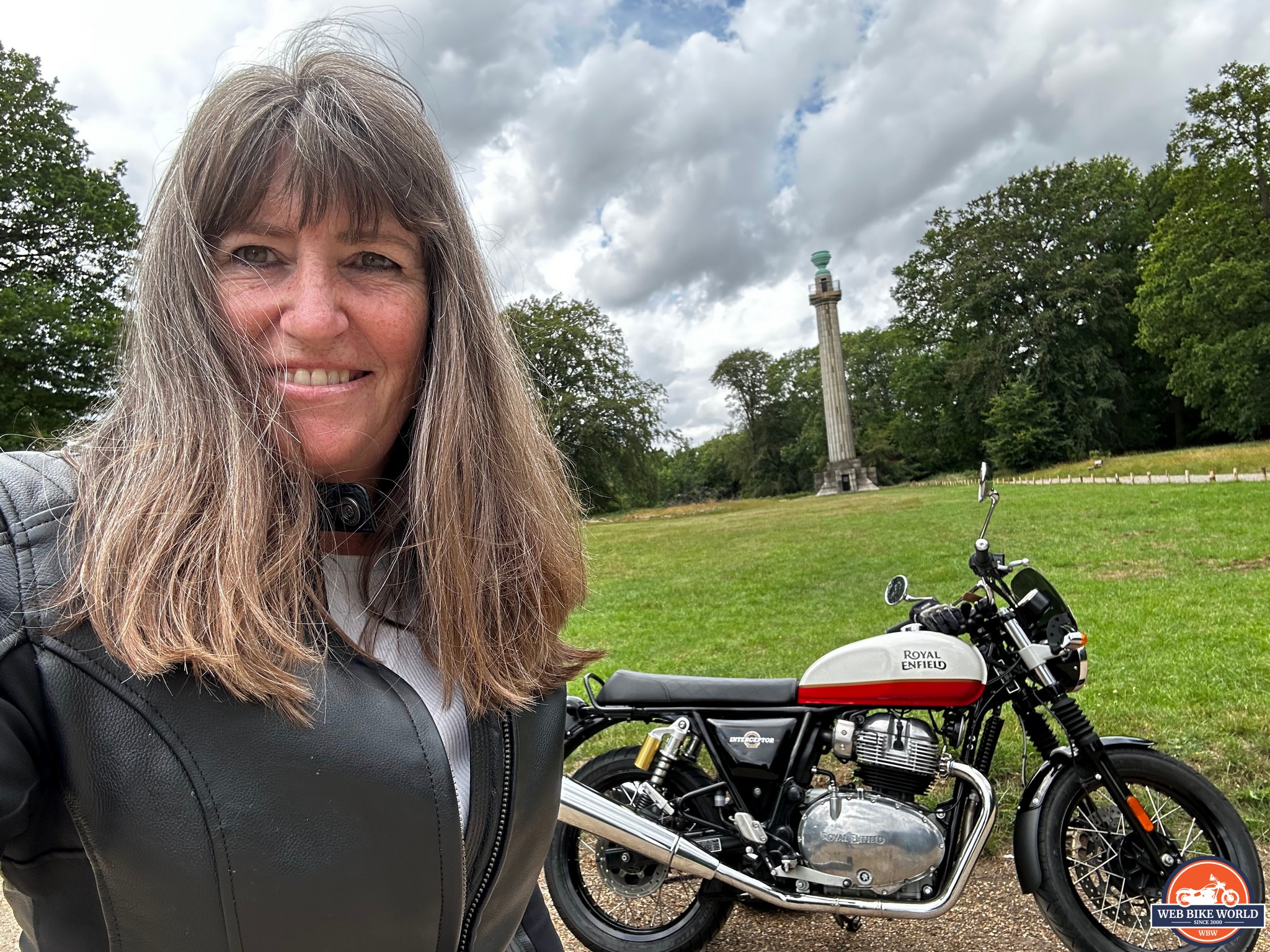 The Interceptor is one bike that I did not want to go back, I definitely need one in my garage.
Thank you to Royal Enfield for the loan of the Interceptor 650.
2022 Royal Enfield Interceptor 650 Video Review
Pros
Very comfortable to ride
Twin engine and twin exhausts which together sound great
Seat height is 805 mm which is great for those of a smaller disposition
No modes which for me is a plus point although I realize some people may not think so
Comes with a center stand as standard
I think Royal Enfield have got the styling right with the Interceptor, it's spot on
Cons
Weight – although the wet weight is approx. 217 kg, I thought it felt heavier than this and found it difficult when maneuvering
No radiator guard as standard